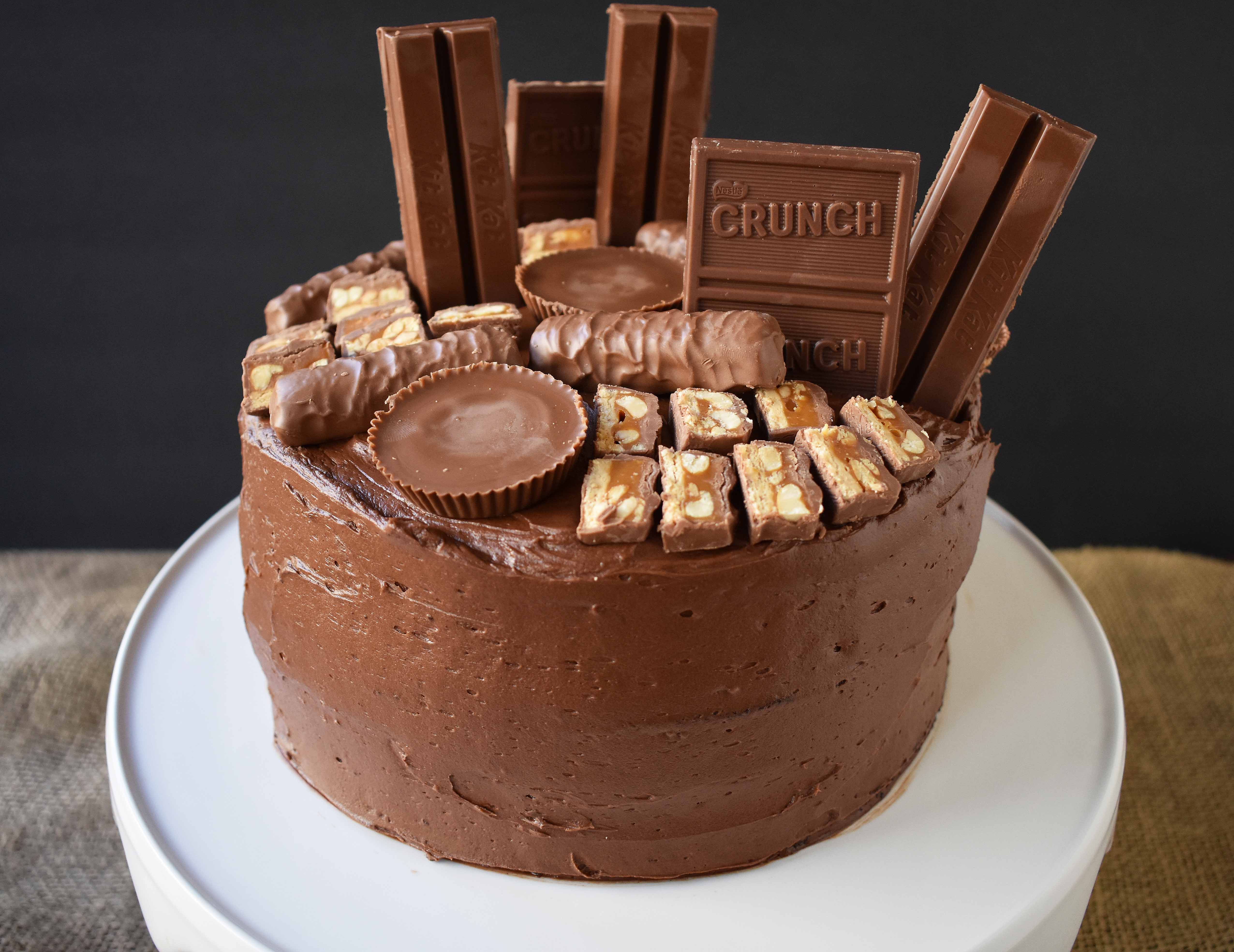 Chocolate Candy Bar Cake
The Candy Bar Stash Chocolate Cake is the ultimate cake for all of the chocolate lovers out there. A 5-Star Rated Chocolate Cake Recipe with Perfect Chocolate Buttercream Frosting, topped with chocolate candy bars.  This is such a fun and festive birthday cake!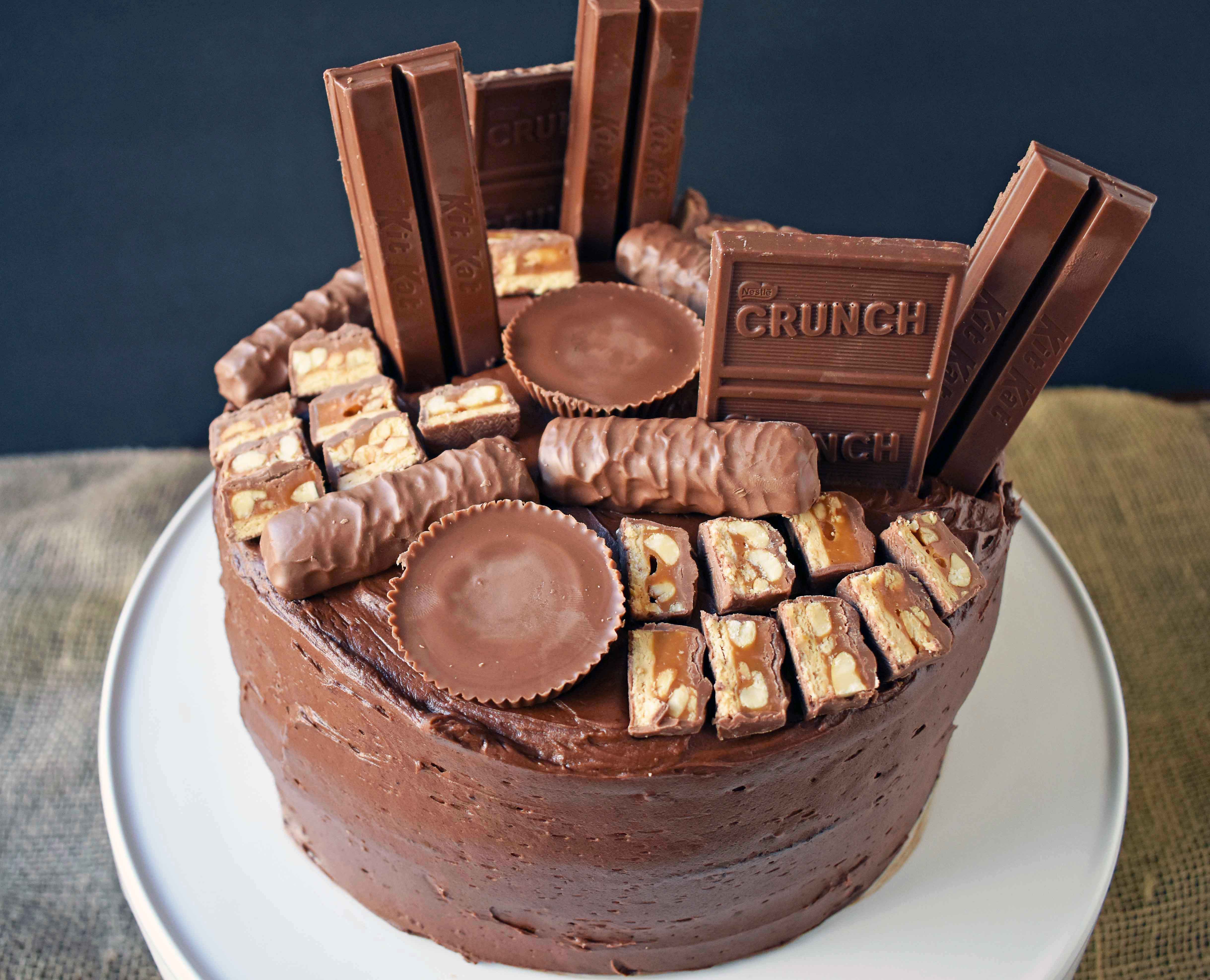 It's National Chocolate Day! However, I don't need a holiday to remind me to celebrate the greatest FOOD on the planet Earth, so let's make a birthday cake to celebrate anyway.
Because a party without a cake is just a meeting, right? Oh, and meetings are usually boring, right? So, let's eat more cake!
Since Halloween is just days away and you may end up with a candy bar stash that you have no idea what to do with...I would like to introduce a solution to your excessive candy bar dilemma -- the Candy Bar Stash Chocolate Cake. This is basically a kid's dream. Let's be honest...it's MY dream cake.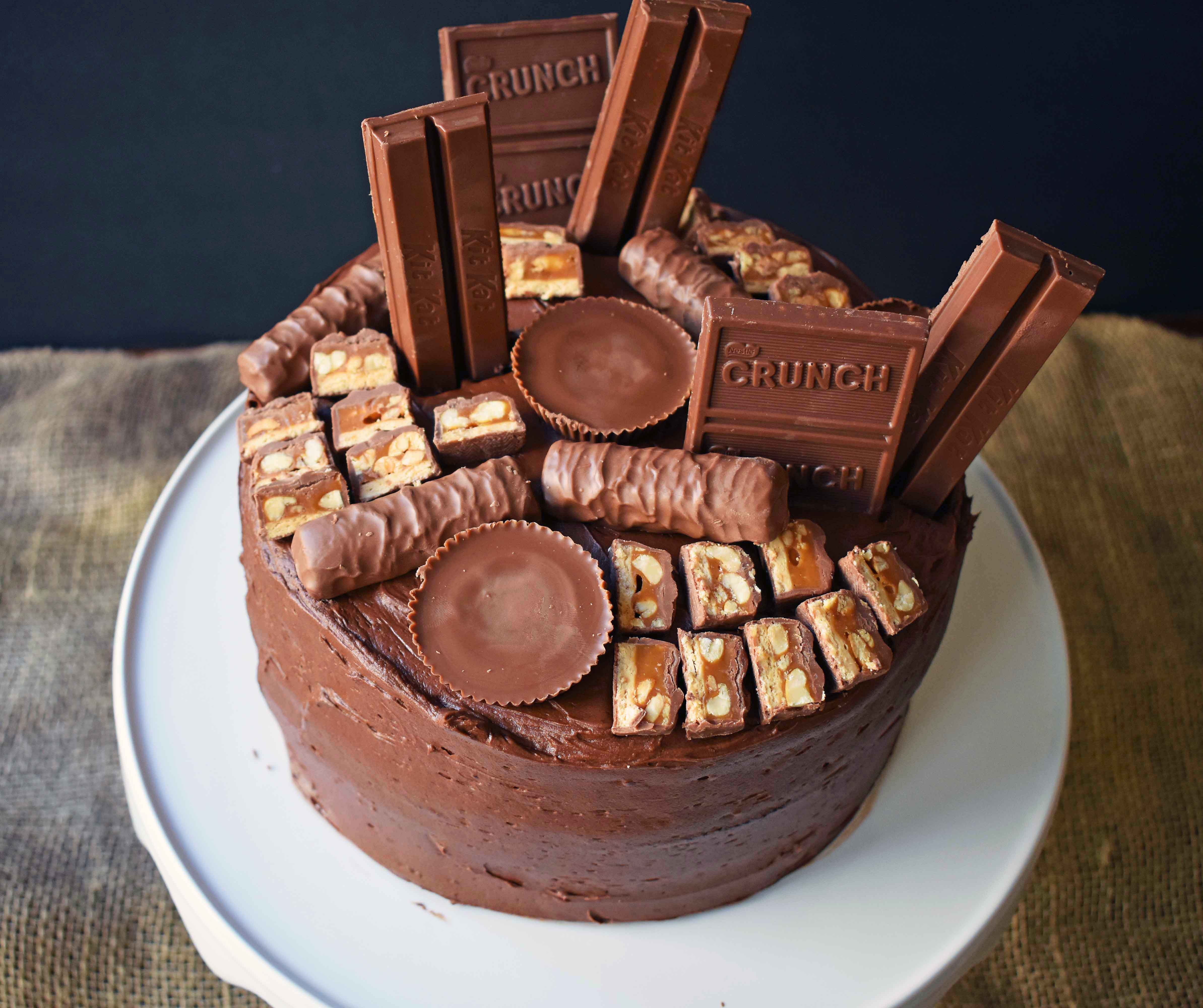 One of the top 5 recipes on Modern Honey every single day is my Love at First Sight Chocolate Cake (recipe HERE as well as down below). My amazing sister-in-law makes the most incredible cakes and is in high demand for weddings. Years ago, she did some serious research to come up with the ultimate chocolate cake. Every single Sunday she would try another recipe, tweaking the recipes over and over until she finally settled on the winner. This is it!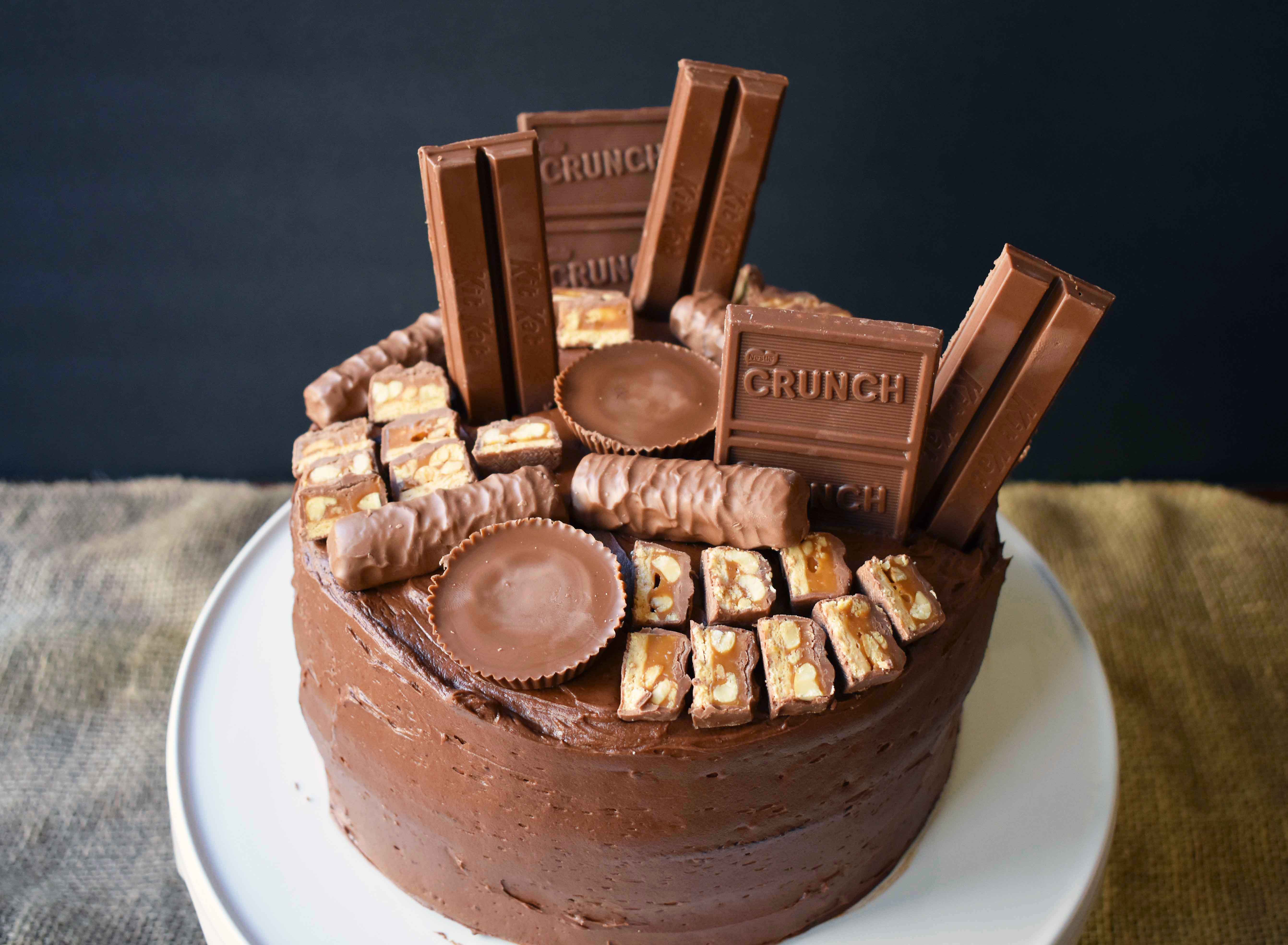 This Candy Bar Stash Chocolate Cake starts with a rich chocolate cake with a tender, moist crumb and is topped with a sweet chocolate buttercream made with butter, cocoa powder and cream.
If that isn't enough, we decided to take it up a notch and add our favorite chocolate candy bars. Once the cake is frosted, top it with a variety of candy bars making sure to do it right away as the frosting acts like a glue once it sits. It's fun to give dimension to the cake by using Kit Kat, Crunch Bars, or even full-size candy bars that stand up on the cake.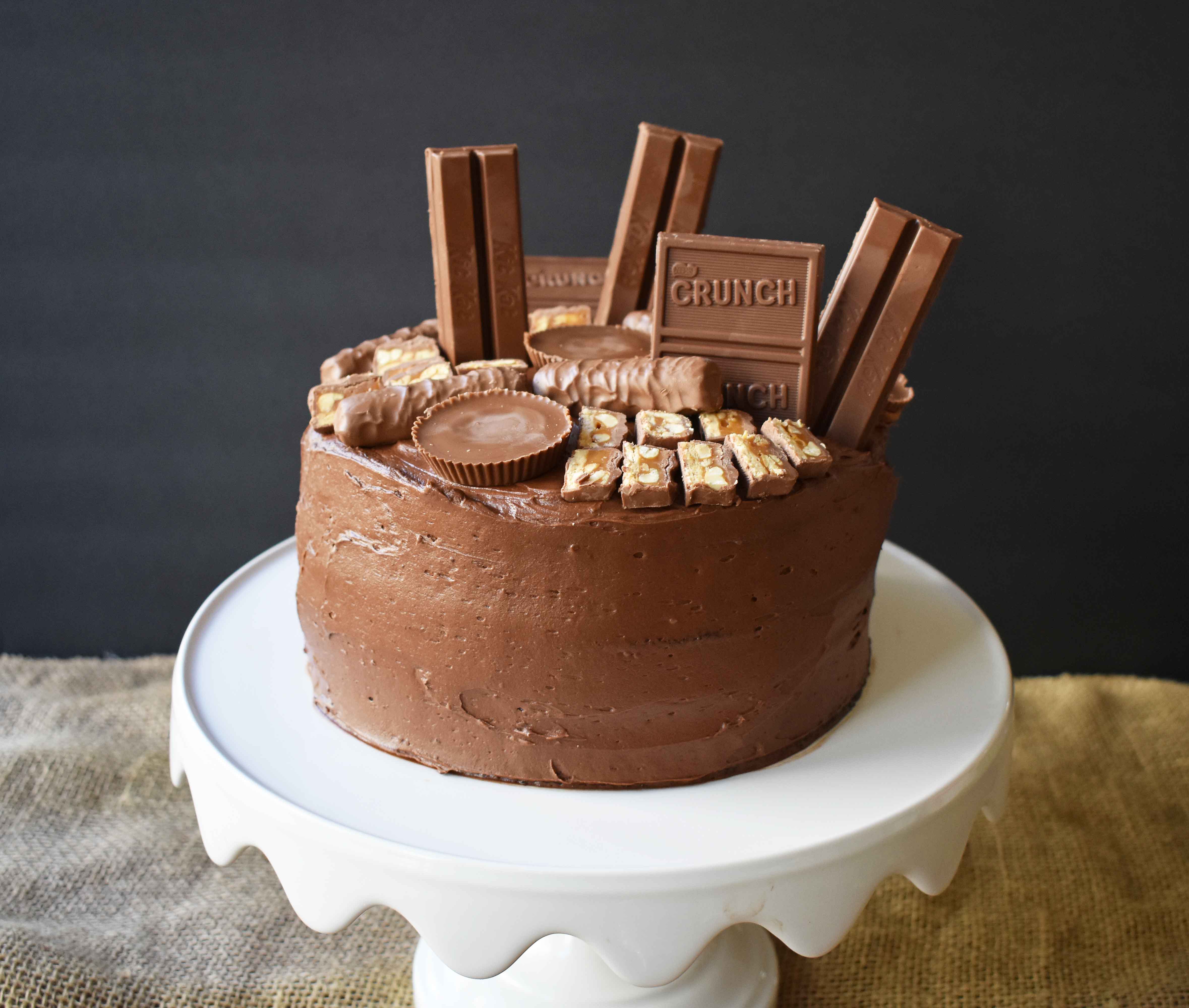 HOW TO MAKE THE PERFECT CHOCOLATE CAKE:
Buttermilk is a must because it gives the cake melt-in-your-mouth texture.
A high-quality cocoa powder can change the depth of chocolate flavor.
Using both baking soda and baking powder gives it the best rise.
Cake flour does make a difference in the tender crumb of the cake but you can substitute all-purpose flour.
I am the biggest butter fan in the world, but oil just works best in chocolate cakes (in my humble opinion). I have used both canola and coconut oils and both turn out beautifully. When I use melted coconut oil, there is surprisingly no coconut taste in the cake.
Don't overbake your cake. You want that moist, tender crumb so watch it carefully.
Freezing the cake layers for even 30 minutes makes it easier to frost.
This recipe can make two 9 inch layers, three 8 inch layers, or three 9 inch layers. I usually use three 8 inch pans in order to have slightly thinner layers so I can put more frosting in between!
Once you taste this frosting, you will want more frosting on this cake too. It is absolutely heavenly! This chocolate buttercream is silky smooth and literally melts in your mouth. This is what I swear by to frost my cakes -- click HERE for Icing Spatula.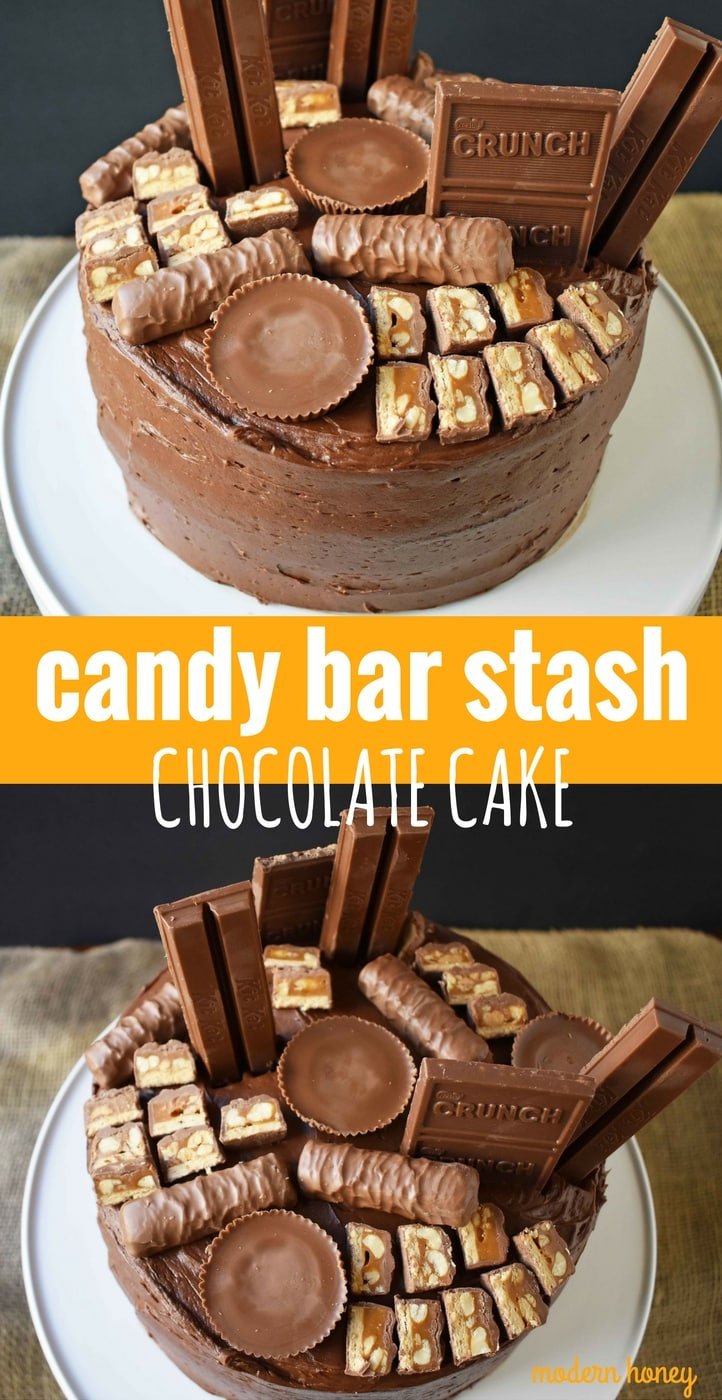 This Candy Bar Stash Chocolate Cake is my son's birthday cake and I can't wait to see the look on his face when I bring this baby out! Get a fork and dig in to the best chocolate cake on the planet!
Happy Baking, my friends! xoxo