A 5-ingredient Caramel Apple Dip made with cream cheese, brown sugar, vanilla, caramel sauce, and Heath Bar toffee pieces. This is the perfect dip for fresh apples! This Caramel Toffee Dip is the easiest dessert to serve at parties.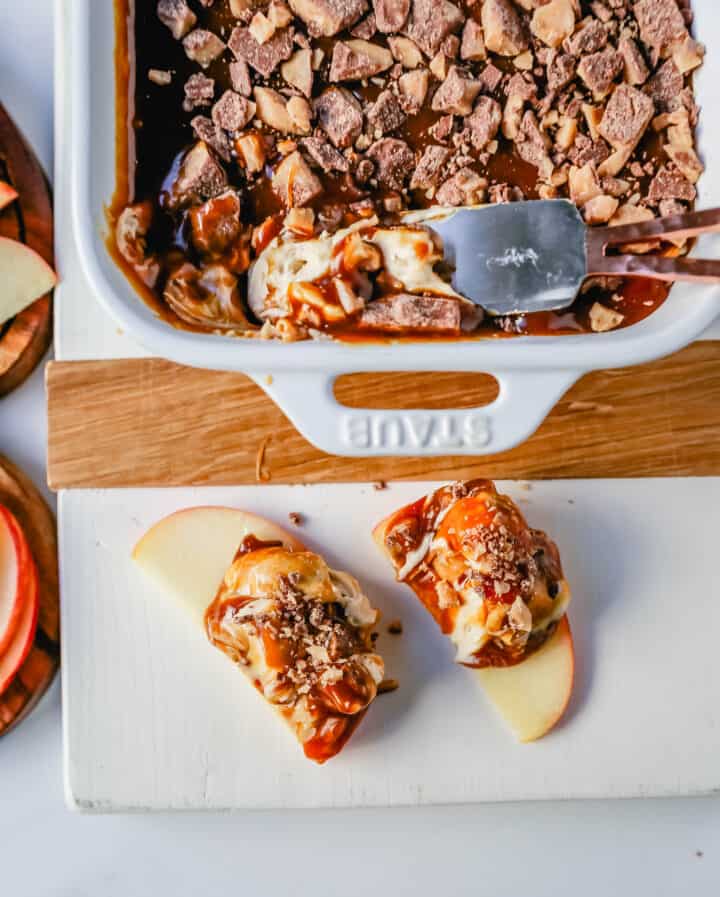 I can't stop eating this Caramel Apple Dip.
This can be made in less than 5 minutes and everyone goes crazy for it.
It is simply made by whipping softened cream cheese, brown sugar, and vanilla together until perfectly creamy. Then you top off the brown sugar vanilla cream cheese with salted caramel sauce and toffee pieces. It is creamy with the perfect salty-sweet and crunch.
Caramel Apple Dip Ingredients:
Cream Cheese -- I suggest using Philadelphia Original Full-Fat Cream Cheese
Brown Sugar -- this gives it the perfect amount of sweetness with a touch of warm, molasses flavor
Vanilla Extract -- I always use pure vanilla extract from either Nielsen-Massey or real, high-quality Mexican vanilla
Caramel Sauce -- I use Trader Joe's Fleur de Sel Caramel Sauce but you can use any high-quality caramel sauce
Heath Bar Toffee Pieces -- you can use chocolate-covered toffee pieces or just toffee pieces in this recipe
Fresh Apple Slices -- I suggest reaching for a crunchy and sweet type of apple like honeycrisp, gala, fuji, or if you like tart apples, use granny smith.
I shared the best Chocolate Chip Dip a few years ago that I love to serve with salty pretzels or fruit. This Chocolate Chip Toffee Dip is made with cream cheese, brown sugar, powdered sugar, vanilla, chocolate chips, and toffee bits. It is similar to this recipe but it has the addition of chocolate chips and powdered sugar and doesn't call for caramel. It is another super simple sweet dip recipe.
How to make Cream Cheese Toffee Dip:
Start with softened cream cheese. Whip the softened cream cheese in a bowl with brown sugar and vanilla extract until smooth and light and fluffy.
Spread into a bowl or small square dish. I suggest a 6 x 6 or 7.5 x 6 dish.
Cover with caramel sauce. Sprinkle with chopped Heath Bar toffee bits.
Cut the chilled apples into slices. If you are going to serve at a party, I suggest sprinkling the sliced apples with lemon juice or fruit fresh to keep the apples from oxidizing and turning brown. You can mix fresh lemon juice with water to dilute the tart lemon flavor.
Dip the apples into the caramel toffee dip. I suggest placing a small cheese knife nearby to make it easy to scoop up.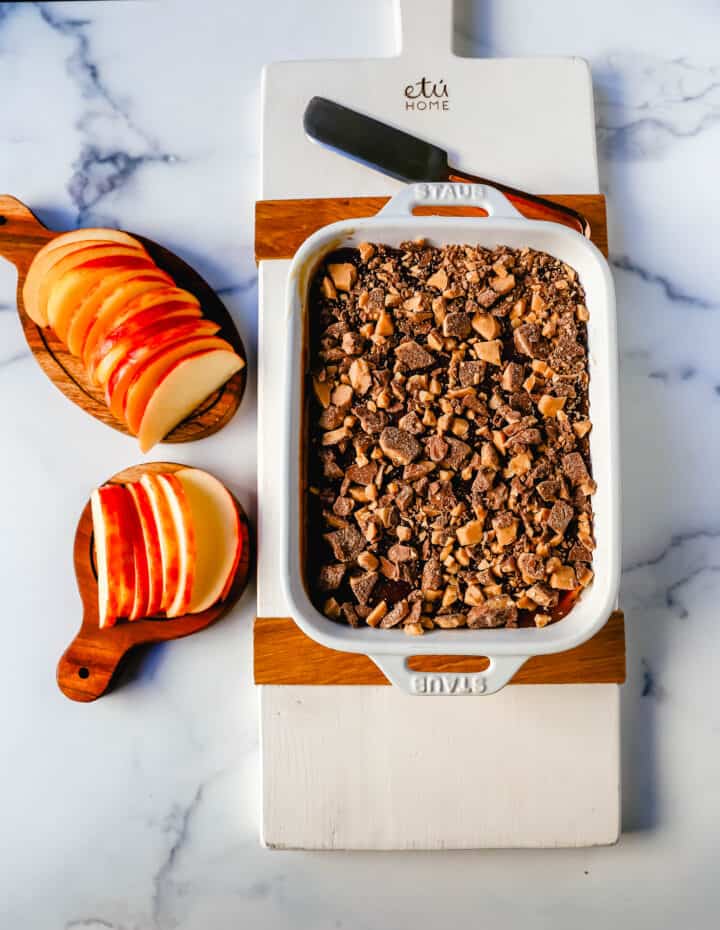 FAQ's:
What type of caramel sauce should I use?
I suggest using a thicker, richer type of caramel sauce. You don't want to use caramel syrup as it would be too runny. You want it to be nice and thick. I love to use the caramel sauce from Trader Joe's. If you have a Kroger brand store nearby, such as Fry's, Smith's, and Ralph's, I like their Private Selection caramel sauce.
What type of dish should I use?
This is such a versatile sweet dip as you can put in a bowl, place it on a plate, or place it into a smaller casserole dish or platter. You just need to spread on the cream cheese mixture, drizzle it with caramel, and sprinkle on toffee bits. The sliced apples can go on the platter or on another plate.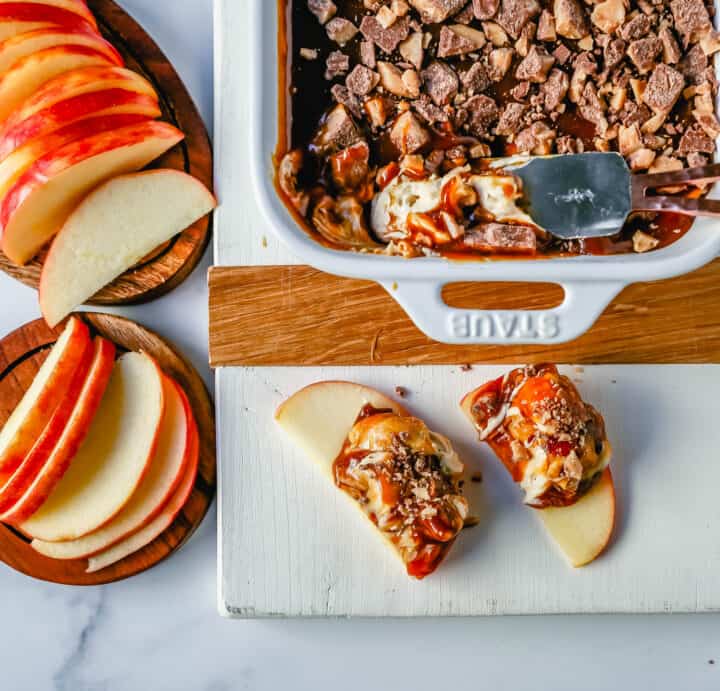 How to store Caramel Toffee Dip:
I suggest keeping the caramel dip stored in the refrigerator. Place in a container and cover it tightly. It can remain in the refrigerator for 7-10 days.
I suggest slicing the apples right before you are ready to serve the caramel apple dip.