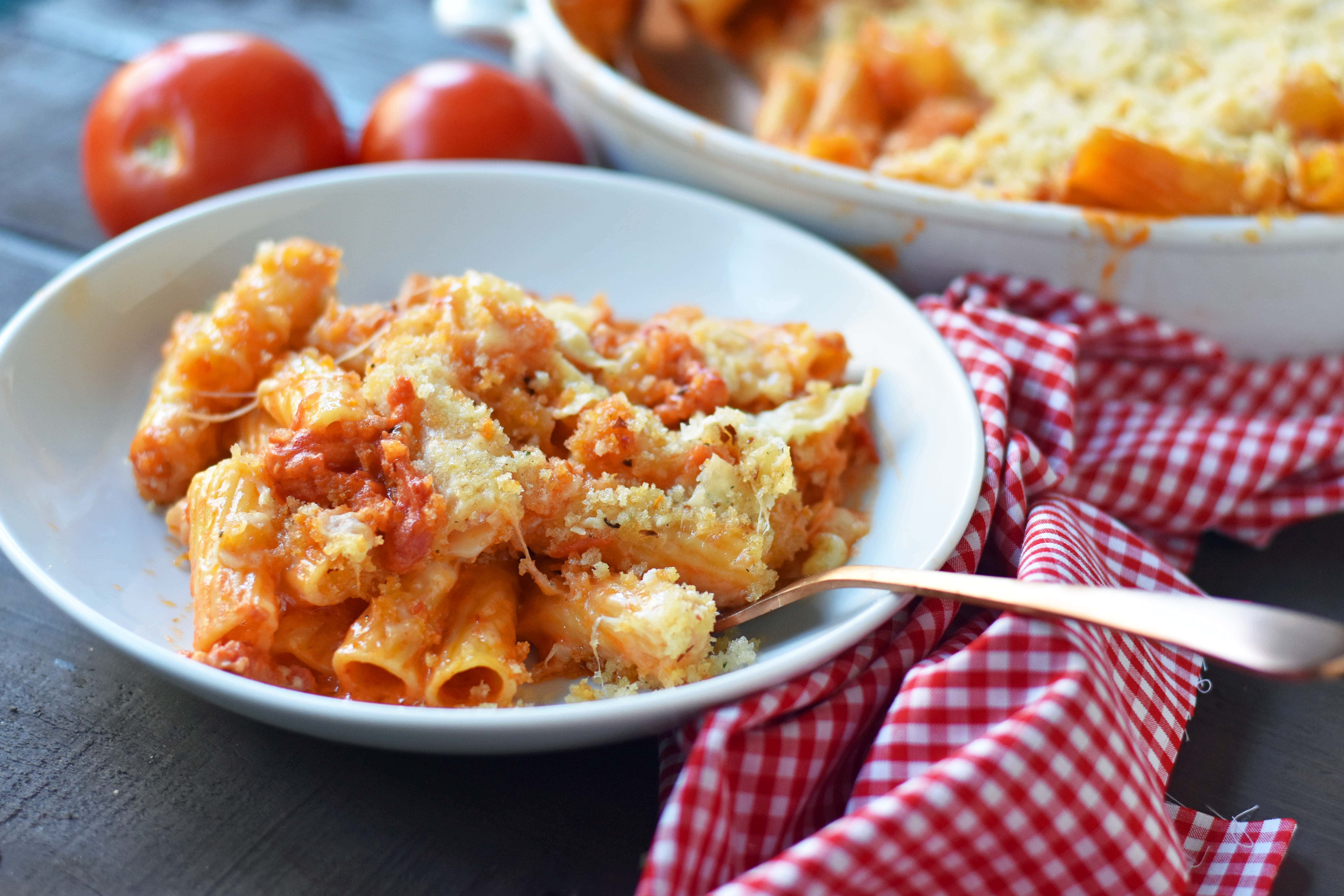 There's parts of my job as a food blogger that I absolutely LOVE — creating recipes in the kitchen, setting up a photo shoot, writing, and definitely interacting with my readers. Nothing makes me happier than seeing your photos of Modern Honey recipes made in your home. It is the best part of my job!  One of the highlights of my job is finding those recipes that are knockouts…..the ones that I CAN'T wait to get out to you. These are the recipes that become staples in my own kitchen and hopefully yours for years to come. I have already tested, shot, and edited 27 recipes but am constantly adding to the list and this Cheesy Baked Rigatoni just shot up to the numero uno spot. I made it a few nights ago and just couldn't wait weeks to get it out to you!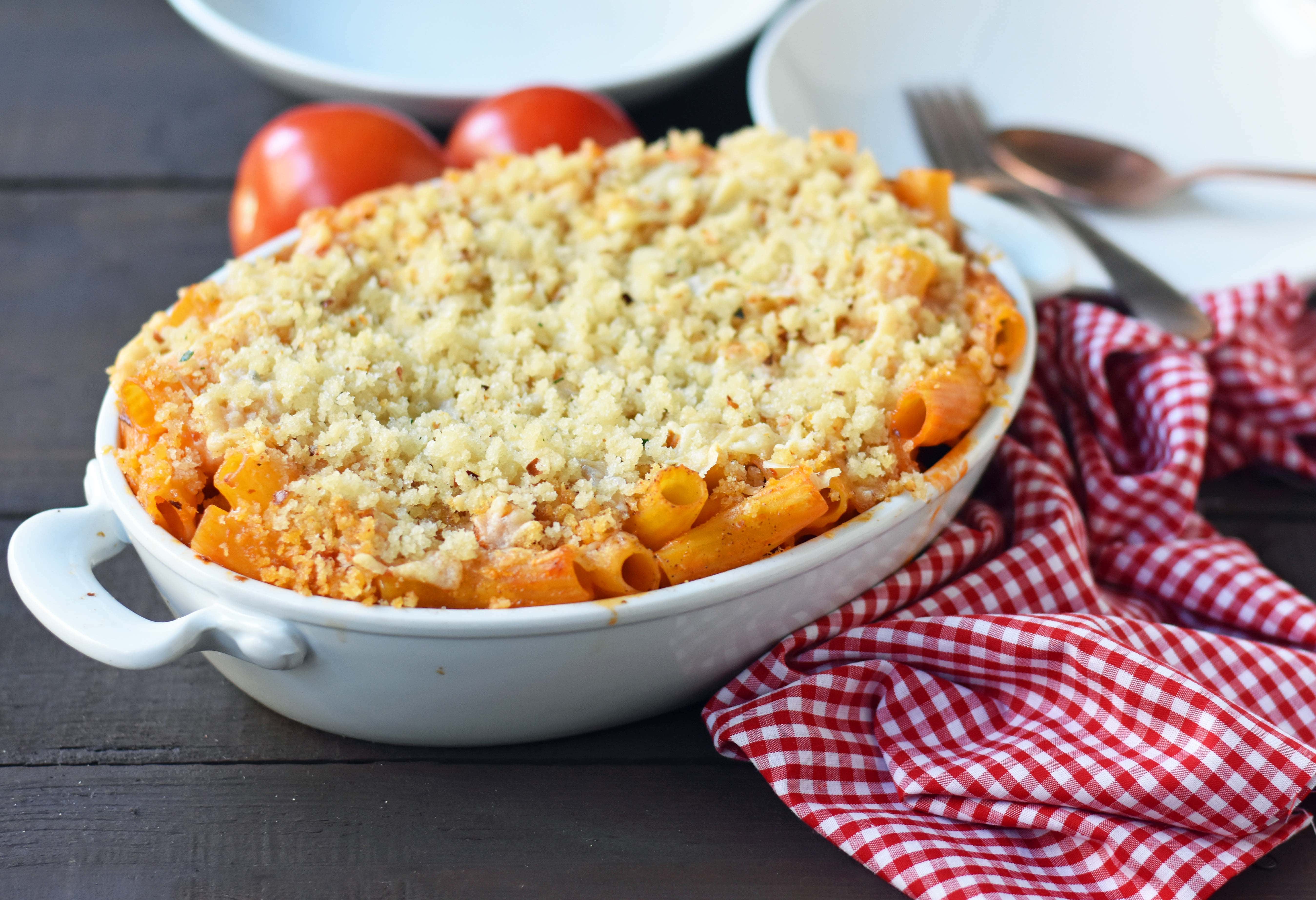 We all need simple, easy weeknight dinners. I have made baked ziti before and even though it has been good, I wanted to take it up a notch. When I traveled to Chicago for the first time last Fall to be a part of Nestle's BAKE SOME GOOD event, it was in the middle of the World Series. The Cubs were playing away but the spirit and excitement in the city was palpable.  I walked around the city by myself exploring and soaking up the city. Of course I ate deep dish pizza and Italian food and walked around one of my favorite places, Eataly by Mario Batali. If you haven't been, make it happen! It is a foodie's dream. I love a good deal and found that every single cookbook was 50% off! I was in heaven!
Now, even though I traveled with a tiny carry-on suitcase, I was going to bring home some cookbooks! I sat in the cafe, eating some out-of-this-world dessert and perused cookbooks for 2 hours. People must have thought I was absolutely nuts with a stack of 25 cookbooks on my little table. I never buy a cookbook without fully immersing myself in the content.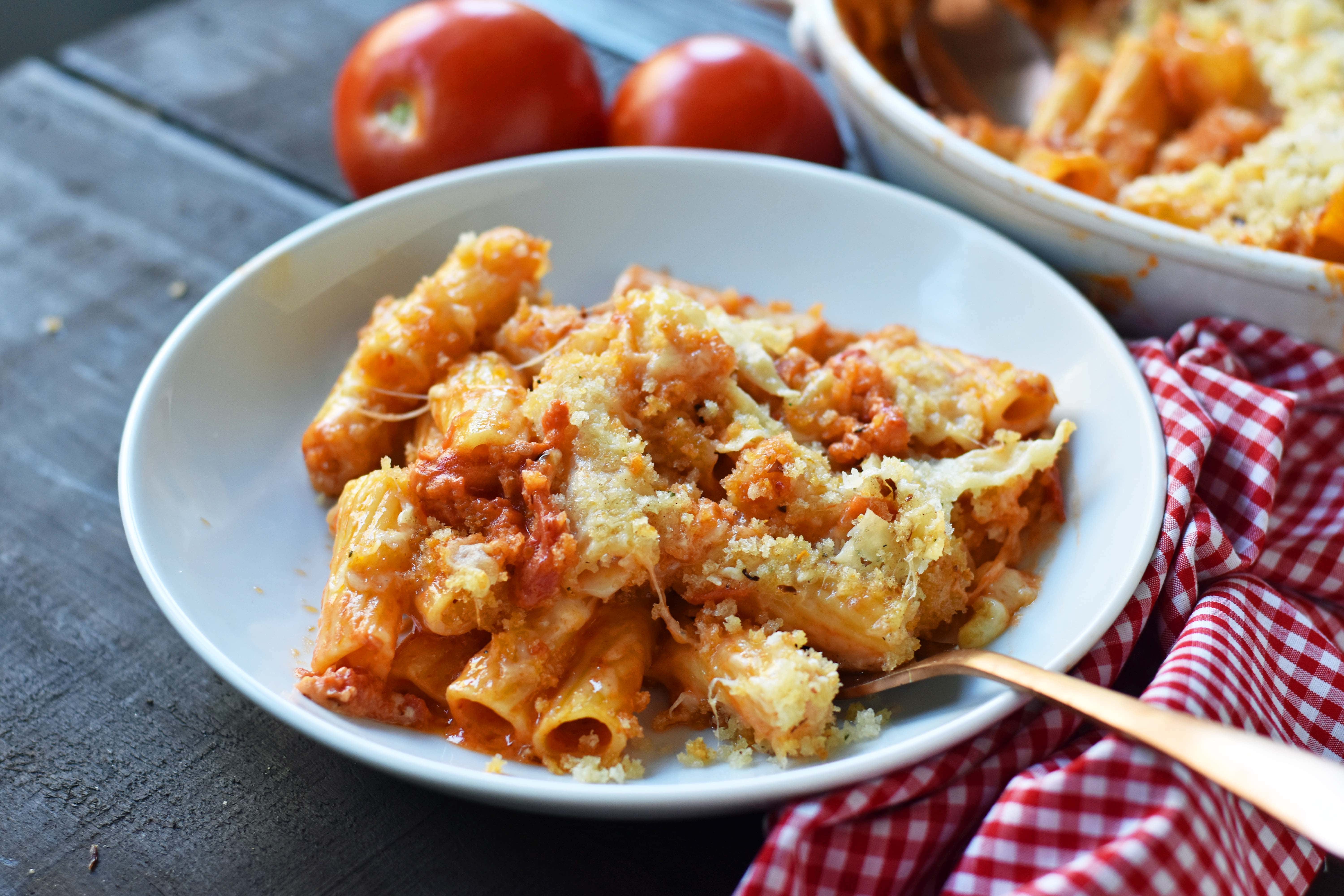 I picked up several and one happened to be an Italian cookbook. This Mario Batali cookbook talked about the art of baked pasta. This Cheesy Baked Rigatoni uses a bechamel sauce made with butter, milk, flour, and a touch of nutmeg. When the pasta is covered in bechamel suace, it stays moist and rich when baked. No dried out pasta here! Bechamel sauce keeps it creamy while baking. Adding a touch of nutmeg adds to warmth to the sauce. I have changed up the recipe to add more sauce and parmesan cheese since those are extremely important in Italian food, right?
The homemade marinara sauce is crazy simple using only quality canned tomatoes, olive oil, garlic, crushed red pepper, and salt. So easy! The cooked rigatoni or ziti pasta is covered with the handcrafted marinara sauce, creamy bechamel sauce, mozzarella, and parmesan cheese and olive oil garlic bread crumbs. The bread crumbs is what makes this unbelievably good. The pasta melts in your mouth surrounded by the creamy sauce and cheeses but the crumb topping adds a crunch to balance it all out. This is the most surprising part of the dish — everyone goes crazy for the crunchy topping! The key is that the panko bread crumbs are tossed with olive oil and a touch of garlic salt for extra flavor.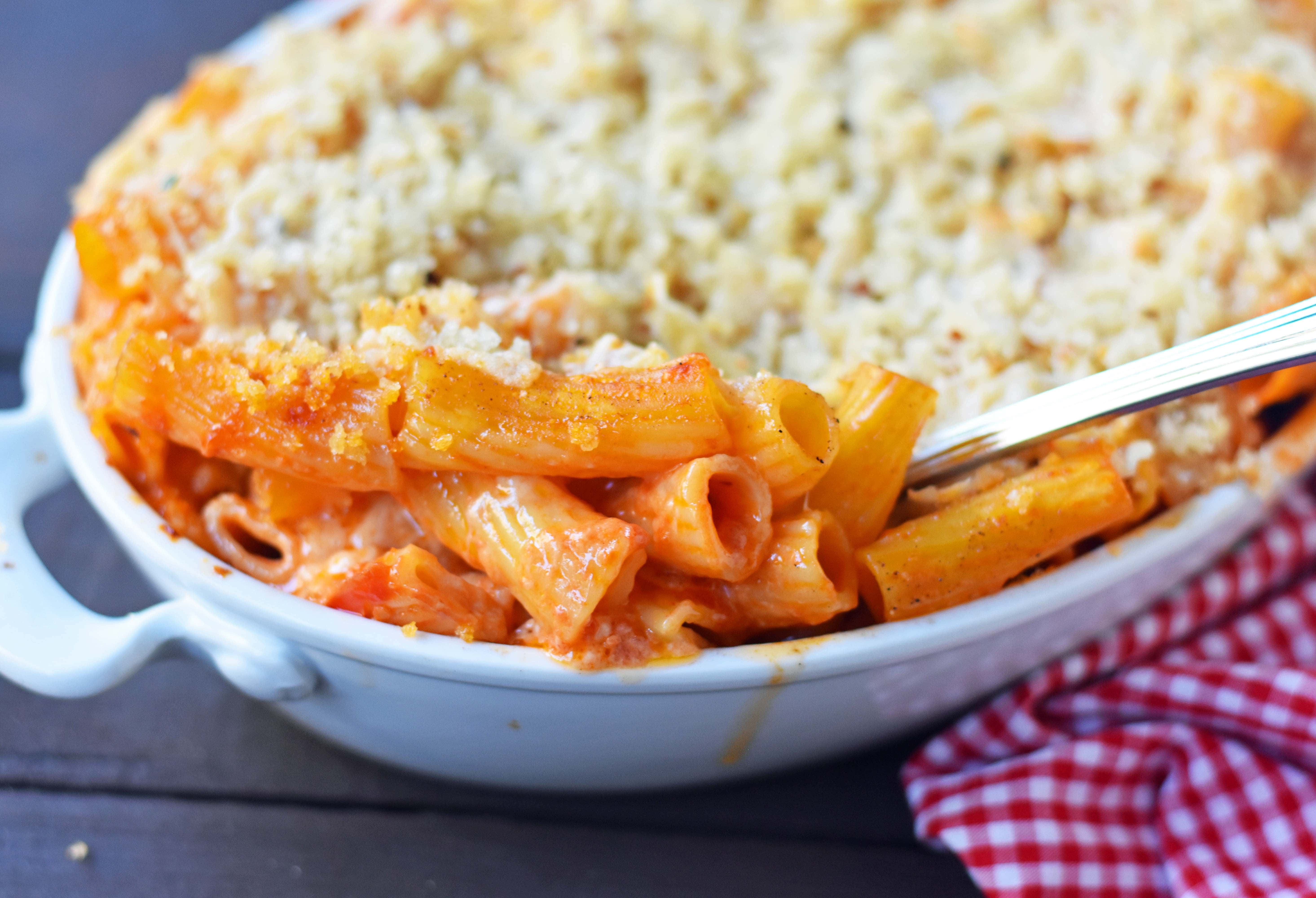 This Cheesy Baked Rigatoni can be made in less than 30 minutes and this is one of our favorite pasta dishes of all time. I don't say that lightly.  I make A LOT of food in this home!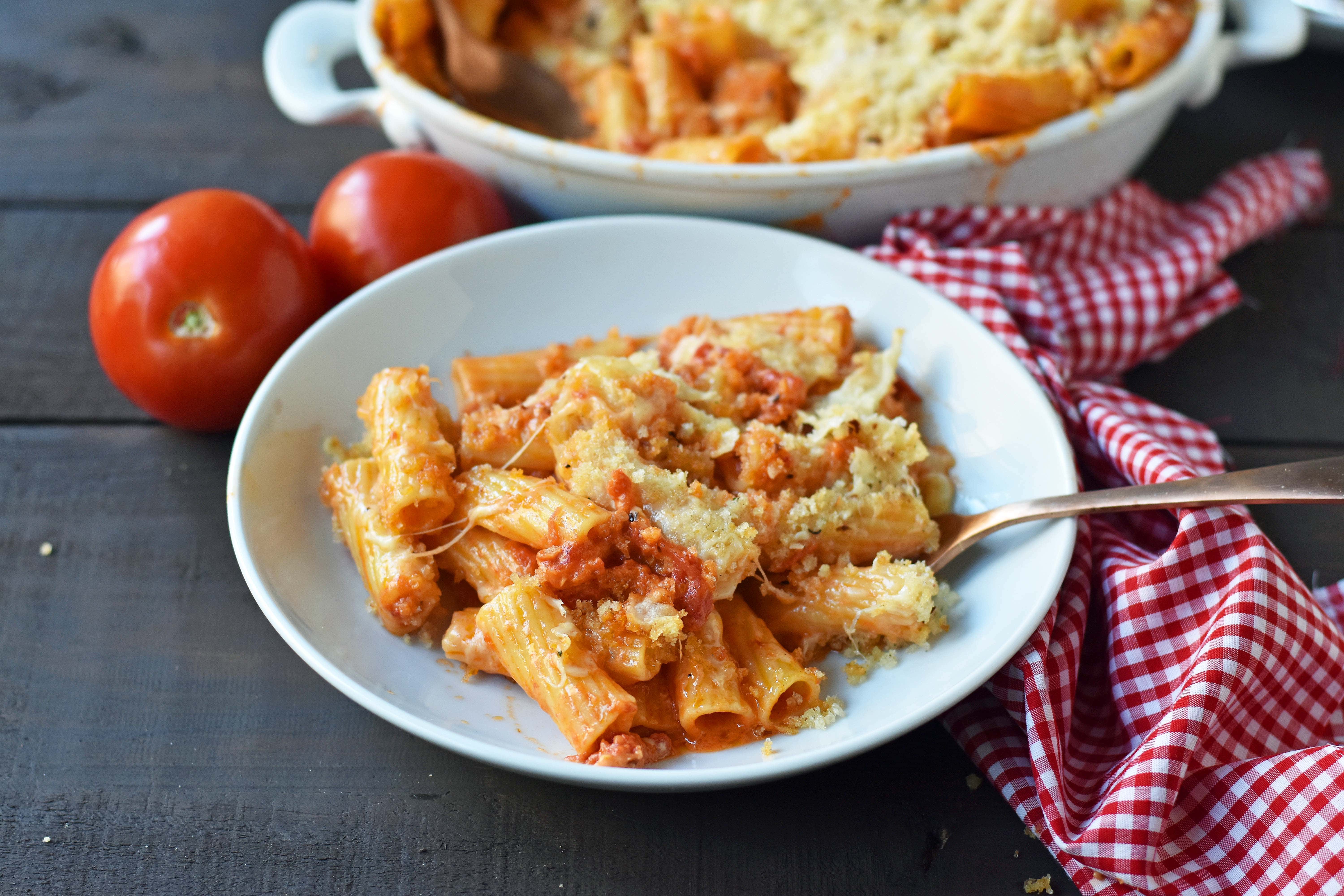 Pin this now to find it later
Pin It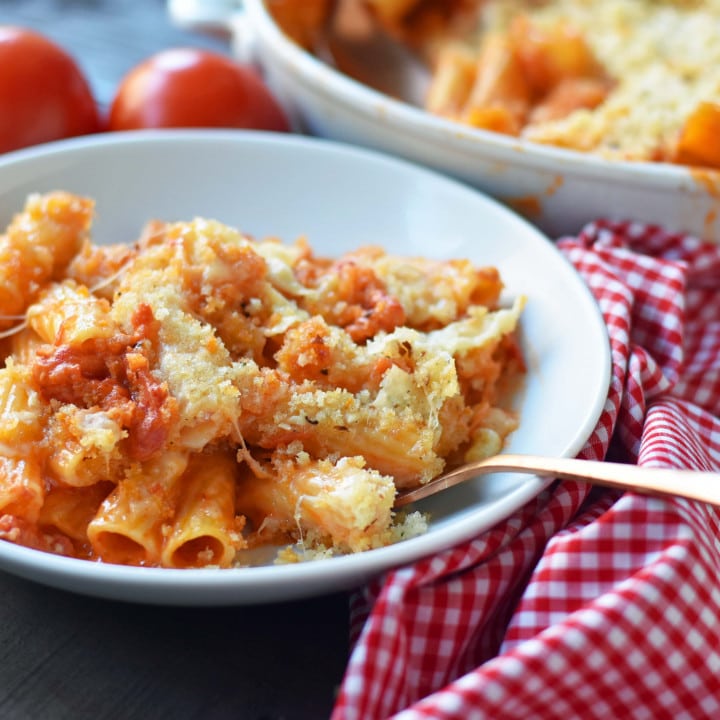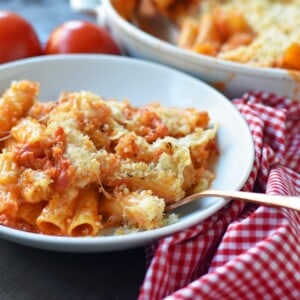 Cheesy Baked Rigatoni
A favorite favorite Italian cheesy baked rigatoni. All of the secrets and tips to create a rich and creamy pasta dish at home.
Ingredients
1/4

cup

Olive Oil

divided

2

Garlic Cloves

finely diced

1- 2

teaspoons

Crushed Red Pepper Flakes

depending on spice preference

1 - 28

ounce

can Whole Peeled Tomatoes

crushed with hands

1

teaspoon

Salt

2

Tablespoons

Salted Butter

2

Tablespoons

Flour

2

cups

Whole Milk

1/4

teaspoon

Nutmeg

1

lb.

Rigatoni or Ziti Pasta

2

cups

Parmesan Cheese

1

cup

Mozzarella Cheese

1

cup

Panko Bread Crumbs

1/2

teaspoon

Garlic Salt
Instructions
Preheat oven to 350 degrees.

Heat 2 Tablespoons of the olive oil in medium saucepan over medium high heat. Add garlic and 1 teaspoon crushed red pepper and cook for 2 minutes.

Add tomatoes, with their juices, and salt. Bring to a boil.

Reduce to simmer and let simmer for 10 minutes.

Fill a large pot with water and bring to boil. Add a good amount of salt to the boiling water. Add the rigatoni or ziti and cook according to package instructions, minus 2 minutes. You don't want it to fully cook or it will overcook when you bake it in the oven. Drain the pasta.

Melt butter in medium sauce over medium heat. Stir in flour and mix until a paste forms and it begins to show some color. Whisk in whole milk. Bring to a boil and cook for 5-7 minutes. Turn off the heat and add nutmeg and a pinch of salt.

Add the bechamel sauce and tomato sauce to pasta and toss to coat. Stir in mozzarella cheese and 1 cup of parmesan cheese, reserving the remaining 1 cup of parmesan cheese for the topping.

Transfer pasta to 9 x 13 baking dish. Top with remaining parmesan cheese.

In small bowl, mix bread crumbs with 2 Tablespoons of olive oil and garlic salt.

Top pasta with olive oil bread crumbs and a touch of crushed red pepper flakes.

Bake for 14-17 minutes or until pasta starts to bubble and the bread crumbs become golden.

Let pasta sit for 5 minutes before serving to allow the sauce to set up.
Nutrition information is automatically calculated, so should only be used as an approximation.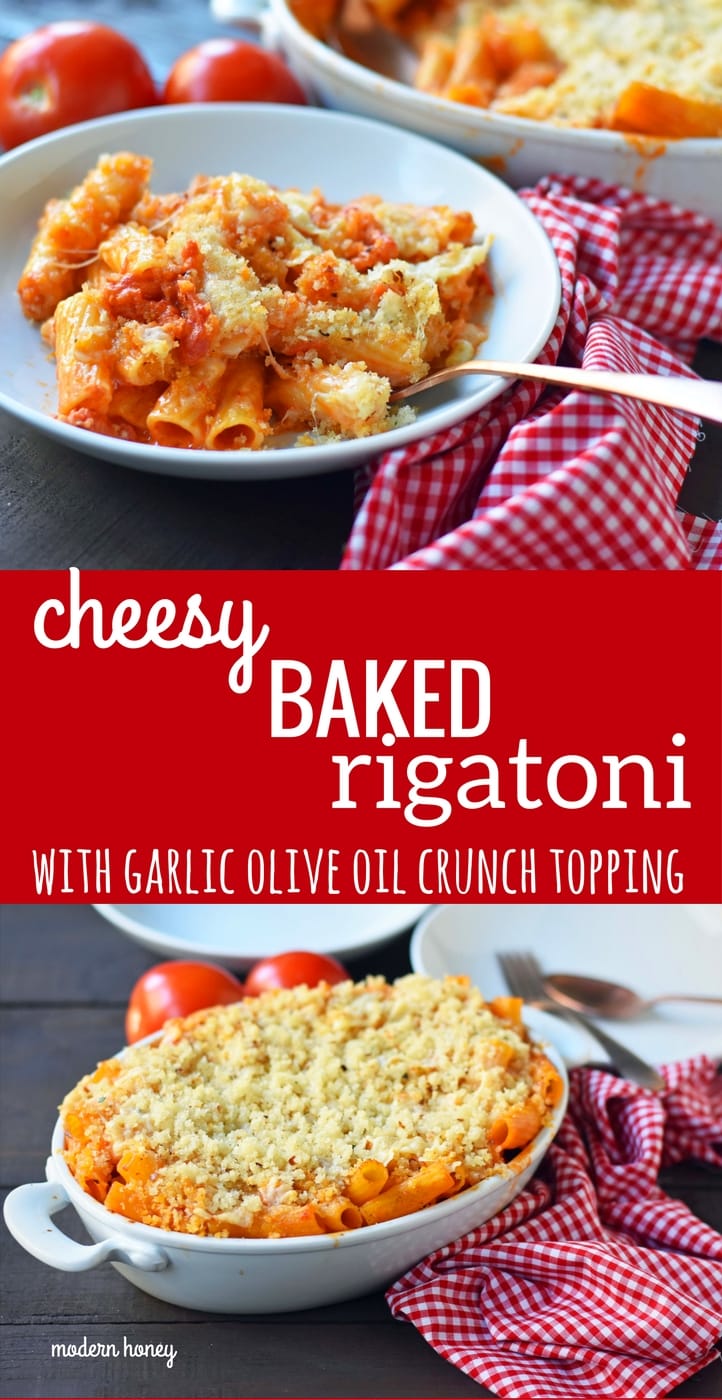 I would LOVE to hear about and see pics of your Cheesy Baked Rigatoni. Find me on instagram at modern_honey or use hashtag #modernhoney.