Growing up, our wood-paneled station wagon was always filled with kids and food. My Mom loved to bake homemade bread. She would wrap the loaves in plastic bags, tie them with ribbon, put them in the back of the station wagon and make her deliveries.  She wasn't selling the bread, but delivering the warm, freshly baked bread to people who needed a pick me up. I watched her do this my whole life.
Today she is 74 years old. She still spends her day baking birthday cakes for her neighbors and her neighbor's children. She does it out of the goodness of her heart. Her next door neighbor, Jackie, recently brought over some blueberries and asked if my Mom would make her some homemade muffins. Of course my Mom said yes! She is the epitome of service and lives her life trying to bring joy to those around her.
Since I was the only girl with 5 big brothers, I loved to spend time in the kitchen with my Mom. I watched her knead and roll out countless loaves of bread. I watched in awe as she spent her days in the service of others. I wanted to be just like her….and still do! As a teenager, I started a tradition of baking cookies on Sundays, then delivering plates of cookies to my friends. It was so much fun and definitely rewarding as I saw the joy (and a few dates) that came from a single plate of cookies!
A few weeks ago it was Fall Break for my kids. They usually spent their days watching movies, playing sports, perfecting their video game play, and enjoying the freedom from school work. I wanted to do something that would help them think outside of themselves and help them experience the joy that comes from serving others.
So I woke them up early one morning and announced that we were making a few batches of Snickerdoodles and homemade peanut butter sandwiches.  When our preparation was completed, we placed the sandwiches and cookies in bags, wrote positive and encouraging words on each bag, and loaded them into our car. We drove to downtown Phoenix, distributing the bags to the homeless we found living on the streets.
My kids were in awe at what they experienced. These homeless men and women, living on the streets, were so grateful for a simple sandwich and cookie. As we were walking to the car, one of my boys asked when we could do it again. They caught the vision! This is one of my favorite quotes because it is a great reminder for all of us. "No act of kindness, no matter how small, is ever wasted." — Aesop.
Recently, I saw an instagram post from Nestle Tollhouse about a campaign called Bake Some Good.  Each day for 100 days, going through the peak holiday baking season, Toll House Bakers are baking and delivering a goody to thank under-appreciated do-gooders or to just brighten someone's day. How amazing is that?
A few hours after reading their instagram post, I received a surprise invitation from Nestle asking me if I would fly out to Chicago to help their bakers whip up some cookie cups to deliver to a homeless shelter. I was beyond thrilled to be asked to help with such an incredible cause! I literally cleared my calendar and was on a plane to Chicago 6 days later! I was beyond excited and humbled to be a part of something that I feel so passionate about.
Visiting Chicago has been on my bucket list for years and it did not disappoint. What a beautiful city! I seriously loved every minute of my experience.  It was pouring rain when I arrived but being the Arizona girl that I am, I loved the rain.  I wasn't even sure we owned an umbrella and when I found it, I had to remember how to use it! It may sound pathetic, I know, but I live in the desert! The rain, however, didn't stop me from partaking in the best deep dish pizza, while cheering on the Cubs in the World Series. It was amazing and got even better the next day.
We met in the morning and took our ride to the Nestle test kitchens. I was literally pinching myself!
There are six incredible bakers who are spreading joy every single day for 100 days — Cherise, Sarah, Hayley, Eric, Soyoung, and Kate. Nestle picked the best of the best! They were amazing and so much fun! I loved hearing their personal stories as to why they wanted to be a part of this Bake Some Good movement. They are passionate about doing good and rendering service to others and it shows in their actions.
I was placed on Team 1 with Cherise and we were to make our own version of Nestle's popular Chocolately Chocolate Chip Cookie Cups. Game on! Cherise found out pretty quickly that I am a perfectionist in the kitchen and love a good friendly competition. 🙂
We must have laughed and talked for 2 hours straight while baking the cookie cups.  If you look closely you will see a white bowl of chocolate chips on the counter which was devoured by me in about 2.5 seconds. 🙂
After the cookie cups cooled, we put them in large white boxes and get them ready to deliver to the homeless shelter. I asked if I could go ride along (in the legit Nestle Toll House van, no less). In my opinion, that was the most rewarding part!
As we pulled up to the homeless shelter and loaded our arms with the large white boxes, the tears started to flow. There is something so rewarding when you recognize and thank others for their service.  We delivered them to a room filled with men and women who work at the homeless shelter and give their time and wisdom, helping others during difficult times.
We heard a story about a man who had been working there for years. He came to the shelter for help at a time when he was struggling in his own life.  The people there were able to help him turn his life around and he discovered an inner confidence he didn't know he had. He is now giving back by working there and in turn helping others. The stories were tugging at my heart-strings!
The Vice President of the shelter said that in all the years he had been there, no company had ever done something so nice to thank their employees.  They were touched. Small gestures can make a real difference!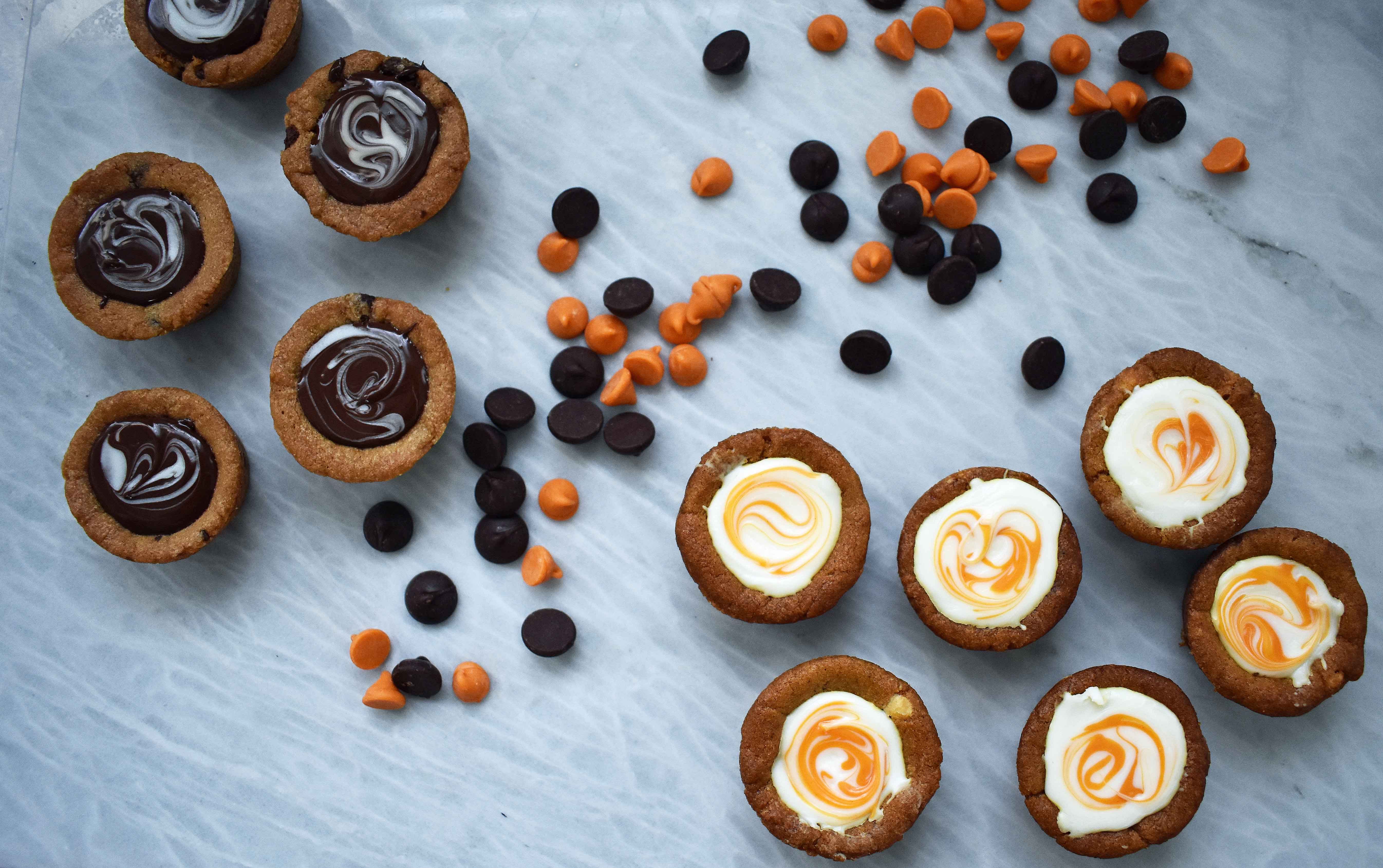 I didn't want my trip to end. It was a whirlwind and one of those experiences I will forever be grateful for.  How amazing it would be if we could all take part in such a project.  If we could think about those who need some acknowledgement for all they do and maybe take the time to deliver an unsuspecting plate of cookies to them.  Everyone wants to feel appreciated and it could start with a simple plate of cookies…. #BakeSomeGood
After all was said and done, I was able to go home with some of the cookie cups we made that day. I must have eaten 4 of them — all by myself! I had eaten cookie cups before but with frosting in the center which sometimes can be overly sweet. These were filled with simple chocolate ganache which was absolutely heavenly!
I couldn't wait to share these Chocolate Ganache Filled Cookie Cups with you! Oh and did I tell you that they were simple and use only 3 ingredients? Crazy simple! If you want to use homemade cookie dough instead, here is a perfect recipe — Ultimate Chocolate Chip Cookies
A cookie cup is basically cookie dough placed in a mini cupcake pan and baked. After baking, the cookie cups are filled with chocolate ganache. Ganache is simply made by melting chocolate and a little cream over a double boiler (or even in the microwave).
The sky is the limit on what you can fill them with once you get the basic cookie cup method down. We used white chocolate, milk, chocolate, semi-sweet, and dark chocolate. You can even use a toothpick to swirl around a few different types of chocolate in the center.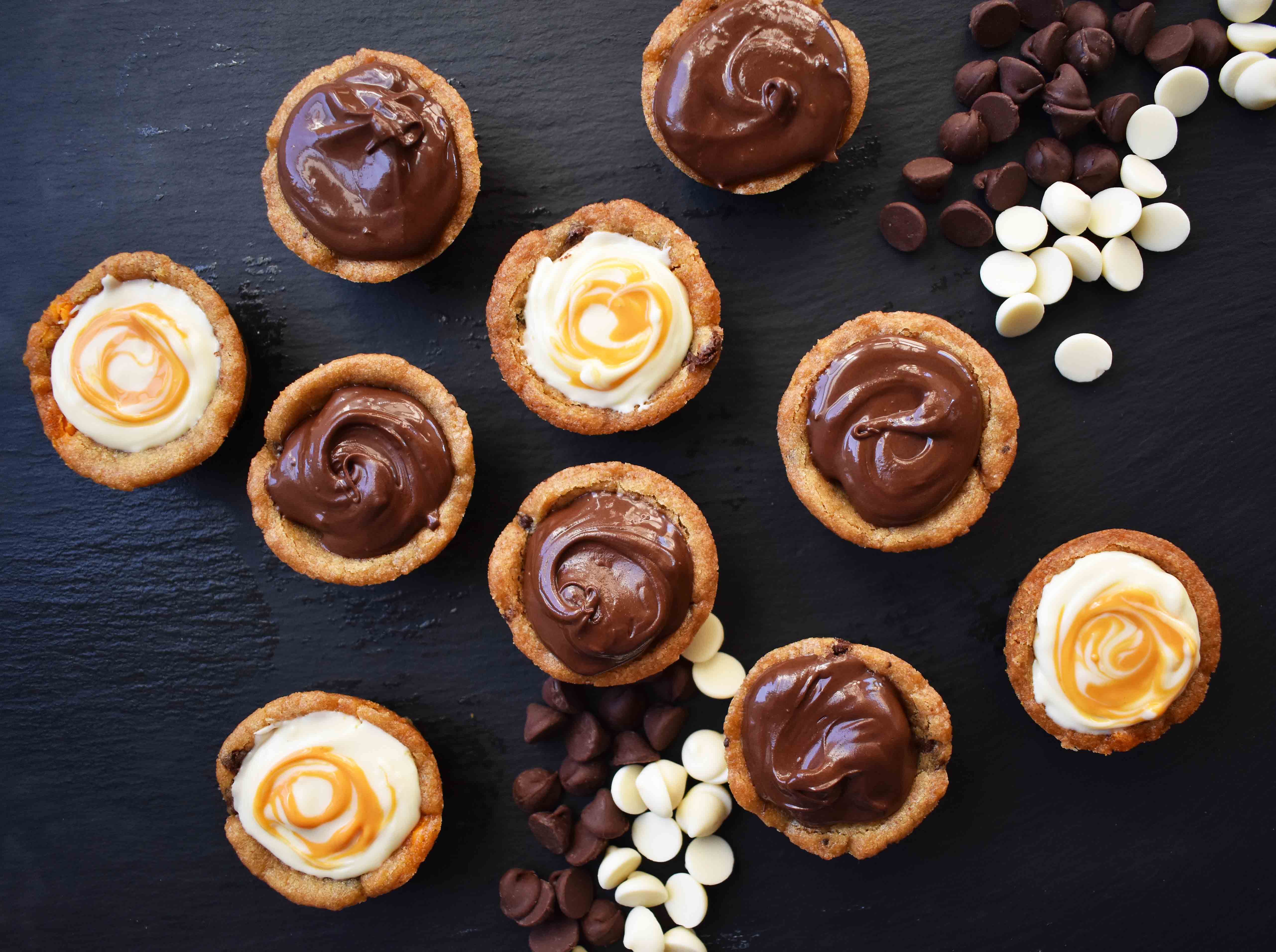 I used Nestle Chocolate Chip cookie dough, found in the refrigerated section of the grocery store. It is so easy to use because it is already cut into the perfect squares to fit into the muffin pans. You know I LOVE cookies and am ultra picky but I was so impressed at how amazing these tasted! I actually went to the grocery store the next morning to pick up some cookie dough so I could make them again! All of these thoughts are my own. #ad
It's as simple as placing a square of cookie dough in the center of the mini cupcake pan (click HERE to find my favorite one) and pressing the dough up the sides of the pan. It is as if you are creating a well for the center to be filled with ganache.
After the cookie cups come out of the oven, use a small measuring spoon to gently press down to create a more pronounced center to be filled with chocolate ganache.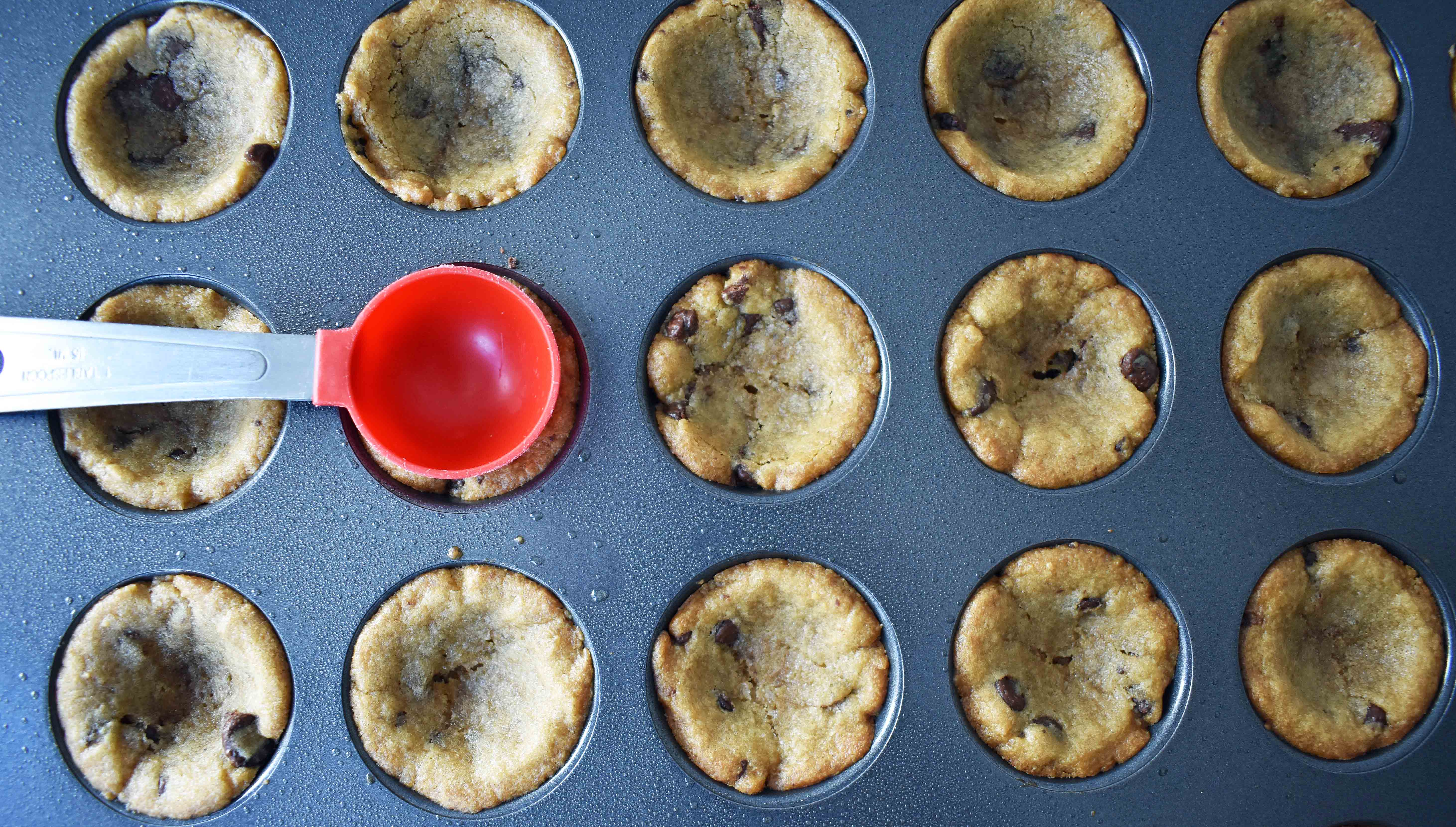 Once cooled, remove the cookie cups from the pan. The ganache can be made in a double boiler or the microwave method. The double boiler is so easy to put together. Add about 2 inches of water to a medium saucepan or pot and bring to a very gentle simmer.Place a heat-safe bowl on top of the pot so that the bottom of the bowl is not touching the water. Add the chocolate chips to the bowl and stir occasionally with a spatula until smooth and melted. Add a little bit of cream to make it extra smooth.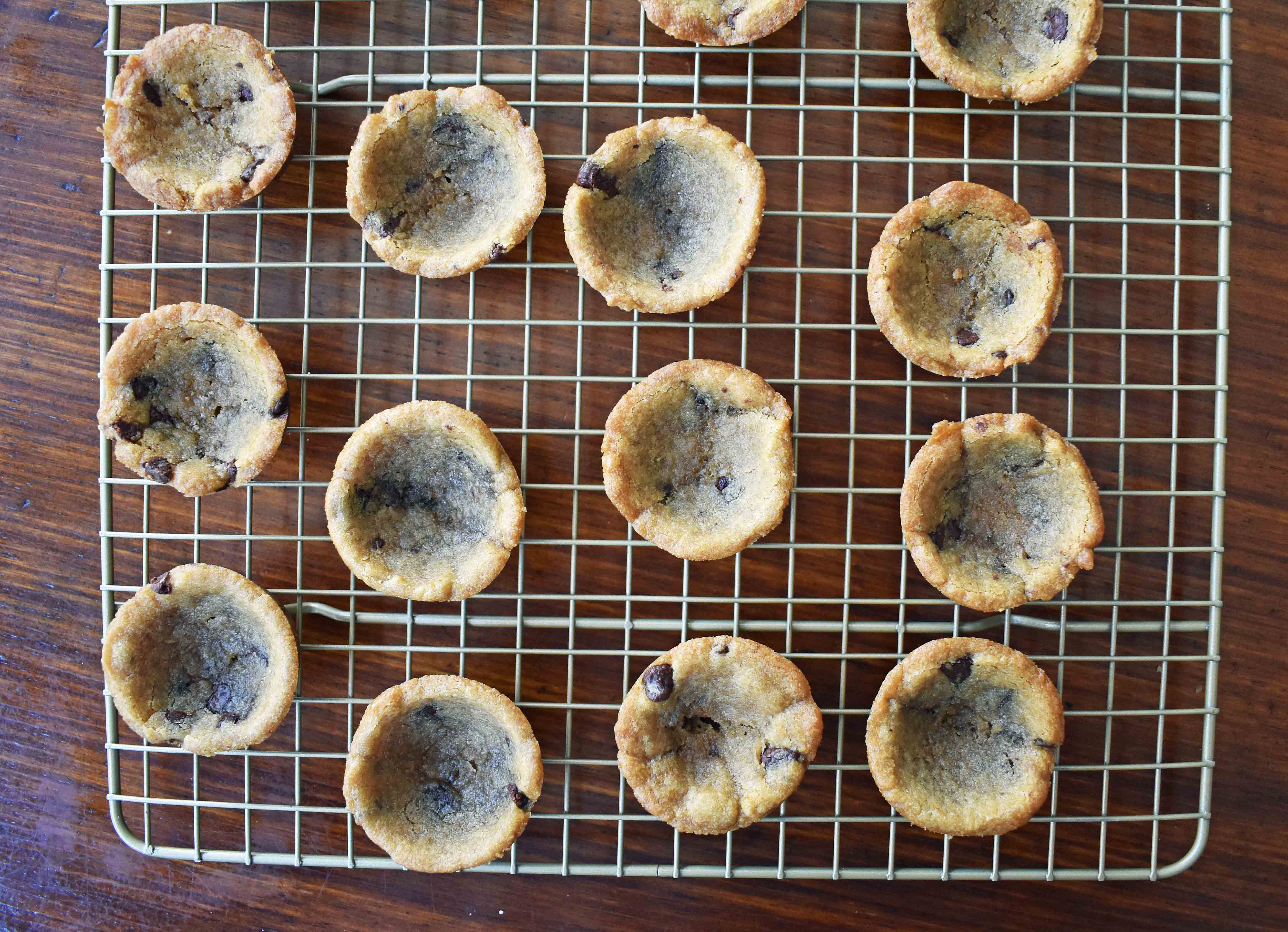 Take a small spoon and scoop a dollop of ganache in the center of the cookie cup. You can use a tootpick or tip of a sharp knife to make swirly tops.
Pin this now to find it later
Pin It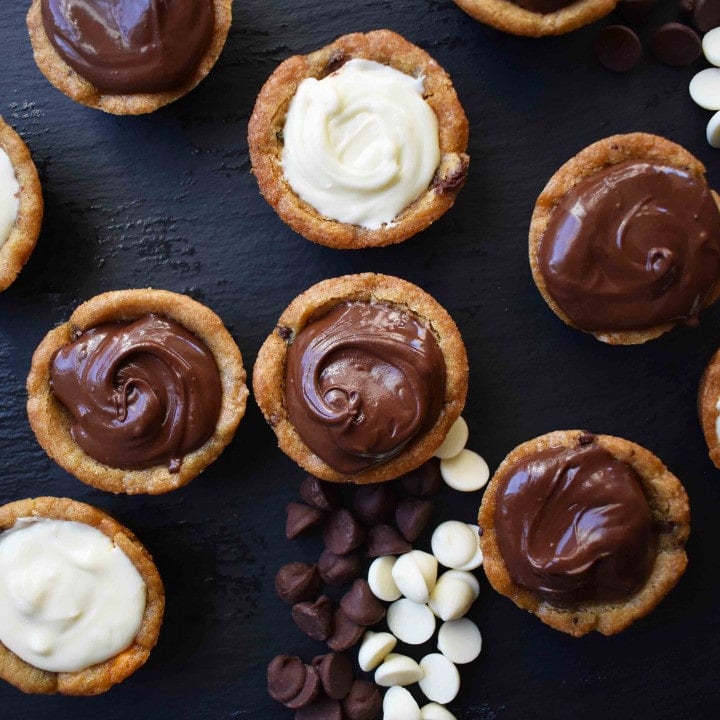 Chocolate Ganache Filled Cookie Cups
Chocolate Chip Cookie Cups filled with rich chocolate ganache made with chocolate and cream. It's a chocolate lover's dream!
Ingredients
1 - 16.5

ounce

pkg. Nestle Chocolate Chip Cookie Dough

homemade recipe down below

1

cup

Chocolate Chips

2

Tablespoons

Heavy Cream
Optional:
White Chocolate

Milk Chocolate, Semi-Sweet, or Dark Chocolate

Swirl with white chocolate

Top with chocolate chips or chocolate curls



ULTIMATE CHOCOLATE CHIP COOKIE RECIPE:
1

cup

Butter

room temperature

1 1/2

cup

Brown Sugar

1/3

cup

Sugar

2

Eggs

2

teaspoons

Vanilla

3

cups

Flour

1

teaspoon

Baking Soda

3/4

teaspoon

Baking Powder

1/2

teaspoon

Salt

2

cups

Chocolate Chips or Chocolate Bars

chopped

For cookie dough directions: https://www.modernhoney.com/ultimate-chocolate-chip-cookies/
Instructions
Preheat oven to 325° F. Optional -- paper-line 24 mini-muffin cups.

Place squares of dough into prepared muffin cups; press down lightly in center to make a well.

Bake for 9 to 11 minutes or until edges are set. Cool in pans on wire racks for 5 minutes; remove to wire racks to cool completely.

Double Boiler Method: Add about 2 inches of water to a medium saucepan or pot and bring to a very gentle simmer.Place a heat-safe bowl on top of the pot so that the bottom of the bowl is not touching the water. Add the chocolate chips to the bowl and stir occasionally with a spatula until smooth and melted. Add cream to make it extra smooth.

Microwave Method: Microwave chocolate and cream in small heatproof bowl on medium power (50%) for 30 seconds; stir until smooth. Microwave at additional 10- to 15-second intervals, stirring often until melted.

Fill each cookie cup with chocolate ganache. Can top with additional chocolate chips or chocolate swirls.
Nutrition information is automatically calculated, so should only be used as an approximation.
These Chocolate Ganache Filled Cookie Cups are so elegant yet so easy to put together. You are going to go crazy over them! Now let's all go Bake Some Good and make this world a better place!
Happy Baking, my friends! xoxo