Bring on the Snickerdoodles!
This is the cookie that reigns supreme in our house and I am shocked that I've waited so long to share it with you.
I have been making this exact recipe since my Junior High days. I have tried other recipes but always come back to this tried and true Snickerdoodle cookie recipe.
I found it years ago in my Grandma's church cookbook and I have never looked back.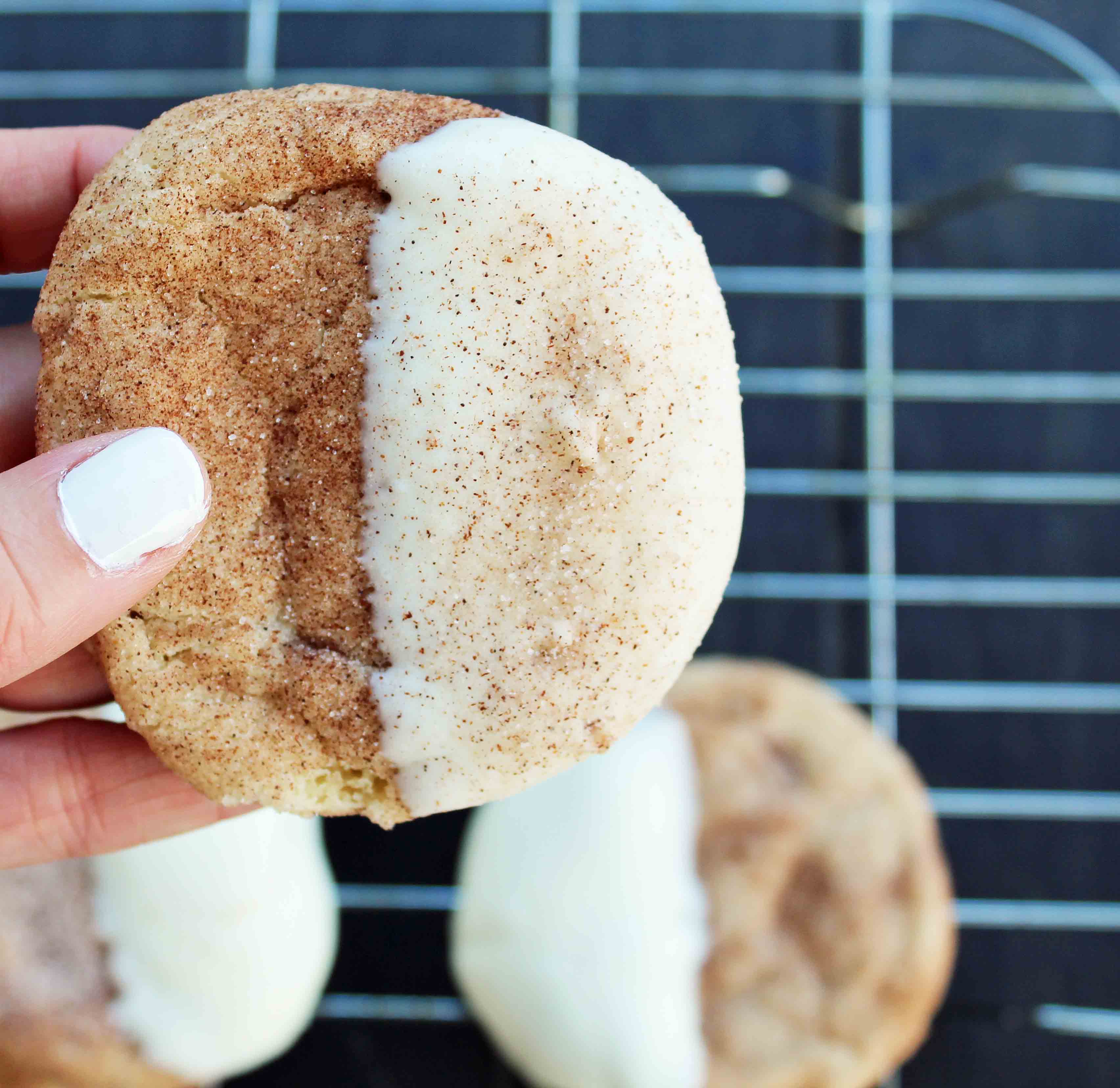 So what makes a PERFECT Snickerdoodle cookie?
The cookie has to be soft. I have eaten way too many hockey pucks in my life disguised as Snickerdoodles.
The key is to not overbake these cookies. They need to be soft on the inside with a nice crispy outside edge.
A big difference maker in Snickerdoodles is the use of Cream of Tartar. It is definitely a difference maker in these cookies! It contributes to the soft texture of the cookies and sets it apart from just sugar cookie dough rolled in cinnamon sugar.
Now the fun part! Snickerdoodles are amazing on their own but when you dip them in white chocolate, they become fancy gourmet White Chocoalte Dipped Snickerdoodles. The beauty is that you can dip the cookies in white chocolate then sprinkle on your favorite toppings from pistachios to cinnamon sugar to dried cranberries to M & M's to dried coconut.
When working with white chocolate, the key is to slowly melt it. You can use a double boiler or the microwave method. If using the microwave, use only 40-50% power and cook at 30 second increments. After cooking it for 30 seconds, move to 15 second increments at only 50% power. White chocolate can burn easily! It usually takes less than a minute to melt it, depending how much you are melting at one time. Stir the white chocolate after each time to see if it's ready.
For these White Chocolate Dipped Snickerdoodles, I used Ghiradelli White Chocolate Melting Wafers, which melt so nicely. You can use white chocolate chips as well. Remember to watch your white chocolate like a hawk while melting it!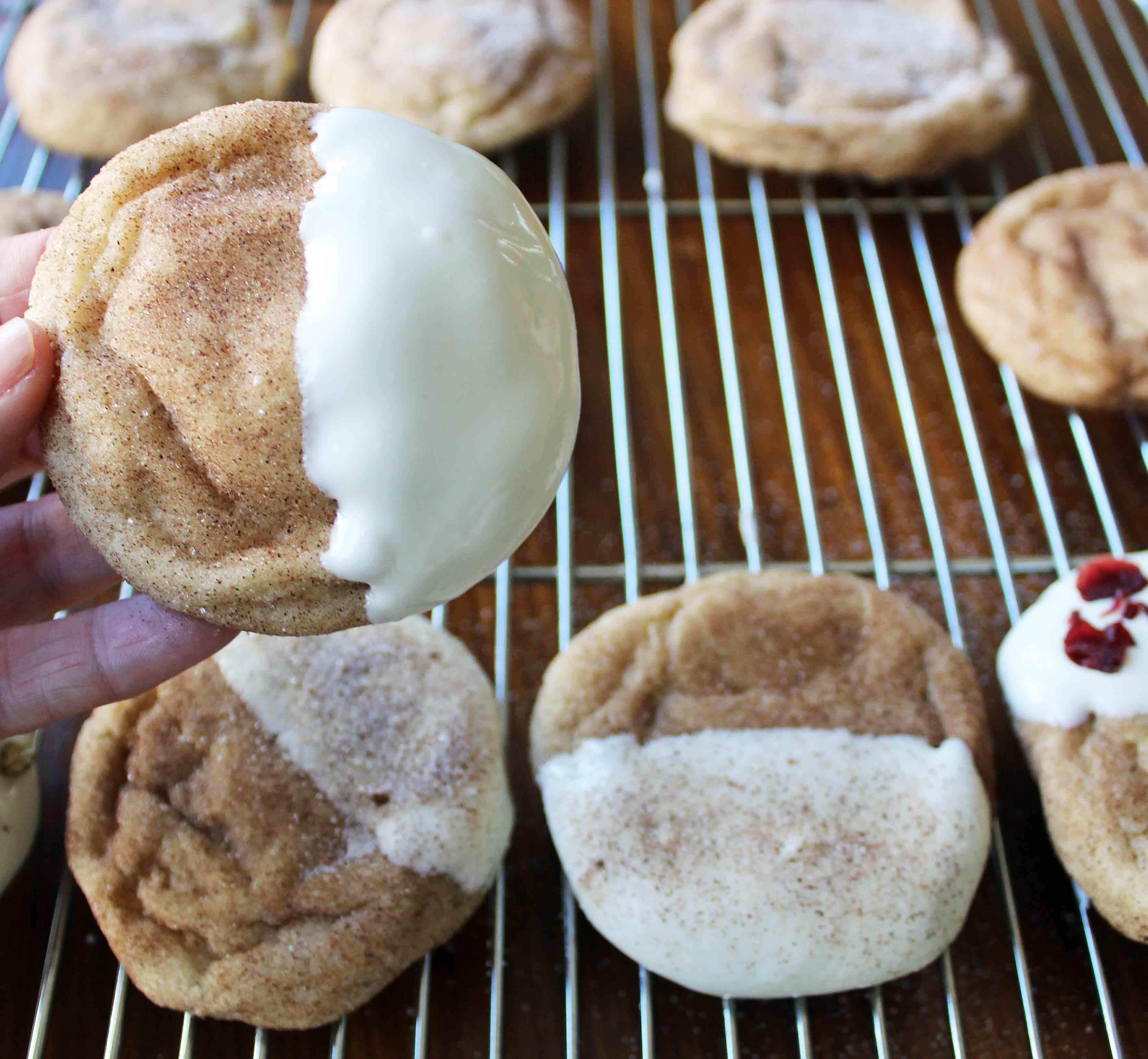 One of the biggest tips and secrets I can give you is to double coat your cookie dough with the cinnamon-sugar mixture. This is one of the keys to making out of this world Snickerdoodles. I roll my dough into a ball and then coat it with the cinnamon sugar mixture. Then I will repeat the process and coat it again on all sides. This is what gives the cookie layers of cinnamon flavor so it doesn't just taste like a sugar cookie with a sprinkle of cinnamon on it.
This dough can be made ahead of time and chilled in the refrigerator. You know how chilling cookie dough makes the final product that much better! These are so perfect to make ahead of time and roll out the day of serving. They also freeze extremely well for kids lunch or for when you just have a White Chocolate Dipper Snickerdoodles cookie craving!
Now you can have gourmet White Chocolate Dipped Snickerdoodles at home. There is a reason that these are one of the most popular cookies out there.
Happy Baking, my friends! xo