Quick and Easy Cheesy Chicken and Rice all made in one skillet. This 30-minute, no-bake chicken and rice dish is such a crowd pleaser and so easy!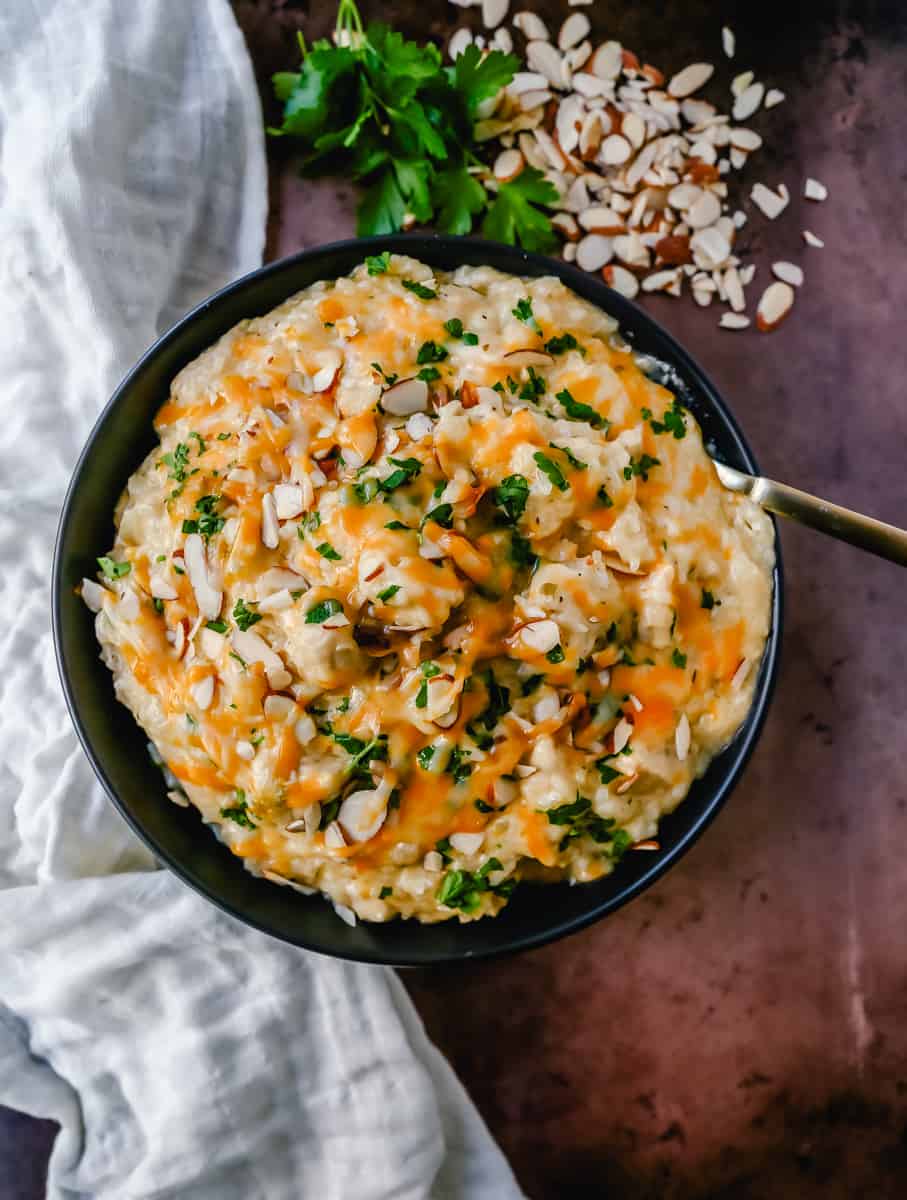 My kids are always asking "what's for dinner?" I love dinner recipes that I can quickly whip up without a lot of preparation. This skillet cheesy chicken and rice is so easy and I always have the ingredients on hand, ready to make it, so I don't have to run out to the grocery store. Plus this creamy chicken and rice is super rich and creamy without even using cream!
What ingredients are in Cheesy Chicken and Rice?
Chicken Breast
Oil
Salt + Pepper
Onion + Garlic
Thyme + Tarragon
Rice
Chicken Broth
Milk
Parmesan + Cheddar Cheeses
Sliced Almonds
Fresh Parsley
This stovetop chicken and rice is made in one skillet, which makes it so easy. It is a no-bake dish and is literally made in 30-35 minutes.
You start off by sauteing chicken breast. I suggest using thin-sliced chicken breast or chicken tenderloins. I buy the frozen chicken tenderloins from Costco and if I am in a hurry, I run them under warm water for 5 minutes to allow them to defrost. I use kitchen shears to cut them into bite-size pieces. It is such a time saver since chicken tenderloins are much smaller and thinner and defrost much quicker than chicken breasts.
It is always key to season the chicken as it cooks to lock in the flavor. I suggest using a generous amount of salt and pepper.
What type of rice should I use in this Chicken and Rice?
My personal favorite type of rice to use in jasmine rice. I buy the Golden Star brand and love it. I do NOT suggest using instant rice in this recipe as it will turn to mush.
What type of cheese should I use in Cheesy Chicken and Rice?
I suggest using a strong cheese like parmesan for its robust and nutty flavor which is so perfect with this chicken and rice. I prefer to use two types of cheese in this cheesy chicken and rice and the other cheese of choice would be a medium cheddar or colby jack cheese. This will melt nicely and offer a good amount of flavor. You can use any type of cheddar cheese or cheddar combination.
How long should I cook this Creamy Chicken and Rice?
This skillet chicken and rice recipe calls for a generous amount of liquids for the amount of rice so it needs time to soak in all of the liquids and cook through. It depends on the type of pan used, how low of heat you use, and the type of rice. A general rule is 20-25 minutes on low, covered, after it is brought to a boil. If you have a deep pan, it may need a little longer time. If it is a shallow skillet, you will need less time.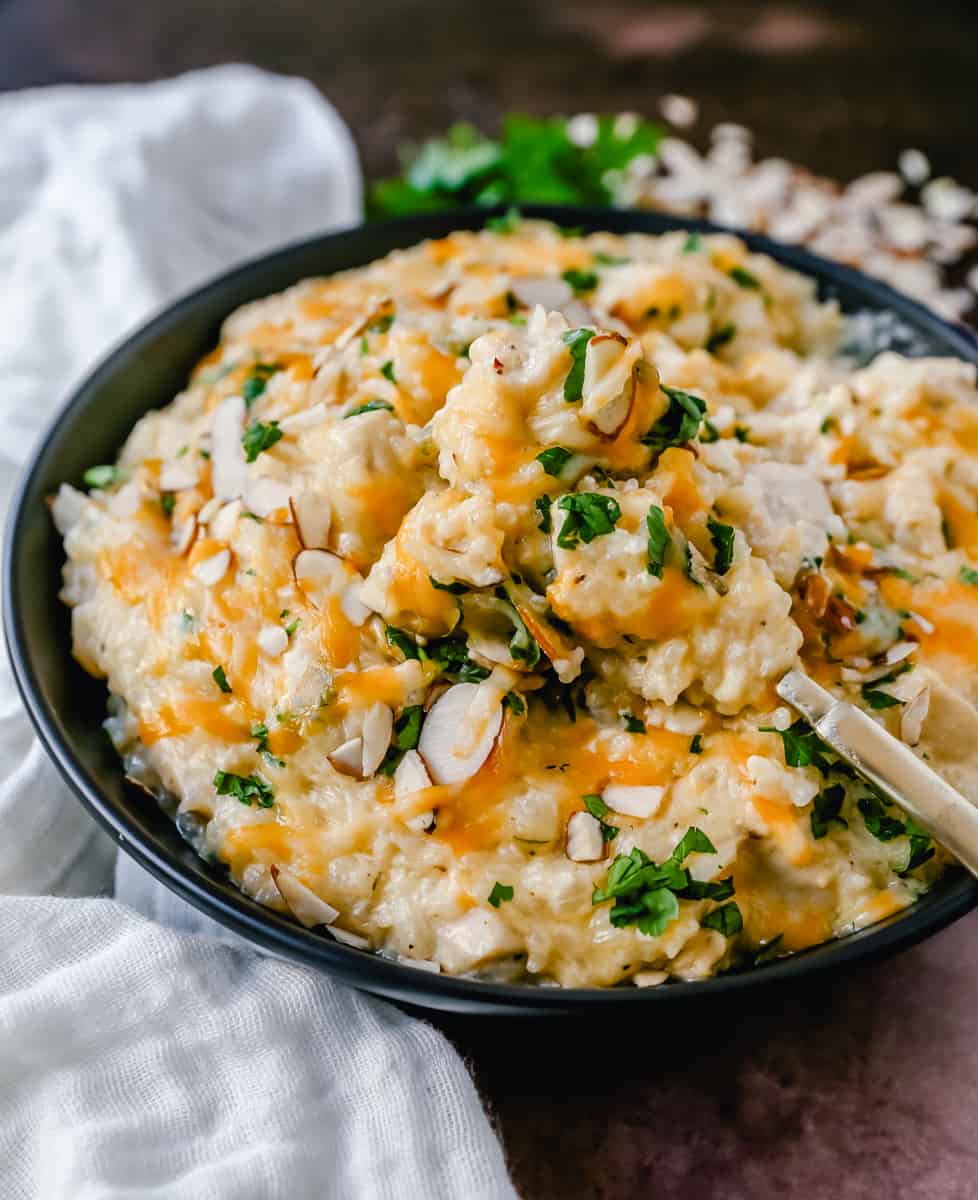 How to make Skillet Chicken and Rice:
Start by cutting chicken into bite-size pieces. Heat skillet over medium-high heat and add oil. Cook chicken for about 4 minutes, stirring often, until no longer pink. This chicken will continue to cook in the rice so it doesn't need to be fully cooked. Generously season the chicken with salt and pepper. Remove the chicken from the skillet and cover.
Add a touch of oil to the skillet. Saute the onion for about 5-6 minutes or until it begins to soften. Add garlic and cook for 1 minute longer. Sprinkle with thyme and tarragon.
Add in jasmine rice, chicken broth, milk, and chicken. Let it come to a simmer.

Reduce the heat to LOW to allow the rice to cook low and slow. Cover with a lid and cook for at least 20-25 minutes or until the rice is fully cooked and softened. The rice should have absorbed a lot of the liquid.

Stir in parmesan and cheddar cheeses. Taste for seasonings and add more salt and pepper as needed.