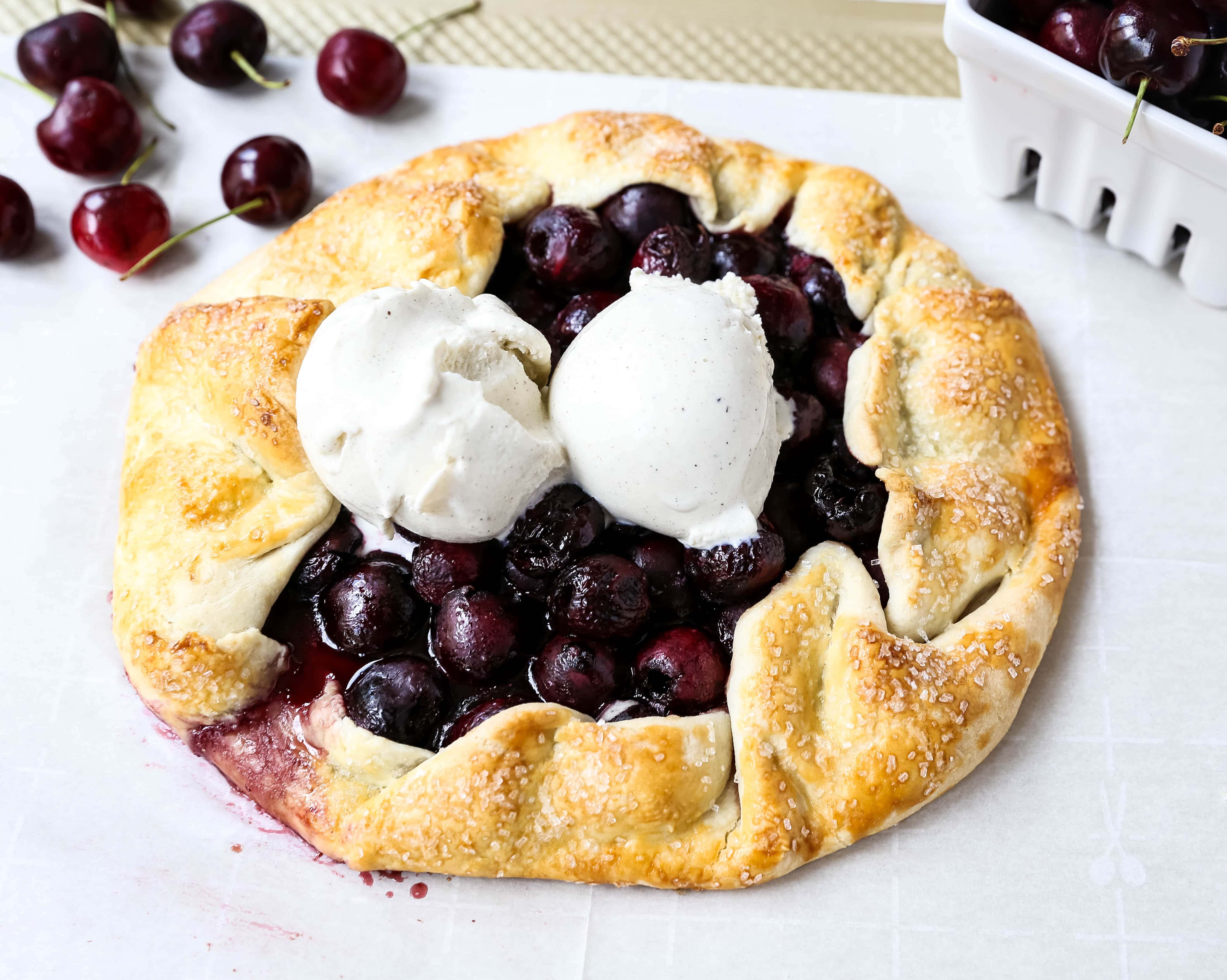 Cherry Galette
Fresh sweet cherries baked in a homemade rustic pie crust and topped with vanilla bean ice cream 
Sometimes making a homemade pie from scratch can be a daunting task. If you ask any baker, they will tell you that pie can be a tad finicky. Since we are all about simplifying and making things easier in the summer, I am sharing a simple no-fuss rustic cherry galette. It is basically a pie with only a fraction of the work. I would say that is a win-win.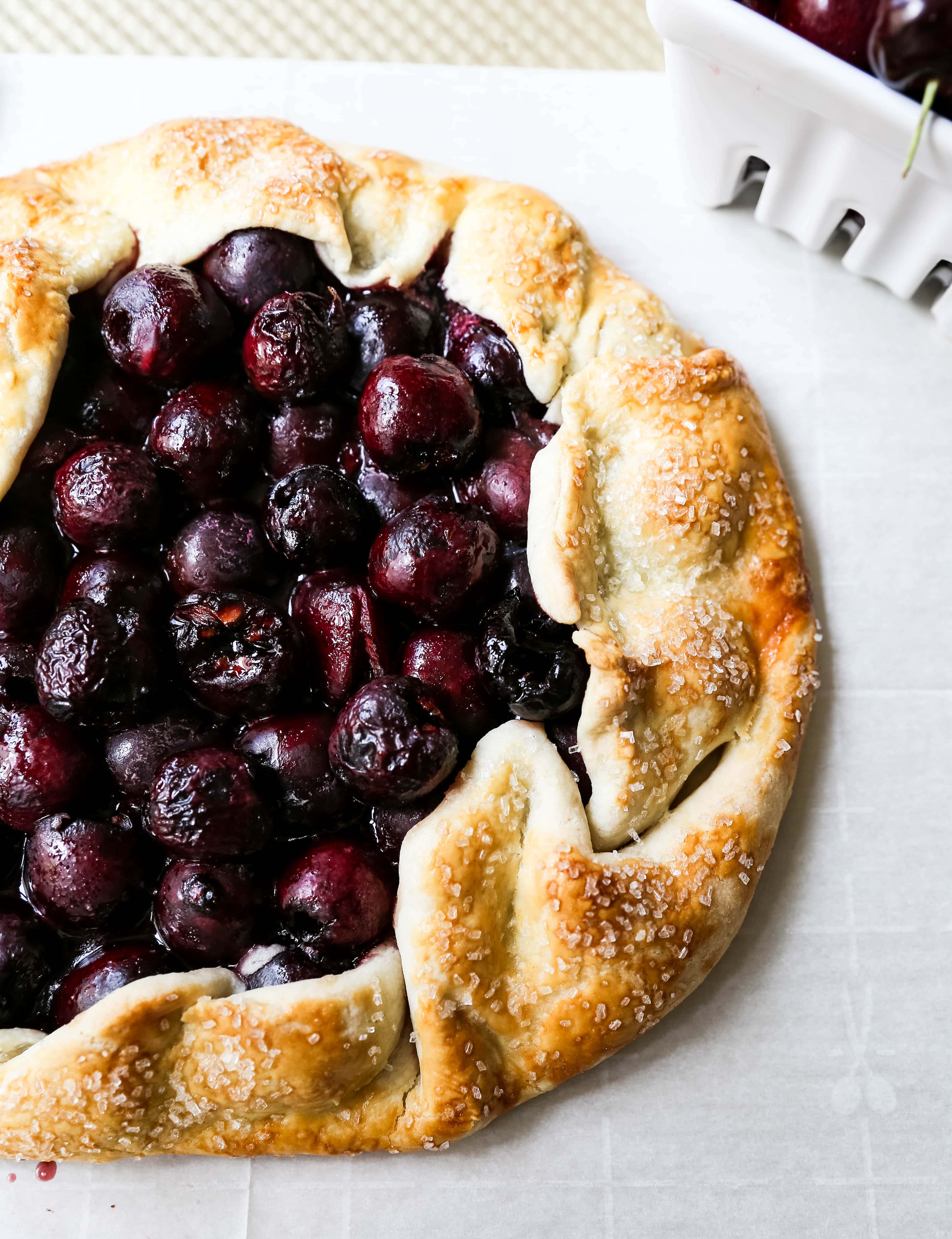 It is full-blown cherry season. I love the time of year when you can pick up sweet yet tart cherries at rock bottom prices. Right now...cherries are only 87 cents a pound at Fry's which is a steal! We have three full bags sitting in our refrigerator right now.
Since cherries are in season in the summer, I wanted to whip a cherry crostata which is basically an open faced cherry pie. There is no worrying about crimping the edges of the pie crust and making it pretty.  This is basically a make a pie crust, roll it out, place some sweetened cherries in the center, and fold the crust over a portion of the cherries. It may sound way more simple than a traditional pie but don't let the easiness full you...it still tastes AMAZING!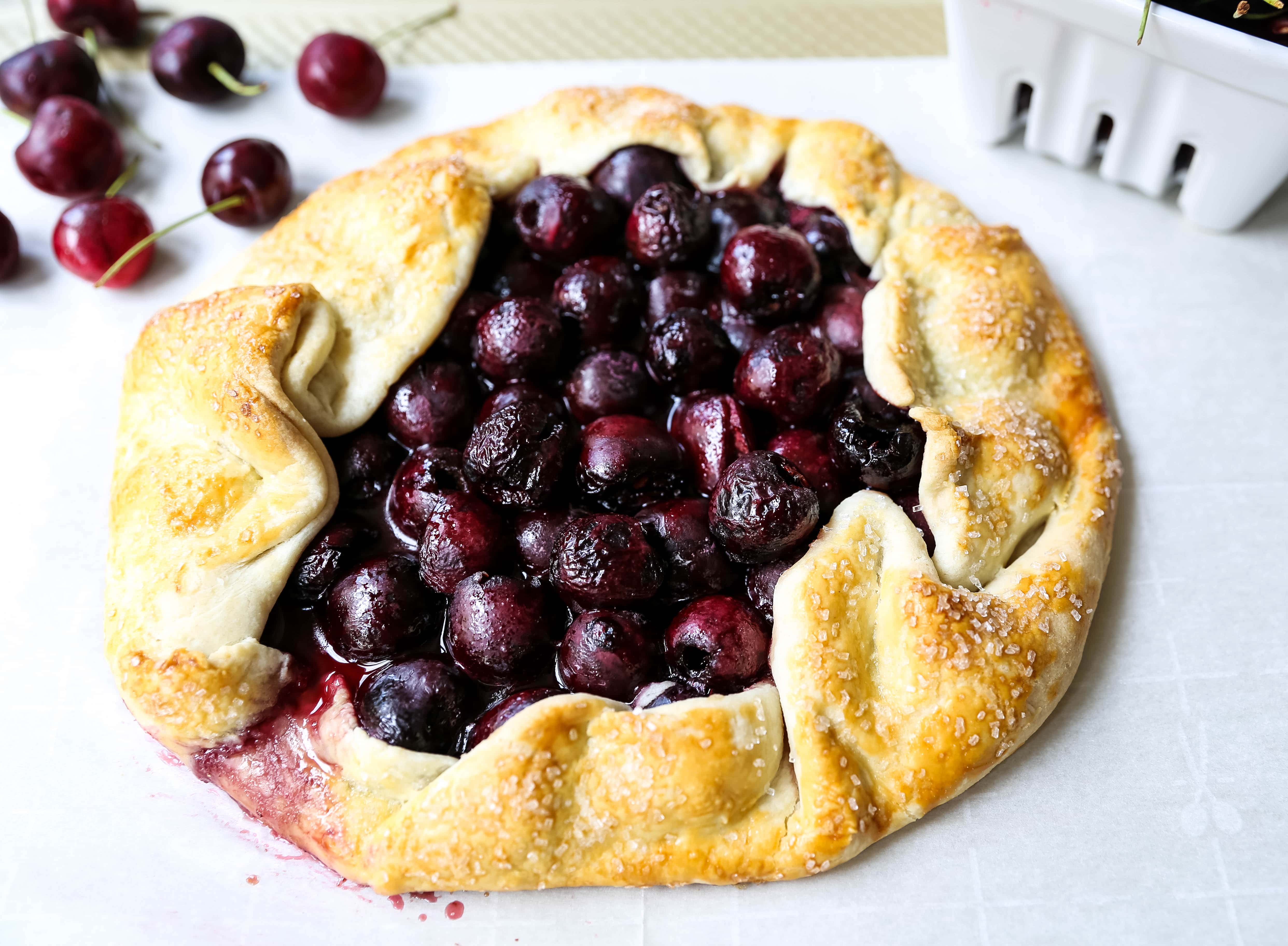 What makes the Best Cherry Galette?
It all starts with fresh cherries tossed with sugar, fresh lemon juice, almond extract, and some cornstarch to thicken it as the juices start to release.  The lemon juice acts as the perfect complement to the sweet cherries. Oh and almond extract just pairs perfectly with cherries every single time!
A homemade pie crust is the way to go. I take a lot of shortcuts and whip up my pie dough in a food processor. I can make pie crust in less than two minutes. I use my ALL BUTTER PIE CRUST RECIPE which creates a flavorful, flaky crust.  The key is to use very cold ingredients when make pie crust from scratch.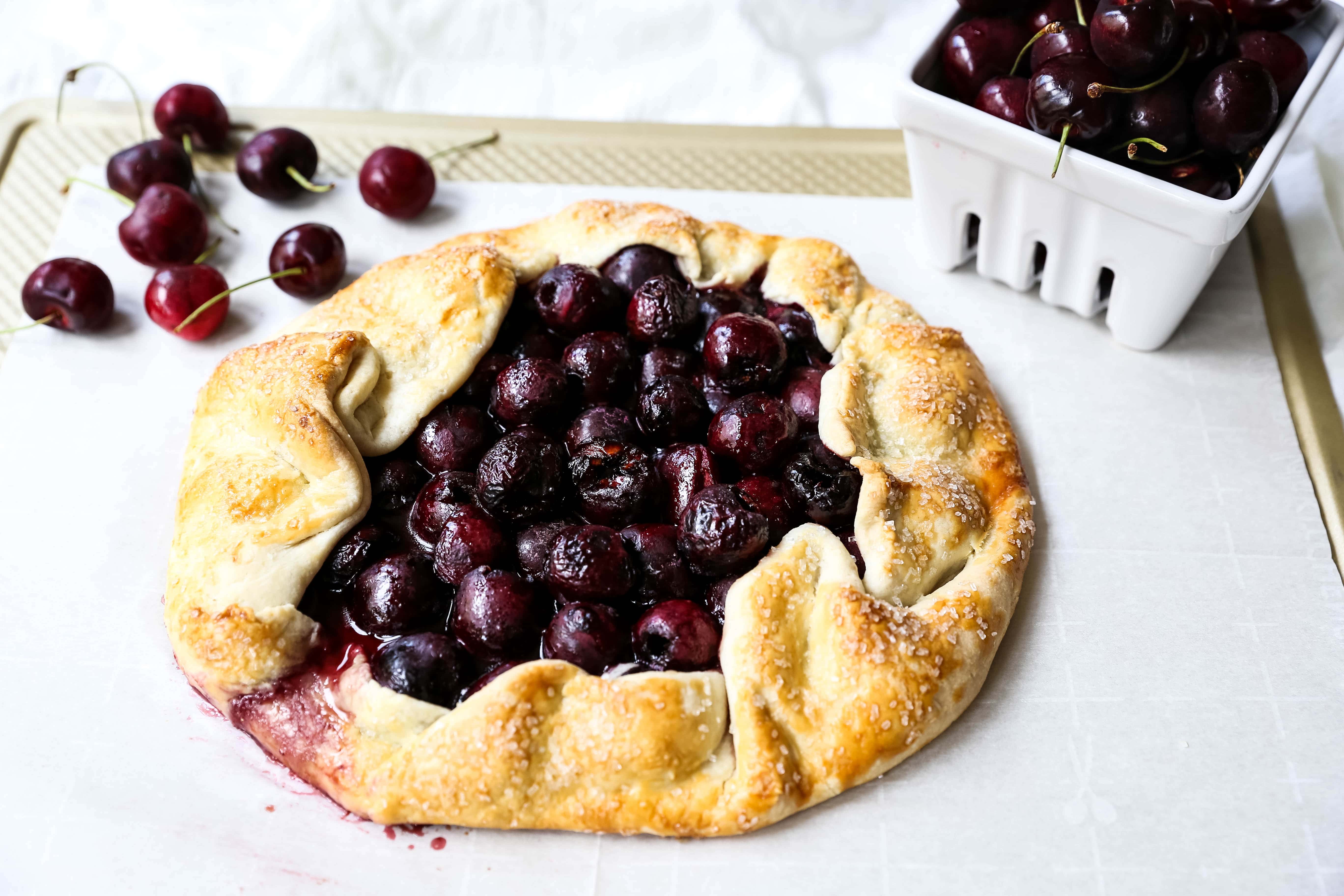 How to make the Best Cherry Crostata or Cherry Galette:
 Start by making a homemade pie crust. This is done by combining flour, salt, cold butter cut into cubes, and ice cold water or buttermilk. If time is on your side, wrap it up and let it chill and rest in the refrigerator. Roll it into a large circle.
Make the cherry pie filling by mixing fresh cherries, sugar, fresh lemon juice, almond extract, and cornstarch together until it completely coats the cherries.
Place the cherry pie filling in the center of the pie crust. Fold the sides of the pie crust over a portion of the cherries. This cherry galette is meant to be rustic so it doesn't have to be perfect.
Make an egg wash by beating one egg with a fork or a whisk. Lightly brush on the pie crust. Sprinkle with sparkling sugar, if so desired.
Place in a preheated oven and bake until the pie crust is a light golden brown color and flaky.
Serve with vanilla bean ice cream.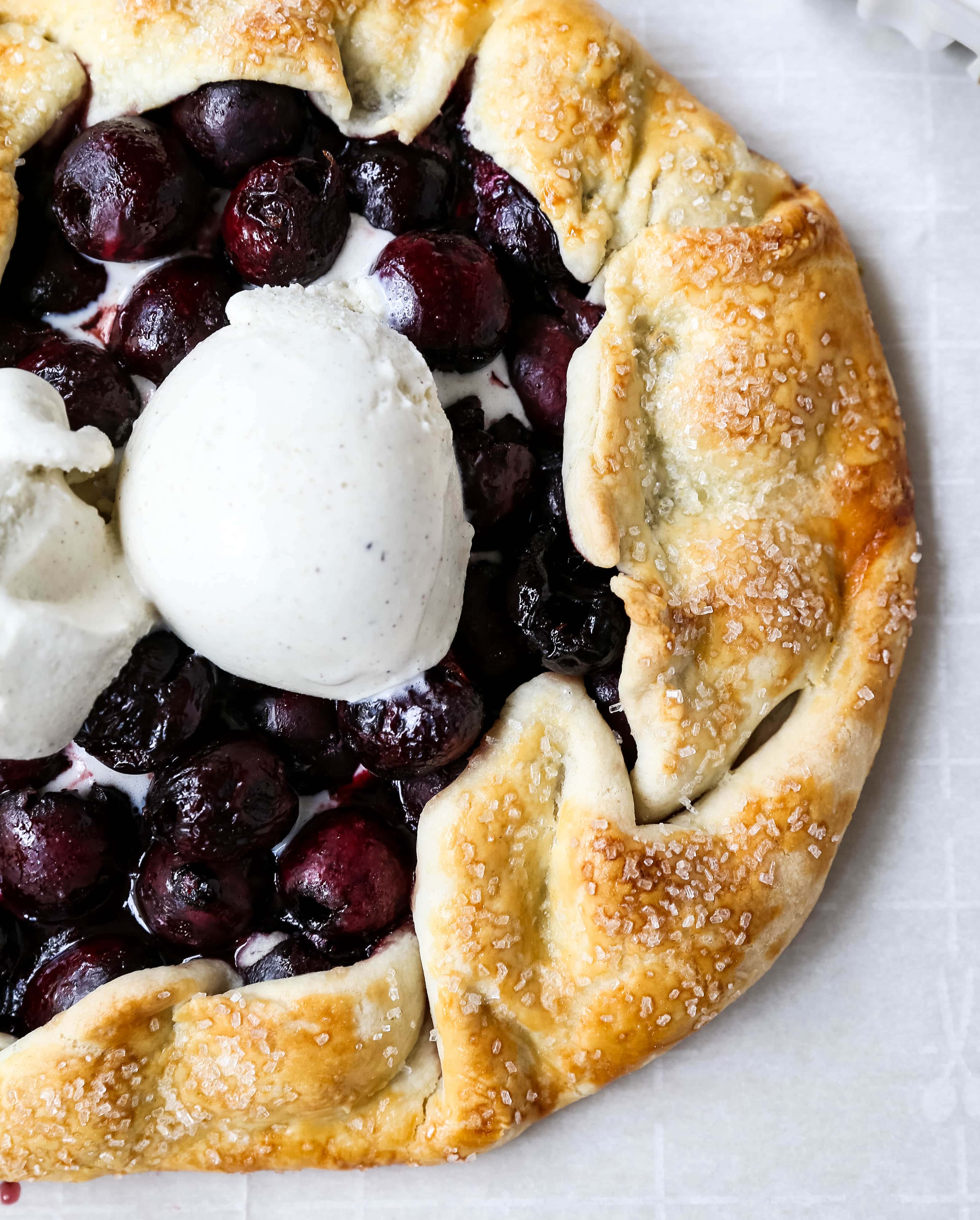 Here are my favorite baking tools for this recipe:
Cherry Pitter
Light-Colored Baking Sheets
Parchment Paper Sheets
Rolling Pin
Nielsen-Massey Almond Extract
Just Here for Dessert Pie Server