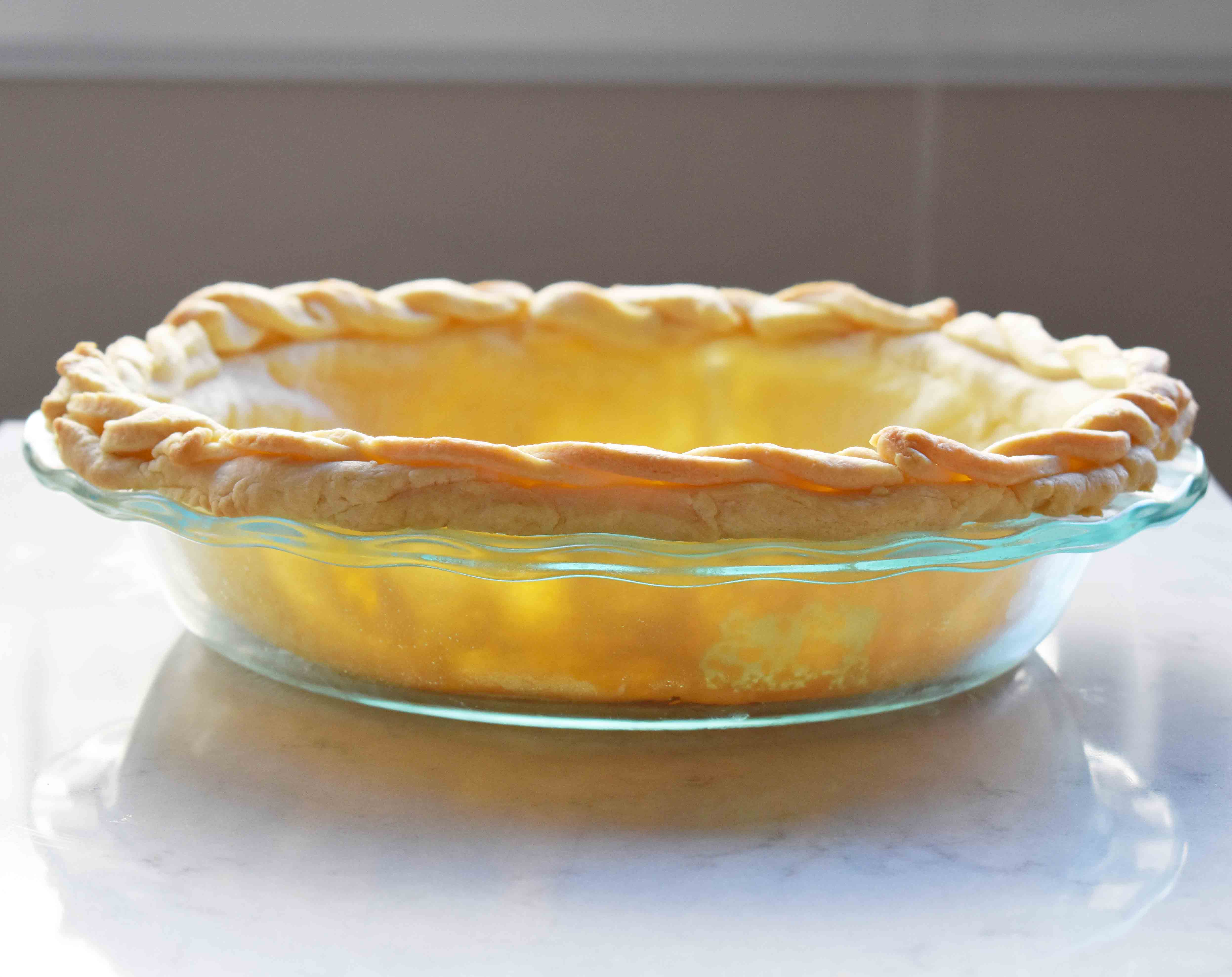 The Thanksgiving countdown is on! 17 days and counting....
It's the Super Bowl of food and the only holiday that literally resolves around one single meal.
It's also the only holiday that can put you in a food coma in 5 minutes flat. Bring on the naps!
Pie is the star of the show and it needs a solid foundation. I am sharing all of the tips and tricks to make a perfectly flaky, foolproof, all butter pie crust.
I have had epic fails in the pie department so you can learn from my mistakes! I am going to break down this Butter Flaky Pie Crust step by step.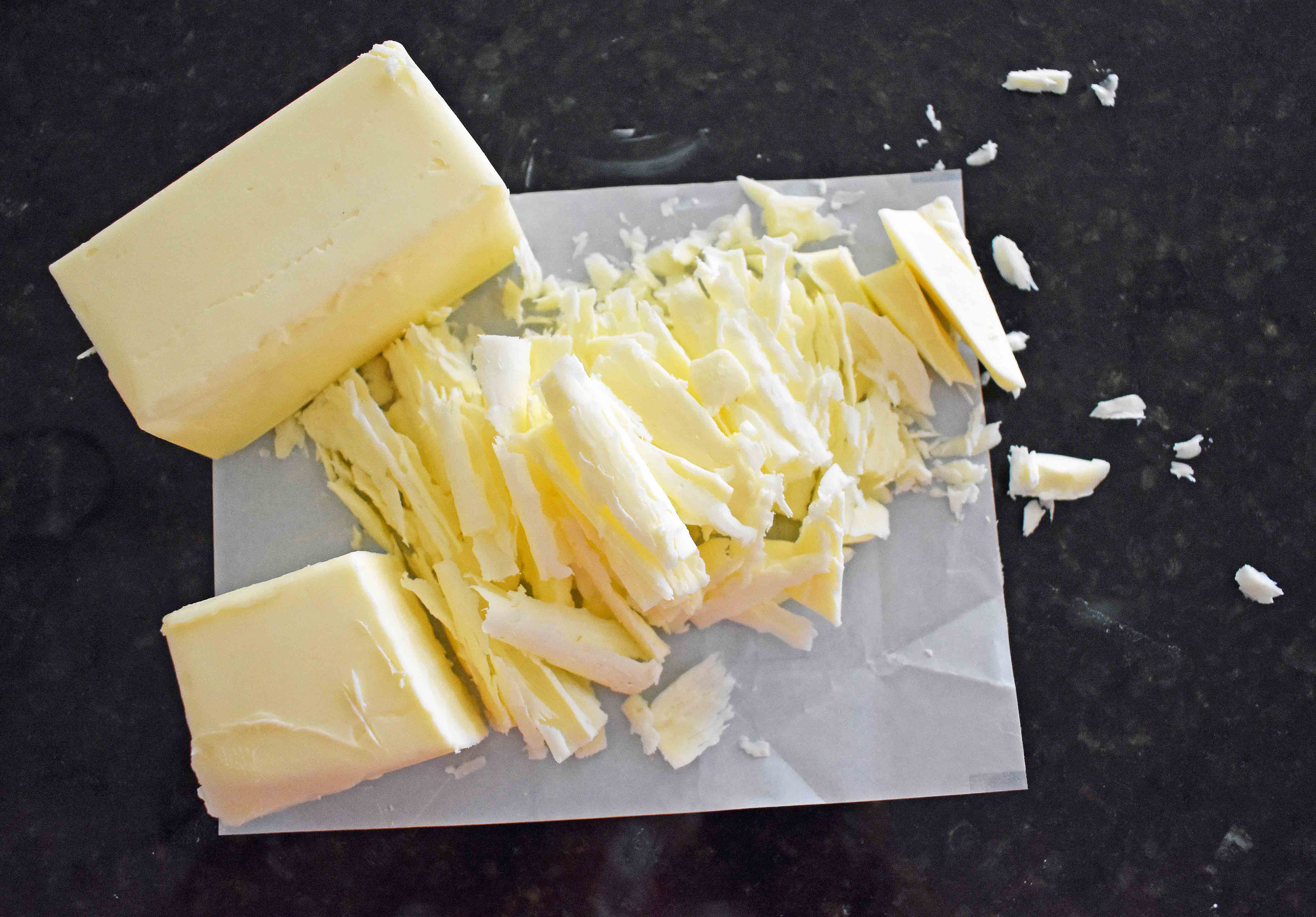 TIPS + TRICKS TO MAKE PERFECT ALL BUTTER PIE CRUST EVERY SINGLE TIME:
Use Cold Butter. I store my butter in the freezer and take out sticks of butter, as needed. Place them on a cutting board and with a knife, slice them into tiny shreds. The shreds of butter are going to make the crust flaky and you want it to be evenly dispersed in the pie dough. If your butter gets warm, put it back into the freezer or refrigerator to solidify.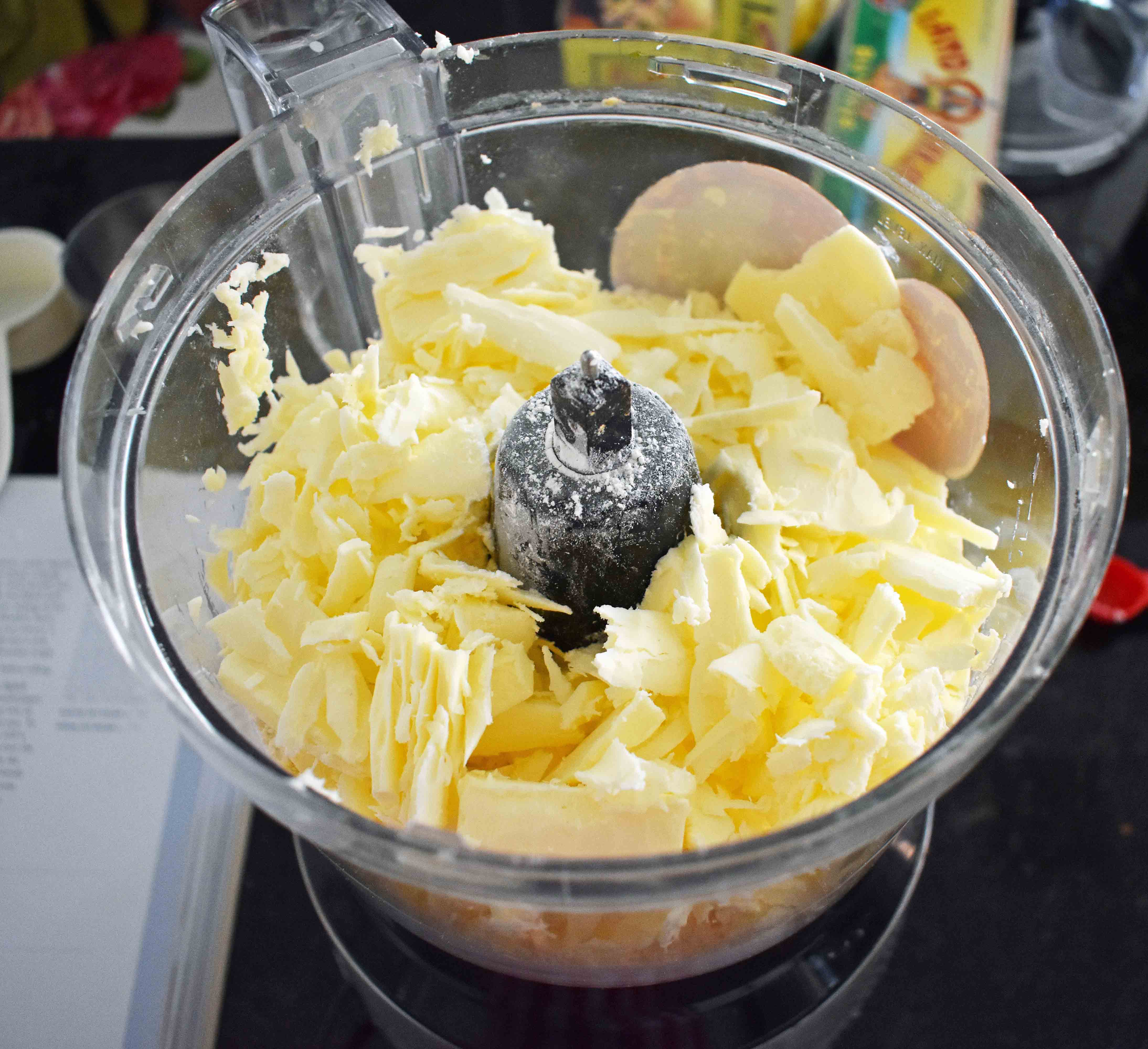 2. Use a Pastry Cutter, a Fork, a Food Processor, or even your hands to cut in butter and flour together. If you want the quickest route, the most time effective method is to use a food processor. A pastry cutter or fork is old school and works well too. I also found using your hands and squishing the butter with your thumbs into the flour works brillianty as well. It takes more time, but sure makes a flaky crust. If you use a food processor, add flour and salt and then pulse the butter bits until the mixture resembles coarse meal. You don't want to overmix it so use the pulse button on the food processor.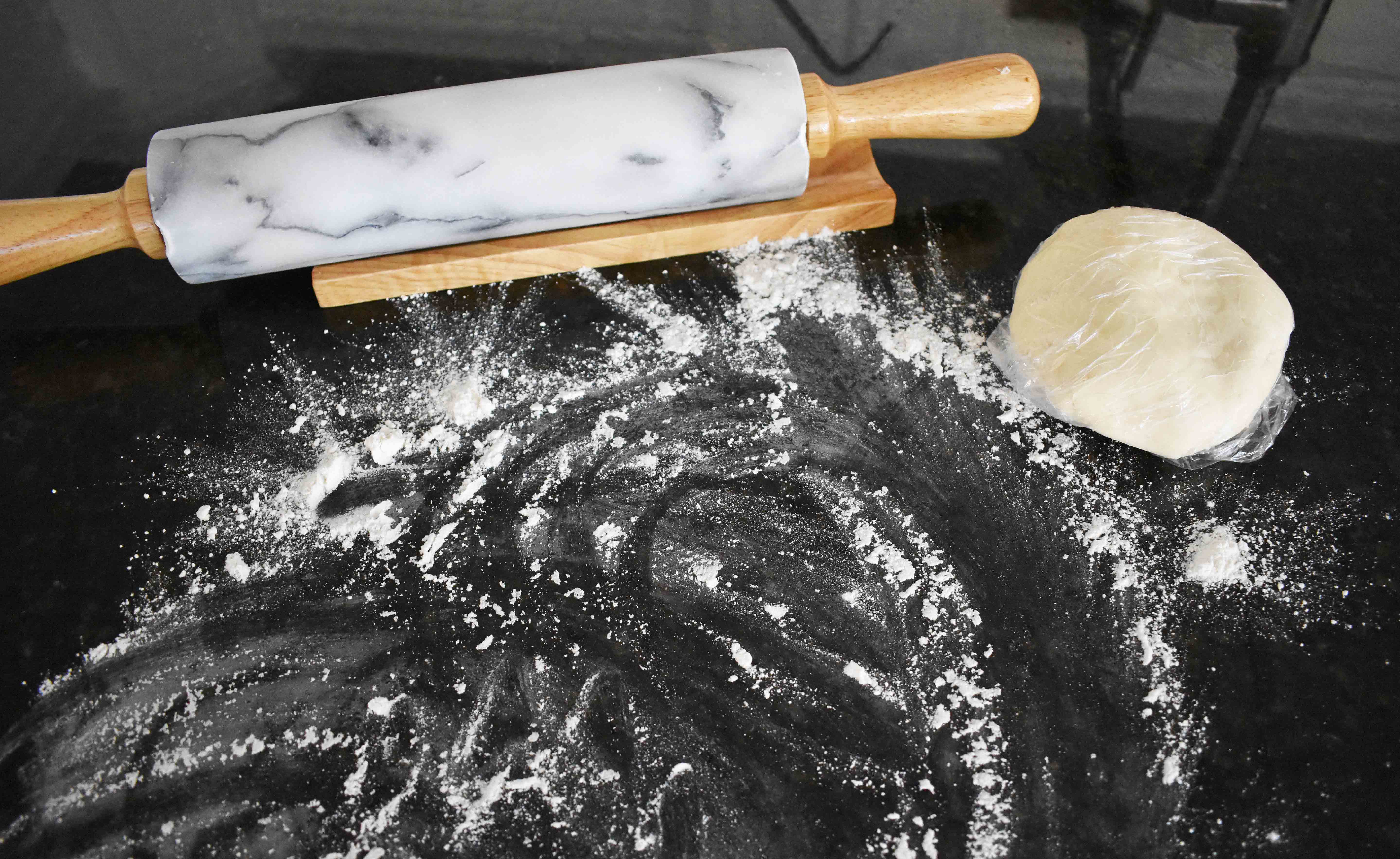 3. Add Ice Cold Water or Buttermilk. Fill a bowl or cup with ice cubes and add water. Remove ice cold water from it and add it a few tablespoons at a time to the bowl or food processor. My Grandma Faye used milk with a tablespoon of vinegar. You can use that mixture or just cold buttermilk.
4. Use Vinegar to create a more tender pie crust. Use plain white vinegar or apple cider vinegar in your recipe. Both help to minimize the gluten forming in the crust and creates a more tender texture.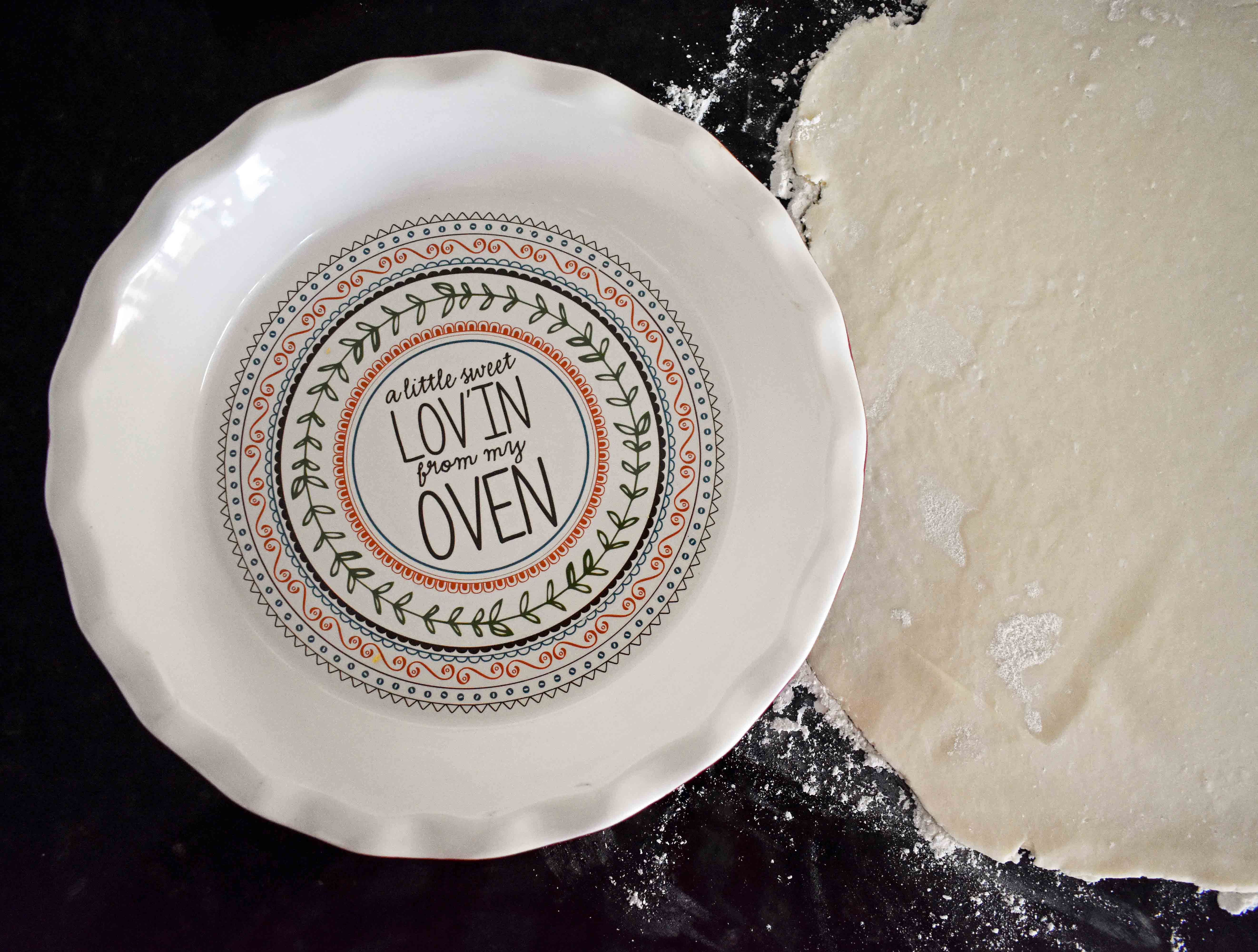 5. Chill the Pie Dough. This is one of the most important steps. After the pie dough is made, wrap it tightly in Saran Wrap and put it in the refrigerator for at least 30 minutes. I prefer to chill mine for at least 2 hours.
6. Don't Overwork the Dough. The key is to work the dough quickly and keep it as cold as possible. Turn the dough onto a lightly floured work surface and roll it out, using a rolling pin. Keep the pie tin nearby so you can check the size of the circle. You usually want to roll it to at least a 13 inch diameter circle. I love my marble rolling pin -- you can find it HERE.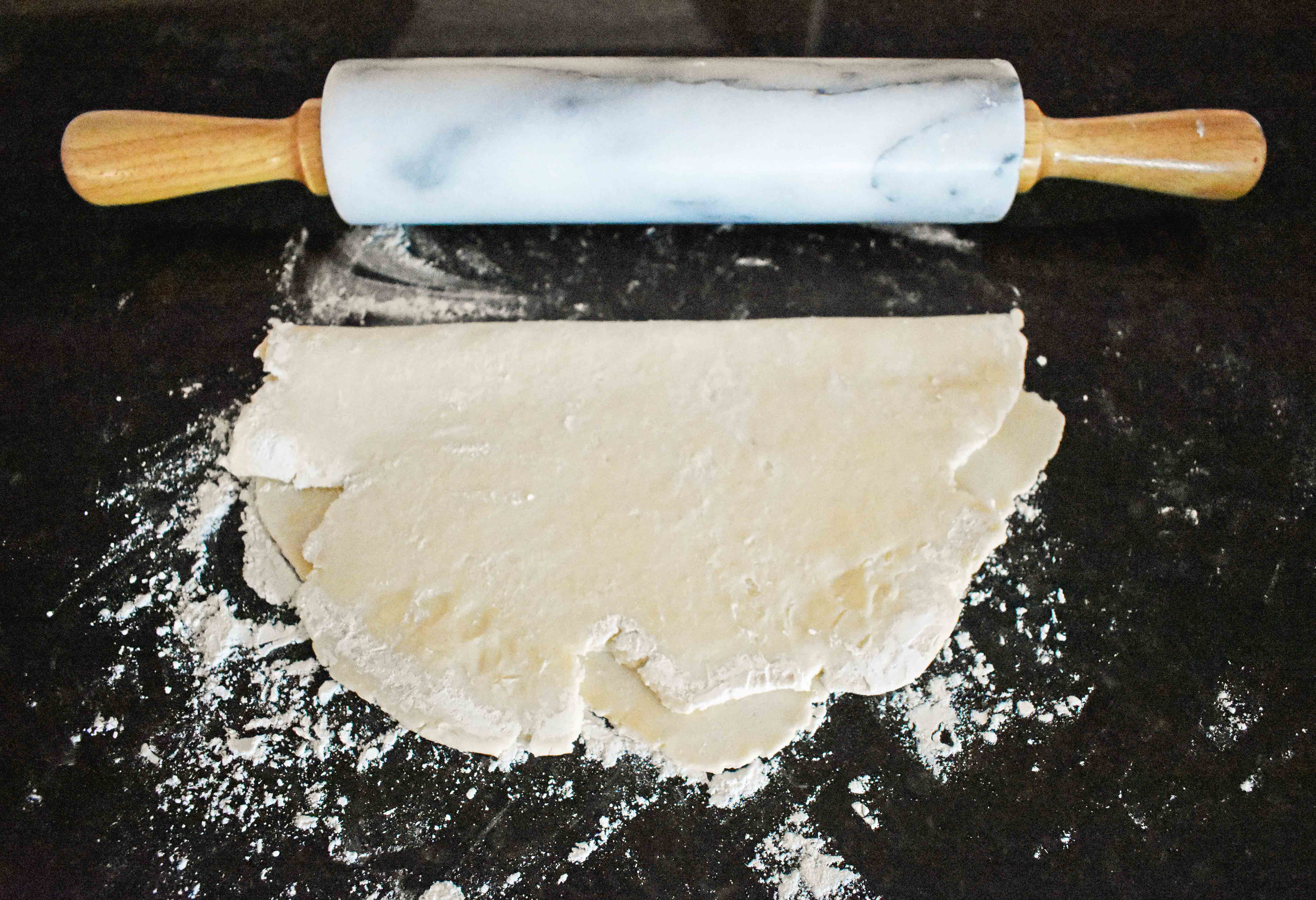 7. Fold the Dough in Half. It's one of the tips I remember most from my Mom. It can be difficult to transfer such a large circle of dough onto a pie plate, so fold the dough in half. This makes it so much easier. Unfold the dough once it is in the pie plate.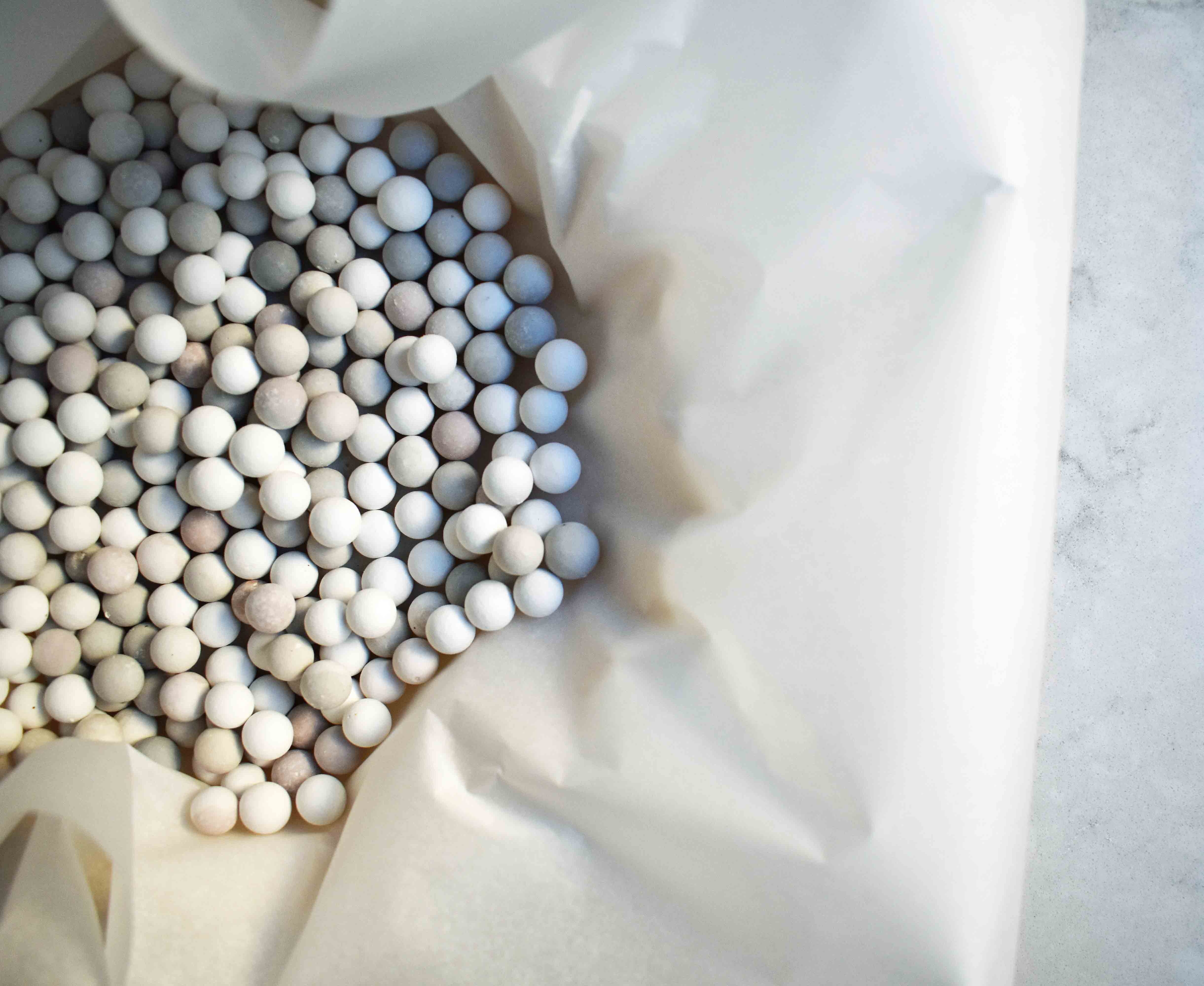 8. Make beautiful designs on the edges. Press the dough against the sides and bottom of pan. Flute the edges by pressing the dough between the index finger and thumb of one hand and using the index finger of the other hand to make the scallop. You can also roll out strips of dough and make a braid to place on top of pie crust.
9. Poke holes using fork along sides and bottom of crust. This will help keep the crust from puffing up while it bakes.
10. Use Pie Weights, Rice, or Beans to keep crust in place. If you are blind baking your crust to be filled later with a cream filling, it is important to keep it in place. Line the crust with foil or parchment paper. Fill it with pie weights, rice, or beans and press against the sides of the crust. I will sometimes double line the crust with parchment paper to ensure that the rice doesn't somehow get stuck into the dough (learned the hard way on this one). Buy pie weights HERE.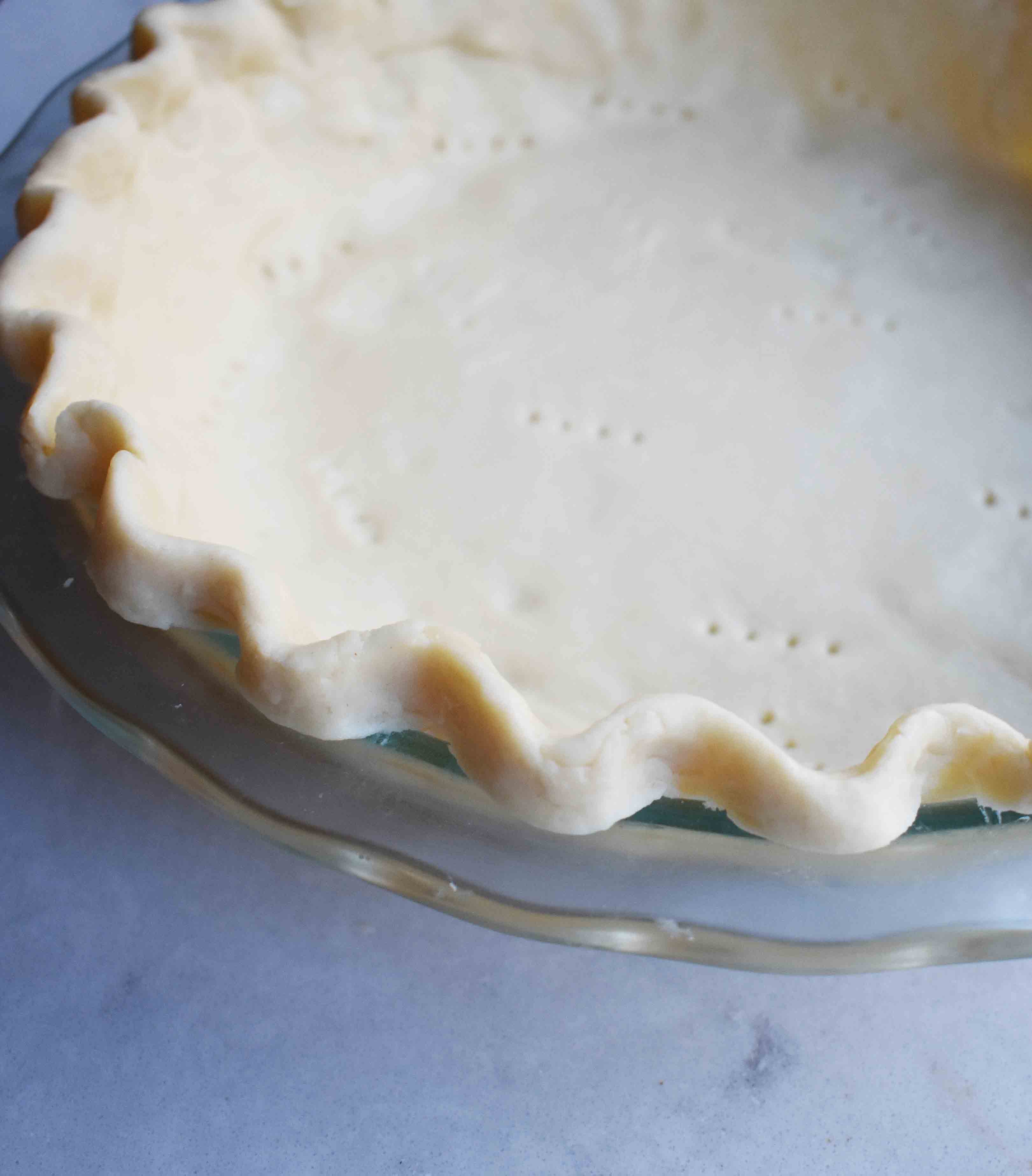 11. Let Dough Chill. Once it is a rolled out into the pan, chill again for 20 minutes. This is going to to give it time to firm up and get cold so that it stays put against the heat of the oven.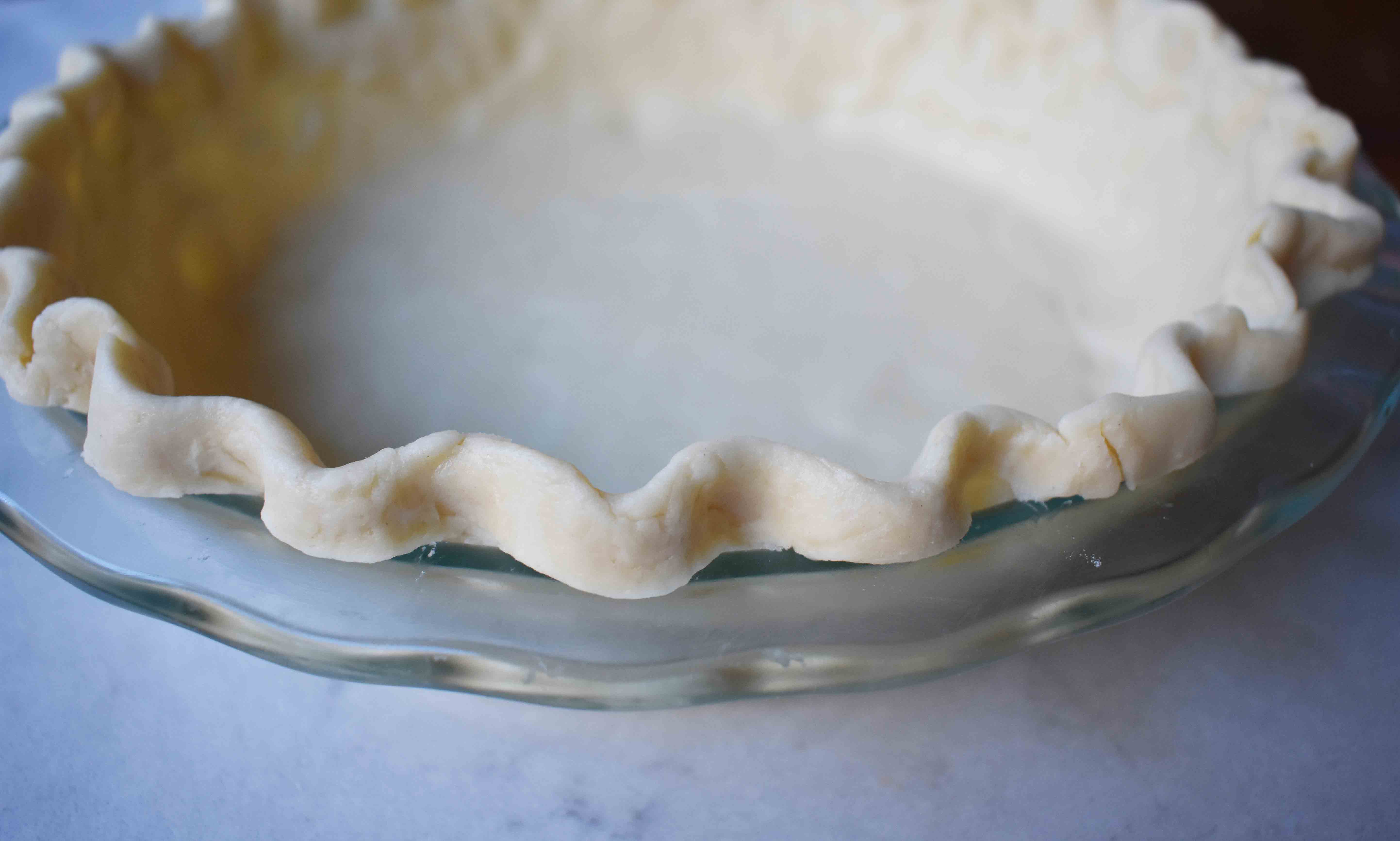 12. Bake at a High Temperature. After the dough has chilled, place it in hot oven. The hot oven helps the crust keep it's shape. The edges will be the first to brown. Avoid this by covering the edges with foil or pie shields, after about 20-25 minutes of baking. The pie shields are essential for making pie! Click HERE for a pie crust shield I recommend.
13. Watch it closely while baking. Butter flaky pie crust can turn golden brown quickly so watch it like a hawk. Let the crust cool completely before adding filling.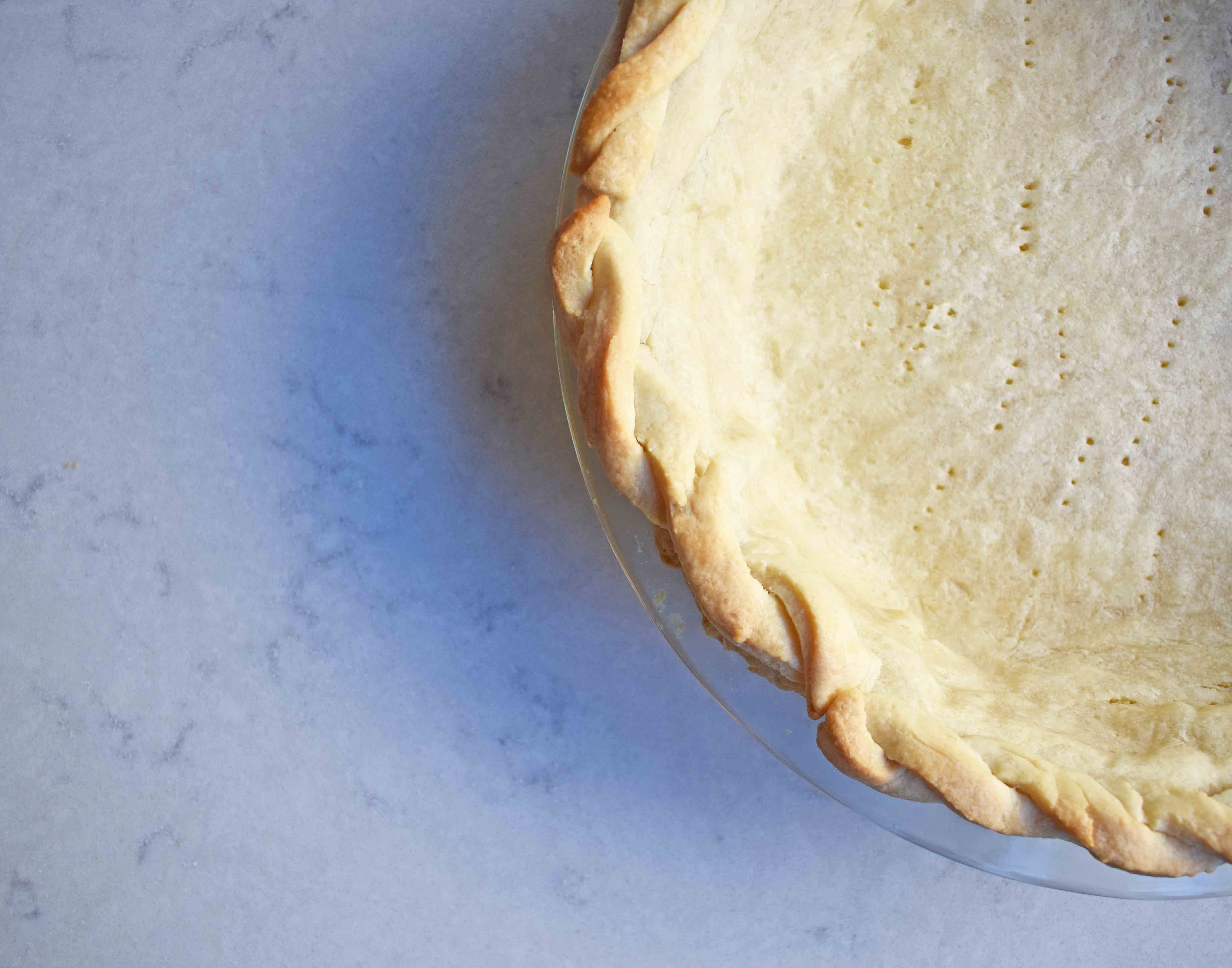 I can't wait to hear all about your amazing pies with this Butter Flaky Pie Crust on Thanksgiving! Share your photos with me and tag me by using #modernhoney.
Happy Baking, my friends! xo