The Best Homemade Apple Pie Recipe! This Fresh Apple Pie with a Buttery, Flaky Crust is made with fresh apples tossed in sugar and cinnamon and baked in a homemade pie crust.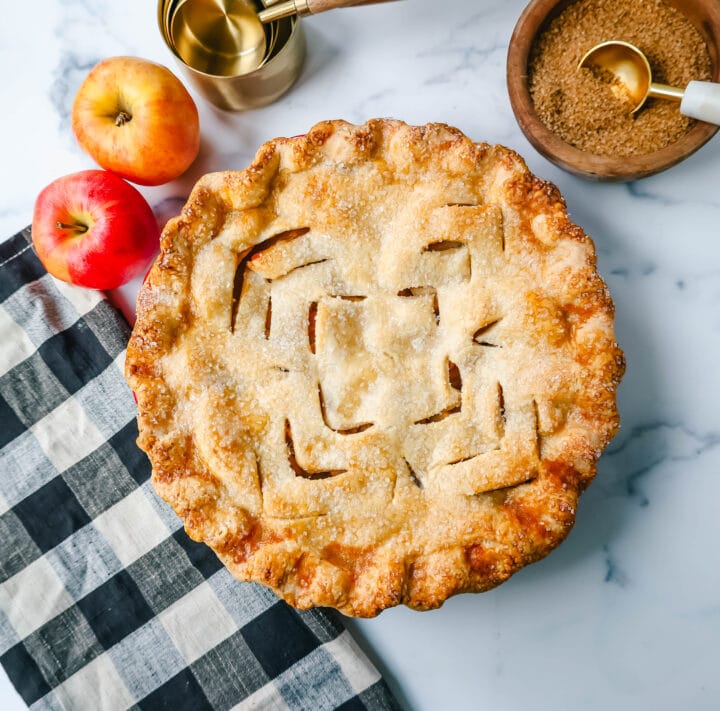 This Traditional Apple Pie Recipe is a classic dessert and a recipe everyone needs in their back pocket. I have made many apple pie recipes in my day and this is the perfect apple pie recipe.
It has just the right amount of sweetness and focuses on highlighting the natural sweetness of the apples. This is the best apple pie!
We make a ridiculous amount of pies on Thanksgiving. We usually have at least 25-30 pies and designate an entire table just for pies. If you want to find all of our family favorite THANKSGIVING RECIPES, CLICK HERE.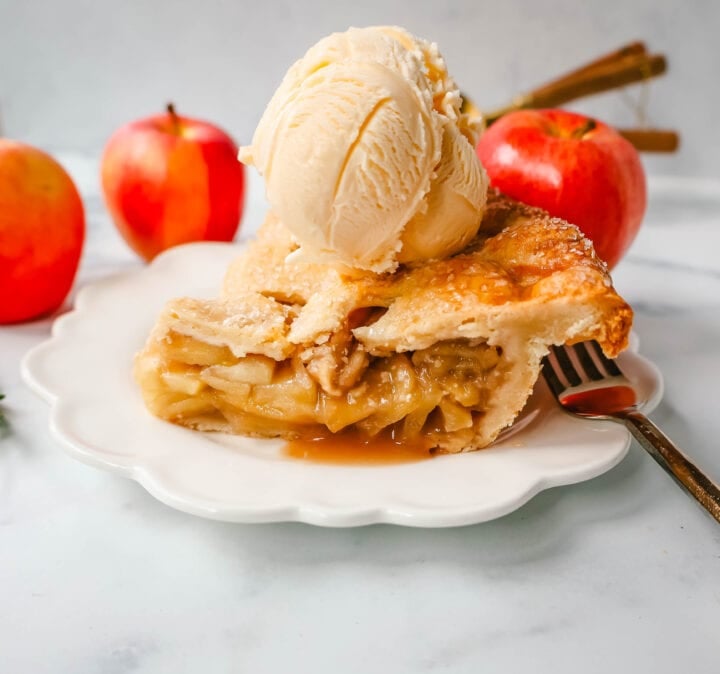 Best Apple Pie Ingredients:
There are two integral parts to the perfect apple pie -- a buttery, flaky pie crust and a sweet apple filling.
Apple Pie Filling Ingredients:
Fresh Apples (see below for list of best apples for apple pie)
Brown Sugar
Cinnamon
Flour
Butter
Salt
Buttery Pie Crust Ingredients:
Butter
Flour
Buttermilk or Water
Salt
I like to use buttermilk in my all-butter pie crust recipe because it makes my pie crust extra tender. You can also use water instead of buttermilk and I suggest adding a touch of vinegar to the water.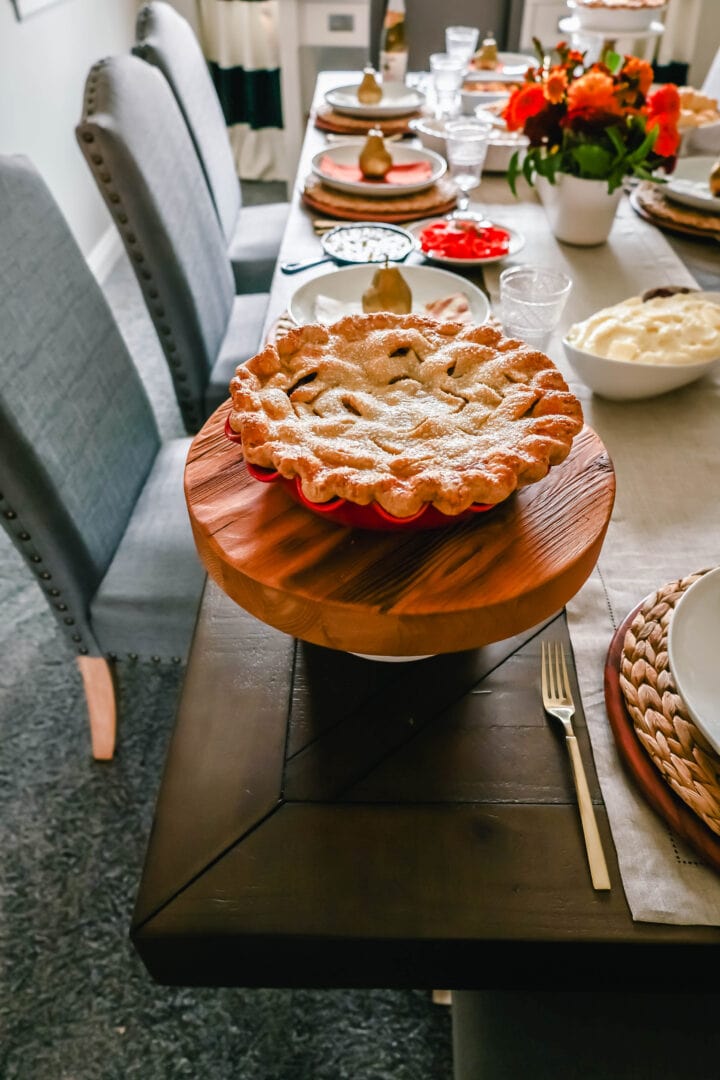 Best Apples for Apple Pie:
Granny Smith
McIntosh
Rome
Gala
Honeycrisp
Jonagold
Pink Lady
These are the best baking apples. You want an apple firm enough to withstand baking and won't turn to mush.
I prefer to use two types of apples in my homemade apple pie recipe. I like to use a firm apple such as Granny Smith paired with a sweeter type apple like Gala. It gives the apple pie a variety of textures and flavors.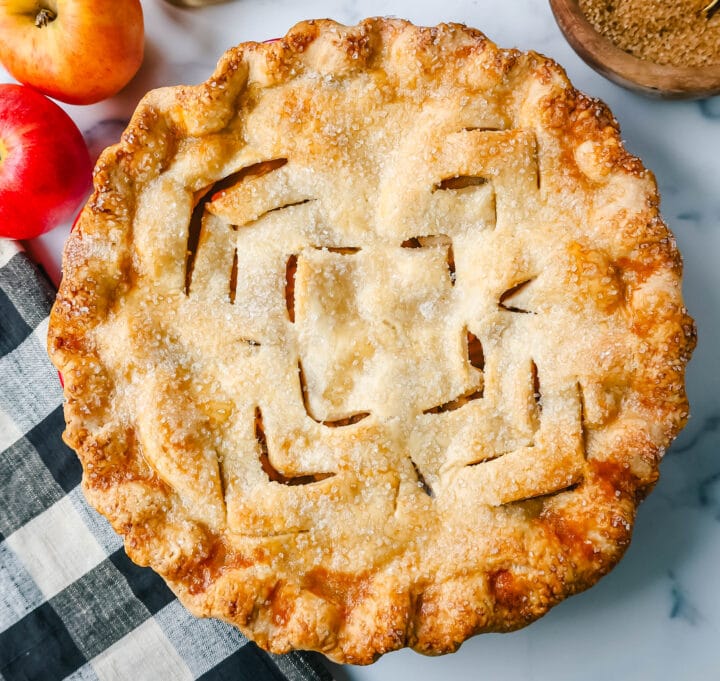 How to make Homemade Apple Pie Filling:
Start by peeling the apples and slicing into ¼" - ½" inch slices.
In a bowl, combine the sliced apples, brown sugar, flour, salt and cinnamon and toss together.
Let the apples sit at room temperature for about 30 minutes to allow the apples to soften and release their natural juices. This helps more apples fit into the pie shell.
How to store an Apple Pie:
The apple pie can be stored in an airtight container at room temperature for up to 2 days. After the 2 days, I suggest placing it in the refrigerator. I suggest re-heating when ready to serve.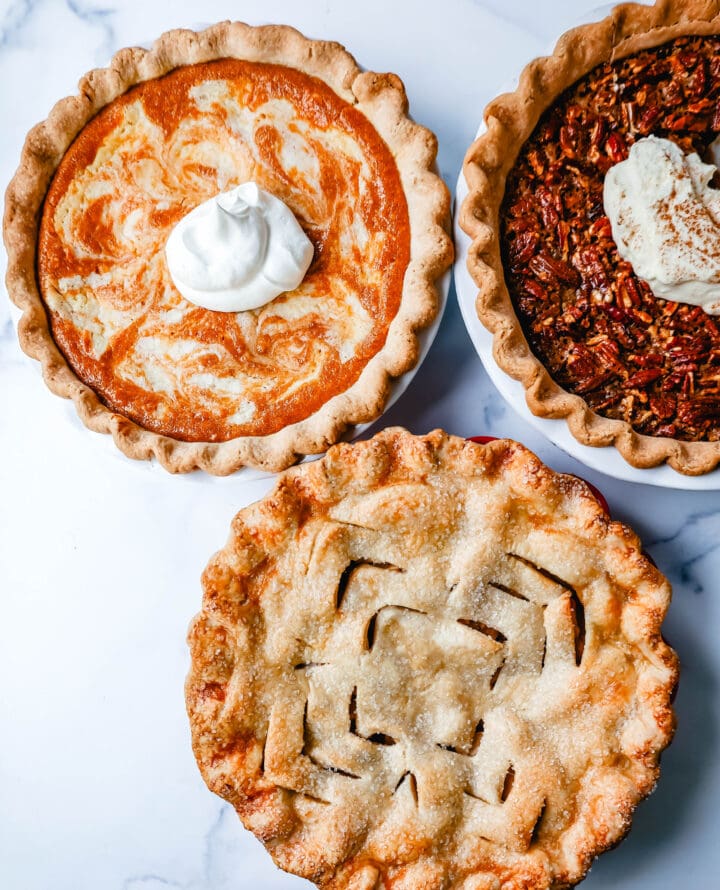 If you want to find ALL of my PIES RECIPES, click HERE.
If you love apple desserts, check out these popular APPLE RECIPES:
Apple Crumble -- Homemade Apple Crumble Recipe made with fresh apples tossed in cinnamon sugar and topped with a brown sugar crumble made with butter, pecans, brown sugar, and flour. This apple crumble is baked until bubbly and topped with vanilla ice cream. An easy apple dessert!
Made-from-Scratch Dutch Apple Pie is made with a buttery, flaky pie crust, topped with cinnamon-sugar apples, with a brown sugar streusel topping.
Fresh Caramel Apple Slab Pie is the perfect way to serve pie to a lot of people! Just cut the apple pie into squares.
Simple French Apple Cake is a buttery cake made with sweet apples and topped with freshly whipped cream.
Homemade Caramel Apple Pie made with fresh apples, and caramel sauce, in a buttery pie crust.
I love to use Emilie Henry Pie Dishes and this red pie dish is just perfect for this homemade apple pie. You can also find this white ruffle pie dish which is so popular!
When placing pies on a table, I love to put them on a beautiful cake stand. Here's my favorite large wood block cake stand.
Before baking the apple pie, flute the edges in a ruffle pattern, brush with an egg wash, and sprinkle with sugar before baking.