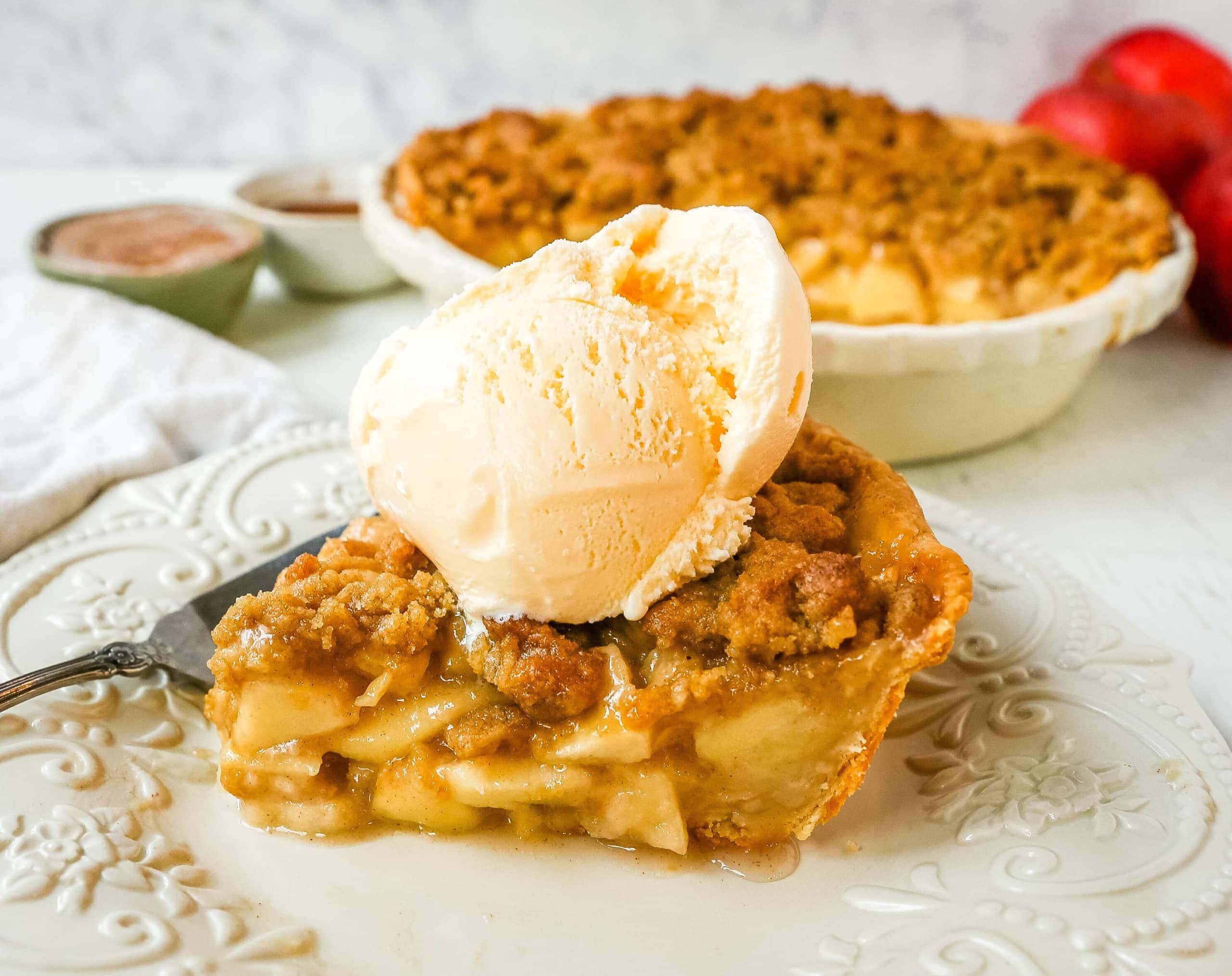 Dutch Apple Pie
How to make a traditional Dutch Apple Pie with a buttery, flaky pie crust, topped with cinnamon-sugar apples, with a brown sugar streusel topping.
This is the Best Dutch Apple Pie and has the best of both worlds -- a handcrafted buttery crust and a homemade brown sugar streusel crumble. Two different crusts make it even better. Trust me on this one.
I have been tweaking this recipe to get it just right. It needs just the right amount of sweetness without being cloyingly sweet. A touch of cinnamon is essential without being too overpowering. You need enough thickener so the apples come together when baked without too much or it will become gummy. This pie is all about balance!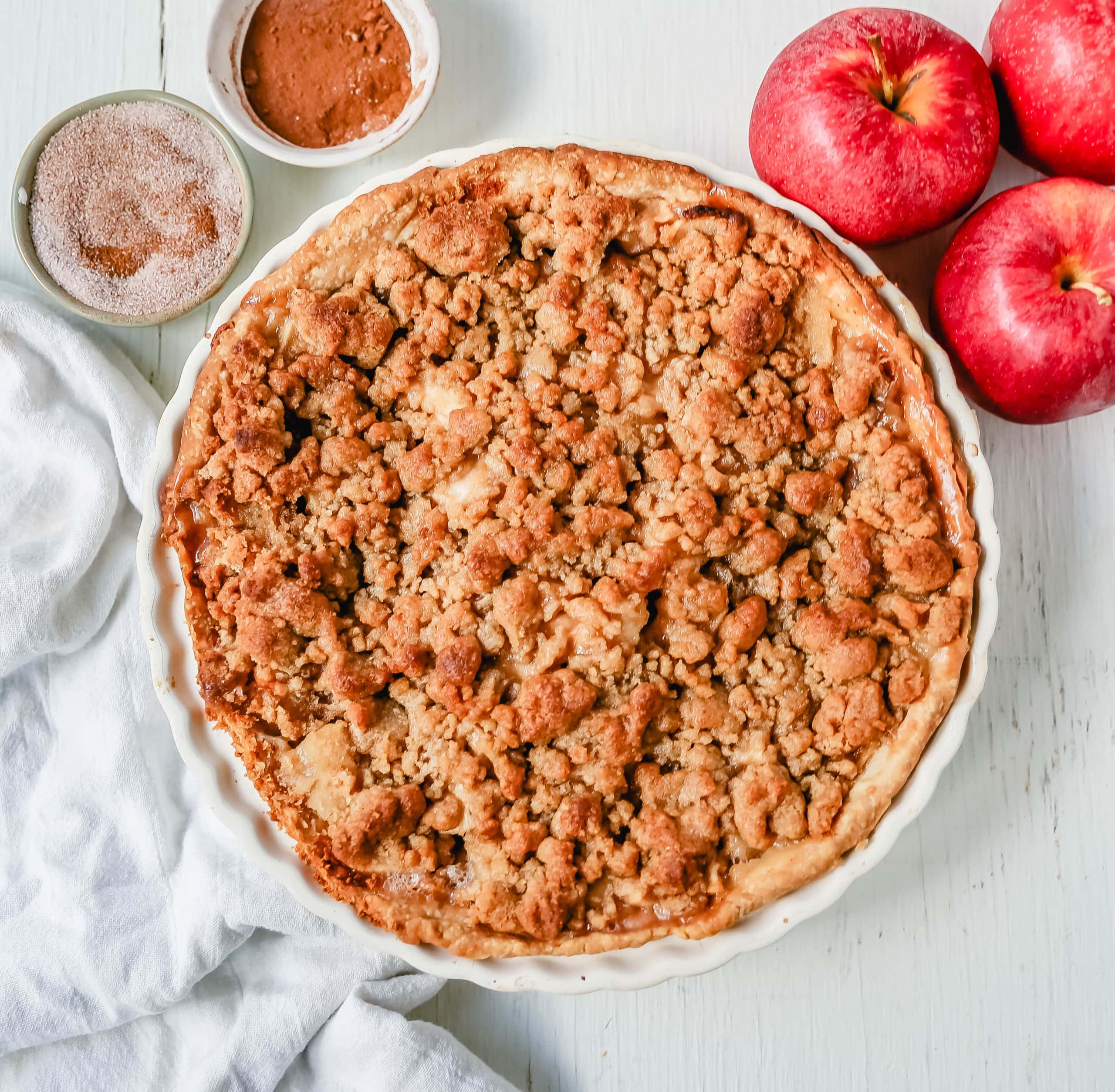 The base of this Dutch Apple Pie is a homemade all-butter pie crust. It is super simple to put together and homemade is just so much better. If you want to ensure that your pie crust has a flaky bottom, I suggest doing a quick pre-bake on the crust.
The only difficult part of this is that you need to use pie weights to keep the pie crust in place. If you skip the crust pre-baking part, then you just fill it with the sweetened sliced apples and you don't have to worry about the crust keeping its shape.
I recipe tested it both ways -- pre-baking the crust for about 12 minutes and also just baking the crust after it is filled with the apple filling. The crust was flaky both ways but slightly flakier on the bottom if you slightly pre-bake the crust.
One thing to take into consideration is that when you do partially pre-bake the crust, is that the sides of the crust will brown more quickly once you bake the crust with the apple filling. So I suggest covering the pie with foil halfway through the baking time to avoid over-browning.
What type of apples should you use in a Dutch Apple Pie:
There are so many apples to choose from and it may be difficult to narrow it down. I found that if you like a tart apple that is crunchy and not very sweet, reach for Granny Smith. If you want a sweet and crisp apple, reach for an Envy, Gala, or Fuji apple. A classic baking apple is a Golden Delicious, Jonagold or Braeburn Apples.
How to make the Best Dutch Apple Pie:
Prepare a homemade pie crust and blind bake it before adding the filling. This is an extra step but it does create a flakier crust. I did recipe test it both ways and found it to provide a flakier bottom crust. I would suggest if you do pre-bake your pie crust, to cover it with foil halfway through the baking time, once you add the apple pie filling.
Make an apple pie filling. Toss apples with sugar, cinnamon, flour, and fresh lemon juice. The flour helps to thicken the filling because the juices from the apples can make the filling running without the addition of the flour.
Make a brown sugar streusel or crumb topping. This is a simple recipe calling for butter, brown sugar, and flour. If you love cinnamon, you can add some cinnamon but I tend to like it without so it isn't so overpowering. But you can add ¼ teaspoon of cinnamon to the crumb topping.
Bake until the apples are tender. You want to ensure the apples aren't crunchy and are fully-cooked. I suggest covering the dutch apple pie with aluminum foil halfway through the baking time to make sure the crust doesn't become too brown. I suggest baking the pie on a baking sheet in case of the juices overflowing in the oven.
Let it cool. You want to give it time to set up and the apples and juice to come together. Let it come to at least room temperature. Serve with vanilla ice cream or fresh whipped cream.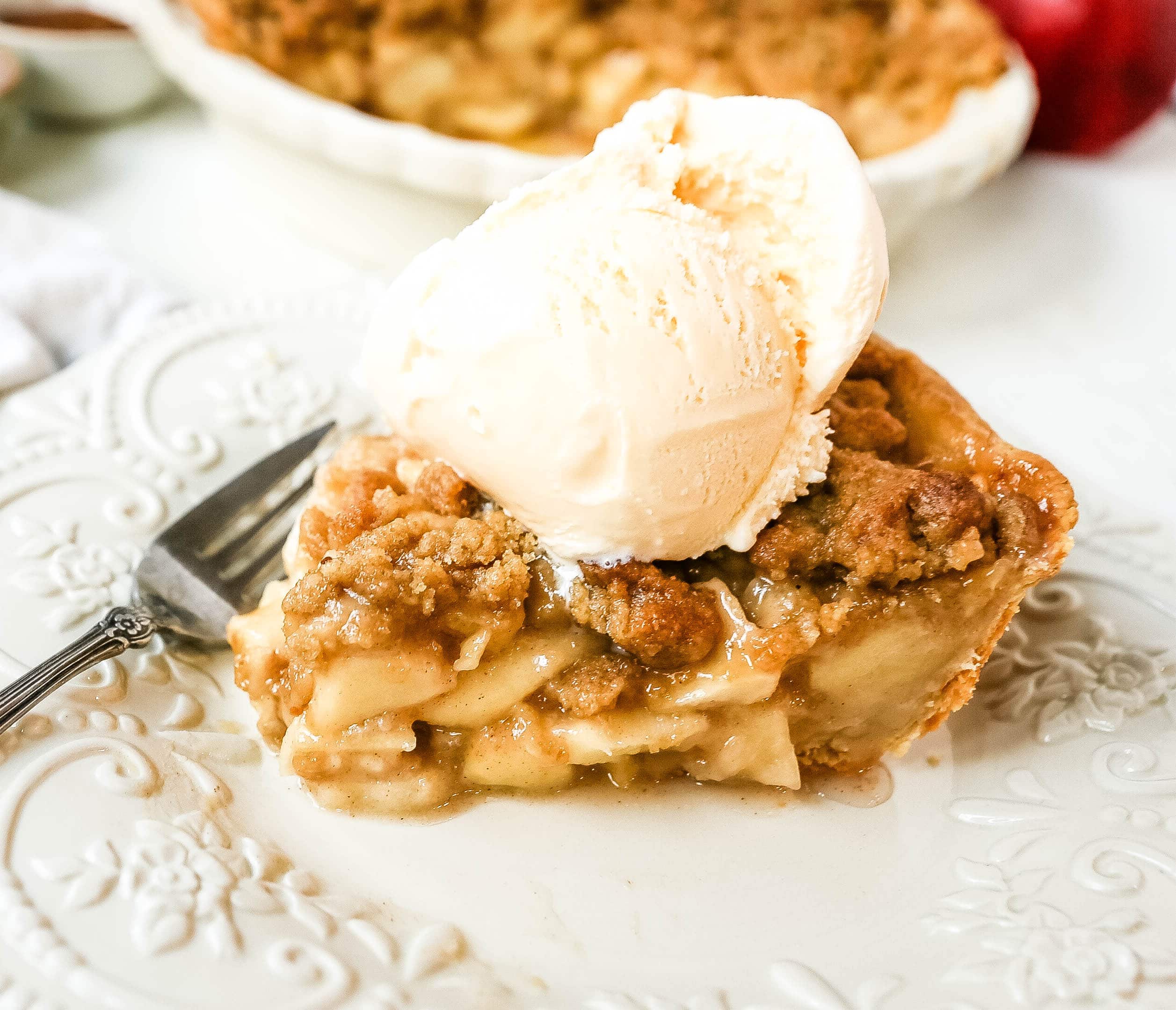 If you love pie, here are some more popular pie recipes:
LEMON Cream Pie
Triple BERRY Pie
STRAWBERRY Cream Cheese Pie
RASPBERRY Almond Cream Cheese Pie
COCONUT Cream Pie
LEMON Sour Cream Pie
Caramel APPLE Pie
White Chocolate MACADAMIA Chocolate Ganache Pie
Double CHOCOLATE Marble Pie
The BEST PUMPKIN Pie
Mini PUMPKIN Pie Bites
Old-Fashioned PECAN Pie
Sweet CHERRY Pie
Traditional Perfect Pumpkin Pie
Caramel BANANA Cream Pie
Here are a few of my favorite baking tools for making pies:
As an Amazon Associate I earn from qualifying purchases. Thank you for your support!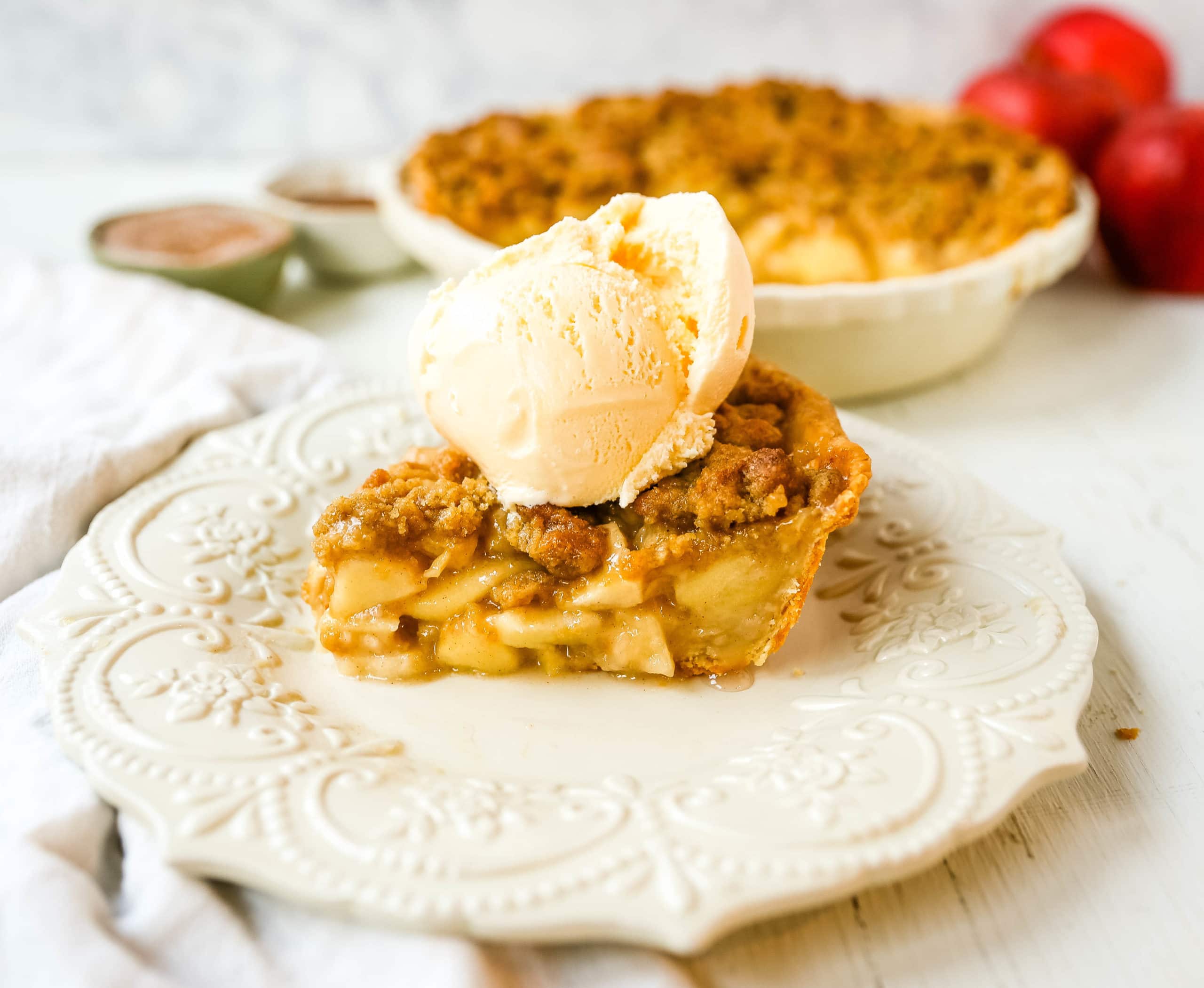 I love to hear from you! If you make this recipe, please be sure to leave a comment and give this recipe a rating. Sign up for my newsletter below so you never miss a recipe. Thank you for following along! I truly do have the greatest readers. FOLLOW ME ON: INSTAGRAM — FACEBOOK— PINTEREST