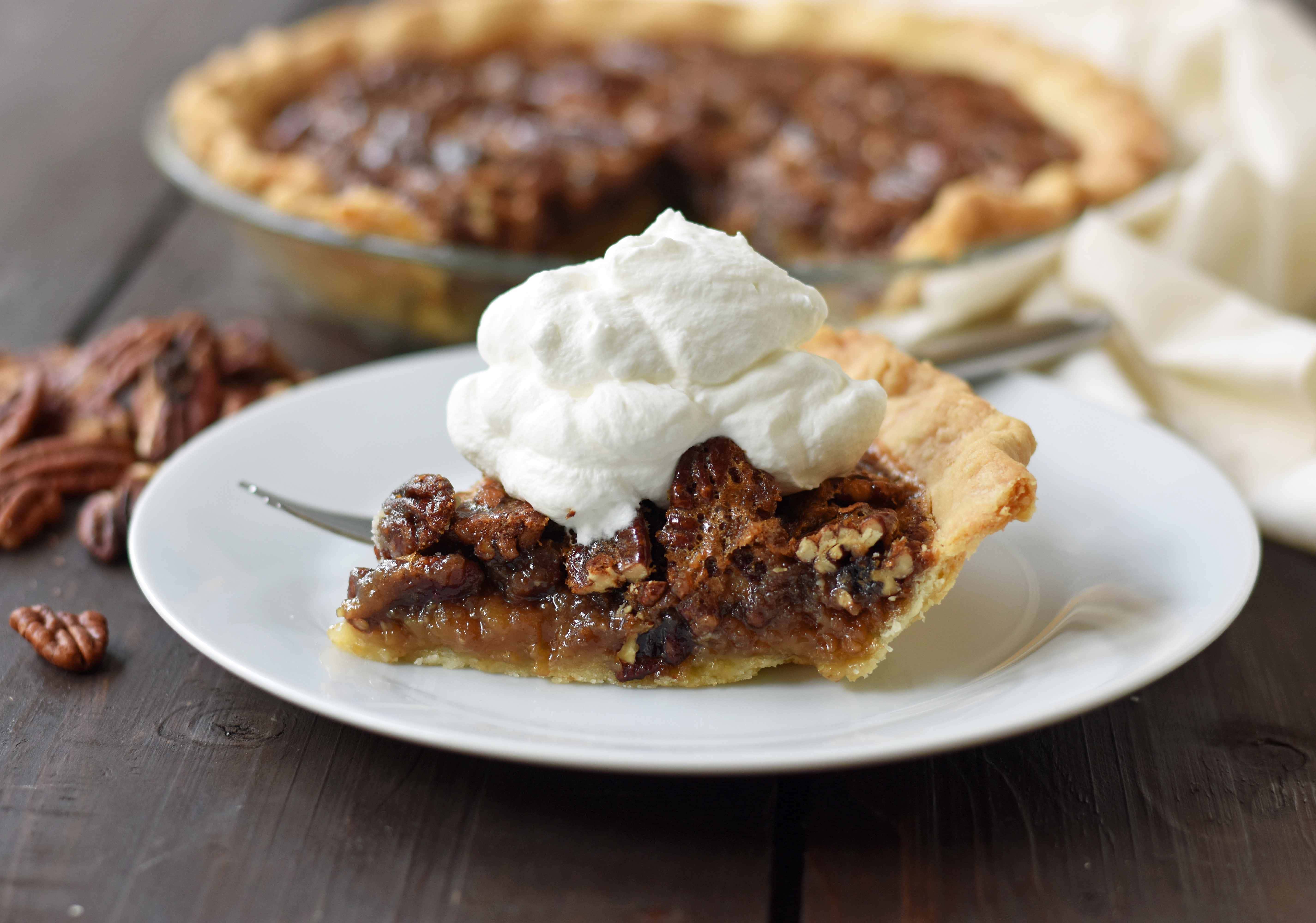 Pecan Pie
Old-fashioned pecan pie with a brown sugar filling in a buttery pie crust with fresh whipped cream
Thanksgiving without pumpkin pie and pecan pie are like Christmas without the tree. It just goes together like pb+ j. Well, at least in our family. Pecan Pie just shouts from the rooftops, "its the holidays!"
An Old-Fashioned Pecan Pie makes the pecans the star of the show and the filling a close second. So what makes a pecan pie filling so special? It starts with cooking the butter, brown sugar, and light corn syrup on a stove for several minutes until it is super smooth.
Once it slightly cools, the eggs and vanilla are added which give it a creamy richness. Then here come the pecans! They add the crunchy goodness to the pie to offset the brown sugar sweetness.
This Old-Fashioned Pecan Pie Recipe is beyond easy. It literally takes no time at all to put together and is basically foolproof. It pairs perfectly will a homemade all-butter pie crust. Click here for the butter pie crust recipe.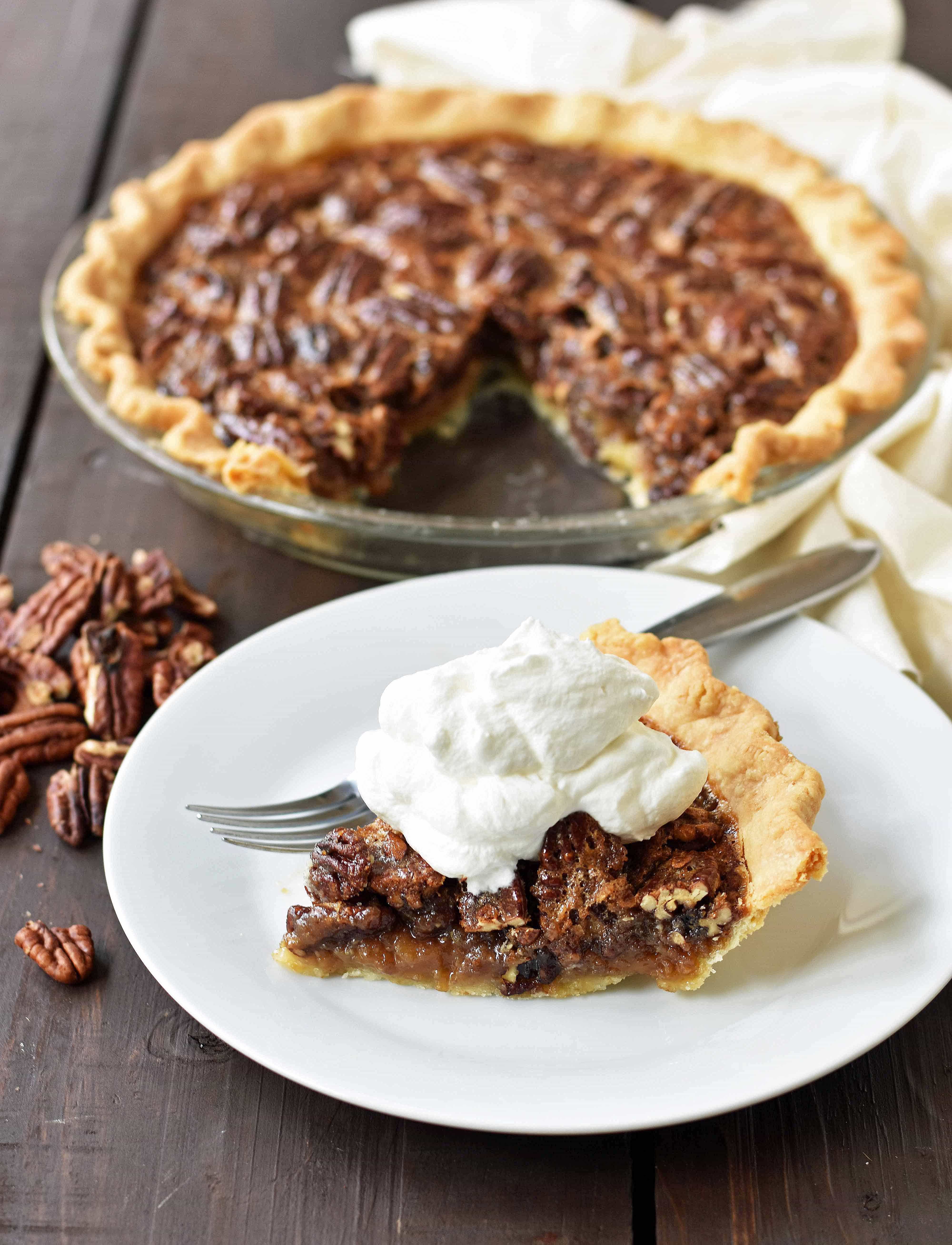 To make the filling, start by melting butter in a saucepan. Add brown sugar and corn syrup and whisk until smooth. Let cook for 5 minutes until the sugar is dissolved and silky smooth. Remove from heat and chill until it reaches room temperature -- about 15 minutes.
Check to see if it is cooled down enough to add the eggs. Stir in the eggs and vanilla. Whisk until the mixture is glossy. Stir in pecan halves. Pour mixture into pie crust and bake until filling is set and edges are lightly golden brown.
This recipe makes enough filling for a traditional pie pan. If you are using a deep-dish pie pan, I would suggest to 1 ½ times the recipe to have enough filling to fill the pan. I also swear by a pie shield to keep the pie crust from becoming too brown.
Homemade whipped cream is a must to pair with the old-fashioned pumpkin pie. It is so simple to make and can transform a pie. Say no to Cool Whip. Just do it. Homemade whipped cream is made with only two ingredients -- heavy cream and powdered sugar. You can add vanilla if you fancy it but it is perfection on its own.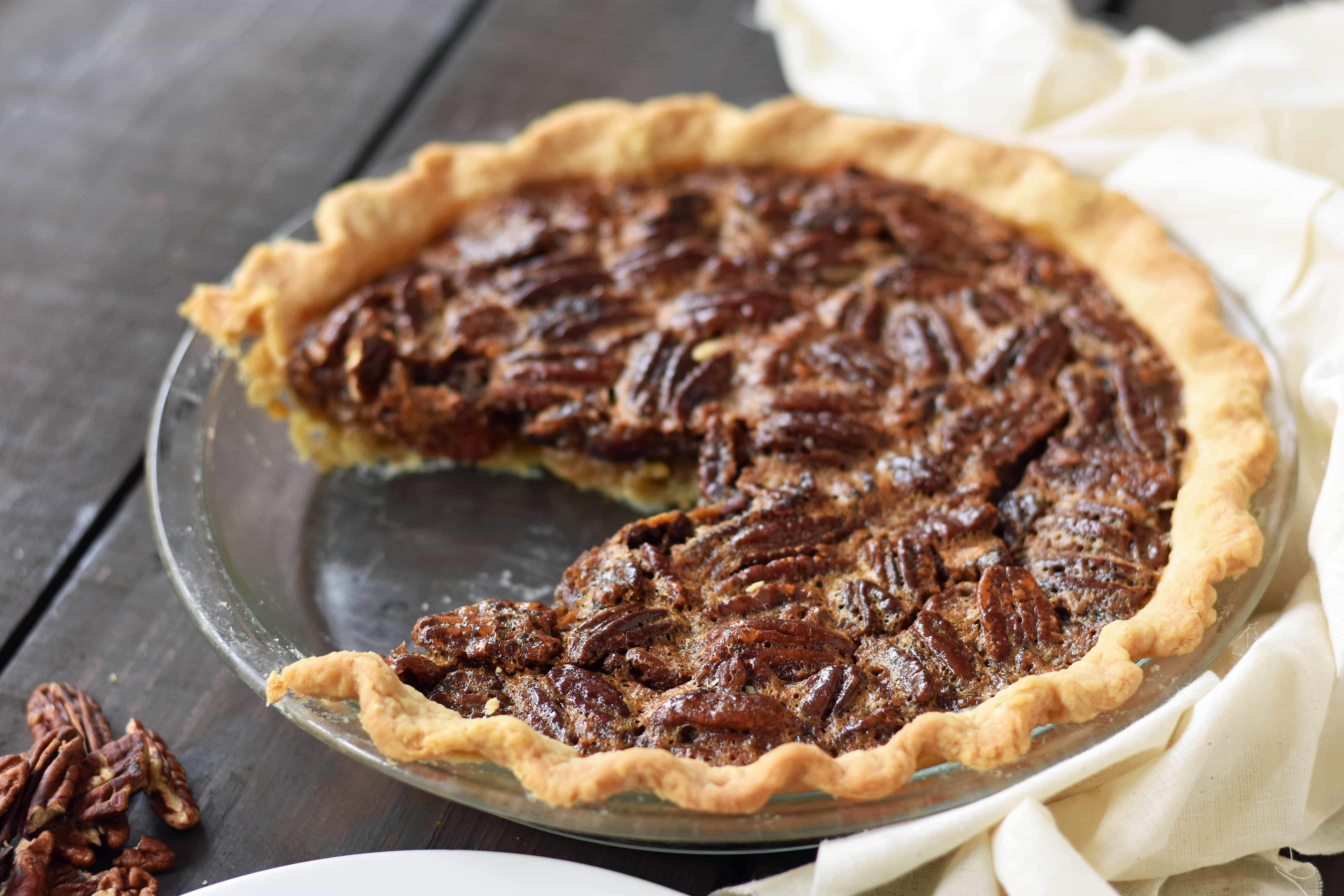 If you are making this in a deep dish or larger pie pan, I would suggest to 1 ½ times the recipe to ensure there is enough filling.
Click the links below for more pie recipes:
Caramel Apple Pie
White Chocolate Macadamia Chocolate Ganache Pie
Double Chocolate Marble Pie
The BEST Pumpkin Pie
Old-Fashioned Pecan Pie
Sweet Cherry Pie
Traditional Perfect Pumpkin Pie
Caramel Banana Cream Pie
PIN later for PINTEREST. Find all of Modern Honey's Thanksgiving Recipes in one place -- www.modernhoney.com/thanksgiving. Check back as new recipes are added daily!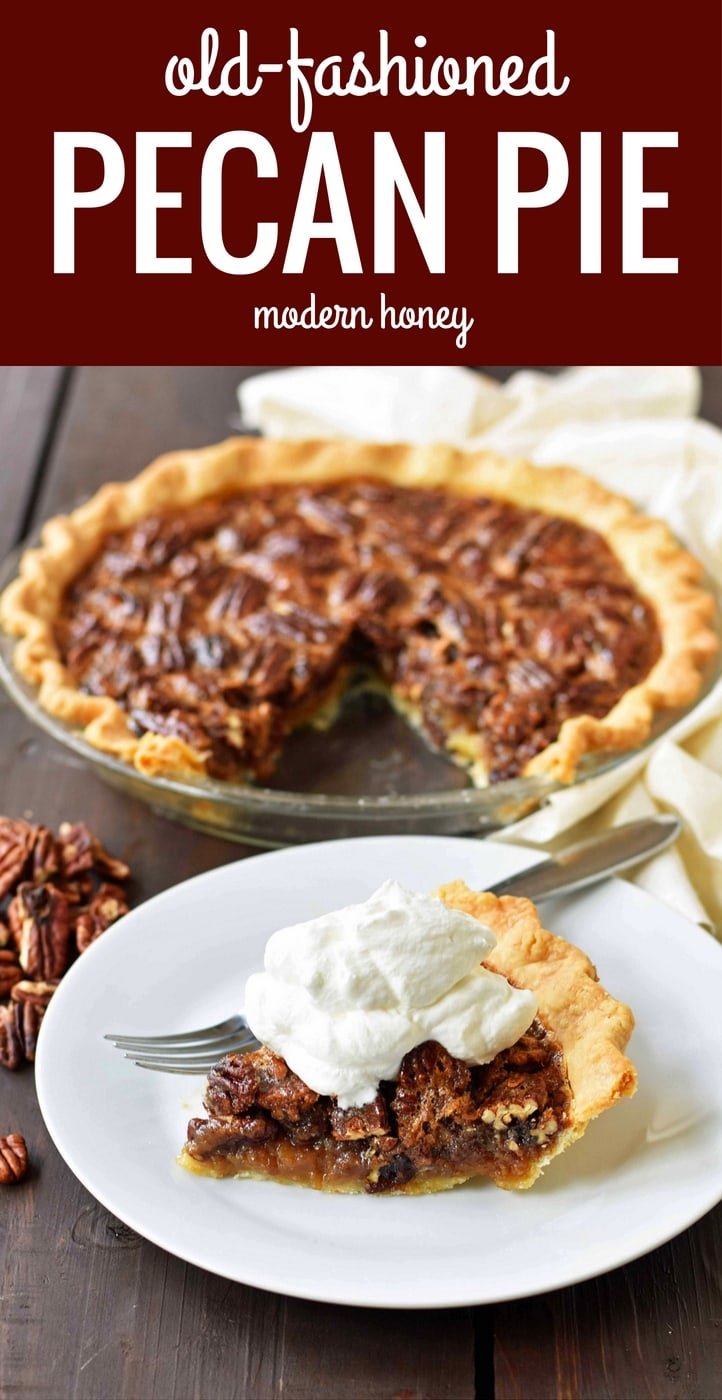 I hope you love this Old-Fashioned Pecan Pie! Happy Baking, my friends! xo Find more Thanksgiving recipes here at Modern Honey's Thanksgiving. More recipes added every single day!