Pies are a big deal in our family.
Every Thanksgiving we would fill the station wagon with all sorts of pies from pumpkin to cherry to chocolate cream and head up Camelback mountain to my Grandma's home. One Thanksgiving we decided to have an unofficial pie eating contest. The person who could eat the most slices of pie was to be declared the winner.  All of my cousins were eager to enter and were sure they would be declared the pie eating champion.
My younger brother Eric was always tall and lanky. He was a cross-country runner and basketball player and couldn't put weight, even when he tried (sounds pretty good to me). He LOVED pumpkin pie and vowed he wouldn't eat it all year-long in order to enjoy it fully once Thanksgiving came around.
He entered the contest. All of us thought there wasn't a chance in the world he could put down even 4 slices of pie.
Don't ever underestimate the power of the underdog.
17 Slices. He ate 17 slices of pumpkin pie in one sitting! Our jaws dropped to the ground. We are a tad serious about pie in our family.
Every single year my Grandma Faye made a chocolate cream pie.  It was so heavenly! It was the first pie I put on my plate!
I decided it was time it got a small makeover. I decided to add a few sinful ingredients and the result was delectable. The Chocolate Marshmallow Marble Pie was born.
So what is in a Double Chocolate Marble Pie? So glad you asked.
It starts with rich dark chocolate, marshmallows and cream, which is folded into freshly whipped cream. Oh, and we aren't done.  Hello white chocolate.  We melt together white chocolate, marshmallows and cream, then fold it into freshly whipped cream. Then layer it into a buttery, flaky pie crust, then swirl it all together to make marble magic.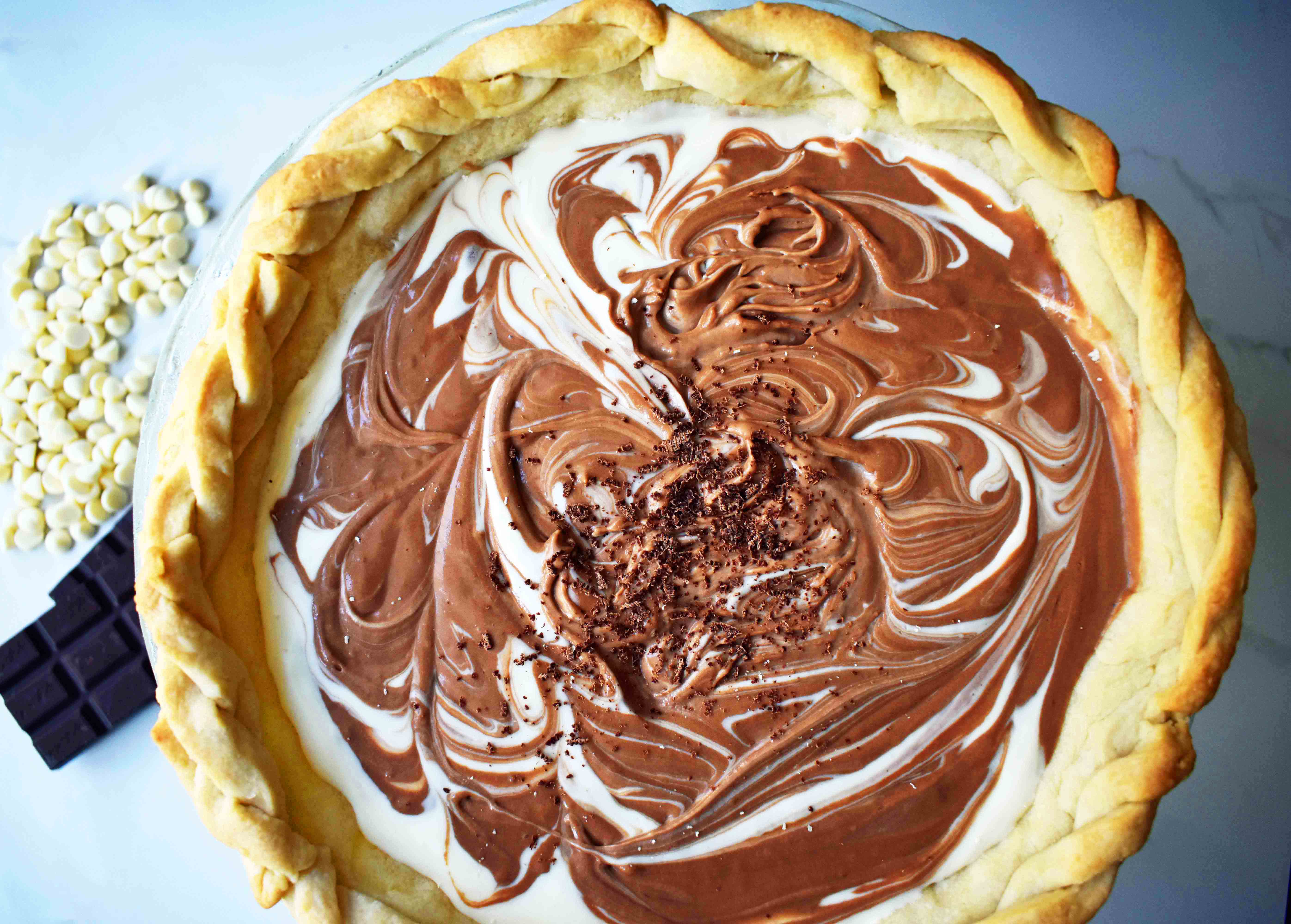 The pie crust is of utmost importance.  Here's a recipe --  https://www.modernhoney.com/butter-flaky-pie-crust/ with tips and tricks on how to make a perfect pie crust every single time.  It's perfect timing for all of your Thanksgiving baking!
After you make your Double Chocolate Marble Pie, make sure that you refrigerate it for at least 2-4 hours in order for it to harden and marry together. It's a Dark Chocolate Cream meets White Chocolate Cream kind of masterpiece.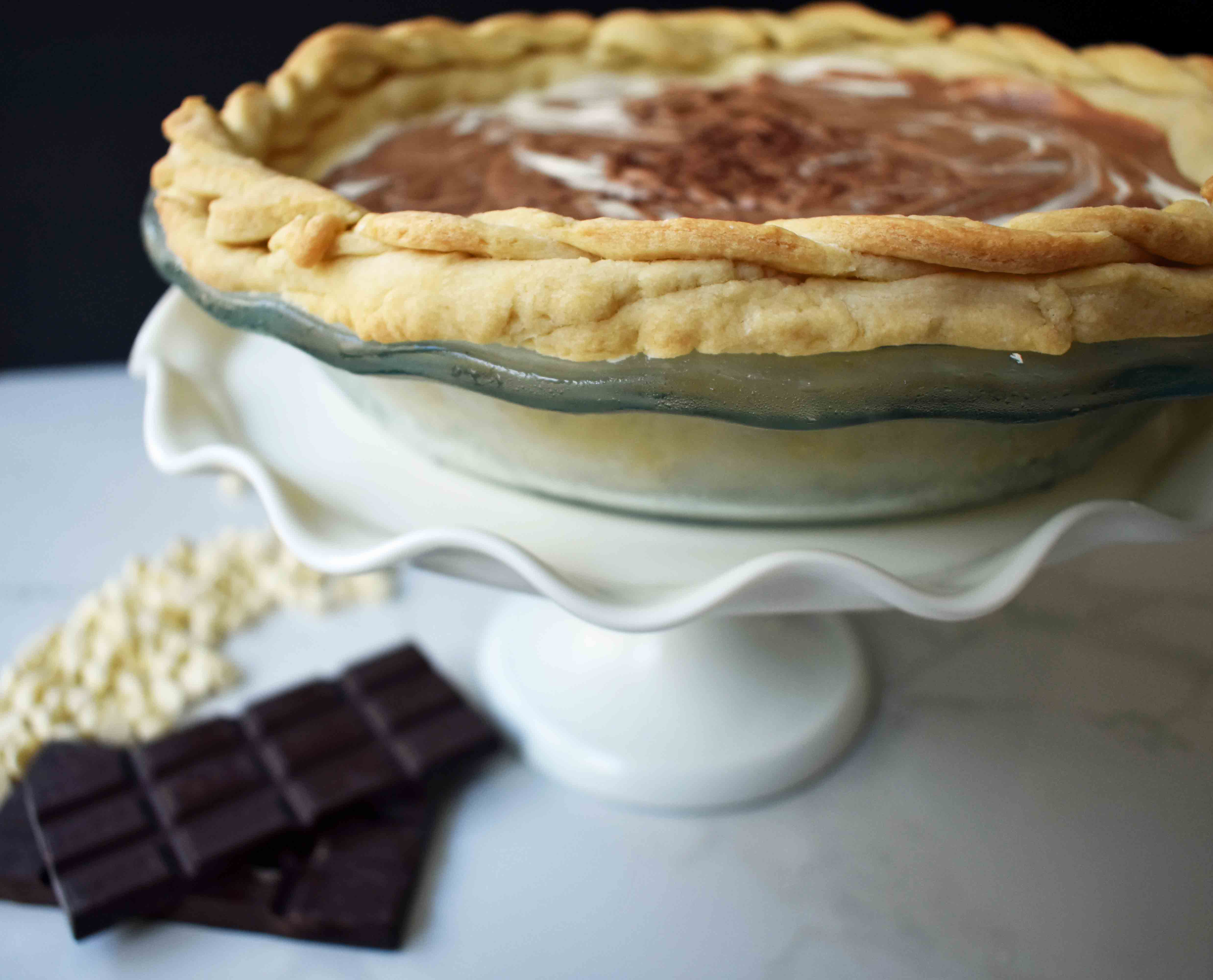 Click the links below for more pie recipes:
Caramel Apple Pie
White Chocolate Macadamia Chocolate Ganache Pie
Double Chocolate Marble Pie
The BEST Pumpkin Pie 
Old-Fashioned Pecan Pie
Sweet Cherry Pie
Traditional Perfect Pumpkin Pie
Caramel Banana Cream Pie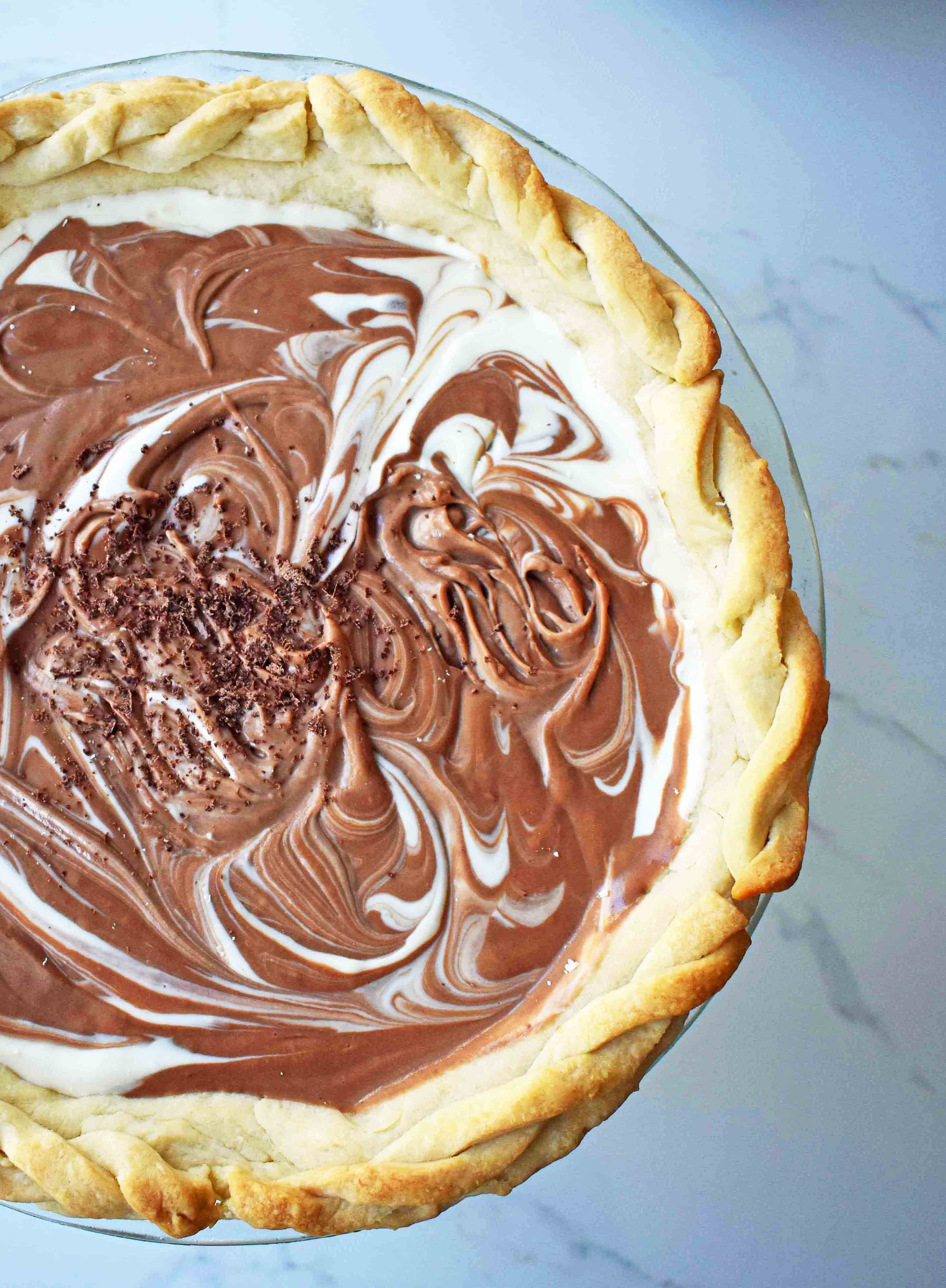 I even made a video tutorial for this Double Chocolate Marble Pie so check out my Facebook page to see it -- Modern Honey Facebook  and hopefully you will fall in love with this sinful double chocolate cream pie.
Happy Baking, my friends! xo