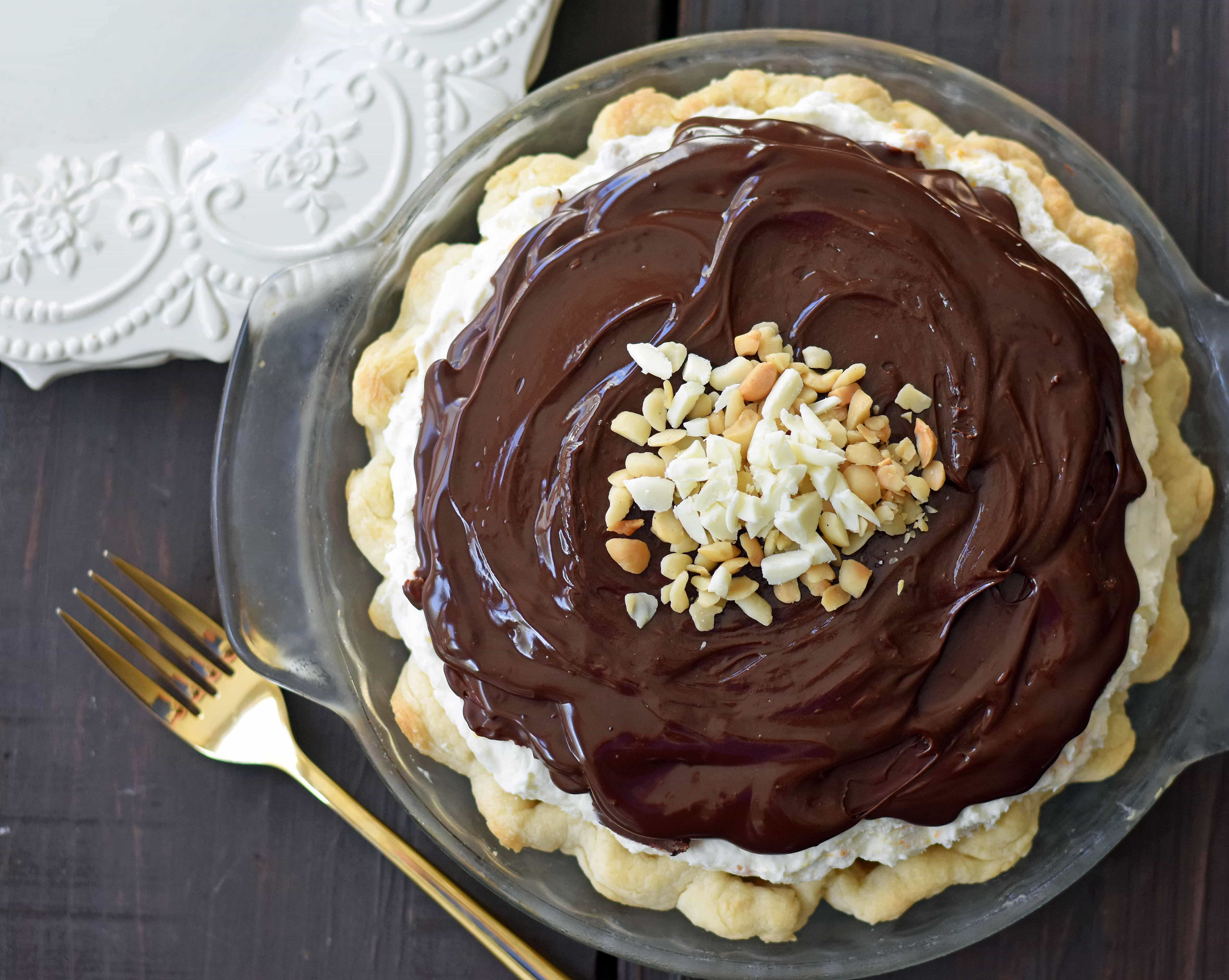 White Chocolate Macadamia Pie made with a fluffy white chocolate cream filling studded with orange zest and macadamia nuts and topped with a silky smooth chocolate ganache and freshly whipped cream.
Welcome to PIE WEEK! If you know the Driggs family, you will know we are serious about pies. We usually make 15 - 20 pies every Thanksgiving and invite neighbors over to devour them with us. This White Chocolate Macadamia Pie goes down as one of my favorite pies of all time. My sister-in-law, Robyne, brings this every single year to our Thanksgiving dinner and it is gone within minutes.
To make this White Chocolate Macadamia Pie, it starts with a homemade all-butter pie crust. Find the simple recipe HERE with all of the tips, tricks, and detailed photos. The white chocolate filling is made with melted white chocolate, softened cream cheese, butter, sugar, orange zest, whipped cream, and macadamia nuts. Oh my word. I could bathe in this fluffy goodness. Okay...maybe not bathe but eat the entire bowl. This pie has everything -- it's creamy, it's sweet, it's crunchy, and it's decadent.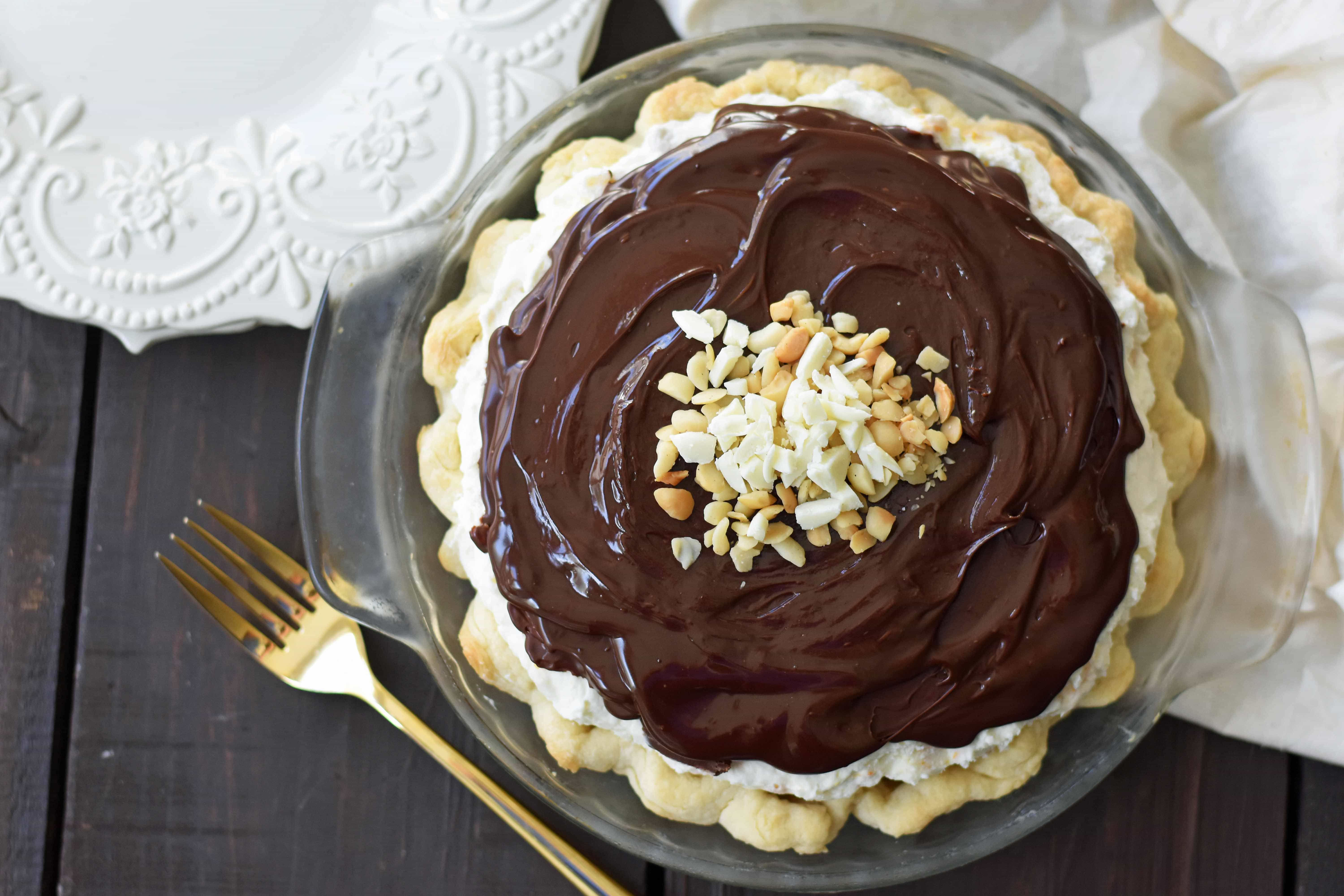 The fluffy white chocolate cream filling is topped with a silky chocolate ganache made with heavy cream and semi-sweet chocolate. This White Chocolate Macadamia Pie is garnished with fresh handcrafted sweetened whipped cream and a sprinkle of macadamia nuts.
This pie has a touch of orange which brings freshness to such a sinful pie. The macadamia nuts bring a salty crunch to the creamy filling. When making this White Chocolate Orange Cream Pie, it is important to give the filling enough time to set up so chill it for at least 3 -4 hours. I usually decorate it with some homemade whipping cream when I am ready to serve it to my guests.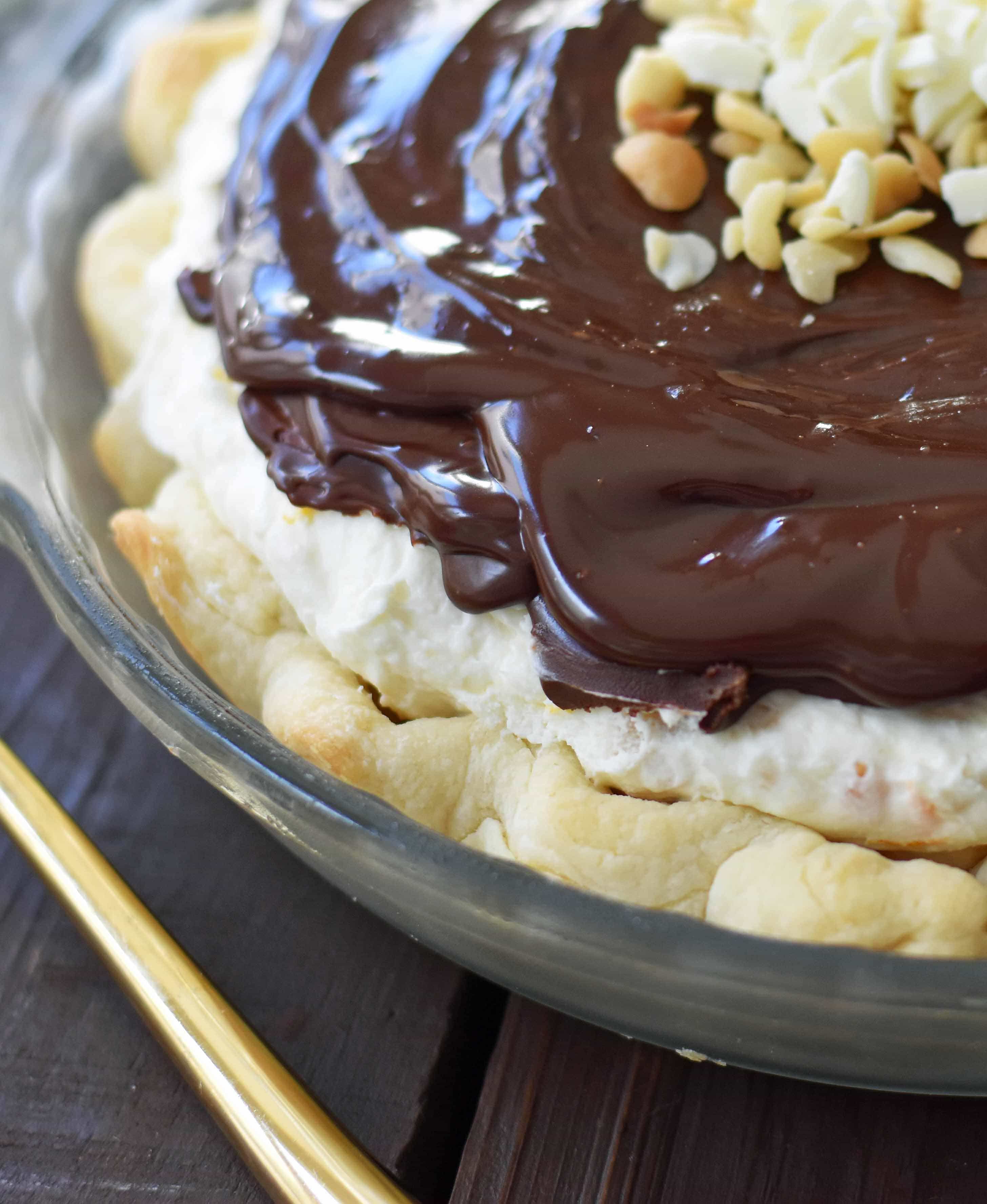 Click the links below for more pie recipes:
Caramel Apple Pie
White Chocolate Macadamia Chocolate Ganache Pie
Double Chocolate Marble Pie
The BEST Pumpkin Pie
Old-Fashioned Pecan Pie
Sweet Cherry Pie
Traditional Perfect Pumpkin Pie
Caramel Banana Cream Pie
I can't wait to share all of my pie recipes with you this week! This White Chocolate Macadamia Pie with Chocolate Ganache will be the star of the show. Happy Baking, my friends!