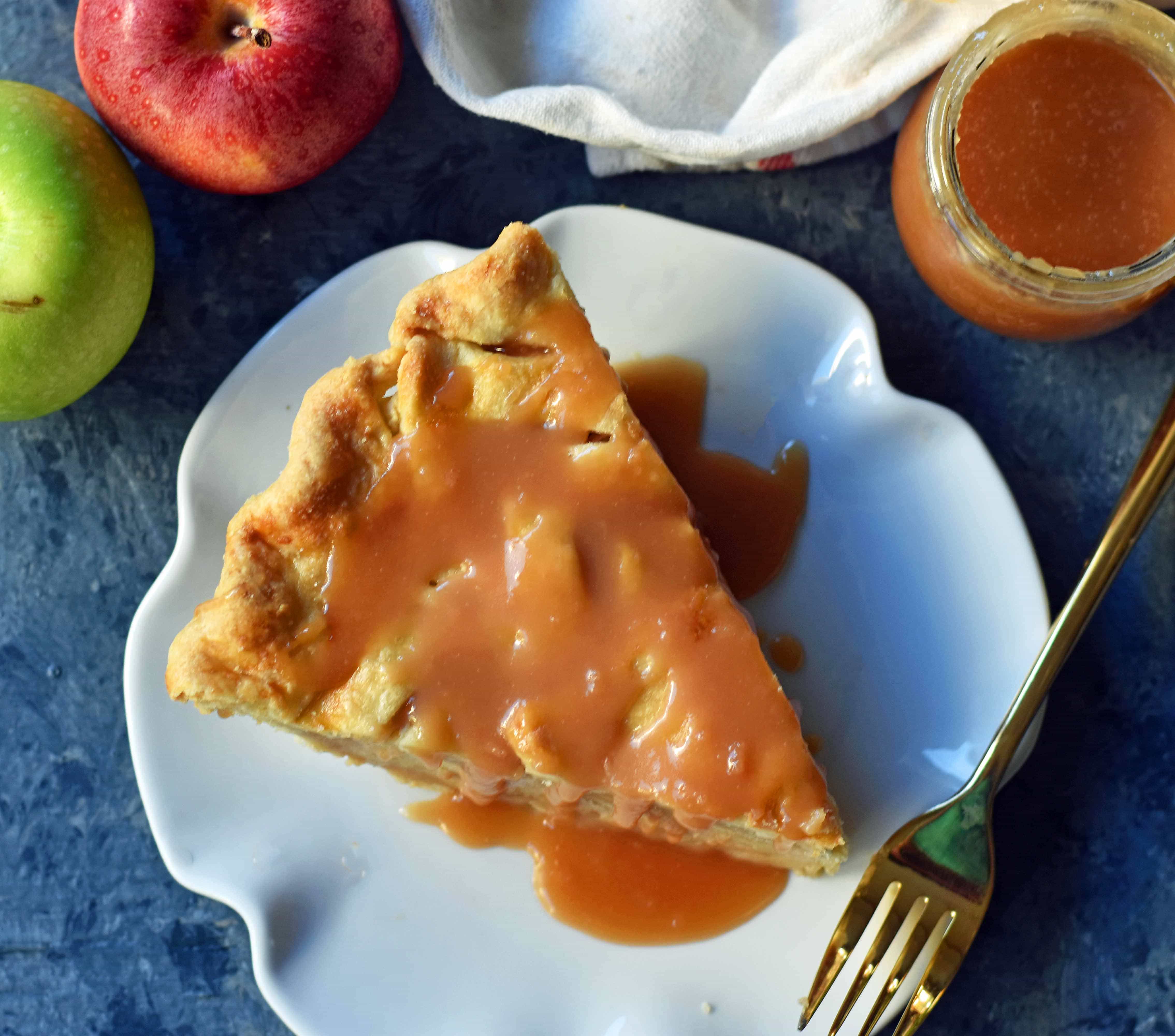 Caramel Apple Pie
Caramel Apple Pie is made with sweet crisp apples sauteed in brown sugar and drizzled with homemade salted caramel sauce, all in a buttery flaky pie crust. Serve with vanilla bean ice cream and you have the perfect dessert! I am sharing all of the secrets and tips for making the best apple pie recipe.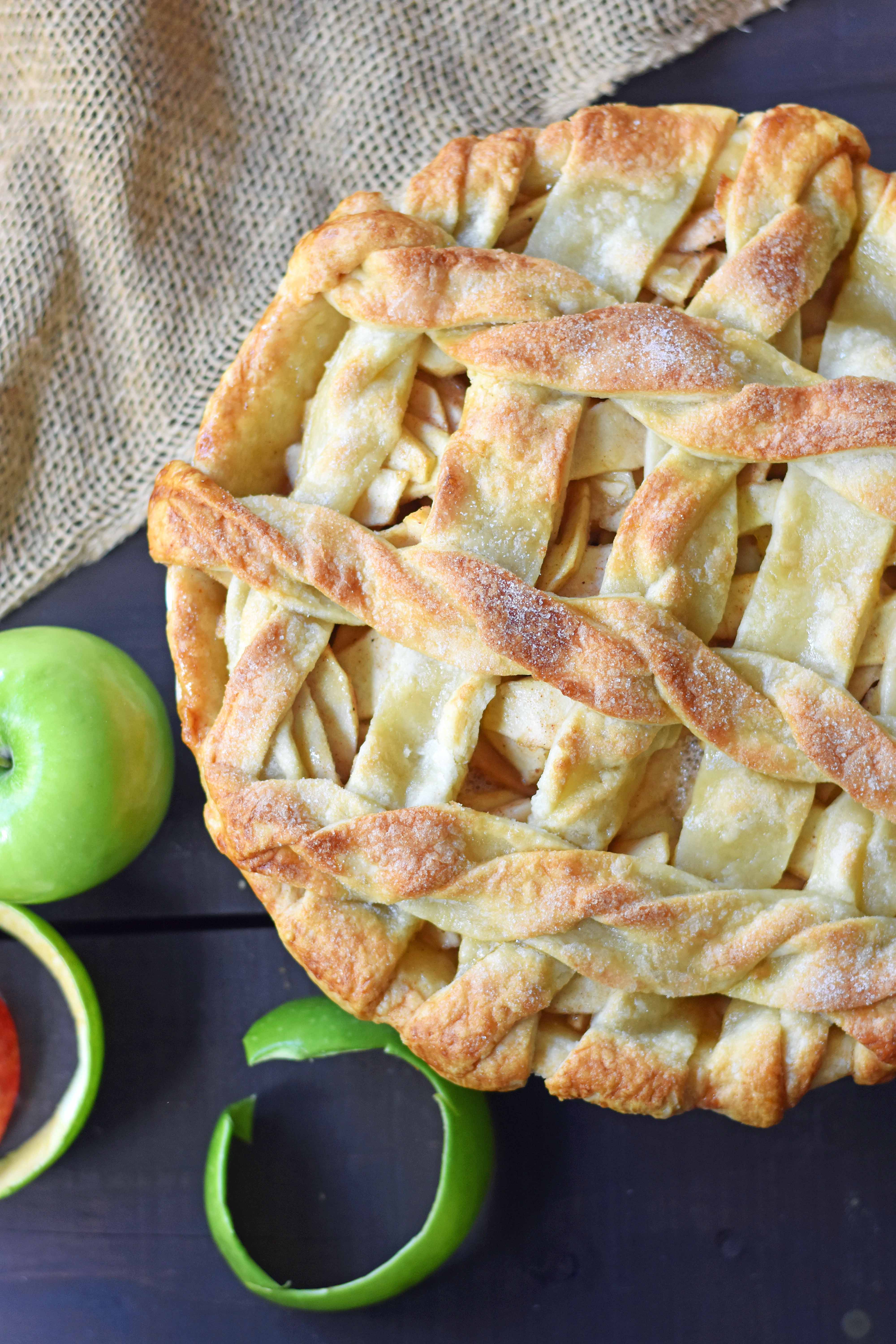 The Classic Apple Pie. It is made with crisp apples with notes of sugar and cinnamon all baked in a buttery crust and topped with vanilla bean ice cream.  It's an American favorite for a reason. Now we are just taking it up a notch and baking it with handcrafted rich caramel sauce.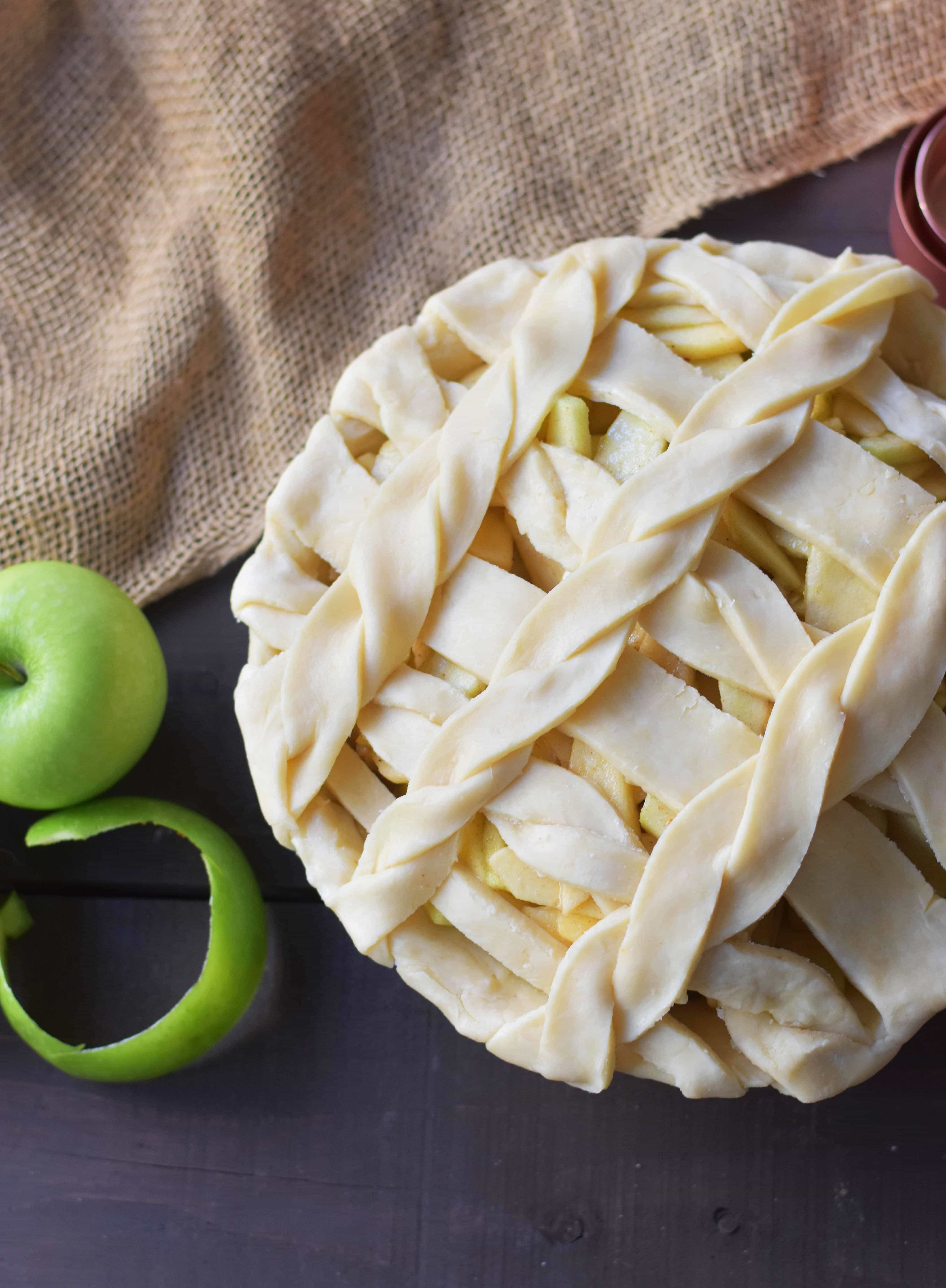 Even though it is heavenly, there are many things that can go wrong. I have been experimenting like crazy in my kitchen, in order to come up with the ultimate apple pie. I have taken pie classes and have studied all about pies in my quest to learn how to make the perfect apple pie.  I have more apple pie in my kitchen right now than you can imagine! But this caramel apple pie is worth every calorie.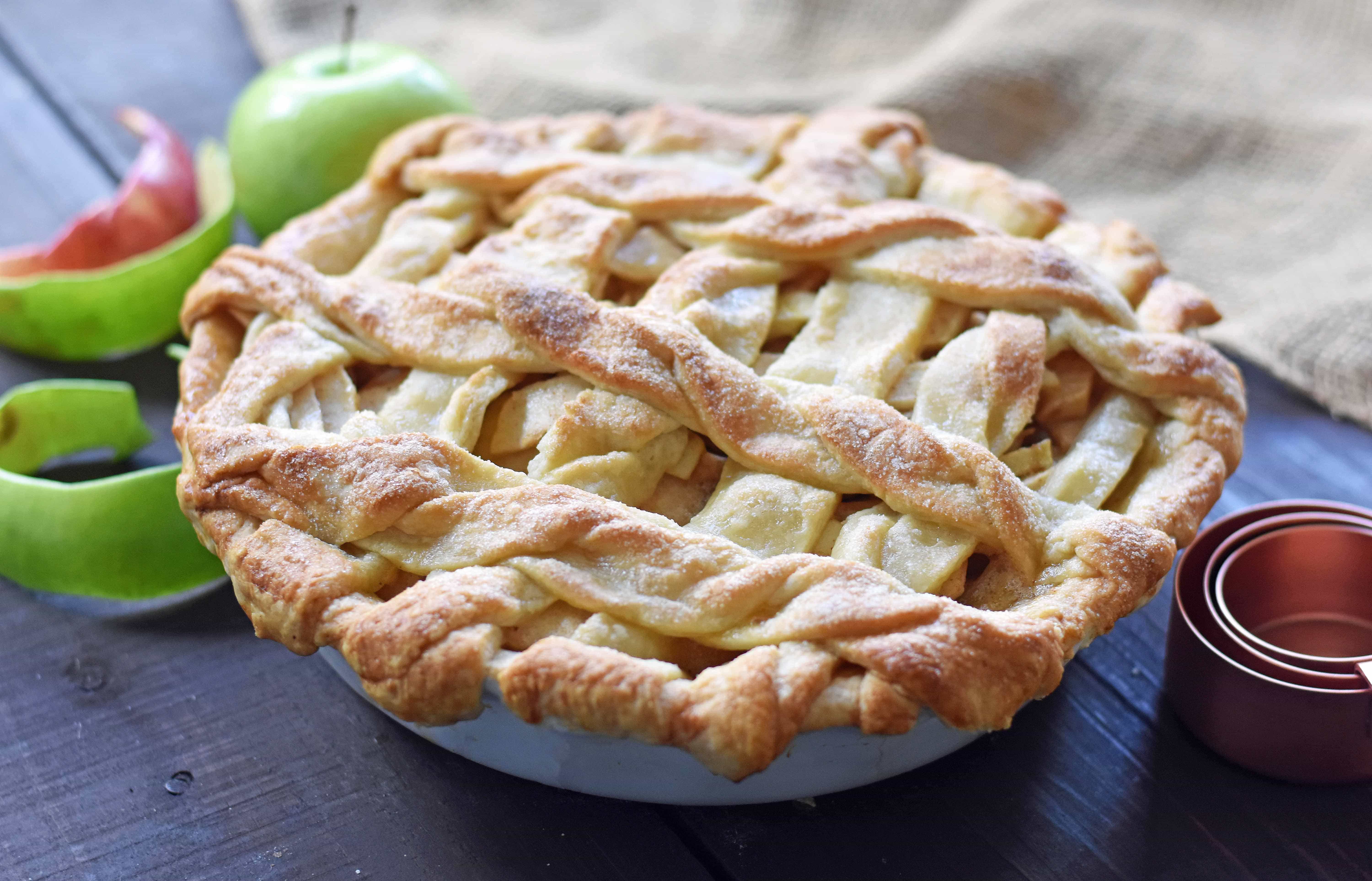 Here are some tips that I discovered and learned about making a caramel apple pie from scratch:
 Apples. Use a mix of sweet and crisp apples. Most people use Granny Smith, which is the main apple I use but enjoy mixing in McIntosh or Honeycrisp apples for some sweetness. Peel and slice the apples thinly so they cook quickly and evenly.
Saute the apples in sugar, cinnamon, and butter before pouring into the pie crust.  How many times have you eaten an apple pie with hard apples that aren't completely cooked? This process is what solves this issue.  It also helps to release their juices so the filling has a chance to firm up.  Once the apples are sauteed, use a slotted spoon to place the apples into the pie crust, leaving some of the juices behind.
Make homemade salted caramel.  This is what gives it that rich, deep flavor.  The salted caramel is made in less than 15 minutes. It does need to chill in order to set up before drizzling on apples.  Reserve some of the caramel to drizzle when serving pie.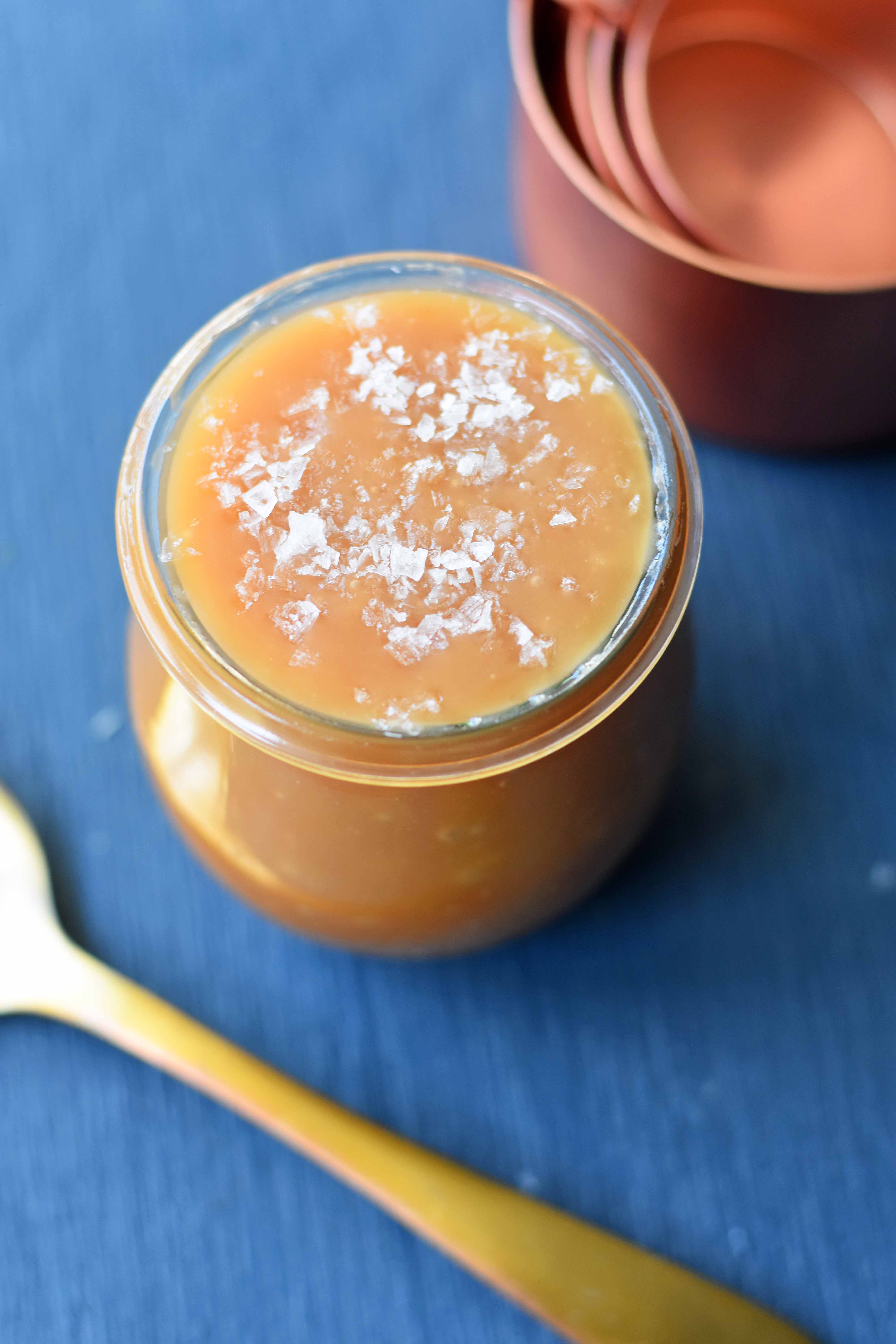 Make a homemade butter pie crust.  This is what gives the pie that buttery, flakiness that pairs so well with the apples. Click HERE for an all-butter pie crust recipe.
Make an egg wash to brush over the pie.  An egg wash can be made with an egg and a sprinkle of water and salt. It is a perfect glue to brush on the pie crust. Sprinkle with sugar to add sparkle to the pie.
Bake until the apples are cooked through and the crust is golden brown.  Use a pie shield or foil to place over the pie crust edges halfway through baking to ensure the crust doesn't become too brown.
Let the apple pie set up. Give yourself enough time to let it come to room temperature in order for the filling to set-up.  Serve with vanilla bean ice cream or homemade whipped cream.
Pin this now to find it later
Pin It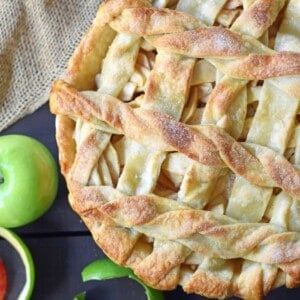 Caramel Apple Pie
Caramel Apple Pie is a made with sweet and crisp apples sauteed in brown sugar and drizzled with homemade caramel sauce, all in a buttery flaky pie crust. The BEST Apple Pie Recipe drizzled with salted caramel sauce.
Ingredients
Apple Pie Filling:
3 1/2

lbs.

Apples

Granny Smith, McIntosh, Honeycrisp, peeled and sliced thinly

2

Tablespoons

Fresh Lemon Juice

2

Tablespoons

Butter

1/2

cup

Brown Sugar

1/4

cup

Sugar

1/4

cup

Flour

1/2

teaspoon

Cinnamon



Instructions
In a large bowl, toss the peeled and thinly sliced apples in the lemon juice. Sprinkle with the flour and toss to coat.

In a large pot, melt the butter over medium heat. Add the brown sugar, sugar, flour, and cinnamon. Cook over medium heat, stirring often for about 2-3 minutes.

Add the apples and cook, stirring occasionally, until the apples have softened very slightly and the sauce has thickened, about 10 - 12 minutes. Let cool to room temperature.
Salted Caramel:
In medium sized pot, whisk together sugar and water and cook over medium-low heat for 3 minutes or until sugar is dissolved.

Add butter and let cook for 9-11 minutes or until a golden brown color begins to form. Do not stir but watch carefully.

Once the caramel is a warm copper color, remove from heat. Add 1/2 cup heavy cream. Be careful as it will bubble. Stir in salt. Pour into jar and place in refrigerator to chill for 1 hour.
To assemble Apple Pie:
Layer apple pie filling into prepared pie crust, leaving behind some of the juices. Pour 1 cup of chilled caramel sauce over apples.

Place top layer or pie dough over apples in a lattice pattern. Make an egg wash by whisking together egg, water, and salt. Brush over pie crust. Sprinkle with sugar.

Chill for 20 minutes.

Heat oven to 400 degrees.

Bake for 25 minutes. Place pie shield or foil over pie crust edges. Reduce heat to 350 degrees and continue to bake for additional 30 minutes. Using knife, check to see if apples are soft and cooked through.

Allow pie to cool for 3-4 hours. Serve with vanilla bean ice cream and extra caramel sauce.
Nutrition information is automatically calculated, so should only be used as an approximation.
Click the links below for more pie recipes:
Lemon Sour Cream Pie
White Chocolate Macadamia Chocolate Ganache Pie
Double Chocolate Marble Pie
The BEST Pumpkin Pie 
Old-Fashioned Pecan Pie
Sweet Cherry Pie
Traditional Perfect Pumpkin Pie
Caramel Banana Cream Pie
Happy Baking, my friends! Find all of Modern Honey's Thanksgiving recipes by clicking HERE. New recipes added daily! Pin the IMAGE below on PINTEREST.