Homemade Apple Crumble Recipe made with fresh apples tossed in cinnamon sugar and topped with a brown sugar crumble made with butter, pecans, brown sugar, and flour. This apple crumble is baked until bubbly and topped with vanilla ice cream. An easy apple dessert!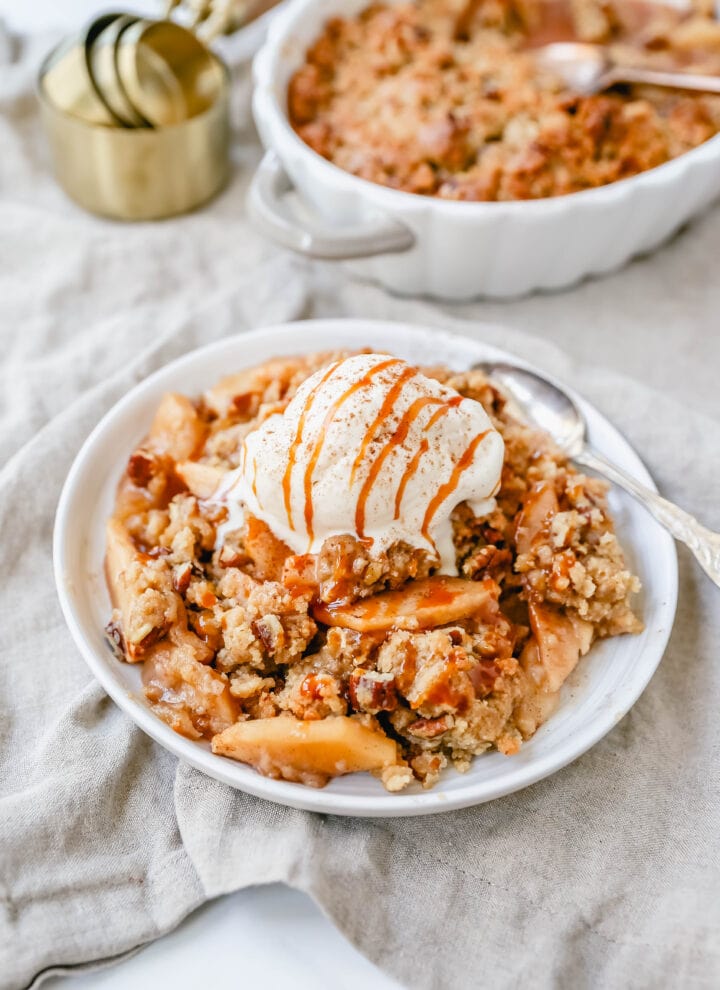 I love to get your feedback when recipe testing! I asked which apple recipe you wanted to see and an apple crumble recipe won by a landslide.
This Apple Crumble recipe is a quintessential Fall dessert. I just wish I was apple-picking in Vermont like I was a year ago. Apple picking in Vermont on a crisp, cool, Fall day was just lovely and every bit as charming as I imagined in my mind.
You wouldn't believe how many apples I brought home in my suitcase from our apple-picking expedition. I baked up so many apple desserts as soon as I arrived back home. I had to cool down my house and light and pumpkin candle and pretend it felt like Fall outside.
My favorite apple dessert to make is fresh sliced apples tossed in cinnamon sugar and topped with a homemade buttery brown sugar pecan crumble. It has the perfect amount of sweetness with a crunch from the pecans. The butter really comes through and makes the crumble so rich and buttery.
Now I get to share my best apple crumble recipe with you! It is so easy to throw together. I love to make it and pair it with vanilla bean ice cream. I even made homemade vanilla ice cream to top the apple dessert and it was heavenly!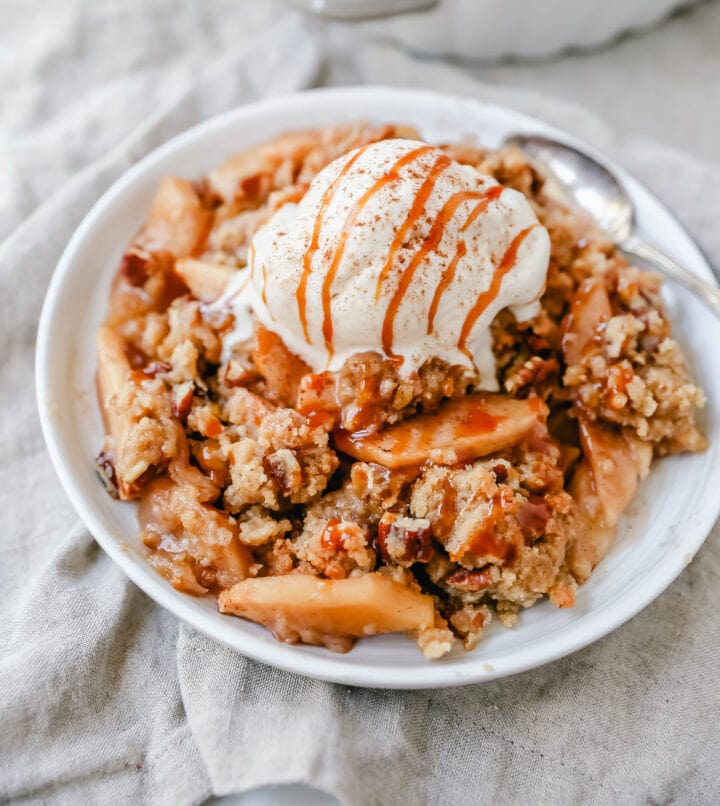 Ingredients in Apple Crumble:
Cinnamon Sugar Tossed Apple Filling:
Fresh Apples -- I suggest a sweet and firm apple. A Granny Smith apple is known for its tartness and will work beautifully in this recipe. Gala, Fuji, or Honeycrisp apples will work well too. Peel the apples and cut them into slices or chunks, depending on preference.
Sugar -- this recipe calls for granulated sugar. If you want a more molasses flavor, use brown sugar.
Flour -- this is what thickens the juices from the apples as they bake. May substitute cornstarch for the flour.
Cinnamon -- you can increase or reduce the cinnamon amount depending on taste.
Brown Sugar Pecan Crumble Recipe:
Salted Butter -- I prefer salted butter in this recipe but if you have unsalted butter, add ½ teaspoon of salt to the crumble recipe.
Chopped Pecans -- I like to buy pecan halves and roughly chop the pecans so there are varying shapes and sizes.
Brown Sugar -- this is what gives it sweetness and warmth from the molasses.
Flour -- this is what keeps the shape of the crumble.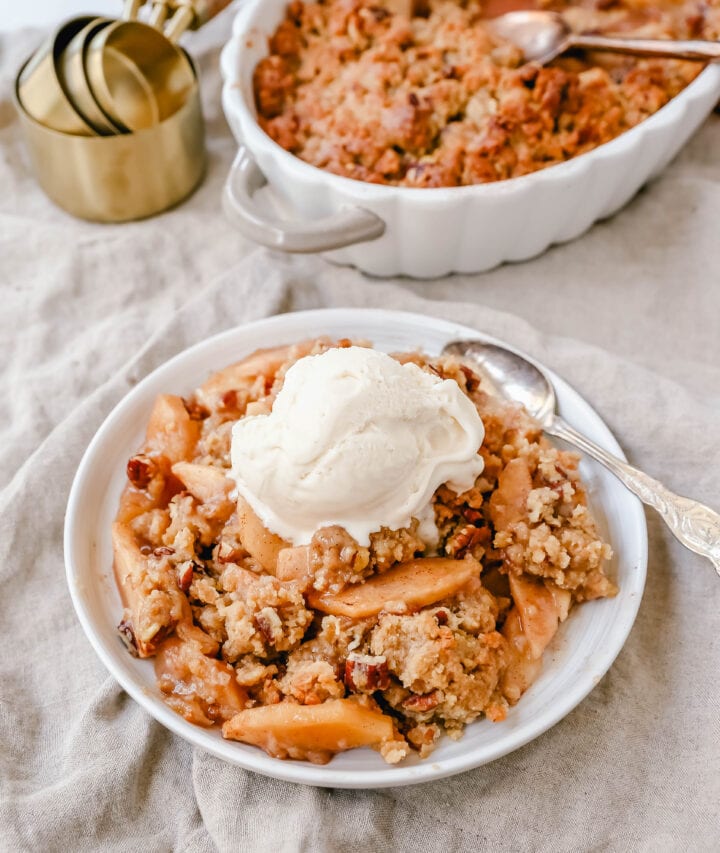 Instructions and FAQ:
Start by peeling the apples. Slice the apples or cut them into bite-size pieces or chunks. Place in a bowl and toss with sugar, cinnamon, and a touch of flour. Place in a baking dish.
Make the brown sugar crumble by mixing in a bowl the brown sugar, flour, and pecans. Melt the butter in the microwave or in a skillet to brown the butter. Add the melted butter and stir to combine.
Top the cinnamon sugar apples with the pecan crumble topping.
Spray a piece of foil with non-stick cooking spray. Place the side down (that has been sprayed with cooking spray) on top of the crumble. This will help to keep the crumble from becoming too brown.
Bake. Remove the foil halfway through the baking time. Watch for the apples to start to bubble and thicken.
Remove from the oven and let sit for about 15 minutes to allow it to firm up and cool down.
Serve with vanilla ice cream.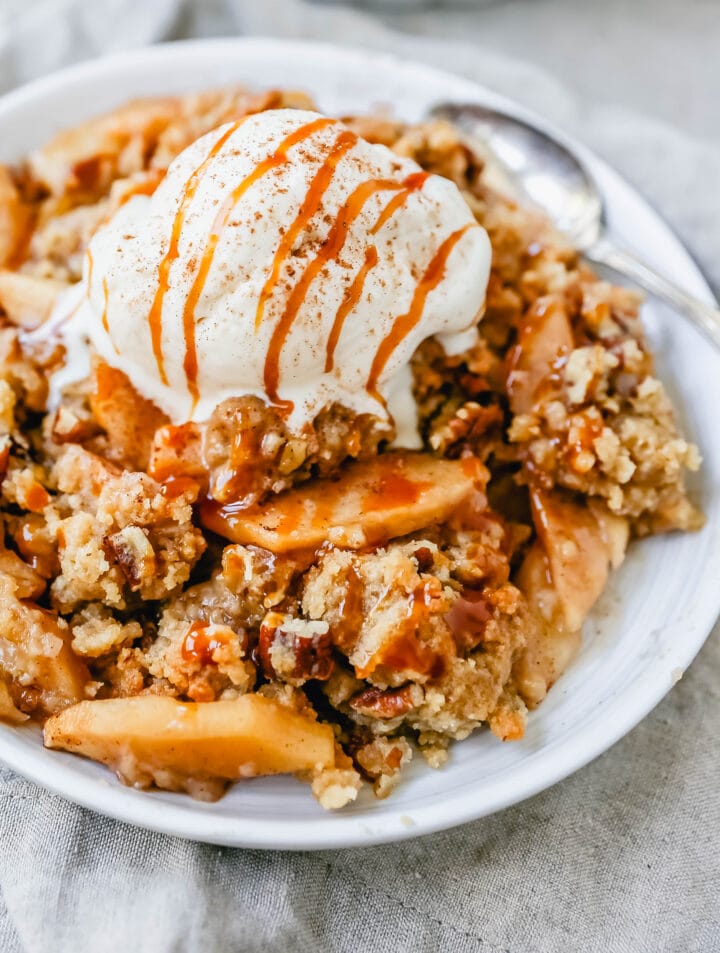 Popular Apple Recipes:
Fresh Apple Crisp is made with crisp apples in a brown sugar pecan topping.
Made-from-Scratch Dutch Apple Pie is made with a buttery, flaky pie crust, topped with cinnamon-sugar apples, with a brown sugar streusel topping.
Fresh Caramel Apple Slab Pie is the perfect way to serve pie to a lot of people! Just cut the apple pie into squares.
Simple French Apple Cake is a buttery cake made with sweet apples and topped with freshly whipped cream.
Homemade Caramel Apple Pie made with fresh apples, and caramel sauce, in a buttery pie crust.
I love to hear from you! If you make this recipe, please be sure to leave a comment and give this recipe a rating. If you make any of my recipes, tag me on Instagram @modern_honey so I can see your creations. It's one of my favorite things seeing you make these recipes in your own kitchen. Sign up for my newsletter below so you never miss a recipe. Thank you for following along! I truly do have the greatest readers. FOLLOW ME ON: INSTAGRAM --- FACEBOOK --- PINTEREST