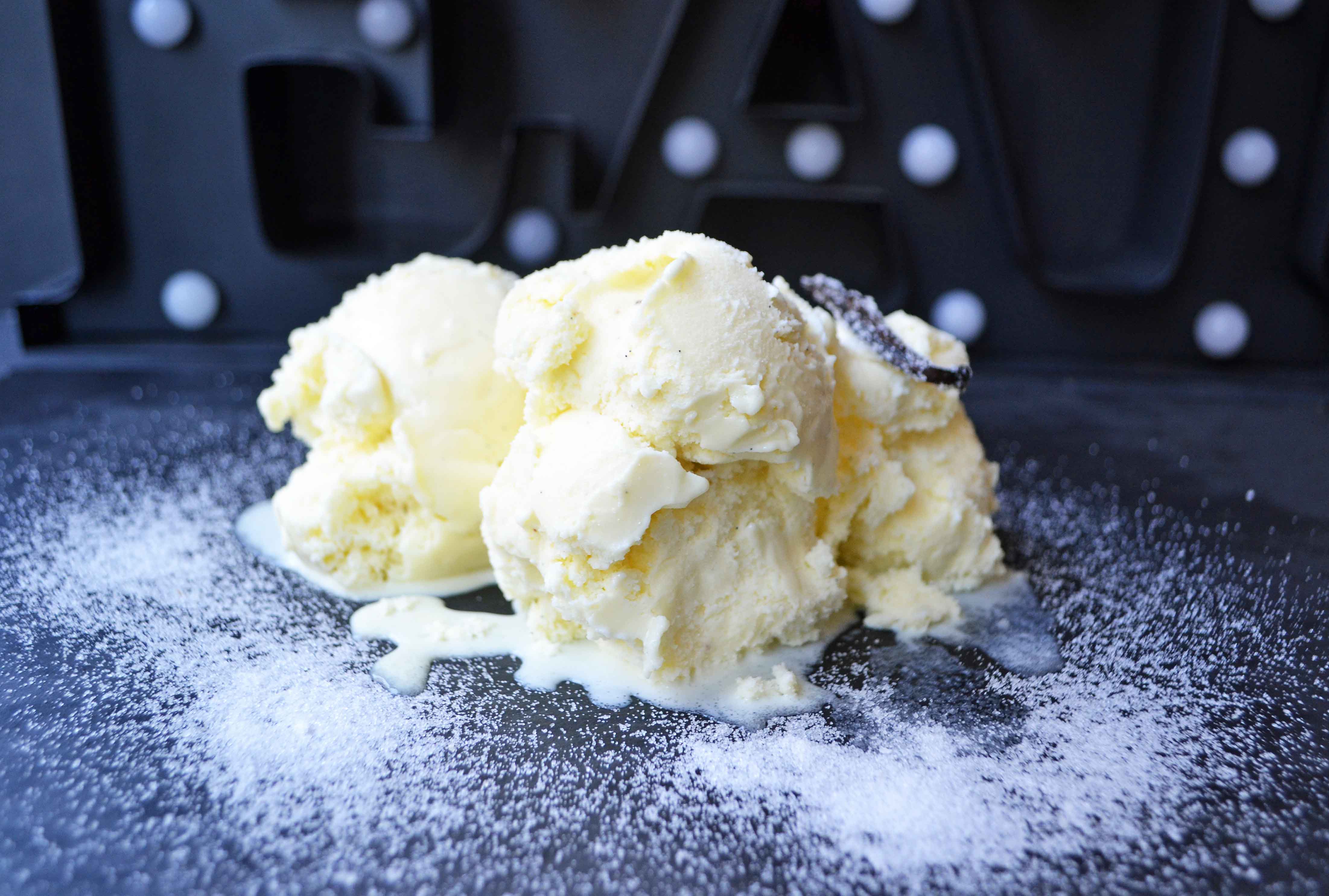 Homemade Vanilla Ice Cream Recipe
Is there anything better on a hot summer day than a big bowl of homemade ice cream? My Grandma Faye always had ice cream churning in her large wooden old-fashioned ice cream maker. We loved getting up on a stool and assisting her by adding large pieces of ice and rock salt, hoping that we would get the coveted role as the "taste tester." We would take our big bowls of ice cream, sit outside with our feet dangling in the sparkling pool and think that being at Grandma's house was the best.
I believed it then and I still believe it now...there's nothing better than handcrafted, rich, sweet cream vanilla ice cream made from scratch, using only the freshest ingredients. We are talking ultra simple ingredients - heavy cream, whole milk, sugar, vanilla beans, and sometimes even egg yolks. That's it. There's no fillers or extras added. It's how ice cream should be made.
I am sharing TWO homemade vanilla bean ice cream recipes with you today that will rock your world. It's a serious bonus. I am giving you two options - a simple one using only cream, milk, sugar and vanilla and one that is a custard base using egg yolks, and is slightly more time consuming. My kids favorite is the simple one which is a win-win for me.  You have never tasted vanilla ice cream like this out of the carton.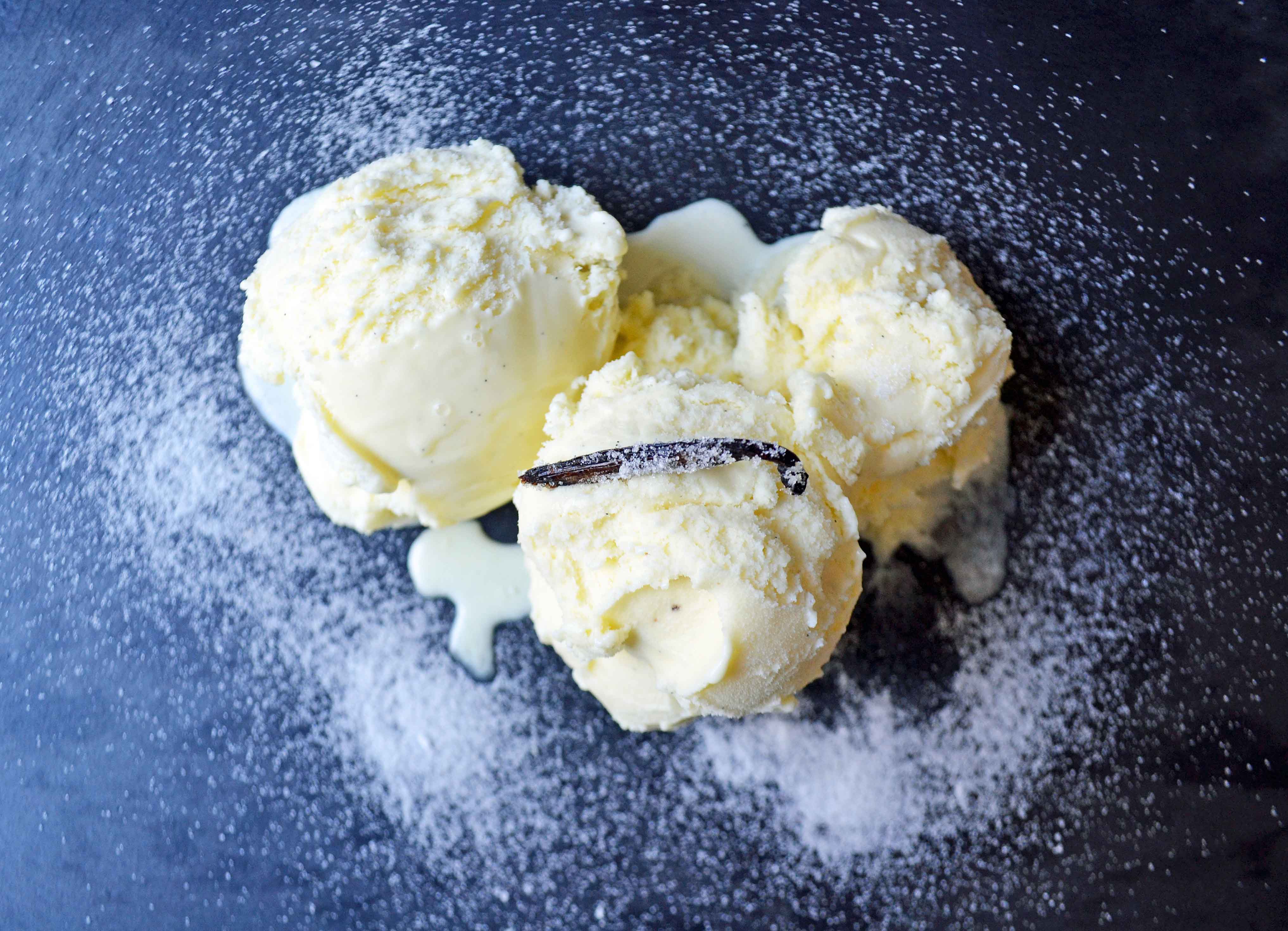 Tips to make Out of this World Ice Cream:
Use fresh cream. I mean, the good stuff. Don't even both looking at the fat grams on the label. It's ice cream and we are going to enjoy every single bite.
If ice cream calls for milk, use whole milk every single time. It has that extra amount of fat that lends itself to a creamier ice cream.
There's two schools of thought with ice cream and people have some serious strong opinions about it. Eggs or no eggs is the question. Egg yolks add a rich, decadent flavor to ice cream and gives it a custard-like flavor. If you keep it simple and take the no egg yolks route and only use heavy cream, whole milk, sugar, and vanilla bean, then you will get a sweeter, purer vanilla ice cream.  You are getting a 2 for 1 today because I am including my two favorite versions of homemade vanilla ice cream. You are welcome. xo
If you make the vanilla bean ice cream custard using fresh egg yolks, it has to be cooked and is more time-consuming. The mixture is brought to 185 degrees, which means that it needs to be chilled before attempting to freeze it.  The results are mind-blowing good but it does take more time and effort.
Vanilla Beans make all of the difference. They are ridiculously expensive but if you can splurge on one thing, I would say buy 1 vanilla bean. There's nothing like specks of real vanilla beans in ice cream to put ice cream over the top. You can always substitute pure vanilla extract or vanilla paste as well. Remember to always add it after cooking to ensure best flavor pay off.
There are many ice cream freezer options out there. There is the old-fashioned kind like this one HERE that calls for a lot of ice and rock salt. It can taste incredible but keep in mind that it may take longer than other options. Our favorite way to make this homemade vanilla bean ice cream is to use the Cuisinart Ice Cream Maker. There are a few models available and sometimes you can even score one on sale at Costco.  We have the model where you keep the ice cream freezer bowl frozen at all times, add the cold ice cream mixture to the bowl, and the machine freezes in less than 20 minutes. No mess. No rock salt. No ice.
Instead of making ice cream once or twice a year with the Big Daddy old-fashioned ice cream maker, I am making it all of the time.
Shoot, maybe that's a problem.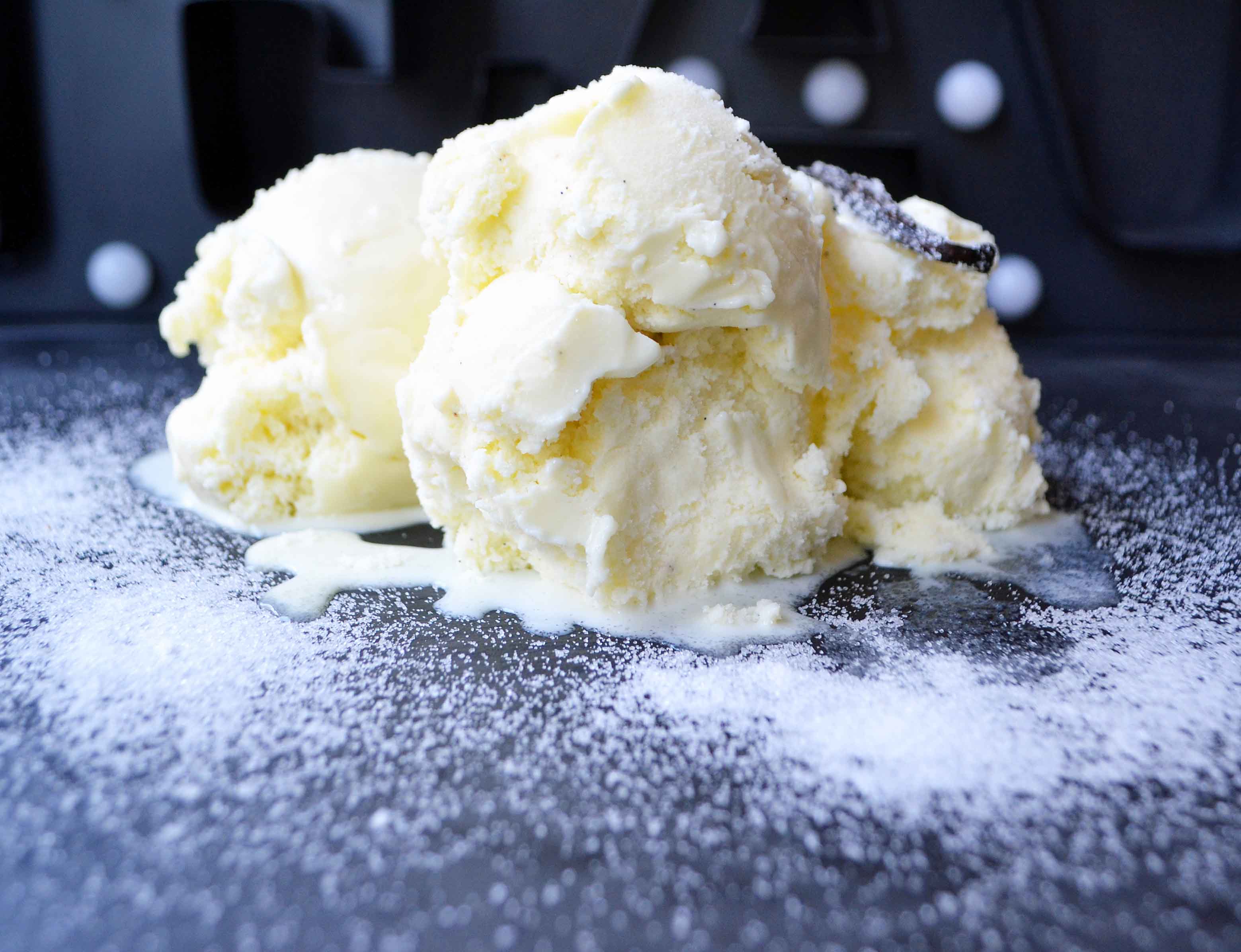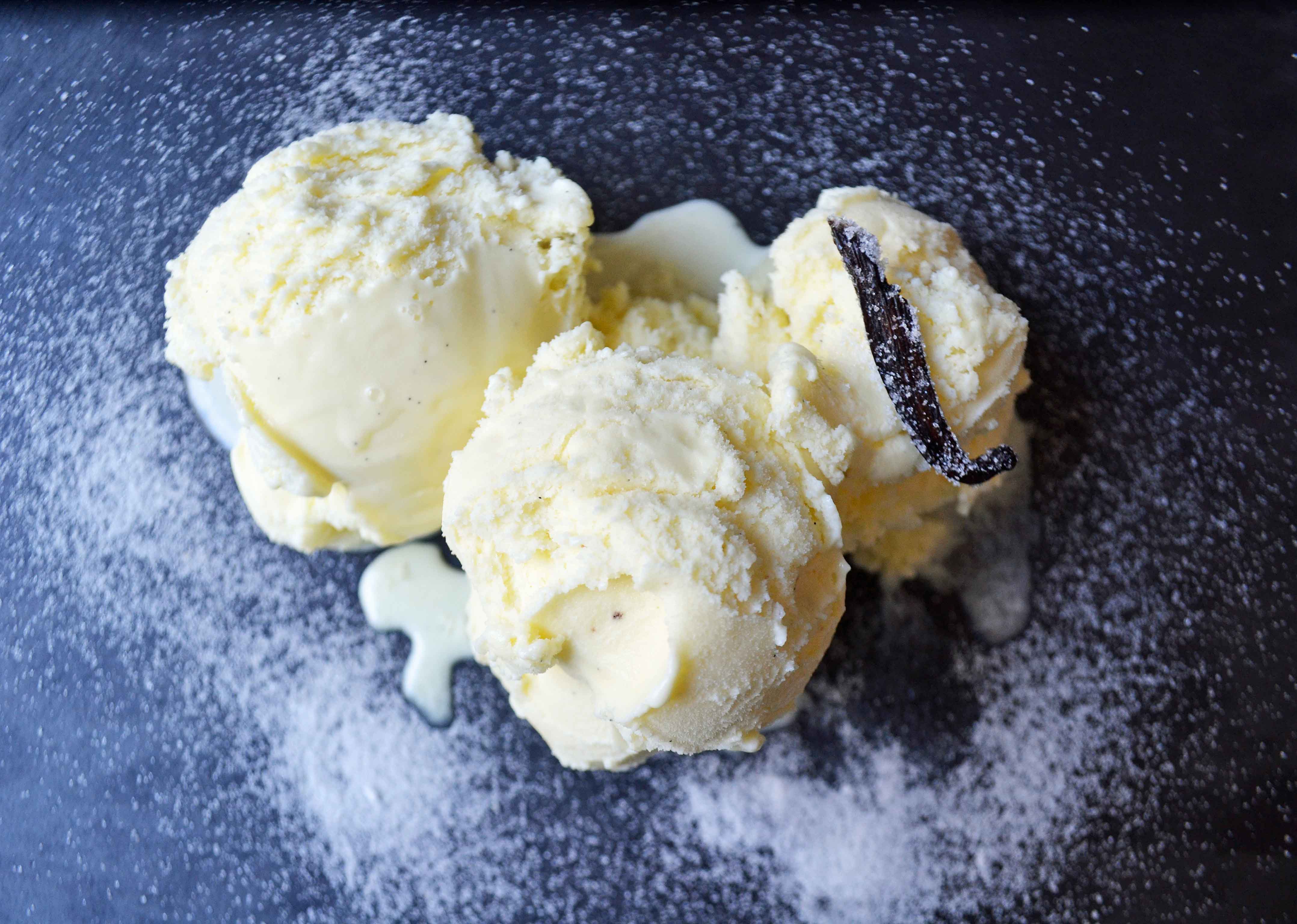 Once you have perfected the Homemade Vanilla Bean Ice Cream base then you can add any topping your little heart desires.
Mix-in Ideas: Strawberries, Bananas, Raspberries, Blackberries, White Chocolate, Salted Caramel, Chocolate Chunks, Oreos, Candy Bars.
Wait until I unveil what is coming tomorrow....MJ's Chocolate Chip Cookies that LOVE to be paired with this ice cream more than anything else.
Modern Honey is bringing you the ultimate ice cream sandwich. Giddy up.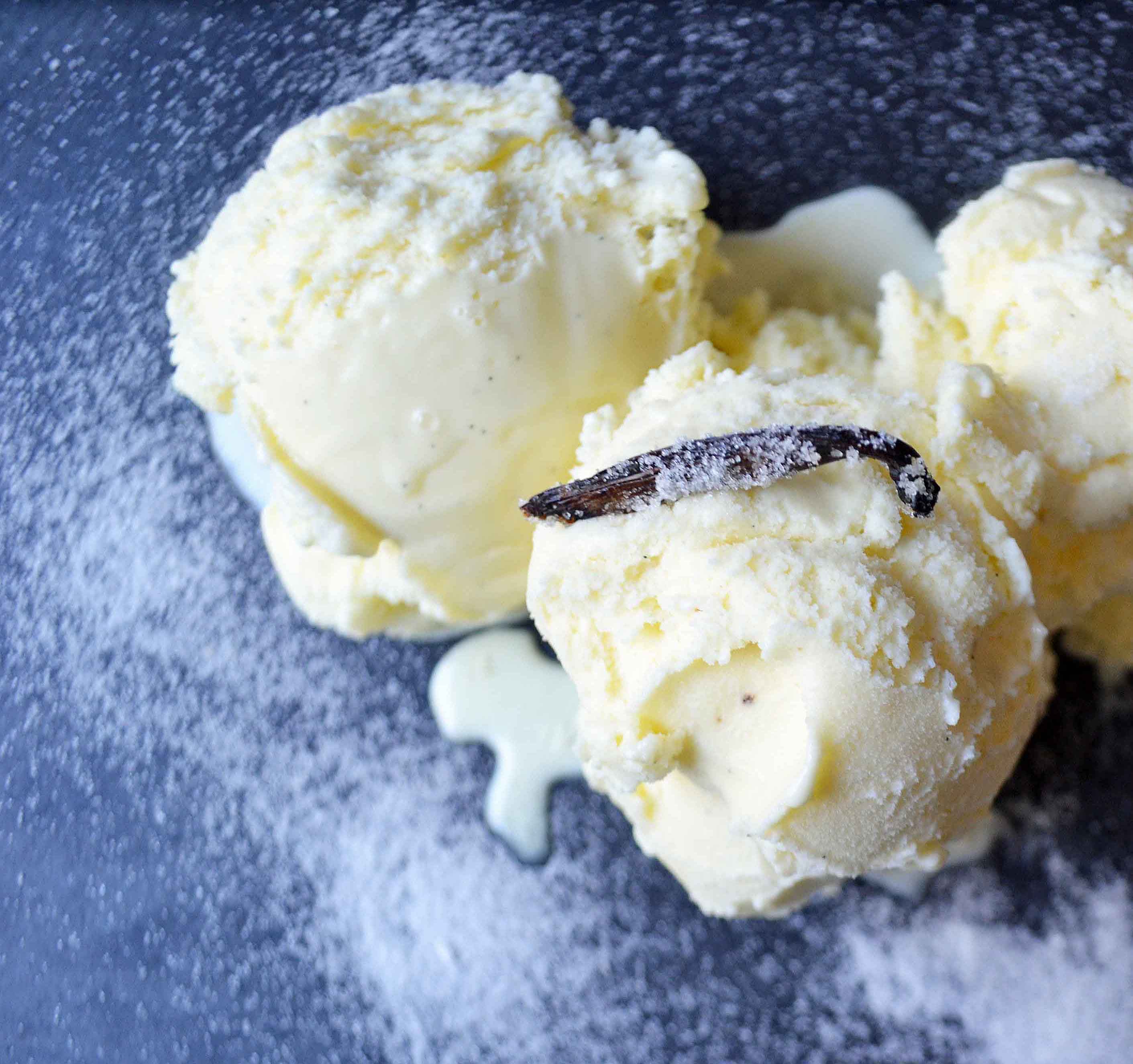 Happy Eating, my friends! xo