Caramel Apple Slab Pie
Juicy cinnamon sugar apples baked in a flaky pie crust and topped with a buttery brown sugar crumb topping then drizzled with homemade salted caramel.
This post is sponsored by The Spice Hunter and includes tracking links. For more information about tracking links and how to opt out, please visit All About Do Not Track prior to clicking any links found in this post.
Baking season has officially begun and Thanksgiving is right around the corner! My family gatherings have always revolved around two things -- food and sports. So if you can only imagine, Thanksgiving is a huge deal in our home. We plan out the menu a month in advance and everyone brings their A game. Our spread could feed 50 but it is because we believe leftovers our an essential part of Thanksgiving.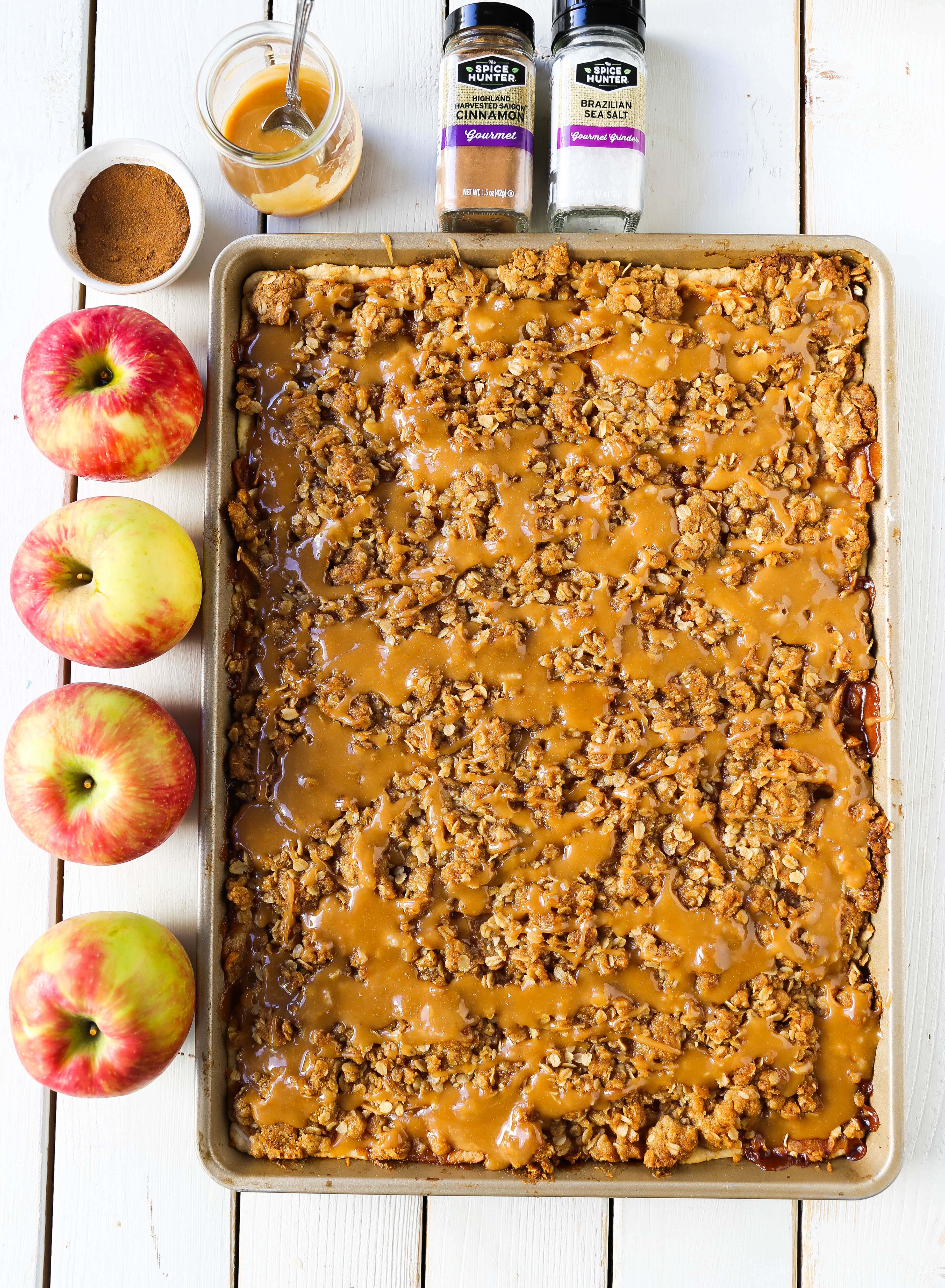 One thing we are known for in the Driggs family is our assortment of pies on Thanksgiving. We always have a huge spread of pies and you better believe they aren't all pumpkin! Now if you are looking for a killer, crowd-pleasing pumpkin pie recipe, click here.
Another classic pie which we always serve on Thanksgiving is the apple pie. An apple pie is always a popular choice but it was time to take it up a notch. I wanted to create an apple pie that could serve a lot of people, is less work, and tastes even better than the original.
This is how the Caramel Apple Slab Pie was born. A slab pie is so easy because it is made in a sheet pan and cut into squares. It can feed so many people!
The beauty of making an apple slab pie is it takes less time to cook the apples. One of the struggles of making a homemade apple pie is that the apples are stacked so high that it can be difficult to get them completely cooked. This means that the pie crust can become too brown by the time the apples are cooked through. An apple slab pie solves that dilemma!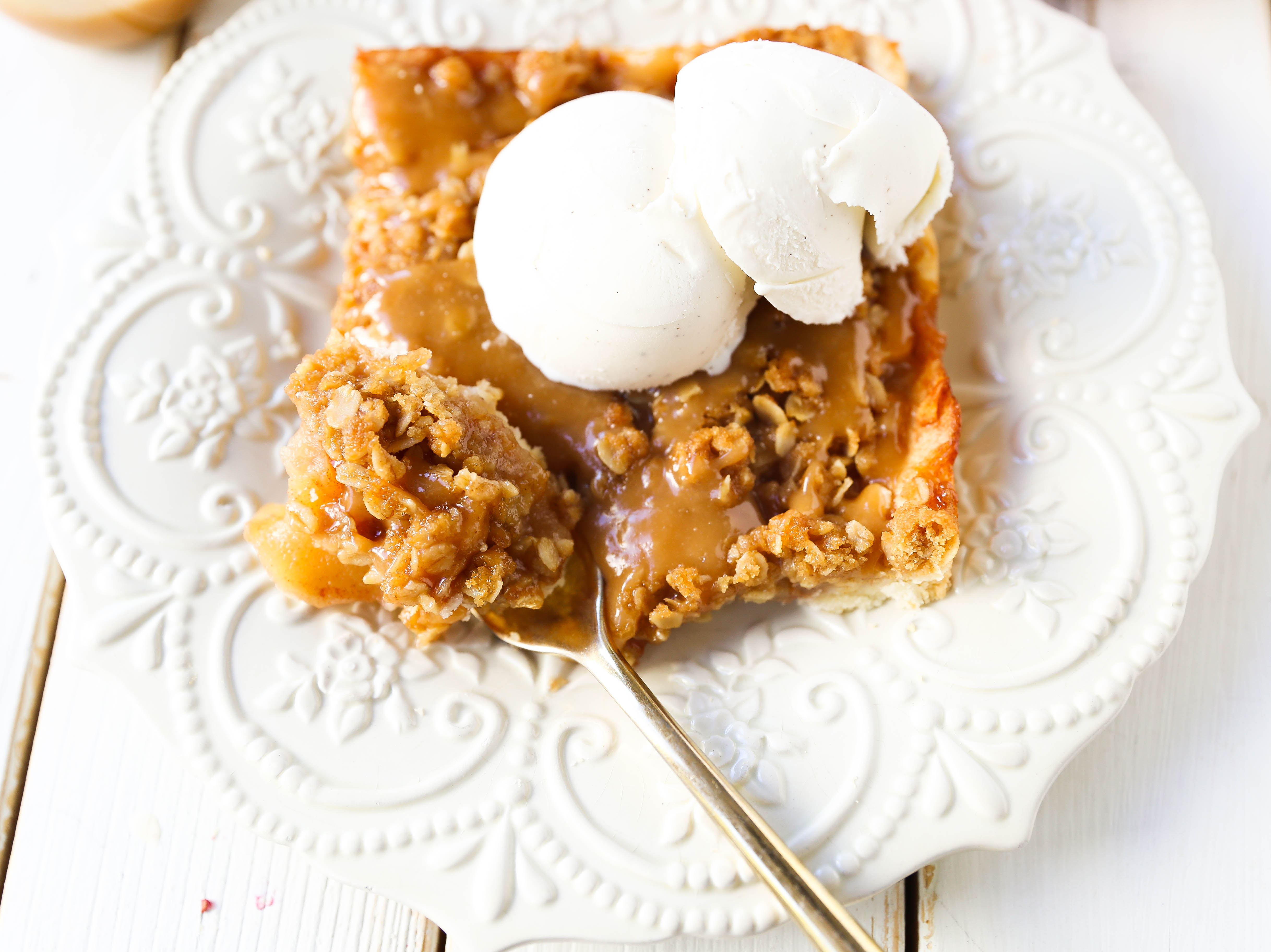 What is a Caramel Apple Slab Pie?
It is made with a buttery homemade pie crust topped with cinnamon sugar apples with a brown sugar oat topping and drizzled with a handcrafted salted caramel sauce. It is all baked in a sheet pan instead of a traditional pie pan. It is like a caramel apple and a pie all in one!
What types of apples should I use in this Apple Slab Pie?
There are so many apple varieties out there so it can be confusing to figure out which ones hold up best and are flavorful when baking a homemade apple pie. Some of the best apples to use are Honeycrisp, Granny Smith, Braeburn, and Fuji. All of them have enough of a crispness to hold their shape while baking and yet still giving off some sweetness.
When making an apple pie filling, it is best to keep things simple. I reach for fresh apples, brown sugar, flour, and cinnamon (I used the Spice Hunter's Saigon cinnamon).  The sugar lightly sweetens the apples, the flour adds a thickening element, and the cinnamon brings much warmth to the apples.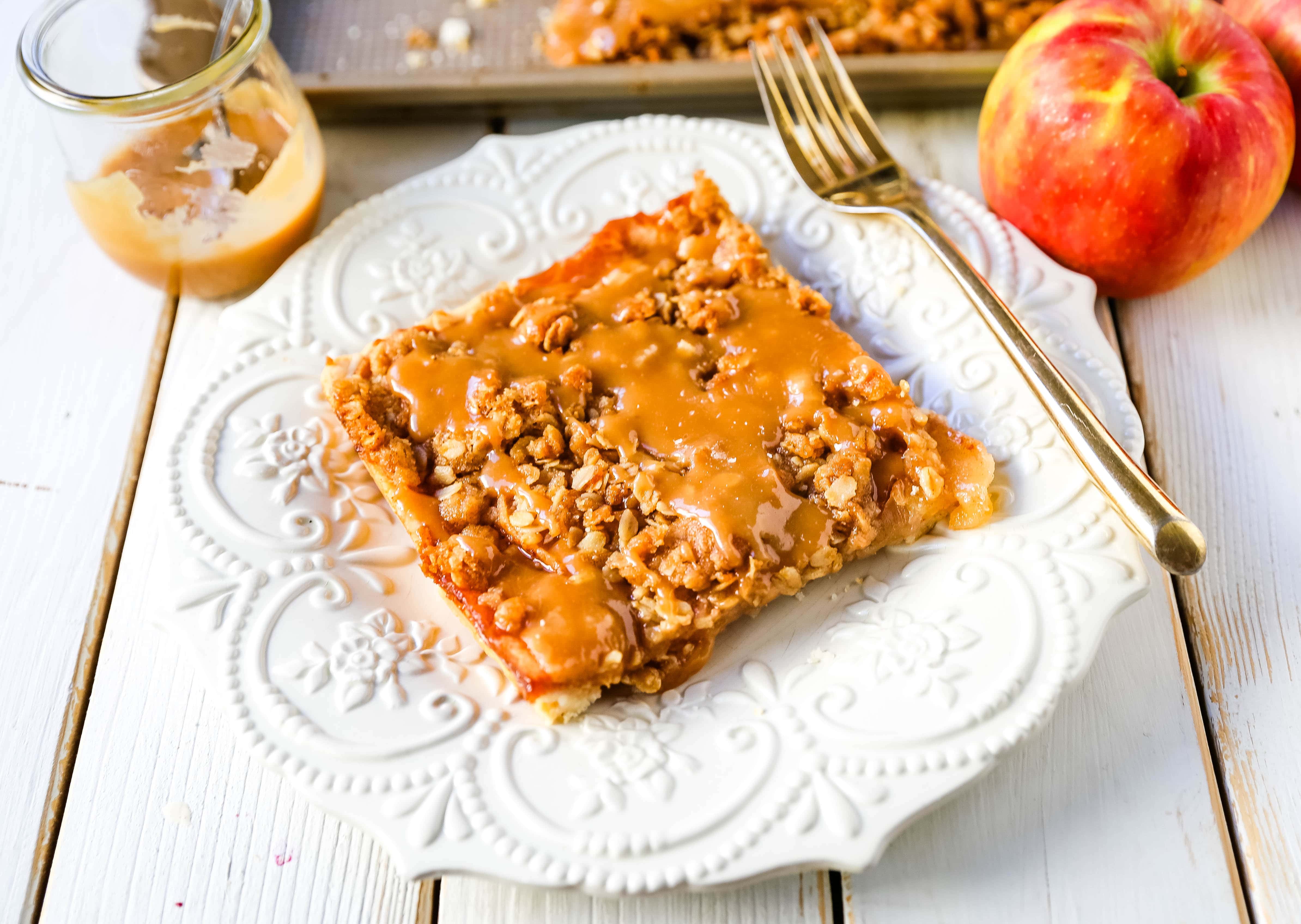 The brown sugar oat topping is made with sweet cream butter, brown sugar, rolled oats, cinnamon, and flour. This gives it a hearty crunch and pairs perfectly with the tender apples.
Homemade handcrafted salted caramel is a must when making this Caramel Apple Slab Pie. It is made by combining sweet cream butter, sugar, heavy cream, a touch of Spice Hunter's Sea Salt, and The Spice Hunter's Pure Vanilla Extract. It is a rich, buttery caramel that is velvety smooth.
The pie crust is made with the most simple ingredients -- butter, flour, salt, and a touch of buttermilk, milk, or water. It is perfectly flaky and serves as the ultimate base for this Apple Slab Pie recipe.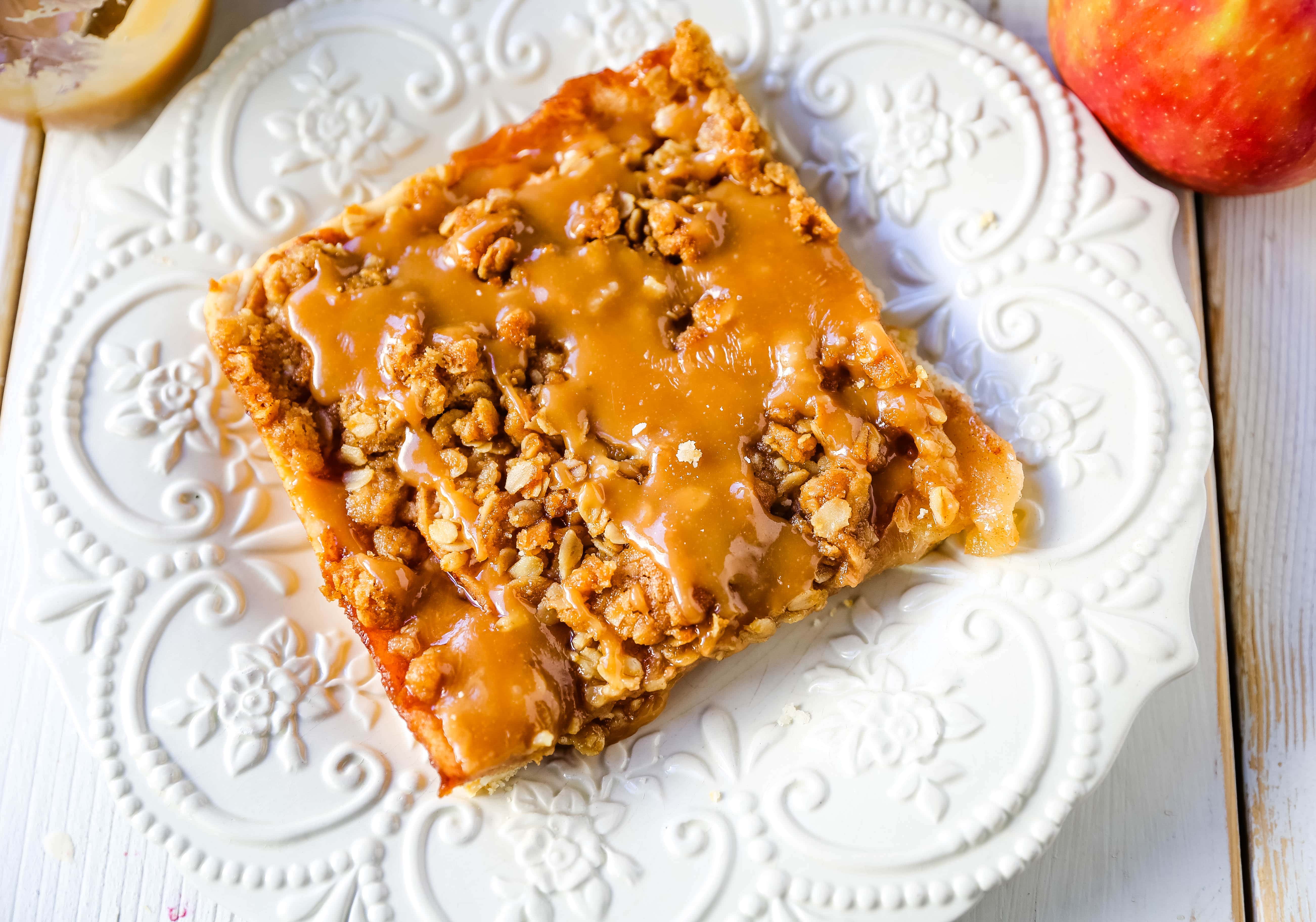 For this Salted Caramel Apple Slab Pie, I used the Spice Hunter's Saigon Cinnamon, Spice Hunter's Sea Salt, and Spice Hunter's Real Vanilla Extract. 
You can buy all of the products HERE and also find more information about all of these products by going to https://www.spicehunter.com. You can also find recipe inspiration online and on instagram.
How to make the Perfect Caramel Apple Slab Pie:
Start by making a homemade all-butter double crust pie crust.  Here's my favorite pie crust recipe for making a buttery, flaky crust every single time.  Once all of the ingredients are mixed together, roll out, and then press onto a 13 x 18 baking sheet.  Press up the sides of the baking sheet.
Begin peeling the apples. Cut into slices and place in a large bowl. Toss with brown sugar, cinnamon, flour, and a touch of lemon juice to keep the apples from turning brown and brighten up the flavor.
Make the brown sugar oat topping but cutting in butter, brown sugar, rolled oats, flour, and cinnamon.
Spread apples in an even layer all over the pie crust. Sprinkle topping all over the apples.
Bake at 375 for about 45 minutes. After about 30 minutes of baking time, check to make sure the topping isn't getting too brown. If so, place a sheet of aluminum foil over the entire pan. This will allow the apples to continue to bake without the topping becoming too brown.
Make the homemade caramel by melting butter and sugar together in a pan. Let it melt and begin to develop an amber color. Once it begins to thicken, remove from heat, and carefully add the heavy cream and sea salt. Be careful when adding the heavy cream as it may splatter.
Once the apple slab pie is done baking, drizzle salted caramel sauce all over the pie. Cut into squares and serve with vanilla bean ice cream.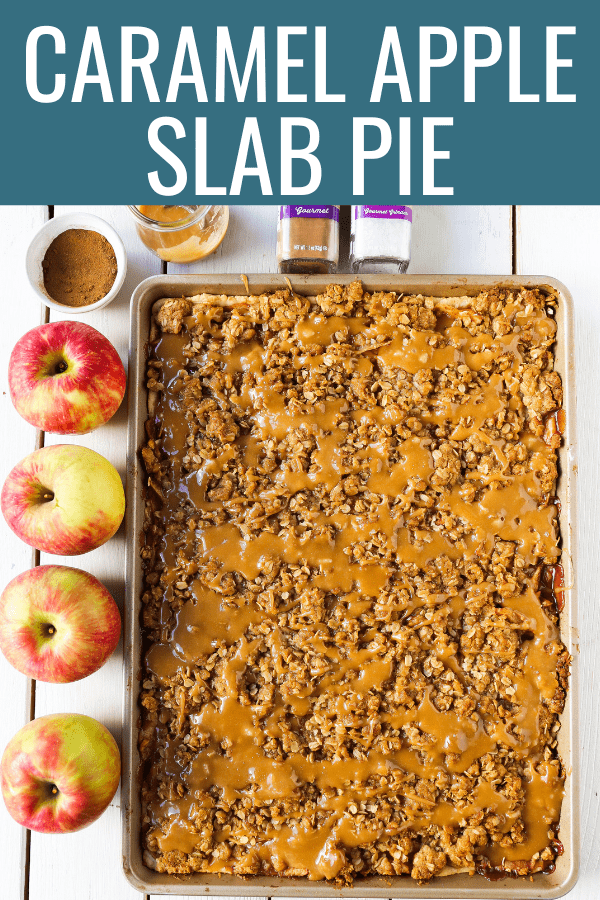 You can find all of my Thanksgiving recipes by clicking HERE.