All of your favorite Thanksgiving recipes in one place! We take Thanksgiving very seriously in our family and only share the BEST OF THE BEST Thanksgiving recipes.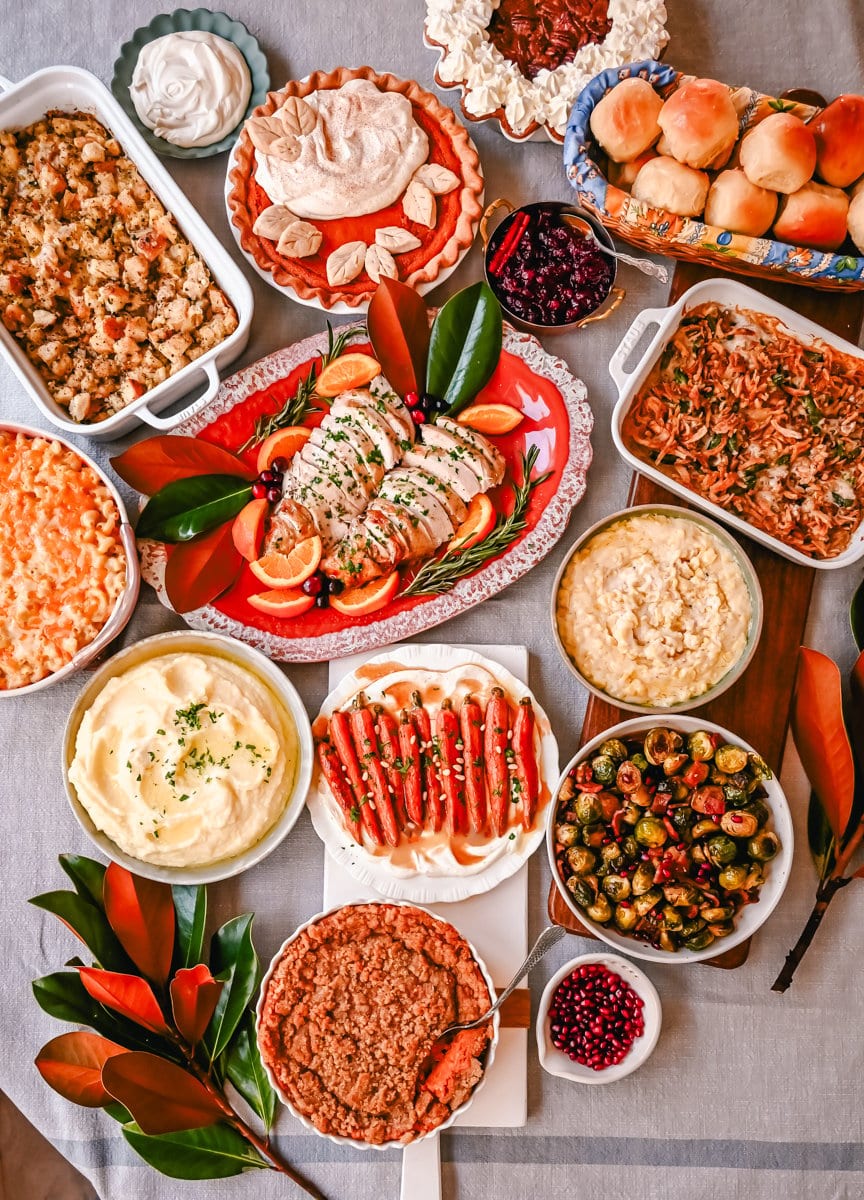 Here are over 60 Popular Thanksgiving Recipes from your stuffing to mashed potatoes to stuffing to award-winning pumpkin pie. Brand new Thanksgiving recipes are added often.
Happy Thanksgiving, my friends!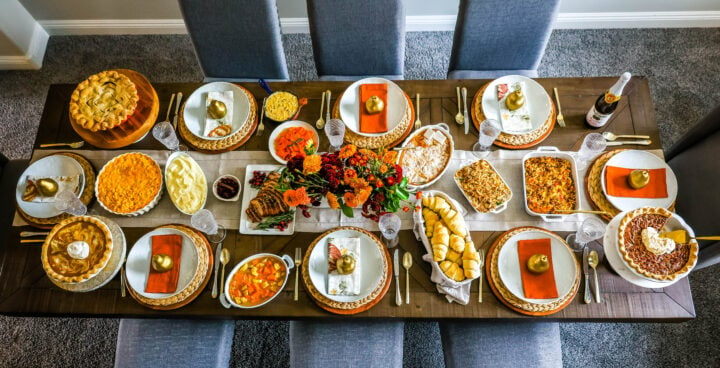 I am sharing a Classic Thanksgiving Menu and a Gourmet Thanksgiving menu. Keep scrolling to find ALL of my Thanksgiving Recipes.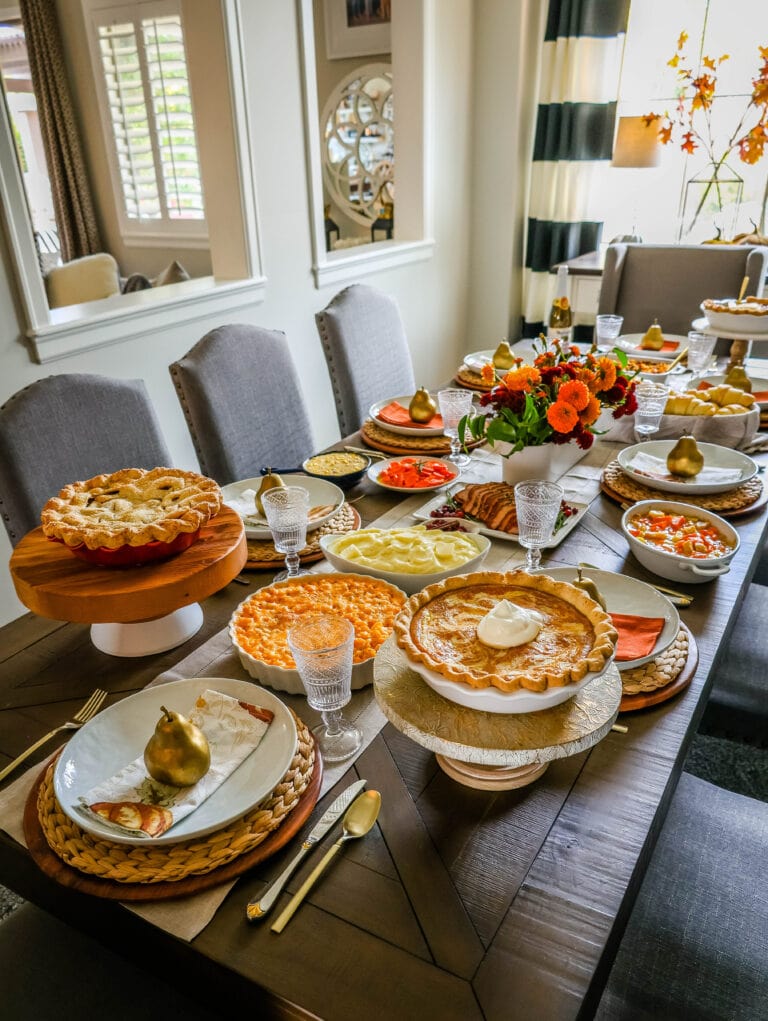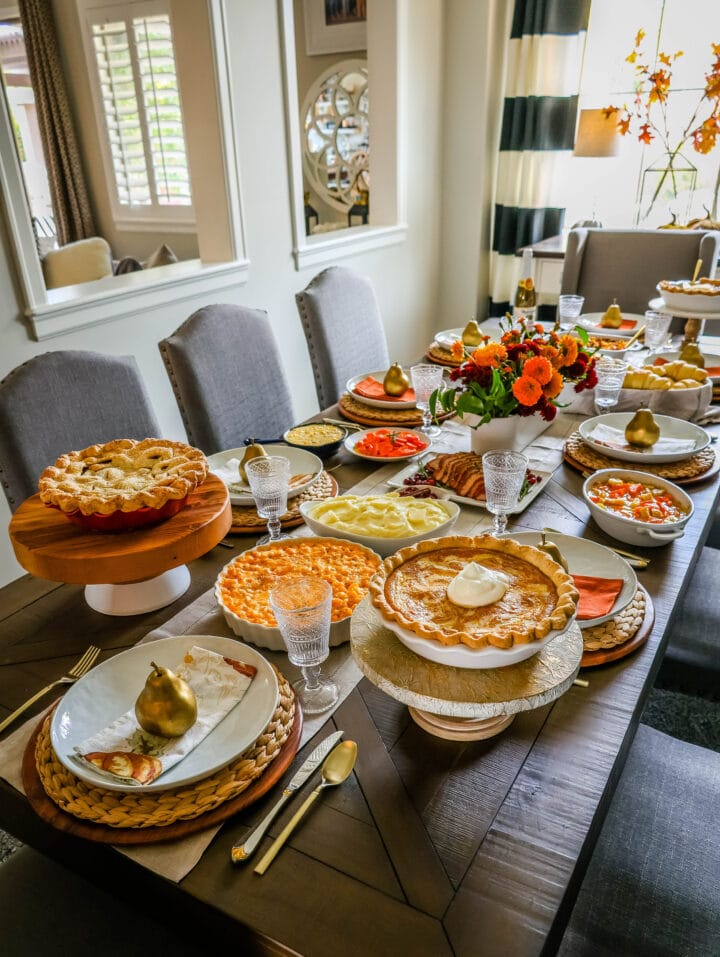 CLASSIC THANKSGIVING MENU:
GOURMET THANKSGIVING MENU: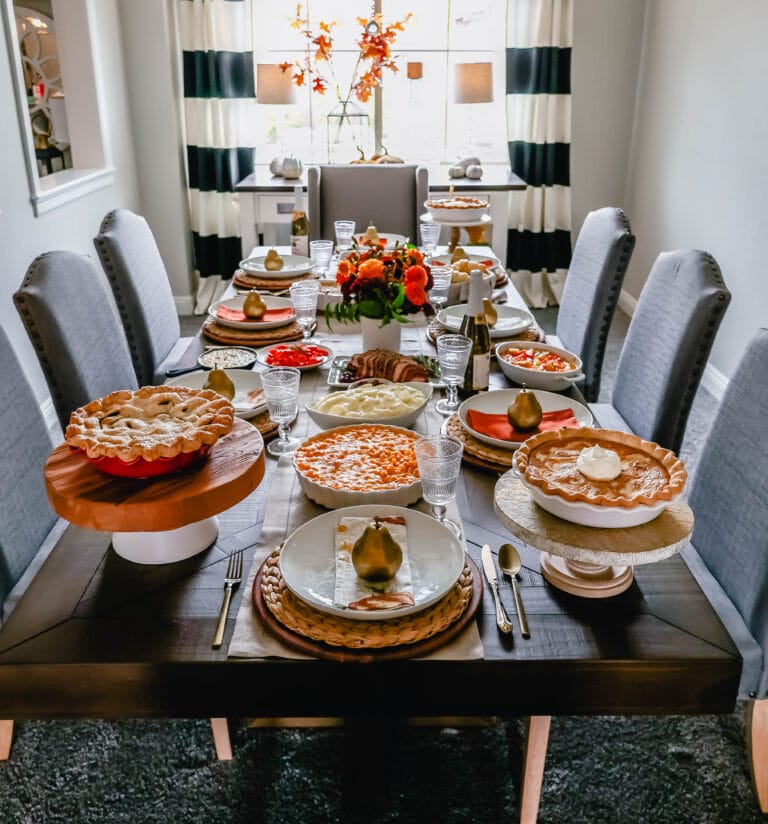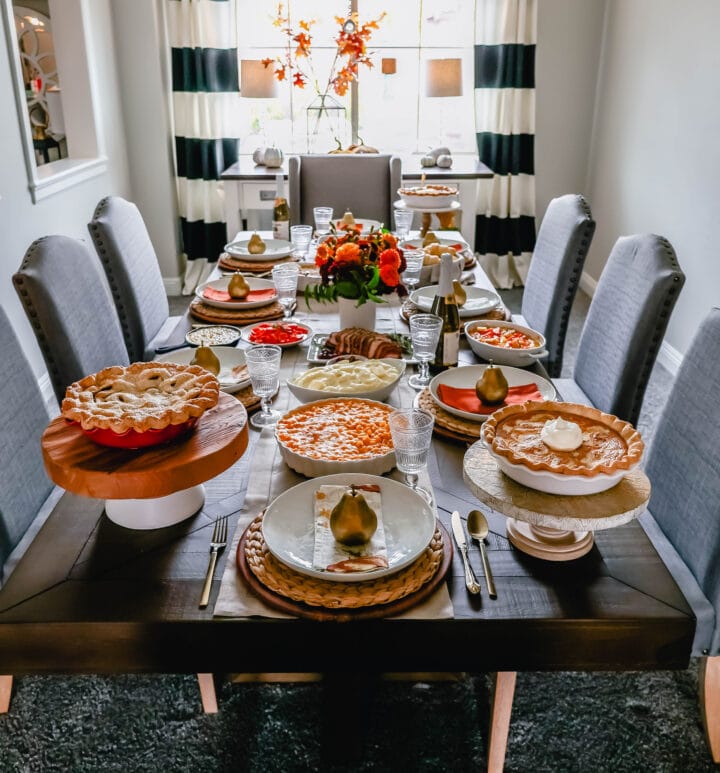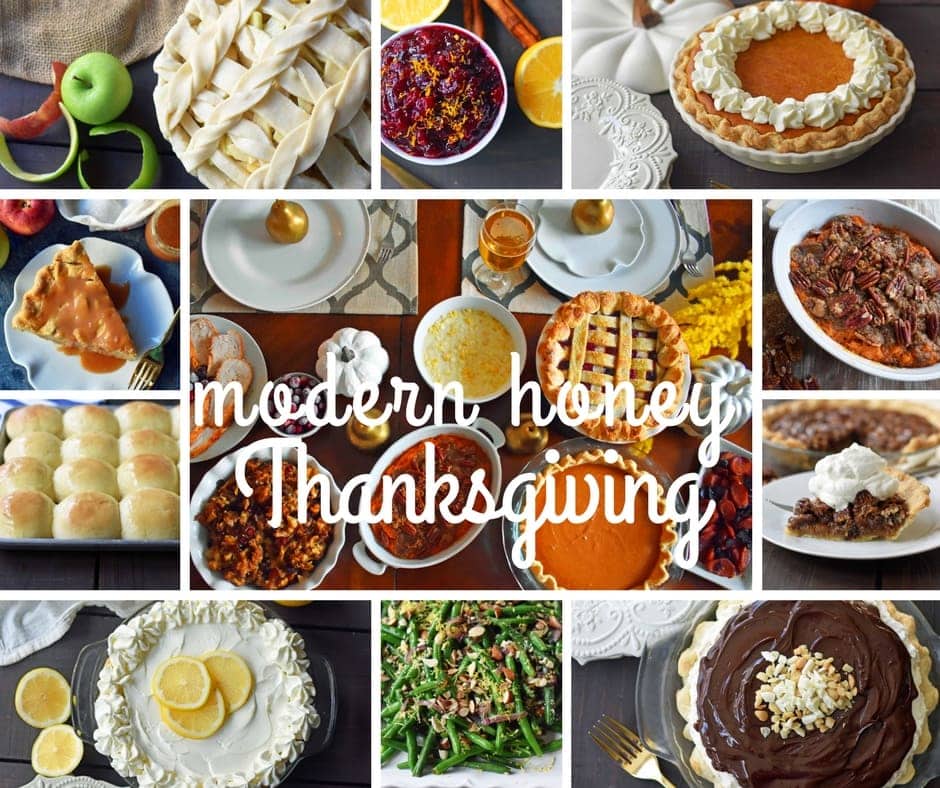 SMOKED TURKEY RECIPE: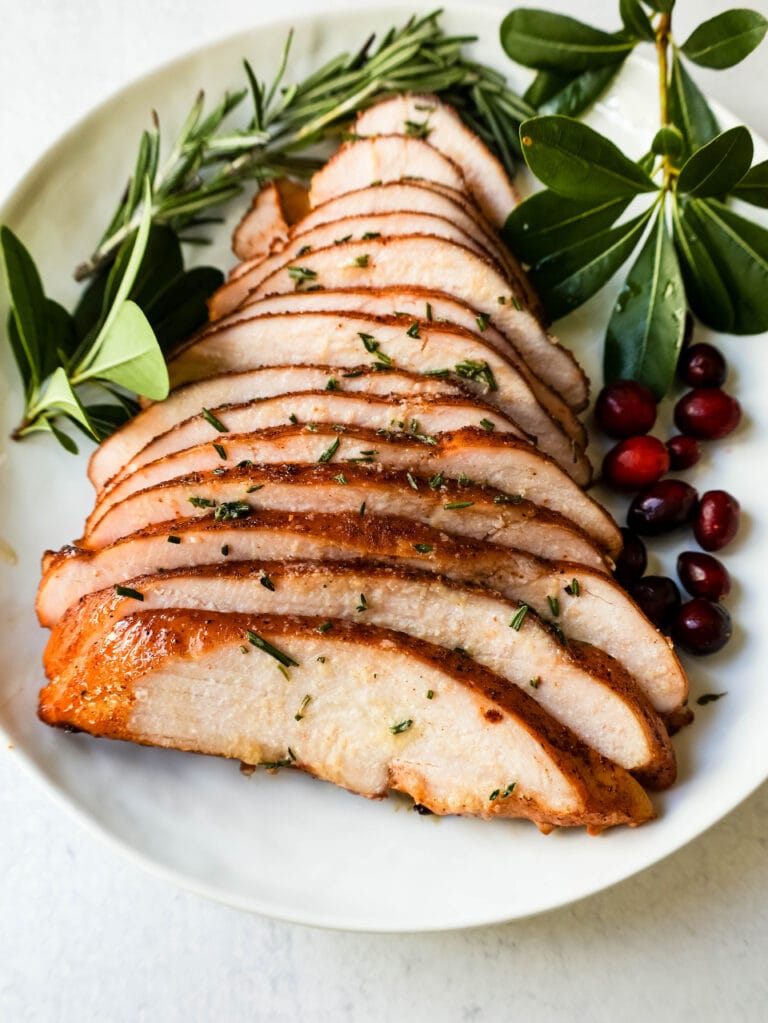 Smoked Turkey Breast with Garlic Herb Butter — This Smoked Turkey Breast is juicy and flavorful with the perfect amount of crust. This cooks low and slow for the best smoked turkey!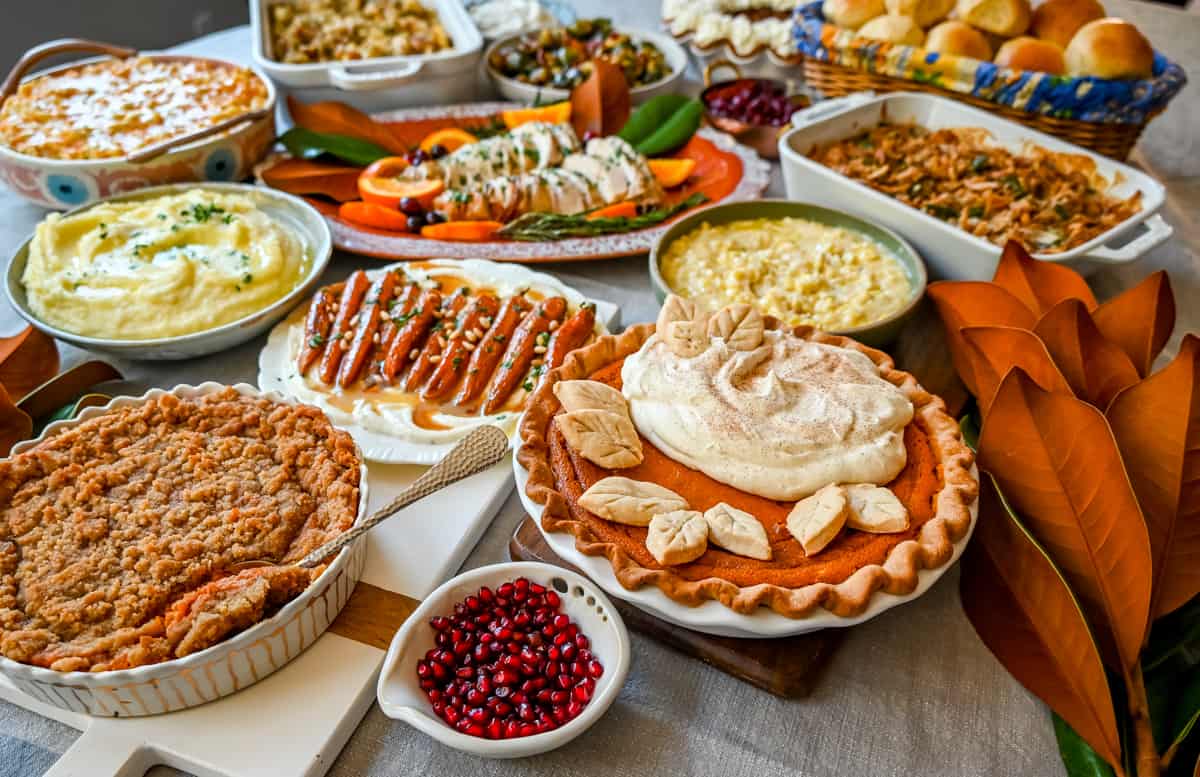 POPULAR THANKSGIVING SIDE DISHES:
POTATOES: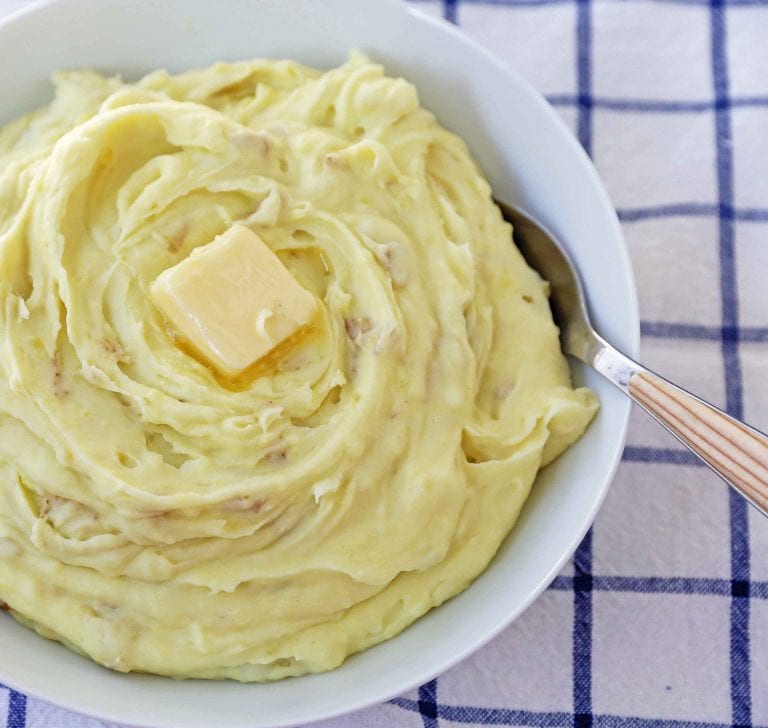 Perfect Creamy Mashed Potatoes — Classic mashed potatoes that stay creamy! A few tips and tricks for making perfect mashed potatoes every single time.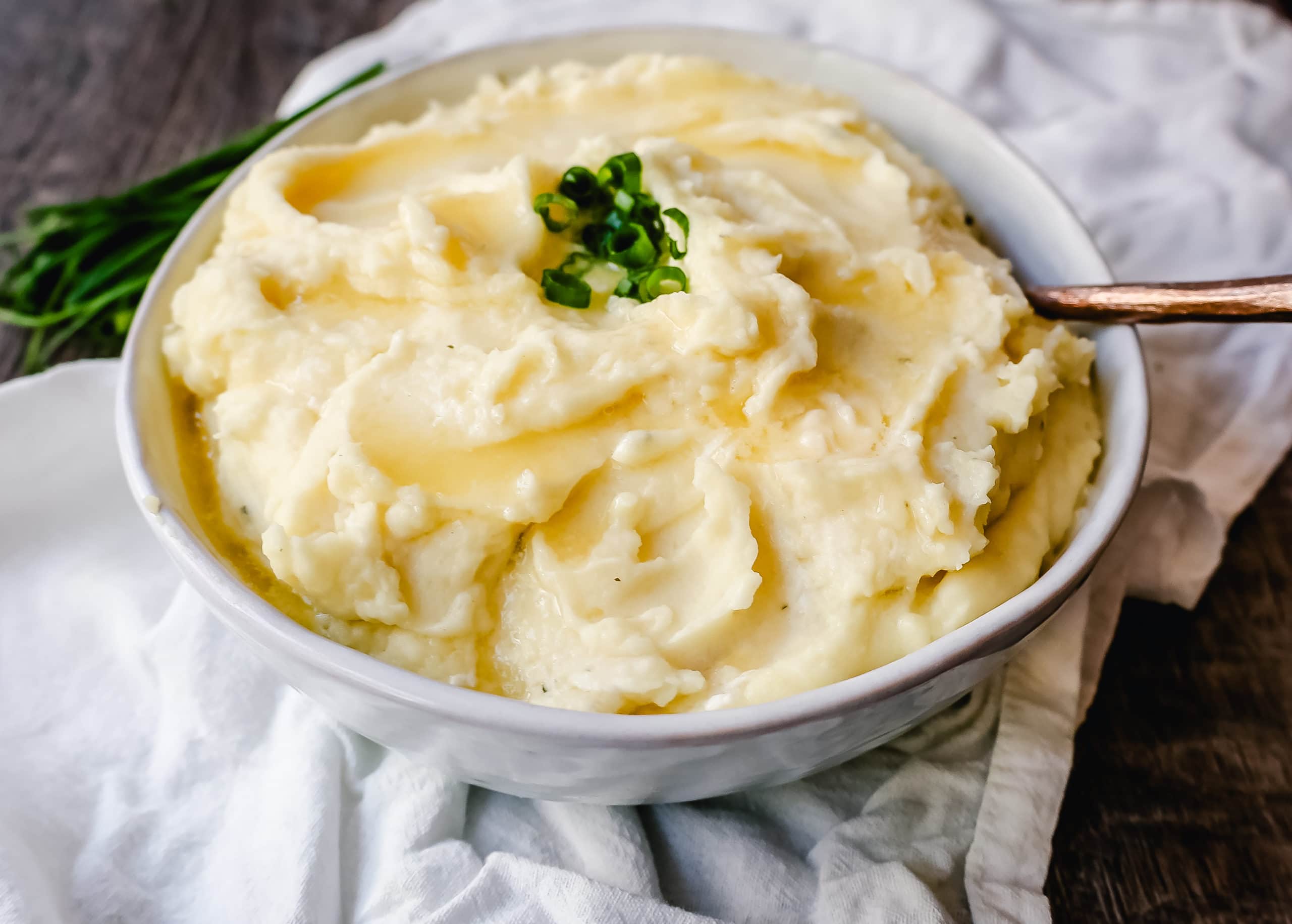 Boursin Cheese Creamy Mashed Potatoes — Creamy mashed potatoes made with garlic herb Boursin cheese. This brings so much flavor that you don't even need the gravy!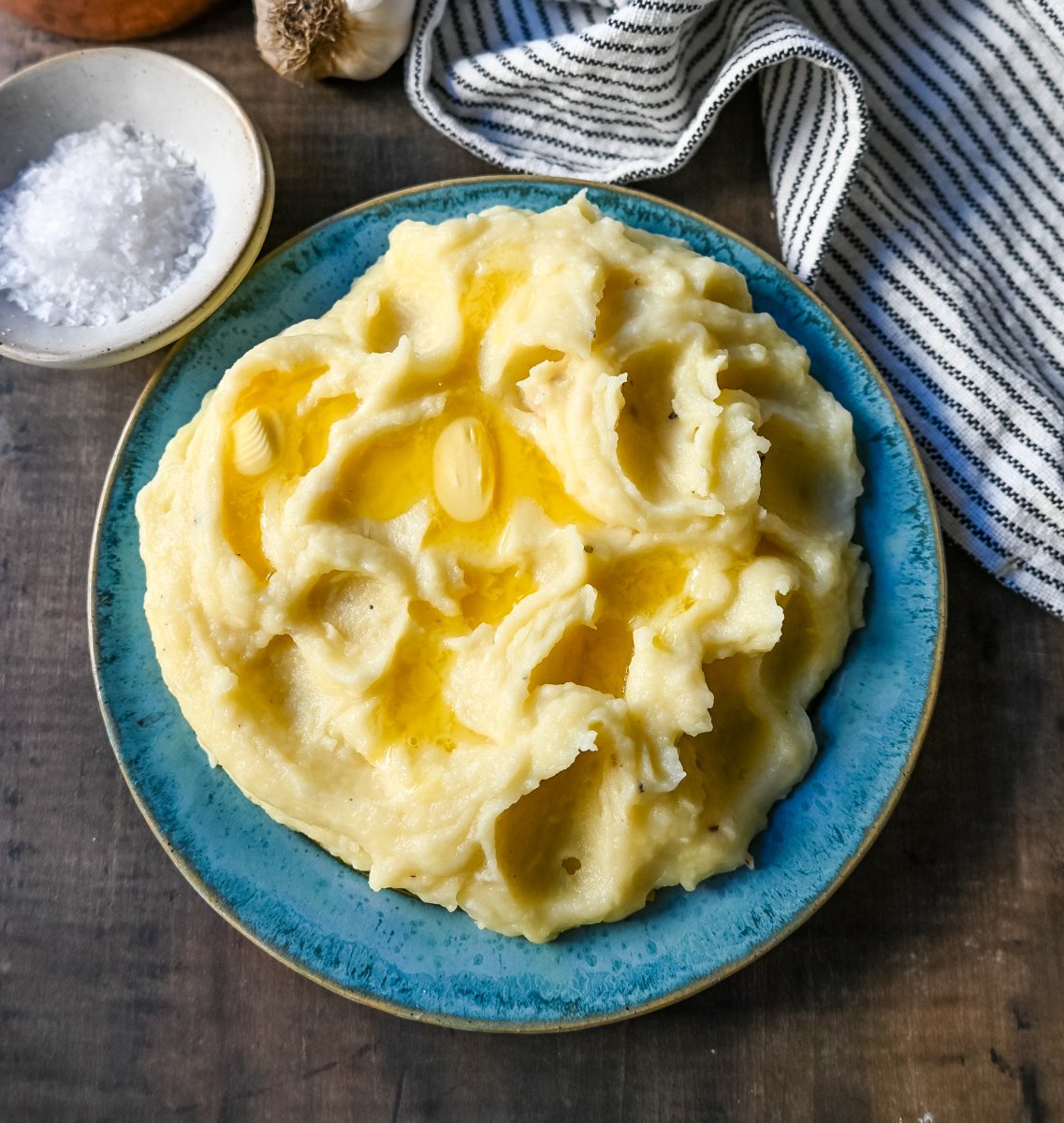 Roasted Garlic Parmesan Mashed Potatoes — these creamy mashed potatoes are made with freshly roasted garlic plus parmesan cheese so I can guarantee you these potatoes are full of flavor.
Creamy Parmesan Mashed Potatoes — Buttery, creamy mashed potatoes with a few secret ingredients that keep them extra creamy. Perfect on your holiday table!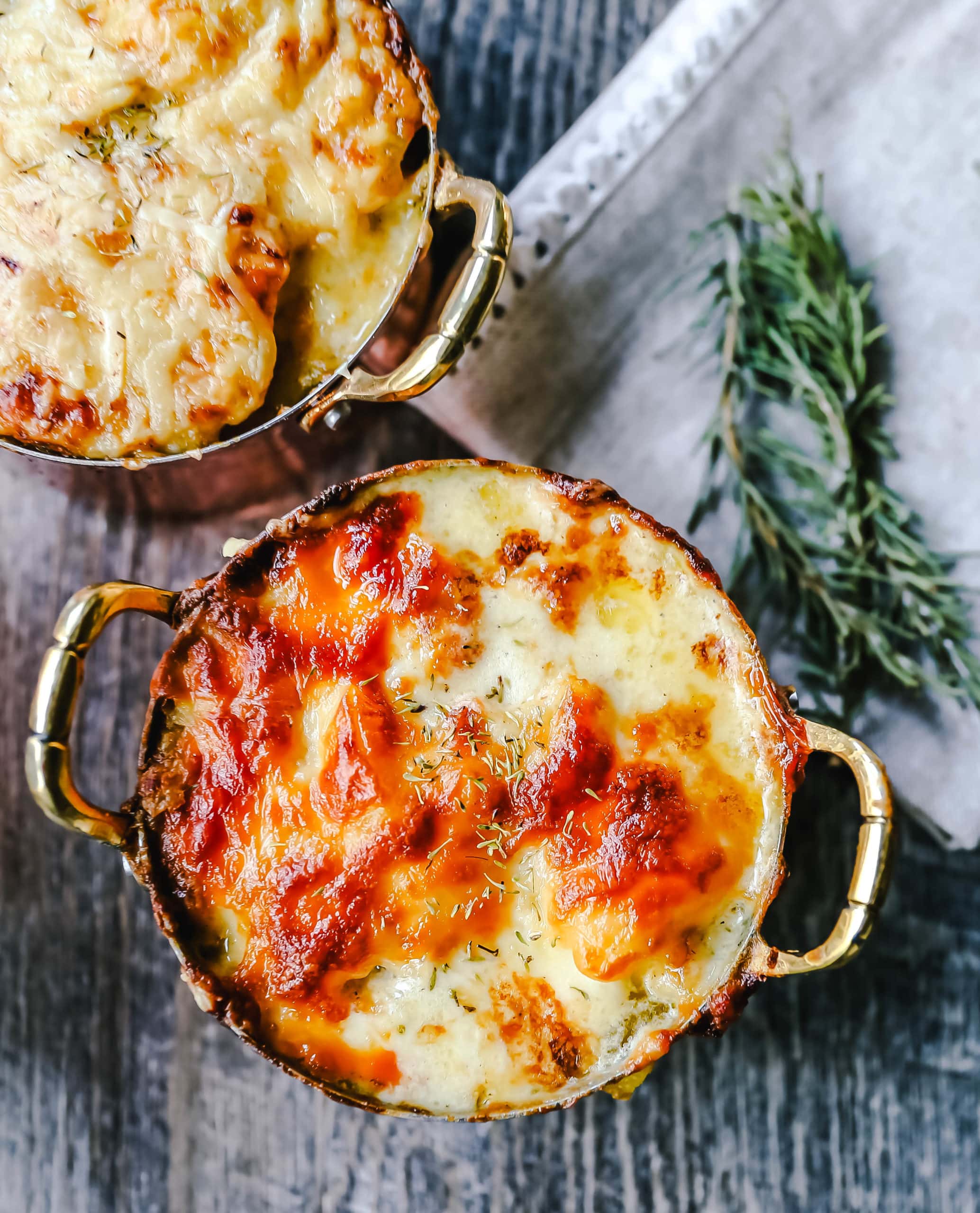 Cheesy Potatoes Au Gratin — tender potatoes in a homemade cream sauce topped with melted cheddar cheese. A classic side dish!
SWEET POTATOES: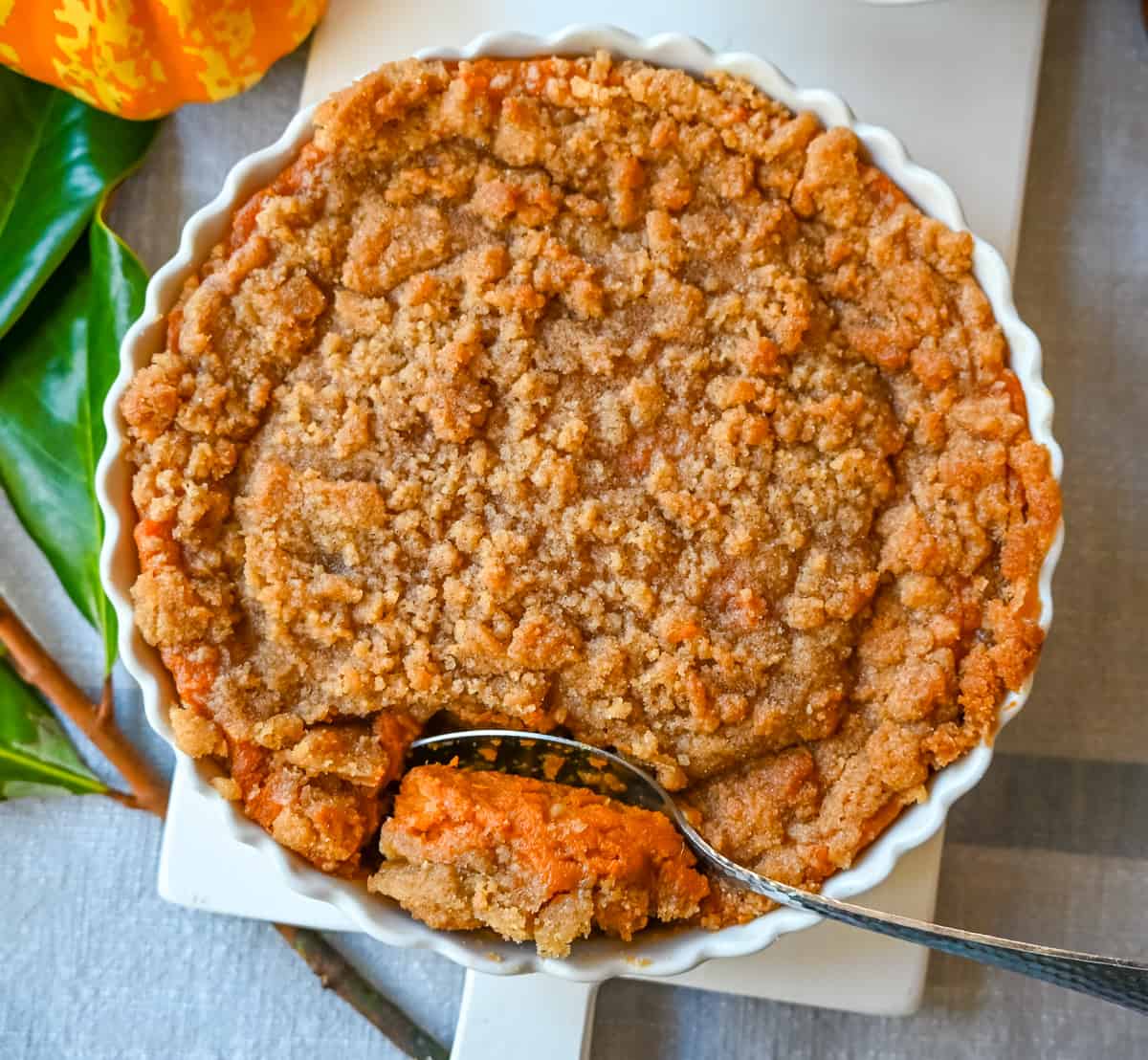 Best Sweet Potato Casserole — this creamy sweet potato casserole is always a huge hit at Thanksgiving. The brown sugar streusel topping paired with the creamy mashed sweet potatoes is the perfect match.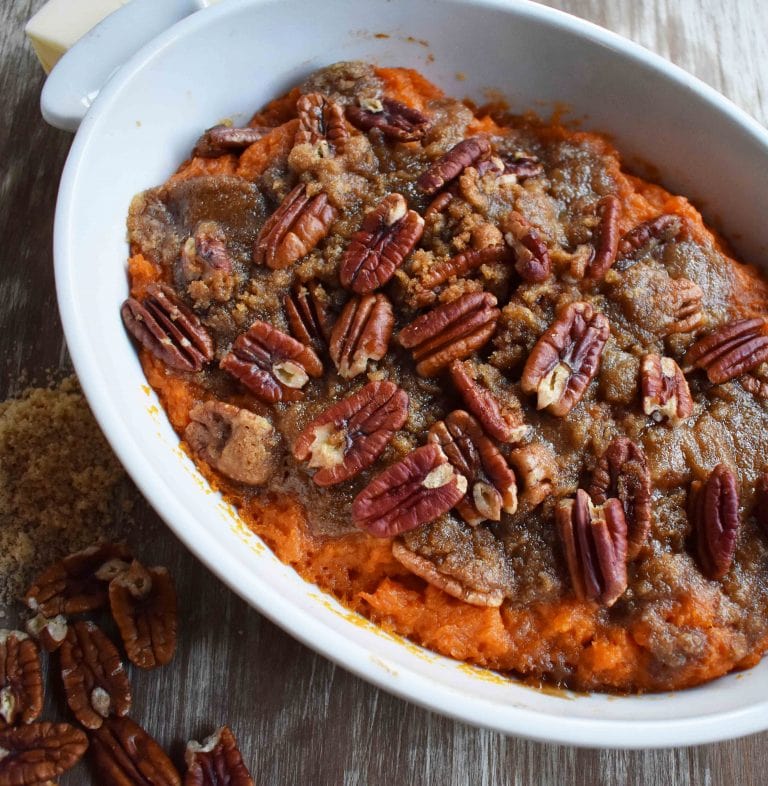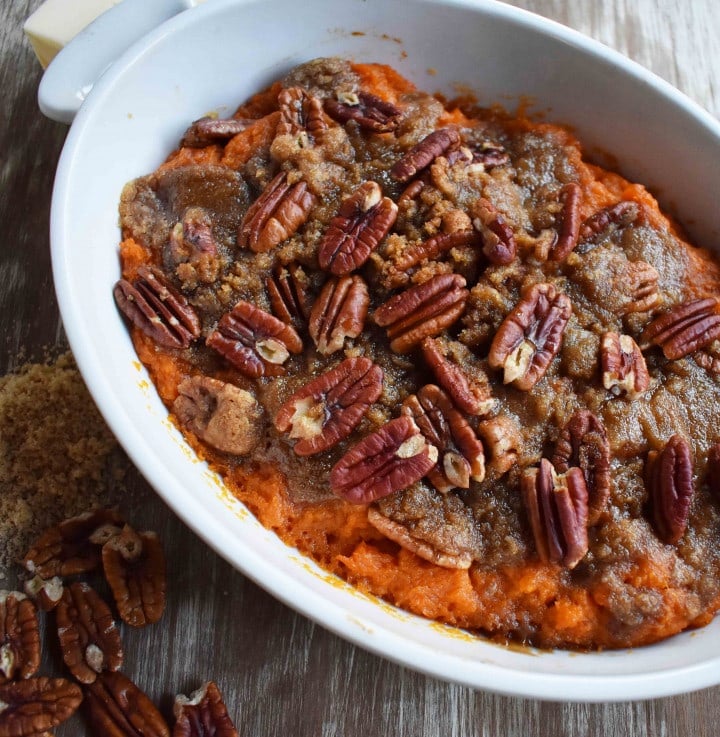 Sweet Potato Brown Sugar Pecan Bake — What is a Thanksgiving without sweet potatoes? Creamy cinnamon vanilla sweet potatoes topped with a brown sugar pecan praline topping.
Sweet Potatoes with Marshmallows and Streusel — Creamy whipped mashed potatoes with brown sugar streusel topping and toasted marshmallows. A gourmet version of a Thanksgiving staple!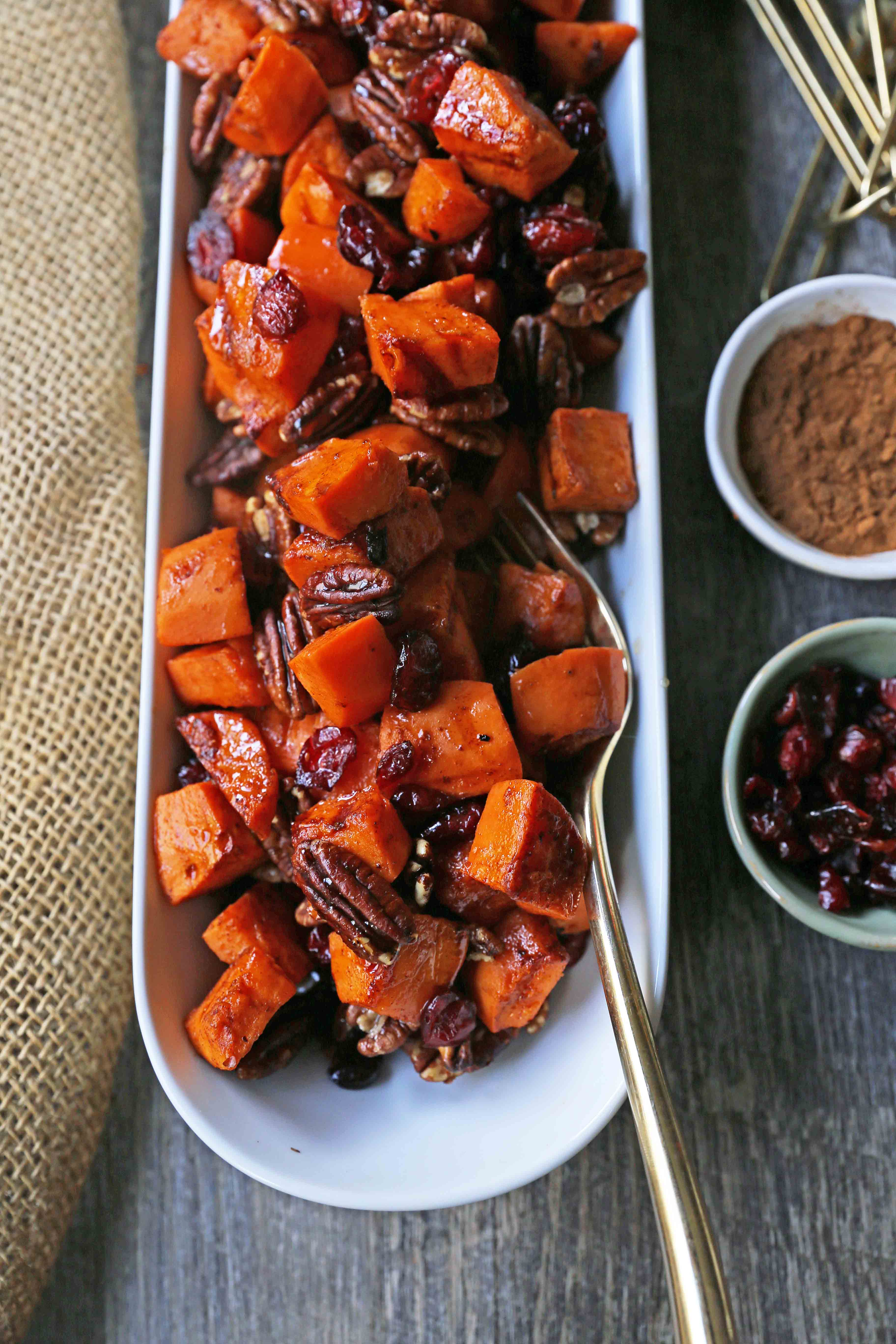 Roasted Sweet Potatoes with Pecans and Cranberries — a healthier dairy-free side dish with roasted sweet potatoes, drizzled with olive oil, and real maple syrup and tossed with toasted pecans and dried cranberries.
STUFFING: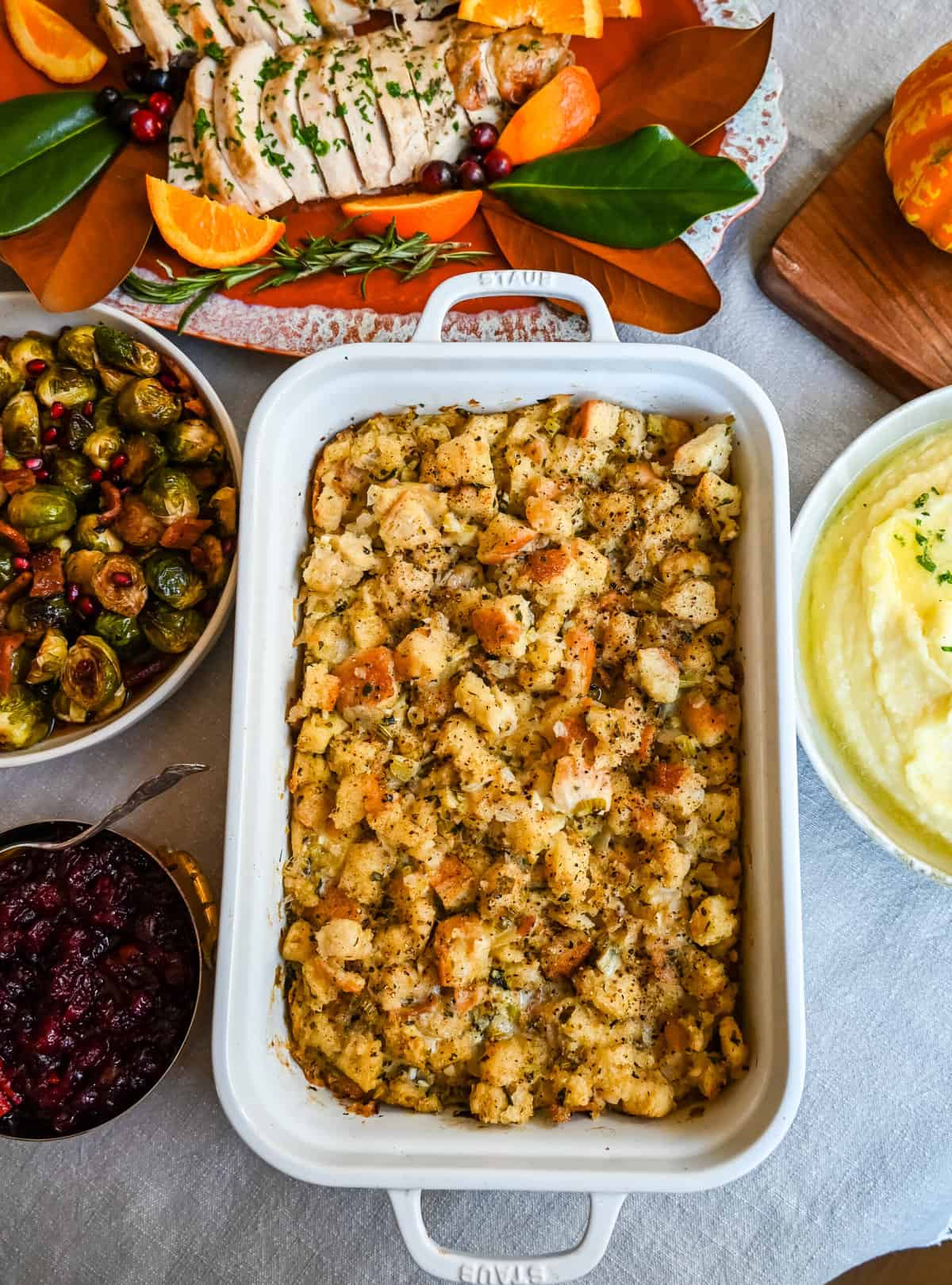 Classic Butter Herb Stuffing — this is such an easy traditional stuffing recipe made with simple ingredients and pairs perfectly with turkey.
Cranberry Apple Sausage Stuffing — A classic stuffing recipe made with sausage, browned butter onions, apples, and cranberries.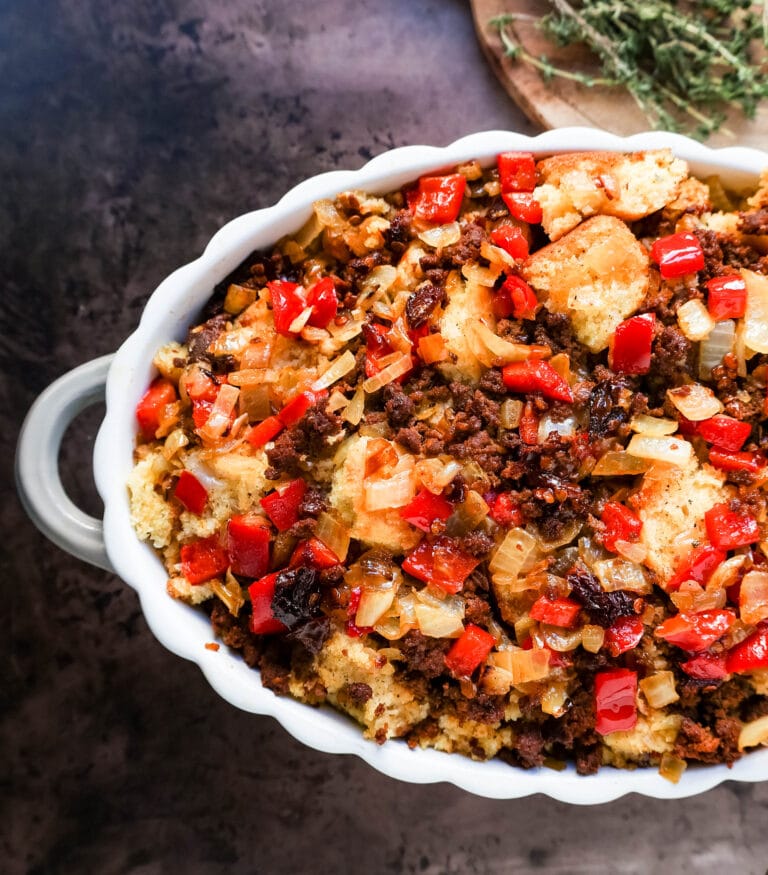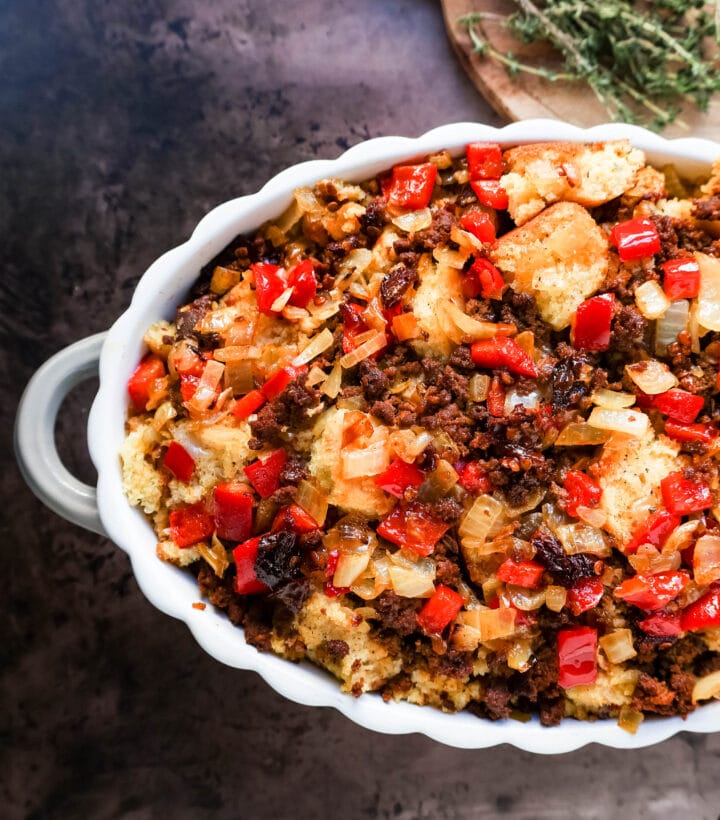 Mexican Chorizo Cornbread Stuffing — made with cornbread tossed with sauteed peppers and onions, Mexican chorizo, chipotle peppers, chicken broth, cream, and spices.
CORN: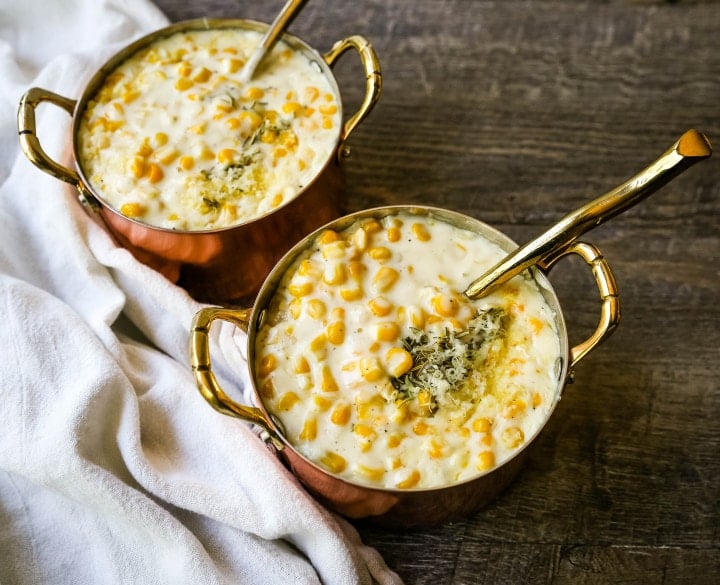 Gulliver's Creamed Corn — A popular side dish for a reason! White shoepeg corn, cream, butter, parmesan cheese, and a touch of sugar. It will be gone in no time!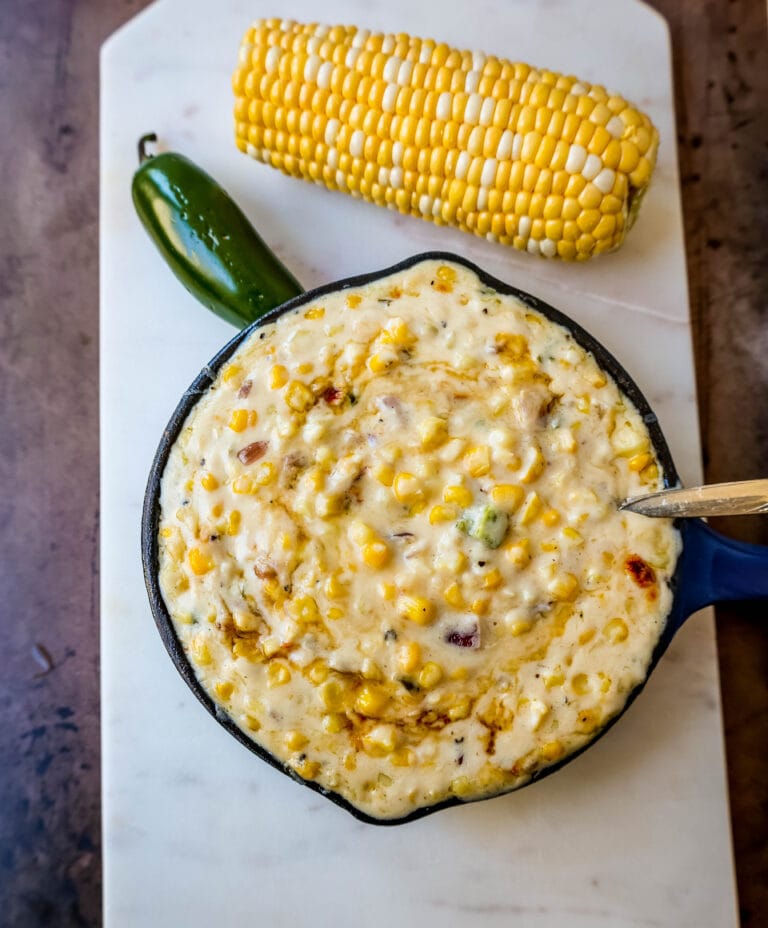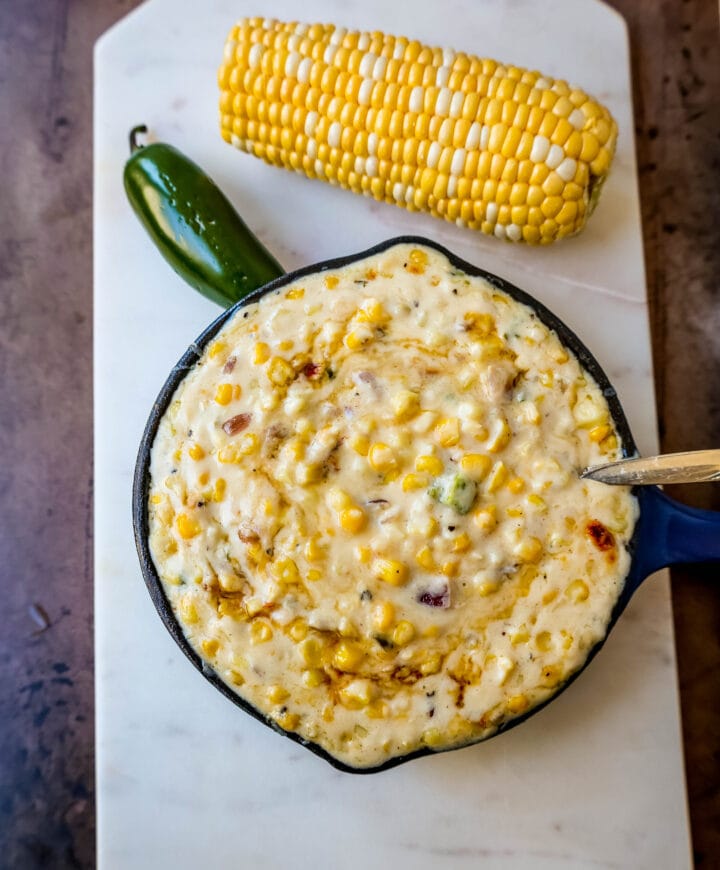 Southwest Creamed Corn (Spicy Creamed Corn with Pepper Jack Cheese) — made with white corn, sauteed with jalapenos and onions, and cooked with heavy cream and pepper jack cheese.
Creamed Corn with Bacon — this homemade creamed corn with crispy bacon is the perfect easy side dish recipe. Everyone loves it!
GREEN BEANS: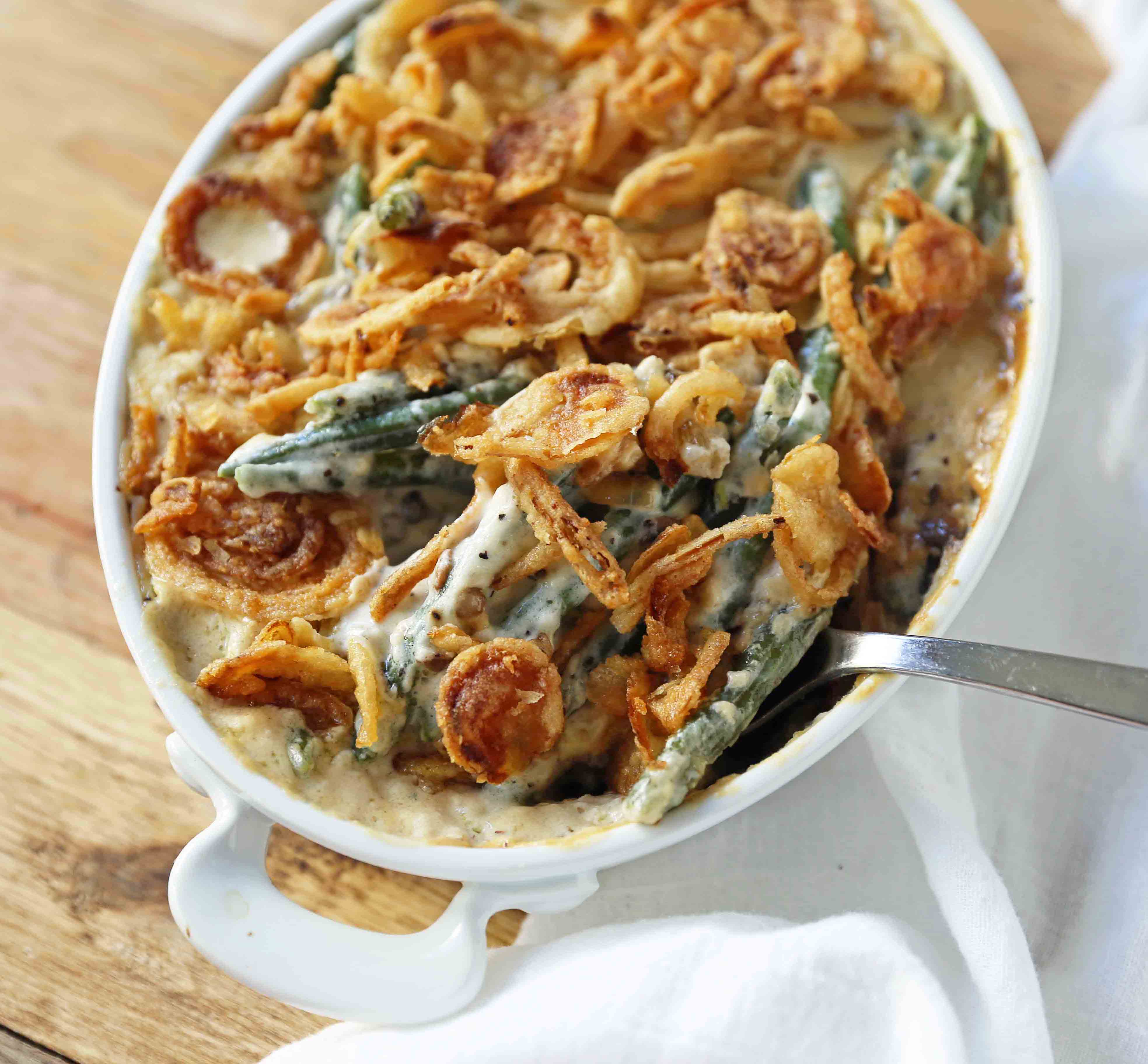 Homemade Green Bean Casserole — a made-from-scratch fresh green bean casserole with a rich, cream sauce topped with fried onions. A classic made even better!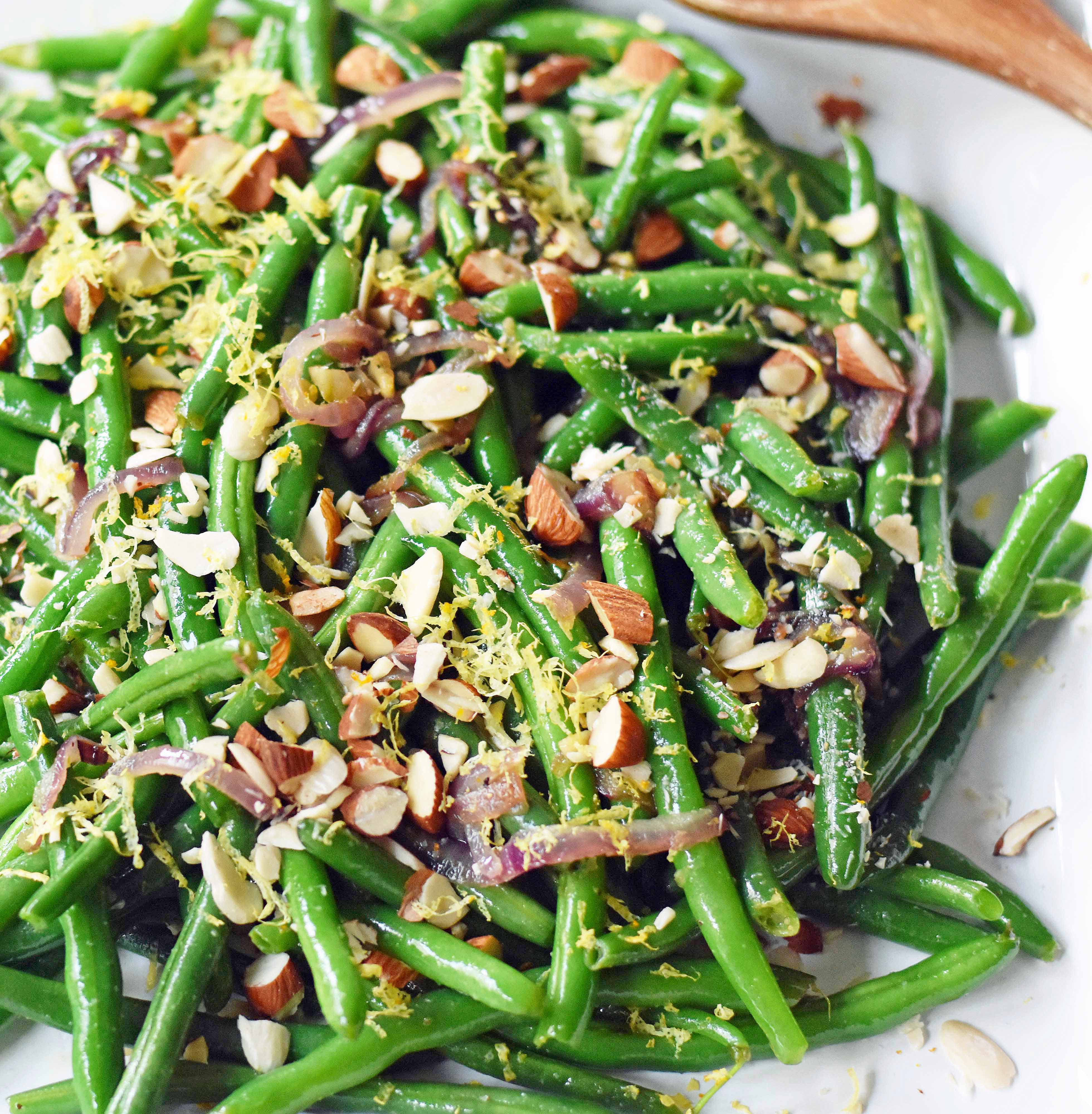 Green Beans with Almonds and Caramelized Onions — Fresh Green Beans sauteed with caramelized onions, lemon zest, and crunchy almonds. A light and fresh holiday side dish.
MACARONI AND CHEESE: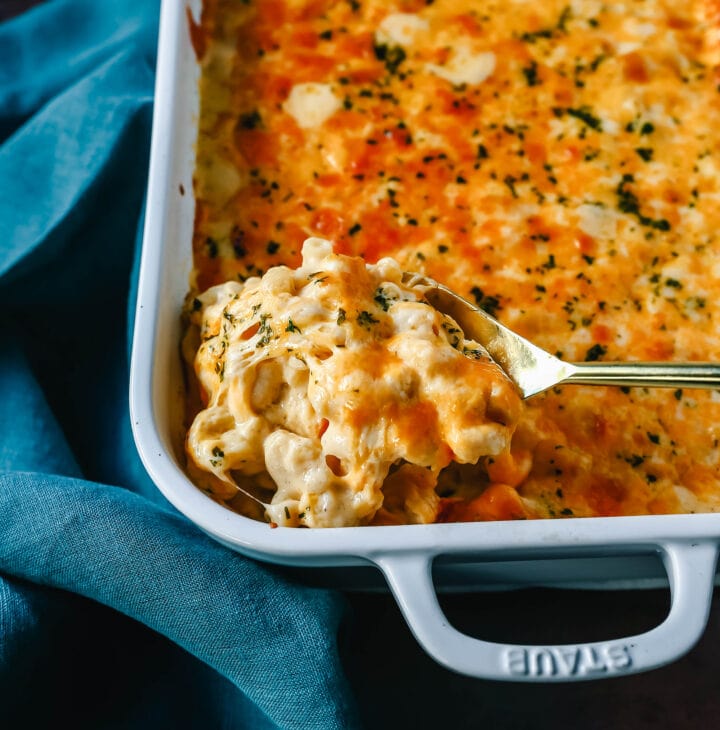 Cheesy Macaroni and Cheese — The Best Macaroni and Cheese is so cheesy with three types of cheese! How to make homemade mac n cheese at home. Tips and tricks for making creamy macaroni and cheese.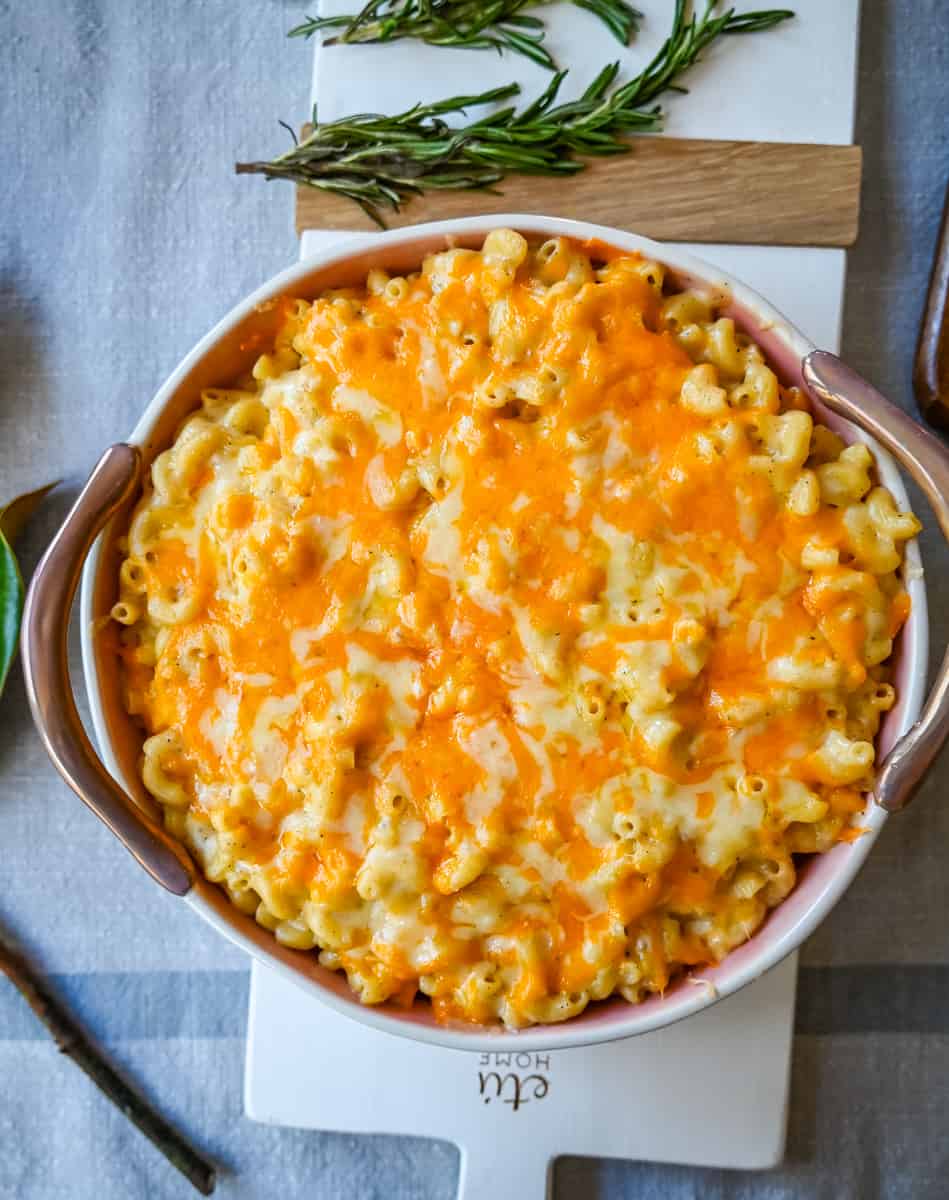 Homemade Mac and Cheese — How to make the richest, creamiest, cheesiest mac and cheese that everyone will love. This homemade macaroni and cheese is the perfect comfort food recipe.
CARROTS: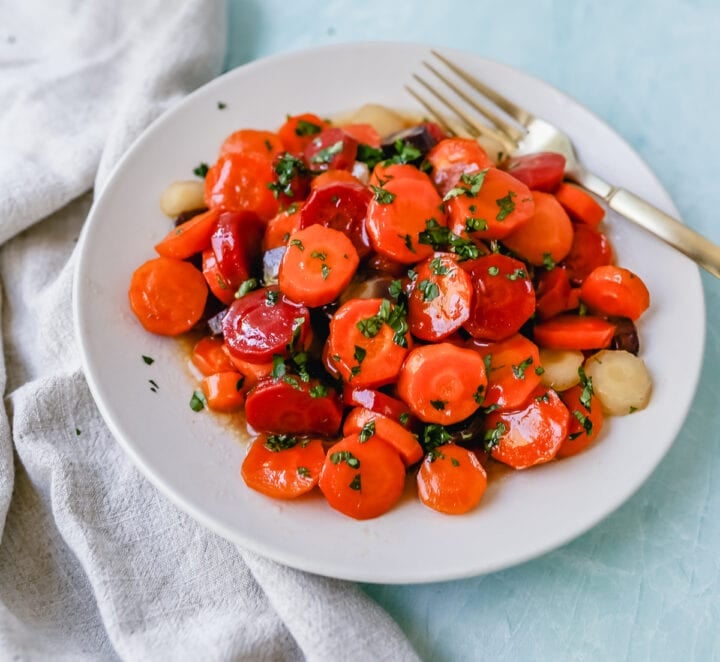 Honey Butter Glazed Carrots — A surefire way to get your kids to eat carrots! Heirloom carrots, butter, sweet honey, and a touch of lemon zest.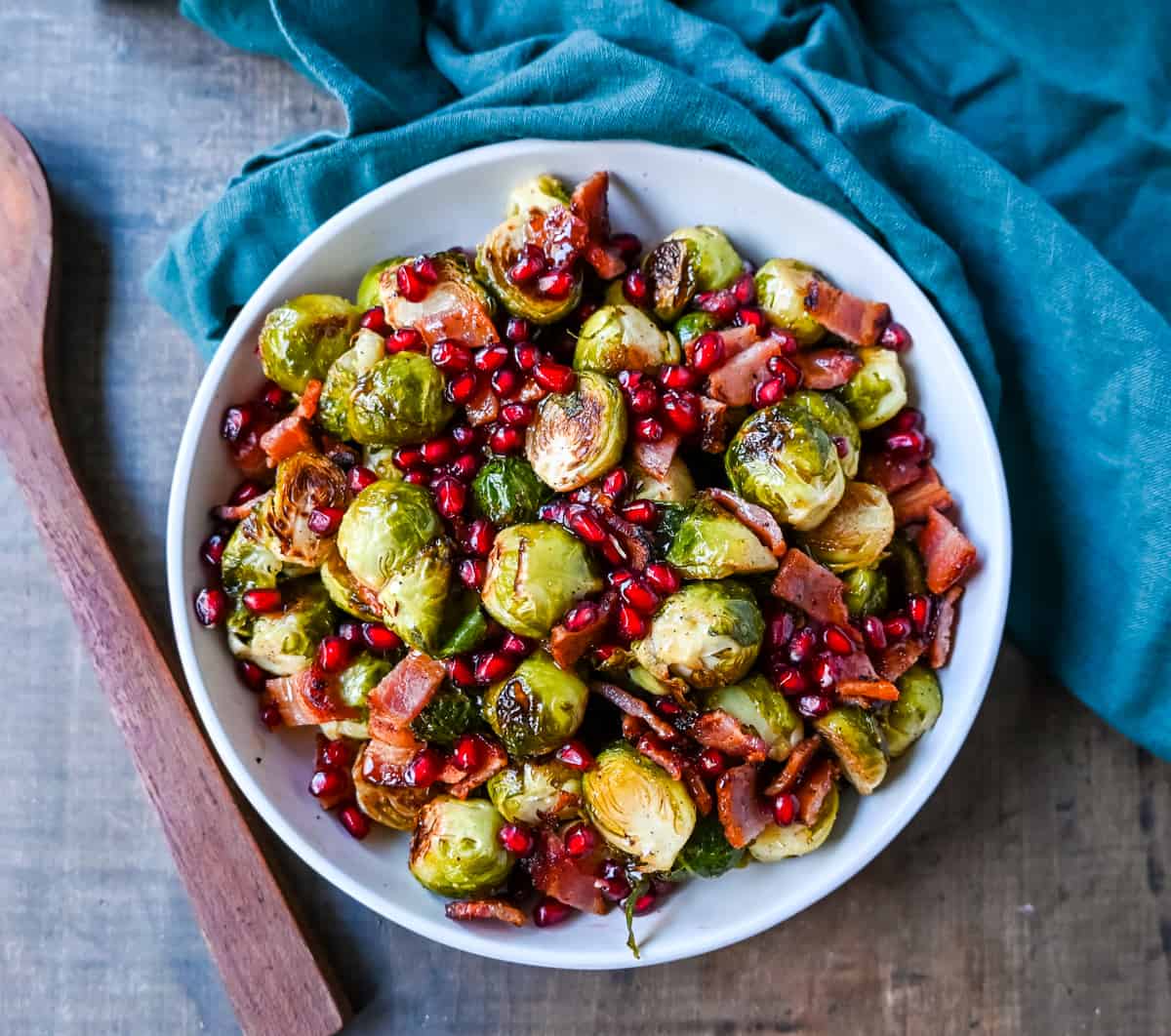 Roasted Brussels Sprouts with Bacon — these roasted brussels sprouts are tossed with maple syrup and crispy bacon and sprinkled with crunchy pomegranates for a beautiful and festive holiday side dish.
ROLLS: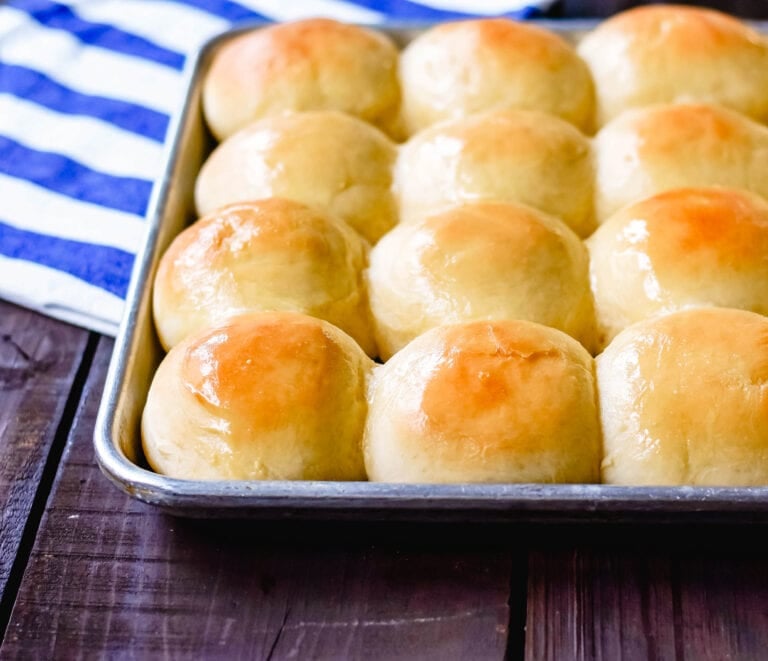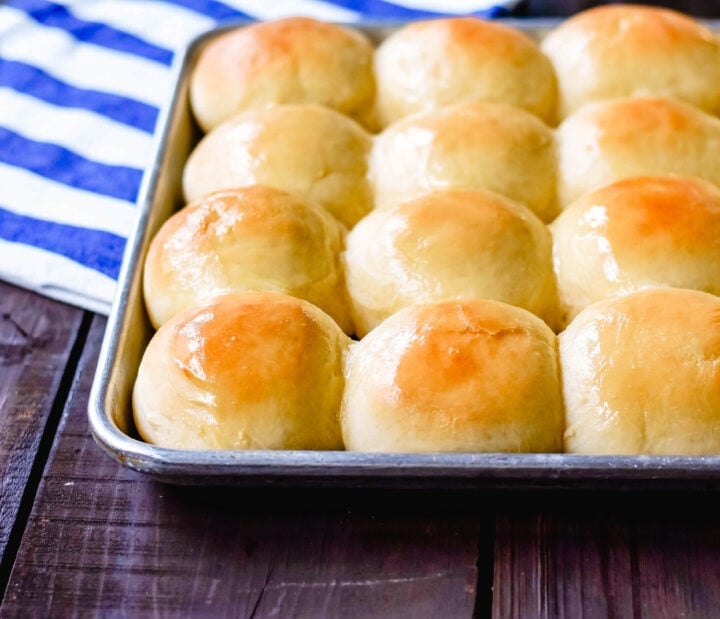 The BEST Homemade Dinner Rolls — buttery, light, and fluffy dinner rolls made with simple ingredients. These are a huge hit!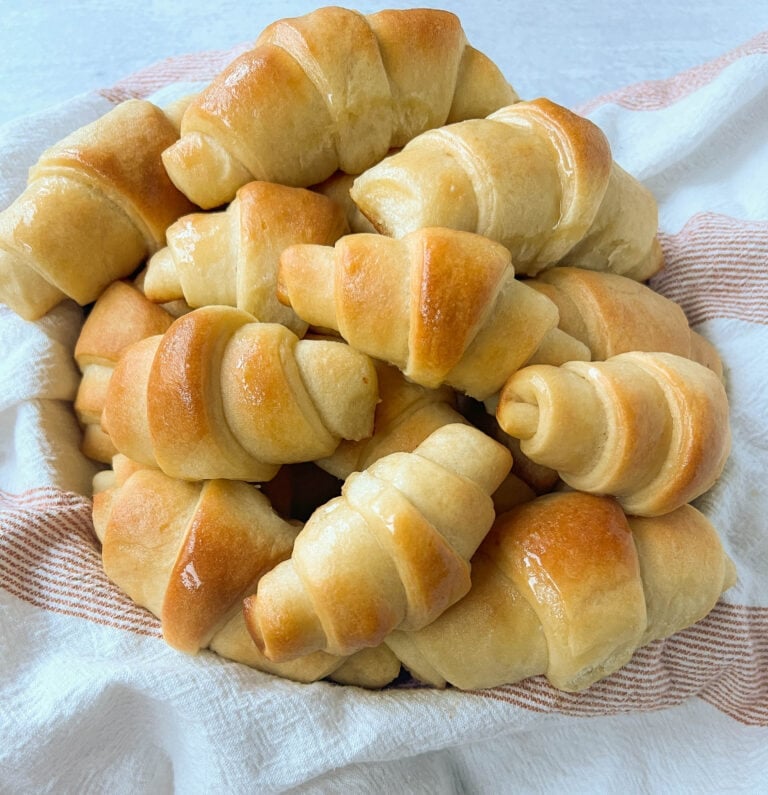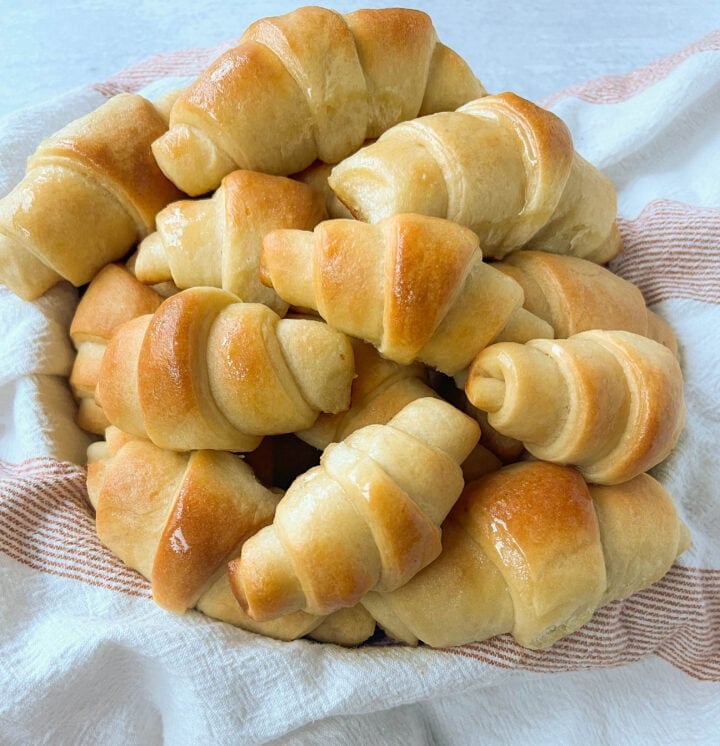 Soft Homemade Crescent Rolls — perfect buttery, light, and fluffy homemade roll recipe.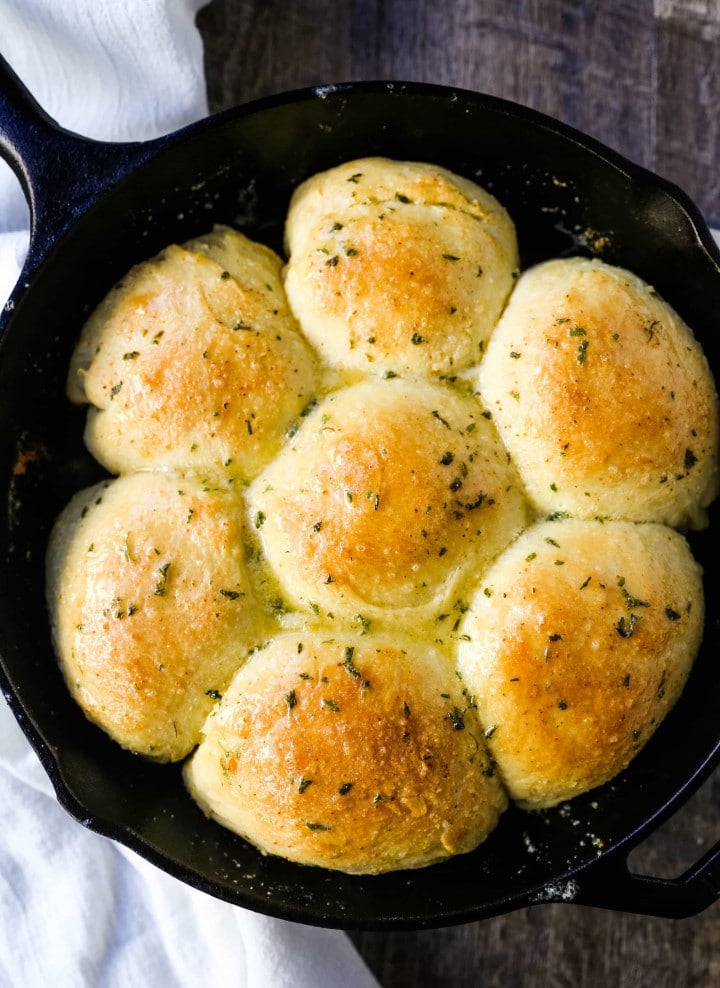 Garlic Butter Dinner Rolls — Made from scratch, fluffy homemade pull-apart rolls slathered in garlic herb butter. The perfect buttery homemade pull-apart rolls recipe!
Crescent Dinner Rolls (recipe coming soon!)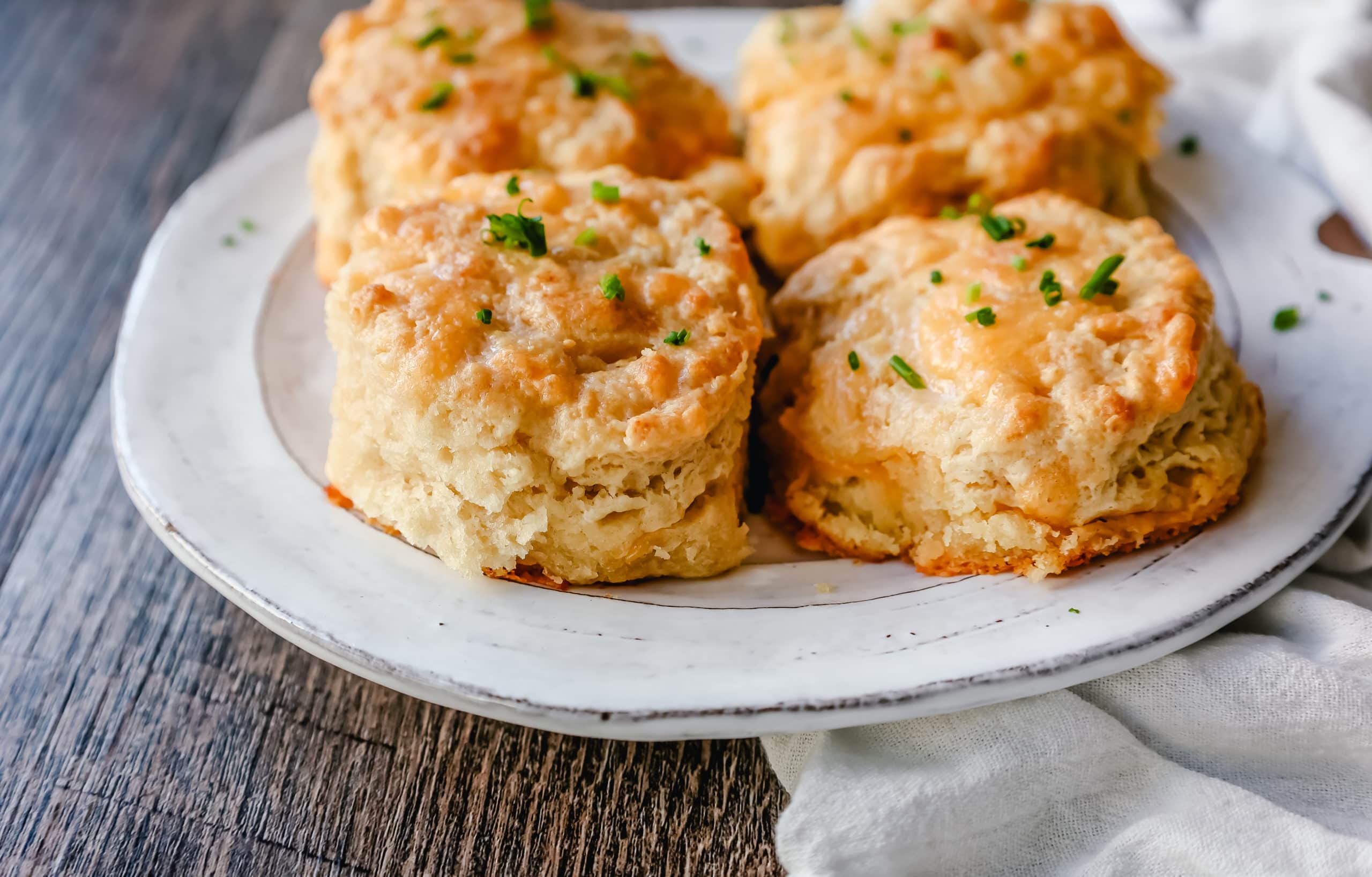 Garlic Cheddar Biscuits — light, fluffy, buttery biscuits with garlic and freshly grated cheddar melted into the biscuit.
CRANBERRY SAUCE: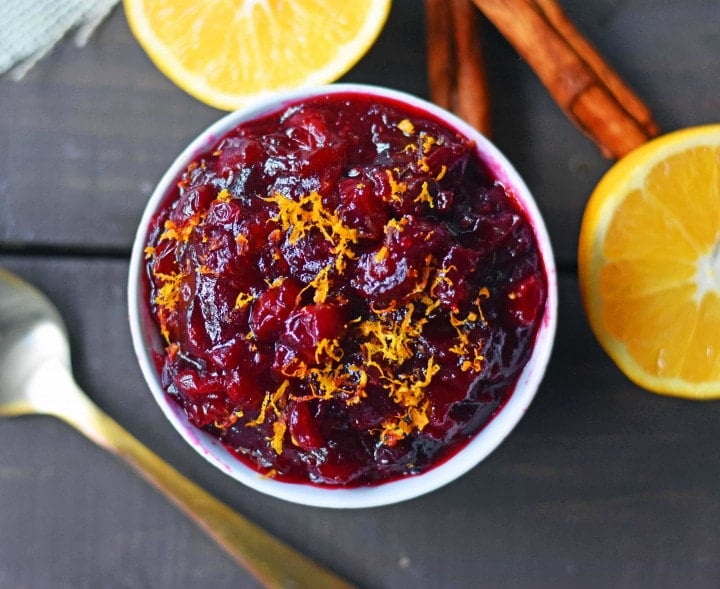 Fresh Cranberry Orange Sauce — a simple cranberry sauce using only four ingredients and made in less than 15 minutes. You will never want to eat canned cranberry relish again.
SALAD: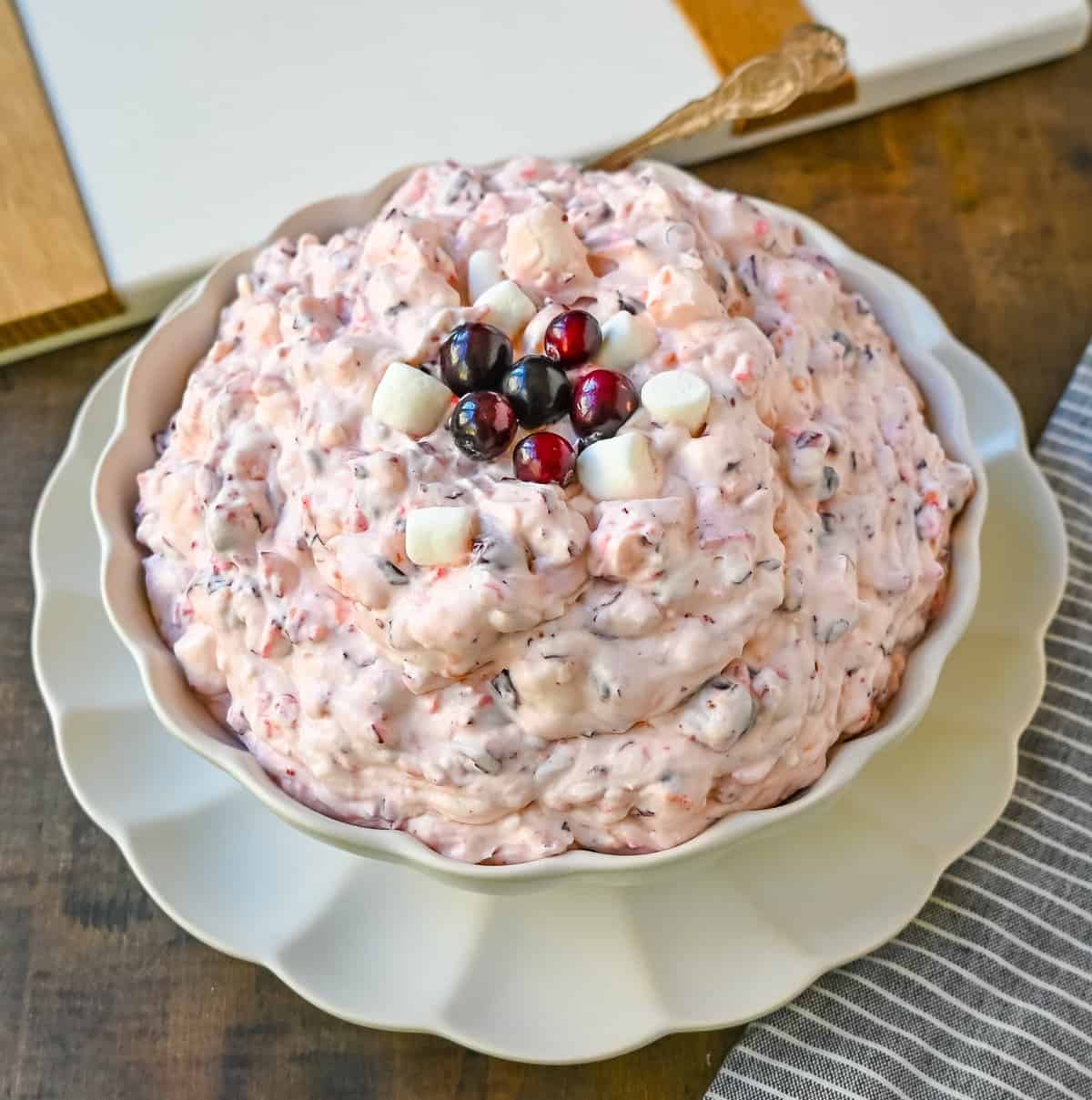 Cranberry Fluff Salad — this popular, creamy, sweet yet tart cranberry salad recipe is always popular at Thanksgiving and Christmas.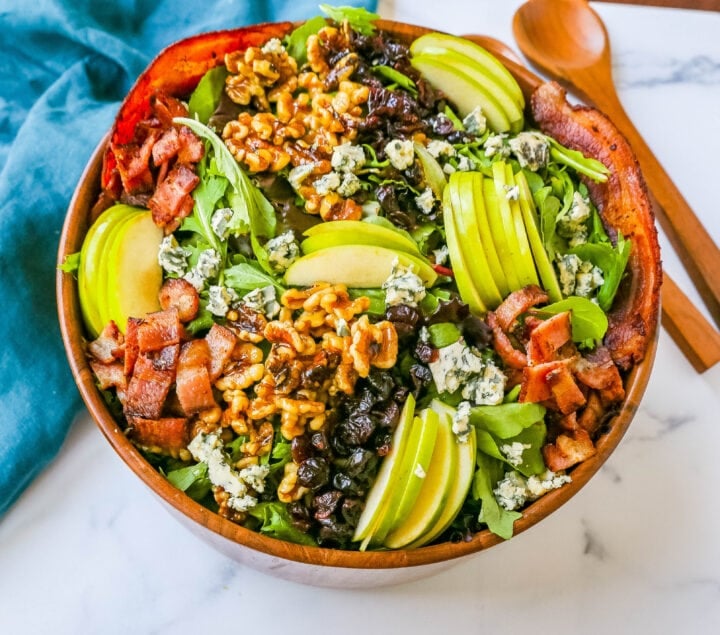 Fall Harvest Salad — made with fresh apples, candied walnuts, dried cranberries, feta or blue cheese, crispy bacon all tossed with arugula or spring mix in a homemade apple cider vinegar dressing.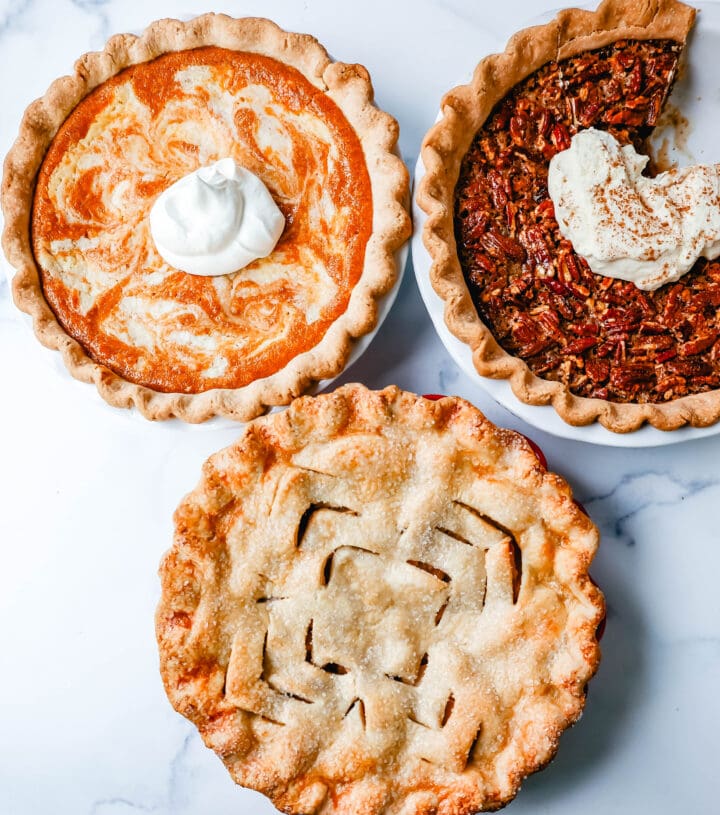 BEST THANKSGIVING PIE RECIPES: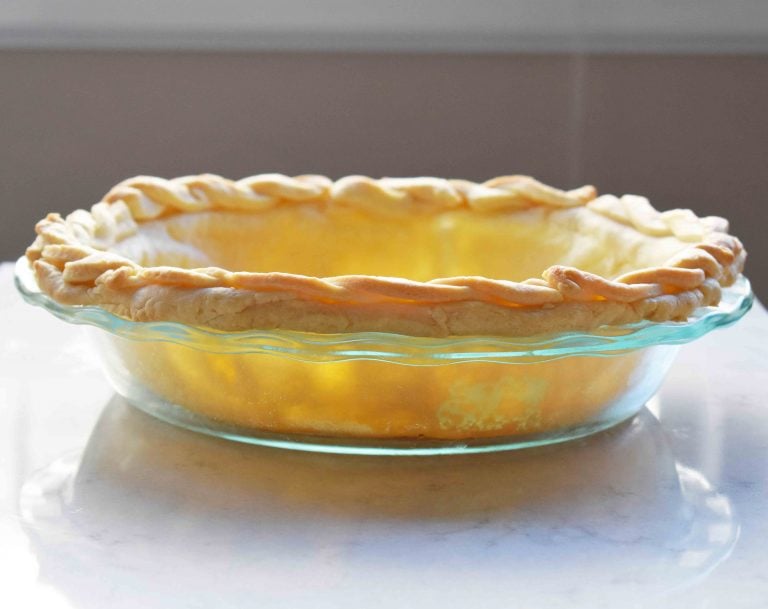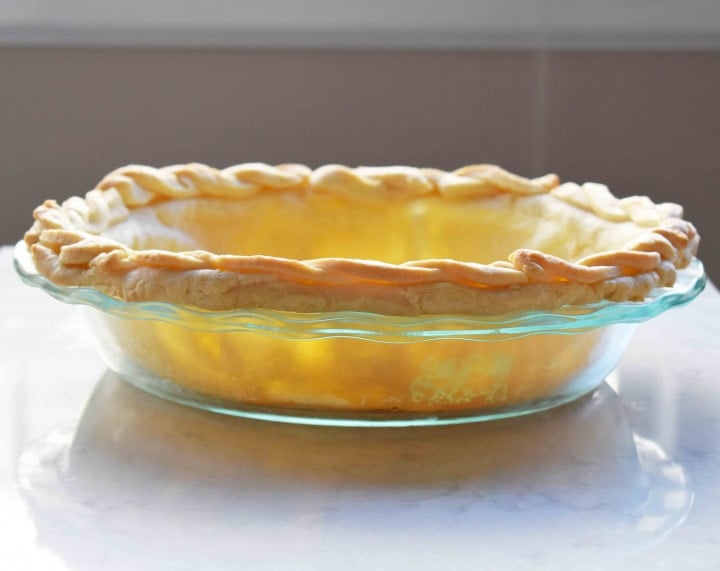 All Butter Flaky Pie Crust — How to make a perfect all butter flaky pie crust every single time.
PUMPKIN PIE RECIPES: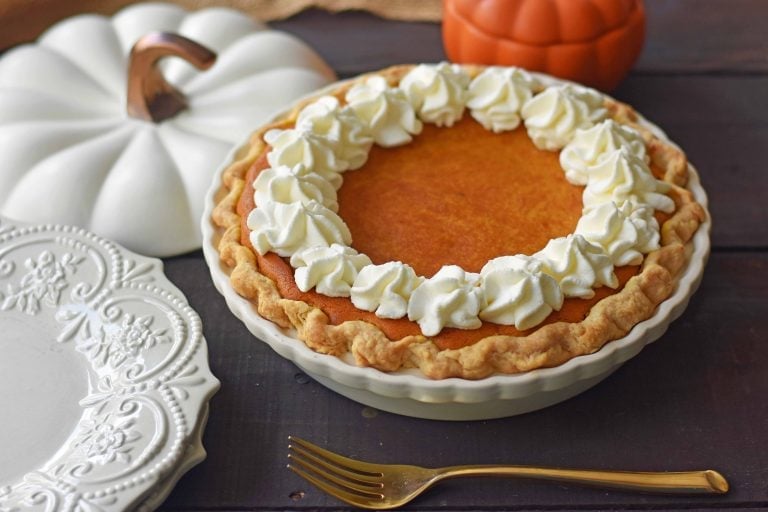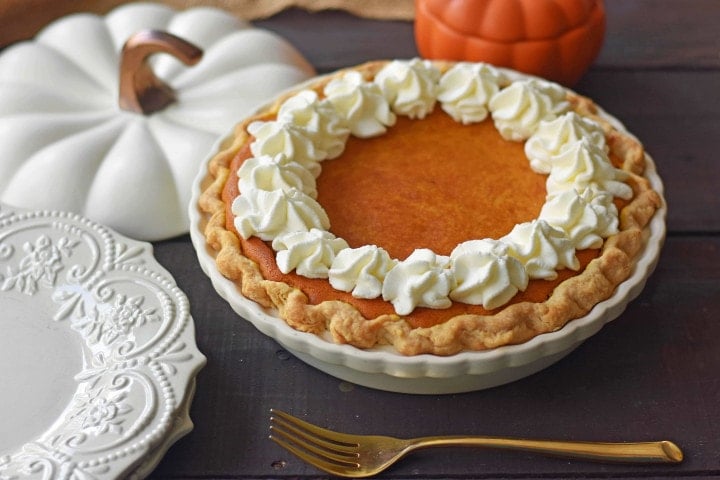 The BEST PUMPKIN PIE RECIPE — this is a favorite because of two secret ingredients. We changed up the classic pumpkin pie and make it creamier and a real crowd-pleaser. This just took FIRST PLACE in the Pumpkin Pie Bake-Off pitted against some of the most famous bakeries and food websites.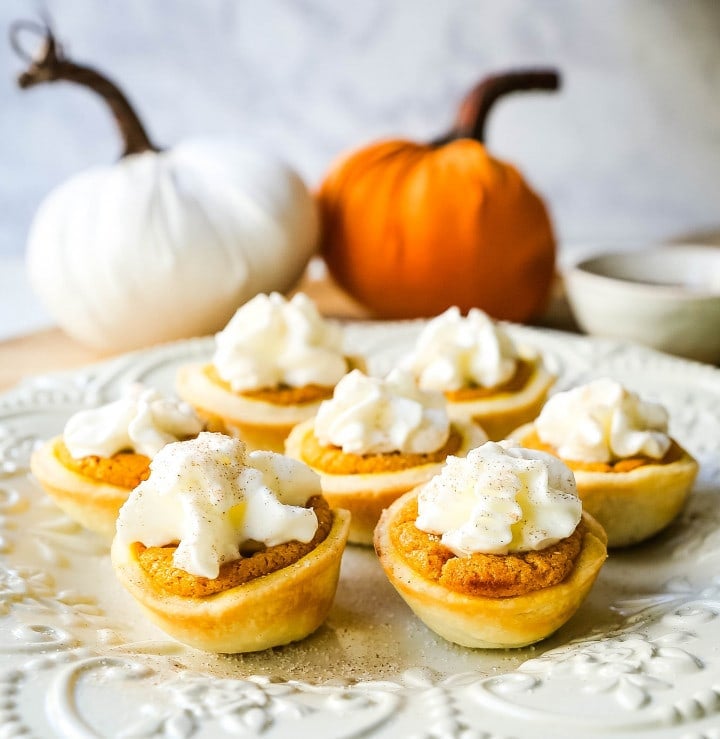 MINI PUMPKIN PIE BITES
— bite-size pumpkin pies with an all-butter pie crust and topped with fresh whipped cream. Perfect for entertaining….everyone loves these pumpkin pie tarts!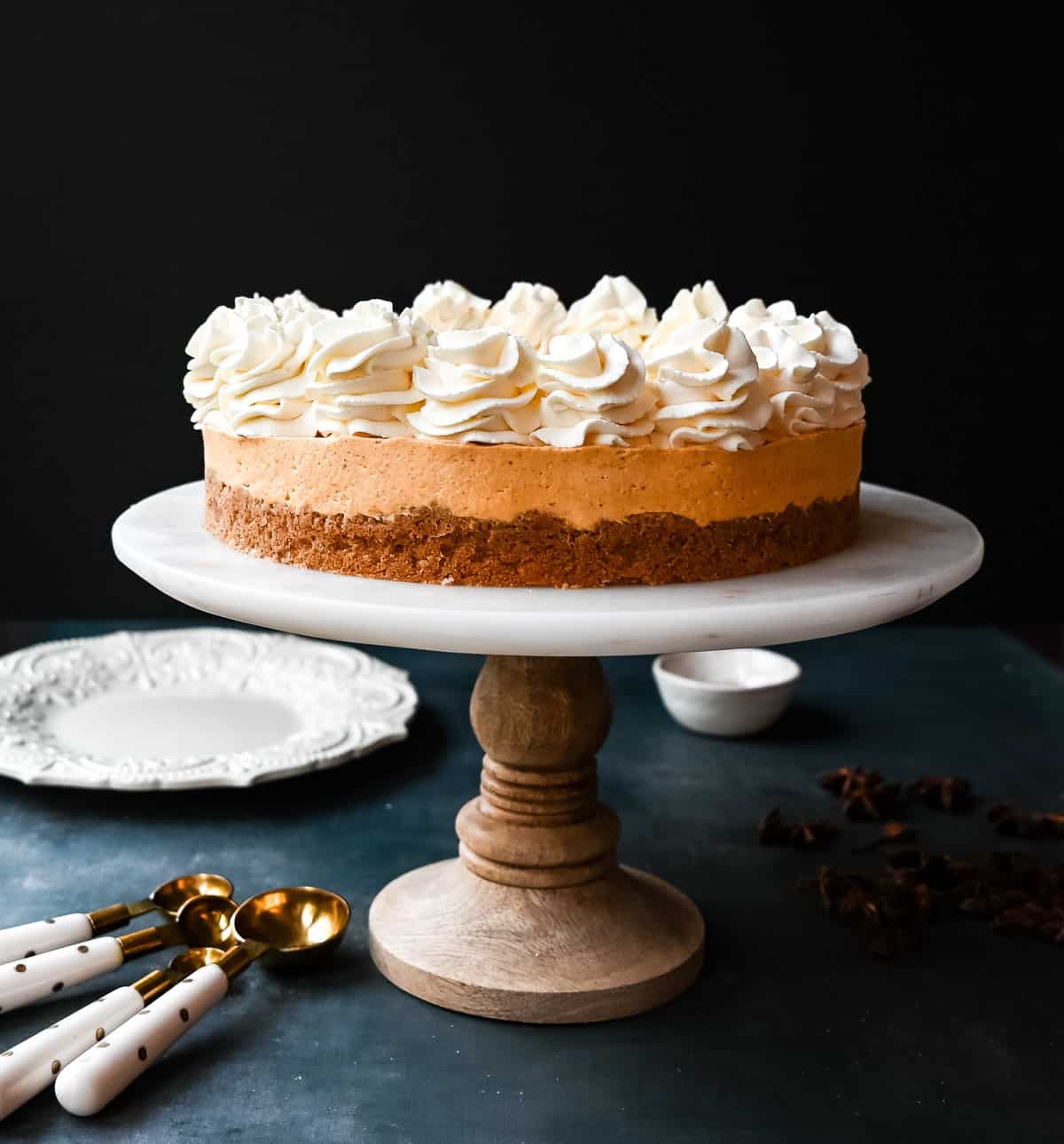 No-Bake Pumpkin Cheesecake — this is an easy, make ahead pumpkin dessert that is super simple and everyone loves it!
Perfect Pumpkin Pie —
A must for your Thanksgiving table! An extra creamy classic pumpkin pie in all butter flaky pie crust.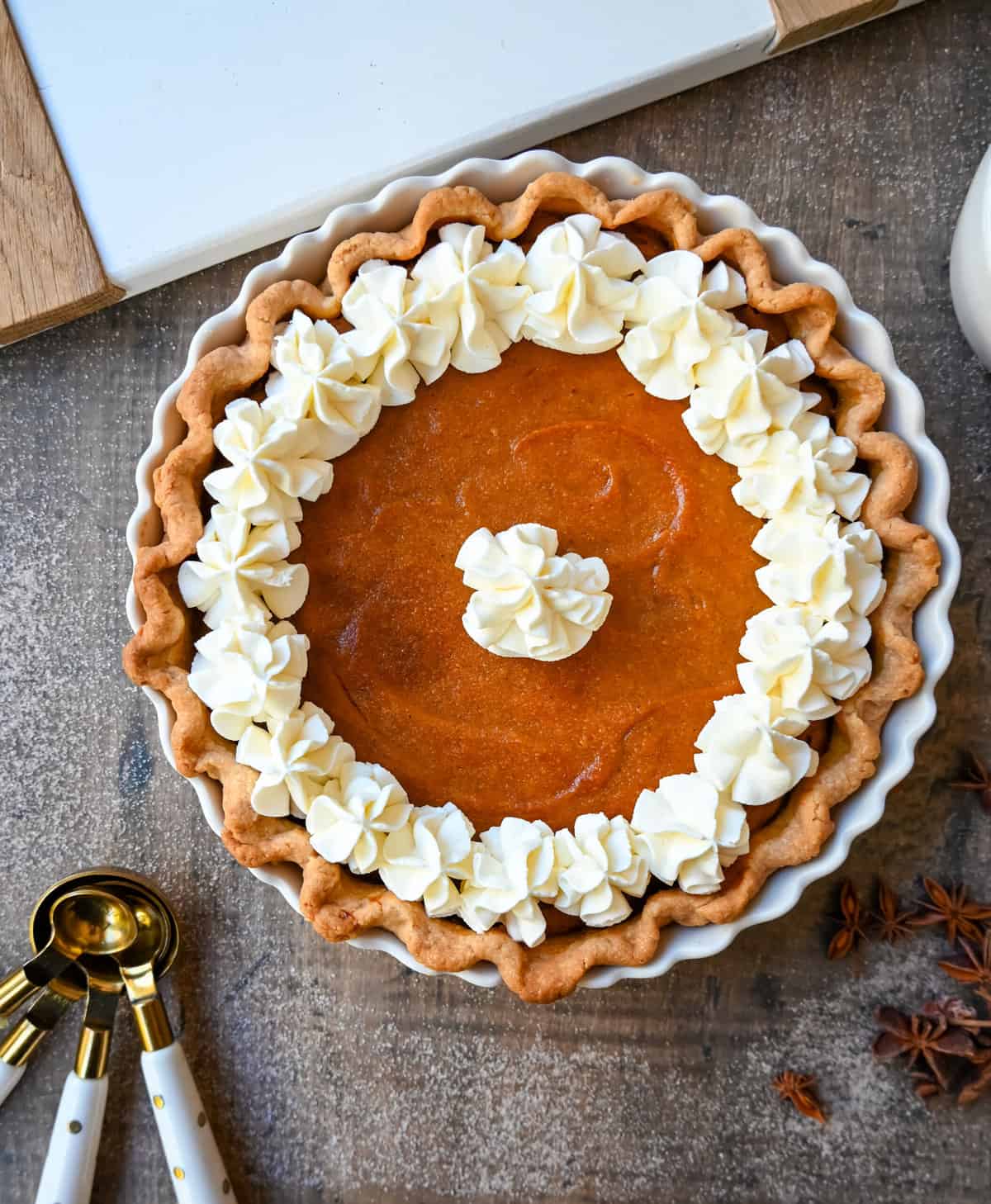 Sweet Potato Pie — creamy Southern sweet potato pie made with roasted sweet potato, cream, sugar, and spices all in a buttery, flaky crust.
APPLE PIE RECIPES: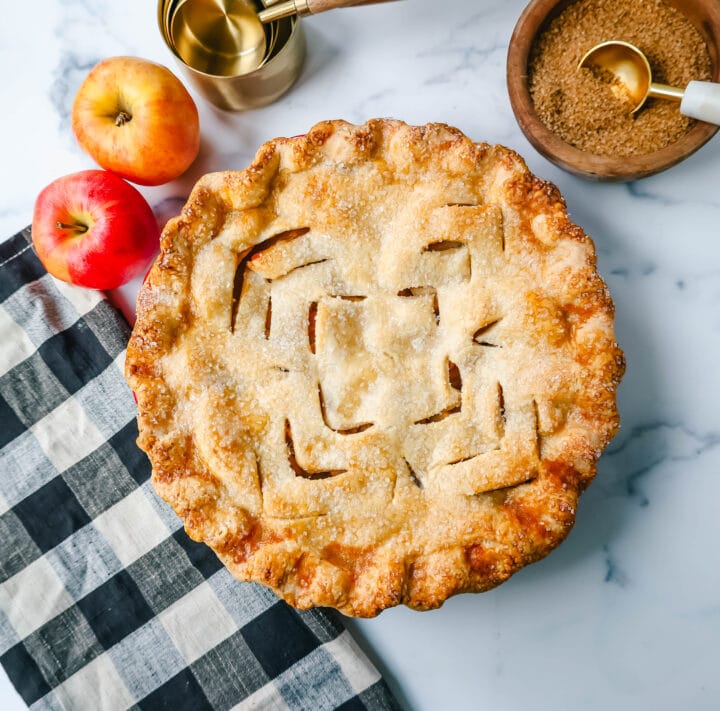 Classic Apple Pie Recipe — This is made with fresh apples, brown sugar, and cinnamon all in a homemade buttery, flaky pie crust. The ultimate apple pie!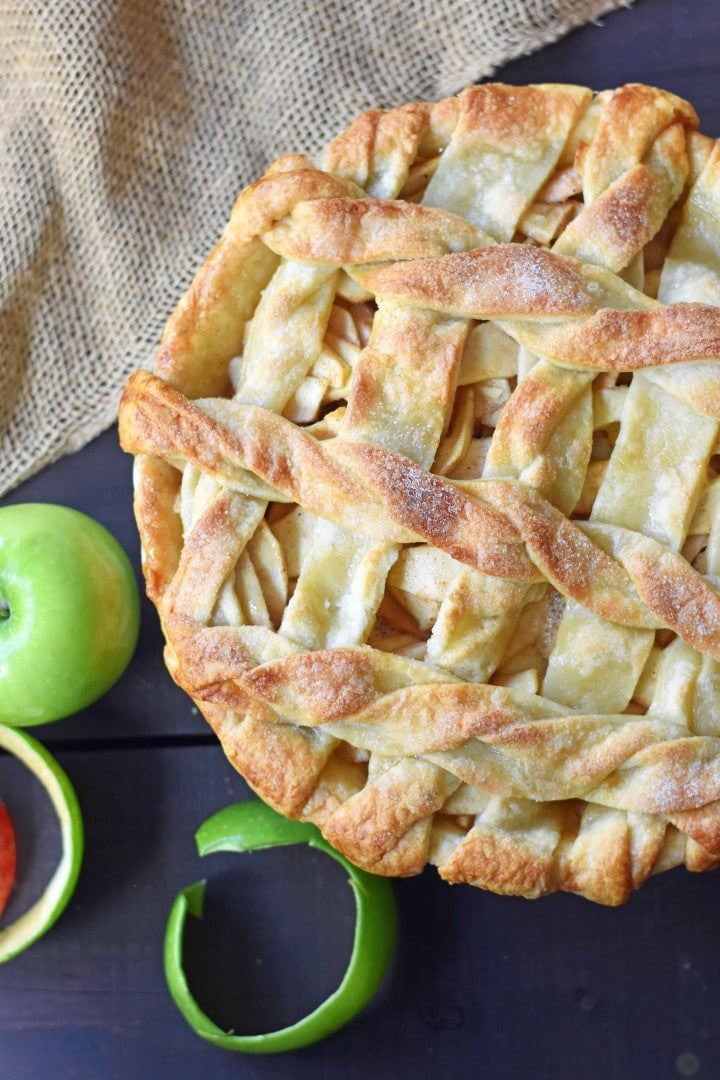 Caramel Apple Pie — classic apple pie with homemade salted caramel sauce. Perfect served with vanilla bean ice cream.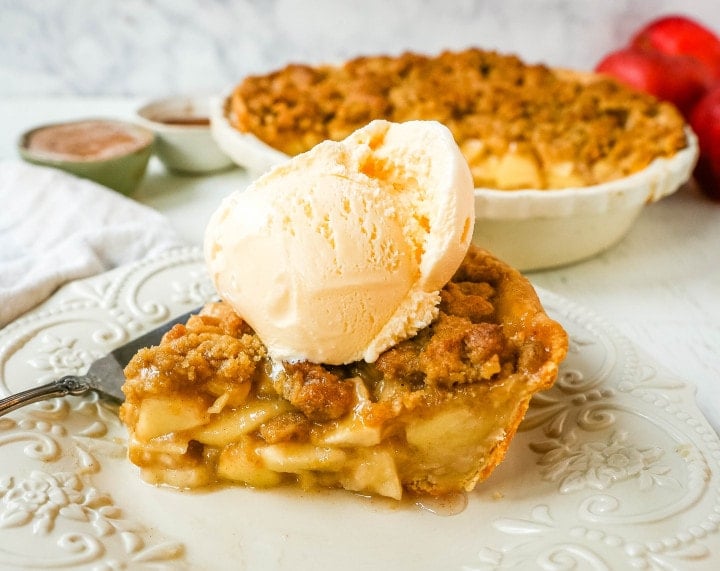 Dutch Apple Pie — the best of both worlds! A buttery, flaky pie crust topped with sweet cinnamon sugar apples and sprinkled with a brown sugar crumble topping.
CHOCOLATE PIES: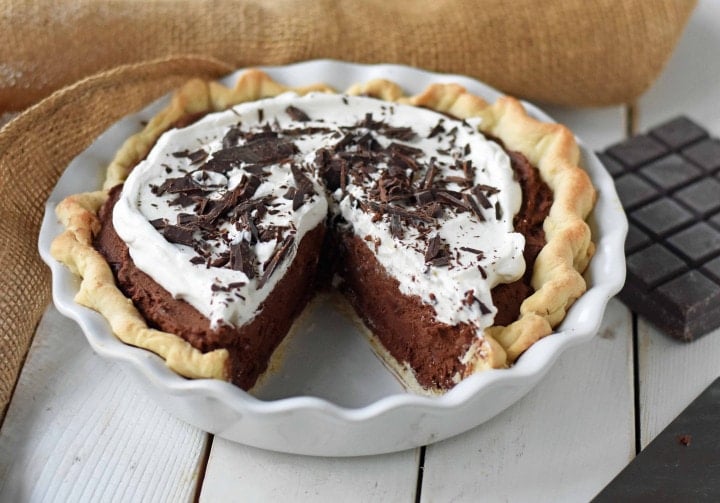 Chocolate Cream Pie — Homemade rich chocolate custard, topped with sweet whipped cream and shaved chocolate. A chocoholic's favorite pie!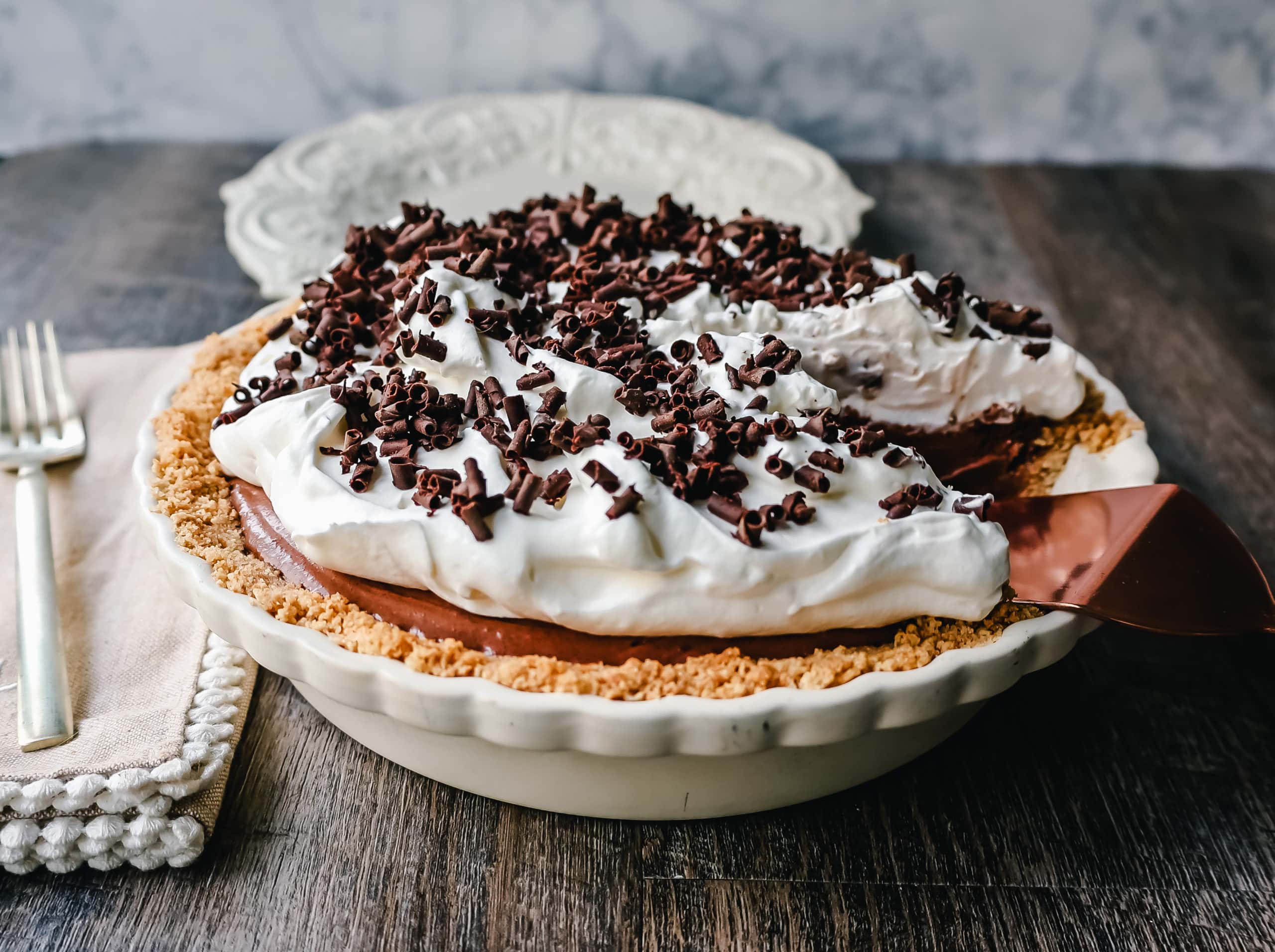 French Silk Pie
— a rich, decadent chocolate pie made with simple ingredients to highlight the chocolate and cream. A classic chocolate pie recipe that everyone loves!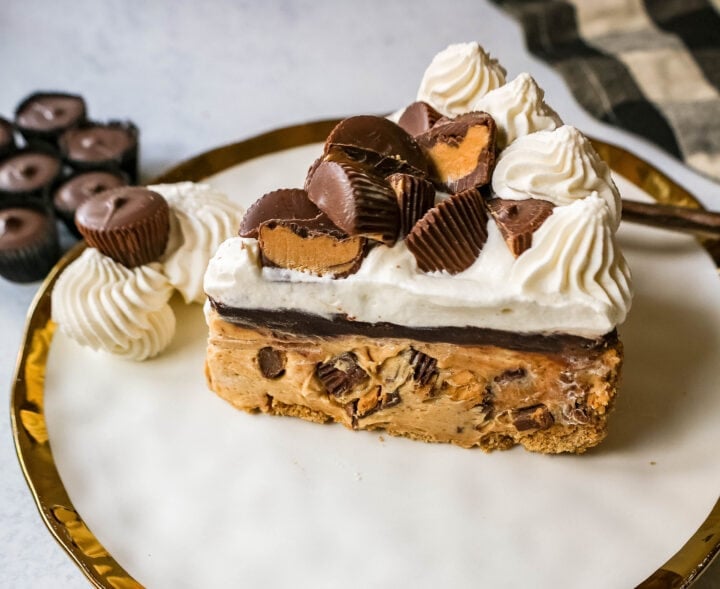 Chocolate Peanut Butter Pie
—
No-Bake Chocolate Peanut Butter Pie with a graham cracker crust, creamy peanut butter filling with peanut butter cups, chocolate ganache, and topped with fresh whipped cream and peanut butter cups.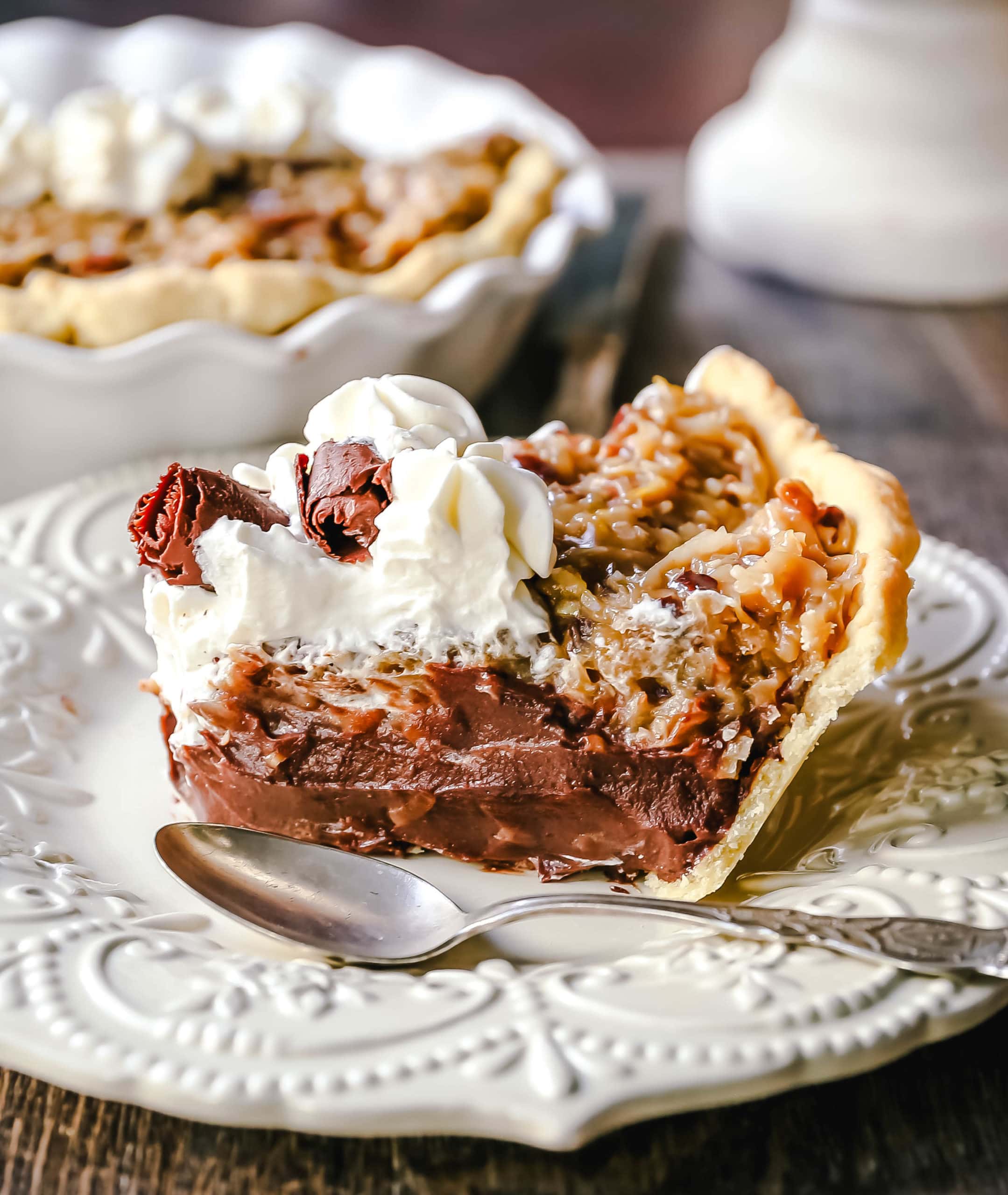 German Chocolate Pie — a homemade chocolate custard with a sweet sticky coconut-pecan topping with fresh whipped cream and chocolate shavings.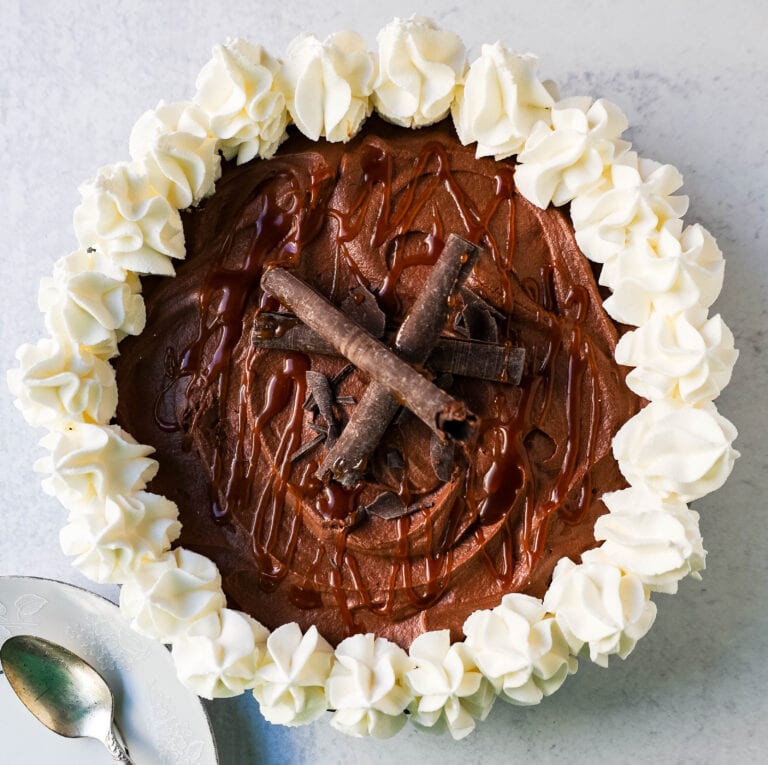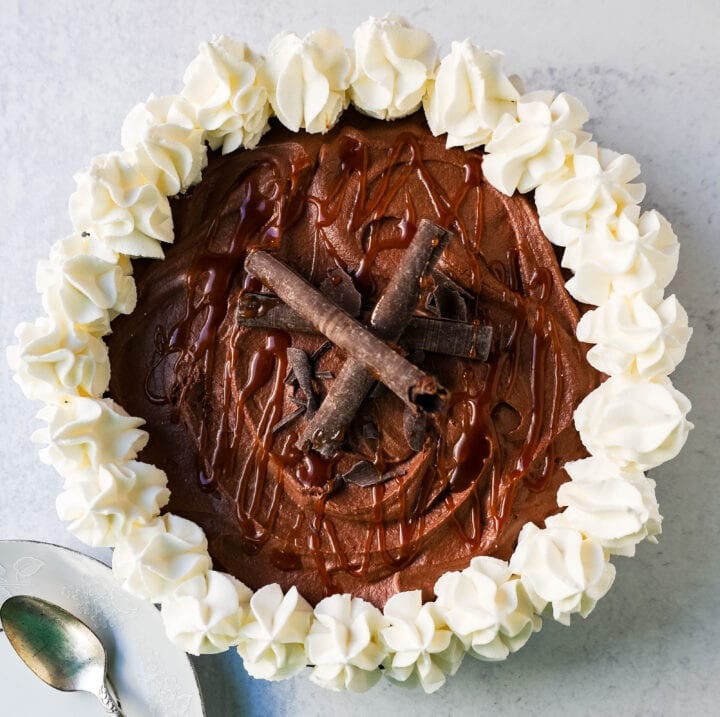 Mexican Chocolate Pie — made with a graham cracker and almond crust filled with Mexican chocolate cream filling and topped with fresh whipped cream. This Mexican Chocolate Pie recipe is from the famous Elote Cafe in Sedona Arizona.
Nutella Chocolate Pie — this creamy chocolate hazelnut pie made with Nutella and topped with chocolate ganache and fresh whipped cream is a decadent no-bake pie.
White Chocolate Macadamia Pie with Chocolate Ganache — a white chocolate orange cream macadamia nut filling topped with silky smooth chocolate ganache in a buttery flaky pie crust. A Thanksgiving favorite pie!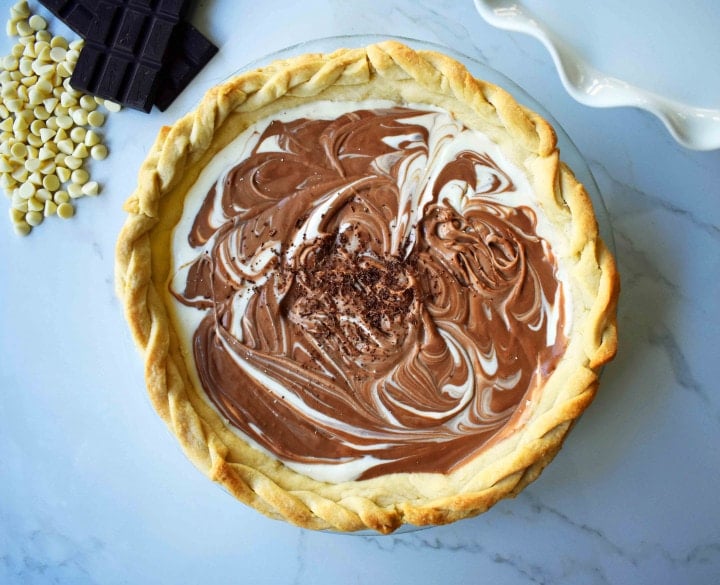 Double Chocolate Marble Pie — White Chocolate meets Milk or Dark Chocolate and marshmallows in this ultra popular pie.
SPECIALTY PIES: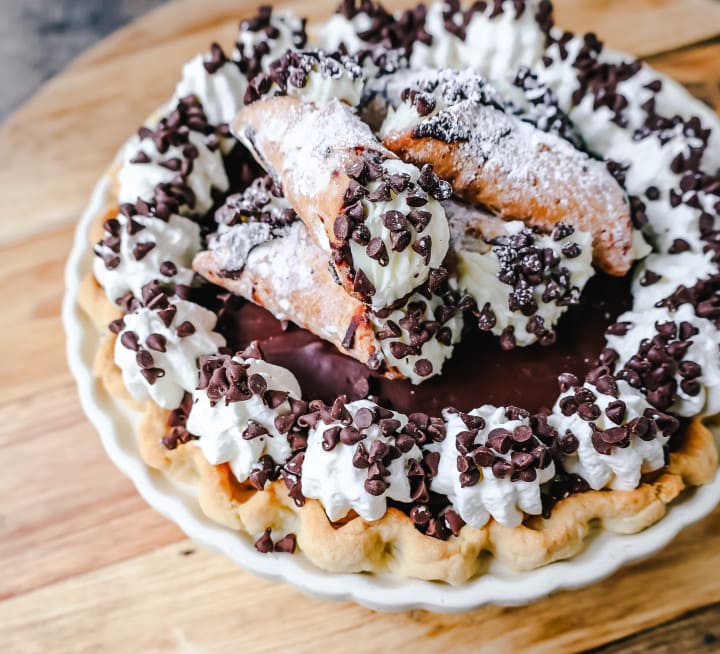 Cannoli Pie — the famous Italian dessert made into a pie! Creamy sweetened ricotta, cream cheese, heavy cream, sugar, vanilla, cinnamon, orange zest, and mini chocolate chips all topped with chocolate ganache and whipped cream.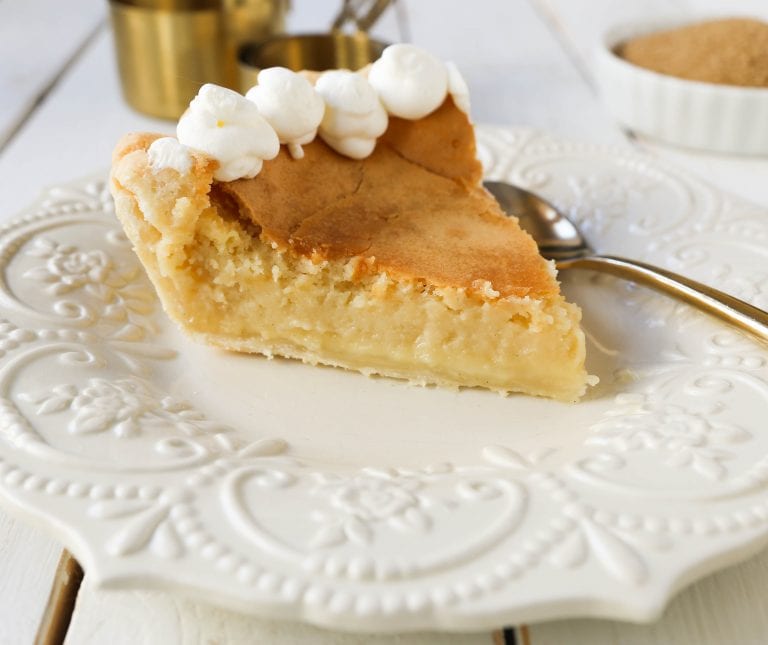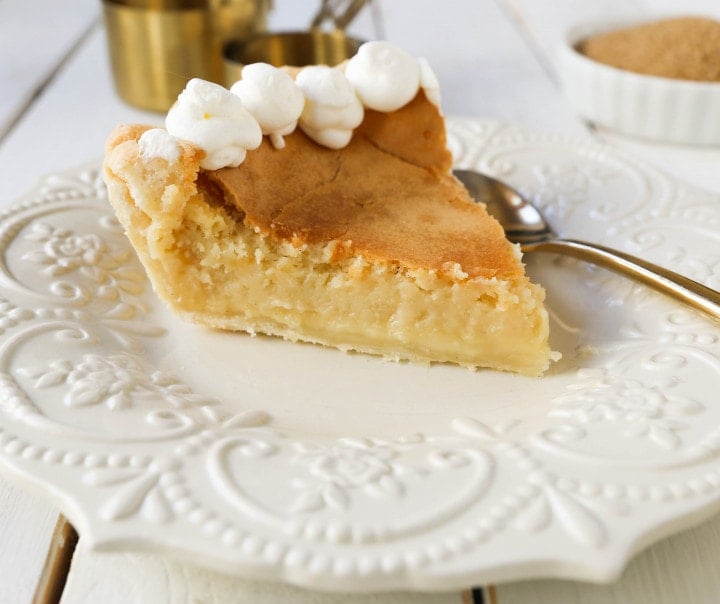 Creme Brûlée Pie — a favorite dessert made into a silky smooth pie in a buttery pie crust. A mix between creme brûlée and a famous chess or buttermilk pie makes this a winning pie!
PECAN PIES: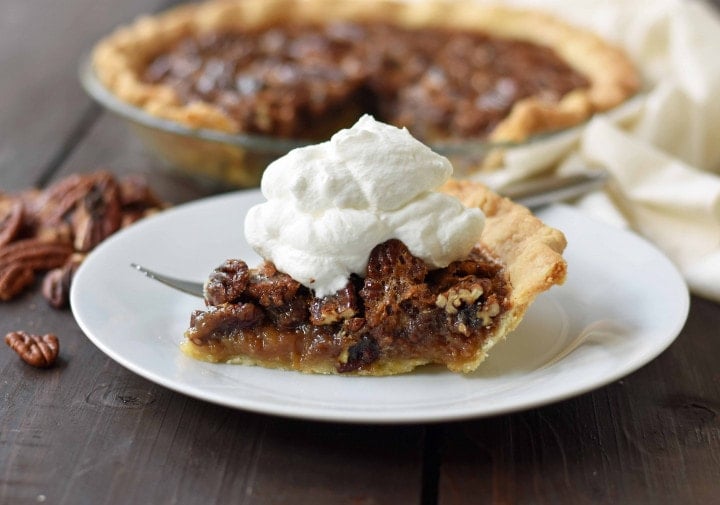 Old-Fashioned Pecan Pie — Silky smooth brown sugar filling with crunchy pecans, topped with homemade whipped cream, in a buttery flaky crust.
Chocolate Pecan Pie — a homemade pecan pie with chocolate chips in a buttery, flaky pie crust.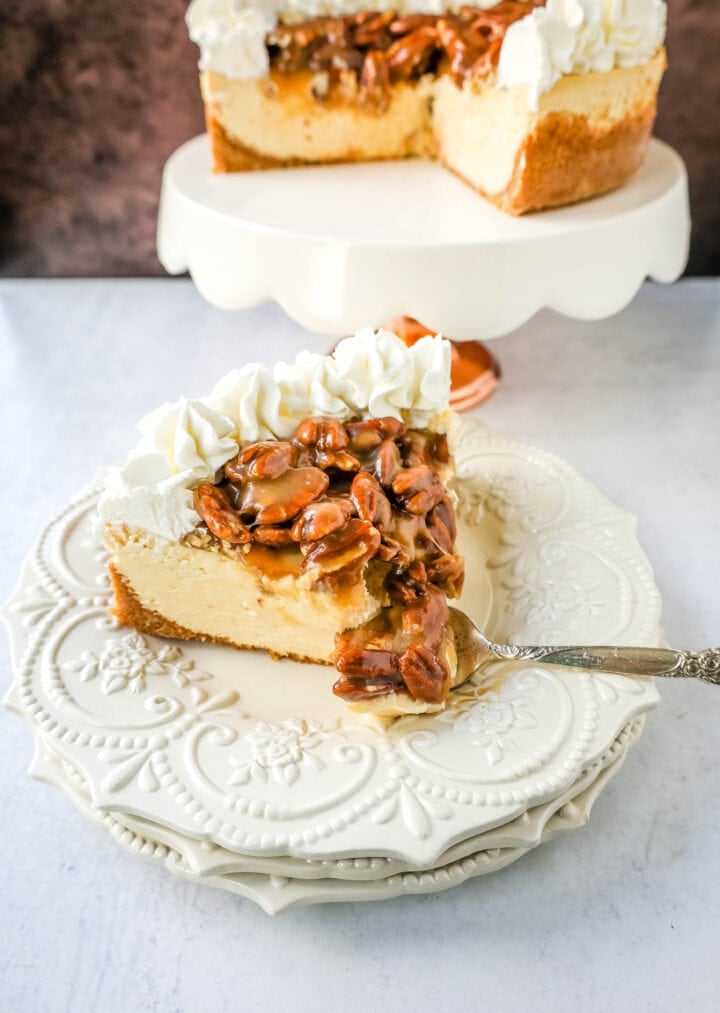 Pecan Praline Cheesecake — homemade vanilla cheesecake topped with pecan praline topping. A marriage between pecan pie and cheesecake!
BANANA CREAM PIES: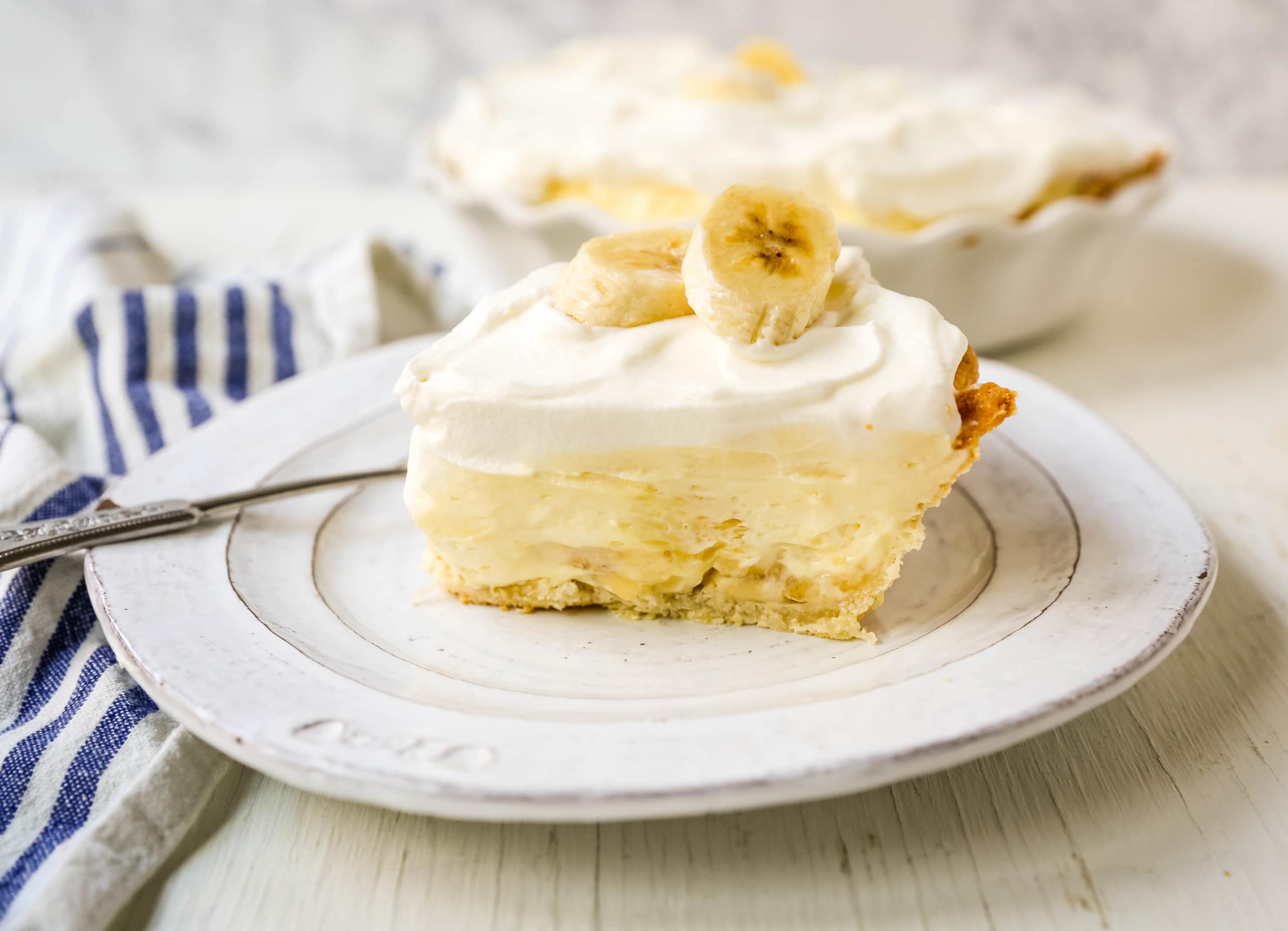 Banana Cream Pie — creamy smooth pudding with fresh bananas, handcrafted whipped cream, in a buttery, flaky crust.
FRUIT PIES:
Triple Berry Pie — a blackberry, raspberry, and blueberry pie in a tender flaky crust. Topped with vanilla ice cream.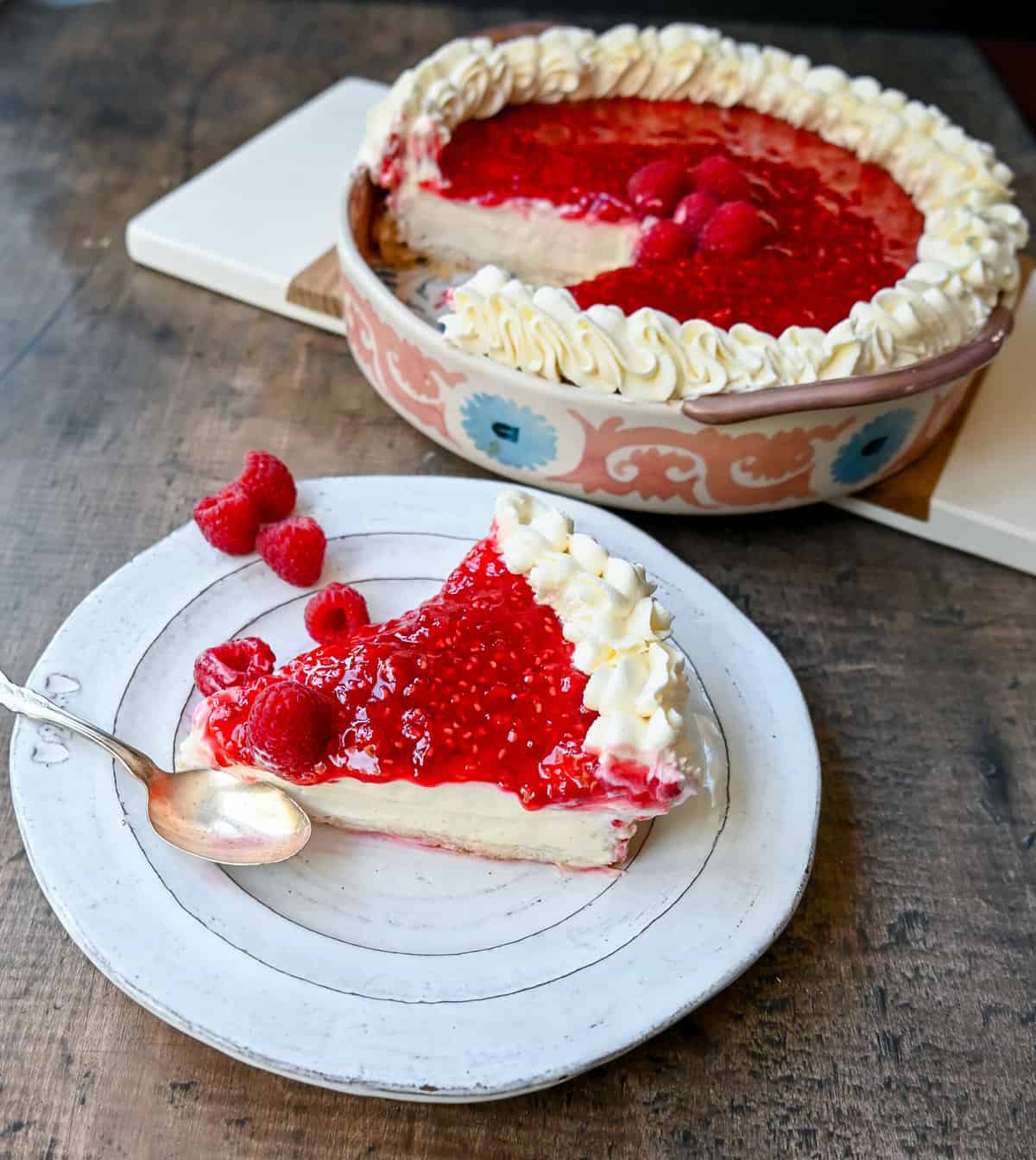 No Bake Raspberry Cream Pie — is made with a sweet luscious cream cheese filling and topped with a homemade raspberry sauce all in a homemade crust.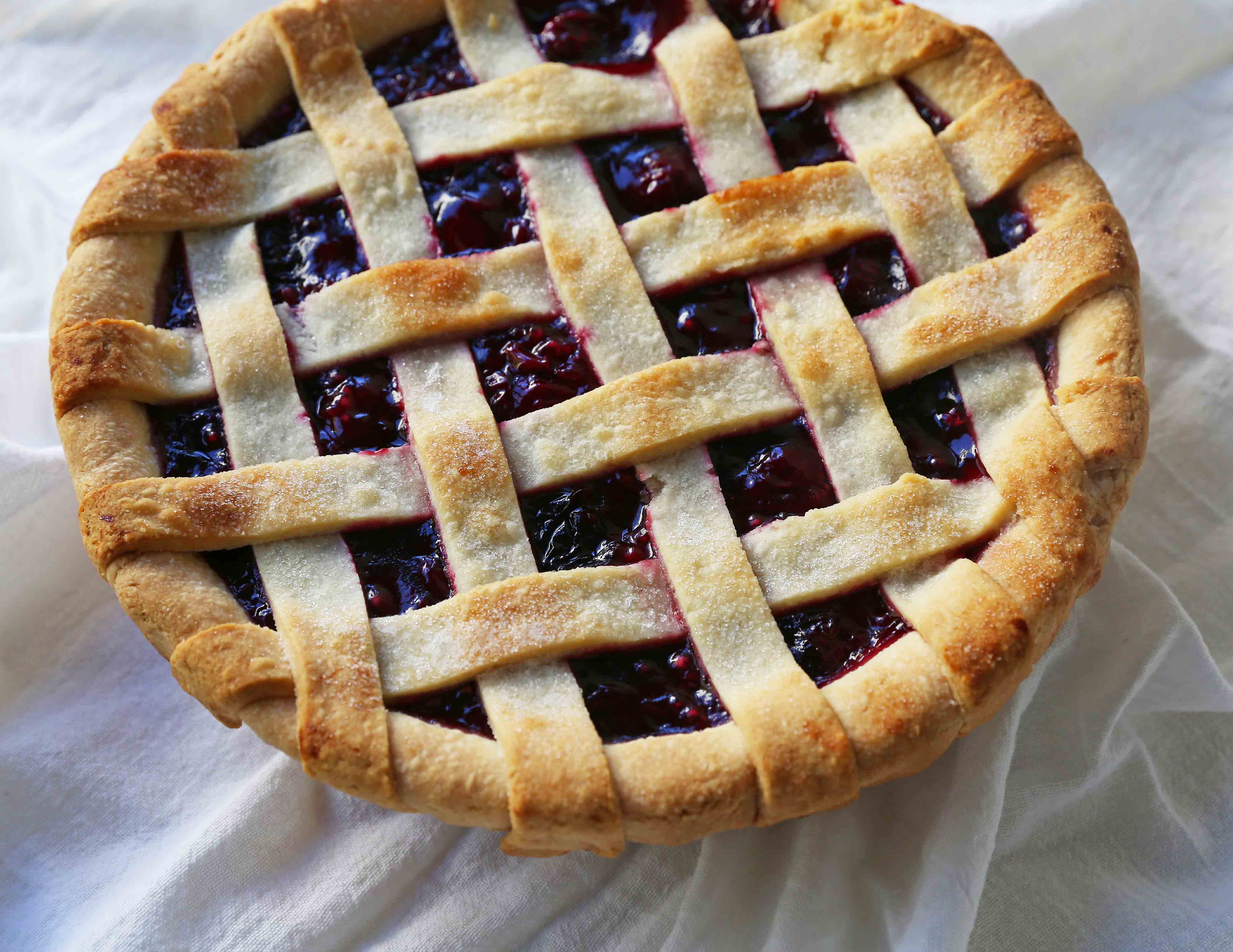 Sweet Cherry Pie — A classic for a reason! Homemade cherry pie filling on a flaky buttery crust.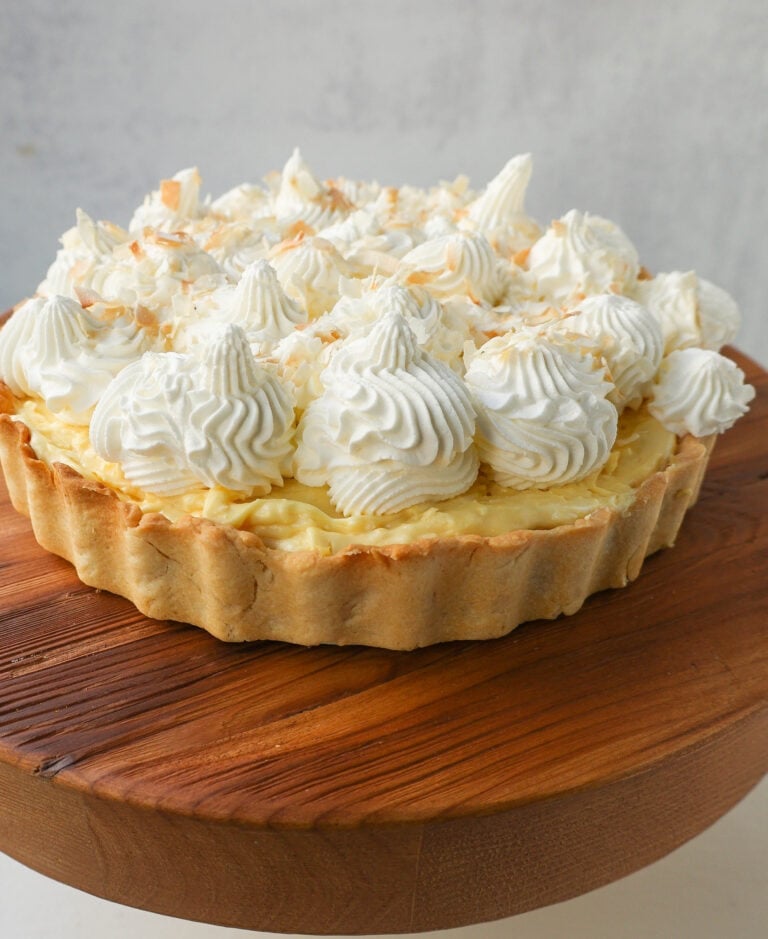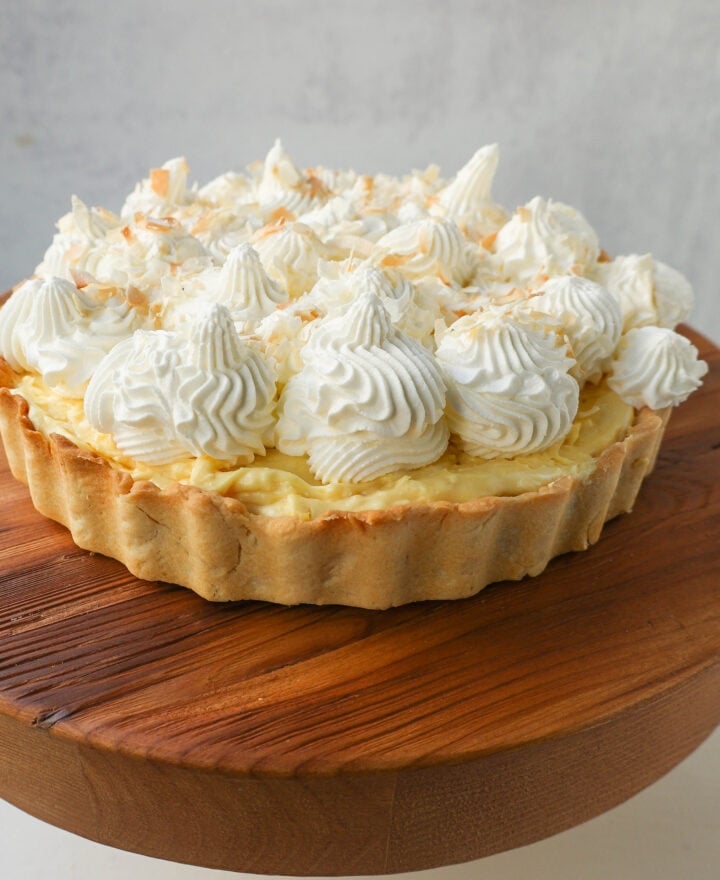 Easy Coconut Cream Pie — made with pudding mix, sweetened condensed milk, whole milk, whipped cream, and sweetened shredded coconut all in a buttery pie crust and topped with sweet whipped cream. This is the best coconut cream pie recipe!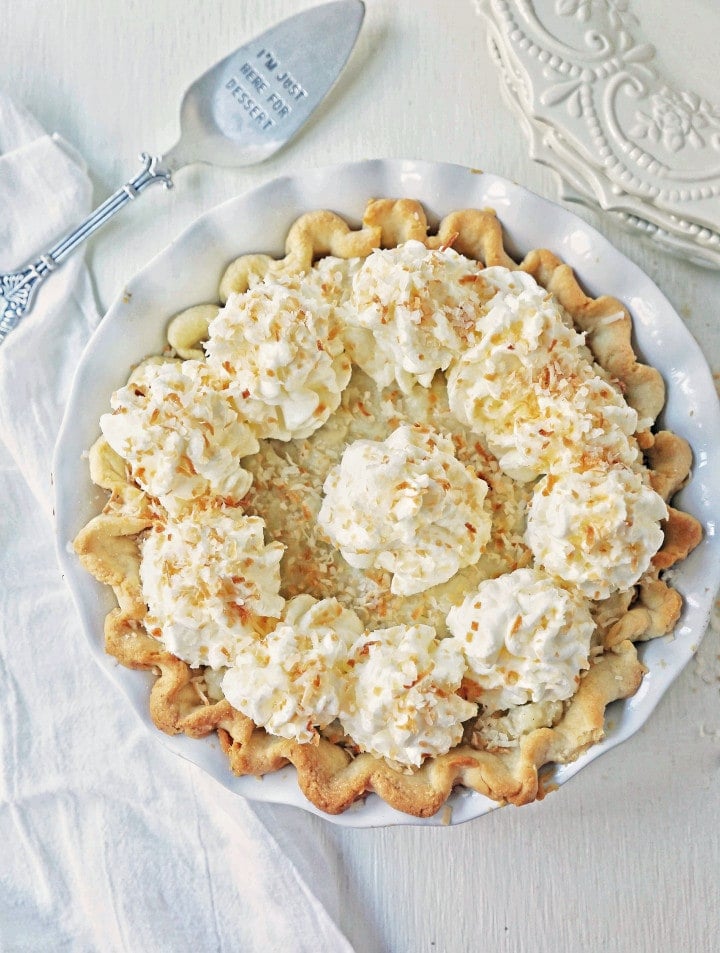 Coconut Cream Pie — a homemade coconut cream custard topped with fresh whipped cream and toasted coconut.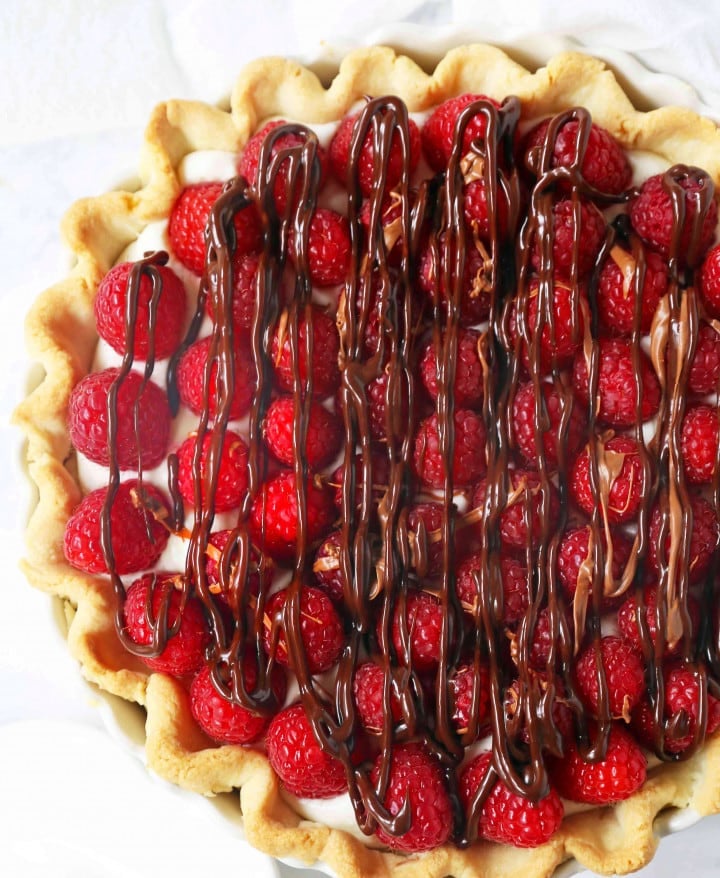 Raspberry Almond Cream Cheese Pie — a simple creamy sweet cream cheese pie with fresh raspberries and a drizzle of milk chocolate. An easy, elegant, show-stopping pie!
Key Lime Pie — a creamy, tangy key lime pie with a buttery graham cracker crust and topped with fresh whipped cream. A classic lime pie recipe!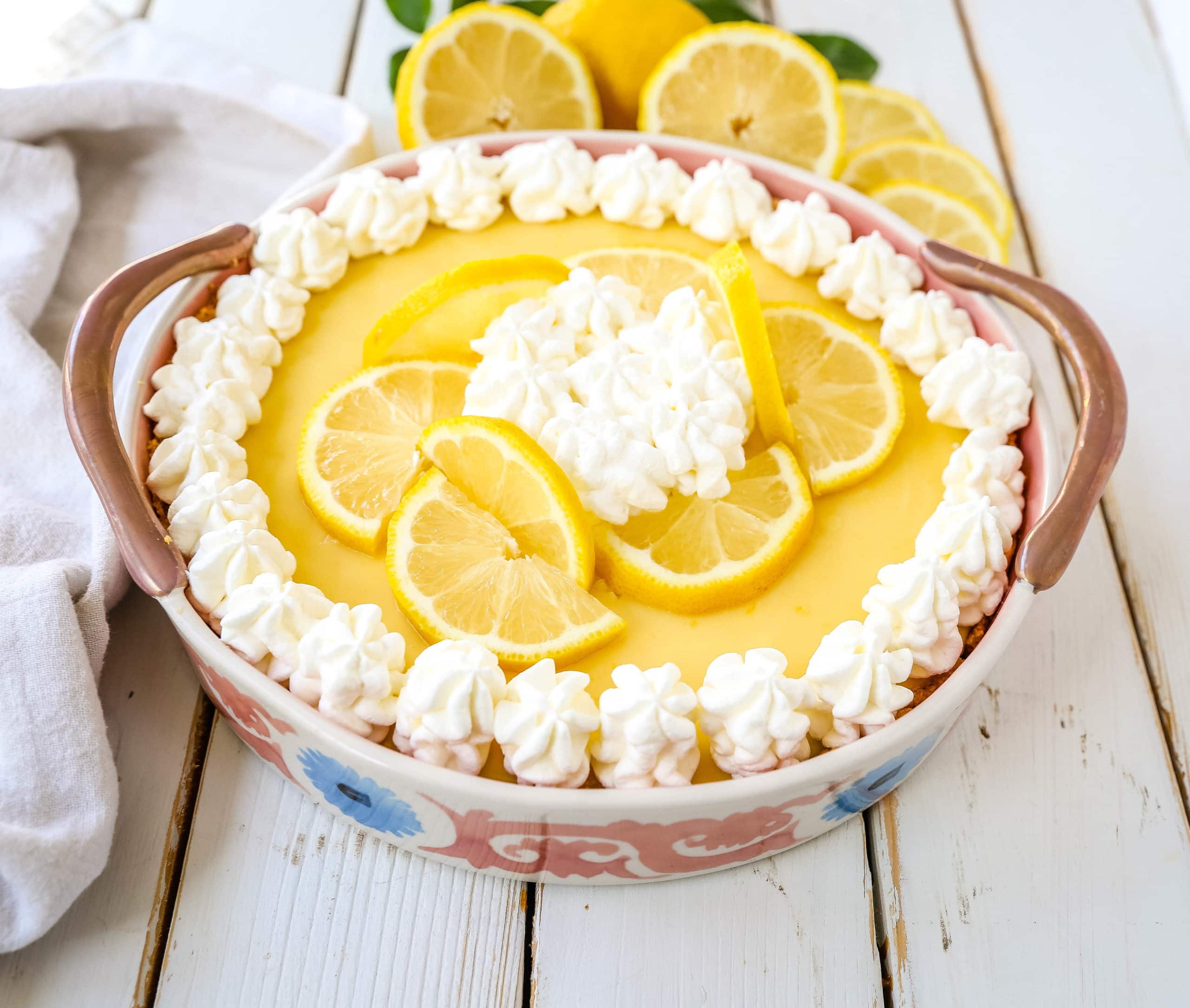 Lemon Cream Pie — a silky smooth, sweet yet tart lemon pie. Super simple pie made with fresh lemon juice and sweetened condensed milk.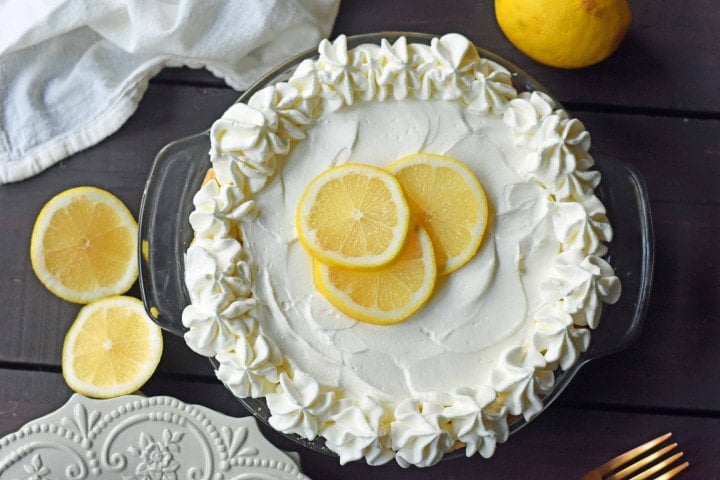 Sweet Lemon Sour Cream Pie — light lemon cream custard made with freshly squeezed lemon juice. The secret ingredient (sour cream) makes it extra creamy.
BEST THANKSGIVING APPETIZERS: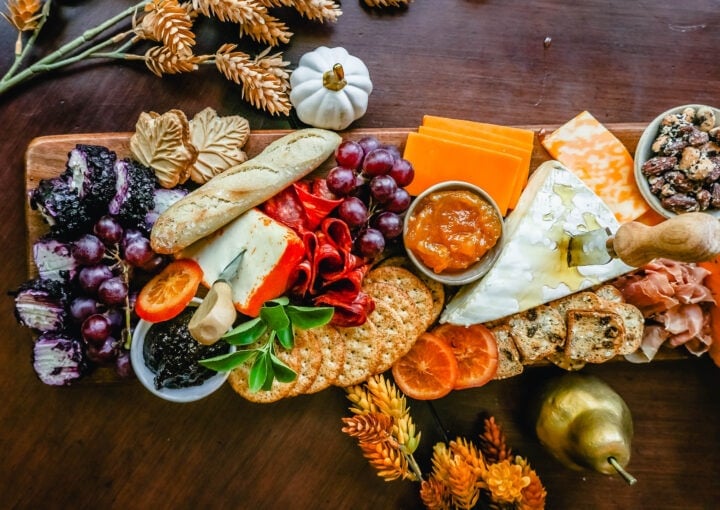 Fall Charcuterie Board — Festive Charcuterie Board is perfect to celebrate Thanksgiving or Friendsgiving with friends and family. How to pick out the perfect meats, cheeses, fruits, jams, crackers, and dips for your Fall charcuterie spread. Tips and tricks for making the best charcuterie board.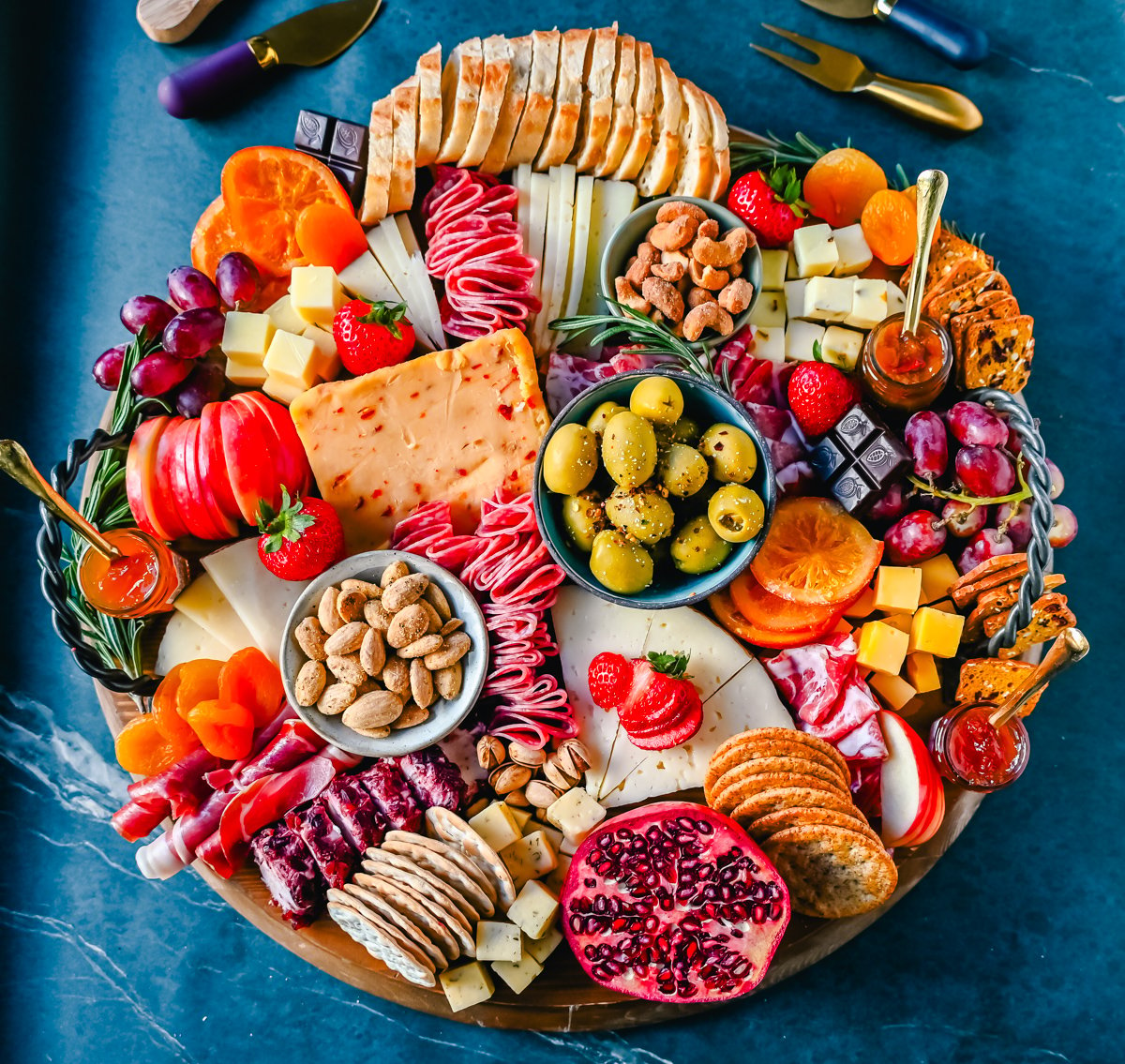 How to make the Best Charcuterie Board — Tips and tricks on what ingredients to put on a charcuterie board, where to buy ingredients, and how to design and create one.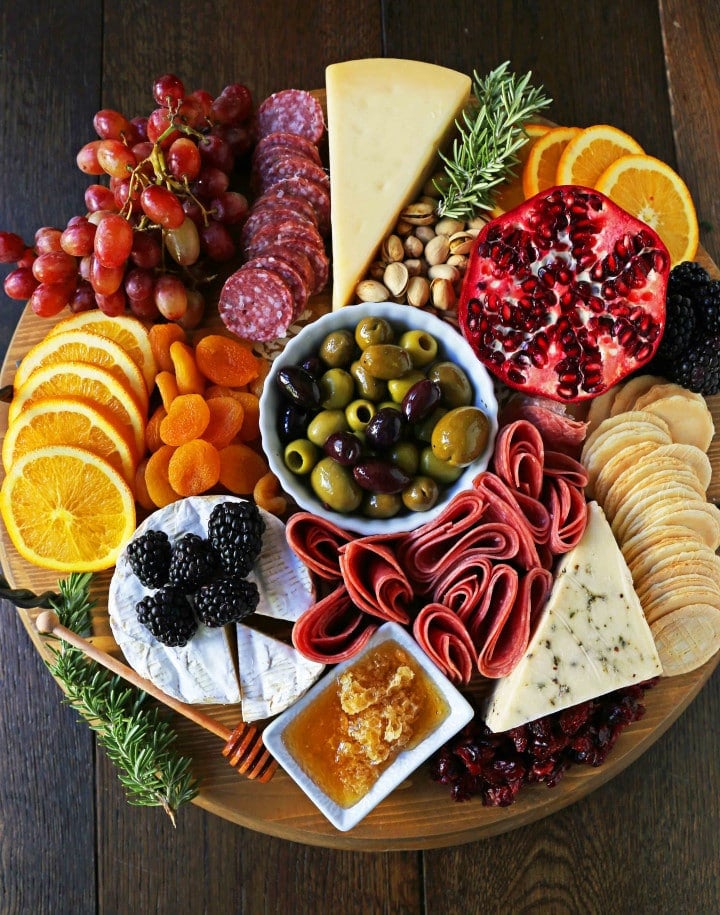 Charcuterie Meat & Cheese Board — the perfect appetizer for Thanksgiving. Meat, cheeses, fresh fruit, olives, and crackers. How to make an epic meat and cheese board.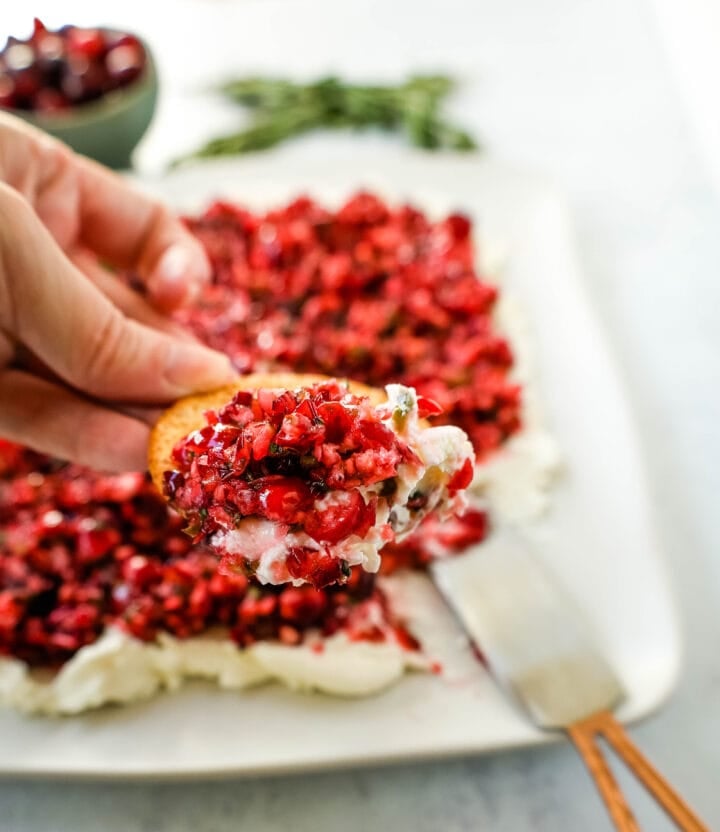 Cranberry Jalapeno Cream Cheese Dip — This Cranberry Jalapeno Cream Cheese Dip is a festive appetizer that is creamy, tart, a tad spicy, and sweet. This Cranberry Jalapeno Dip is made with fresh cranberry salsa atop cream cheese. 
Cheese Ball Recipes — Here are your best cheese ball recipes …Cheddar Bacon Cheese Ball, Cranberry Pecan Cheese Ball, and Sweet Chocolate Cream Cheese Ball.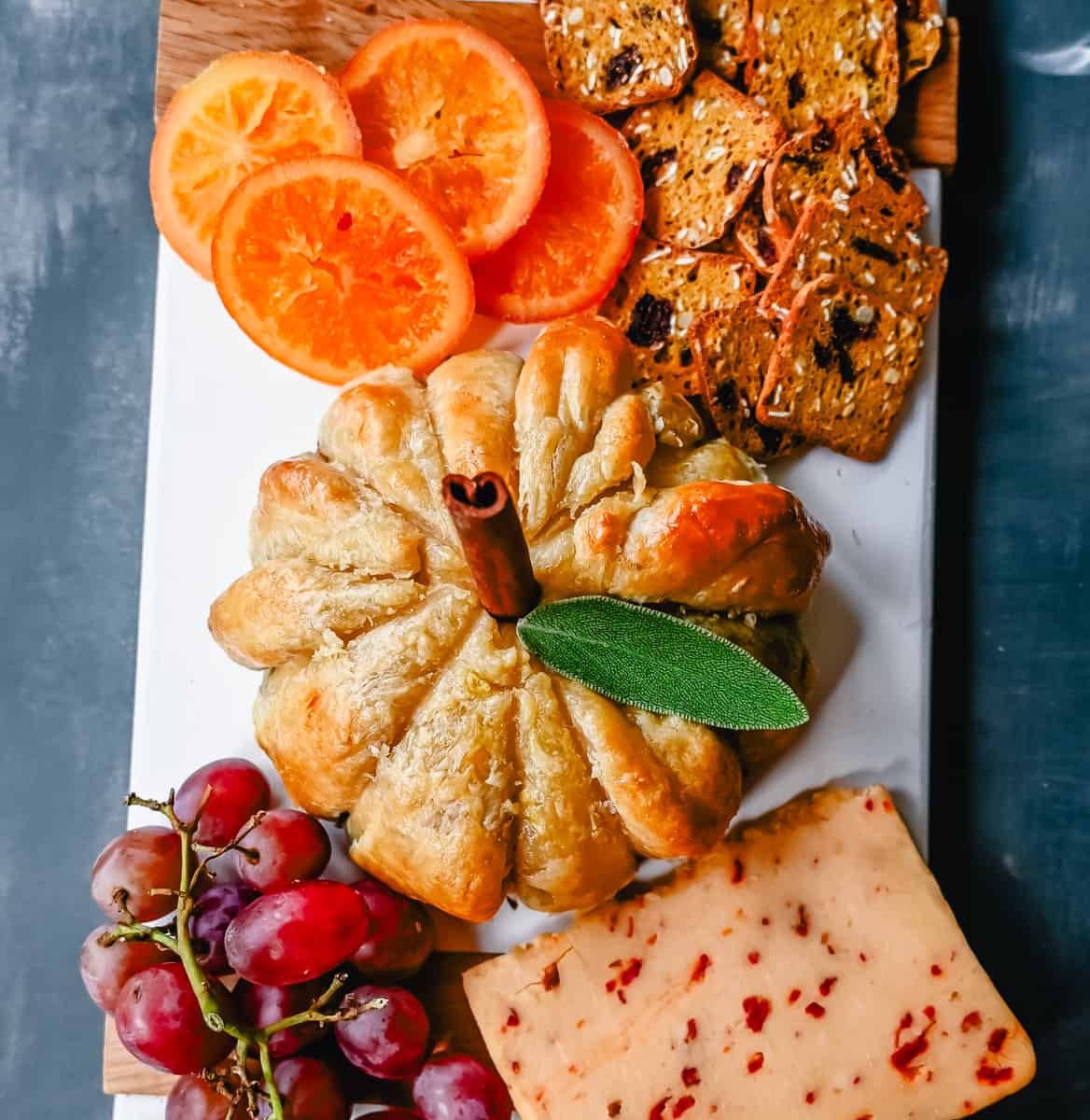 Pumpkin Shaped Baked Brie Puff Pastry — This festive Fall Pumpkin Baked Brie is the perfect appetizer or centerpiece for your charcuterie board.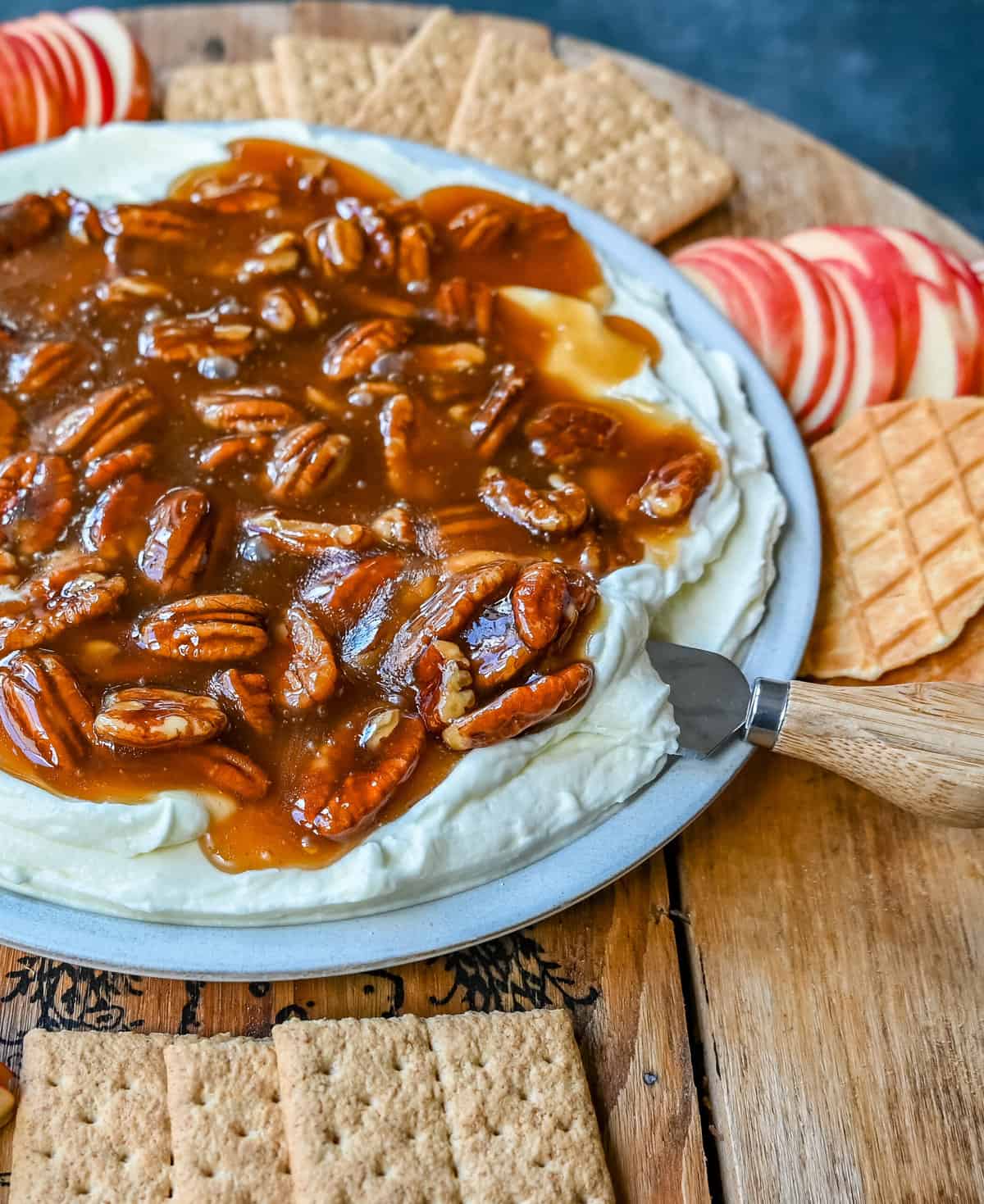 No Bake Pecan Pie Dip — this is all of the flavors of pecan pie but in a dip! This sweet appetizer or dessert is perfect for a Fall gathering, holiday, or Thanksgiving.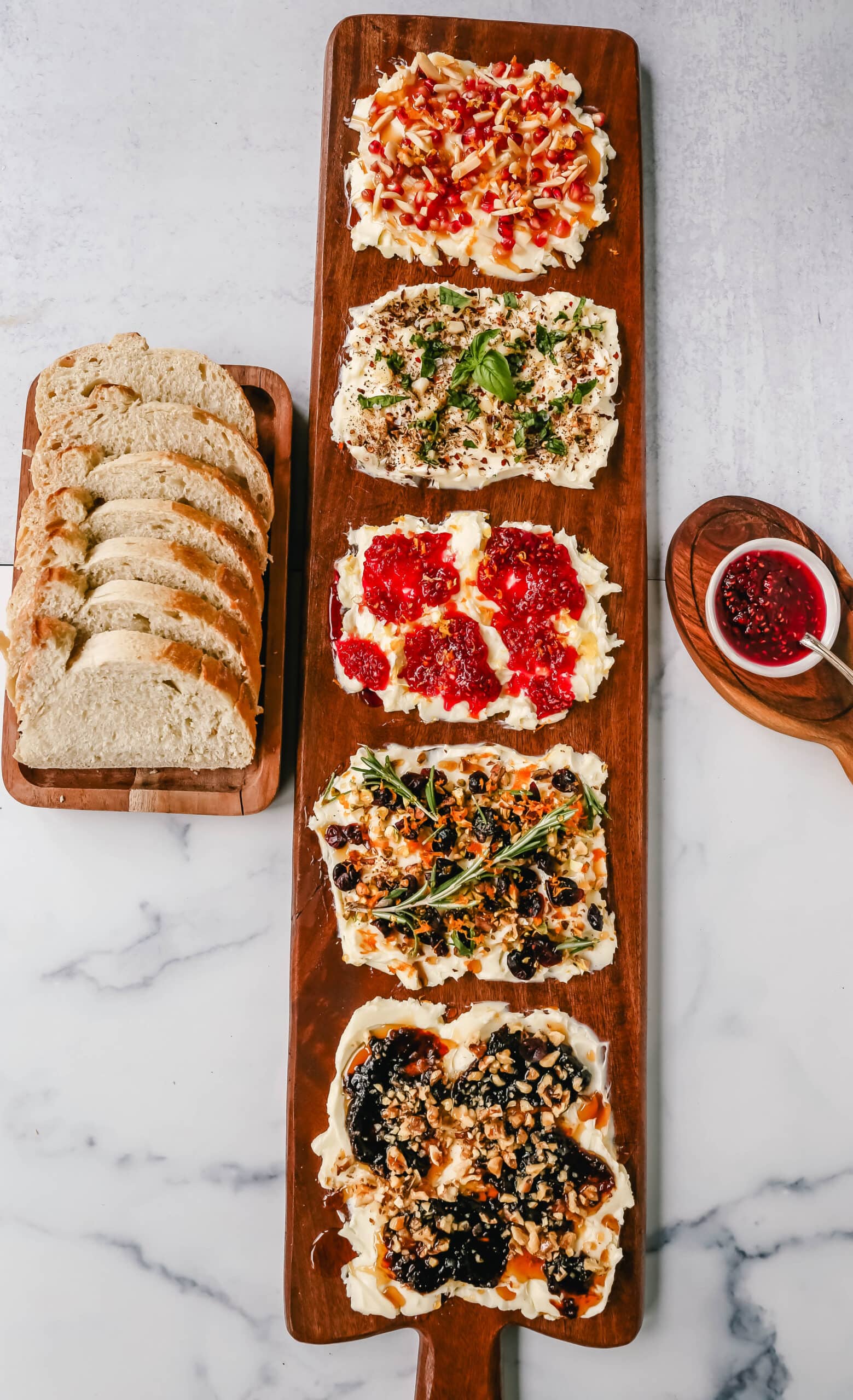 Butter Board — A Butter Board with fresh butter is spread onto a board and topped with an assortment of toppings and served with warm bread.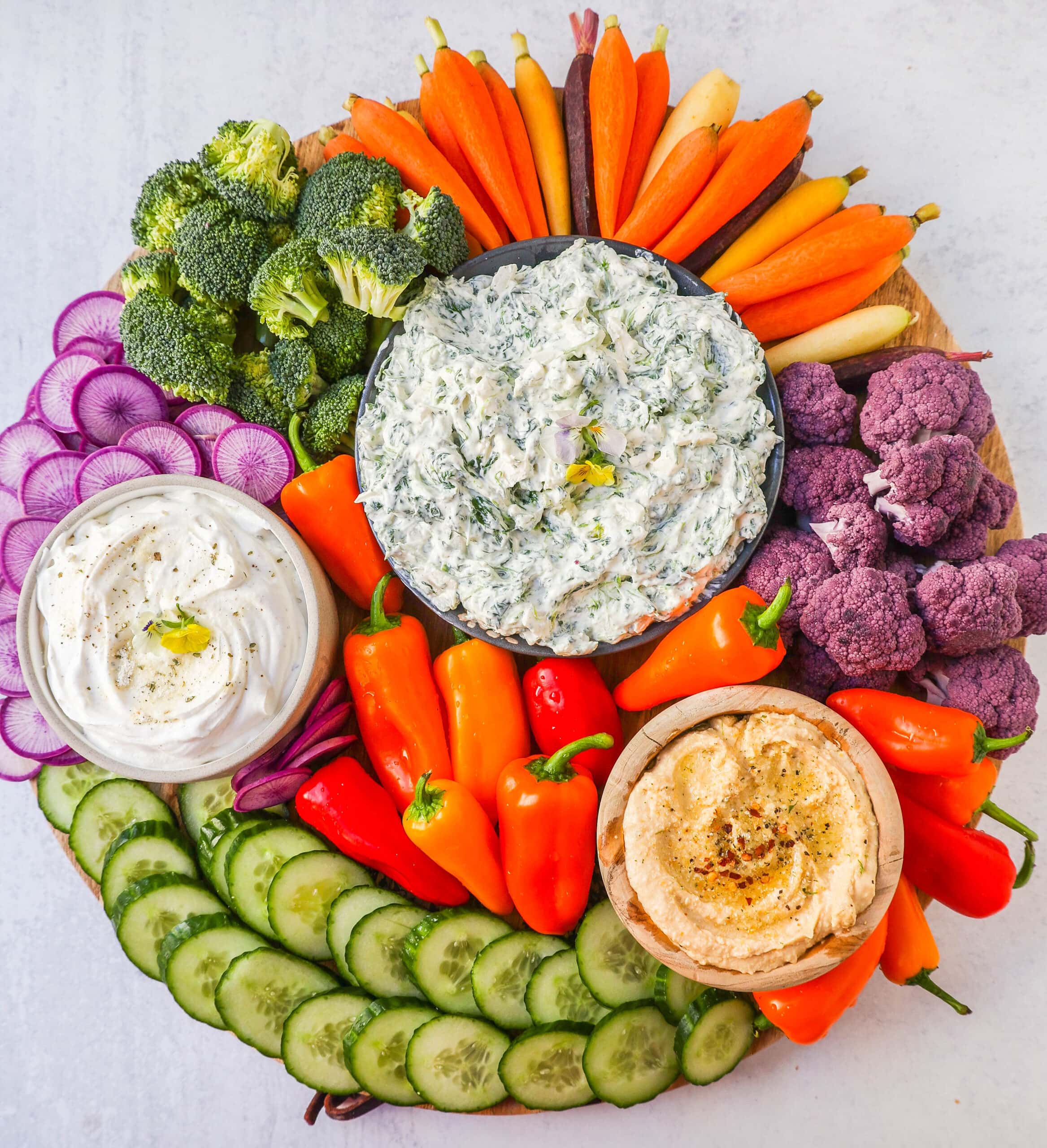 Crudite Platter — How to make a beautiful Crudite Platter with vegetables and dips.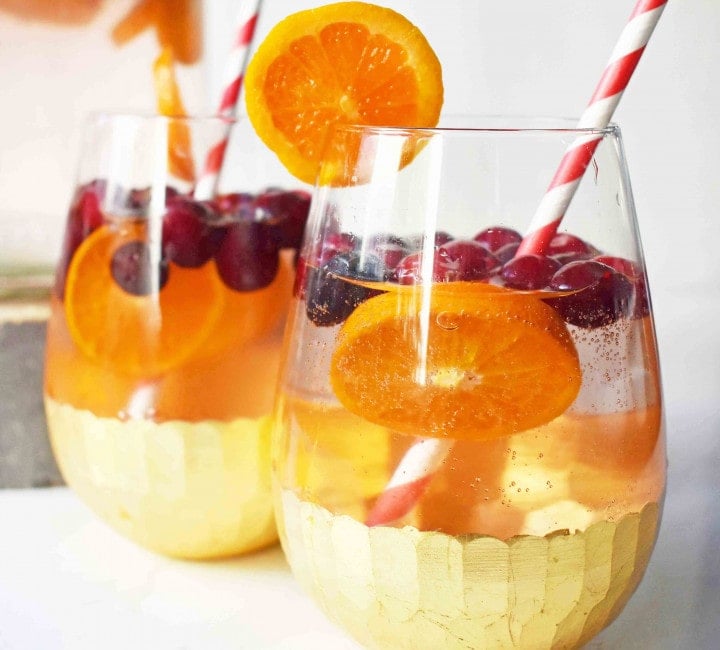 The Henry Cranberry Orange Mocktail — A real crowd pleaser! This non-alcoholic drink if made with festive Cranberry Sprite, vanilla syrup, fresh oranges, and cranberries.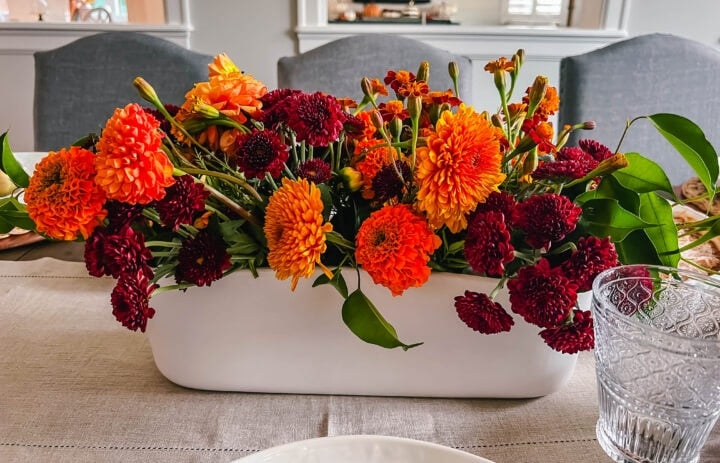 THANKSGIVING FLORAL ARRANGEMENT CENTERPIECE:
I love to add fresh flowers to our Thanksgiving table. I picked up some orange marigolds, gold and orange dahlias, and deep burgundy mums plus some beautiful filler from Trader Joe's.
I was able to do a large floral centerpiece for less than $25!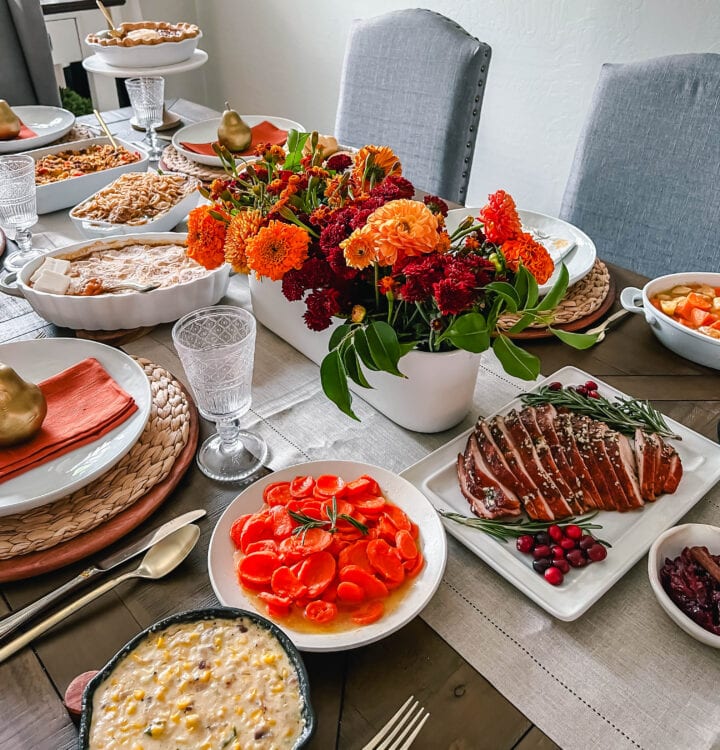 I hope you love all of these Modern Honey Thanksgiving recipes! Please tag me in your instagram posts and stories so I can see all of your recipe creations. Happy Cooking, my friends!
THANKSGIVING QUESTIONS AND ANSWERS:
What Thanksgiving recipes can I make ahead of time?
There are so many Thanksgiving recipes you can make ahead of time. Here are some suggestions of what you can prepare ahead of time to make your Thanksgiving dinner much less stressful.
Homemade Dinner Rolls can be made a week or two in advance and frozen in Ziploc freezer gallon bags. These homemade rolls thaw beautifully and can be warmed in an oven and brush with melted butter before serving.
The sauce for the Green Bean Casserole can be made several days ahead of time and just refrigerated until ready to assemble. When ready to cook the green bean casserole, just heat the mushroom sauce and toss it with the cooked green beans and top with fried onions and then bake in the oven.
Homemade Pumpkin Pie can be made one to two days before serving. My famous Pumpkin Pie Recipe needs time to chill so it is best to be made the day before.
Classic Apple Pie can be made the day before. Just cover well so the pie crust stays fresh.
Stuffing can be made ahead of time and refrigerated. Just know that the bread or cornbread will soak in all of the liquids so before baking the day of, I suggest adding more chicken broth to the mixture to give it moisture.
Creamed Corn can be made days ahead of time. Once the creamed corn chills in the refrigerator, it will thicken so you may want to add a splash of heavy cream while reheating.
Honey Glazed Carrots can be made days ahead of time. The butter will solidify in the refrigerator but will melt once you heat the carrots.
The Sweet Potatoes can be cooked and mashed with the butter, sugar, and cream ahead of time and placed in a covered container in the refrigerator. On Thanksgiving Day, you can place the sweet potatoes in a baking dish and top it with the pecan praline, and bake.
The homemade Cranberry Sauce can be made a week in advance. It will solidify once it is chilled.
If you are making cream pies where you need to blind-bake the homemade pie crust ahead of time, you can bake them a day or two before Thanksgiving.
** I do suggest making the mashed potatoes and turkey the day of as they are best fresh.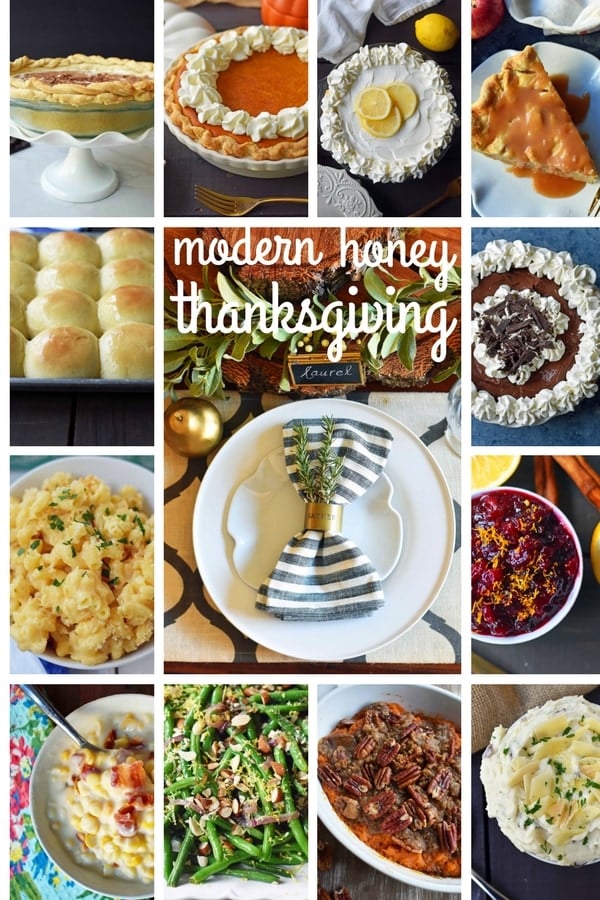 Pin on Pinterest: