Mexican Chorizo Cornbread Stuffing made with cornbread tossed with sauteed peppers and onions, Mexican chorizo, chipotle peppers, chicken broth, cream, and spices. The most flavorful stuffing you will ever try!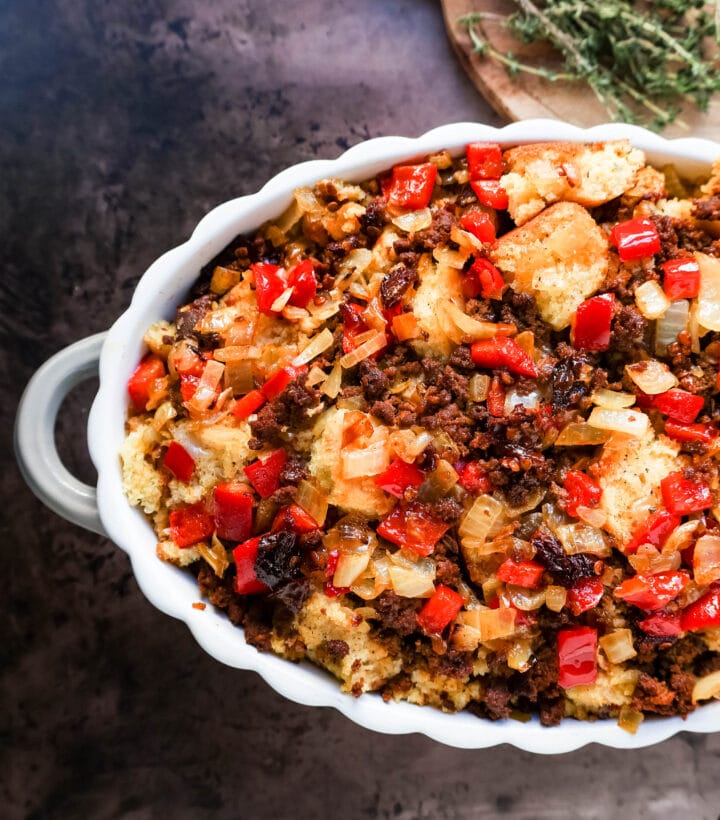 My sister-in-law, Robyne, is a phenomenal cook and she is always cooking up food full of flavor and spice, just how I like it. She is known for her Southwest Chorizo Cornbread Stuffing and she makes it every single Thanksgiving and we all go crazy for it!
It is basically taking your traditional stuffing and taking it up a notch and making it extra gourmet.
We take Thanksgiving dinner very seriously in our family! This Cornbread Stuffing is one of the most popular Thanksgiving side dishes. It has the perfect amount of spice and depth of flavor throughout it and pairs perfectly with Smoked Turkey and Southwest Creamed Corn.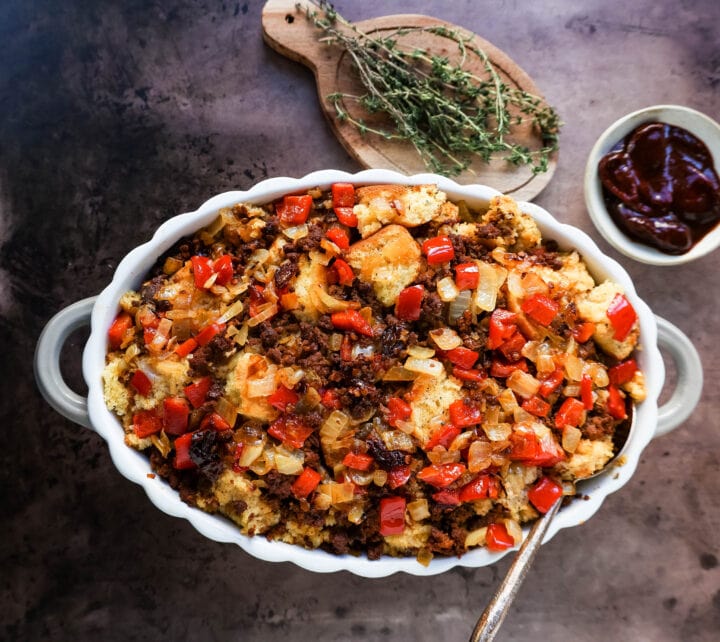 Chorizo Cornbread Stuffing Ingredients:
Cornbread
Chorizo (Pork Chorizo or Beef Chorizo)
Red Pepper
Onion
Butter
Chipotle Peppers in Adobo Sauce
Chicken Stock
Half-n-Half
Egg
Spices: Sage, Thyme, Garlic, Salt and Pepper
What kind of chorizo should I use in stuffing?
I suggest using ground pork chorizo sausage or beef chorizo. The most popular type is pork chorizo. My favorite beef chorizo or pork chorizo is made by Denmark Foods in Arizona and can be found at Fry's stores.
How much cornbread do I need for this recipe?
You need about 6 cups of cornbread for this recipe, which is about a 9-inch pan of cornbread. I tested out this recipe using different types of cornbread. I used a cornbread mix that made enough to fill a 9 x 9-inch square pan. After baking and cooled, I cut the cornbread into squares. If you want your cornbread to be extra toasty, I suggest cutting it into squares and placing it in an oven to toast it.
Is this chorizo cornbread stuffing spicy?
I would consider it a mild stuffing with some spice. The spice mainly comes from the chipotle peppers in adobo sauce and the chorizo. If you use hot spiced chorizo, the stuffing will be spicier. If you add more chipotles, it will make it hotter. The red pepper gives a punch of flavor but has no spice.
I hope you love this Southwest Cornbread Stuffing Recipe! If you are looking for more side dish recipes, click HERE.
If you are looking for Thanksgiving Recipes, click HERE.