This Southwest Creamed Corn is made with white corn, sauteed with jalapenos and onions, and cooked with heavy cream and pepper jack cheese. The perfect creamed corn recipe with so much flavor!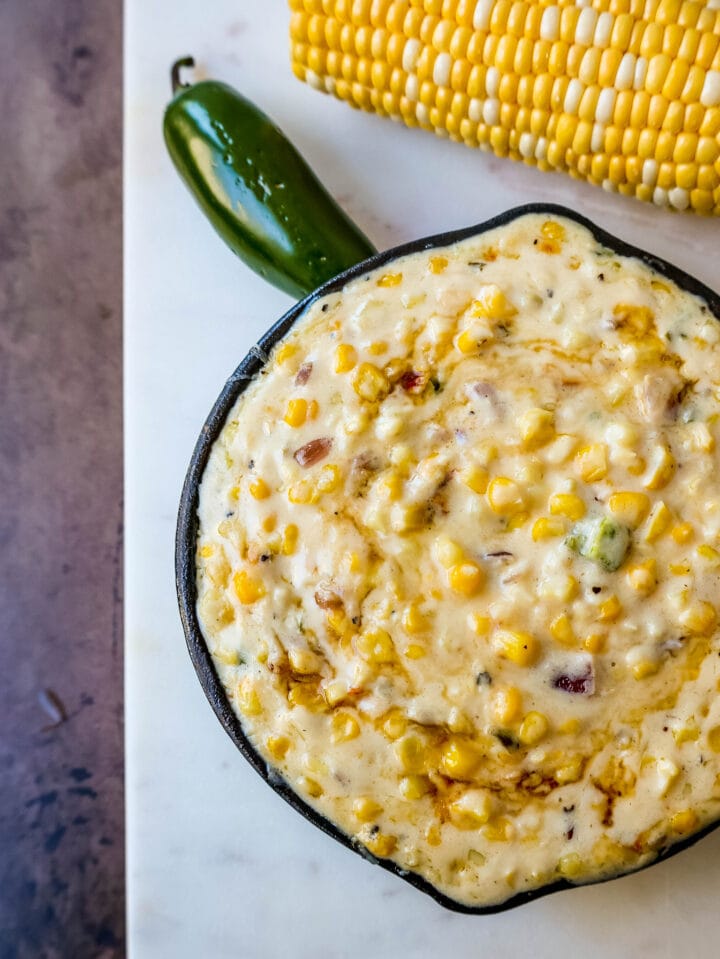 There isn't a Thanksgiving without creamed corn on the table. We have been using the same Gulliver's Creamed Corn recipe for ages and love it.
This year I decided to change things up a little. I wanted a little spice and flair to the creamed corn! I added some sauteed jalapenos and onions, some creamy and spicy pepper jack cheese, and drizzled it with some hot honey. The flavor was insane and we devoured the entire batch within minutes.
This Spicy Creamed Corn with Pepper Jack Cheese calls for pepper jack cheese instead of parmesan and we add in some jalapenos and onions because they are flavor powerhouses.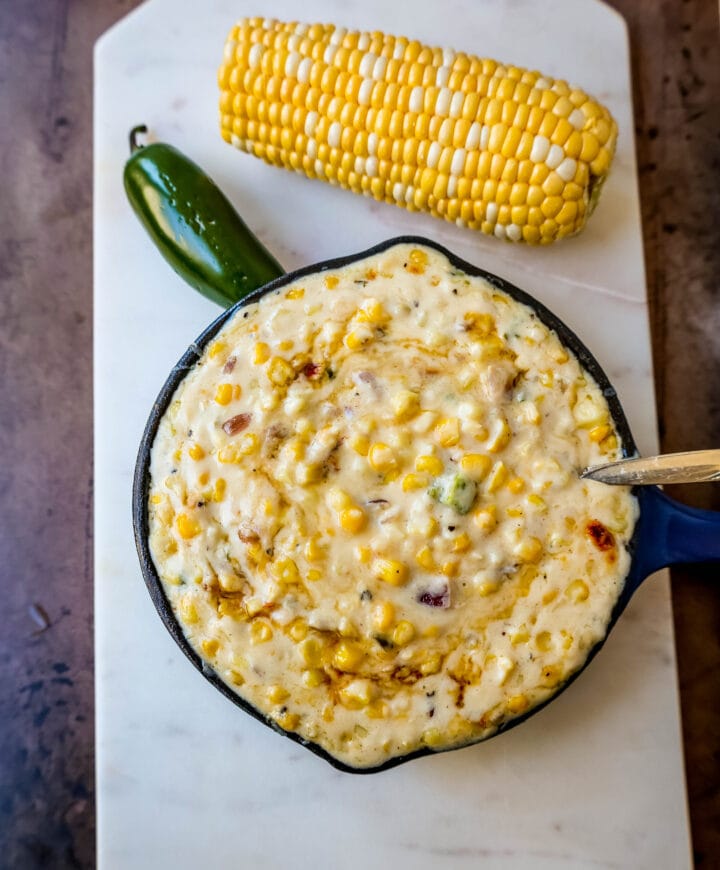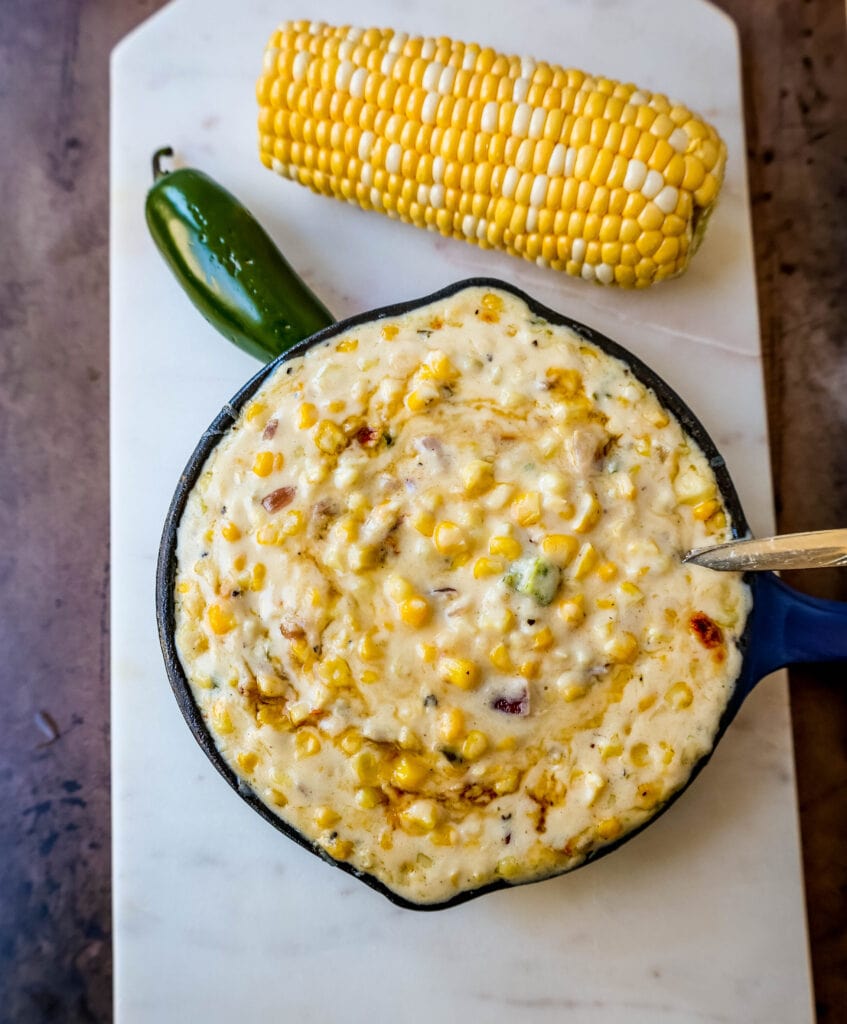 Spicy Creamed Corn Ingredients:
Fresh or Frozen Corn
Butter
Jalapeno
Red Onion
Heavy Cream
Flour (to thicken)
Pepper Jack Cheese
Sugar (optional)
Hot Honey (optional to drizzle on top)
What type of corn should I use in Creamed Corn?
I would suggest using frozen corn or fresh corn from the cob. Frozen corn is frozen as soon as it is at peak freshness so I love using it. I buy the frozen white corn from Costco.
I would suggest cooking the frozen corn before you add it to the cream mixture so you can drain off any extra liquid.
You can also use fresh corn on the cob.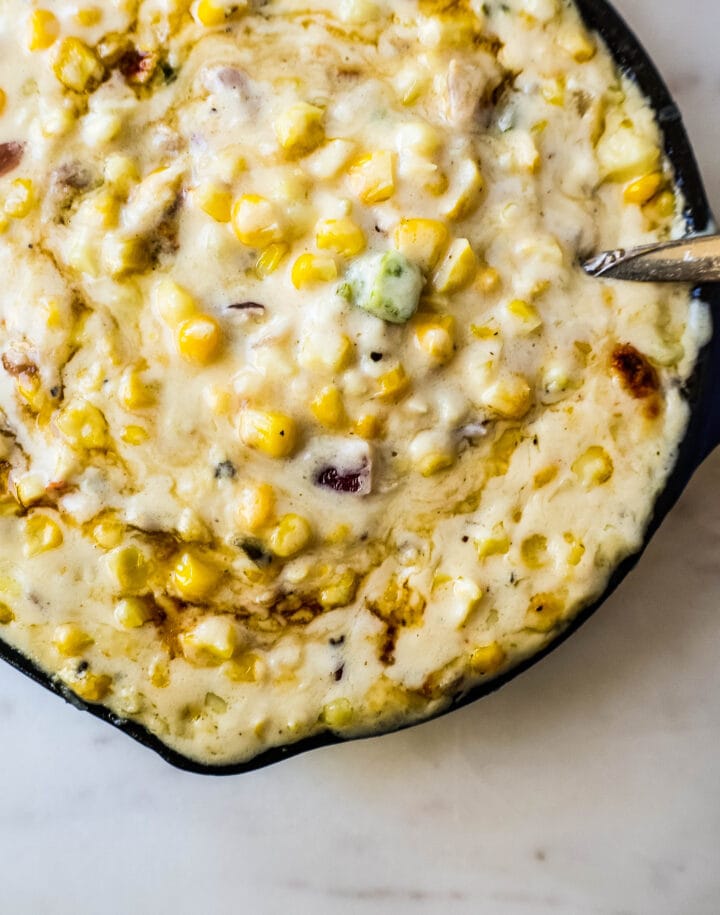 How to make Southwest Creamed Corn:
Cook corn according to package instructions or cook fresh corn in boiling water until cooked.
In a large skillet, melt butter and add red onion and jalapeno and cook until softened. If you want the creamed corn to be spicier, add an extra jalapeno.
Add flour to thicken and whisk into the mixture and add cooked corn. Then stir in heavy cream. Let it thicken. Sprinkle with salt and sugar.
Once it begins to thicken, add pepper jack cheese a little at a time, stirring after each addition. By adding the cheese a little at a time, it helps to keep the creamed corn extra creamy and allow the cheese to not clump up.
Taste for seasonings and drizzle with hot honey, if so desired, when ready to serve.
If you are looking for more side dish recipes, click HERE.
If you are looking for Thanksgiving Recipes, click HERE.