This Smoked Turkey Breast is juicy and flavorful with the perfect amount of crust. This cooks low and slow for the best smoked turkey!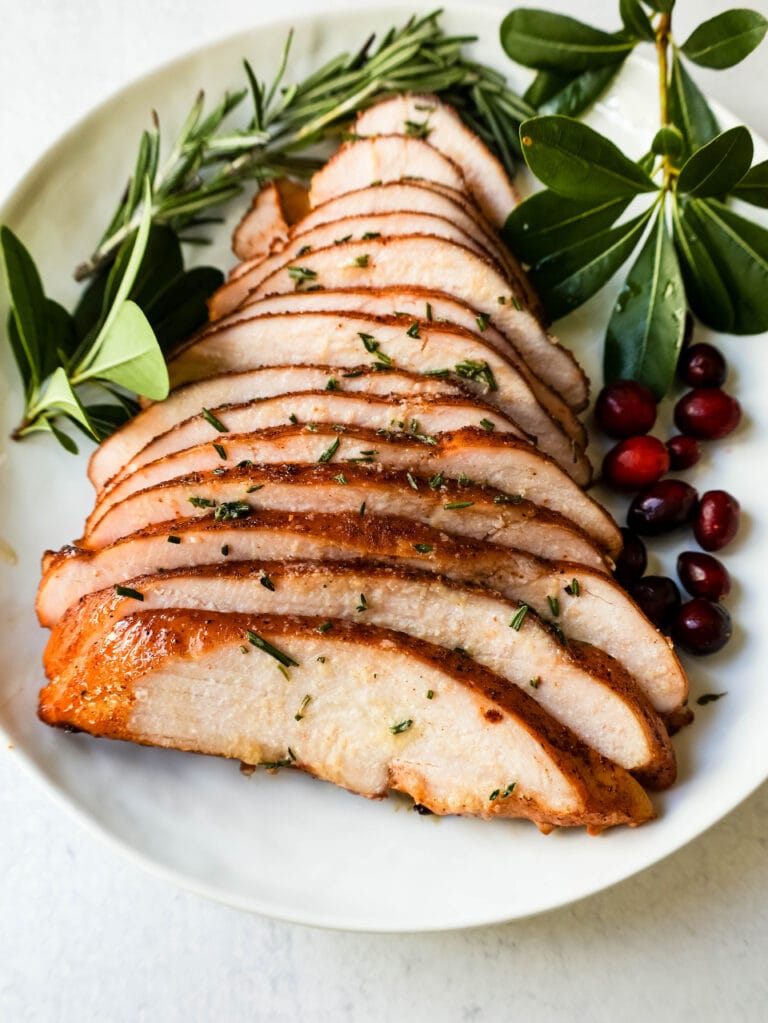 Since we are nearing the biggest food holiday of the year, I want to share with you our new favorite way to eat turkey. Say goodbye to dry, bland turkey! This lean turkey breast is cooked on a smoker and the results are jaw-dropping. I didn't know turkey could be so tender!
Several years ago we bought a Traeger smoker, and we have realized that cooking a turkey breast on it is the way to go. We rub the turkey breast with a flavorful rub full of spices which lock in the flavor while it is cooking. Then before serving, you drizzle it with garlic herb butter and it is straight-up perfection.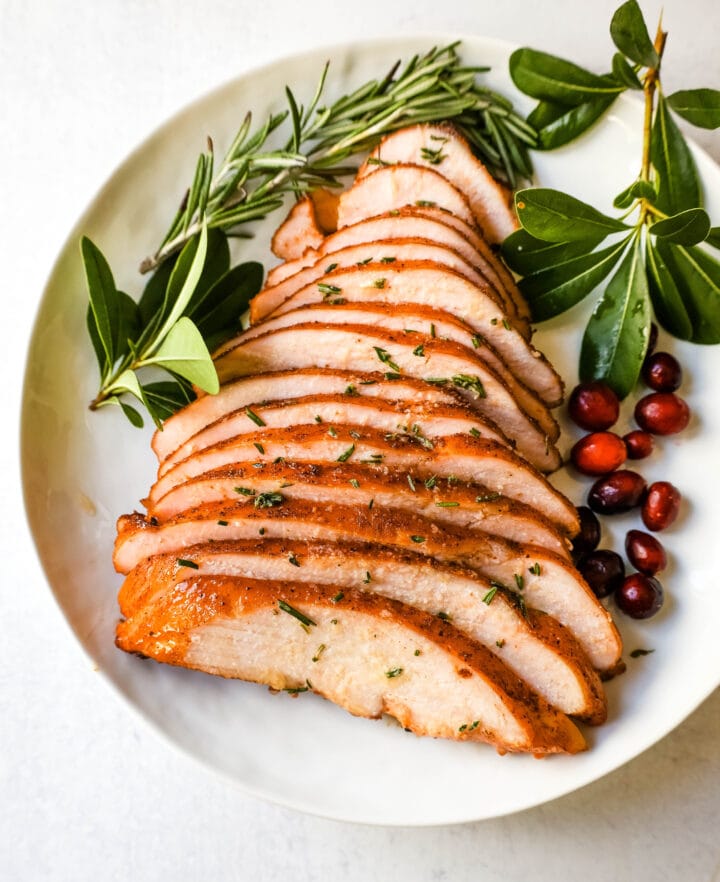 Why do we love this Smoked Turkey Breast Recipe?
This recipe calls for an outdoor smoker so it frees up the oven.
You don't have to cook an entire turkey and go through the effort of defrosting it for days, putting it in a brining solution, stuffing it, and cooking it (and hoping it isn't dry!). This smoked turkey breast recipe is so easy!
This turkey breast is much smaller so it cooks faster (even on a smoker) and is great for smaller gatherings. For us, we will smoke several turkey breasts since we are serving a lot of people
The flavor is out-of-this-world! The turkey rub with all of the spices makes a huge difference in the flavor. Plus it is tender and juicy!
What type of turkey breast should I use?
We tested out several types of turkey breasts to discover the differences in how they cook and how they taste. We opted for the boneless turkey breast for ease because we just wanted to slice and serve.
First, we tested the Jennie-O Oven Ready Homestyle Boneless Turkey Breast. This comes in a bag. What I liked about this one is that it stayed together, was very uniform, and had great flavor. We couldn't find it in every store so check to see if your local grocery store carries it.
Second, we tested out a more traditional boneless turkey breast -- Butterball Boneless Turkey Breast Roast. This one came with a little skin on it and was not as uniform as the first one we tested. But the flavor turned out to be phenomenal.
We also recipe tested this smoked turkey breast with and without a brine. What is a brine? Brining is similar to marinating and involves soaking the turkey in a solution to tenderize it. We found that brining did make the turkey breast more tender and infuse flavor but it still tasted amazing with the smoked turkey breast rub only.
Smoked Turkey Breast Ingredients:
Turkey Breast (preferably boneless)
Salt
Paprika
Onion Powder
Garlic Powder
Black Pepper
Sugar
Rosemary, Thyme, Sage (optional)
Garlic Herb Butter Ingredients:
Butter
Rosemary and Thyme
Garlic Powder or Minced Garlic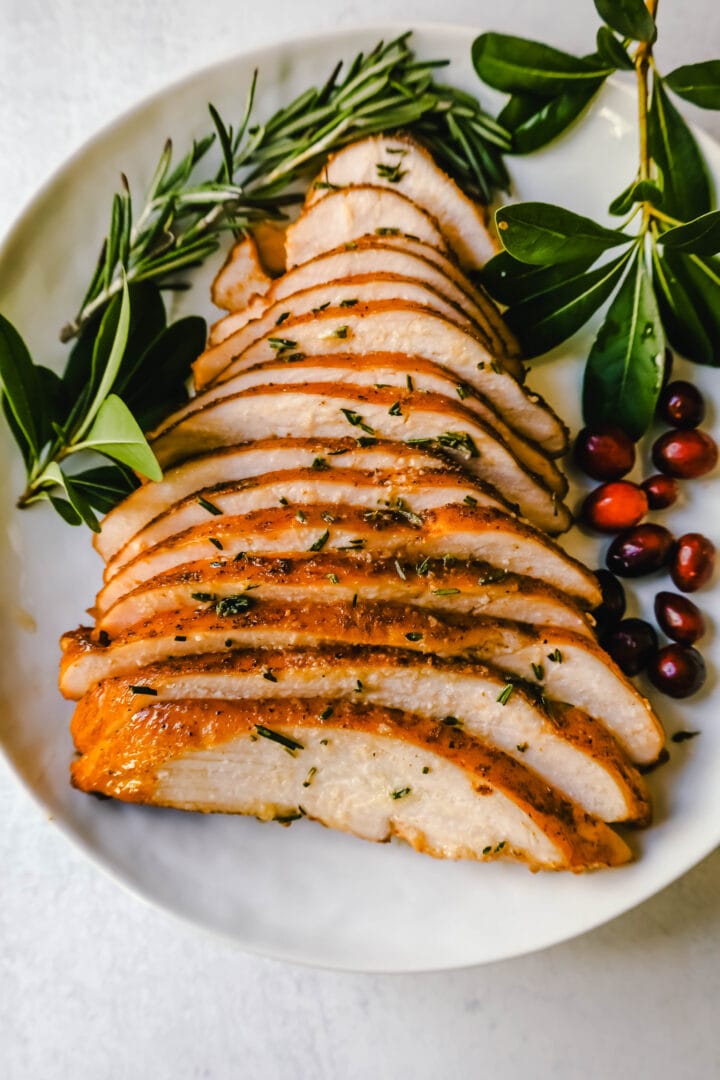 What temperature is a smoked turkey breast done?
I suggest using a meat thermometer for the perfect turkey breast. The internal temperature needs to reach 165 degrees F. This is when the turkey is safe for eating (make sure to check several areas of the turkey breast).