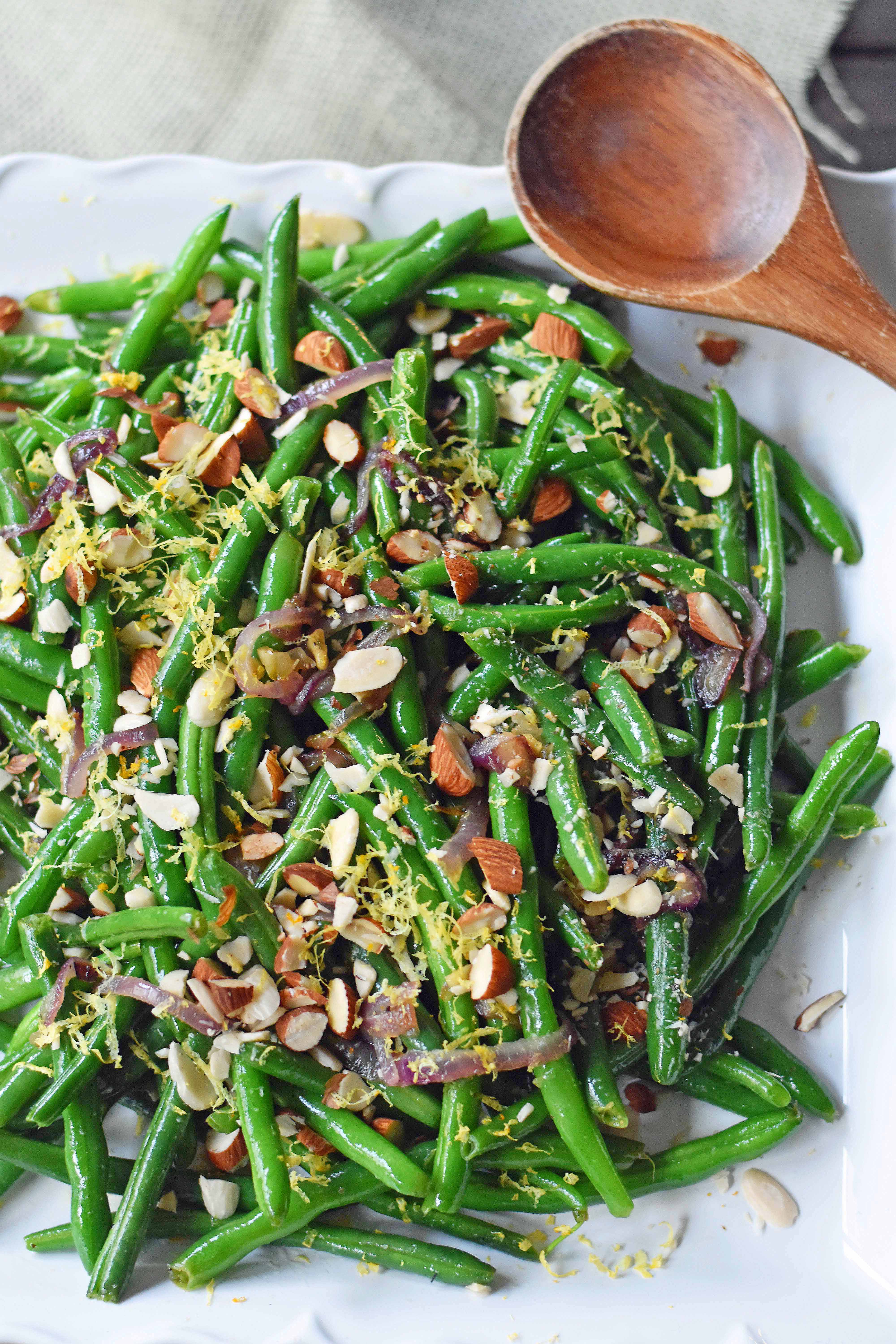 Green Beans Almondine with Caramelized Onions, Fresh Lemon Zest, and Crunchy Almonds. Light and fresh green beans!
If you could sneak a peek at our big holiday table, it is full of creamy and melt-in-your-mouth side dishes from creamed corn to brown sugar sweet potato pecan bake to buttery mashed potatoes. Sometimes a girl just needs something light and fresh to go along with all of that goodness! These Green Beans with Almonds, Lemon Zest, and Caramelized Onions are just the ticket.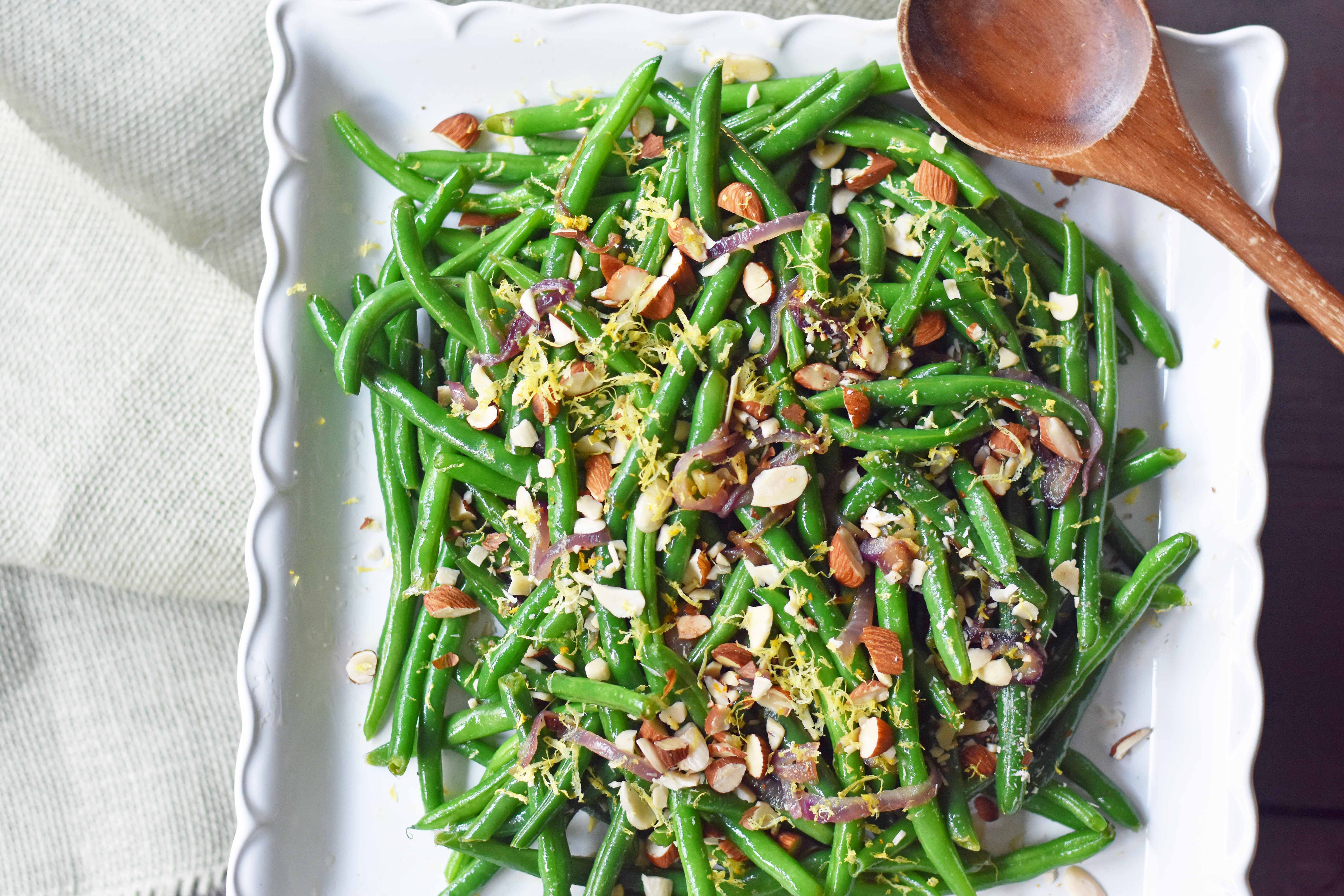 There may be many of you out there who go crazy over the green bean casserole with the cream of mushroom soup and fried onions. However, for those of you out there who are looking for a lighter, healthier green bean side dish, this is your answer.  My kids even love these green beans and gobble them up.  It is the layers of flavor, I tell you!
These Green Beans with Almonds and Caramelized Onions are made with green beans tossed with slow-cooked caramelized onions, fresh lemon zest, a touch of garlic, and crunchy almonds. A lovely side dish for any type of meal.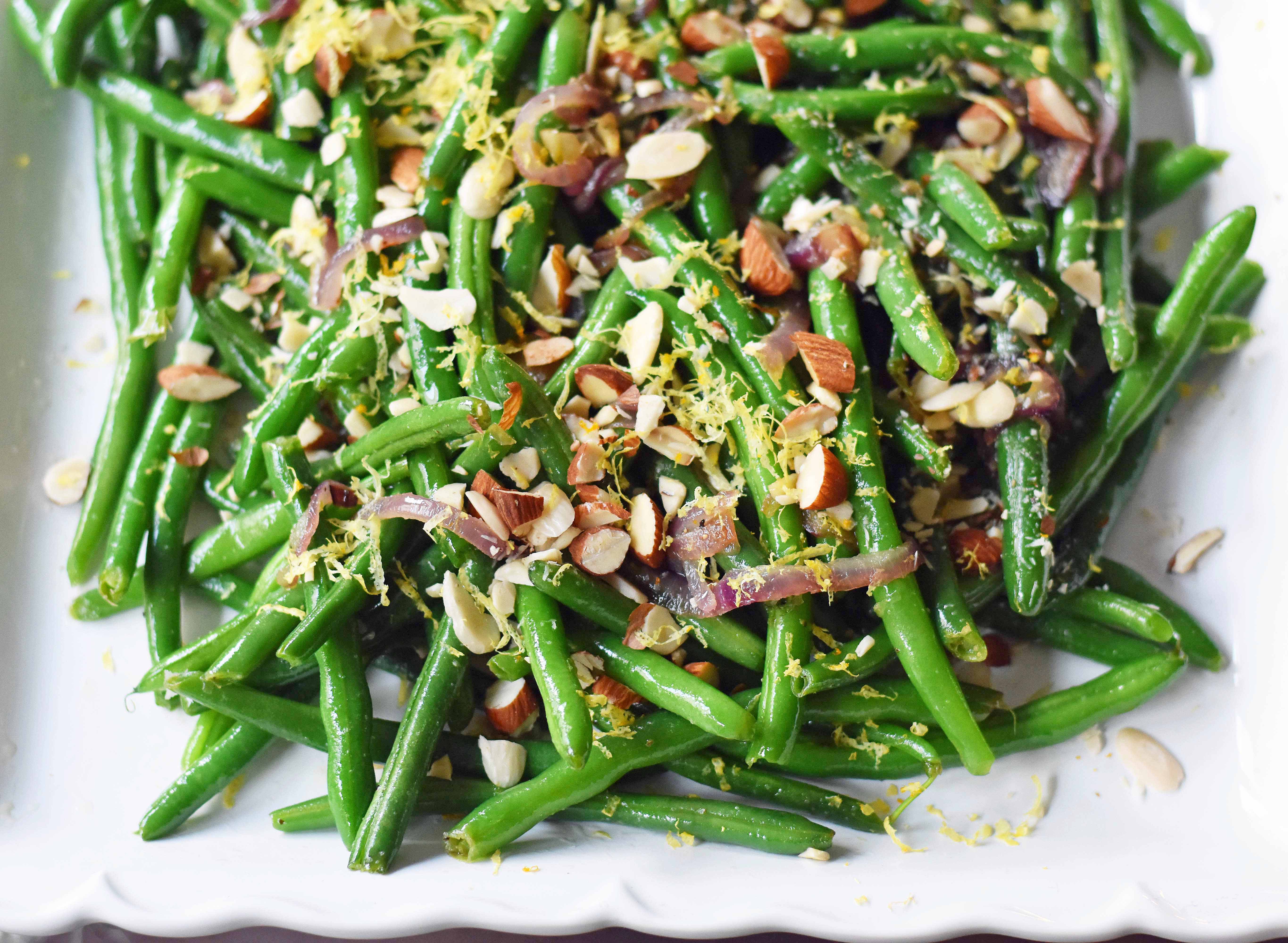 How do you make Green Beans Almondine with Lemon Zest, Almonds, and Caramelized Onions?
 Start off with fresh green beans. First, snap off the ends.  Next, you want to cook them for several minutes in boiling water. You still want the green beans to have some firmness but still be slightly soft. I like to add a pinch of salt to the boiling water to add some flavor to the green beans.
Saute Red Onion with Butter and Olive Oil. Oh, caramelized onions, how I love you. Talk about a transformation. Caramelizing onions is like a makeover for an onion. Onions have a reputation for their strong and overpowering flavor. When onions are sauteed over medium-low heat in butter and oil, the natural sugars start to caramelize and the flavors become milder yet more mouthwatering. It is worth the time to caramelize the onions!
Add Lemon Zest. It is amazing the power of citrus/acid in dishes. It has such a balancing effect. It brightens and freshens up dishes and it definitely accomplishes that with these green beans.  If you don't have a zester already, it is a must-have kitchen tool.
Add Almonds. We are looking for all types of textures in these green beans and almonds add such a nice crunch and nuttiness.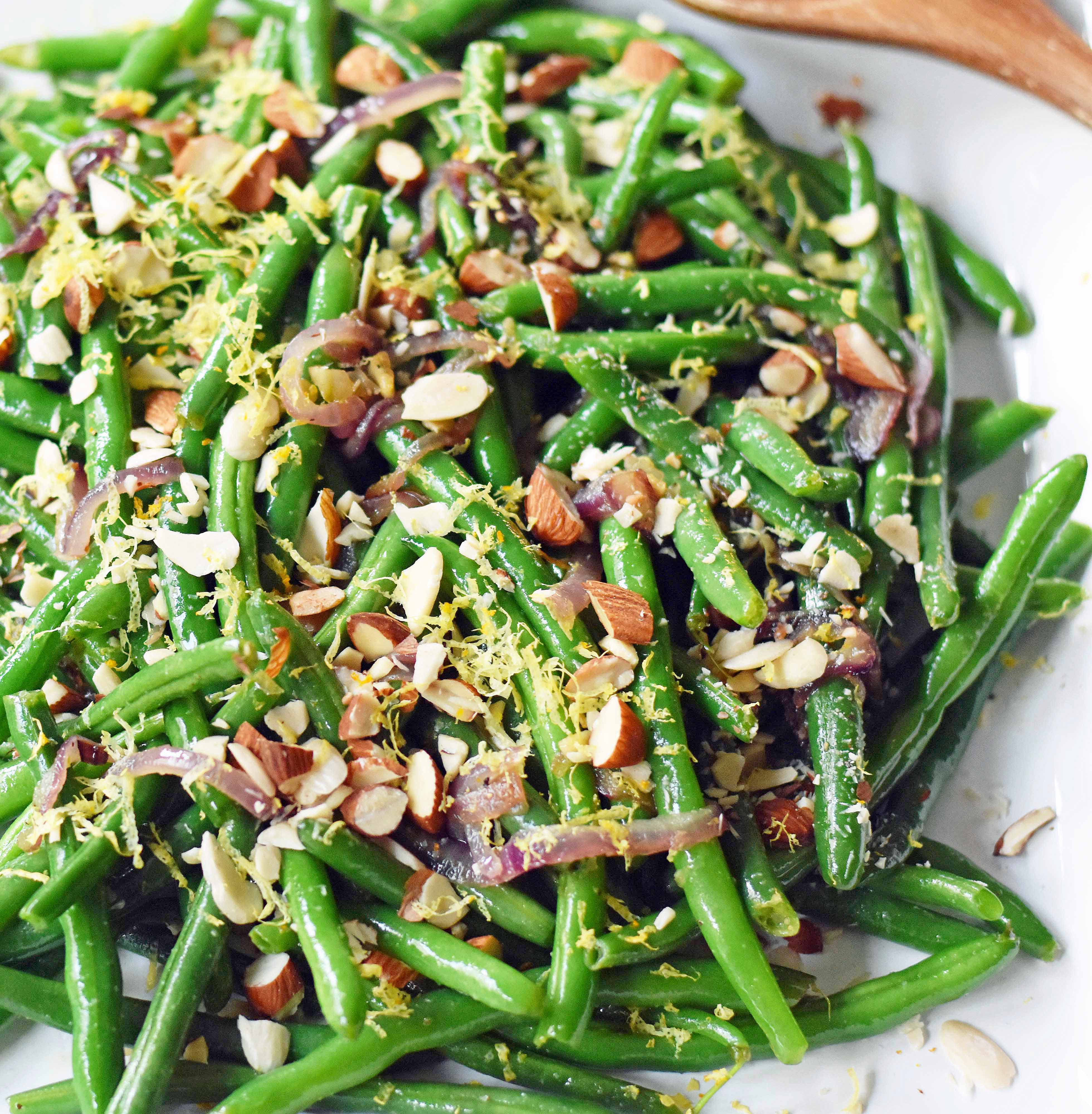 To find all of Modern Honey Thanksgiving Recipes, click HERE.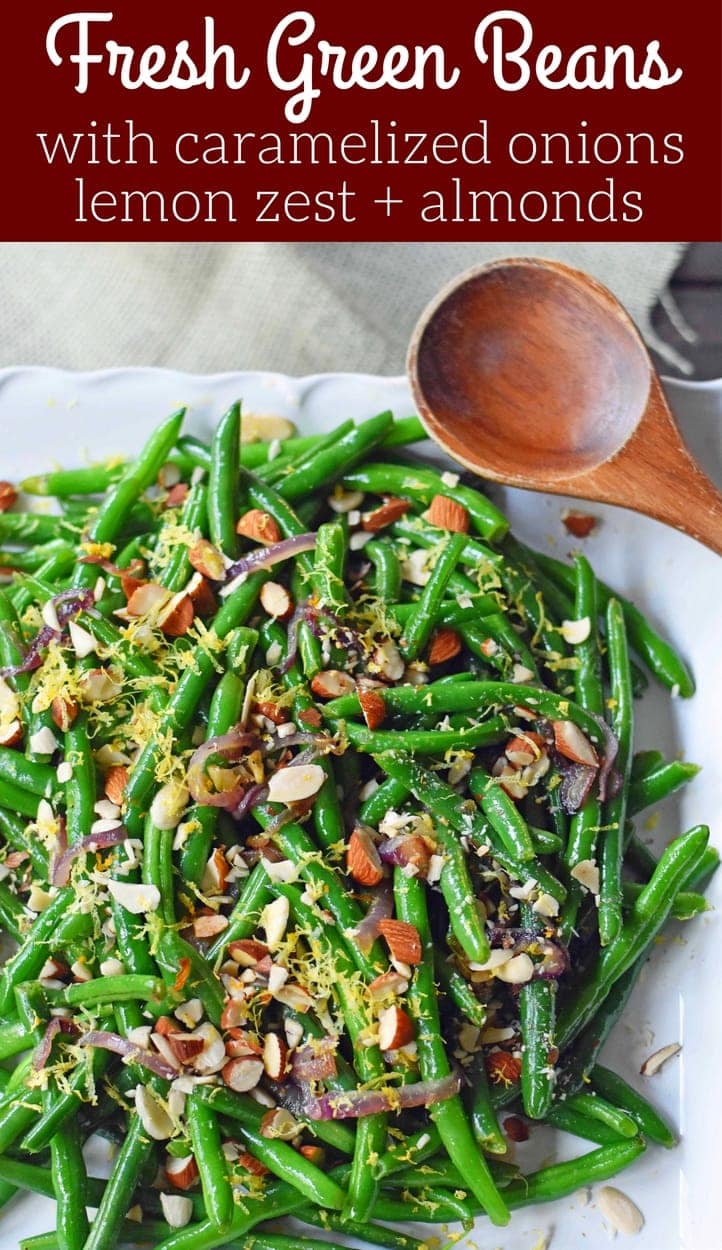 Happy Cooking! xo