The Best Macaroni and Cheese is so cheesy with three types of cheese! How to make homemade mac n cheese at home. Tips and tricks for making creamy macaroni and cheese.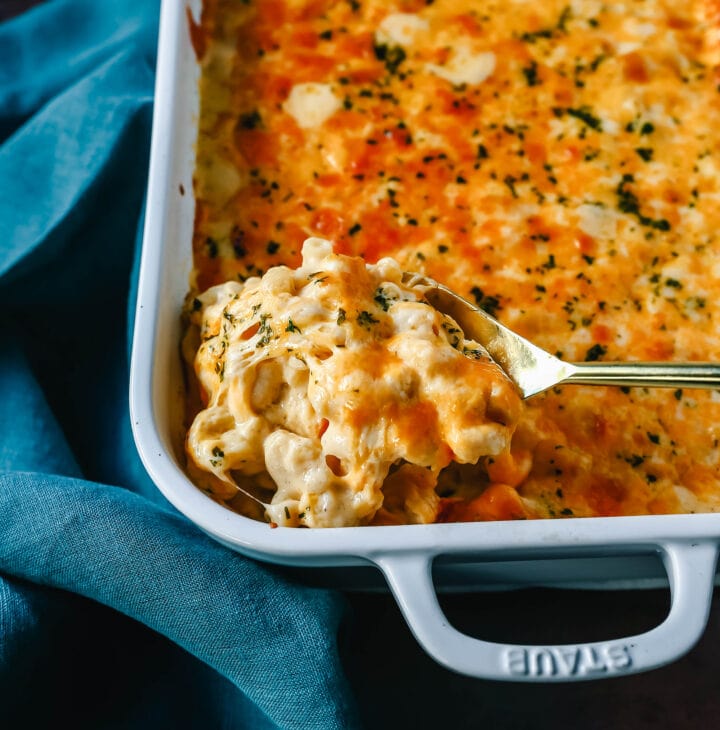 There are very few things in life that are more comforting than a big bowl of creamy mac n cheese.
Who doesn't love cheesy, gooey, creamy pasta, made with super simple ingredients? This is a creamy mac n cheese recipe topped with more cheese and placed in the oven until it is bubbly.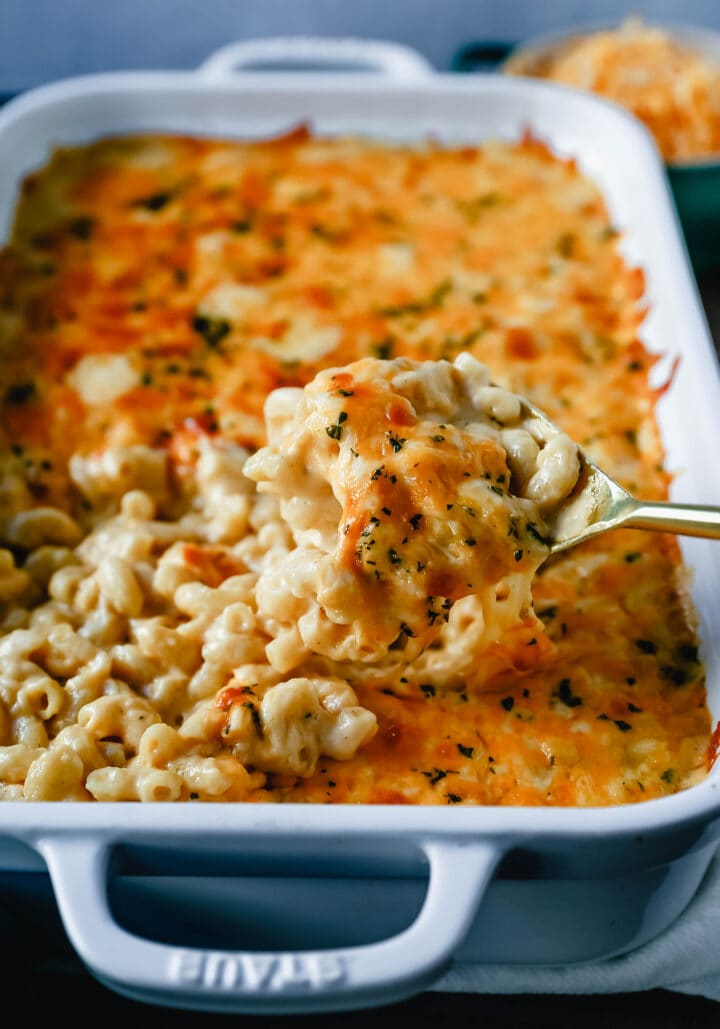 Macaroni and Cheese Ingredients:
Elbow Macaroni Pasta
Butter
Garlic
Flour
Half-n-Half
Sharp Cheddar Cheese
Medium Cheddar Cheese
Mozzarella Cheese
Cream Cheese (or American Cheese)
Spices
We love a rich, creamy macaroni and cheese with a velvet cheese sauce. To accomplish that, you will need to use specific types of cheeses.
I strongly suggest FRESHLY GRATING CHEESE from a block and not using pre-packaged shredded cheese. The bagged shredded cheese has a coating on it to keep it from sticking together and it makes it more difficult to melt.
This creamy macaroni and cheese recipe calls for cream cheese, which helps to create a creamy, smooth texture. You can swap it out for American cheese, as it helps to keep the sauce extra creamy. It melts so beautifully that it creates a silky smooth cheese sauce.
I like to buy my American cheese from the deli. Boar's Head makes the best American cheese.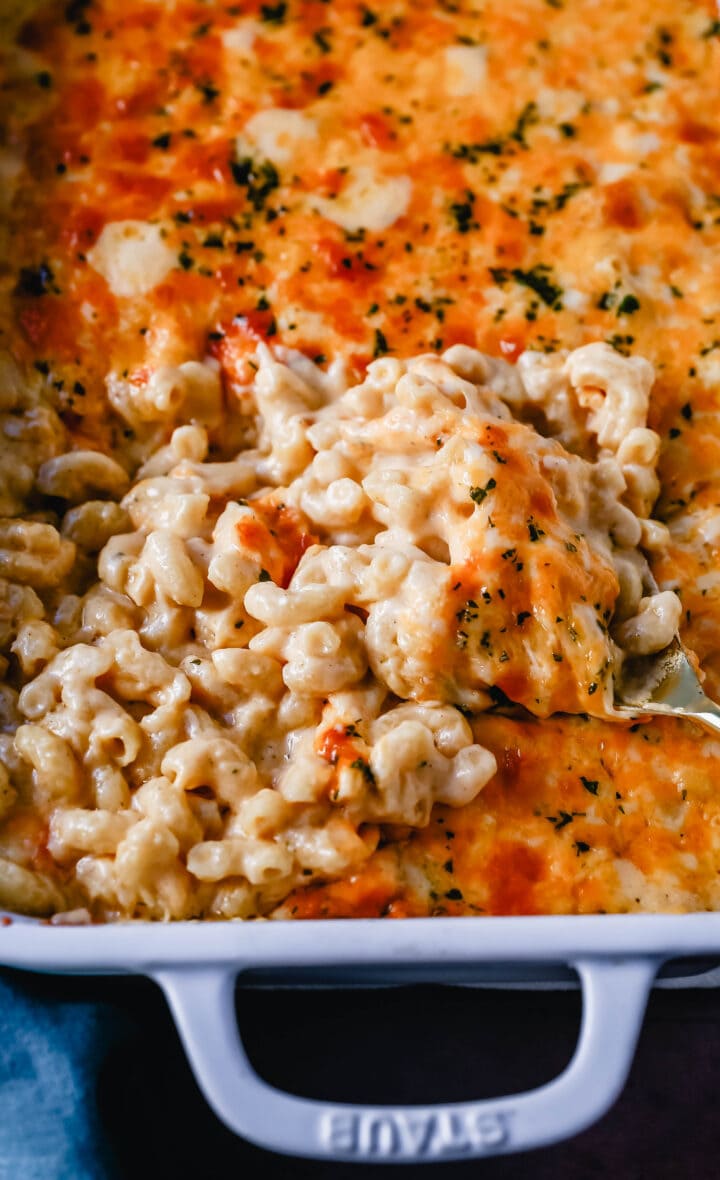 How to make the Best Mac n Cheese:
Start by making your homemade cheese sauce. This is done by first creating a roux or bechamel, which is a flour-thickened milk-based sauce. It starts off by melting butter and adding flour, garlic, and half-n-half. You can substitute half whole milk and half heavy cream for the half-n-half.
Slow add in the cheese! You want to freshly grate the cheese to make sure it properly melts. I like to add ½ cup at a time, and allow it to completely melt before adding in more cheese. You can use a mix of cheeses.
Let the sauce thicken and season it with spices, salt, and pepper. There are several choices for seasoning the mac n cheese. Some like to add hot sauce or Frank's red sauce. You can add paprika, ground mustard, or onion powder. Fold in the pasta.
Pour into a large baking dish and top with extra grated cheese and parsley. Place under a broil for several minutes to allow the cheese to become bubbly. If you want a baked macaroni and cheese, I suggest baking it at 350 degrees for 20 minutes.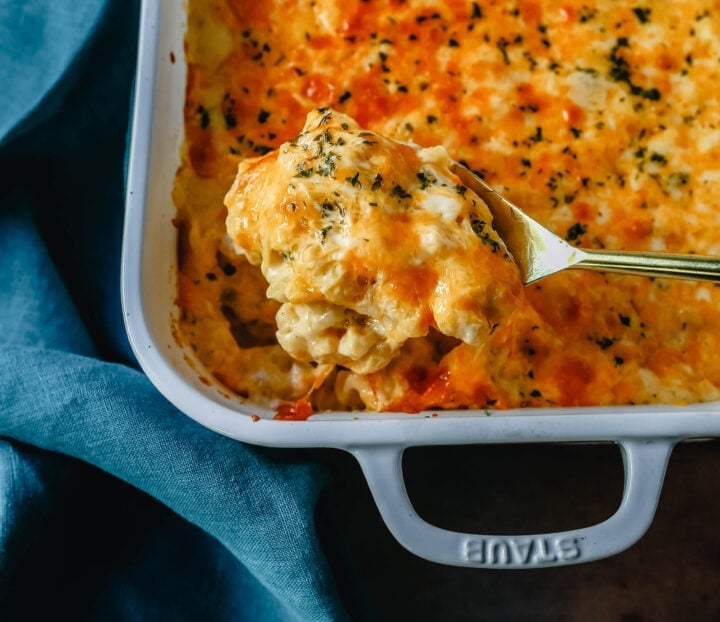 What type of cheese should I use in Macaroni and Cheese?
There are so many cheese choices out there and determining what types of cheeses to put in your mac and cheese recipe can be overwhelming. You want to look for cheeses that have a melting factor and also good flavor. Moist cheeses (think mozzarella) tend to melt a lot better than older, drier cheeses (think Parmesan).
American Cheese is known for its melting ability and that is because it is emulsifiers added to it to allow it to heat without breaking and becoming curdled.
I like to do a mix of different cheeses. I prefer a little sharp cheddar cheese because of its flavor profile but it doesn't melt very well so I only use a small amount. I like to add in medium cheddar cheese because it melts better than sharp cheddar cheese and still has flavor. I like to add in either cream cheese or American cheese to add some creaminess to the mac n cheese. I also prefer to add some mozzarella cheese because it is so creamy and melts so well.
Always freshly grate your cheese! Skip the bagged cheese for this mac n cheese recipe.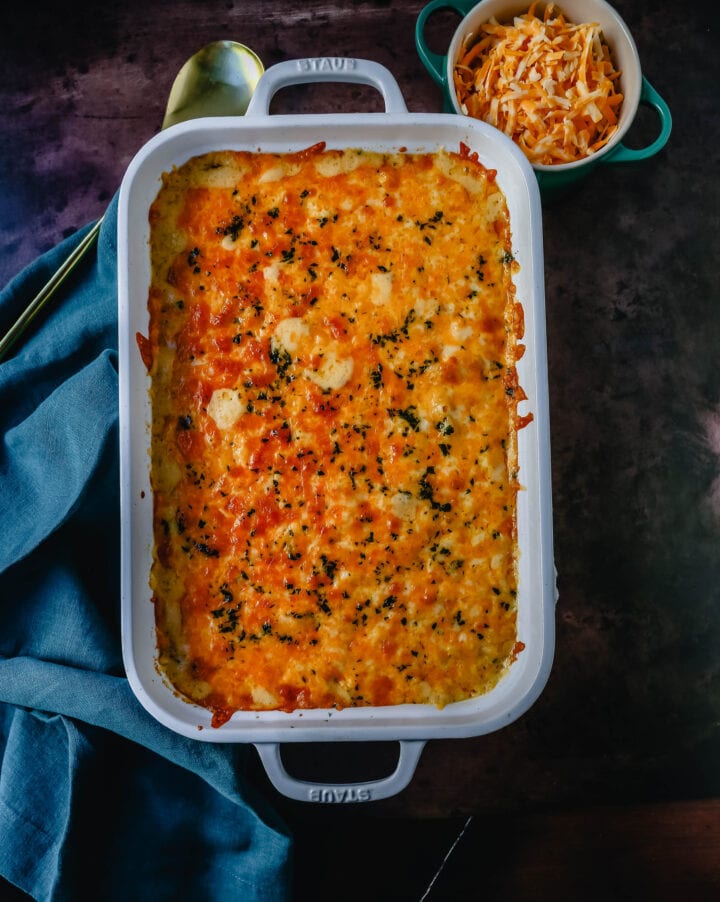 How to reheat mac n cheese:
Macaroni and cheese is known for seizing up and curdling when it is refrigerated or comes to room temperature. The pasta absorbs the water in the sauce and it changes the texture of the cheese sauce.
To reheat it, add a little bit of milk to the macaroni and cheese and heat it as normal.
If you love Panera mac n cheese, check out my PANERA MACARONI AND CHEESE RECIPE