Best Cannoli Pie Recipe
The popular Italian dessert -- the famous Cannoli -- but made into a pie. A creamy sweet ricotta and cream cheese filling with mini chocolate chips, topped with chocolate ganache, and freshly whipped cream.
I just had to sneak in one more pie recipe for Thanksgiving 2021! This is inspired by our recent trip to Boston, Massachusetts this Fall. We spent the night in the North End of Boston which is lined with charming Italian restaurants and bakeries. The most famous bakeries in the area are Mike's Pastry and Modern Pastry and they always have a long line.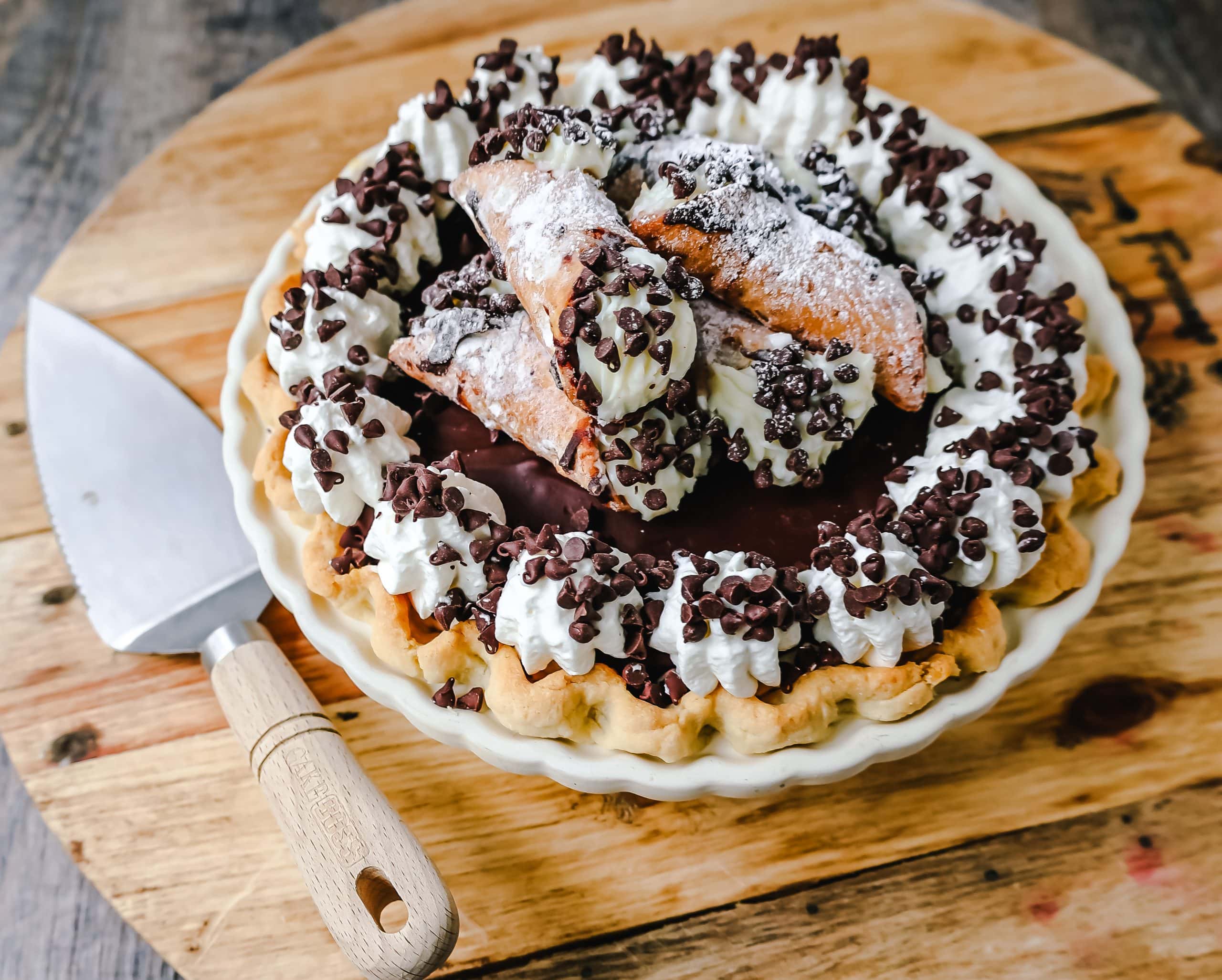 When we visited Mike's Pastry, we asked what was the most popular item ordered at the bakery. She said that was an easy question and they were definitely known for their cannolis. Of course, we had to order at least 4 varieties to try them all. After trying them, I thought the flavors would make an amazing pie and I got to work in the kitchen!
I have to declare that we like this Cannoli Pie even better than a traditional cannoli. It is a cannoli but even better!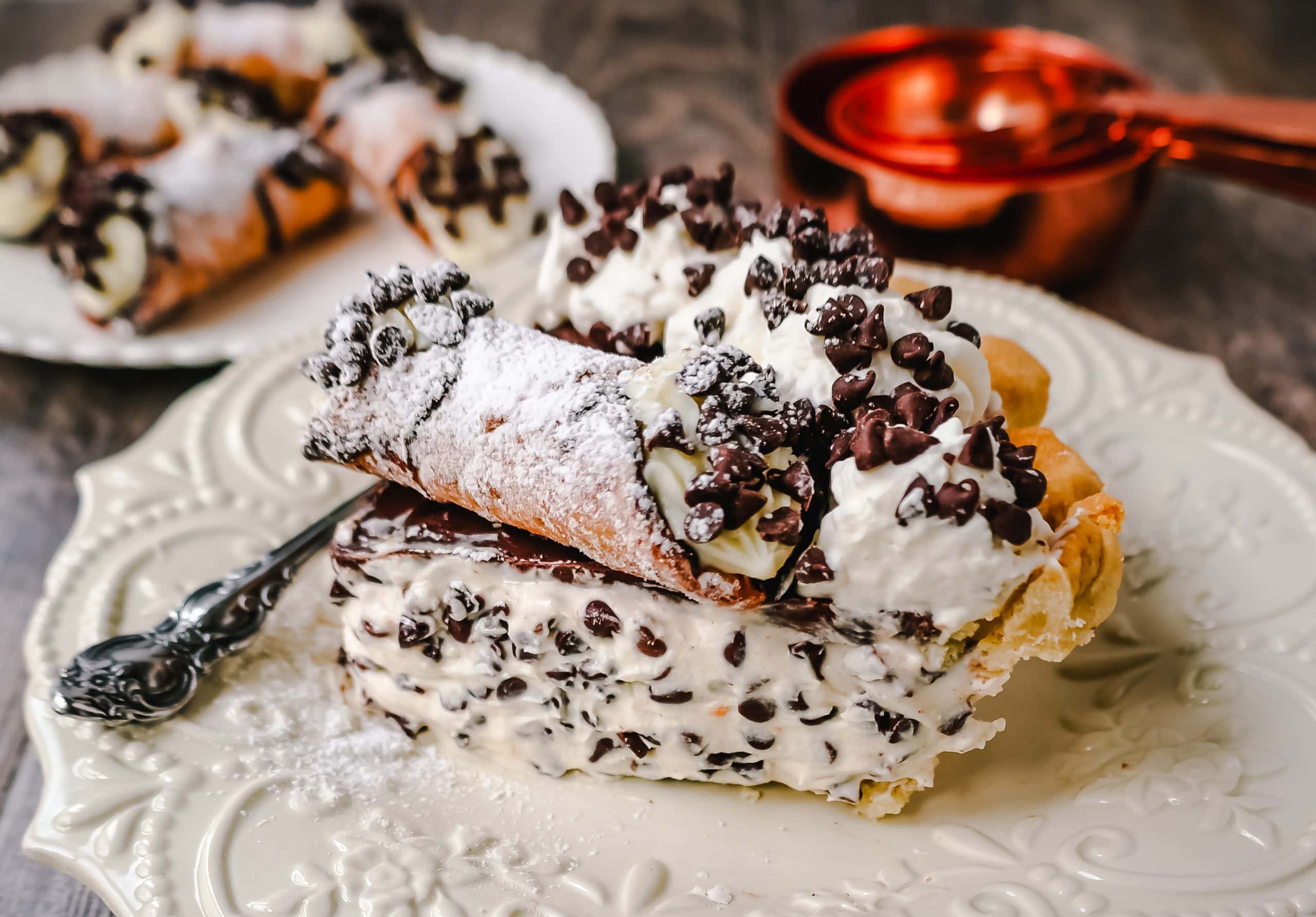 This Cannoli Pie is made with a cannoli filling with cream cheese, ricotta cheese, heavy cream, powdered sugar, orange zest, vanilla, and cinnamon. It is poured into a homemade baked buttery pie crust or even a graham cracker crust. Then the filling is topped with chocolate ganache and refrigerated until firm. The pie is topped with a handcrafted sweetened whipped cream and mini chocolate chips.
I love to garnish this Cannoli Pie with actual cannolis and you can find them in your local grocery store.
I added mini chocolate chips to the ends of the cannolis and you can even dip them in melted chocolate. Also, you can top this pie with chopped pistachios for some extra crunch.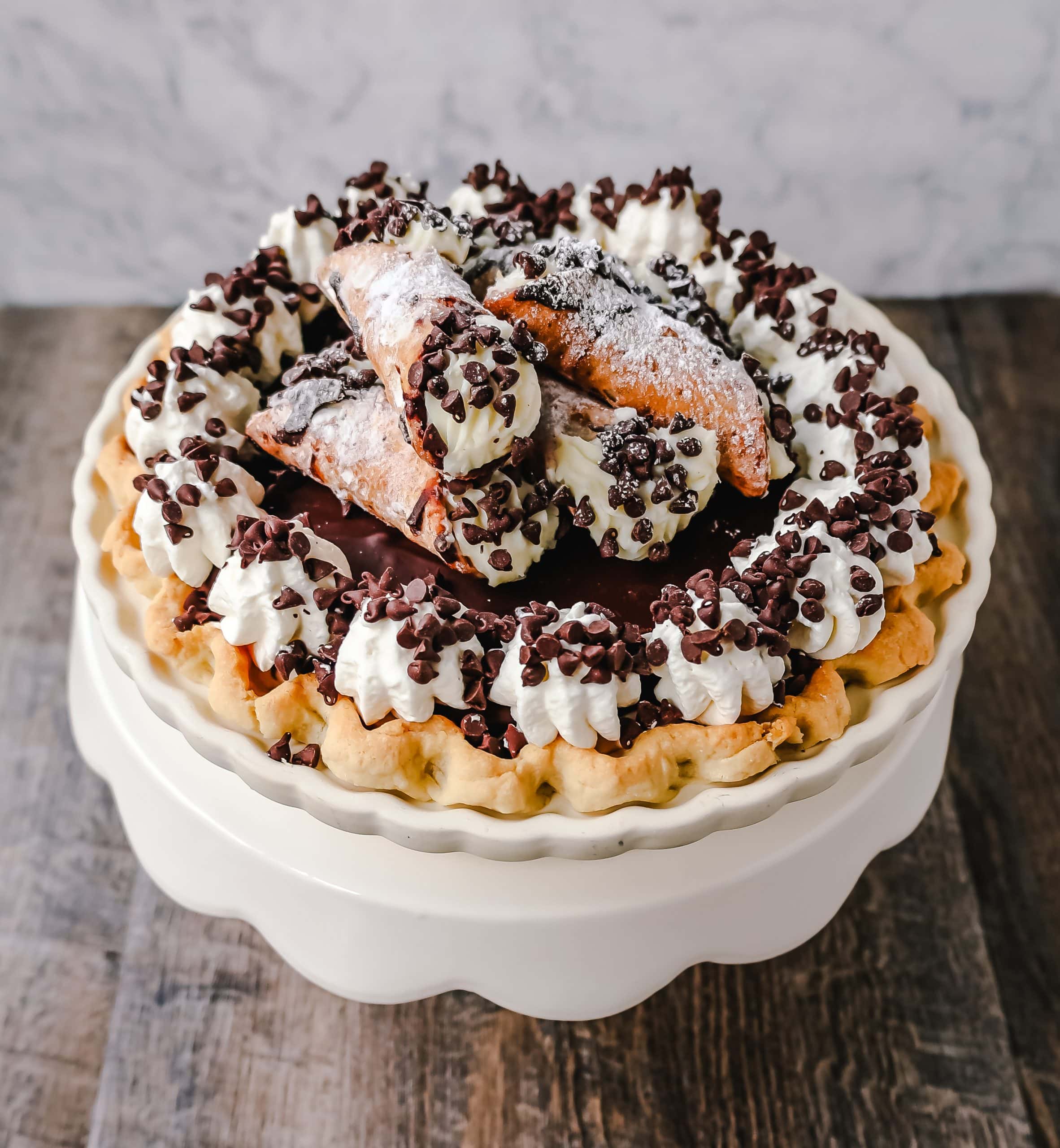 When making this pie, I suggest using full-fat ingredients. I suggest buying whole milk ricotta cheese, full-fat cream cheese, and heavy cream. You want the filling to be thick and creamy and want the highest quality ingredients.
I suggest using mini chocolate chips because you get a small amount of chocolate in every bite! You can find Nestle mini chocolate chips at your grocery store.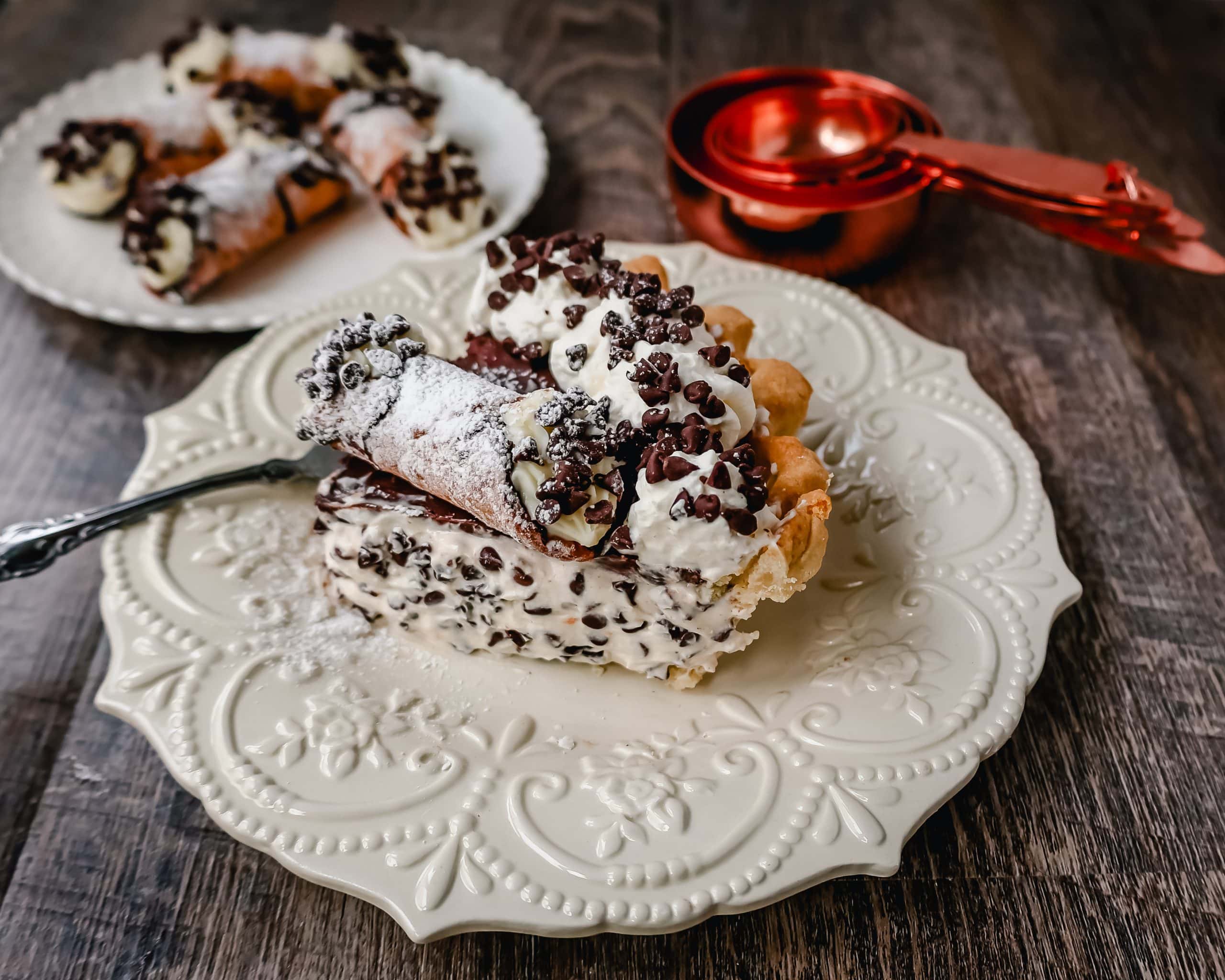 One of the best parts of this Chocolate Chip Cannoli Pie is the chocolate ganache topping. It is so easy to make chocolate ganache. It is a mix of heavy cream and chocolate and I just place it in the microwave and it is done in 1-2 minutes. So easy and makes such a big different in this Italian Cannoli Pie!
We couldn't stop eating this Cannoli Pie! I am so excited to take it to our huge Thanksgiving feast with the entire Driggs family. It is definitely the best cannoli pie recipe out there!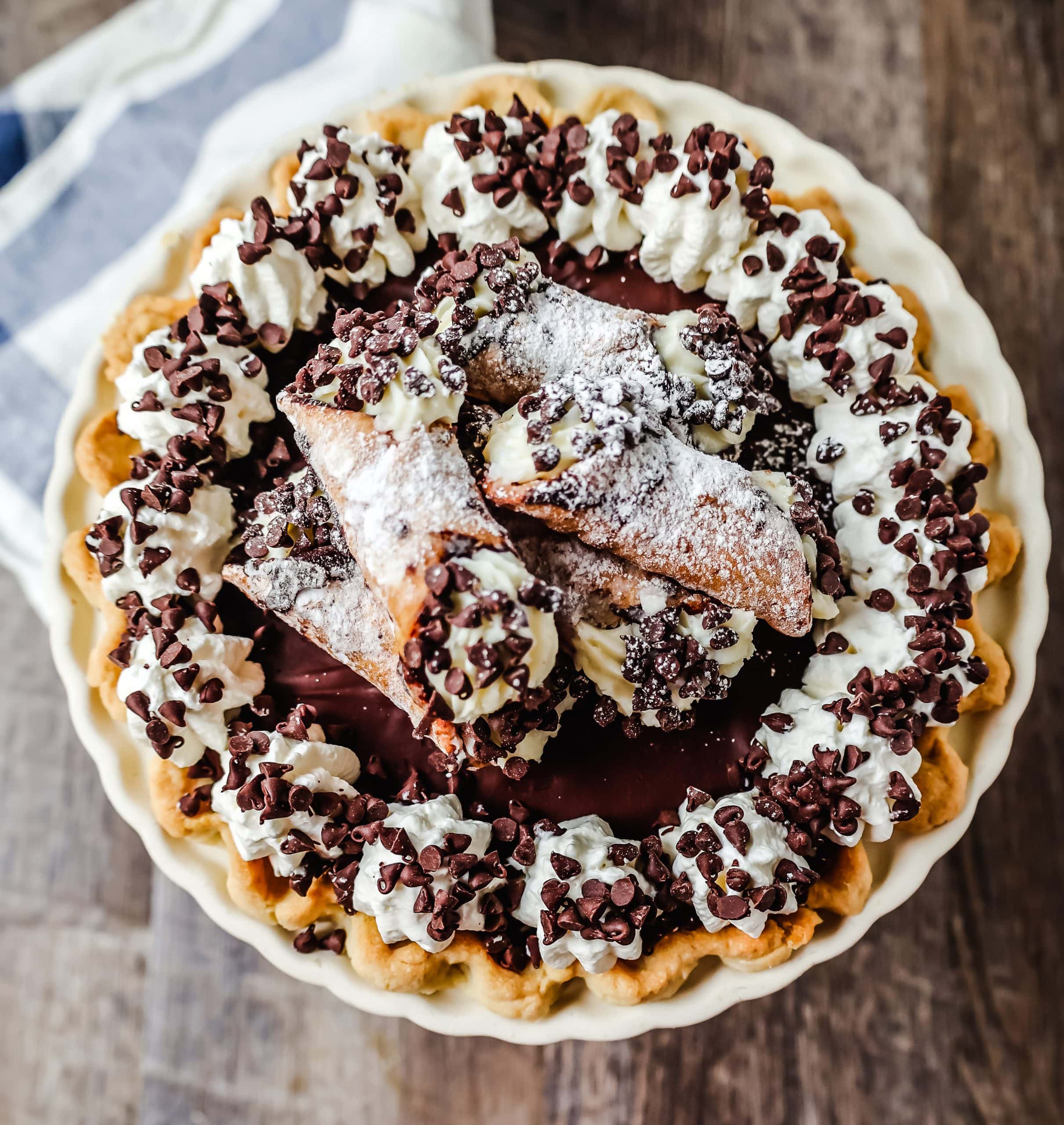 If you LOVE pie, check out these popular PIE RECIPES: