Raspberry Cream Cheese Pie
A simple no-bake raspberry cheesecake pie with a sweet cream cheese filling topped with fresh raspberries and chocolate drizzle
It's Thanksgiving month which means I will be sharing pies, pies, and more pies! My wonderful friend, Bri, made this No-Bake Raspberry Cheesecake Pie recently and it won first place in a dessert contest! I begged her for the recipe and couldn't believe how easy it was to make. This is the easiest pie I have ever made and everyone loves it!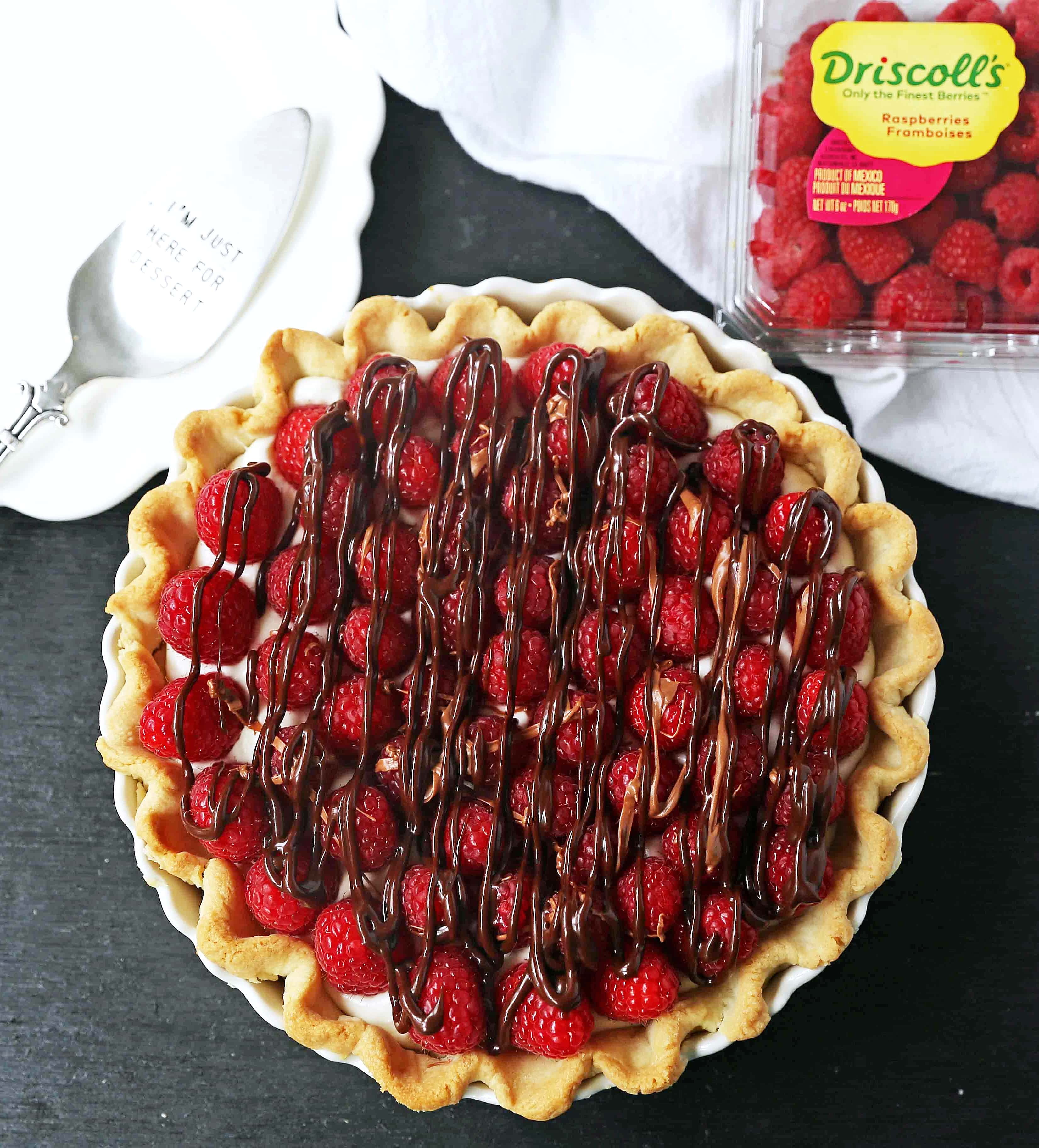 The Cream Cheese Filling is made with only 4 ingredients -- cream cheese, sugar, heavy cream, and almond extract. That's it! The cream cheese, sugar, and cream are whipped until silky smooth and creamy. The almond extract pairs perfectly with the fresh Driscoll's raspberries. Almonds and raspberries go beautifully together!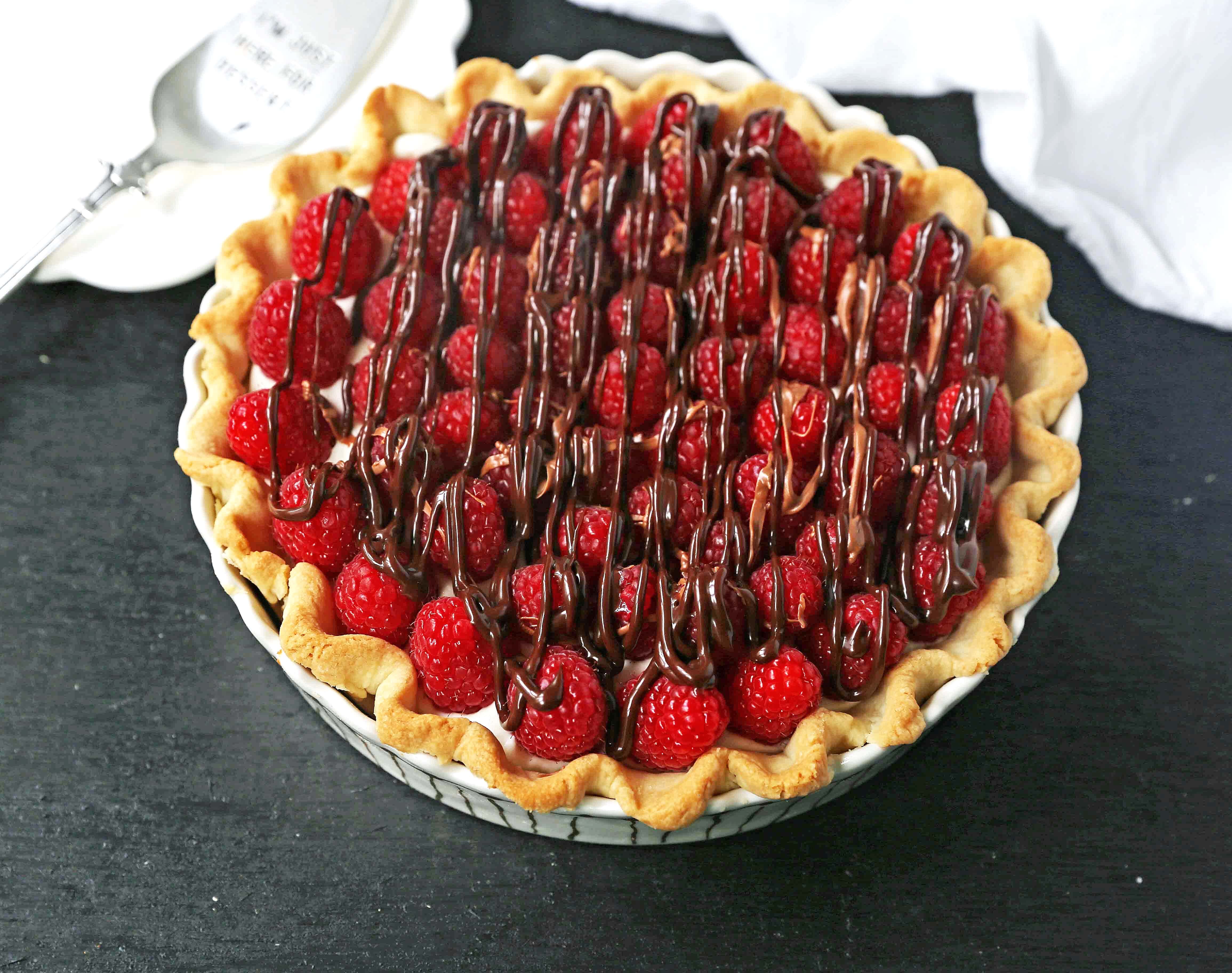 The filling is poured into a baked pie crust or graham cracker crust and spread out until smooth. Then it is topped with beautifully sweet and tart fresh raspberries. A decadent chocolate drizzle puts it over the top.
Tips and tricks for making a perfect No-Bake Raspberry Almond Cream Cheese Pie:
Start off with your favorite pie crust. You can make a buttery, flaky pie crust from scratch and bake it ahead of time. Here is my favorite recipe.  If you are making any cream pies, remember to place parchment paper or wax paper on top of the crust and fill it with pie weights or beans to keep the crust in place. I always place my homemade pie crust in the freezer for at least 20 minutes before baking. If you want a super simple crust, make a homemade graham cracker crust. Make sure the cooked pie crust is cooled before adding the filling.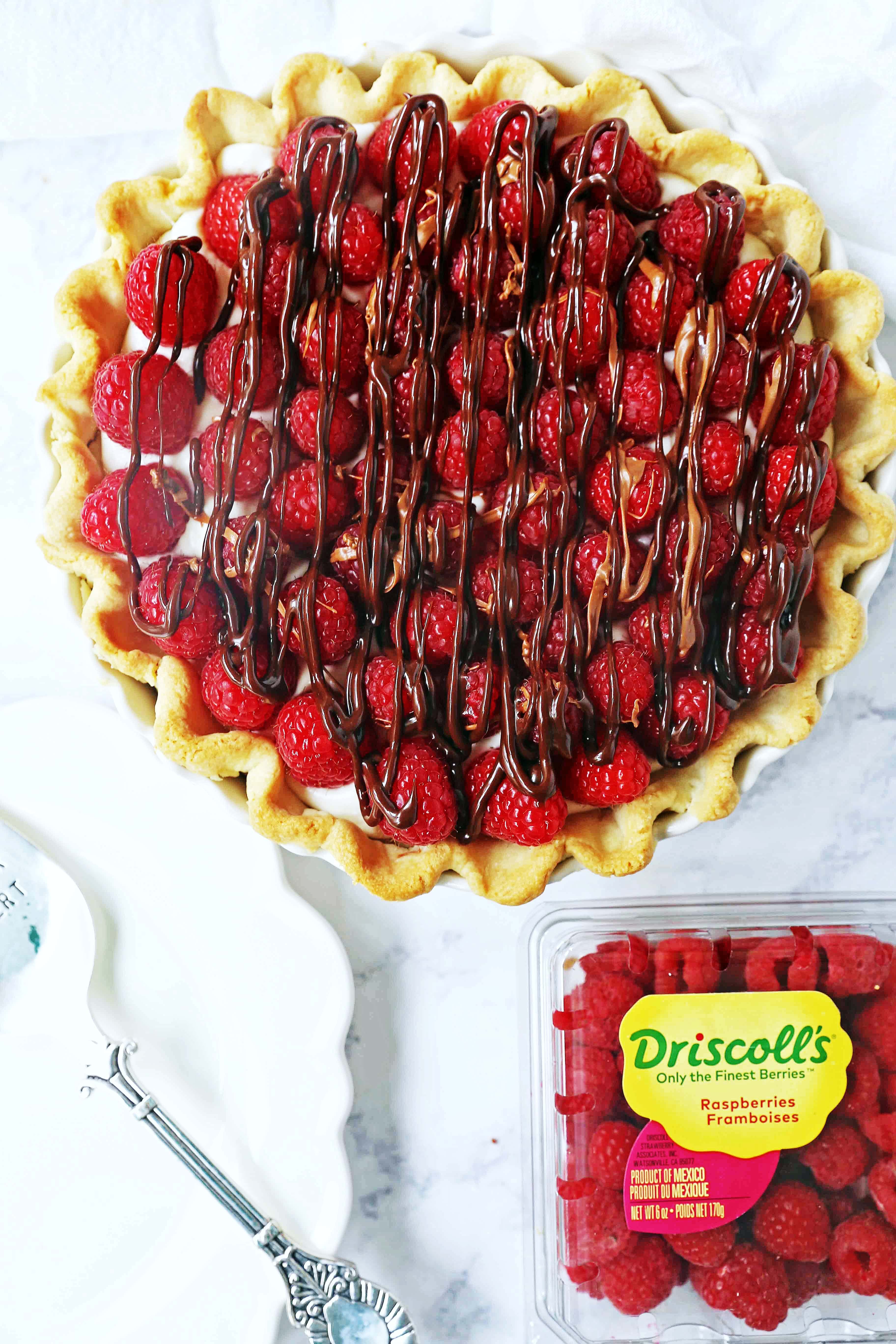 Whip the Cream Cheese and Heavy Cream until light and creamy and the sugar is dissolved. The filling needs to be velvety smooth so take the extra time to whip the ingredients together.
Refrigerate the filling under ready to fill the pie.  Once you are ready to fill the pie, spread the filling over the cooled crust. Top with fresh Driscoll's raspberries in a circular pattern starting in the center.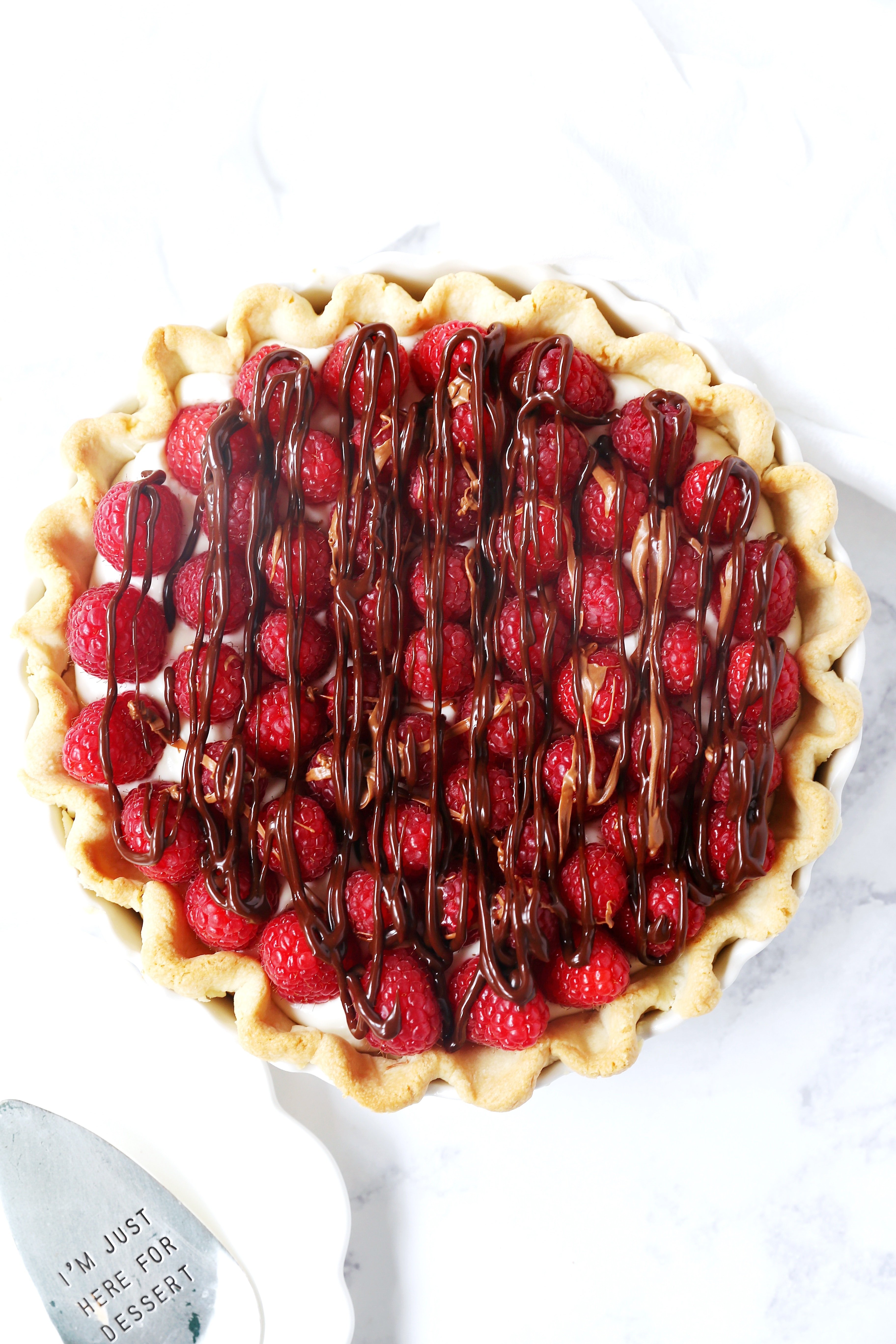 Melt the chocolate until it is silky smooth and melted enough to drizzle over the pie.  Choosing the type of chocolate is very important. Darker chocolate is easier to melt since it doesn't have as much cocoa butter in it. Milk chocolate is much more difficult to melt since it has a higher cocoa butter content. I suggest using a double boiler or placing a heat-proof bowl on top of simmering water.  If you need to use the microwave, I suggest using only 50% power and cooking it in 30-second increments, stirring often. I used a mix of dark chocolate and milk chocolate to make it easier to melt. I used Guittard milk chocolate chips.
The star ingredient in this No-Bake Cream Cheese Pie is without a doubt the fresh Driscoll's raspberries. I have a few cartons of these raspberries in my refrigerator at all times. They are picked at peak ripeness so you always end up with perfectly sweet raspberries.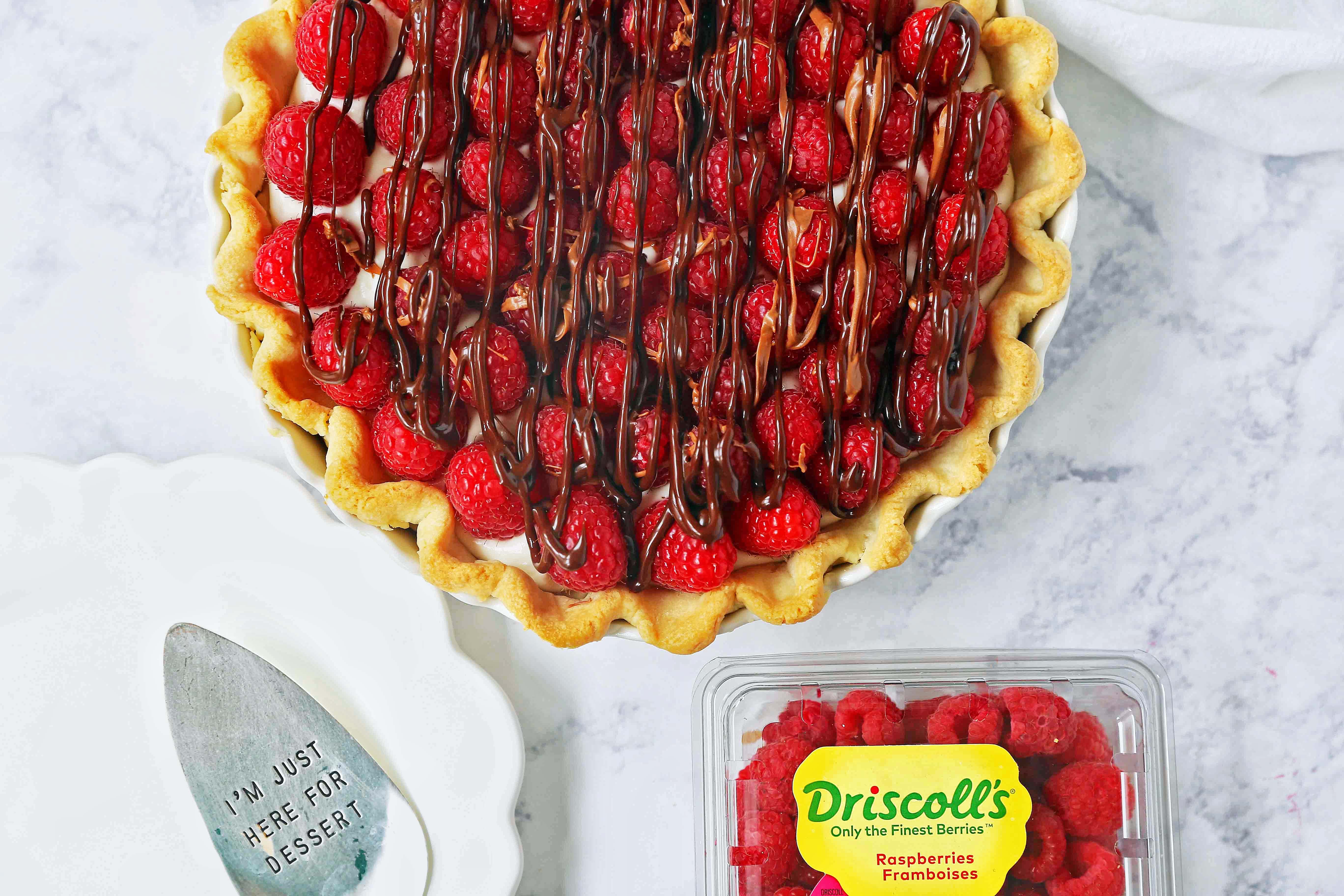 You are going to love this easy no-bake raspberry cheesecake pie recipe! It is a simple pie to whip up on a Sunday night for dessert or to bring to the Thanksgiving table.
I love to hear from you! If you make this recipe, please be sure to leave a comment and give this recipe a rating. Also, tag me on Instagram @modern_honey so I can see your creations. Be sure to tag your photo using the hashtag #modernhoney. It's one of my favorite things seeing you make these recipes in your own kitchen. Thank you for following along! I truly do have the greatest readers. FOLLOW ME ON:   INSTAGRAM --- FACEBOOK --- PINTEREST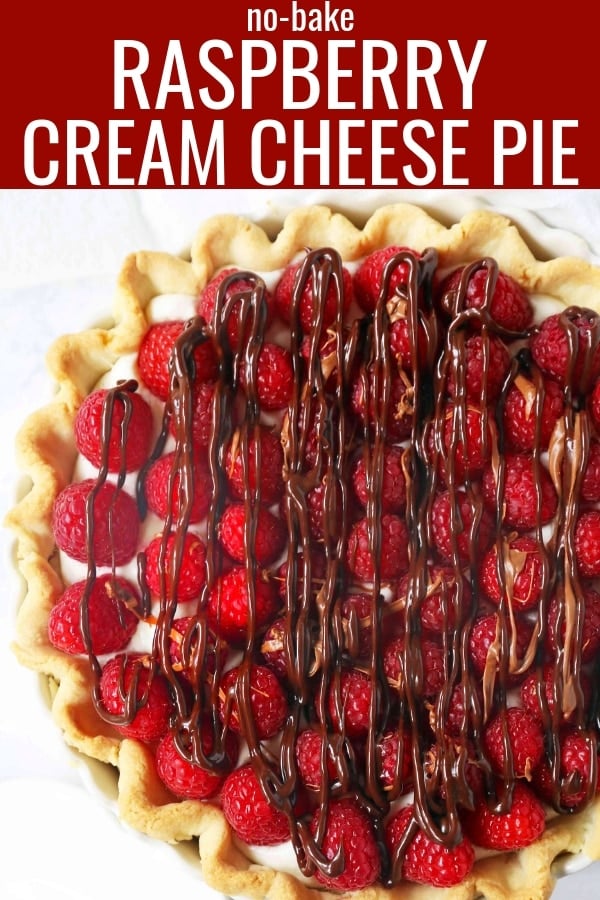 Happy Baking, my friends!
This post is sponsored by Driscoll's and The FeedFeed but all opinions are my own.
Driscoll's is giving away a beautiful, new KitchenAid mixer, a stoneware pie dish from Williams-Sonoma, and Driscoll's berries for a year! The sweepstakes is running until December 28th, so click below to enter and find out more details!
 https://www.driscolls.com/berrytogether/gallery?utm_source=Influencer&utm_medium=Blog&utm_campaign=2018BerryTogether