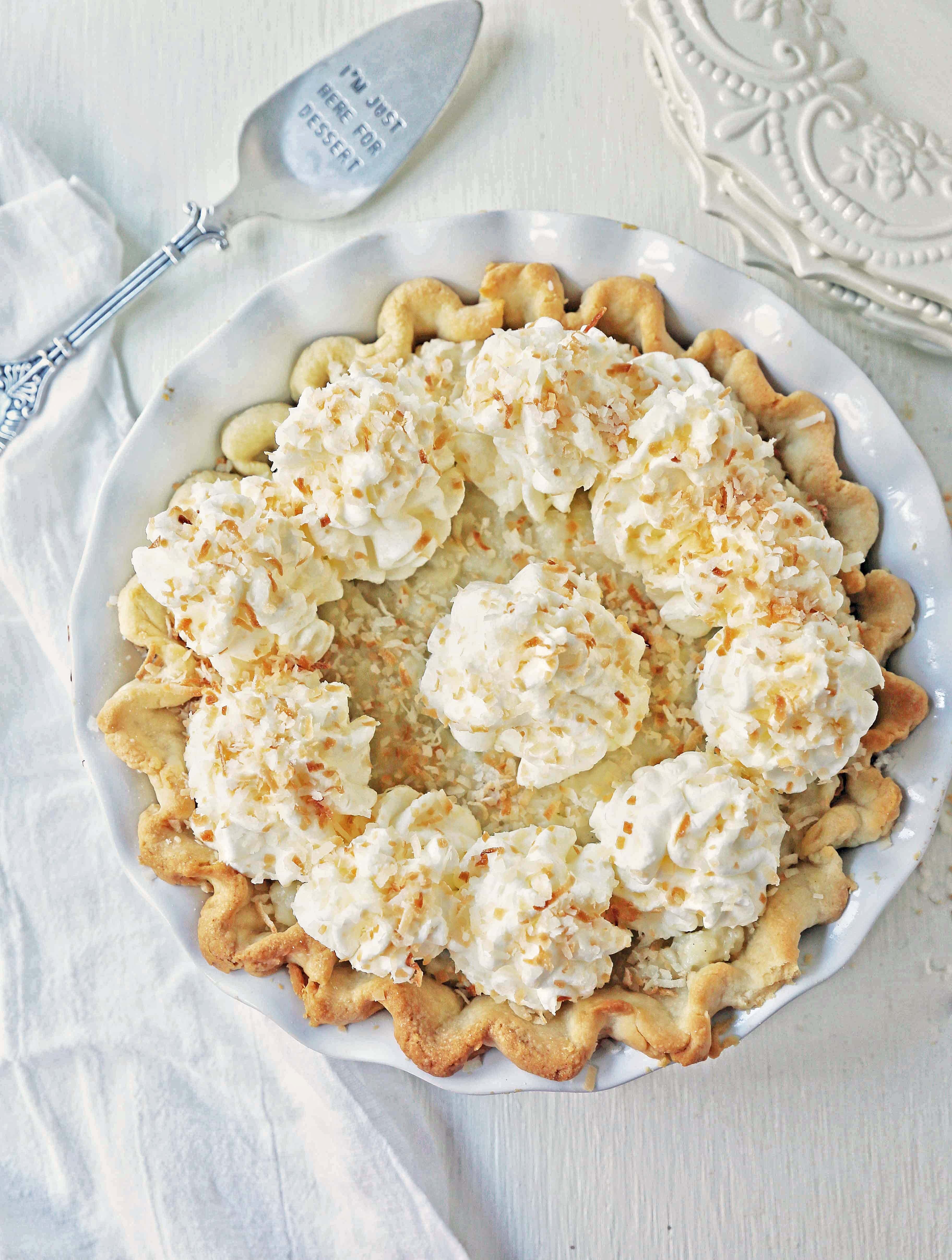 Coconut Cream Pie
A homemade coconut custard filling in a buttery pie crust topped with fresh whipped cream and toasted coconut
I was always the first to snag the coconut cream pie at Thanksgiving. My Grandma and Grandpa lived on Camelback Mountain so we would drive our station wagon up the steep mountain in anticipation of our annual Thanksgiving feast. Since all of my aunts and Grandma would make at least 2-4 pies each, we would end up with more pies than we could possibly eat. To a kid, it was the best looking spread ever!
I would eye all of the pies and would choose my favorite. It usually involved coconut because it has been well established that I've been a fan of coconut since birth.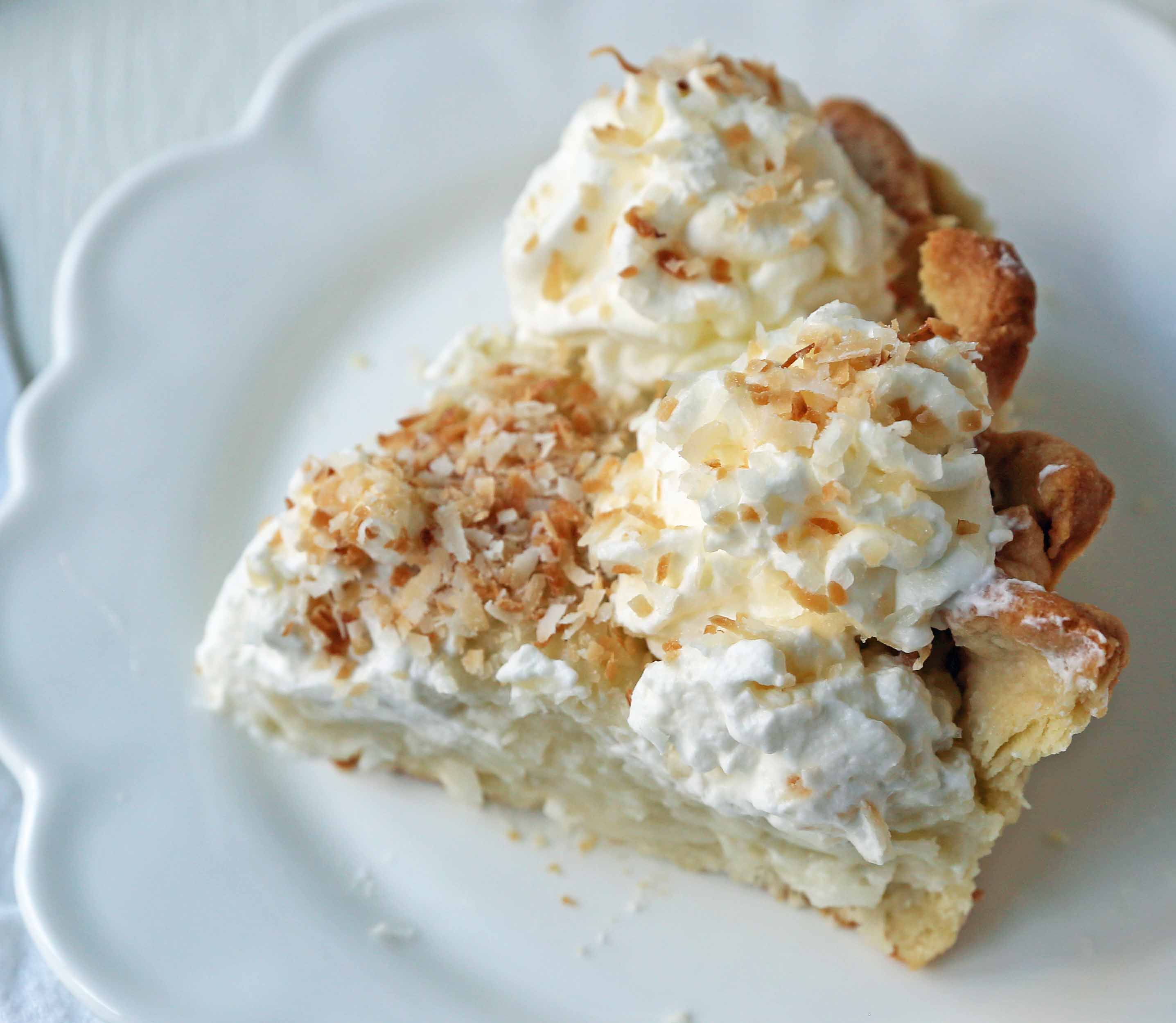 Since Thanksgiving is literally around the corner, it was time to share my favorite coconut pie recipe.  This is made with a homemade coconut cream custard and topped with fresh whipped cream and toasted coconut. Oh, and we can't forget about the homemade buttery pie crust, either.
Last year we headed to Seattle for our family summer vacation. It had been on our bucket list for forever and we couldn't wait to experience green trees and water.  We also had some highly recommended food places on the list to try.  One of the most talked about restaurants in Seattle is called Dahlia Bakery.  It is known for their coconut cream pie.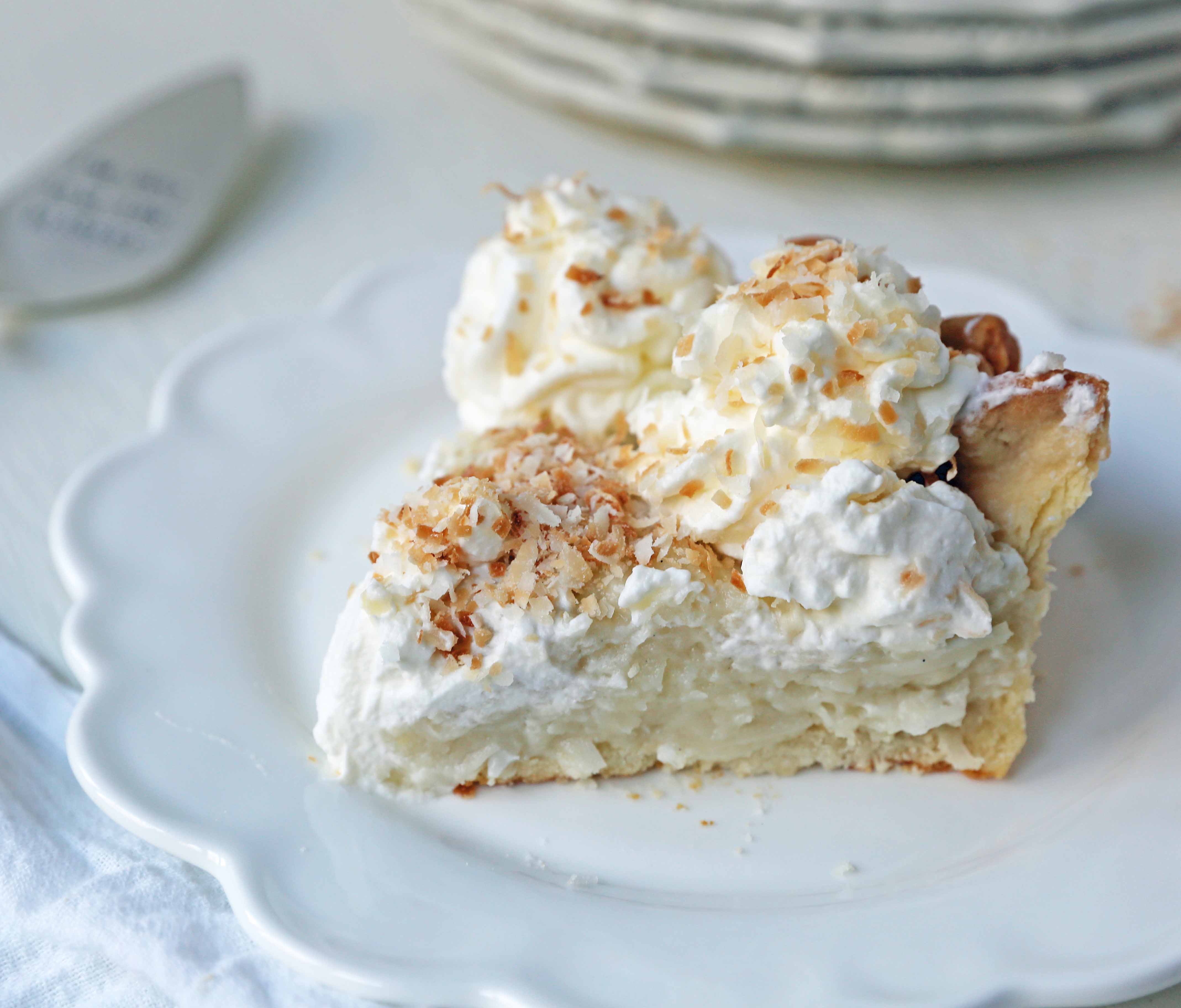 Being the coconut lover I am, I beelined it straight to the bakery to see what the fuss was all about.  It was perfection and I was hooked. I sought out their recipe and found it in their Dahlia Bakery Cookbook to recreate it at home.
The homemade custard began with canned coconut milk, sweetened flaked coconut, and whole milk simmered.  Sugar, eggs, vanilla, and flour were added and cooked to thicken the cream.  After a few trials and testing, we tweaked a few things about the recipe. We found that adding 2 cups of sweetened flaked coconut was too much. We could still get the sweet coconut flavor by using only 1 cup of coconut instead.
The coconut cream filling came out perfectly and firm enough to hold up when cutting slices from the pie. A homemade fluffy whipped cream is spread all over the coconut cream filling. It becomes the perfect coconut cream pie!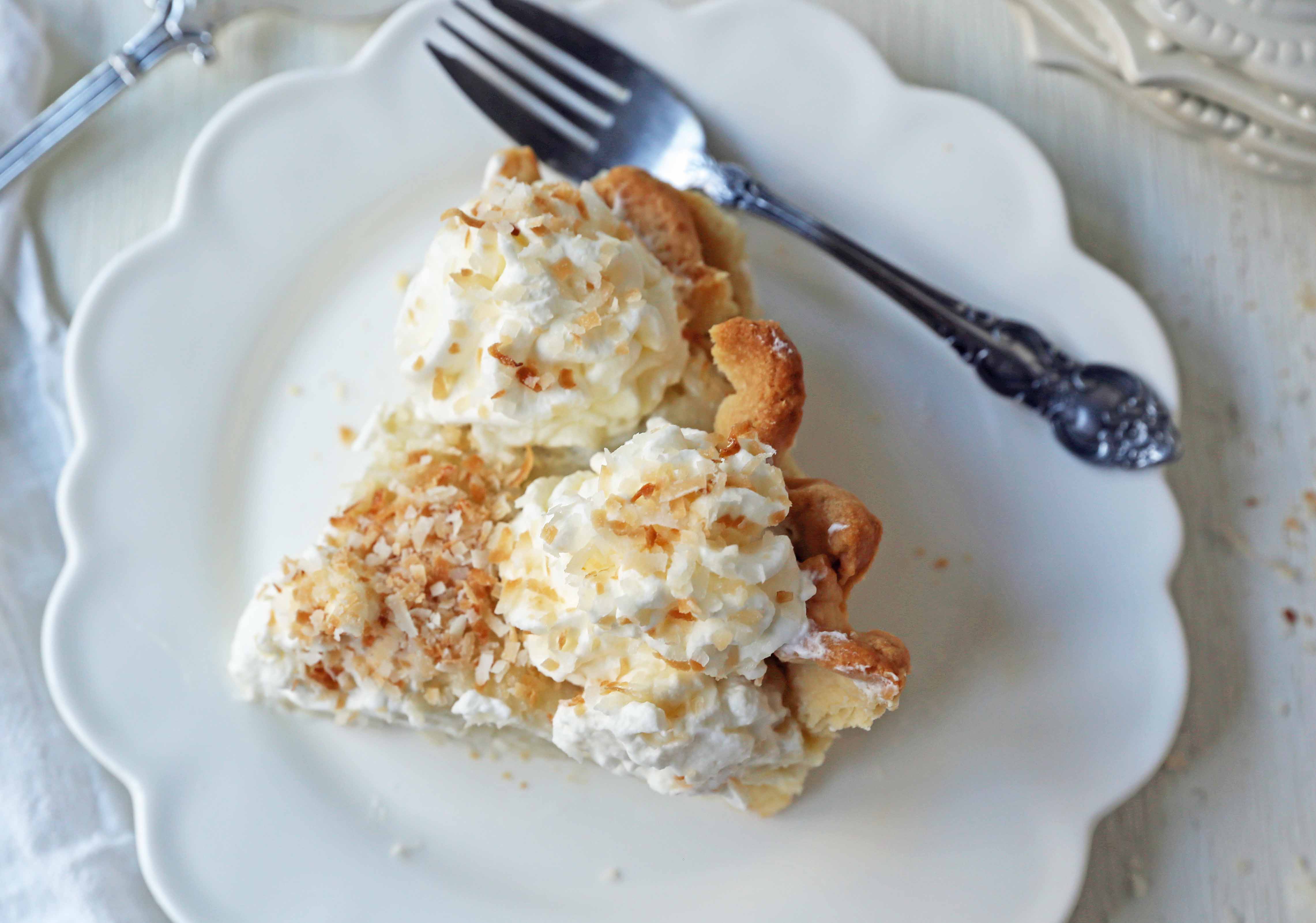 How to make Coconut Cream Pie:
 Start with simmering canned coconut milk, whole milk, and sweetened shredded coconut in a saucepan. The full-fat canned milk for the creamiest coconut cream pie filling.
In another bowl, mix together eggs, egg yolk, sugar, and flour. The flour will act as a thickener so it is an important addition. You may also substitute cornstarch.
Temper the egg mixture but adding only a small amount of hot milk mixture to the bowl.  This will ensure the eggs don't become scrambled eggs! By adding only a ¼ cup of hot milk at a time, it slowly warms the egg mixture and prepares it to be added to the warm pot.
Use a whisk to constantly stir the mixture while it thickens over medium-high heat.
Once it is thickened, remove from heat and place in a bowl to chill. If you want to expedite the chilling process, fill a bowl with ice and place the bowl filled with coconut cream filling on top of the ice.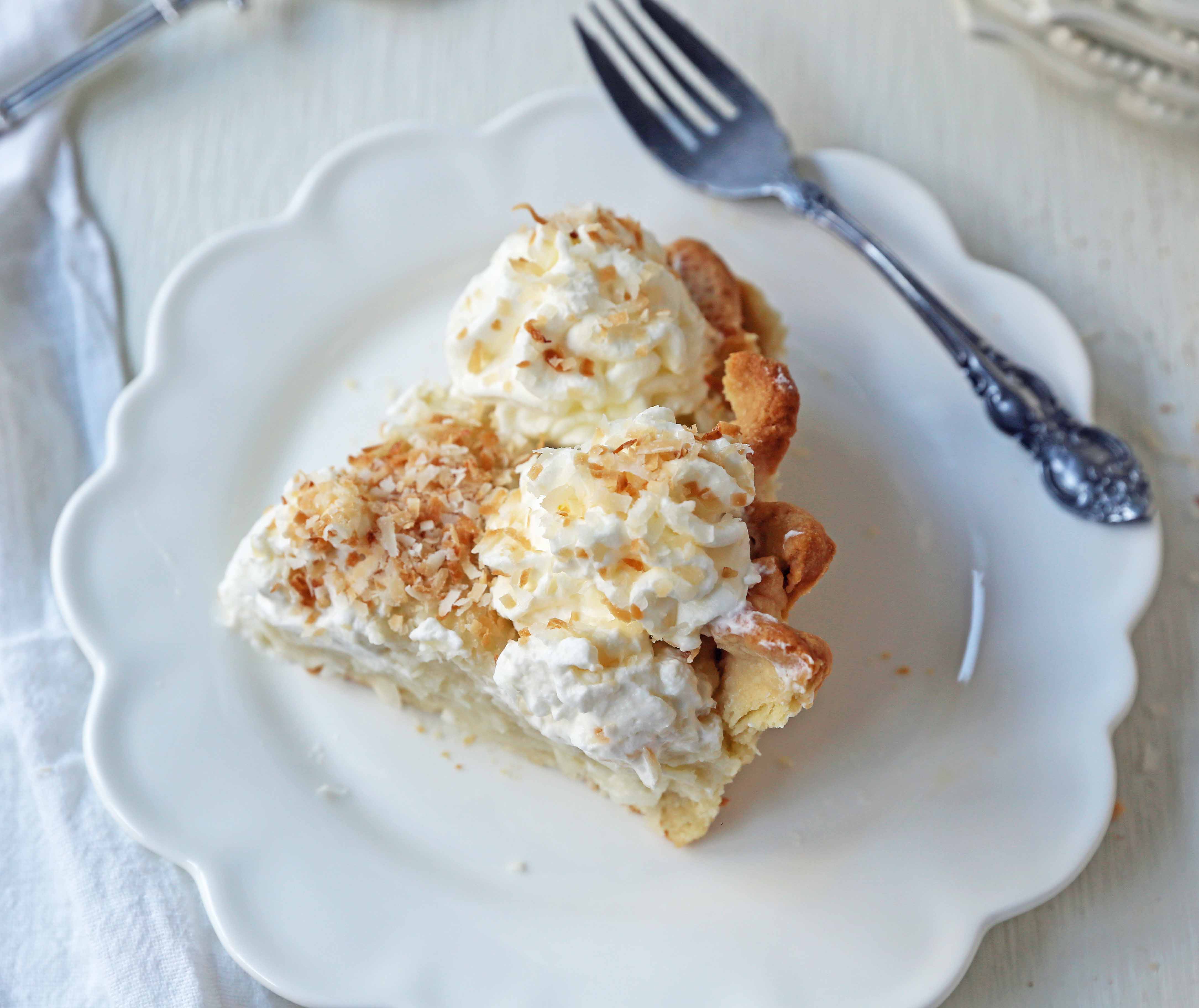 The essential tools for making this homemade Coconut Cream Pie:
WHISK
Caphalon POT for under $30
Emile Henry PIE DISH
Just Here for Dessert PIE SERVER
I love to hear from you! If you make this recipe, please be sure to leave a comment and give this recipe a rating. If you make any of my recipes, tag me on Instagram @modern_honey and use #modernhoney so I can see your creations. It's one of my favorite things seeing you make these recipes in your own kitchen. Sign up for my newsletter below so you never miss a recipe. Thank you for following along! I truly do have the greatest readers. FOLLOW ME ON:   INSTAGRAM --- FACEBOOK --- PINTEREST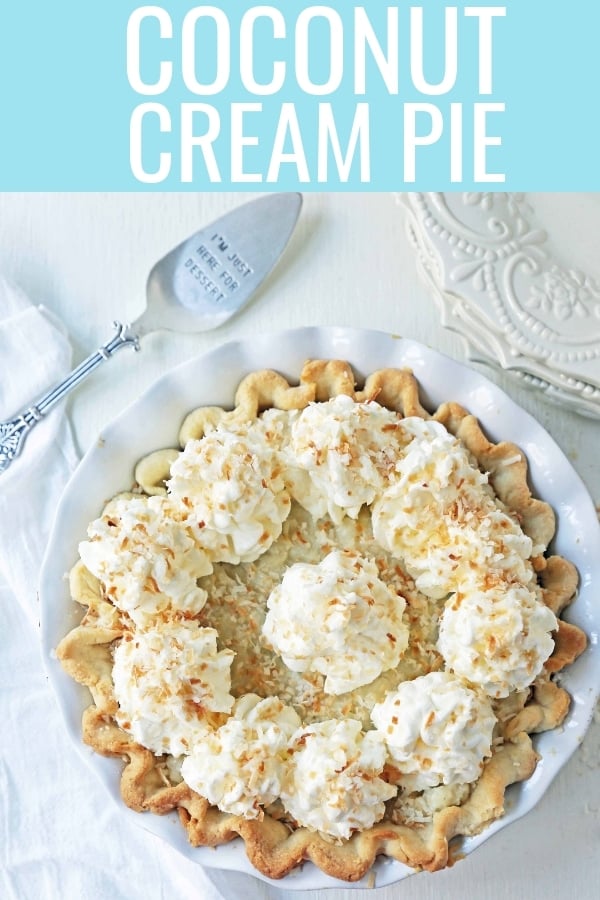 Happy Baking, my friends! xo