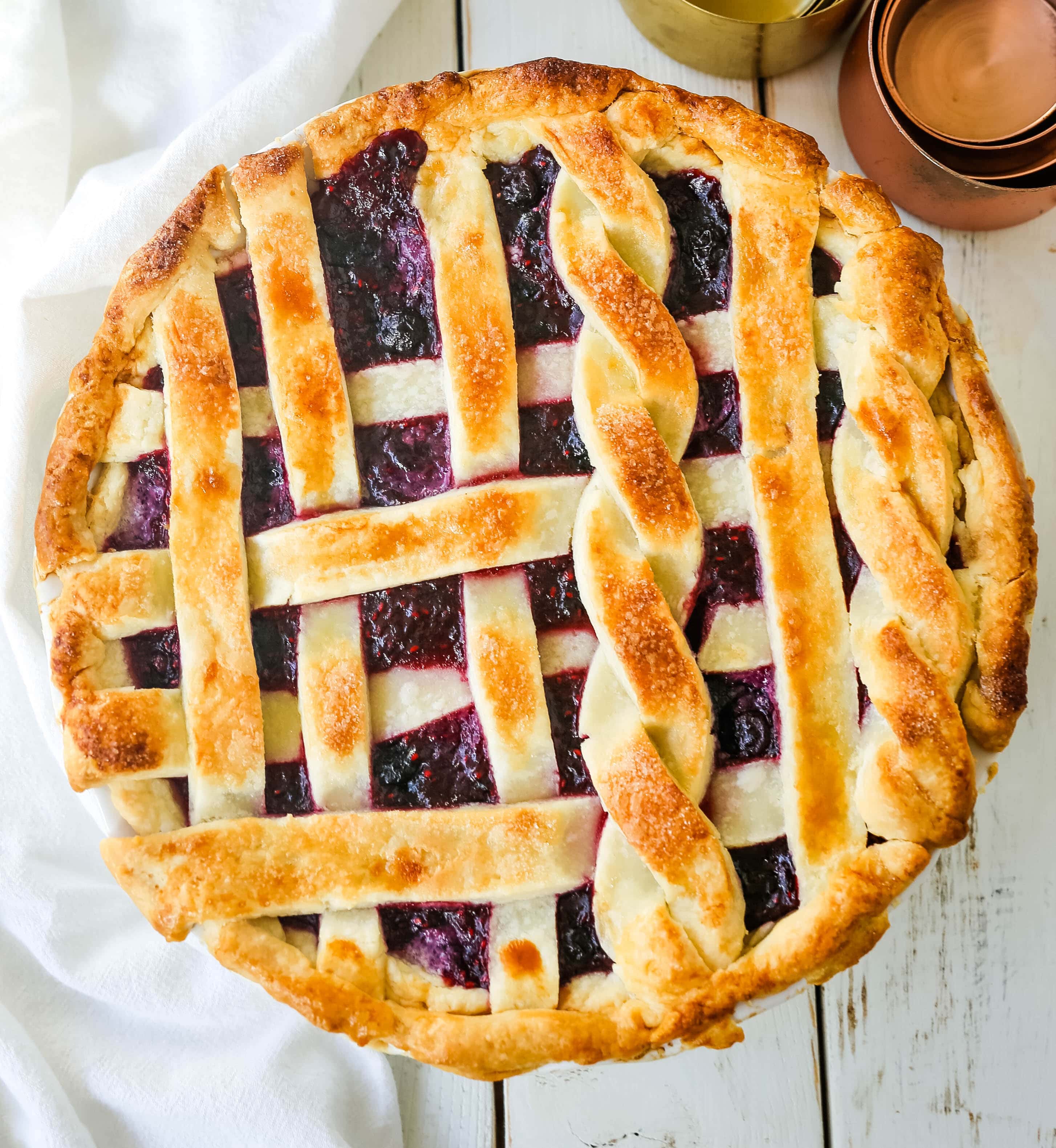 Triple Berry Pie
The best homemade berry pie recipe with a buttery pie crust. Top it with vanilla bean ice cream and you have the perfect berry dessert!
I have discussed how big of a deal pies are in the Driggs home. My Mom's all-time favorite pie is the ultimate berry pie. She makes one every year and it is one of the first to go because everyone loves Grandma Driggs's homemade berry pie.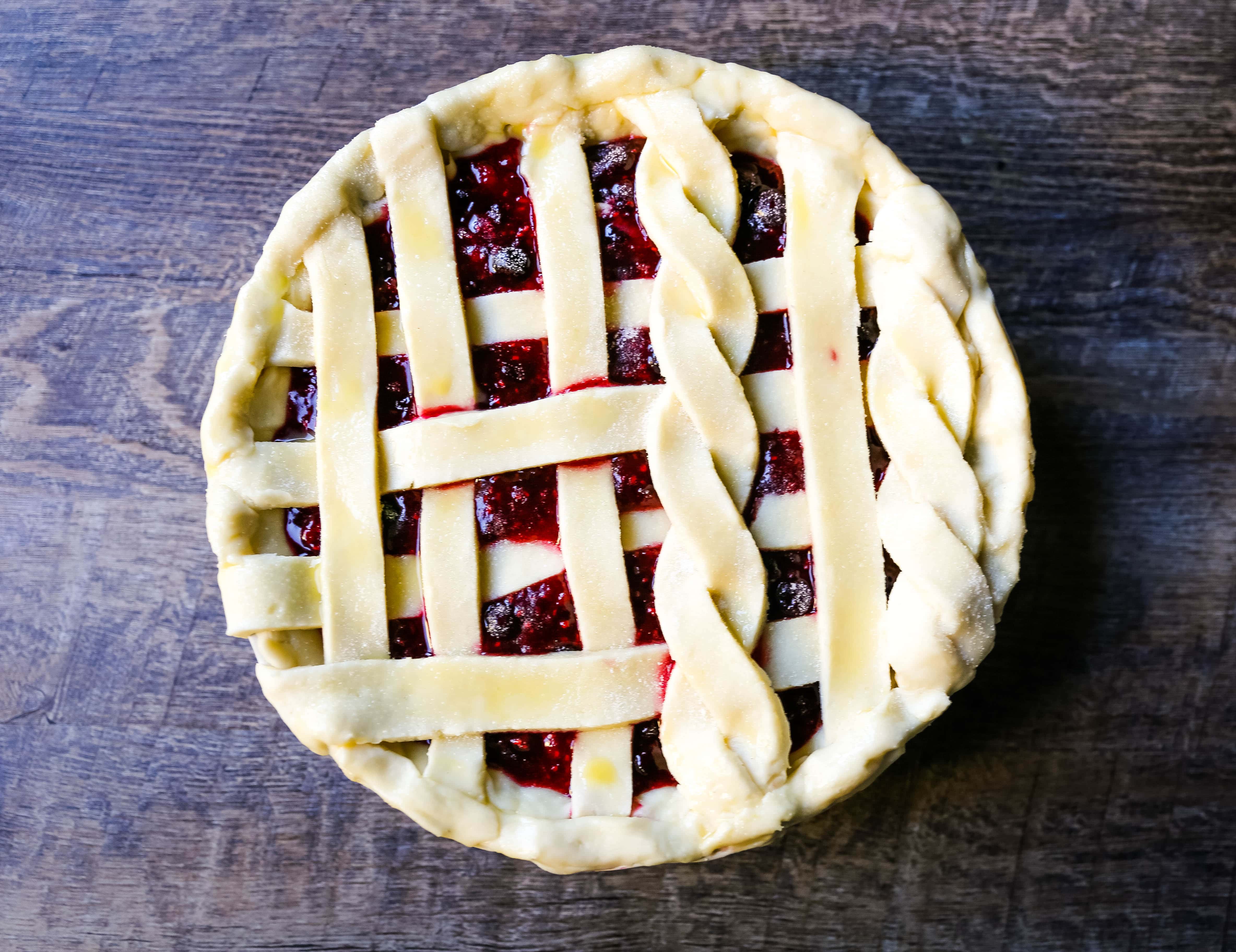 She worked for years to tweak it to get it just right.  A berry pie has to have just the right amount of sweetness and enough thickener to keep it firm and held together. This isn't an easy feat! Thankfully, my Mom has tested and re-tested this pie to make sure it is just perfect!
This Triple Berry Pie starts off with frozen berries -- raspberries, blueberries, and blackberries. I used the Private Selection berries from Fry's but I also love the Triple Berry Blend from Costco. I use frozen berries because they are usually picked at the peak of freshness and then frozen.  Frozen berries work perfectly in this pie.
An important component to making the best berry pie is to make sure to use a thickening agent. I reach for a mixture of cornstarch and tapioca pearls. The quick-cooking tapioca dissolves and is the perfect thickener because it doesn't leave an aftertaste.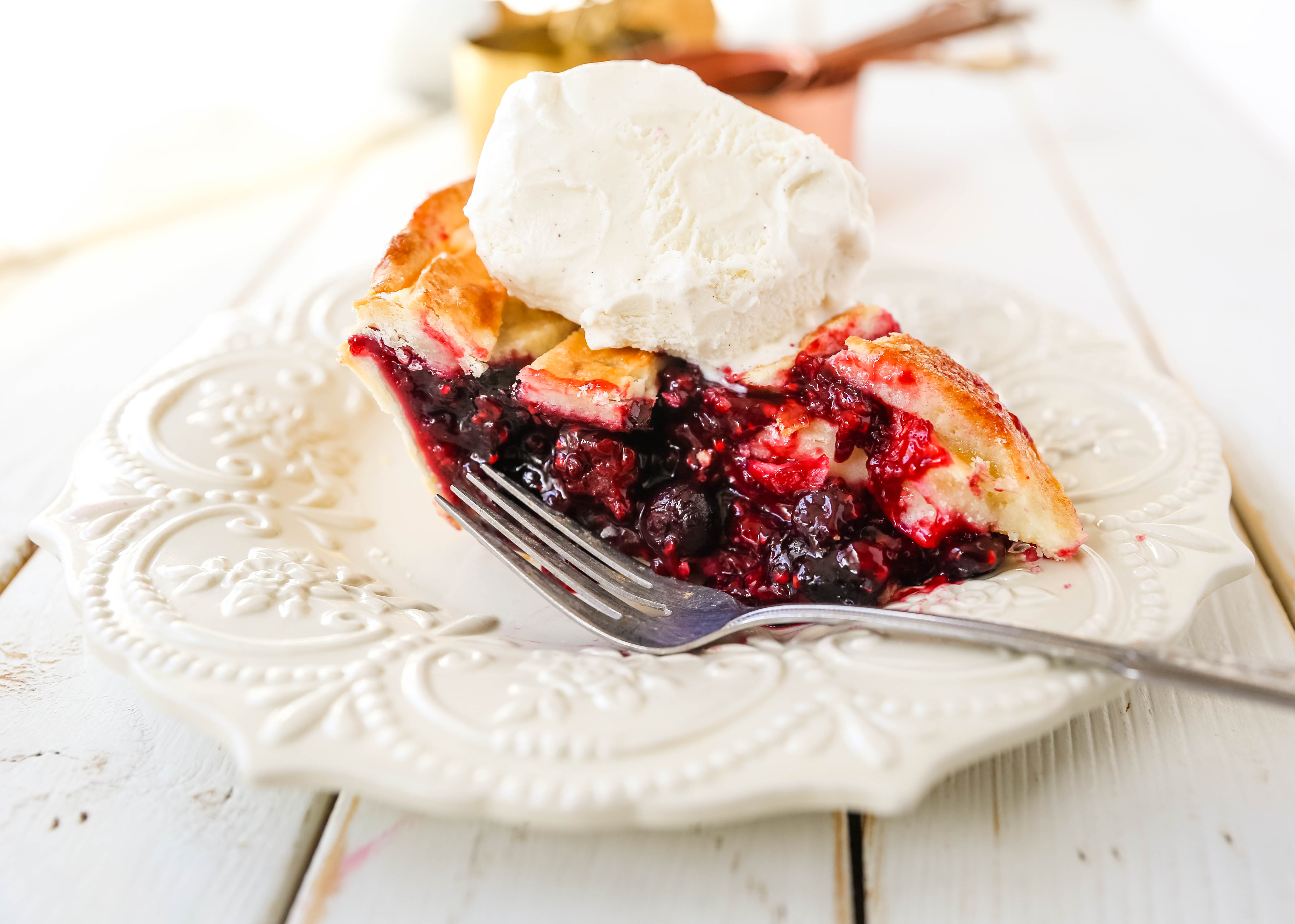 My other thickener of choice is cornstarch. It is known for its thickening magical powers and it helps to thicken the berries without it getting pasty and gummy. You can also reach for flour if you don't have cornstarch on hand but I do prefer cornstarch over flour.
A big secret for adding balance to a sweet dessert is using an acid like fresh lemon juice. It helps to balance out the sweet and tartness of the berries. It is definitely a game changer!
When I use frozen berries, I find them to be a little sweeter than fresh ones. This way I don't have to use as much sugar. This recipe calls for a little over 1 cup of sugar which isn't that much since we are using 7 cups of berries.  I like to sprinkle the pie crust with a little sugar to add some sweetness to the crust.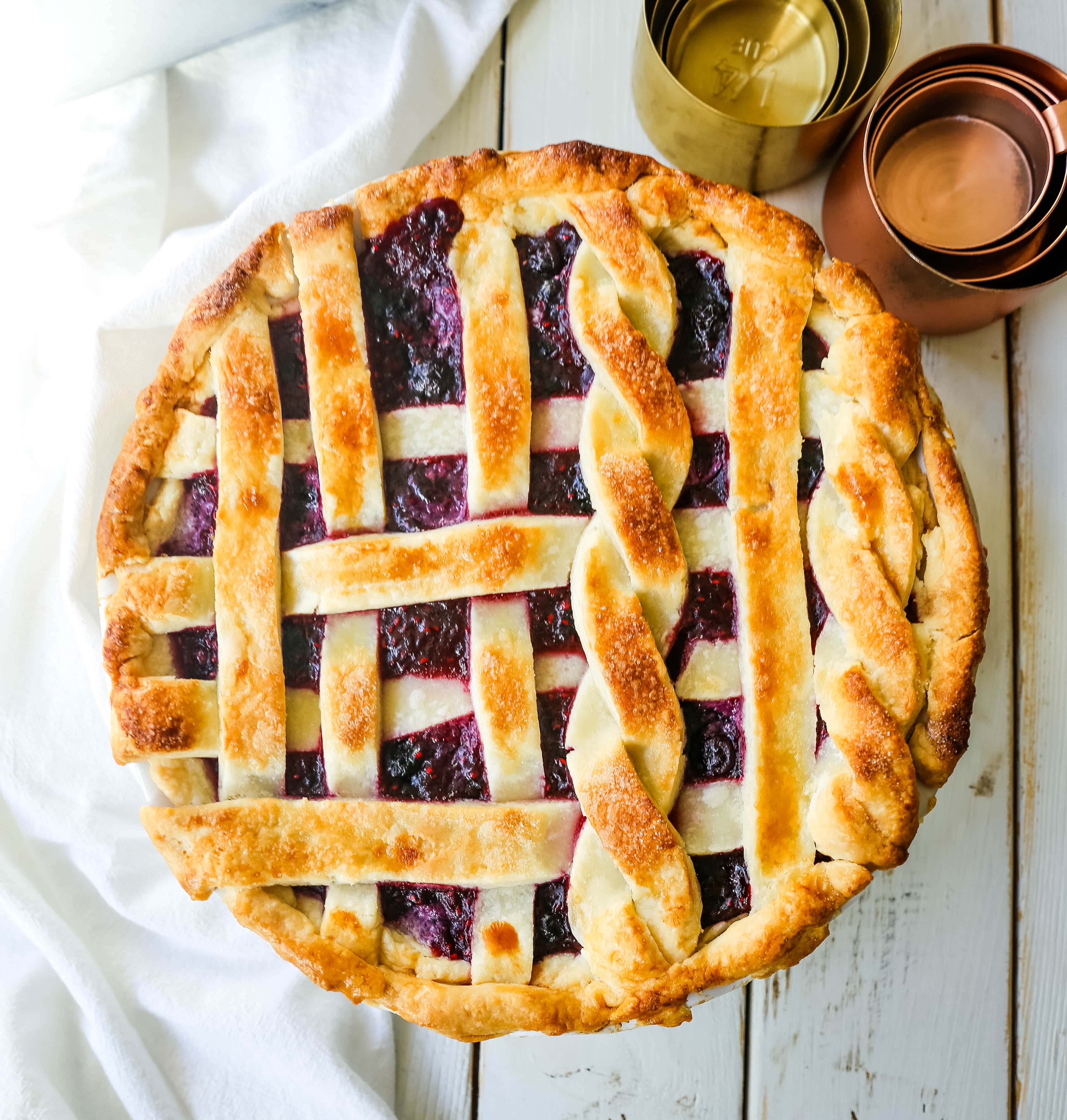 Speaking of crust...if at all possible...make a homemade pie crust. It is so worth it! Click HERE for the best butter pie crust recipe.  This recipe is so easy and calls for only 4 ingredients -- flour, salt, butter, and buttermilk or cold water/vinegar mixture. It is way easier than you think to make a homemade pie crust! It really does make a huge difference in this triple berry pie. 
I will brush an egg wash all over the pie crust to give it shine and moisture and then sprinkle the crust with granulated sugar.
A key when baking this homemade triple berry pie is to cover the crust about halfway through baking. This ensures that the crust doesn't become too brown. You want the filling to be bubbling and thickened without the top of the crust becoming too brown. I will usually loosely cover the pie with aluminum foil. It works like a charm!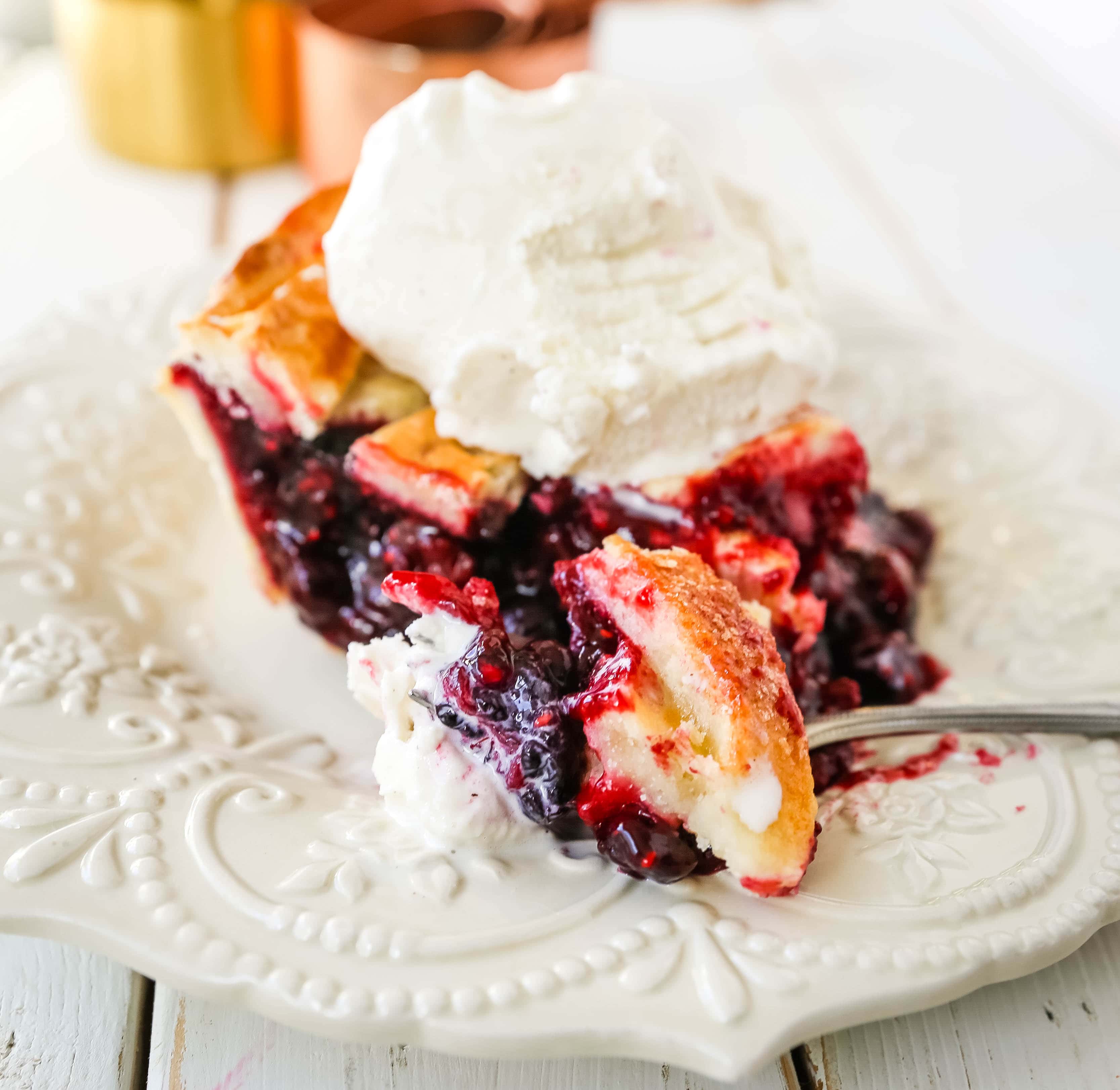 How to make the Best Berry Pie:
 Start by making a homemade pie crust. This is so easy! Just use cold ingredients to make sure the pie crust is extra flaky.  Use a double-crust recipe so you have enough for the bottom and the top.
Simmer berries, sugar, salt, and lemon juice in a saucepan.  Remove 1 cup of berries and place in microwave-safe bowl. Heat for at least 30 seconds until completely defrosted and bubbling. Stir in cornstarch and tapioca pearls until thoroughly dissolved. Once it is dissolved, add mixture to pot and continue to heat until thickened and bubbly. Let cool to room temperature as you prepare the crust.
Roll out the pie dough and place in the bottom of the pie pan. Pour in sugared berries. Top with remaining pie crust dough.  Brush with egg wash and sprinkle with sugar.
Bake at 400 degrees for about 20-25 minutes. Check to see if pie crust is becoming too brown. If so, lightly cover with aluminum foil. Continue to bake for 20-25 minutes longer.
Let pie cool to room temperature. You may place in the refrigerator to expedite it. Let the pie set up for at least 2-3 hours. Serve with vanilla bean ice cream.
If you love pie, check out these other PIE RECIPES:
Creme Brûlée Pie 
Raspberry Almond Cream Cheese Pie
Key Lime Pie
Coconut Cream Pie 
Lemon Cream Pie 
Lemon Sour Cream Pie
Caramel Apple Pie
White Chocolate Macadamia Chocolate Ganache Pie
Double Chocolate Marble Pie
The BEST Pumpkin Pie -- AWARD WINNING!
Old-Fashioned Pecan Pie
Sweet Cherry Pie
Traditional Perfect Pumpkin Pie
Caramel Banana Cream Pie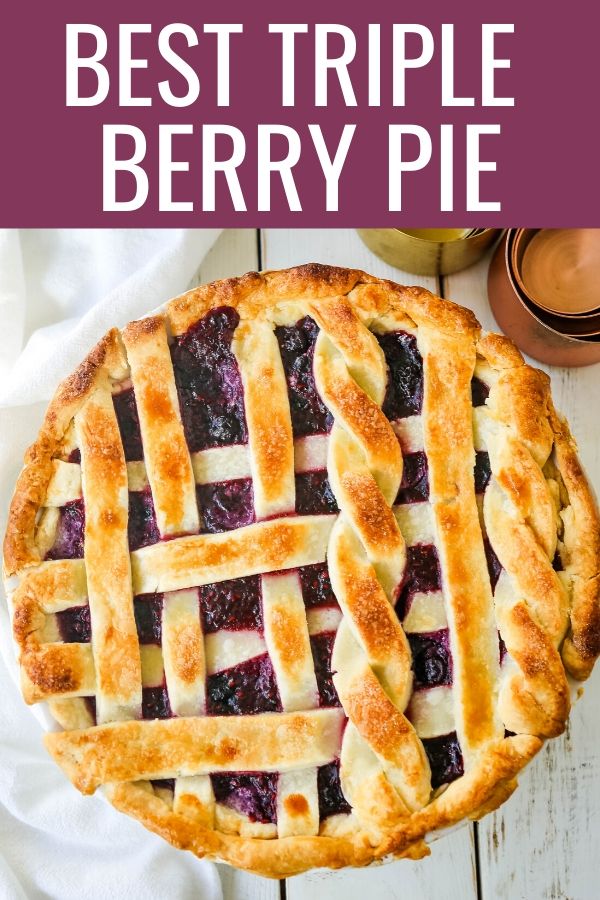 Emile Henry PIE DISH
Just Here for Dessert PIE SERVER
As an Amazon Associate I earn from qualifying purchases. Thank you!
I love to hear from you! If you make this recipe, please be sure to leave a comment and give this recipe a rating. If you make any of my recipes, tag me on Instagram @modern_honey and use #modernhoney so I can see your creations. It's one of my favorite things seeing you make these recipes in your own kitchen. Sign up for my newsletter below so you never miss a recipe. Thank you for following along! I truly do have the greatest readers. FOLLOW ME ON:   INSTAGRAM --- FACEBOOK --- PINTEREST