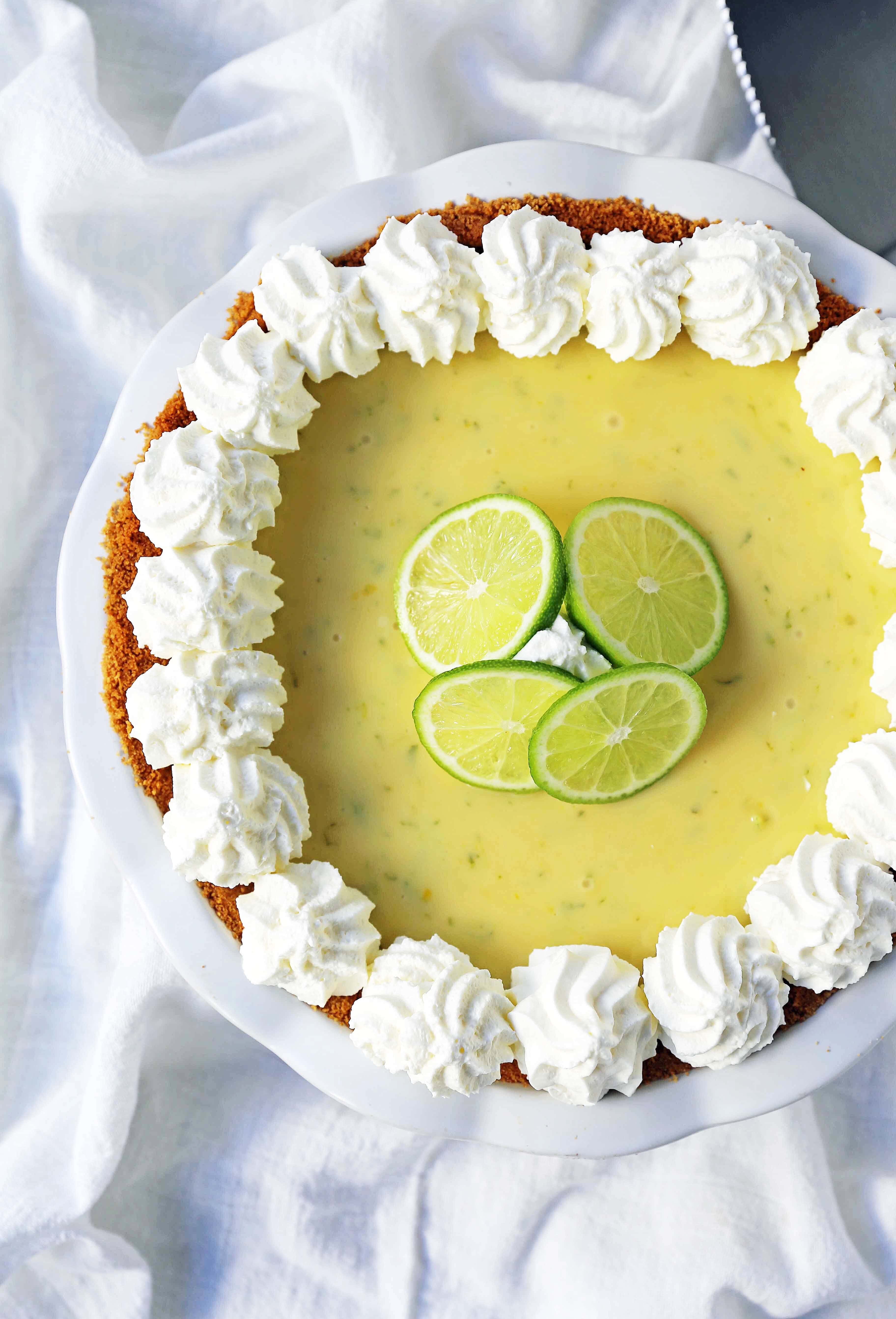 Key Lime Pie
The best creamy key lime pie in a buttery graham cracker crust with fresh sweetened whipped cream.
This creamy key lime pie is one of the easiest pies on the planet. Oh and definitely one of the most popular! It is something I love to bring to potlucks because it is always a hit at any party. Since Easter is coming up, this will be a perfect dessert to serve your family.
A traditional key lime pie is made with sweetened condensed milk, key lime juice, lime zest, and egg yolks in a graham cracker crust. The best key lime pie is made with a secret ingredient -- sour cream. It is what gives it the rich, creamy texture without adding more sweetened condensed milk. It perfectly balances out the sweetness of the sweetened condensed milk!
The graham cracker crust is made with two simple ingredients -- crushed graham crackers and melted butter. I prefer to use salted butter to balance out the sweetness of the filling so if you use unsalted butter, add a pinch of salt.
One of my favorite appliances to use is a food processor because I can whip up a graham cracker crust in 30 seconds! If you don't have a food processor, a large Ziploc bag and a rolling pin will work as well.
If you can't find key limes or don't want to spend the time to juice those teeny, tiny limes, you can buy regular limes or key lime juice. I am always a fan of fresh limes but if you are in a pinch, you can buy the key lime juice. This recipe does call for lime zest, which is a game-changing ingredient since it adds so much freshness. I am a huge fan of this zester!
I love adding fresh sweetened whipped cream to my key lime pie. This is made by whipping heavy cream until soft peaks form and stirring in powdered sugar. It is so simple but is a must with this key lime pie recipe.
How to make the BEST KEY LIME PIE:
Start by making the graham cracker crust.

Make sure the graham crackers are finely ground and then well mixed together with the melted butter. Press firmly into a 9-inch pie pan, using the back of a measuring cup or small glass. Bake at 350 degrees for 8 minutes. Set aside to cool.

Make the filling by whisking together sweetened condensed milk, egg yolks, lime juice, lime zest, and sour cream

. Pour into the graham cracker crust and bake for 10 minutes.

Let it CHILL

. It is important to allow it time to chill in the refrigerator because this allows it to set-up. It needs at least 2-4 hours before slicing the pie.

Make homemade whipped cream

. This is made by whipping heavy cream until soft peaks form and fold in powdered sugar. You can always add in vanilla extract but I usually keep it pretty simple.
If you love desserts, check out some of my most popular dessert recipes:
SWEET LEMON SOUR CREAM PIE
KEY LIME CAKE
ITALIAN LEMON OLIVE OIL CAKE
ORANGE CAKE
I love to hear from you! If you make this recipe, please be sure to leave a comment and give this recipe a rating. Sign up for my newsletter below so you never miss a recipe. Thank you for following along! I truly do have the greatest readers. FOLLOW ME ON: INSTAGRAM — FACEBOOK— PINTEREST