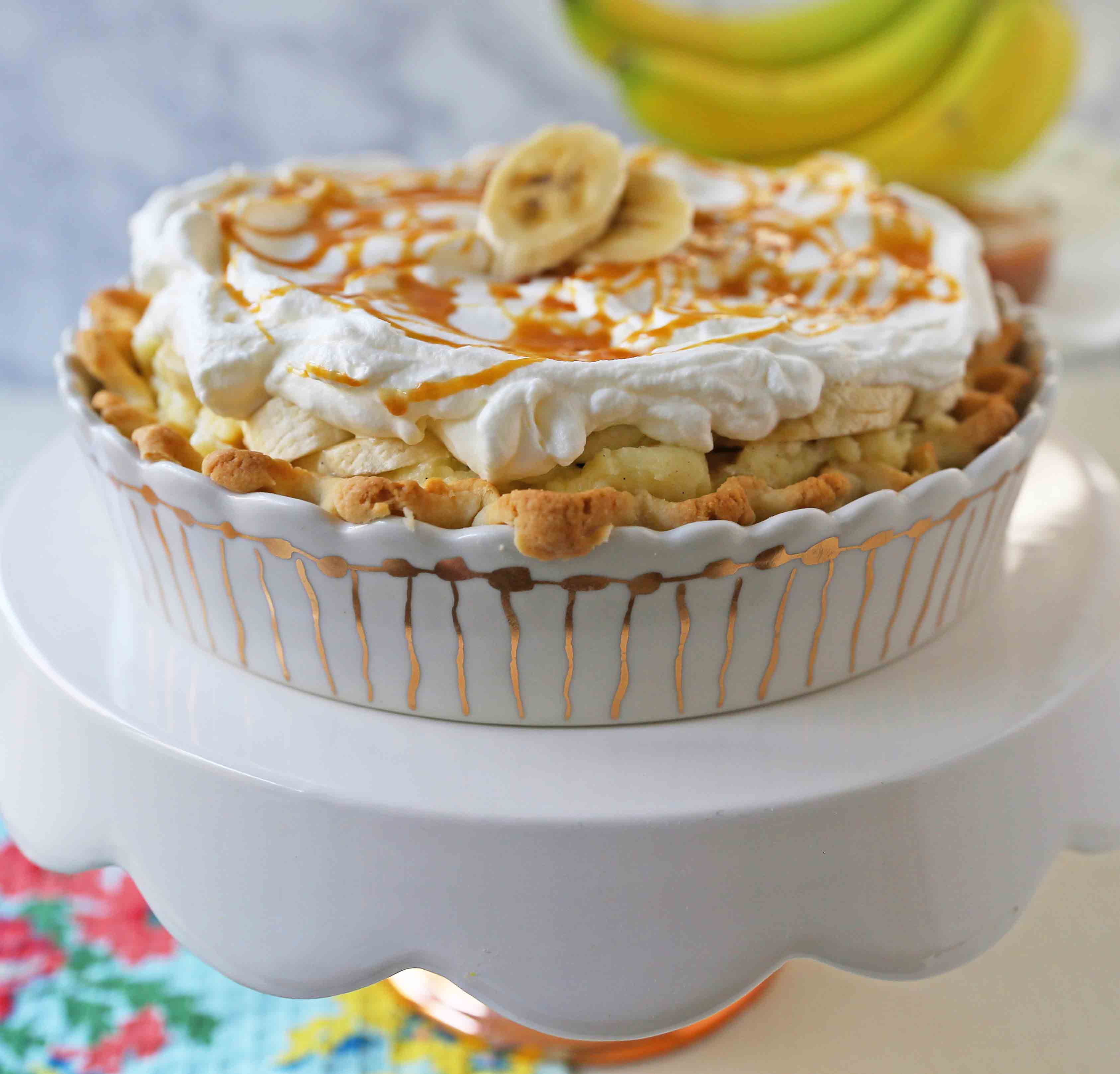 Salted Caramel Banana Cream Pie
Homemade custard, fresh bananas, and rich salted caramel in a buttery pie crust. The ultimate banana cream pie!
It's all about homemade pies on Thanksgiving. This is a made-from-scratch banana cream pie with salted caramel drizzle. It is rich and creamy with a touch of sweet caramel.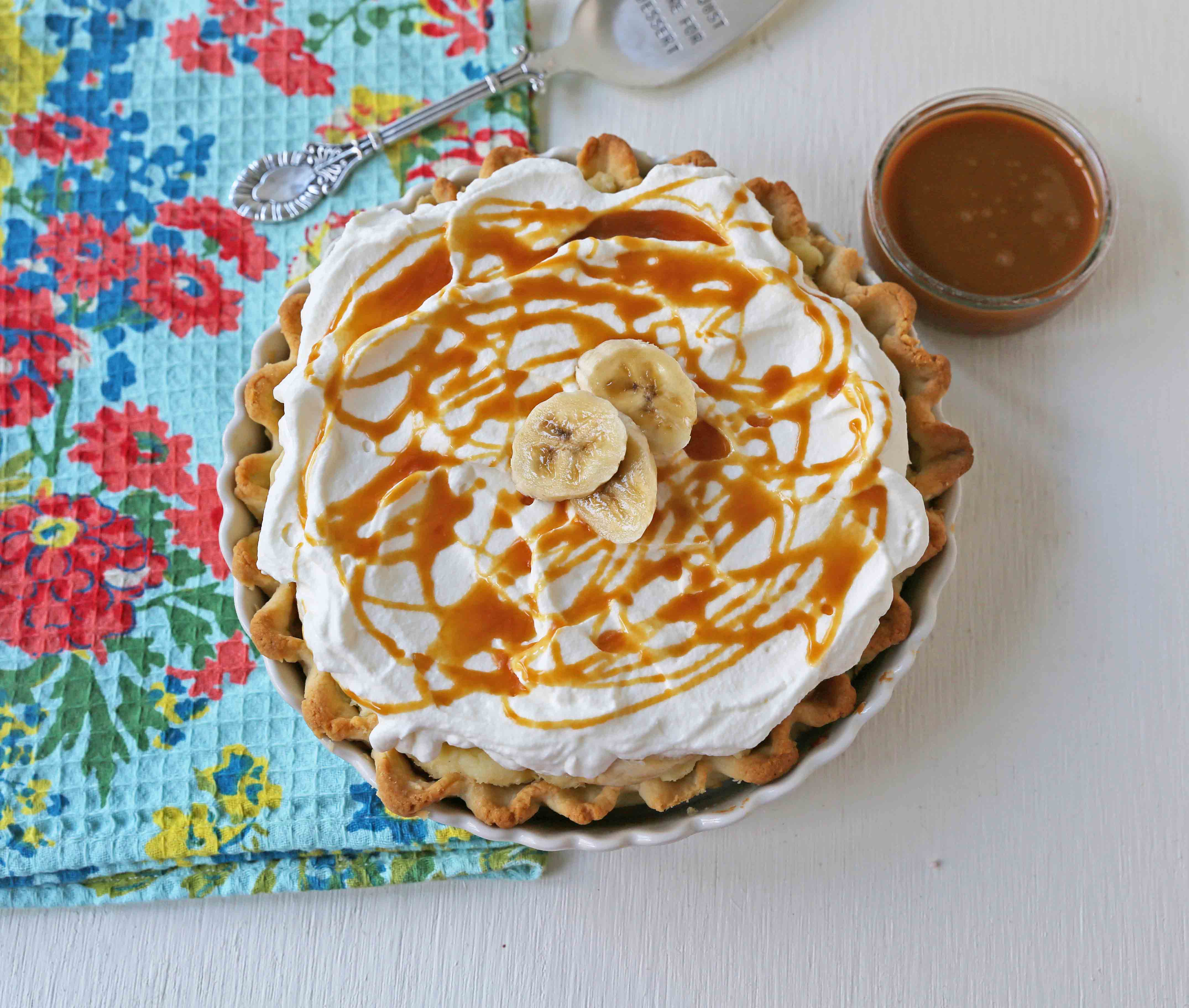 We are 4 days away from the big Thanksgiving day and I am so looking forward to this week! My entire family and also great friends from our days in Texas are coming into town so it is going to be non-stop social events. Of course, I need to carve out some baking time and this pie is making its way to our Thanksgiving table.
This Salted Caramel Banana Cream Pie is ridiculously good. It starts off with an All Butter Flaky Pie Crust (recipe HERE) topped with a vanilla pastry cream made from scratch, fresh bananas, handcrafted salted caramel (feel free to substitute it straight from the jar), and sweet whipped cream.
The key to making this Salted Caramel Banana Cream Pie is the homemade pastry cream. It's such a simple base for desserts but so reminiscent of times when everything was slowly cooked and handmade. I can't leave this stuff alone! You can flavor it with either pure vanilla extract or a vanilla bean. The vanilla bean just takes it up a notch.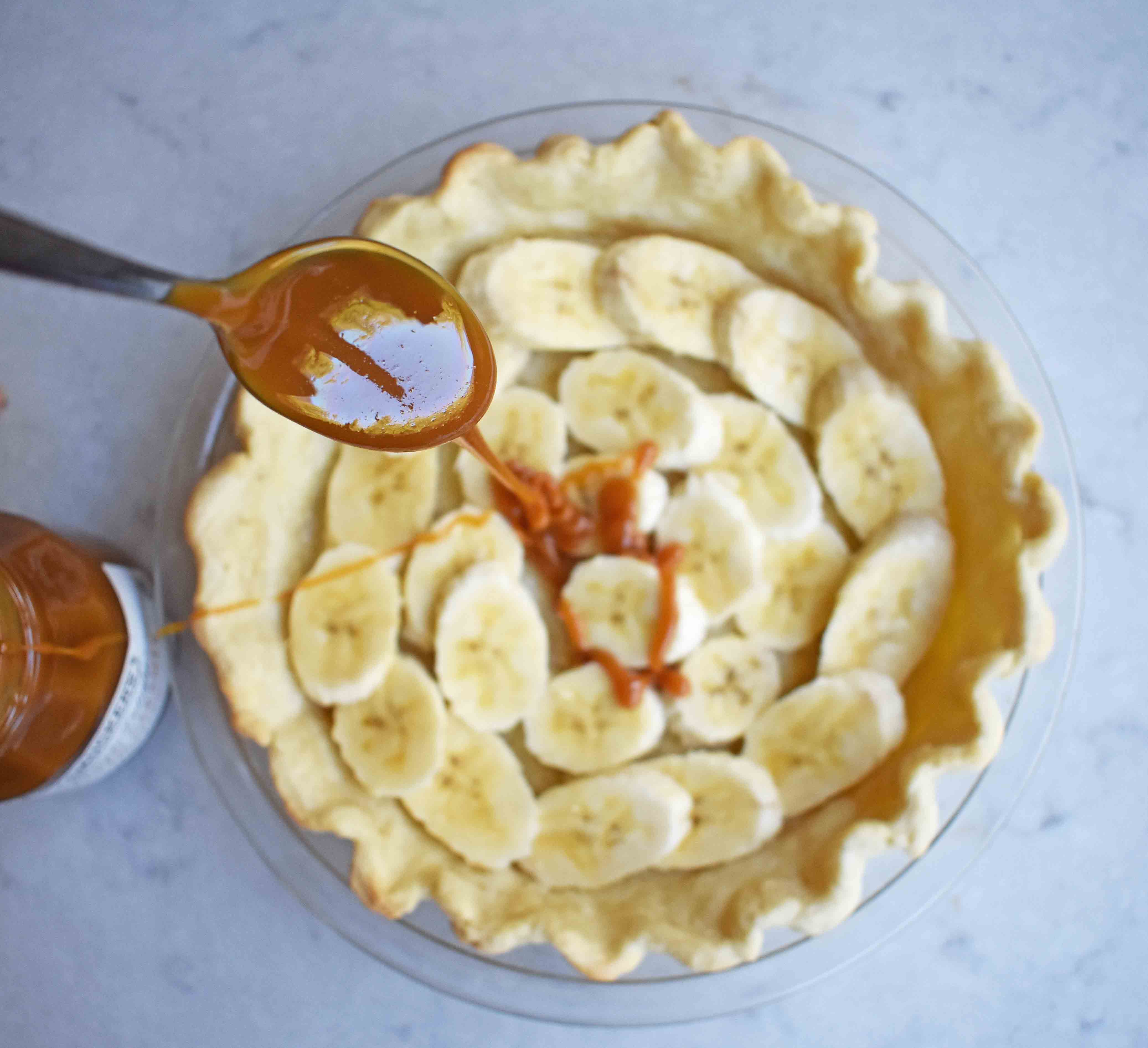 The salted caramel can be made from scratch or you can even grab a jar of high-quality caramel from the store to save some time. Add a little sprinkle of sea salt flakes to the caramel and you are all set!
These Pyrex scalloped pie plates are perfect for baking pies and are only around $8.  My favorite wooden spoon for making custard can be found here.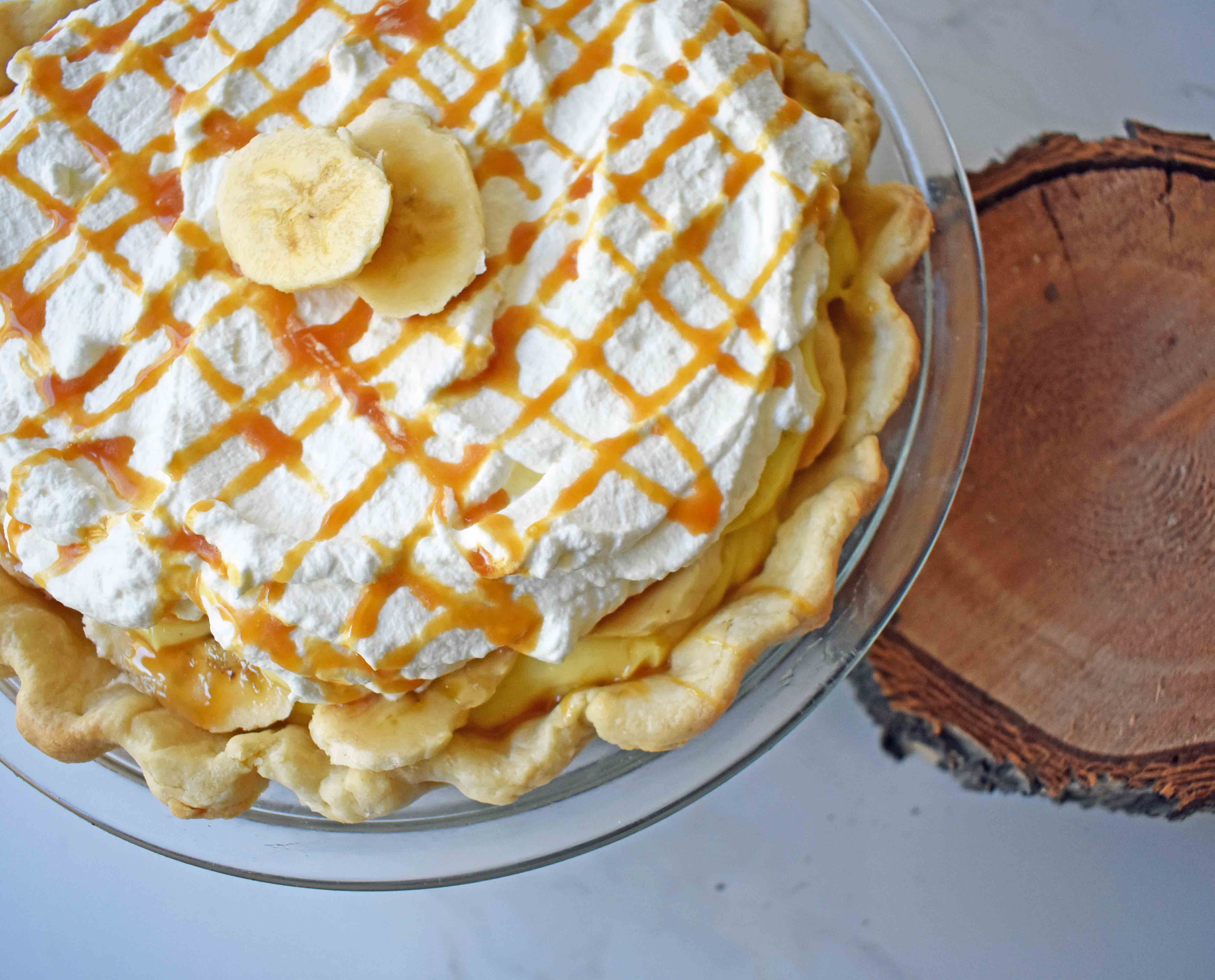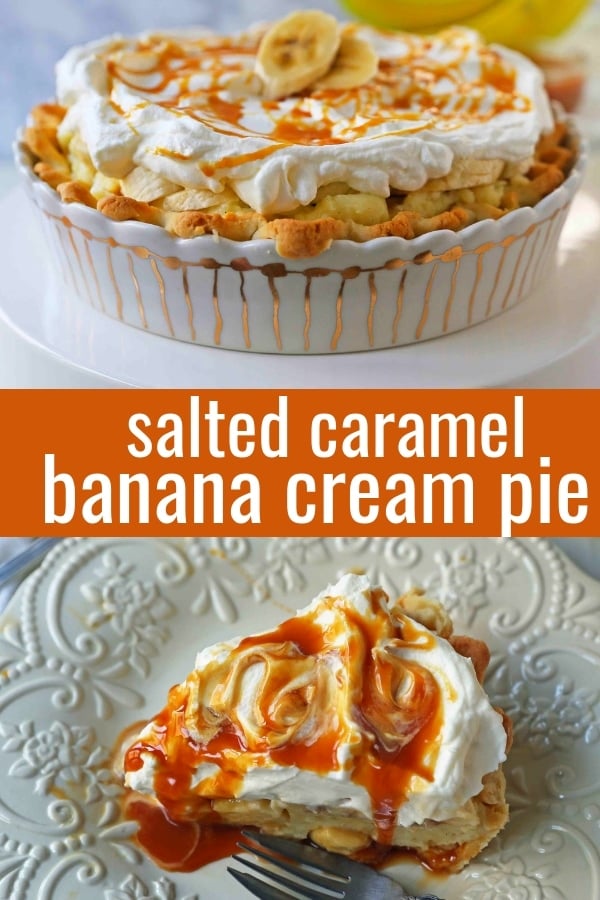 Pin this now to find it later
Pin It
Salted Caramel Banana Cream Pie
Homemade custard, fresh bananas, rich caramel sauce, in a buttery pie crust.
Ingredients
Pastry Cream:
2

cups

Half-n-Half or Whole Milk

(divided)

3/4

cup

Sugar

(divided)

4

Egg Yolks

1/4

cup

Cornstarch

2

Tablespoons

Flour

1/4

teaspoon

Salt

2

teaspoons

Vanilla or 1 Vanilla Bean

2

Tablespoons

Butter

3

Bananas

sliced

Fruit Fresh

(sprinkle on bananas to keep from browning)
Whipped Cream:
1

cup

Heavy Cream

1/4

cup

Powdered Sugar

1/2

cup

Salted Caramel Sauce from jar or homemade
Salted Caramel:
3/4

cup

Sugar

2 1/2

Tablespoons

Water

3

Tablespoons

Butter

1/2

cup

Heavy Cream

1/2 - 1

teaspoon

Sea Salt Flakes
Instructions
Pastry Cream:
In medium saucepan, heat 1 1/2 cups milk and 1/2 cup sugar over medium heat and bring to a boil.

In a bowl, stir together remaining 1/2 cup milk, remaining 1/4 cup sugar, egg yolks, flour, cornstarch, and salt. Using a whisk, stir together until completely smooth.

Temper the egg mixture by gradually adding a small amount of hot milk mixture to the bowl, whisking constantly. Add remaining mixture until it is all combined.

Return mixture to saucepan and cook over medium heat, stirring constantly, until mixture comes to a boil and begins to thicken and coats the back of a spoon, about 4-7 minutes.

As soon as the pastry cream thickens, remove from heat and add vanilla and butter.

Let chill on top of ice bath and then tightly cover.

Let chill in refrigerator for at least 1 hour to set up.
Salted Caramel:
In a heavy bottomed saucepan, heat sugar and water over medium high heat, whisking constantly to dissolve sugar. Once mixture reaches a boil, stop whisking. Watch carefully as it transitions from white to light amber color. This is an important step to ensure that it doesn't burn. Once mixture reaches a medium amber color, add butter and whisk until butter is melted. If you own a candy thermometer, it usually turns the perfect amber color at approximately 250 degrees.

Once it's melted, immediately remove pan from heat. Wait 10 seconds and then add heavy cream. Whisk well to combine until glossy and smooth.Add salt. Allow caramel to cool for several minutes and then place in jar and place in the refrigerator to cool.
Whipping Cream:
Beat heavy cream until soft peaks form. Stir in powdered sugar.
Assemble Pie:
Bake pie crust according to recipe.

Cover the bottom of the prepared crust with sliced bananas and optional drizzle with 1/4 cup Salted Caramel Sauce. Top with half of vanilla pastry cream and bananas (sprinkle bananas with fruit fresh to keep from browning), covering the bananas completely. Repeat layering with the remaining bananas and the remaining custard. Drizzle with caramel sauce. Cover with whipped cream. Drizzle caramel sauce on top of the cream. Chill the banana cream pie until the filling is set, about 2 hours.
Notes
*Use fresh fruit or lemon juice on bananas to keep from browning.
*The salted caramel can make the custard a little runny once it sits. If you want a firmer custard, only drizzle the caramel on the top of the pie. 
Nutrition information is automatically calculated, so should only be used as an approximation.
Click the links below for more pie recipes:
Caramel Apple Pie
White Chocolate Macadamia Chocolate Ganache Pie
Double Chocolate Marble Pie
The BEST Pumpkin Pie 
Old-Fashioned Pecan Pie
Sweet Cherry Pie
Traditional Perfect Pumpkin Pie
Caramel Banana Cream Pie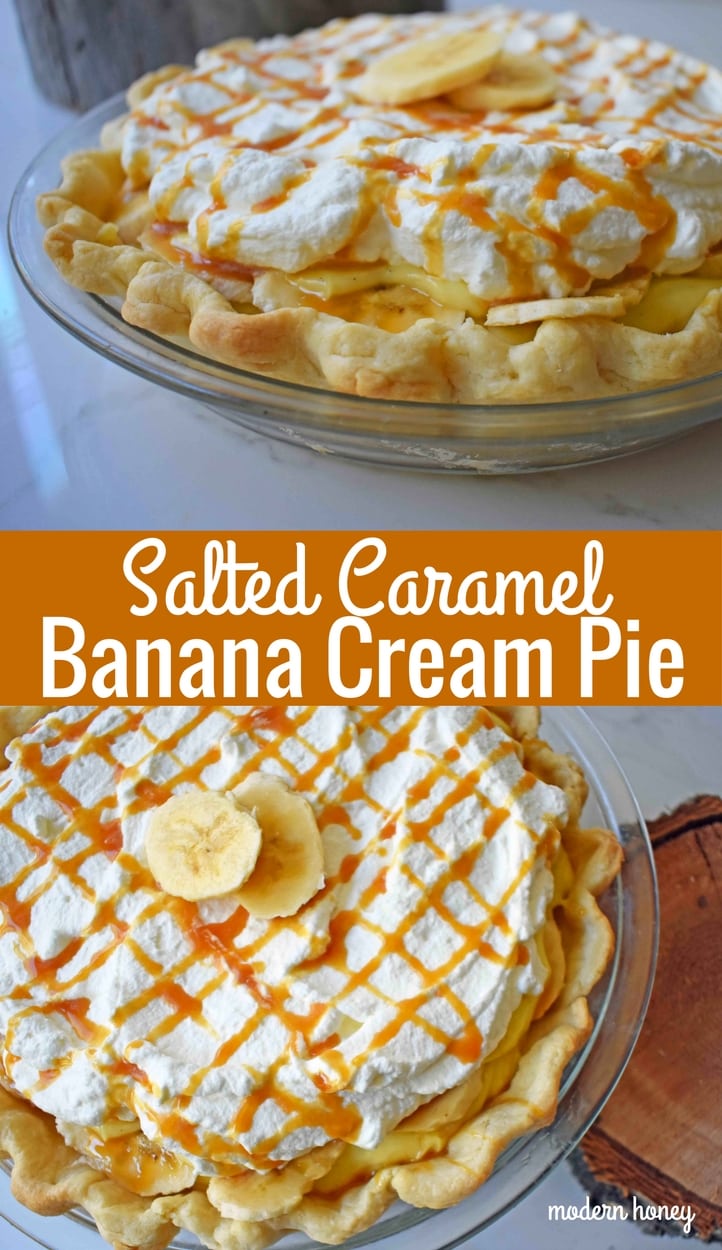 I hope you all love this Salted Caramel Banana Cream Pie as much as we do! I would love to hear what you are doing for Thanksgiving and what you will be serving!  I have one more recipe to share with you tomorrow which has been a staple in our home for the last 15 years.
Happy Baking! xo