Roasted Sweet Potatoes with Cinnamon Maple Drizzle and tossed with dried cranberries and pecans. The perfect Fall side dish recipe! These roasted sweet potatoes make a beautiful Thanksgiving side dish.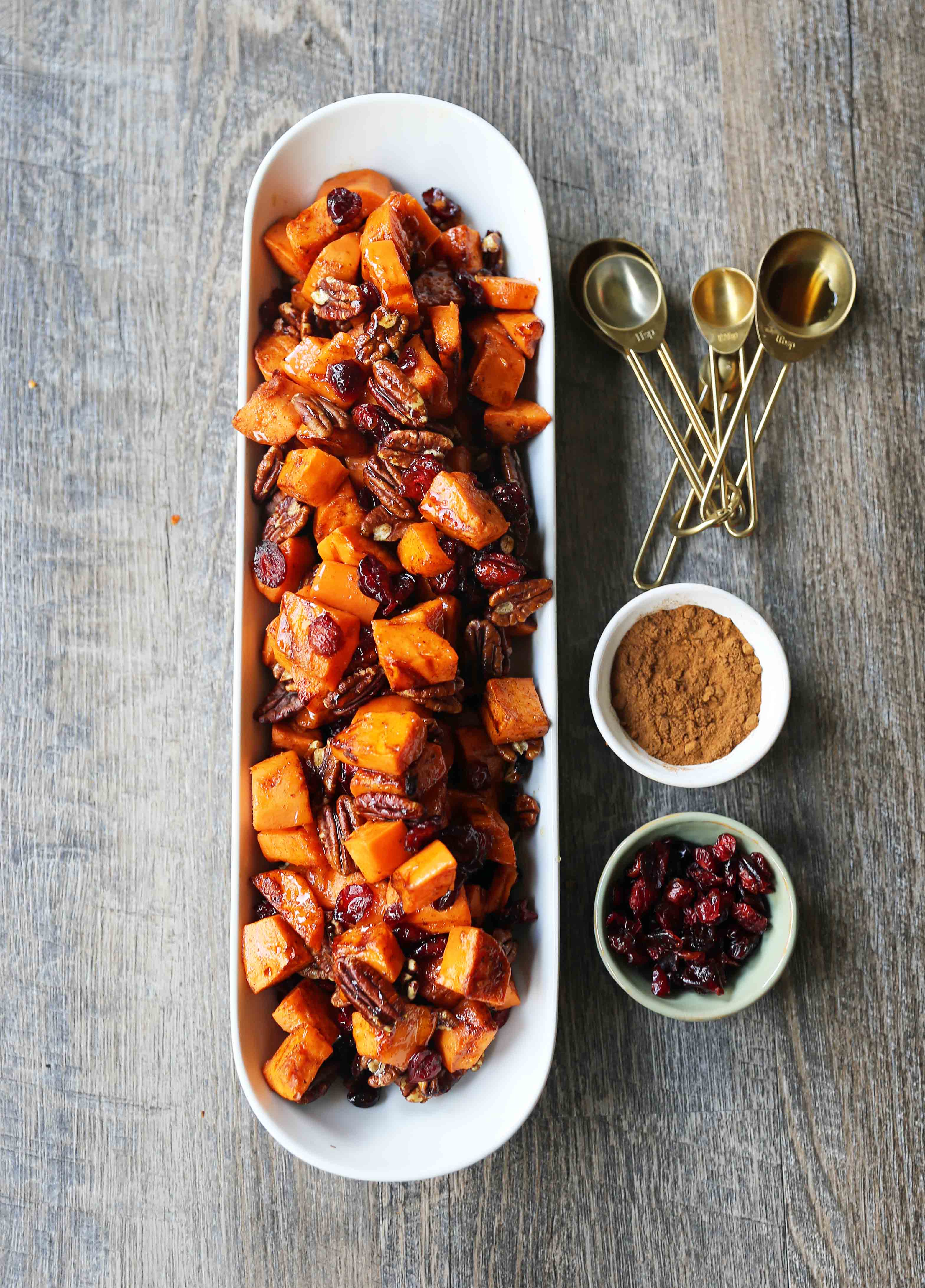 Roasted Sweet Potatoes with Pecans and Cranberries
This is such an easy, healthy side dish made with cinnamon-roasted sweet potatoes, toasted pecans, and sweet, tart dried cranberries.
Bring on the holidays! This is the time of year when almost everything revolves around food. I will be sharing some indulgent and decadent recipes for the upcoming holidays, but also some good-for-you recipes that will help keep things balanced!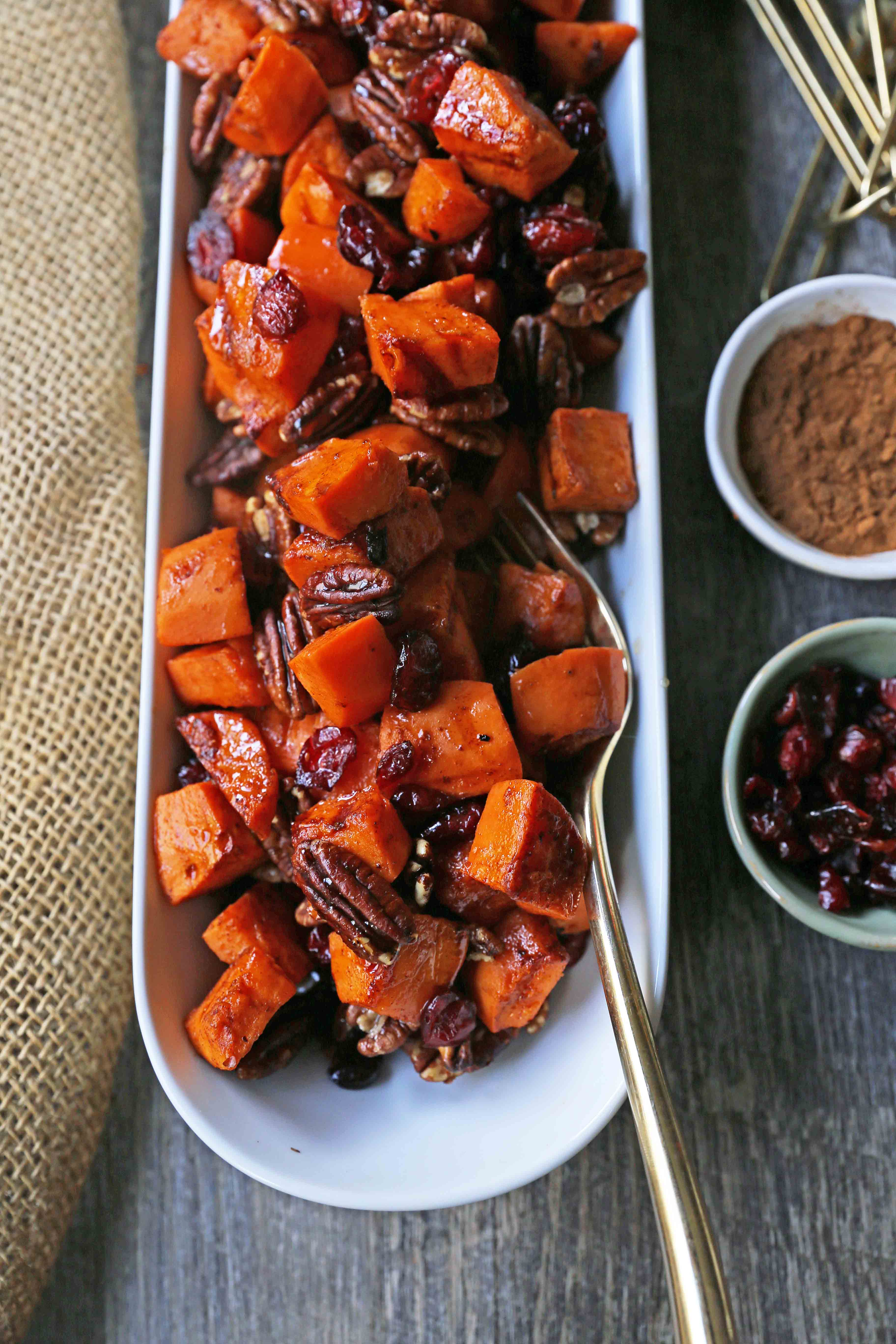 Thanksgiving is known for its turkey and calorie-laden sides, such as green bean casserole, mashed potatoes, brown sugar candied pecan sweet potatoes, and decadent pies. However, I wanted to lighten things up with a healthier option.
These Cinnamon Roasted Sweet Potatoes are a no-sugar-added, gluten-free, dairy-free alternative to the over-the-top side dishes.
These Roasted Sweet Potatoes are made with simple ingredients -- sweet potatoes, a drizzle of olive oil, real maple syrup, toasted pecans, cinnamon, and dried cranberries. My favorite way to eat vegetables is to roast them. It brings out their natural flavors and makes vegetables taste that much better.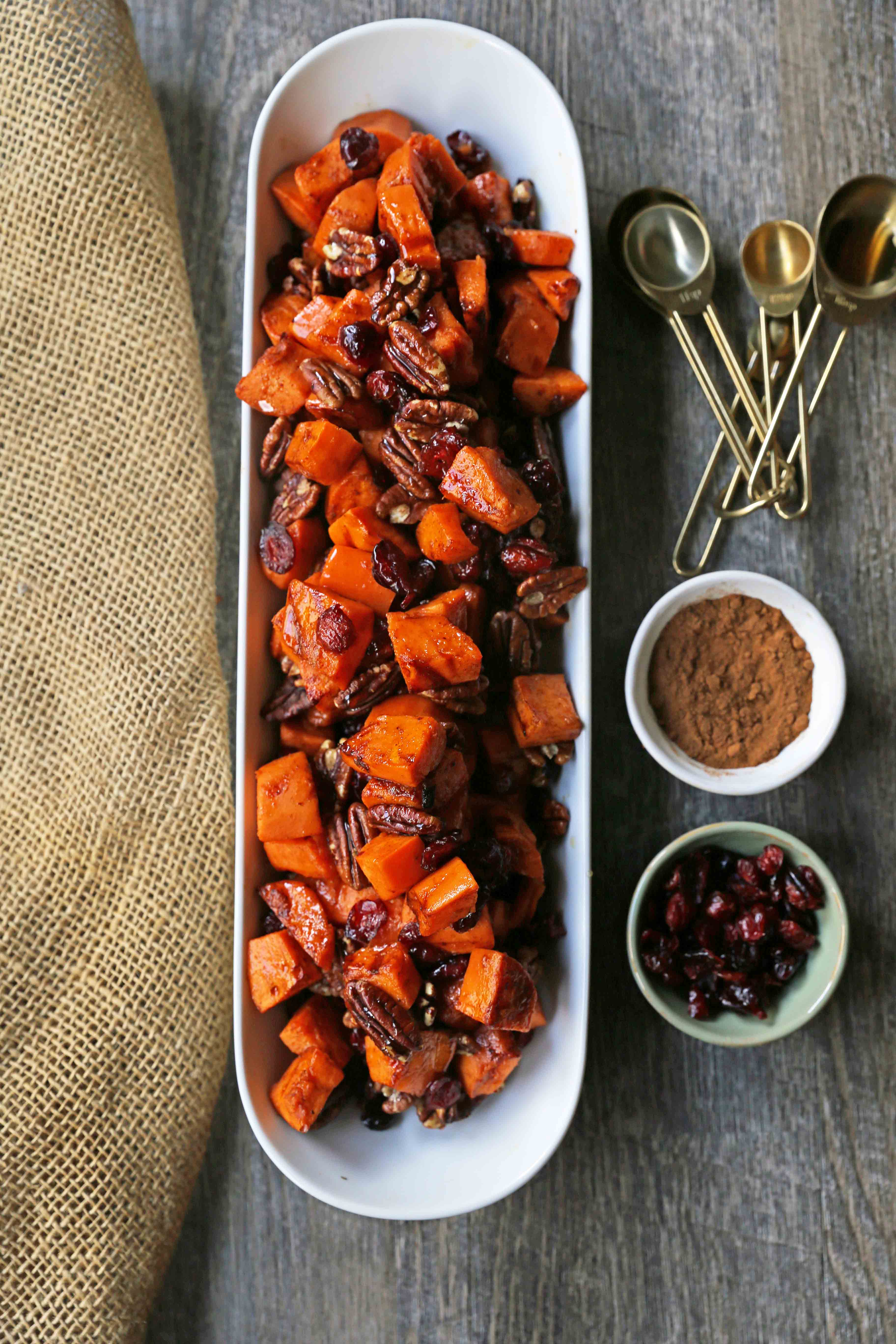 Roasted Sweet Potatoes with Cranberries and Pecans Ingredients:
Sweet Potatoes
Extra-Virgin Olive Oil
Cinnamon
Real Maple Syrup
Pecans
Dried Cranberries
Salt
I suggest using 100% real maple syrup because it gives this rich, warm flavor without the added sugars.
Most sweet potato side dish recipes call for a hefty dose of butter and brown sugar. This recipe calls for 100% real maple syrup, which comes straight from the source. It brings out the warmth of the sweet potatoes and tastes just like Fall food should taste.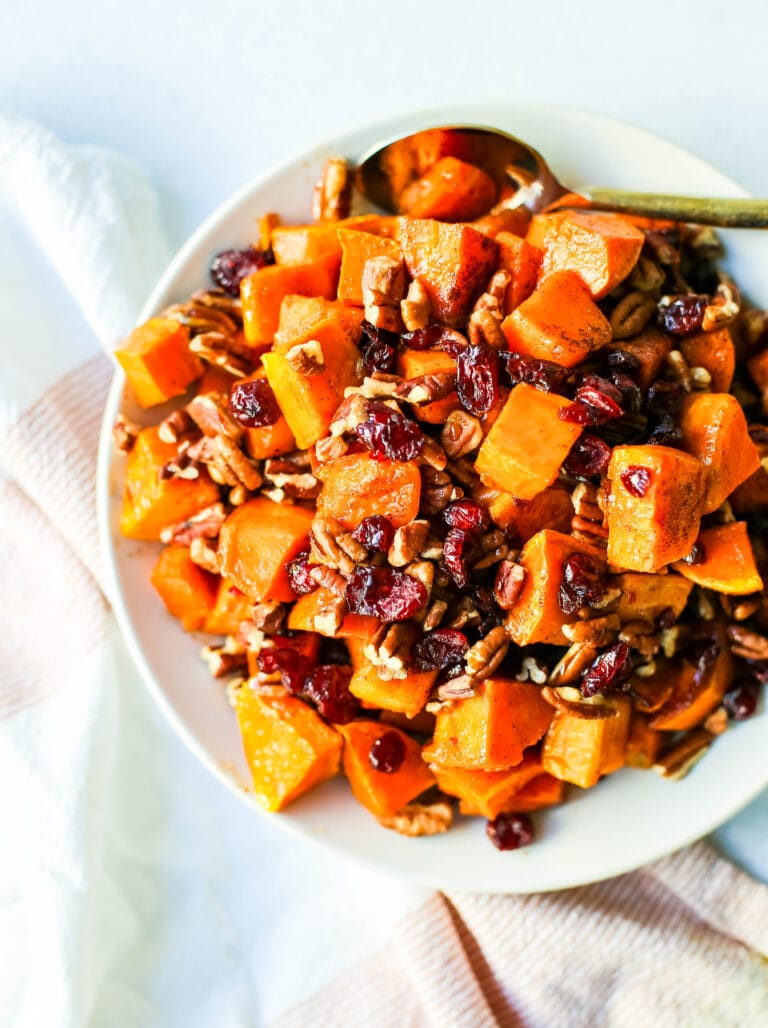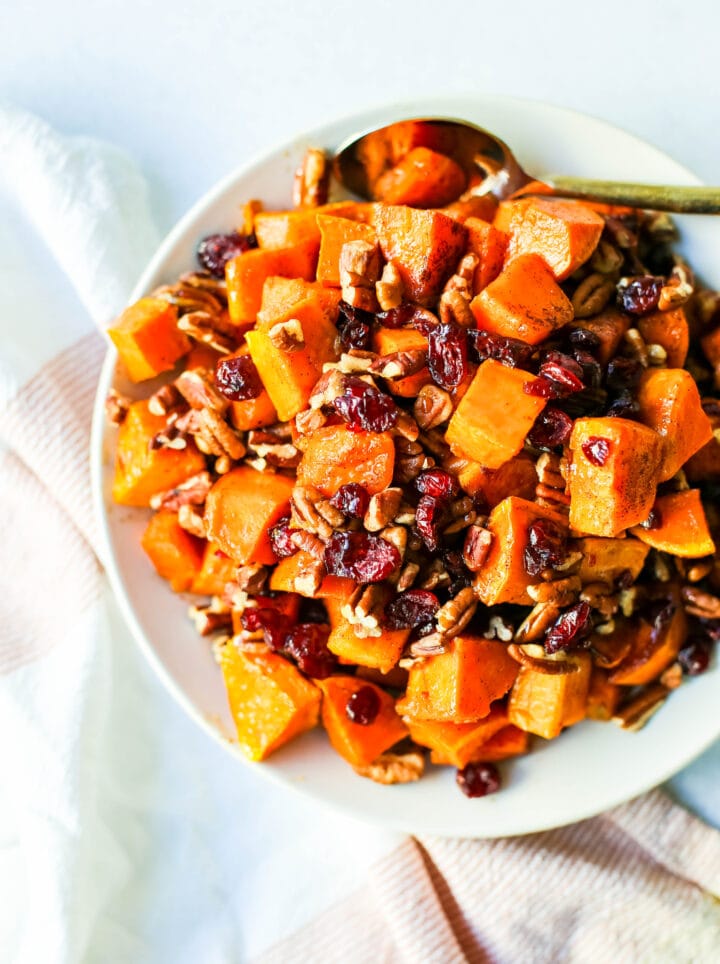 Growing up, my Mom's oven was always loaded to the brim with the turkey and side dishes. She always had to borrow some oven space from a neighbor in order to cook all the essential Thanksgiving sides. I watched in awe as she scrambled around the kitchen, preparing the feast.
I had to figure out a better way! I found that I could roast these cinnamon sweet potatoes on an indoor grill -- the De'Longhi Livenza Compact All-Day Grill. I can roast my sweet potatoes on this grill in less time than in the oven and it isn't heating up my kitchen. I was shocked how fast my sweet potatoes cooked on the grill and they tasted amazing!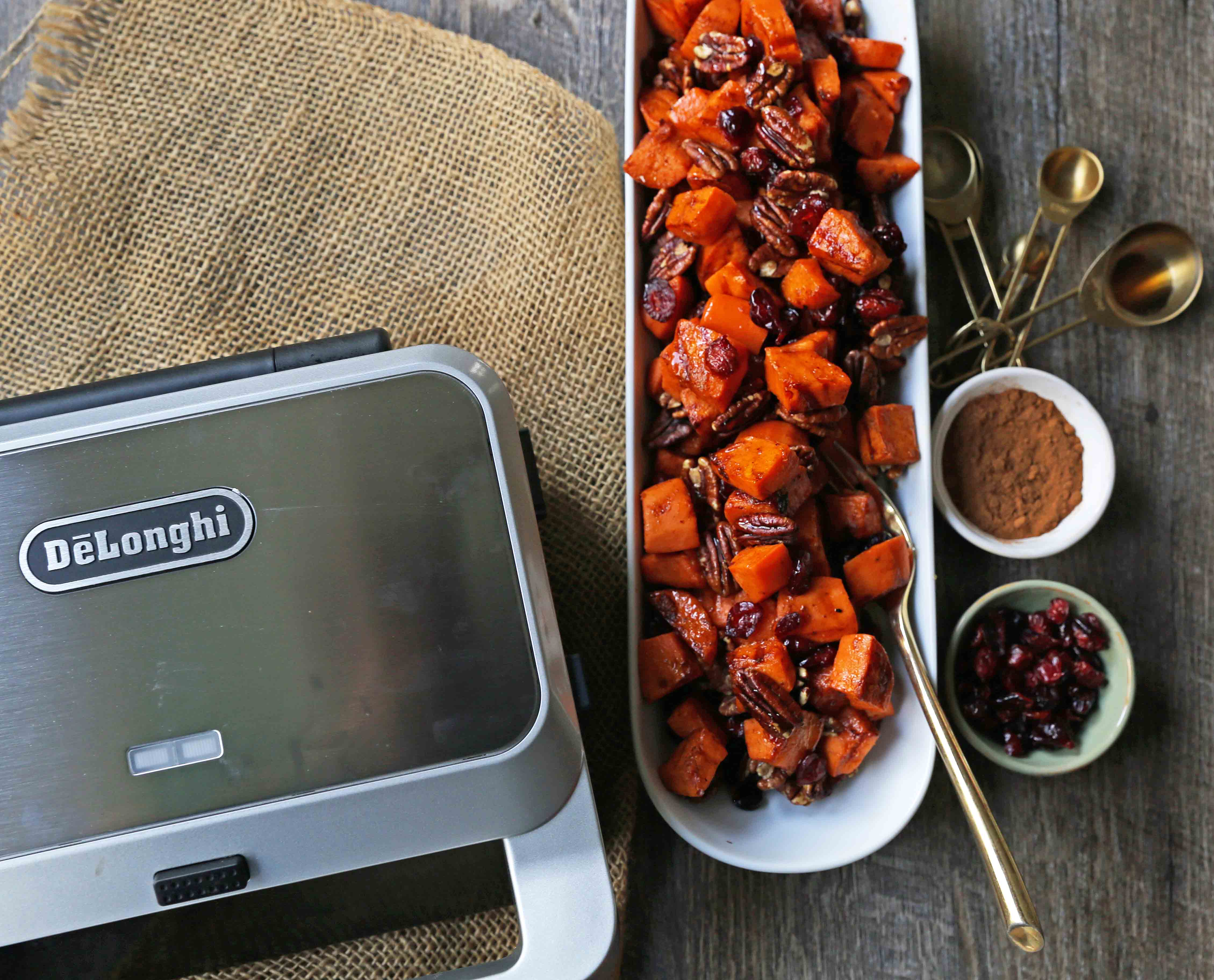 How to Roast Sweet Potatoes in the Oven:
Heat oven to 400 degrees.
Cut the sweet potatoes into bite-size pieces.
Place on light-colored baking sheet and drizzle with olive oil and sprinkle with salt.
Bake for 20-25 minutes. Flip the sweet potatoes halfway through baking time.
Several minutes before the sweet potatoes are done baking, remove them from the oven and sprinkle them with cinnamon, and drizzle on maple syrup.
Remove from the oven and toss with pecans and cranberries.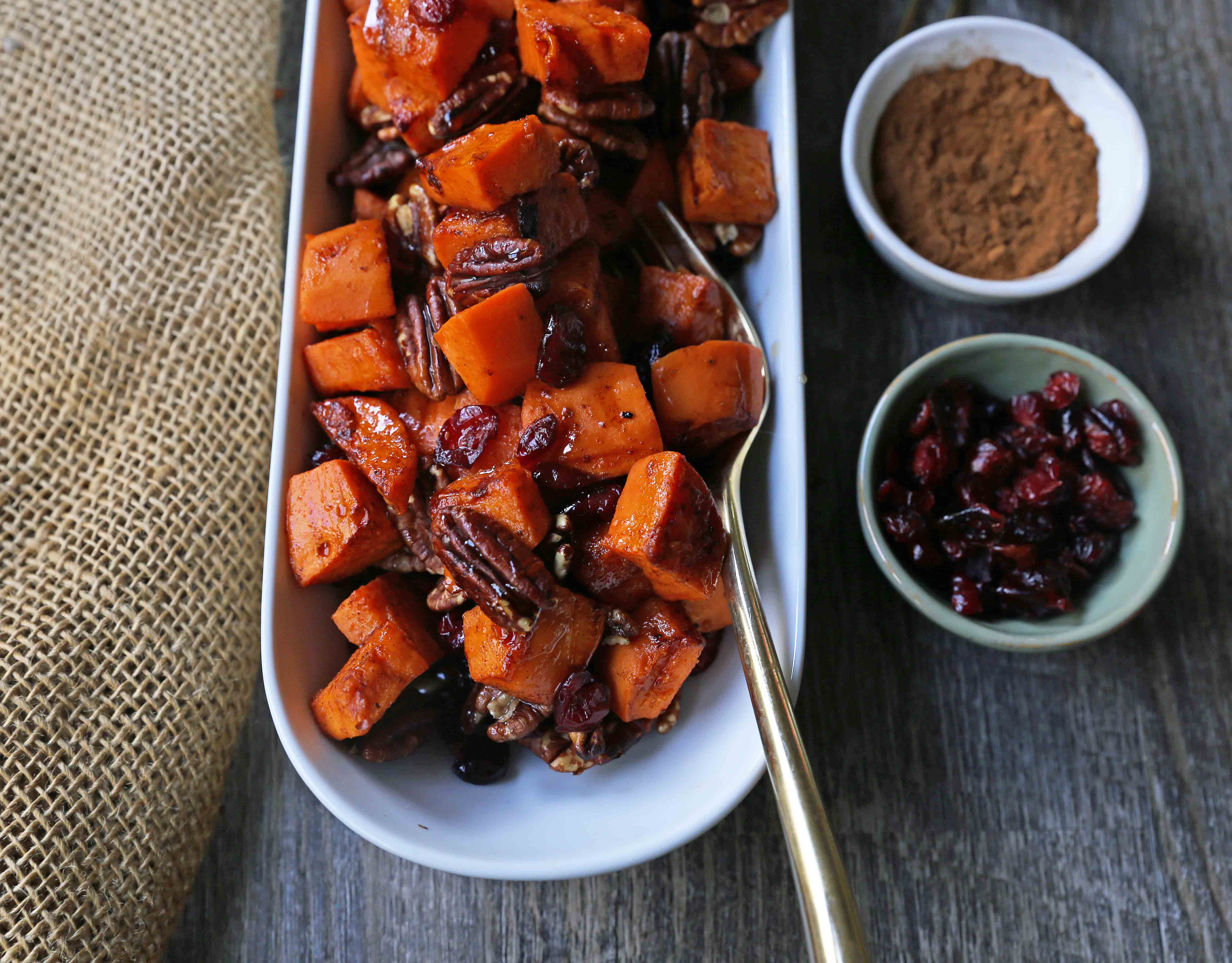 This is a quick and easy healthier sweet potato side dish that everyone will love!
I love to hear from you! If you make this recipe, please be sure to leave a comment and give this recipe a rating. If you make any of my recipes, tag me on Instagram @modern_honey and use #modernhoney so I can see your creations. It's one of my favorite things seeing you make these recipes in your own kitchen. Sign up for my newsletter below so you never miss a recipe. Thank you for following along! I truly do have the greatest readers. FOLLOW ME ON: INSTAGRAM --- FACEBOOK --- PINTEREST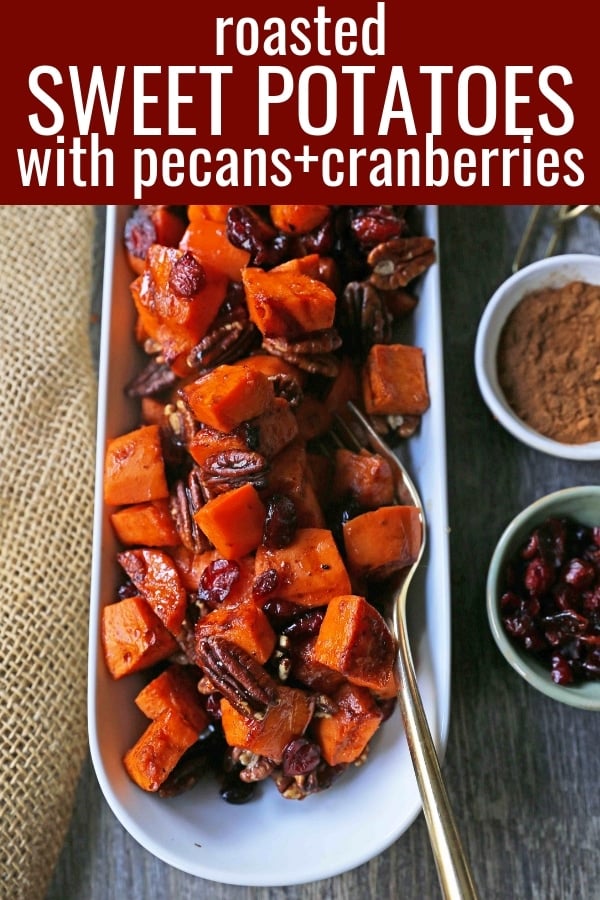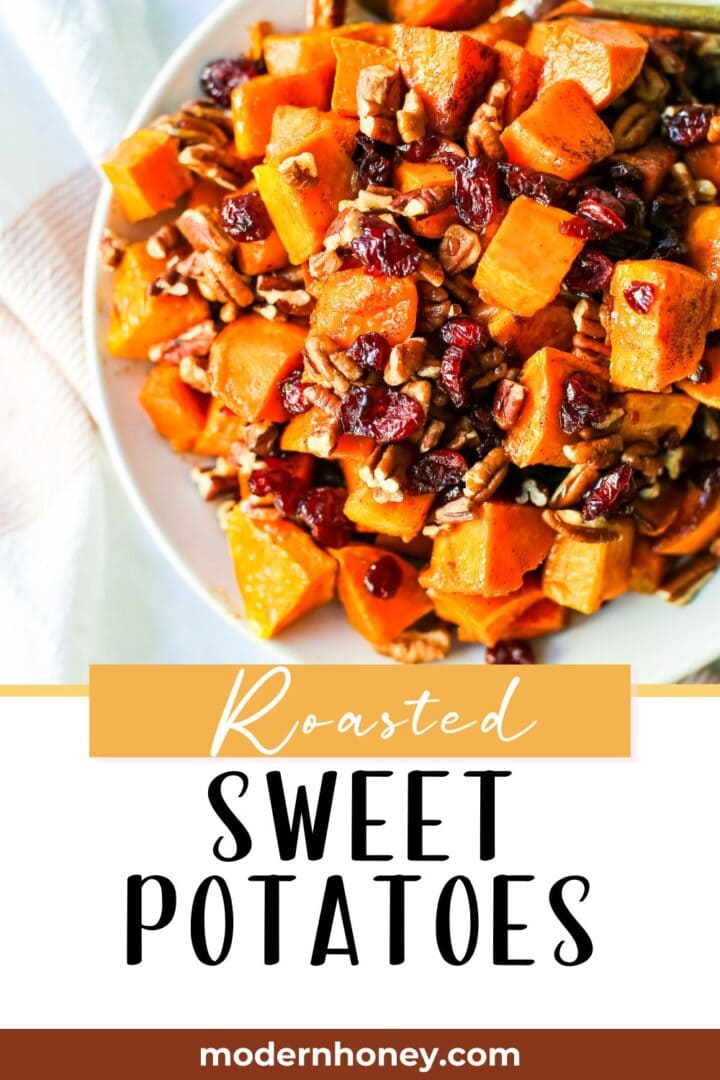 This is a sponsored conversation written by me on behalf of De'Longhi. The opinions and text are all mine.