The Famous Parker House Rolls are light, fluffy, and buttery with a secret ingredient that makes them tender and melt in your mouth. This is the best Parker house roll recipe!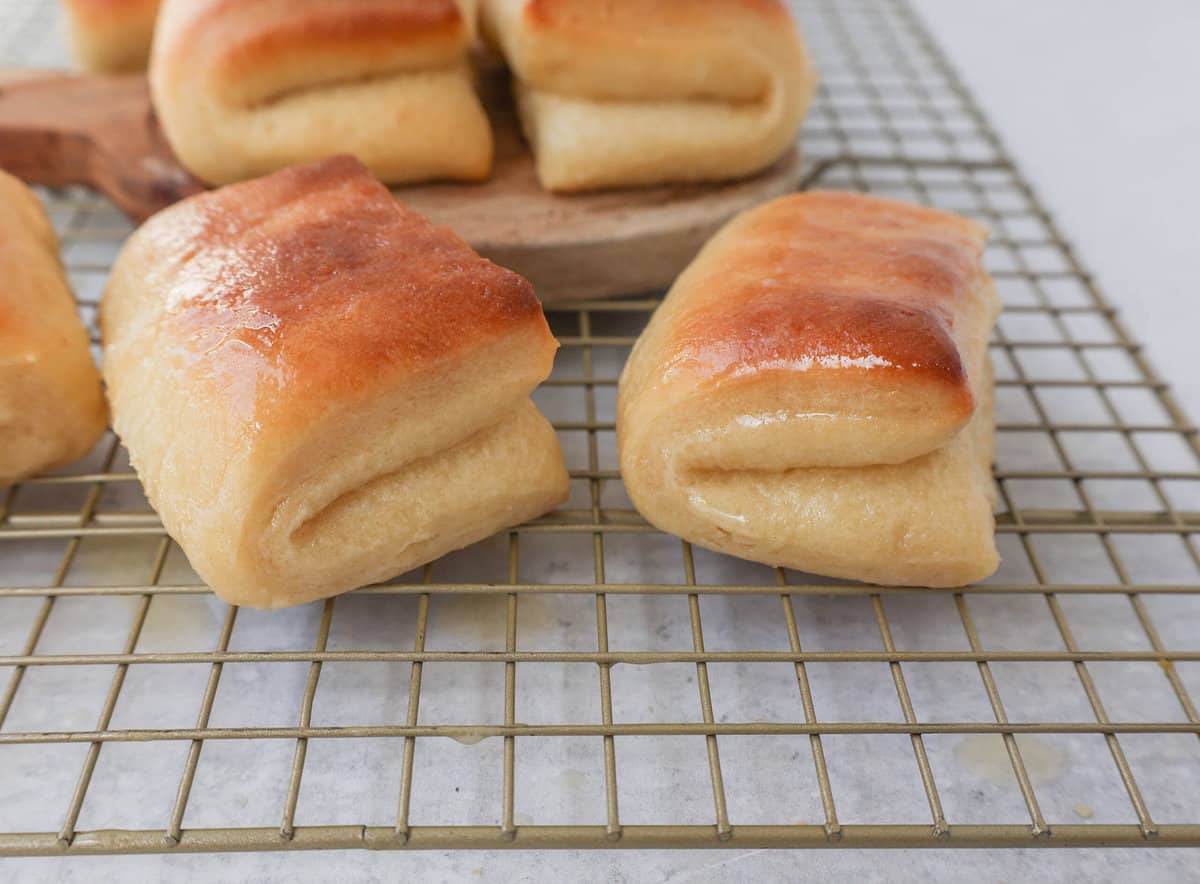 Have you ever been to Boston and stayed at the classic Parker House hotel? If you have, I hope you have tried the buttery rolls that they are famous for.
My daughter and son-in-law are moving to Boston for the summer for a finance internship in the city. We love visiting Boston and eating all of the amazing food -- namely the Parker House Rolls.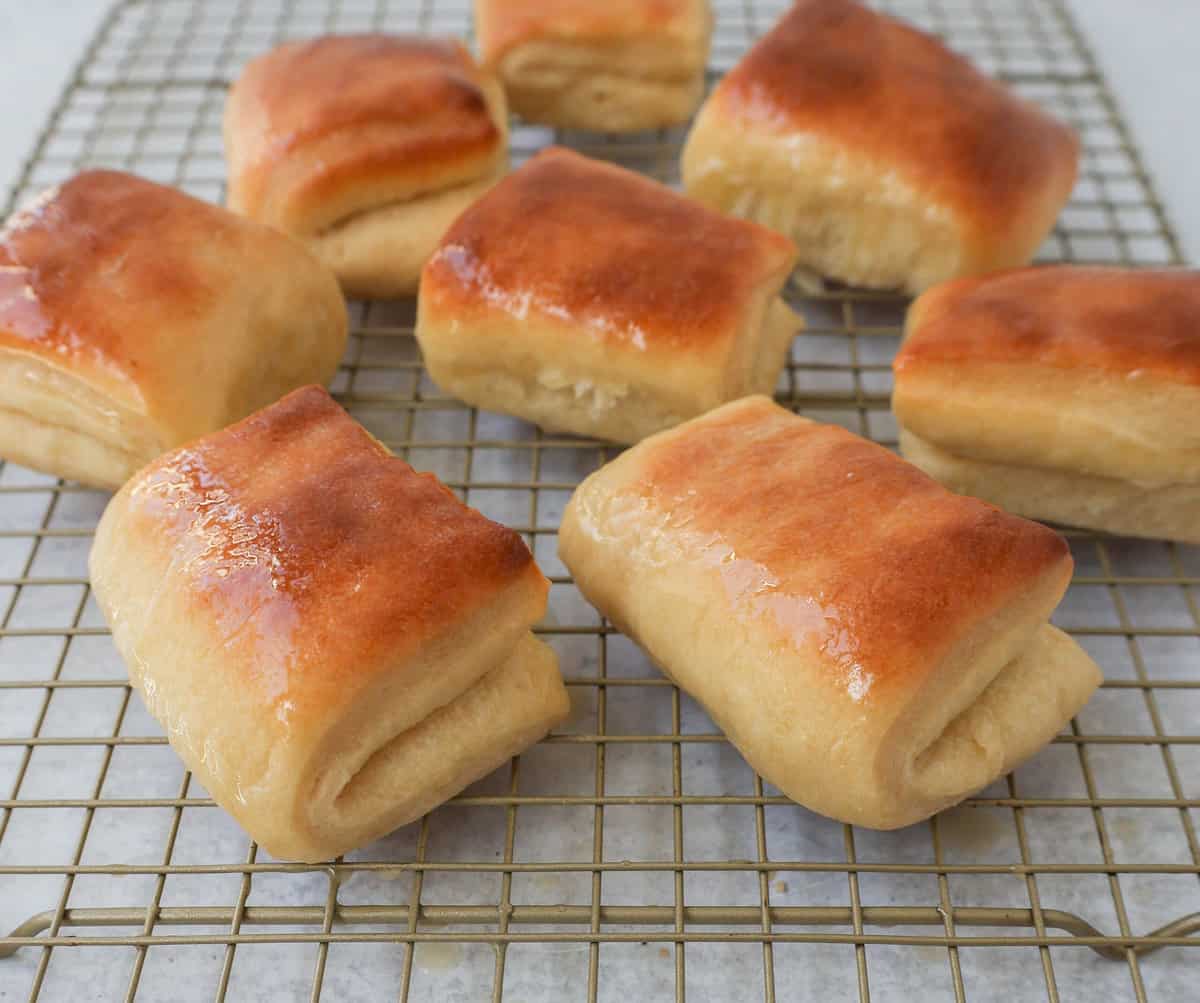 I am so excited to now be able to make them at home. I grew up with a bread-loving Mom who made homemade bread on the daily.
You can find so many bread recipes on my site such as my Easy Homemade Dinner Rolls, or my super simple soft French Bread Recipe, or my 1-Hour Whole Wheat Bread Recipe. I love baking bread!
What do I love about these Homemade Rolls?
The rolls are so soft and fluffy. The texture is so pillowy soft and tender and just melts in your mouth.
These parker rolls are so buttery! There are layers of butter throughout which makes them taste even better.
You can eat the rolls just plain without anything on them and they are still absolutely delicious! Add some butter and jam and you are in heaven!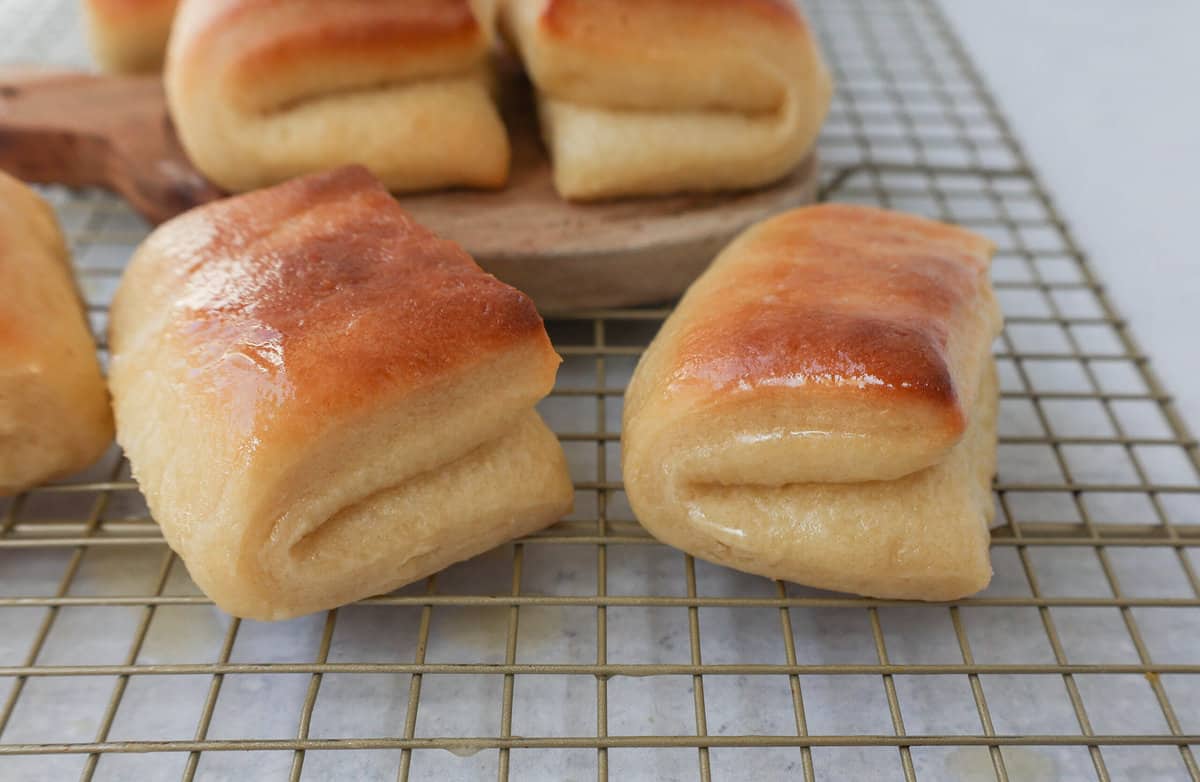 Ingredients
This famous Parker House Rolls recipe calls for a good amount of butter layered throughout which makes them so buttery and delicious.
This roll recipe also calls for a secret ingredient that makes them extra tender -- dried potato flakes. It may sound interesting but I can promise you that it is a huge game changer!
Flour -- I suggest using all-purpose flour or bread flour in this homemade roll recipe. I used all-purpose flour in my recipe testing.
Instant Yeast -- this is a fast acting yeast and the integral ingredient in developing the bread and allowing the dough to rise.
Sugar -- this helps to activate the yeast and get it working.
Salt -- a very important ingredient in baking. Many times if rolls lack flavor, it is because there isn't enough salt in the dough.
Dried Potato Flakes -- the secret ingredient to soft, fluffy rolls. You can find at your local grocery store. Make sure to look at the ingredients and get the potato flakes (also called instant mashed potatoes) with just dried potatoes and salt and spices.
Butter -- use salted butter in this roll recipe. The butter is layered inside the dough and brushed on after baking.
Milk -- I suggest warming the milk in the microwave for about 25 seconds to help the yeast work quicker.
Egg -- helps to bind the ingredients together.
See recipe card at the bottom of the post for quantities.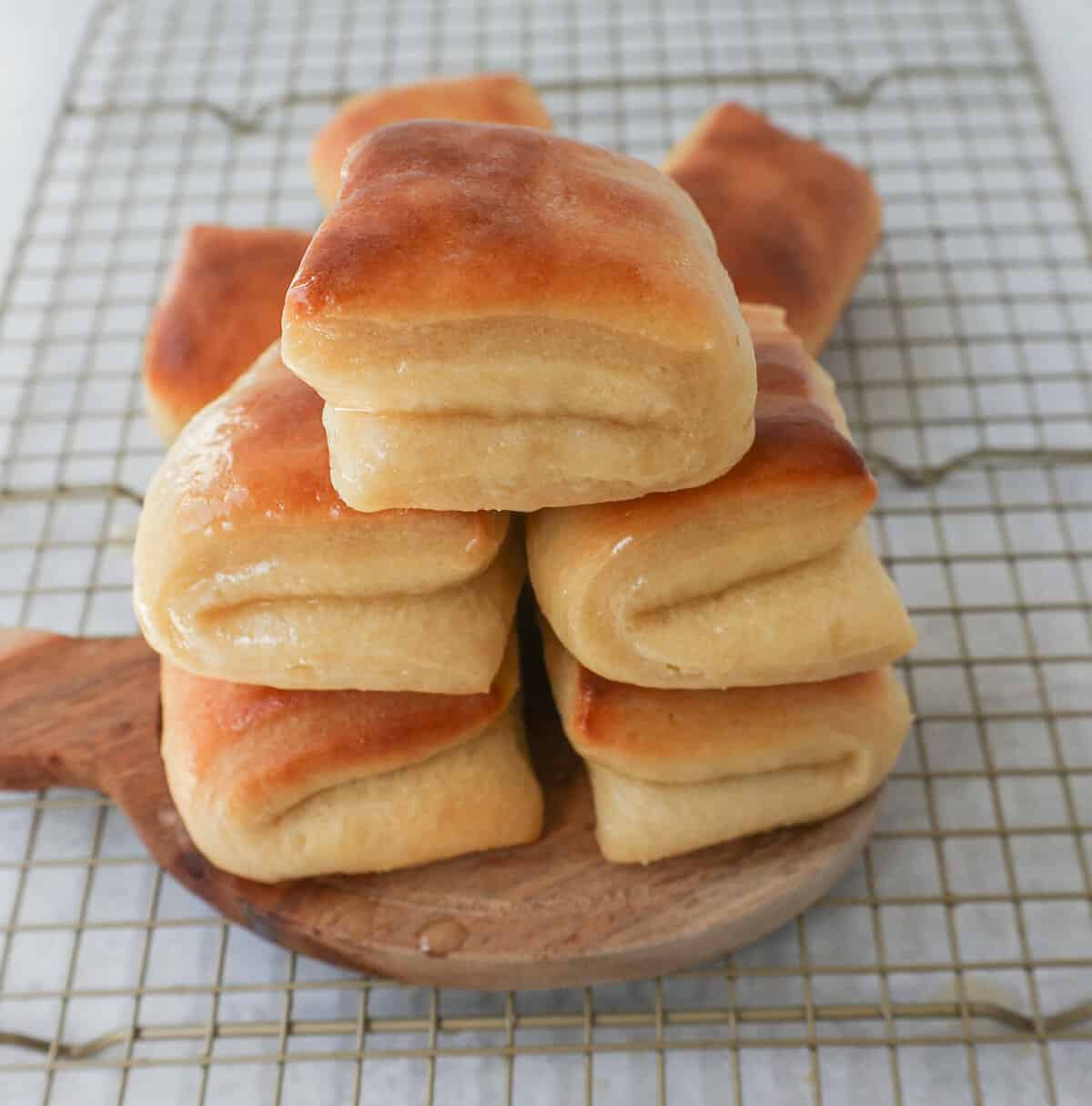 Instructions
I will share step-by-step instructions in the recipe card at the bottom of the page on how to make the Best Parker House Rolls. If you are a visual learner like me, these photos may help.
This recipe is an adaption of the King Arthur Parker House Roll Recipe. I increased the salt by ¼ teaspoon, added more butter in the layers and on the top of the rolls, and warmed the milk to expedite the rising process.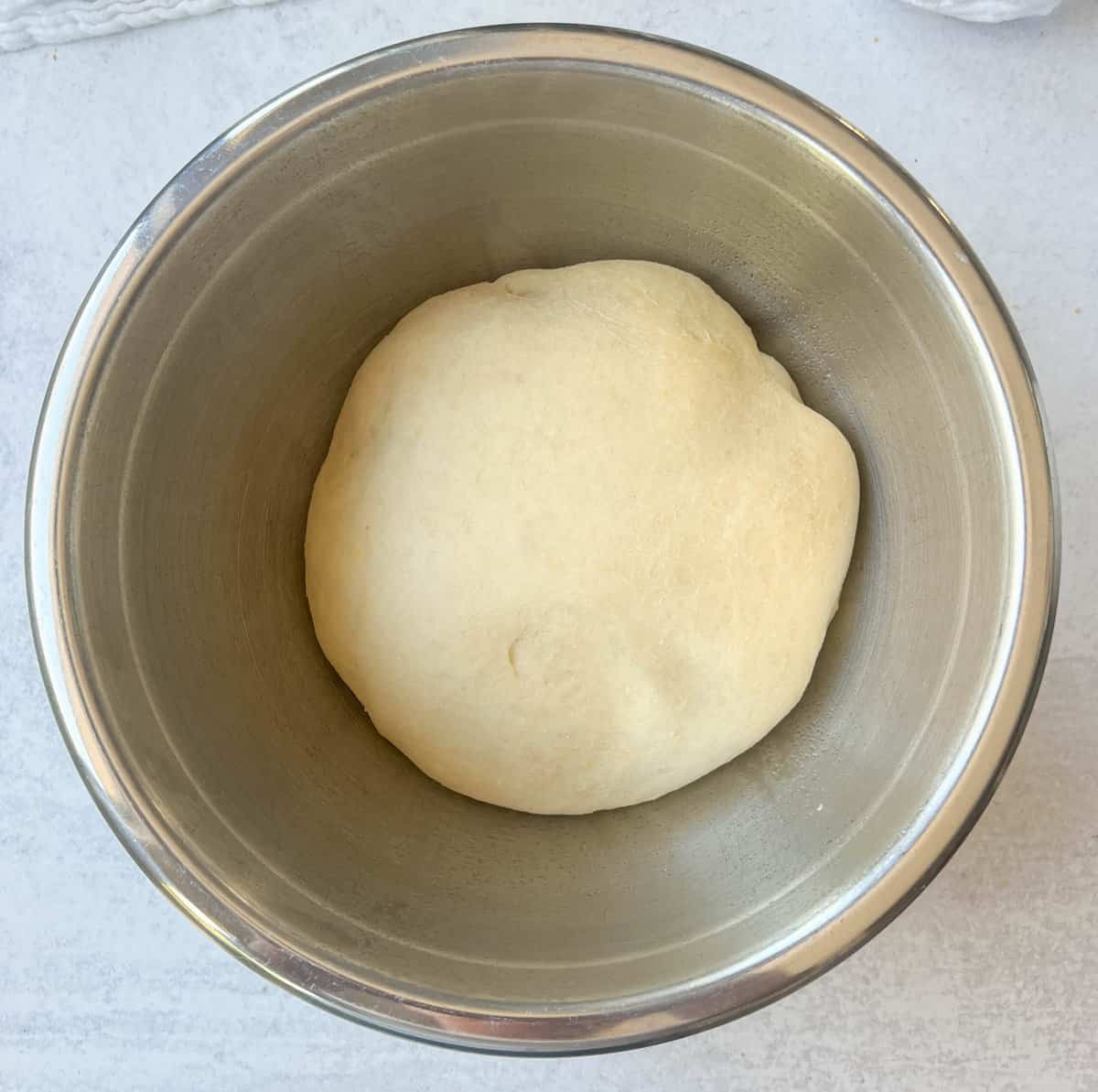 Mix the ingredients together in a stand mixer or by hand. Knead for 8-10 minutes. Place the dough into a bowl and allow to rise for about 90 minutes.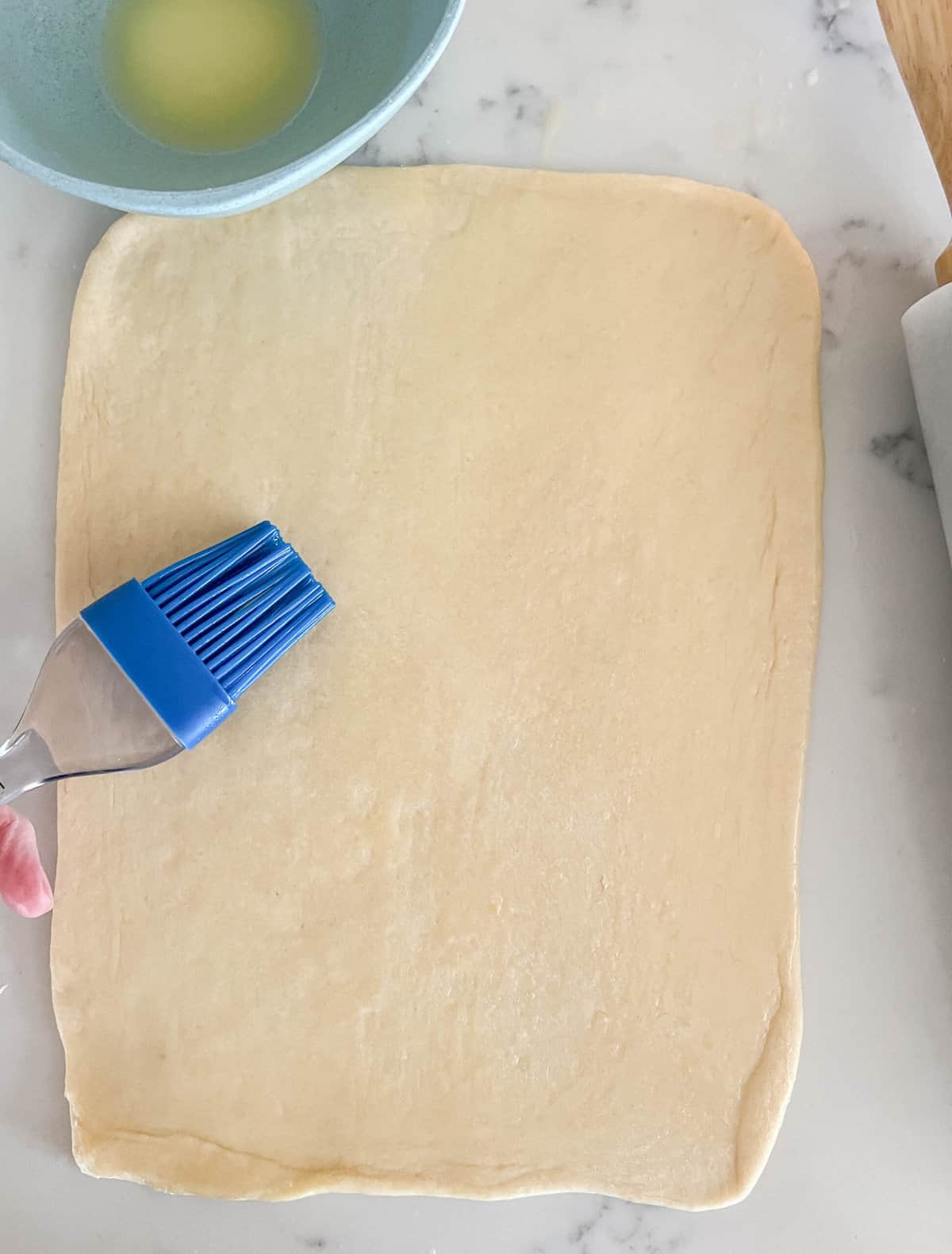 Transfer the dough to a work surface. Divide the ball dough in half. Roll one half of dough into an 8" x 12" rectangle. Brush with melted butter.
Slice the dough in half lengthwise to make two 4" x 12" rectangles. Fold each rectangle lengthwise. You will now have a rectangle that is 2 ¼ x 12". Repeat.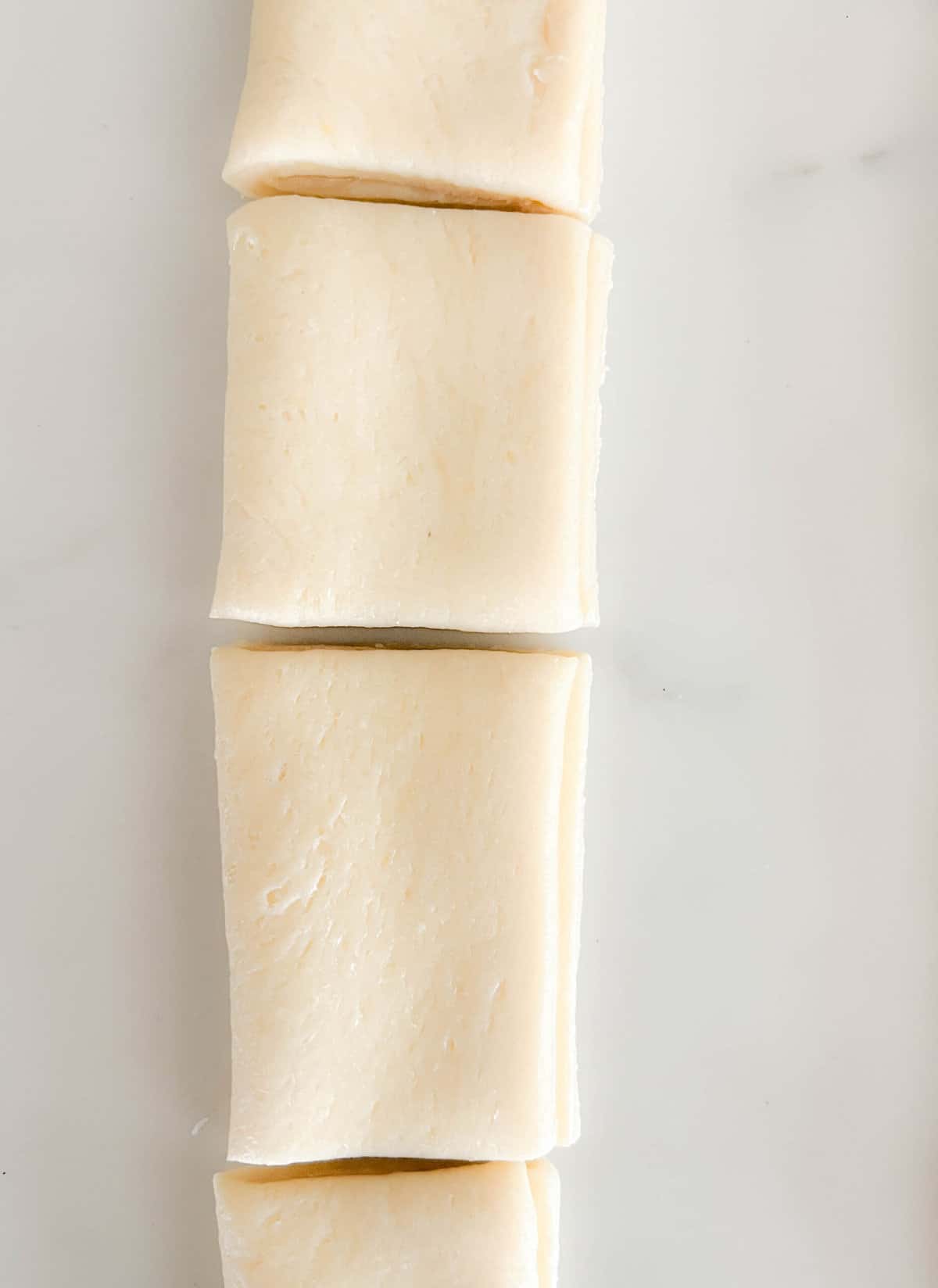 Cut each of the rectangles into four 3" pieces. If you want to ensure the rolls baked evenly, measure before cutting. As you can see above, I didn't measure and they were different sizes.
Lightly grease a 9 x 13 pan. Arrange 4 rows of 4 rolls into the pan. Gently flatten the rolls to cover the bottom of the pan.
Cover the pan and let the rolls rise for about 1 hour.
Preheat oven to 350 degrees. Bake the rolls for 17-22 minutes until the rolls are a light golden color.
Remove from the oven and generously brush with remaining melted butter. Pull apart to serve.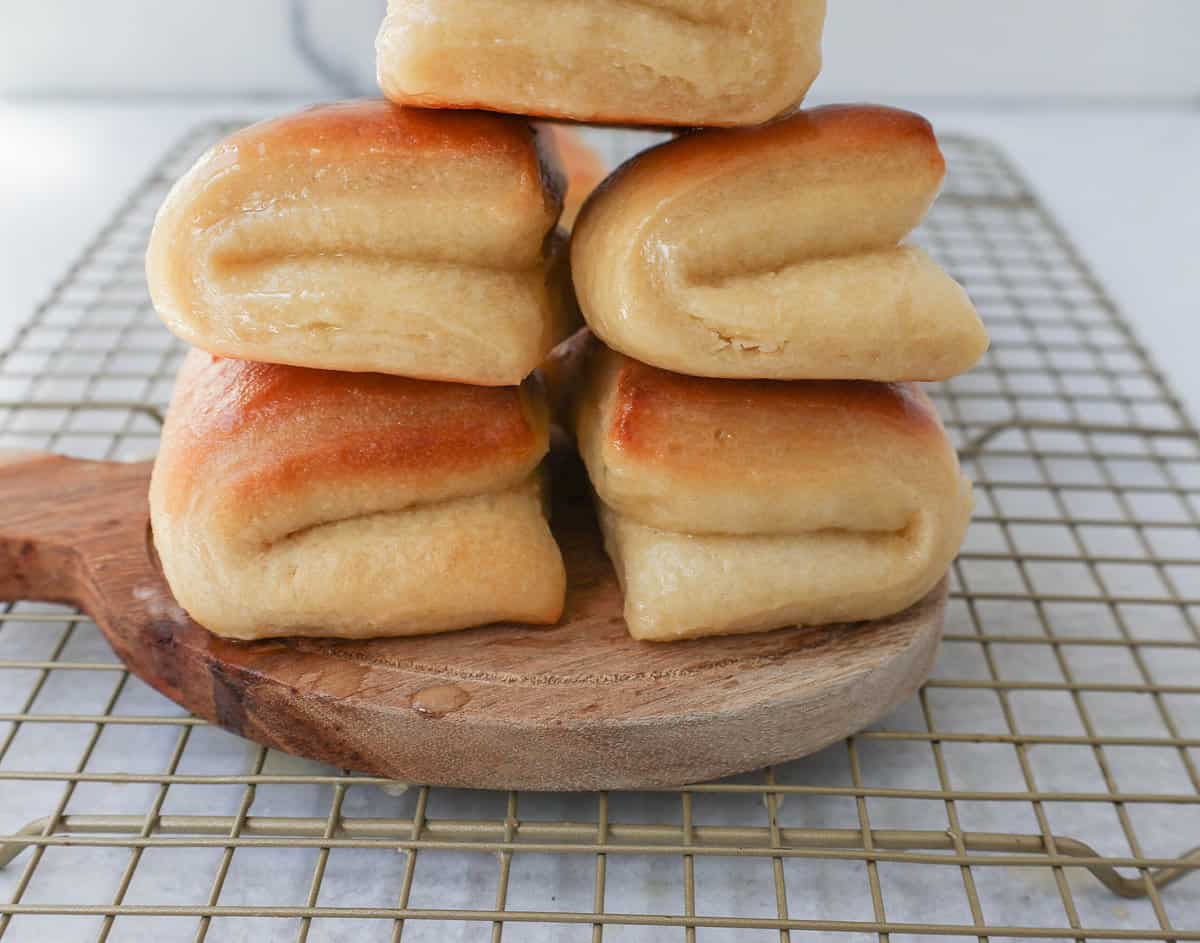 Substitutions
What potato flakes should I use?
You want to look for potato flakes, also known as instant mashed potatoes. They are usually in a box and are made up of dried potatoes and salt. Just make sure there isn't any crazy additional ingredients like garlic or cheese.
Variations
If you want to make honey butter rolls, you can add honey to the butter to brush on the top of the rolls after they are baked.
If you want to make garlic butter rolls, add minced garlic or garlic butter to the melted butter and brush on top of the rolls once you pull them from the oven.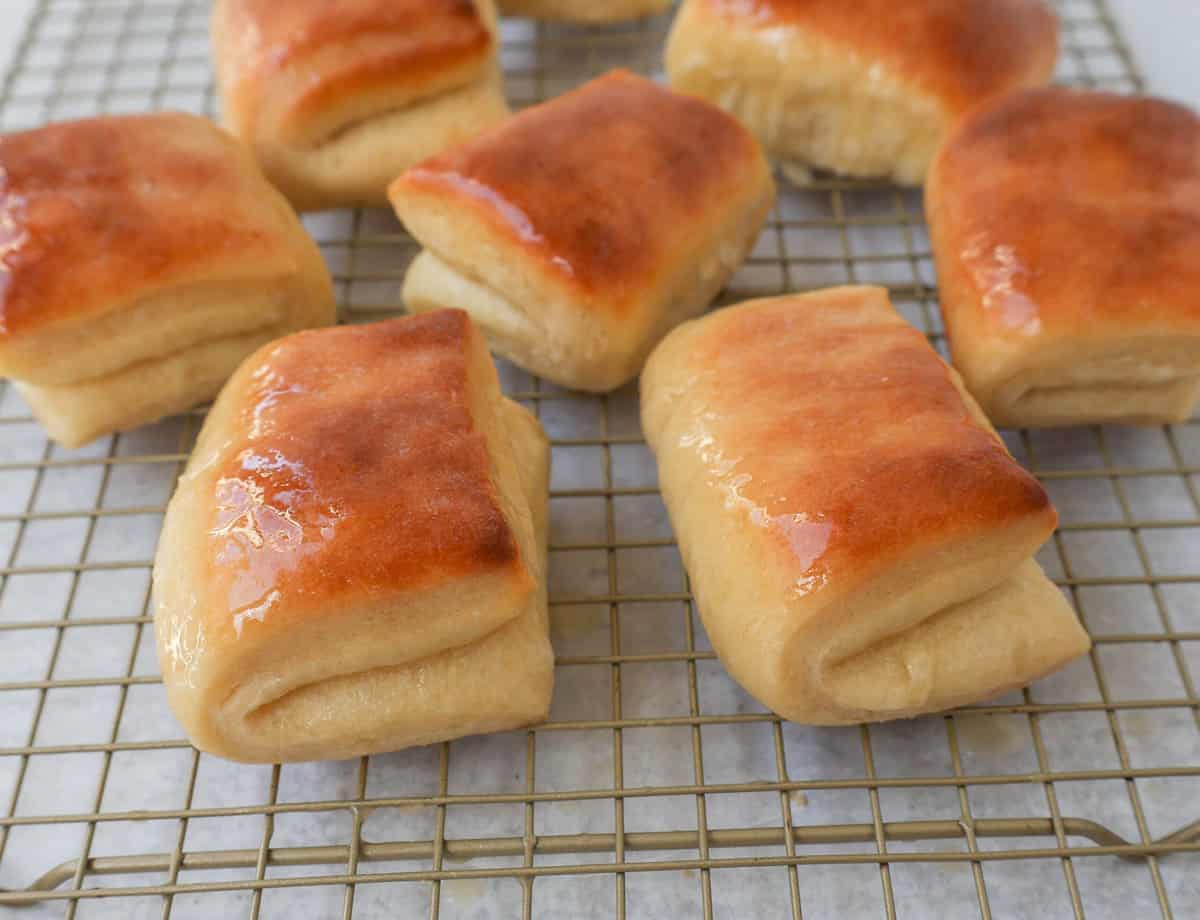 Equipment
To make it extra easy to make homemade rolls, use a stand mixer if you have one like a Bosch Mixer or Kitchenaid Mixer. I prefer to use my Bosch when making bread, but either will work fine.
You can also make these parker house rolls by hand. You will need to hand knead the dough for 10 minutes so it will be great exercise!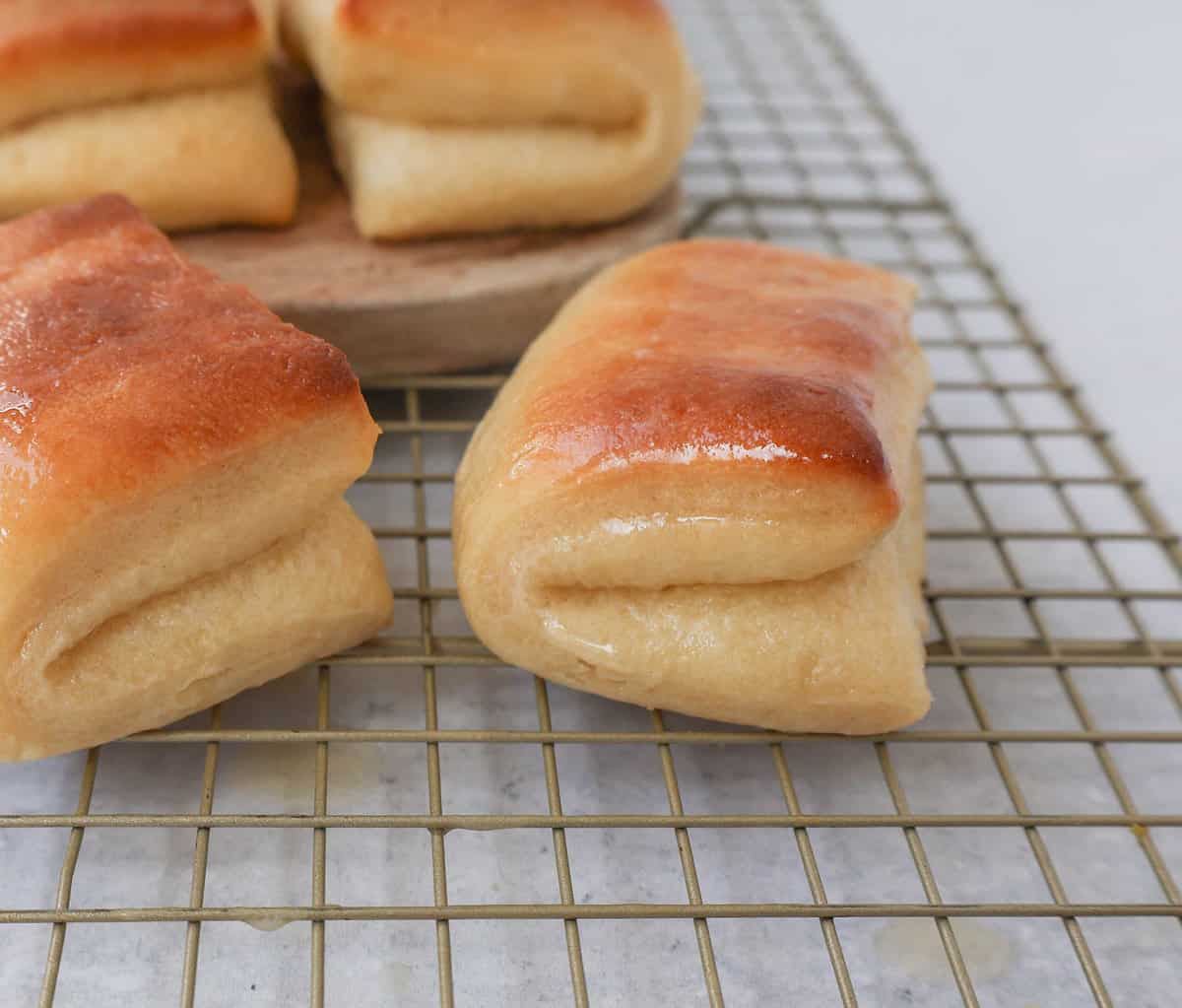 Storage
Store the freshly baked homemade rolls in an airtight ziploc bag or container. These rolls can be kept out at room temperature. They are best eating within 2 days. If you would like to freeze the rolls, read below for tips.
Can I freeze the Parker House Rolls?
Yes! These rolls freeze beautifully. I suggest using a freezer safe Ziploc bag and they will stay for a month in the freezer. Just defrost at room temperature or heat in the microwave at 50% power so it doesn't change the texture of the rolls.
Top tip
Don't overbake the rolls! Watch carefully and pull the rolls out of the oven as soon as they start to turn a light golden brown color. Have the melted butter ready to brush on as soon as they come out of the oven.