This German Chocolate Pie is a creamy rich chocolate pie with a sticky German chocolate coconut-pecan topping and fresh whipped cream and chocolate shavings.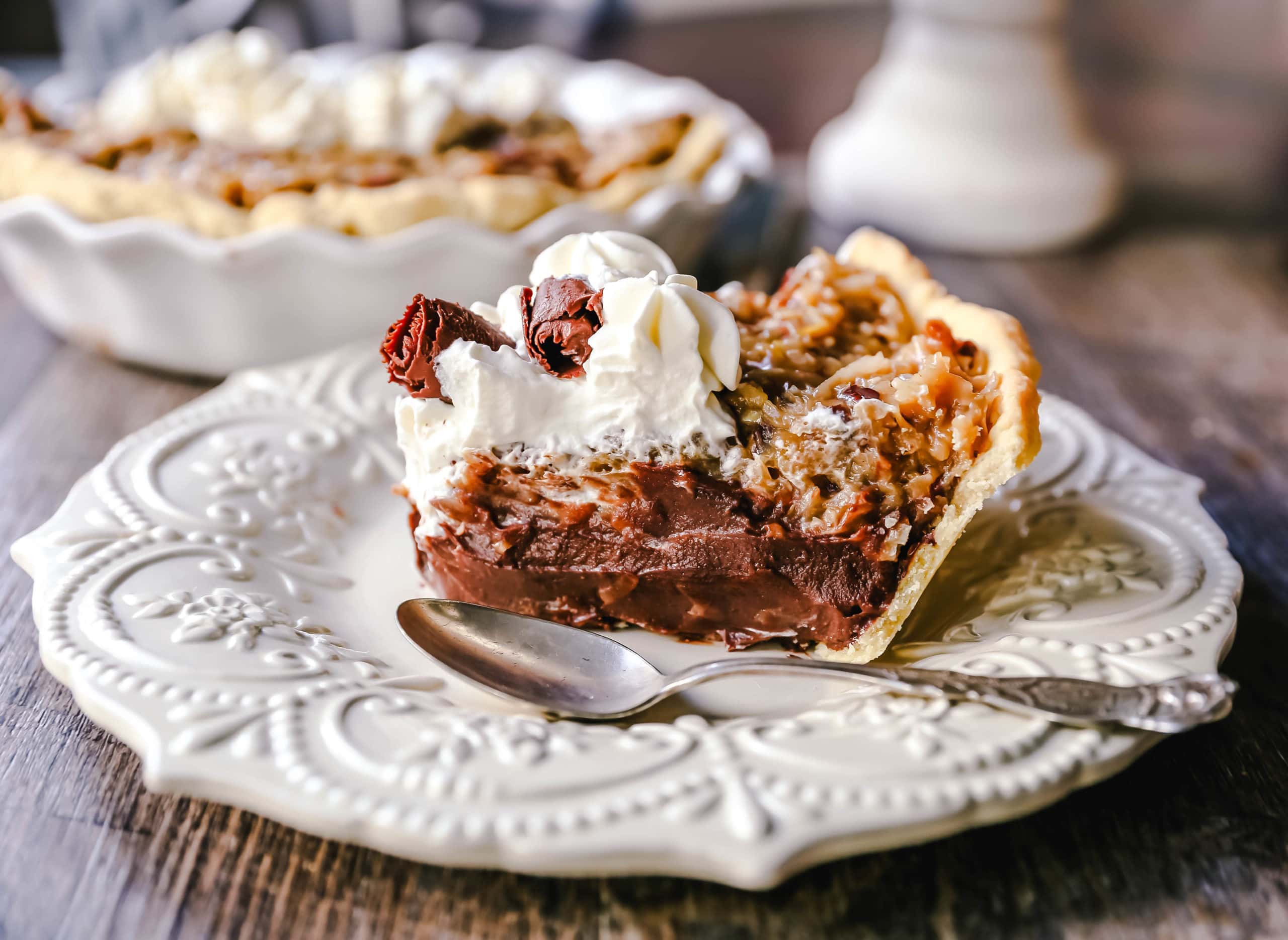 German Chocolate Pie
I just couldn't let Thanksgiving 2020 go by without sneaking in one more pie recipe! If you love German Chocolate Cake, then this recipe is for you! I wanted to create a homemade German Chocolate Pie with all of the flavors of the famous cake but made into a pie.
When I was little, I was obsessed with coconuts. I would do my chores so quickly just so I could run down to the local grocery store and pick up the largest coconut I could get my hands on. Since I am such a coconut lover, I have requested a lot of German Chocolate birthday cakes in my days. This Coconut Pecan German Chocolate Pie has become so popular!
Chocolate and coconut are such a classic combination!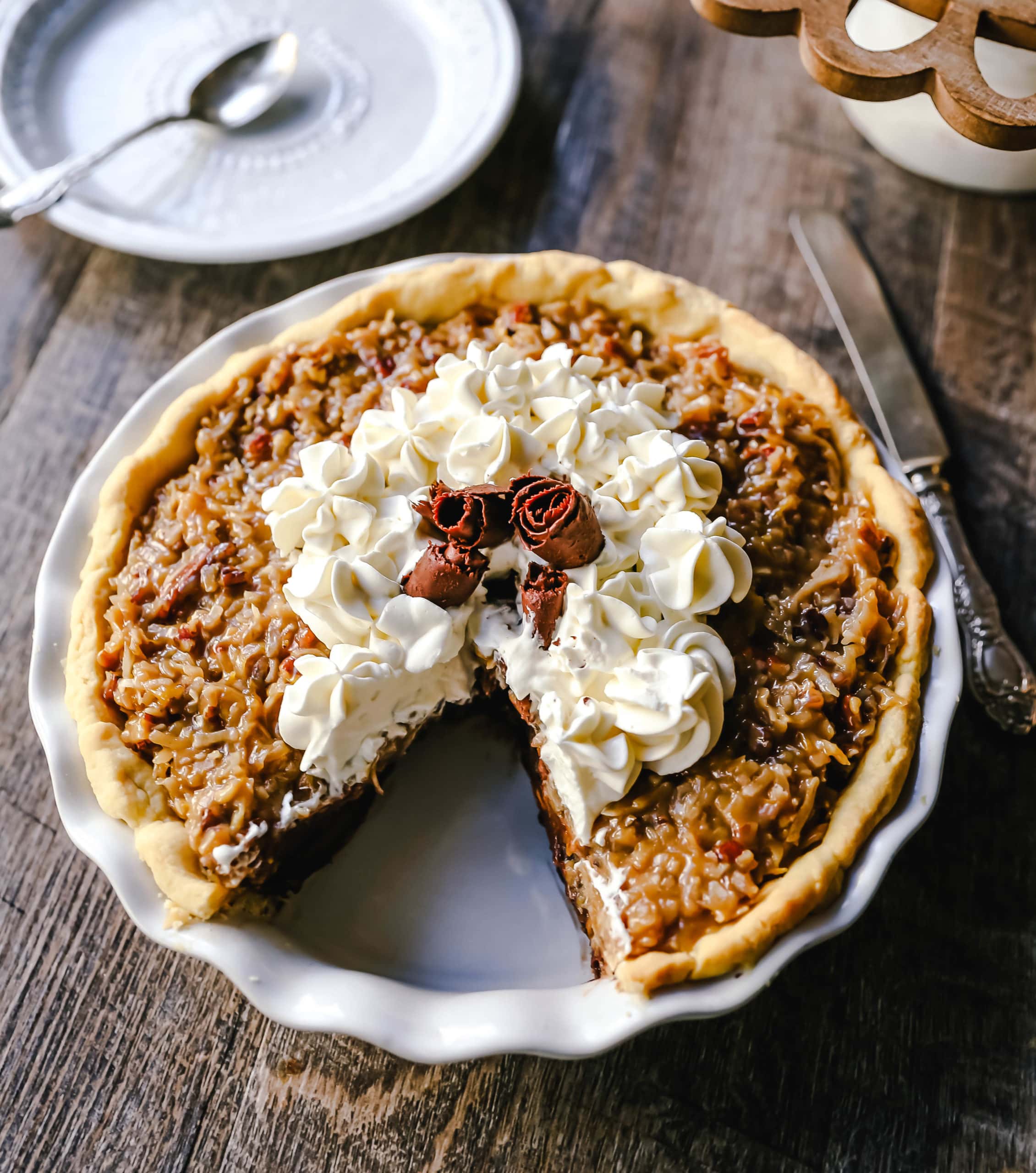 This German Chocolate Coconut Pecan Pie has a buttery pie crust, filled with rich, decadent chocolate custard, and topped with a homemade brown sugar coconut pecan filling, and then finished off with a homemade sweetened whipped cream and chocolate shavings. This is one heavenly pie!
German Chocolate Pie Ingredients:
Chocolate Custard Ingredients:
Semi-Sweet Chocolate -- if you want a less sweet pie, you can use dark chocolate
Butter
Heavy Cream + Whole Milk
Sugar -- granulated sugar works best in this recipe
Vanilla
Unsweetened Cocoa Powder
Egg Yolks
Cornstarch
Coconut Pecan Filling Ingredients:
Butter
Brown Sugar
Evaporated Milk - this can be found in a can and is different than sweetened condensed milk
Egg Yolks
Vanilla
Sweetened Flaked Coconut - make sure it is fresh, moist, soft coconut
Pecans
All-Butter Pie Crust Ingredients:
Butter
Flour
Salt
Buttermilk or Ice Cold Water
Whipped Cream (homemade whipped cream made with heavy cream and powdered sugar)
Chocolate Shavings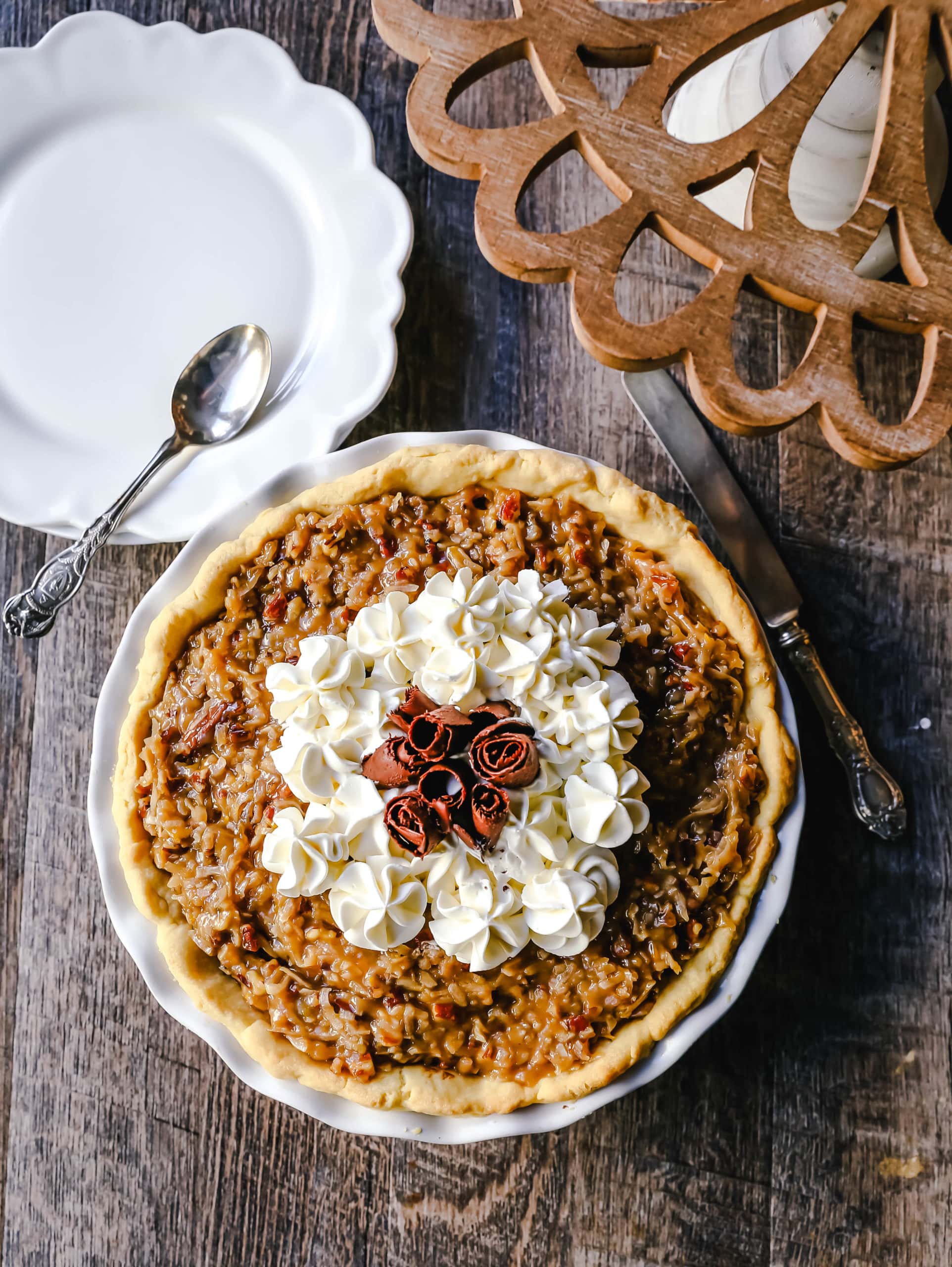 This German Chocolate Pie starts off with a homemade buttery, flaky pie crust. If you want to make things even easier, you can make a chocolate pie crust or even a graham cracker crust. If you read my all-butter pie crust recipe instructions, you find out that I definitely simplify my pie crust recipe by using a food processor. It takes less than 2 minutes to whip up! For this recipe, you need to pre-bake the pie crust so it is ready to be filled.
The Chocolate Cream filling is made with all-natural ingredients. It starts off with butter, chocolate, vanilla, sugar, cornstarch (to thicken), unsweetened cocoa powder, heavy cream, egg yolks, and whole milk.
You will want to eat the entire bowl of this chocolate custard!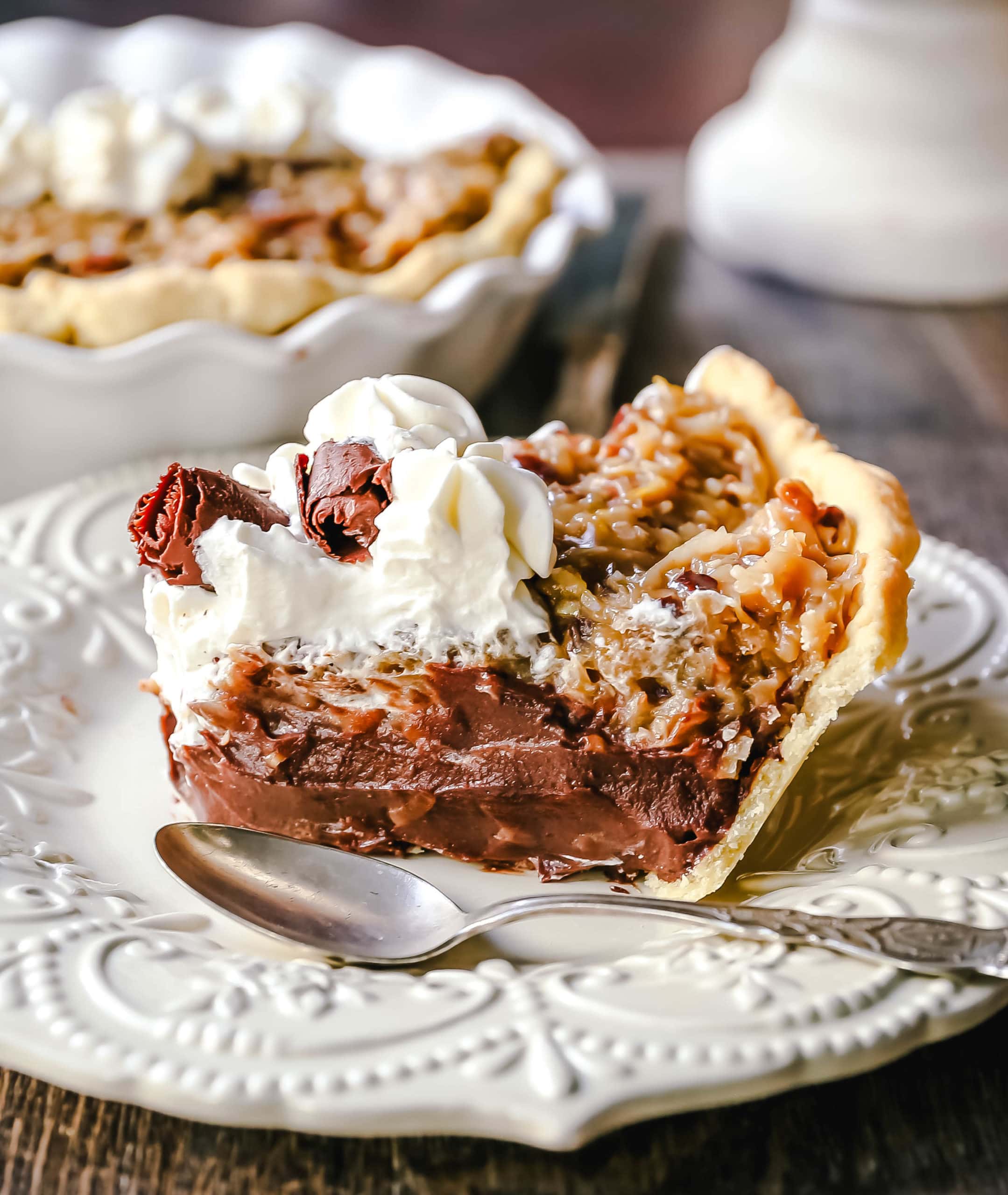 The German Chocolate Coconut Pecan Filling is made with butter, brown sugar, evaporated milk, vanilla, egg yolks, coconut, and pecans. It takes less than 10 minutes to make on the stove and is so decadent.
Then it is all topped off with homemade, sweetened whipped cream made with heavy cream, powdered sugar, and a touch of vanilla. This Chocolate Coconut Pie is going to knock your socks off!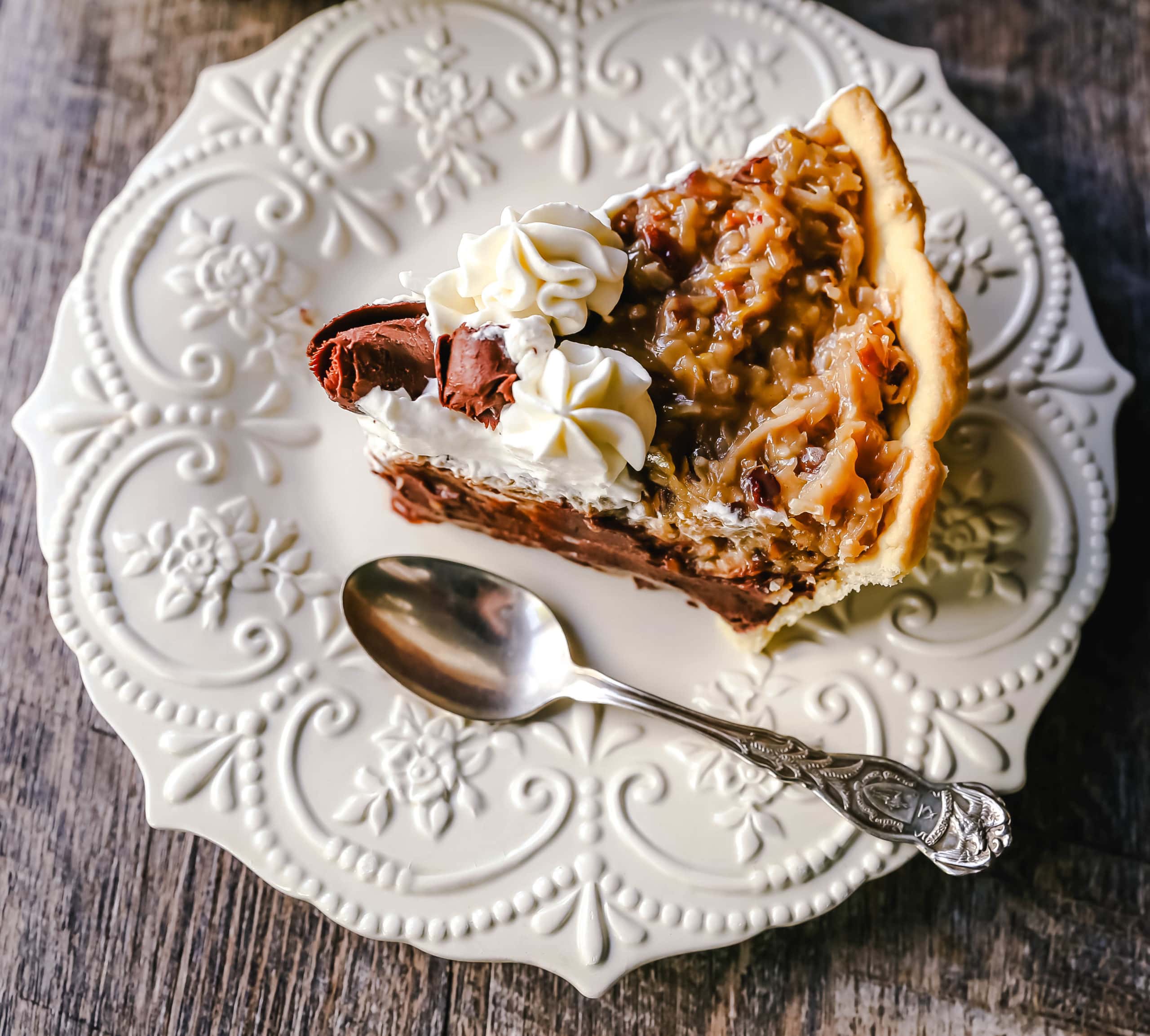 How to make the Best German Chocolate Pie:
Start by making an all-butter pie crust. You can find my instructions HERE but it is easier than you think to make homemade pie crust. Bake the pie crust ahead of time and set it aside to cool.
Make a homemade chocolate custard. Make sure to do this ahead of time to give it time to chill and set-up in the refrigerator. I use semi-sweet chocolate but you can use a darker chocolate or even milk chocolate for a sweeter pie.
Make the coconut pecan sticky topping in a saucepan. You want to use evaporated milk in this recipe (not to be confused with sweetened condensed milk). Evaporated milk is unsweetened and perfect in this recipe.
Whip up heavy cream and sweeten it with powdered sugar. To make sure your whipped cream is successful, make sure your heavy cream is chilled and cold.
Let it chill! This is a pie that needs to be refrigerated so make sure to give it enough time to chill and set-up so it is easier to slice.
Check out these other popular PIE recipes on Modern Honey:
Lemon Cream Pie
Triple Berry Pie
Strawberry Cream Cheese Pie
Raspberry Almond Cream Cheese Pie
Coconut Cream Pie
Lemon Sour Cream Pie
Caramel Apple Pie
White Chocolate Macadamia Chocolate Ganache Pie
Double Chocolate Marble Pie
The BEST PUMPKIN Pie
Mini Pumpkin Pie Bites
Old-Fashioned Pecan Pie
Sweet Cherry Pie
Traditional Perfect Pumpkin Pie
Caramel Banana Cream Pie