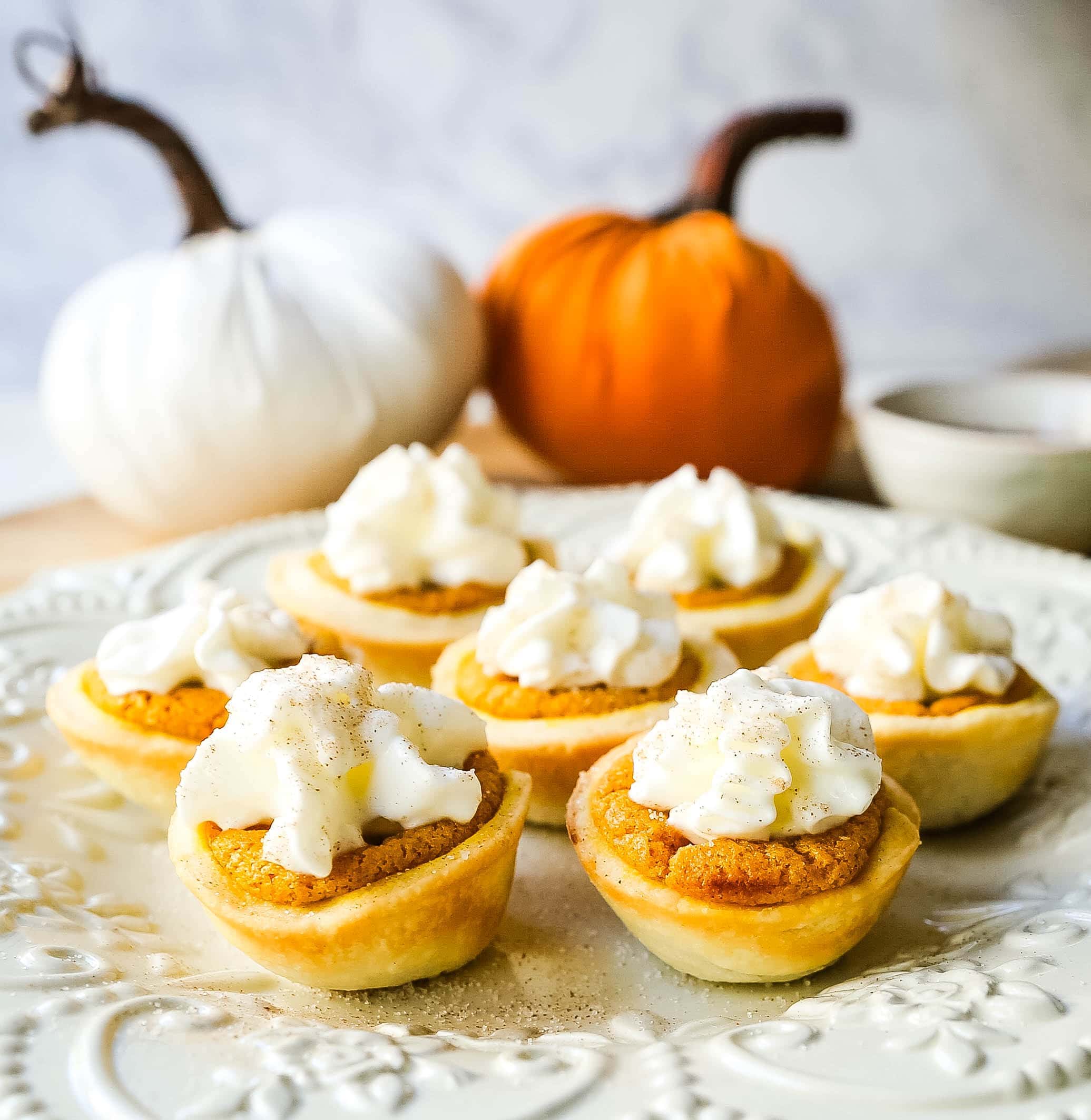 Mini Pumpkin Pie Bites
The best bite-size mini pumpkin pies perfect for entertaining during the holiday season. Creamy pumpkin pie filling in buttery pie crust cups topped with fresh whipped cream. 
I am beyond excited to share this recipe with you because they are one of my all-time favorite things to make during the holiday season. There are some recipes that I make that I literally CAN'T WAIT to share with you. I just know how much you will LOVE these cute, little mini pumpkin pies.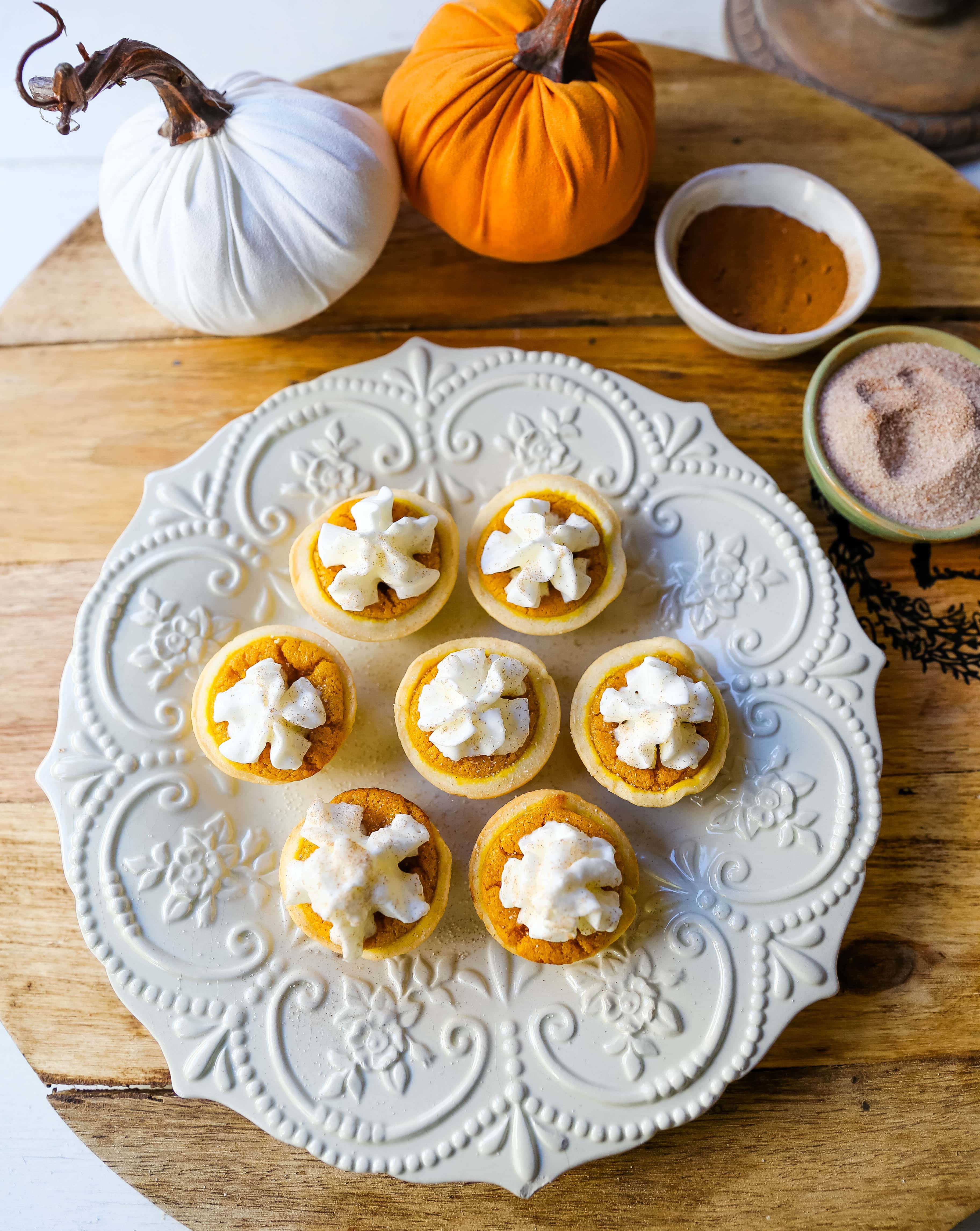 One of my most popular recipes on Modern Honey is my award-winning pumpkin pie recipe. I was so excited to hear that I actually won the Pumpkin Pie Bake-Off against some pretty amazing competition. If you haven't tried my pumpkin pie recipe yet...click HERE to find out what makes it so unique.
Since my pumpkin pie is literally the best pumpkin pie I have ever eaten and gets rave reviews...I thought let's turn this perfect filling and crust into bite-size mini pumpkin pies! The results were even better than I could have imagined. None of us can stop eating them when they are around!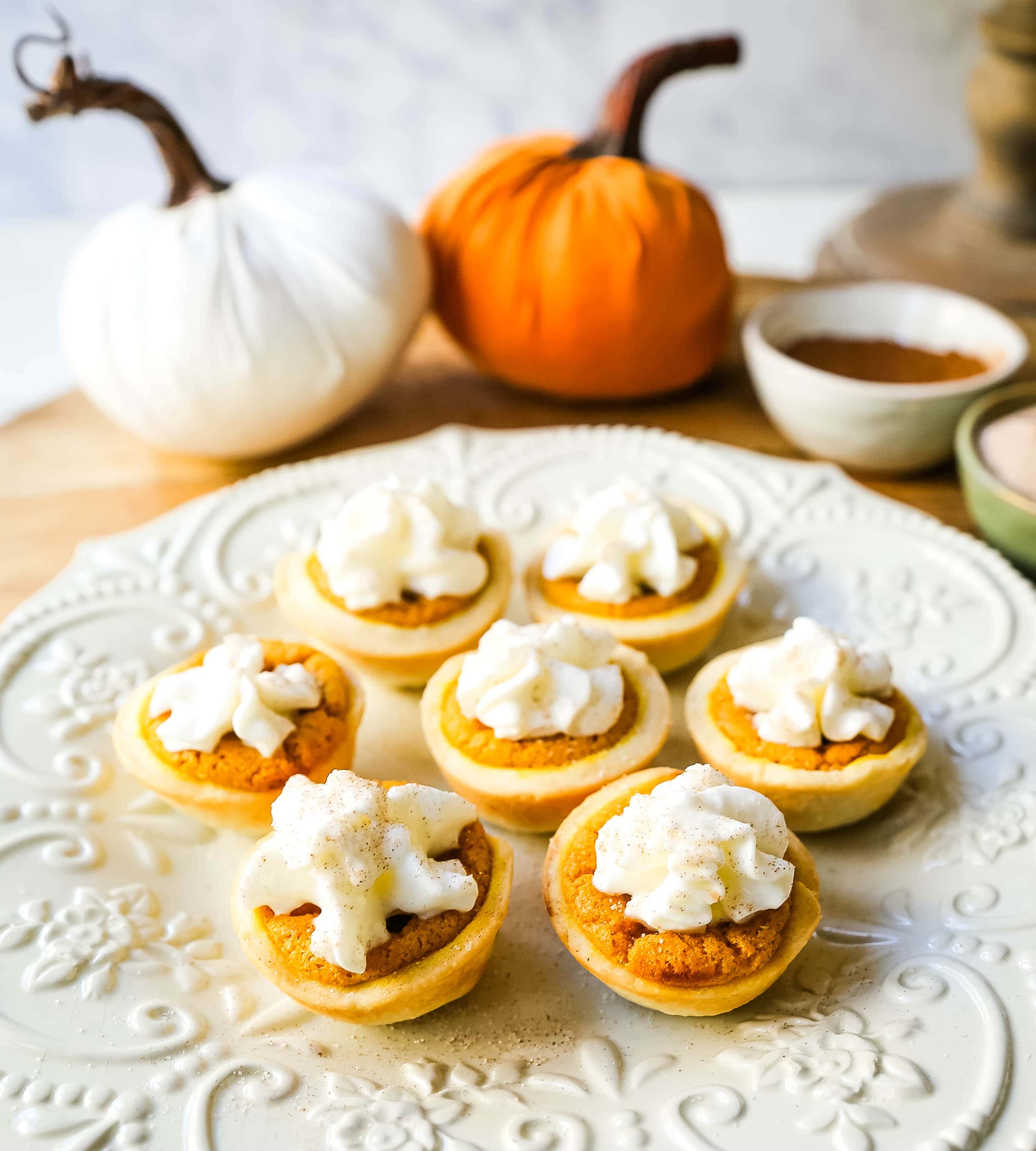 What are Mini Pumpkin Pie Bites?
Small, bite-size pumpkin pies with a creamy pumpkin spice filling in a homemade buttery crust topped with fresh whipped cream. These mini pumpkin pies are perfect for entertaining and holiday parties.
These Pumpkin Pie Bites start off with the creamiest, richest pumpkin pie filling. I have a few tricks up my sleeve for making the perfect pumpkin pie. It all starts off with unsweetened canned pumpkin. To make it extra creamy, I add softened cream cheese. This pairs perfectly with the pumpkin and lightens up the filling.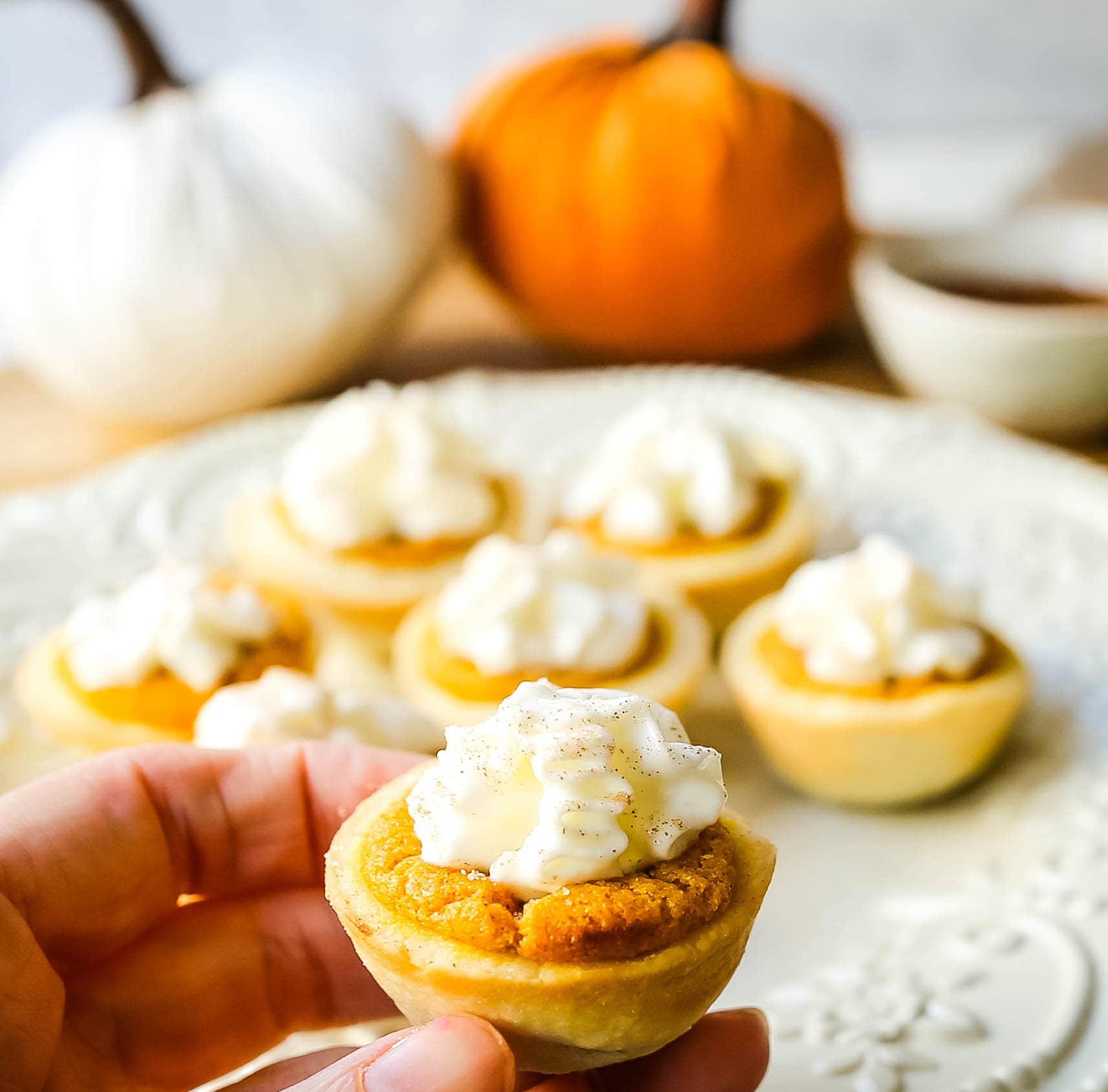 Another game changer is BUTTER. I am in the camp that believes "butter makes everything better." I add melted butter to the pumpkin pie filling and it puts it over the top.
Instead of using granulated sugar, I use powdered sugar. Since it isn't grainy, we don't have to worry about any texture issues because this filling is as smooth as molasses! It has enough sweetness to offset the tang of the cream cheese.
Next it is imperative in pumpkin pie to add some spices to warm it up! These Mini Pumpkin Pies have just the right amount of cinnamon and pumpkin spice. It brings out the flavor of the pumpkin perfectly.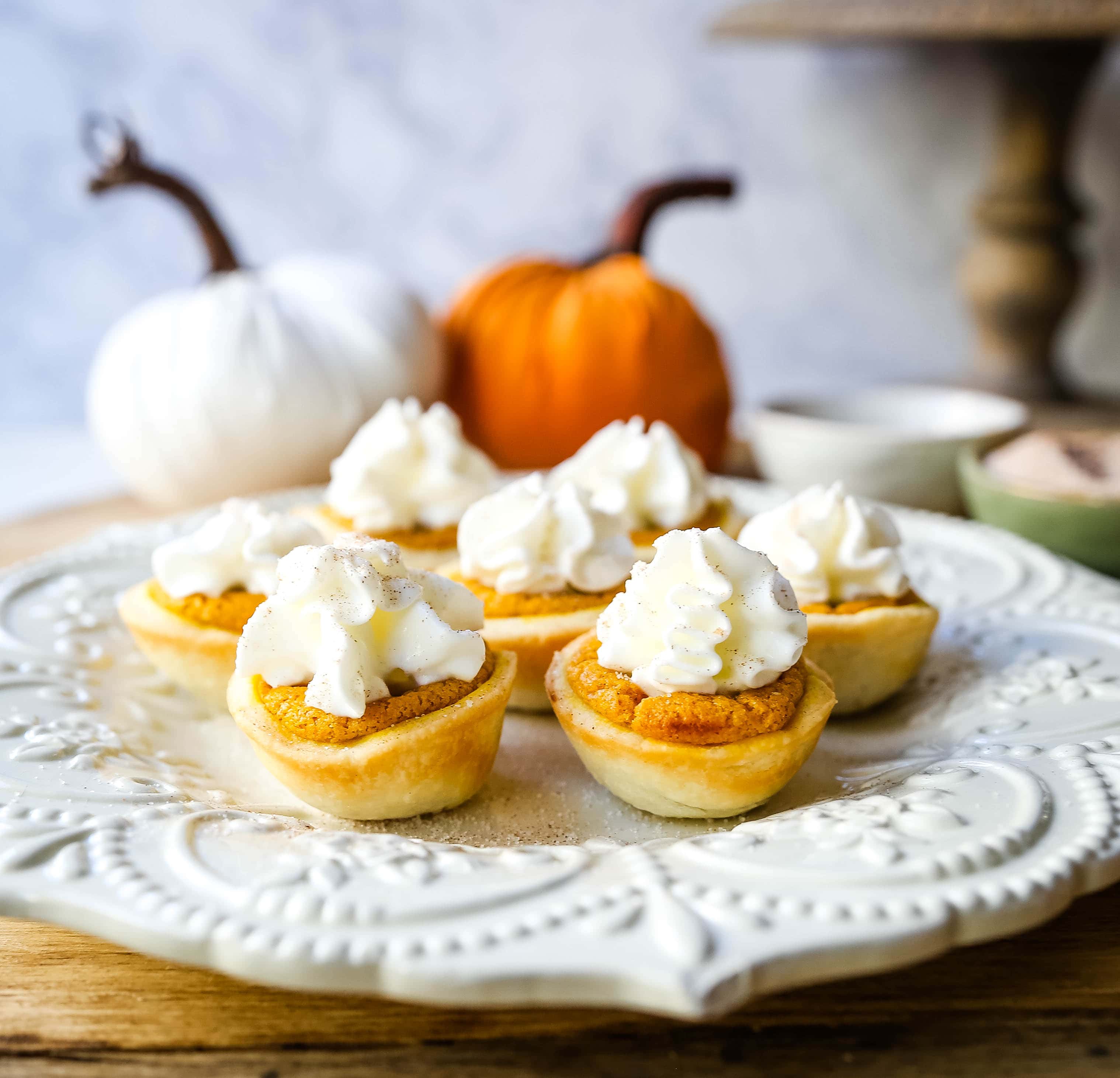 Now that the pumpkin pie tartlet filling is all whipped up and ready...it is time to focus on the pie crust! Now, I have made a ridiculous amount of pies in my days and I am a huge fan of all-butter pie crust. It has the most amazing flavor! You can find my ALL-BUTTER PIE CRUST RECIPE HERE. It is made with only 4 ingredients -- flour, salt, butter, and buttermilk or water/vinegar mixture. It is so easy to whip up!
Once the pie crust dough is made, it is time to roll out, and then cut into circles. I use a small 2.5 inch round cookie cutter to make perfect circles every single time. I place the round circles of pie dough into the mini muffin tins and they fit like a glove. You can use your fingers or a wood tart tamper to press down the pie dough into the tins. Pour the filling into the mini pies and then bake.
You end up with the most amazing tasting mini pumpkin pie tarts! There's just the right amount of flaky, buttery crust with the rich, creamy pumpkin spice filing. Oh and don't forget about the whipped cream...it's essential!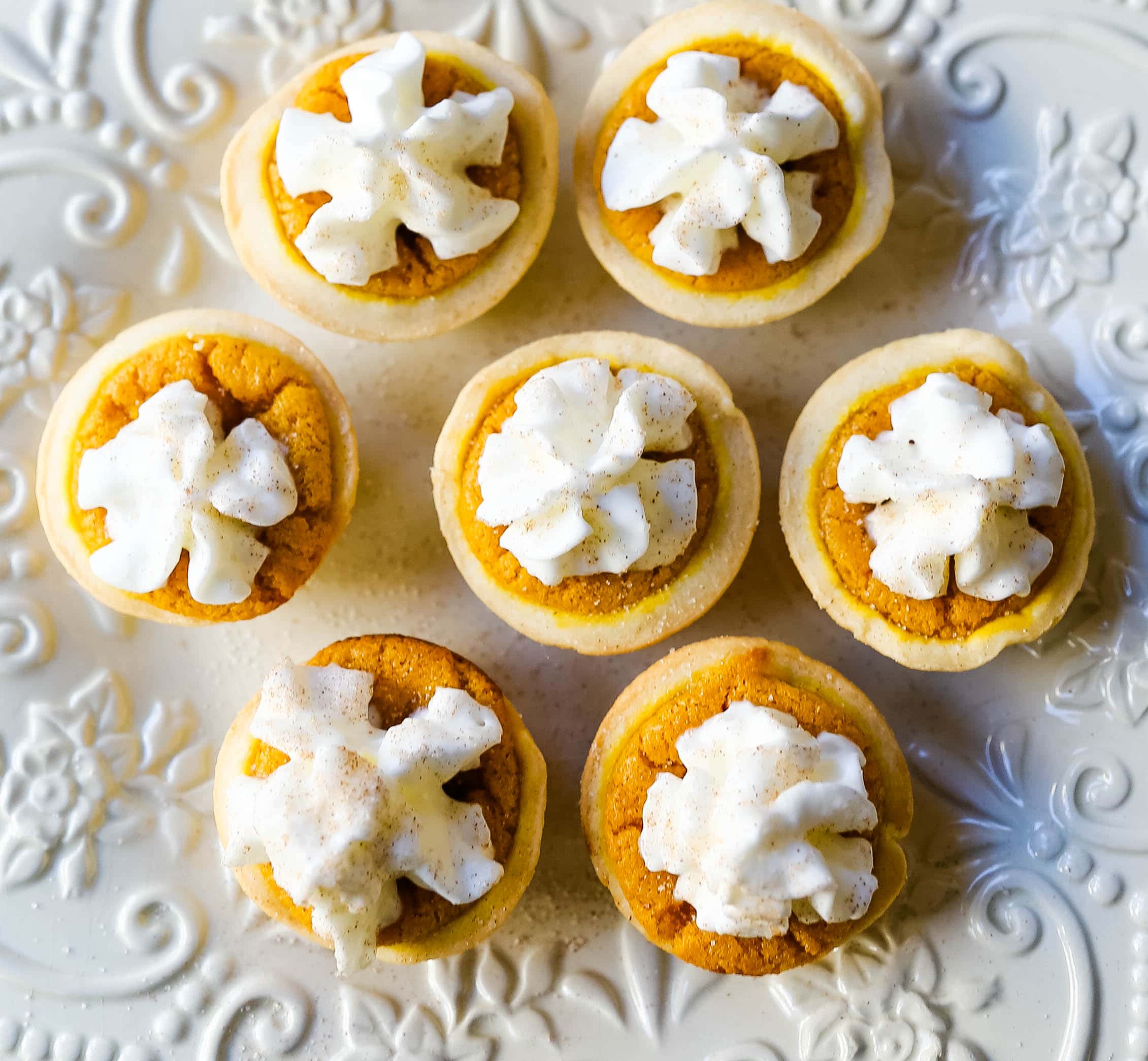 My Essential Baking Tools:
Mini Muffin Tin -- 24 count or 48 count
Round Cookie Cutters -- the perfect size to fit in the mini muffin tins
Wood Tart Tamper -- less than $4 kitchen tool that helps to press down tarts and pastries

*As an Amazon Associate I earn from qualifying purchases. Thank you!
How to make the Best Mini Pumpkin Pies:
 Start with softened cream cheese. It needs to be softened in order to fully incorporate into the canned pumpkin. If it is too cold, you will end up with chunks of cream cheese! Mix the pumpkin puree, cream cheese, melted butter, powdered sugar, vanilla, spices, and eggs all together.
Make a homemade pie crust. This is super simple and can be made in a bowl or even a food processor. Once it is made, roll out with a rolling pin on a floured surface and cut with a 2.5 inch round cookie cutter. Then press into mini muffin tins.
Scoop about 1 Tablespoon of pumpkin pie filling into each mini pie crust. Bake at 400 degrees until the pie crust starts to show some color and the filling is baked through.
Let chill and then top with fresh whipped cream when ready to serve. May keep at room temperature or refrigerate if you like to serve them cold.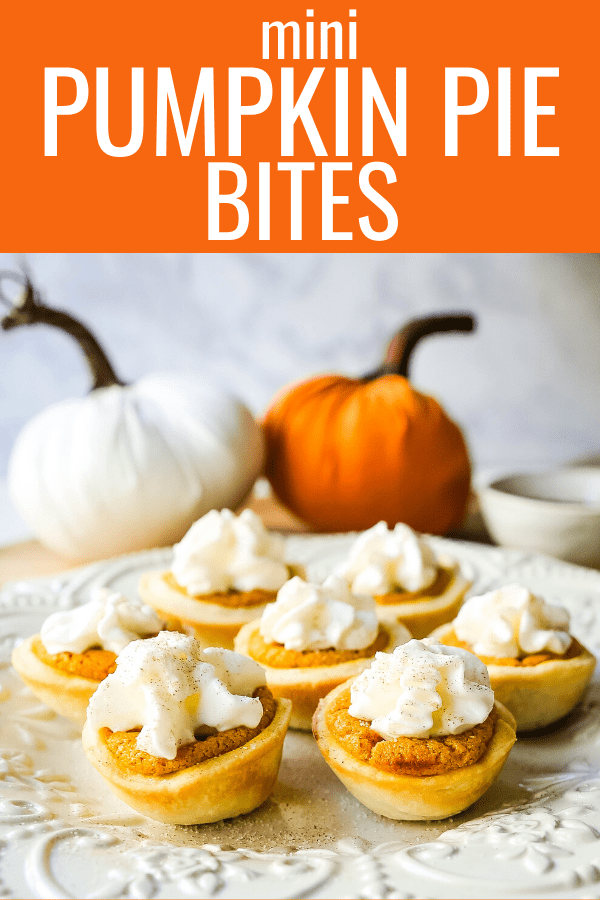 You can find all of my THANKSGIVING RECIPES by clicking HERE. 
I love to hear from you! If you make this recipe, please be sure to leave a comment and give this recipe a rating. Sign up for my newsletter below so you never miss a recipe. Thank you for following along! I truly do have the greatest readers. FOLLOW ME ON:   INSTAGRAM — FACEBOOK— PINTEREST