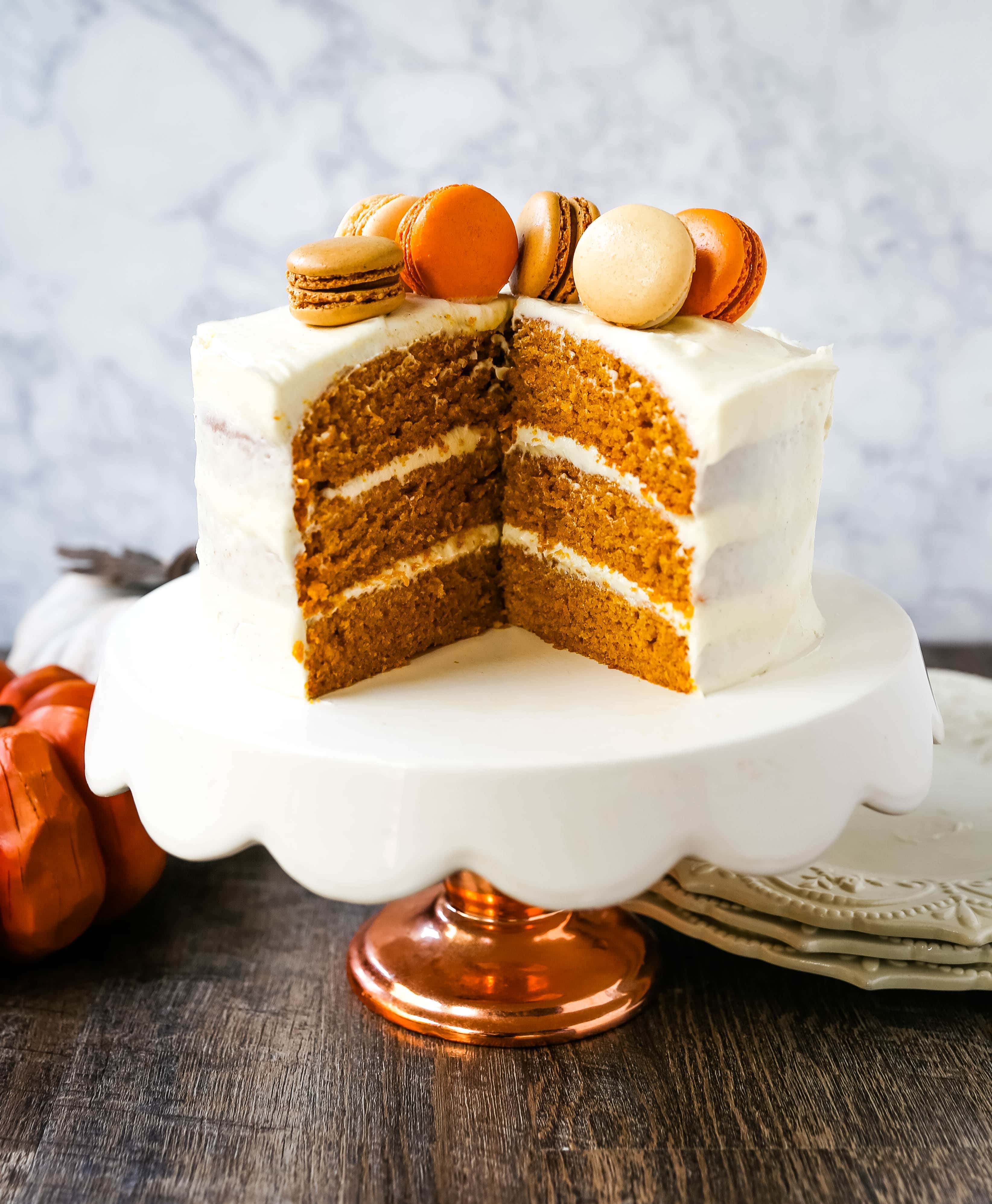 Pumpkin Cake with Cream Cheese Frosting
Moist Pumpkin Spiced Cake with a Sweet Cream Cheese Frosting. The best Fall pumpkin layered cake recipe! 
Oh how I love pumpkin season. If you've been following along on Modern Honey, you know I live in Arizona so we don't get to experience much Fall weather. But I dream of it. This is the time of year that I get the travel bug and I just crave experiencing some resemblance of Fall. So while I wait for my next travel fix, I make the most wonderful layered pumpkin cake with creamy sweet cream cheese frosting.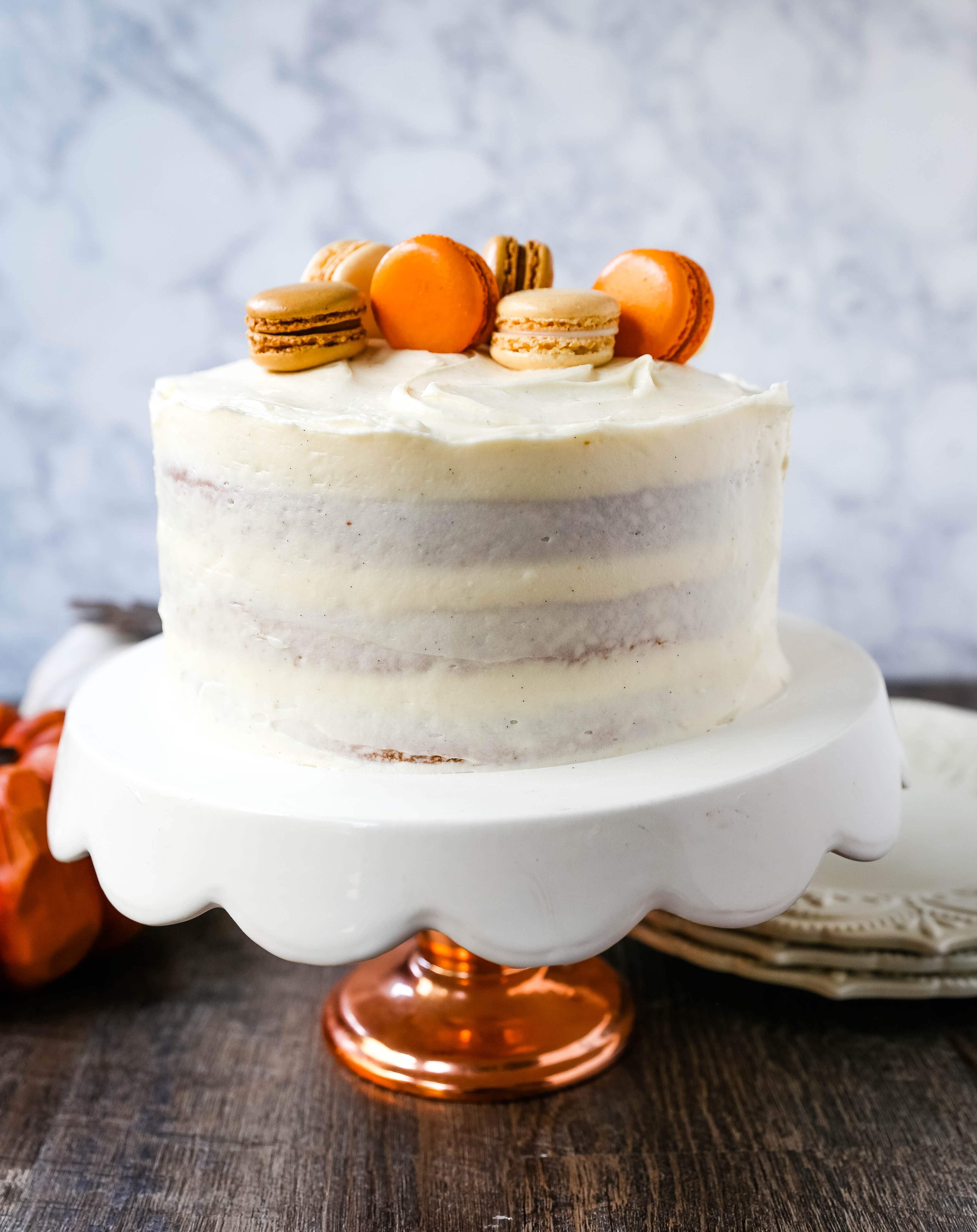 It's Fall, so we need to squeeze in as many pumpkin recipes as possible into a few months so I am embracing the challenge. The beauty of this Pumpkin Cake is that it is ridiculously moist. The homemade cream cheese frosting seeps into the layers and keeps it perfectly moist for days. It is amazing that even three days later, the cake is still tender and moist.
To make the best pumpkin spice cake, there are some key components.  I have experimented with both oil and butter and found that by using oil, you create the moistest cake.  Leave the butter for the frosting!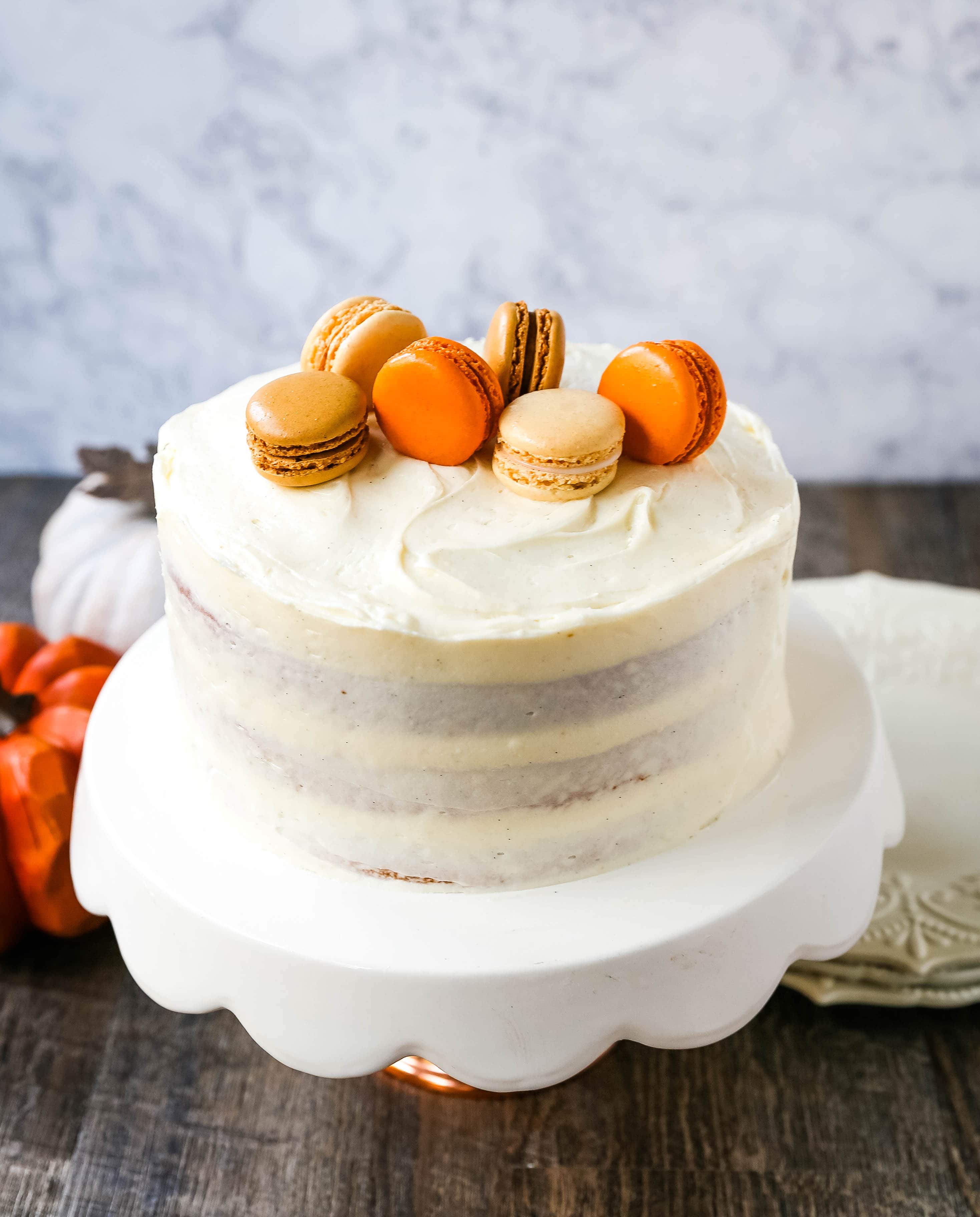 This recipe calls for an entire 15-ounce can of pure pumpkin puree. Now this is straight pumpkin. Don't go reaching for a can of pumpkin with all sorts of spices and fillers added. We want all-natural pumpkin puree in this cake. Also, you've got to add some pumpkin spice to this cake. Pumpkin spice is usually a mix of cinnamon, nutmeg, ginger, and cloves and brings so much warmth and depth of flavor to this cake.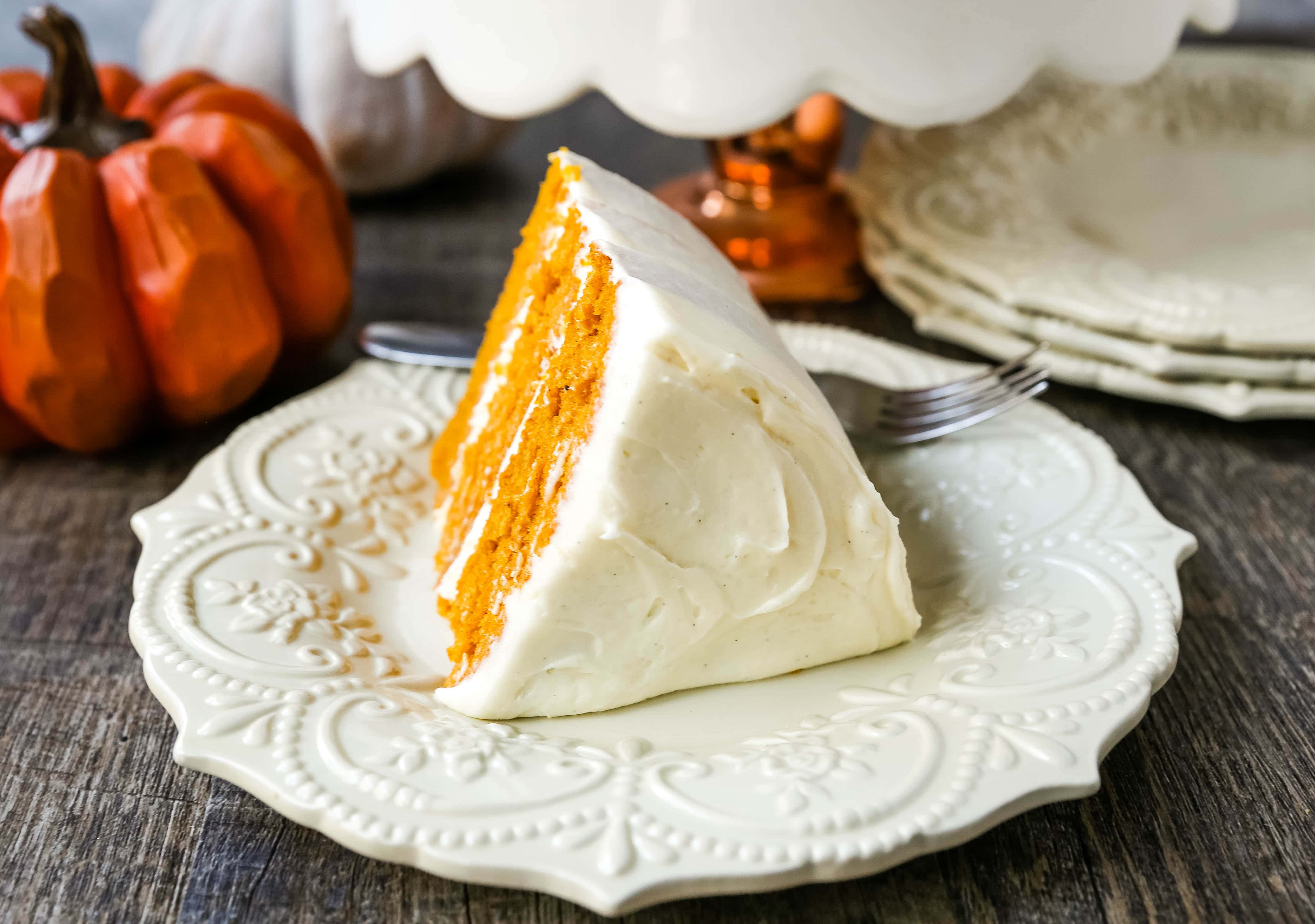 An interesting little tidbit is that homemade cake recipes don't dome in the center like cake mix recipes, making them so much easier to stack, layer, frost, and work with.
The sweet Cream Cheese Frosting is made with sweet cream butter, cream cheese, powdered sugar and vanilla. It is super simple but pairs perfectly with the pumpkin cake.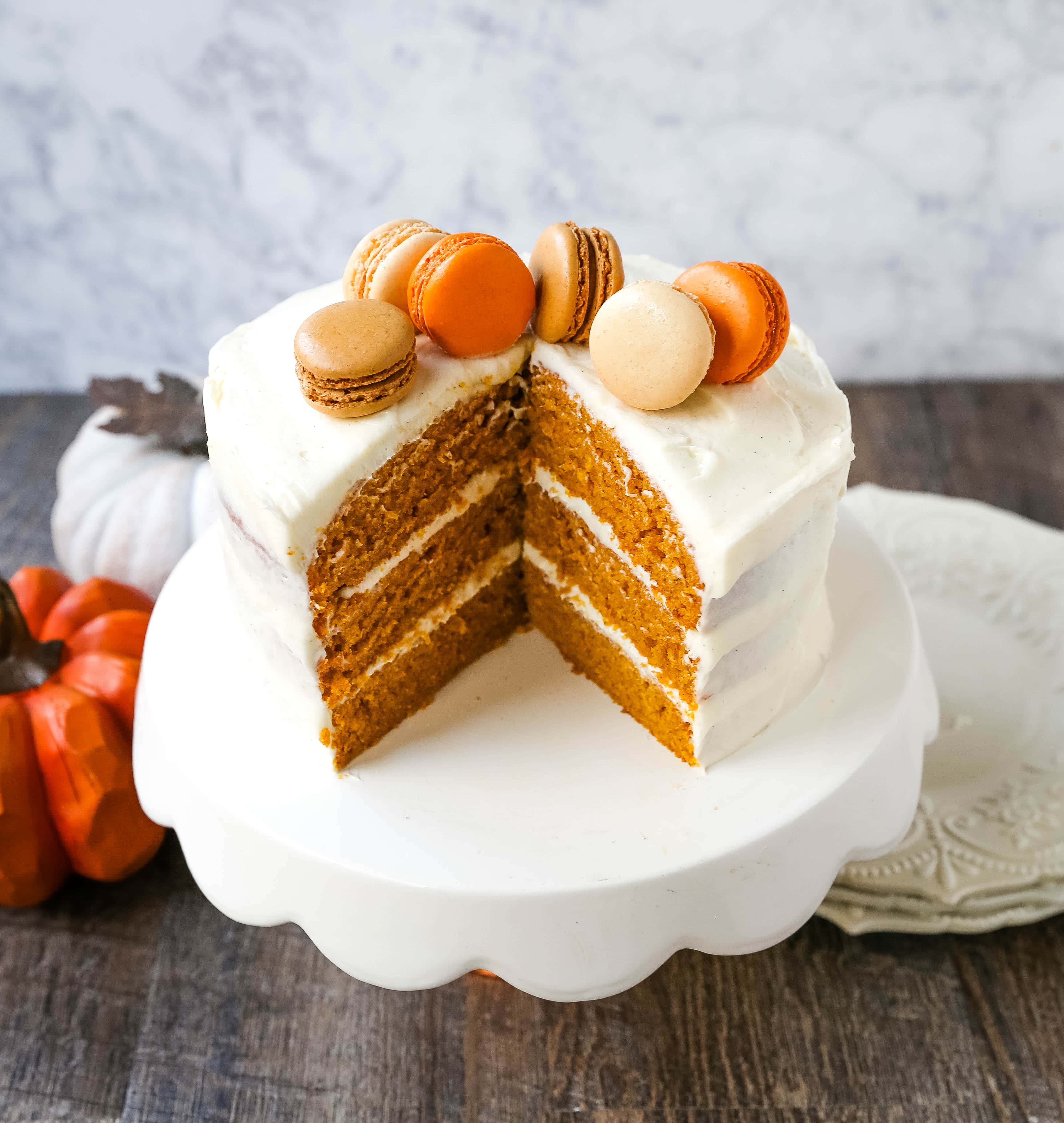 How to make the Best Pumpkin Cake with Cream Cheese Frosting:
 Start by mixing the oil and sugar together and cream them for at least 3-4 minutes. Add eggs and vanilla and mix for 1 minute longer. This allows the sugar to incorporate into the oil and become smooth.
Add the pumpkin puree. Make sure it is completely pure pumpkin puree --no fillers added!
Fold in the dry ingredients.  You don't want to overmix the cake batter which will create too much gluten and will result in a tough cake. We want a tender pumpkin cake!
Pour into greased cake pans. I always use LIGHT COLORED cake pans. Dark colored cake pans attract too much heat and can burn the cakes on the outer edges before the center is completely baked. Also, make sure to spray the pans with non-stick cooking spray.
To make the frosting, make sure the butter and cream cheese are at room temperature to allow it to fully cream together.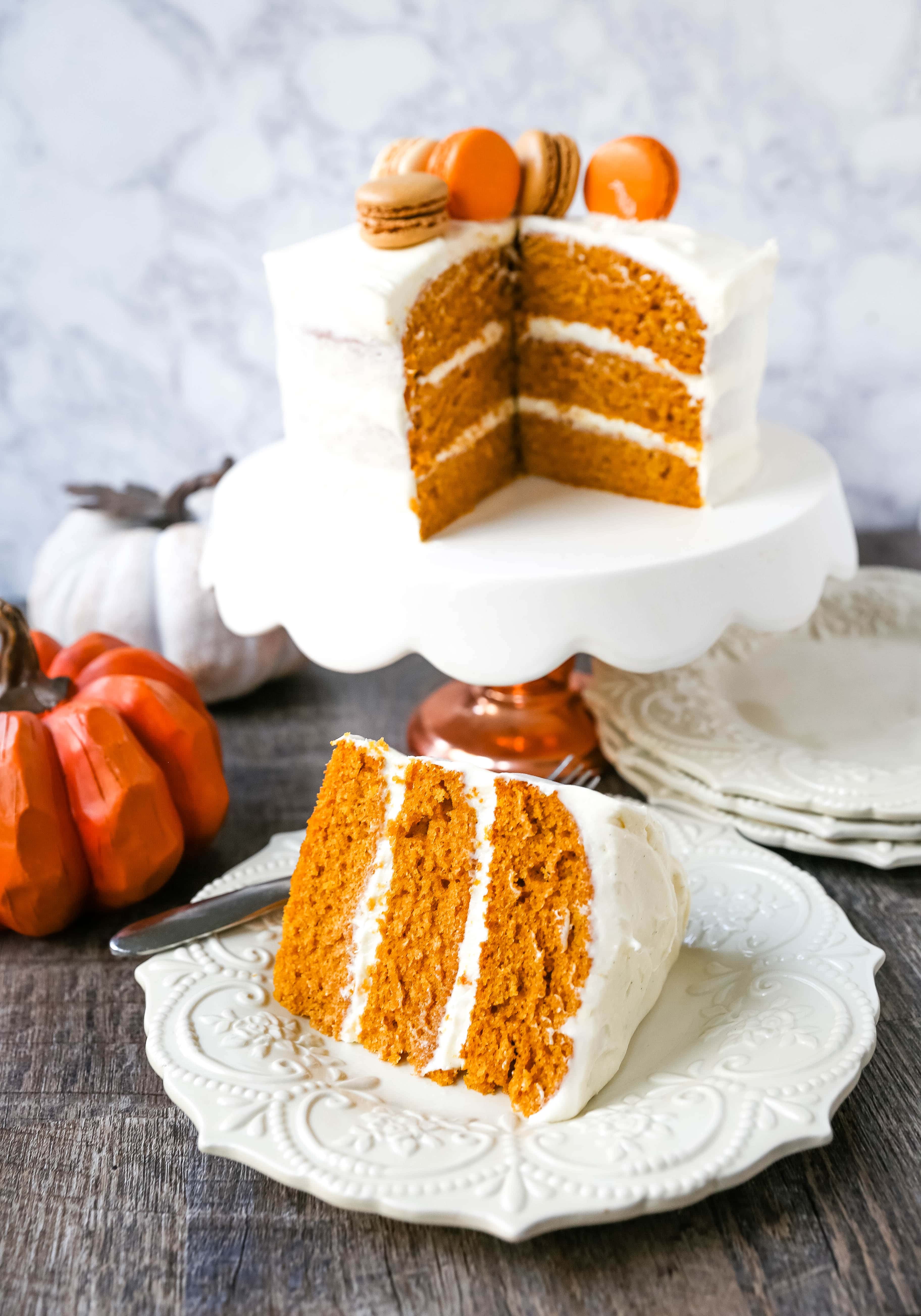 Here are some of my favorite baking tools:
USA 8-inch light-colored cake pans (these are hands down my favorite cake pans)
Angled Spatula
Kitchenaid Mixer
Libbey Acacia Cake Plate with Glass Dome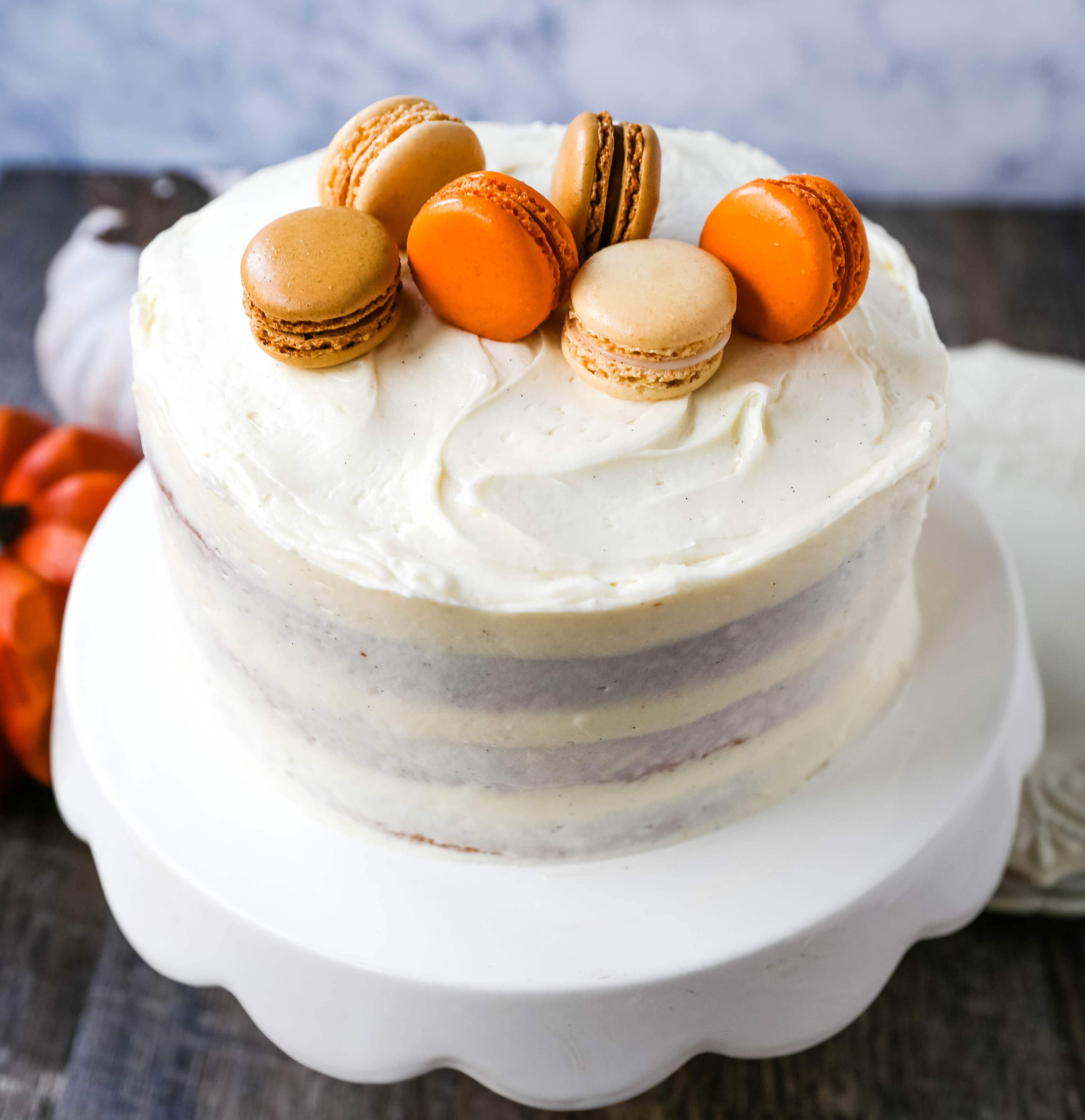 IF YOU LOVE PUMPKIN, CHECK OUT SOME OF THESE POPULAR PUMPKIN RECIPES:
The BEST Pumpkin Pie Recipe -- award-winning!
Pumpkin Bread with Brown Sugar Streusel
Pumpkin White Chocolate Chip Cookies 
Pumpkin Sheet Cake with Cream Cheese Frosting
Pumpkin Cupcakes with Salted Caramel Frosting
Pumpkin Dump Cake
Pumpkin Chocolate Chip Cookies
Pumpkin Pancakes 
I love to hear from you! If you make this recipe, please be sure to leave a comment and give this recipe a rating. If you make any of my recipes, tag me on Instagram @modern_honey so I can see your creations. It's one of my favorite things seeing you make these recipes in your own kitchen. Thank you for following along! I truly do have the greatest readers.
FOLLOW ME ON:   INSTAGRAM --- FACEBOOK --- PINTEREST