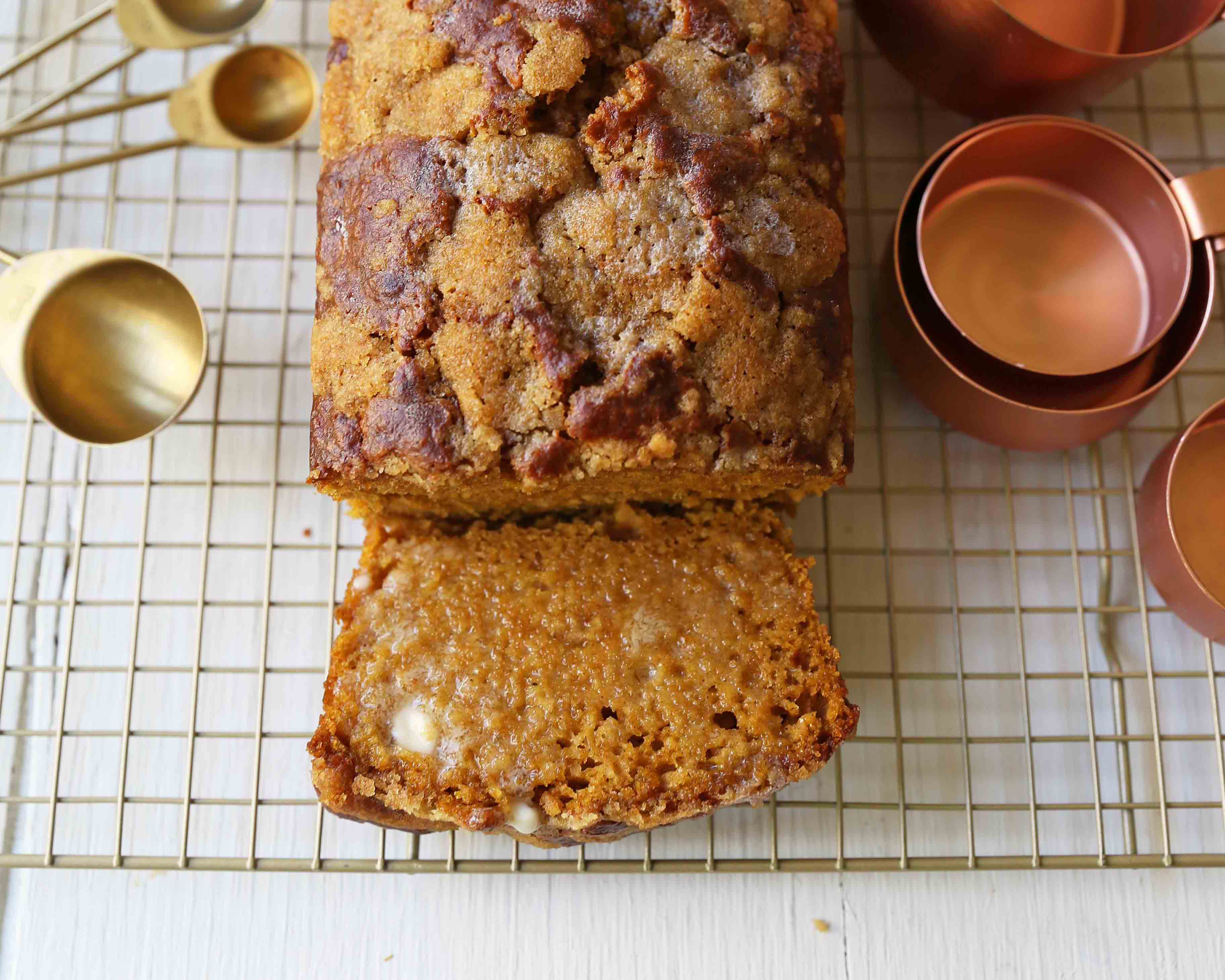 Pumpkin Bread
A perfectly spiced, moist Fall Pumpkin Bread with a brown sugar streusel topping. This is the best pumpkin bread recipe!
Stop what you are doing right now. Put on your shoes. Grab your wallet. Drive to the nearest grocery store. Go straight to the baking aisle and load up your grocery cart with canned pumpkin.
It's that time of year, y'all!
BRING ON the PUMPKIN DESSERTS! This is the time of year to light the warm cider or pumpkin candle, crank up your oven, and devour all things pumpkin.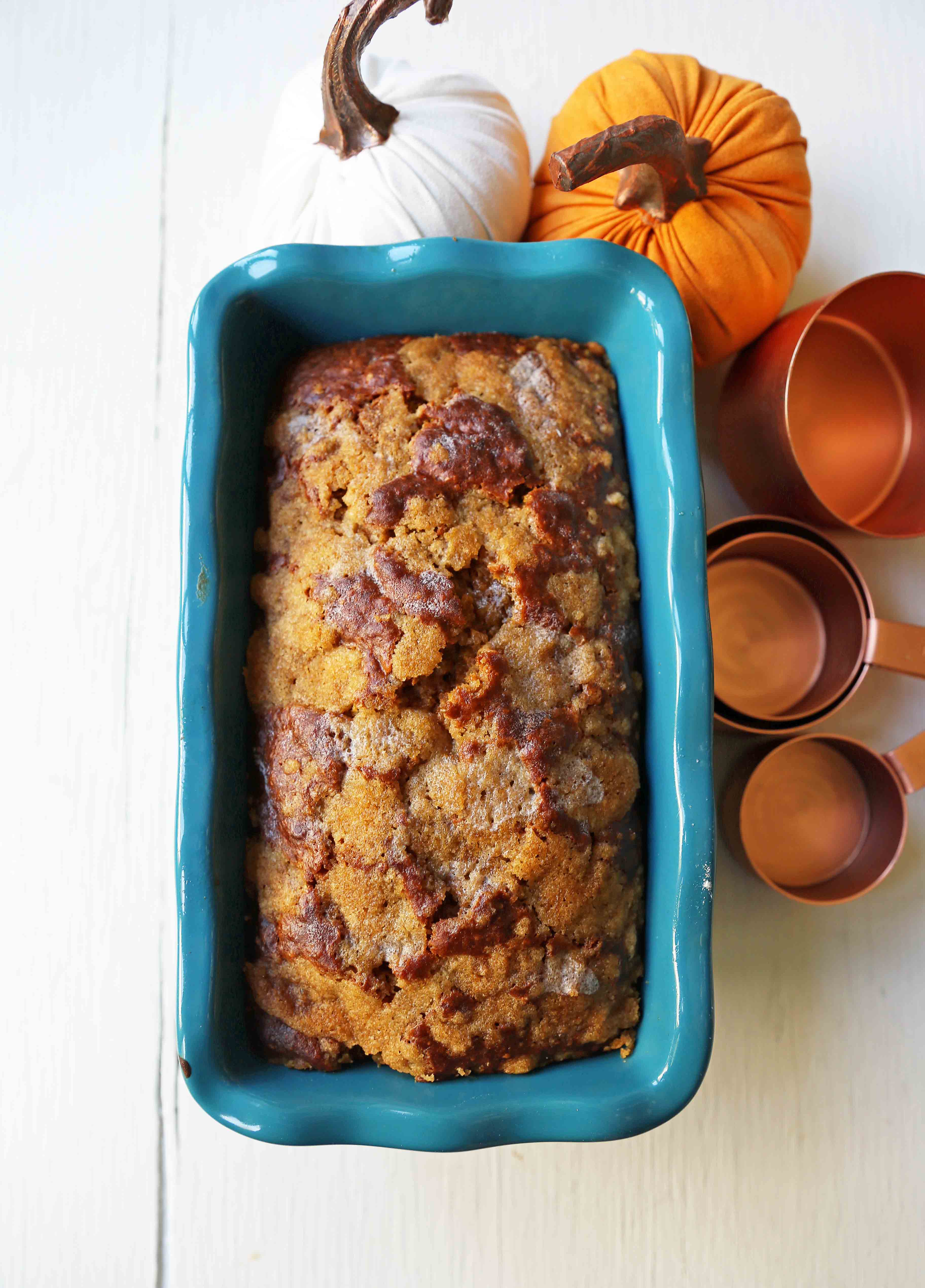 I set out to find the best pumpkin bread recipe. First of all, it had to be moist. It had to have some warm spice to it with notes of cinnamon and pumpkin spice without being too overpowering. It had to slice well and hold up to a dab of softened butter. Oh, and it had to have a topping. A streusel topping put this pumpkin loaf over the top!
This pumpkin bread is the best I have ever tasted. I test and re-test to find the perfect pumpkin bread recipe. This has a mixture of oil, which makes it extra soft and moist, cream cheese, which gives it a creamy tangy flavor, and buttermilk, which creates a tender texture.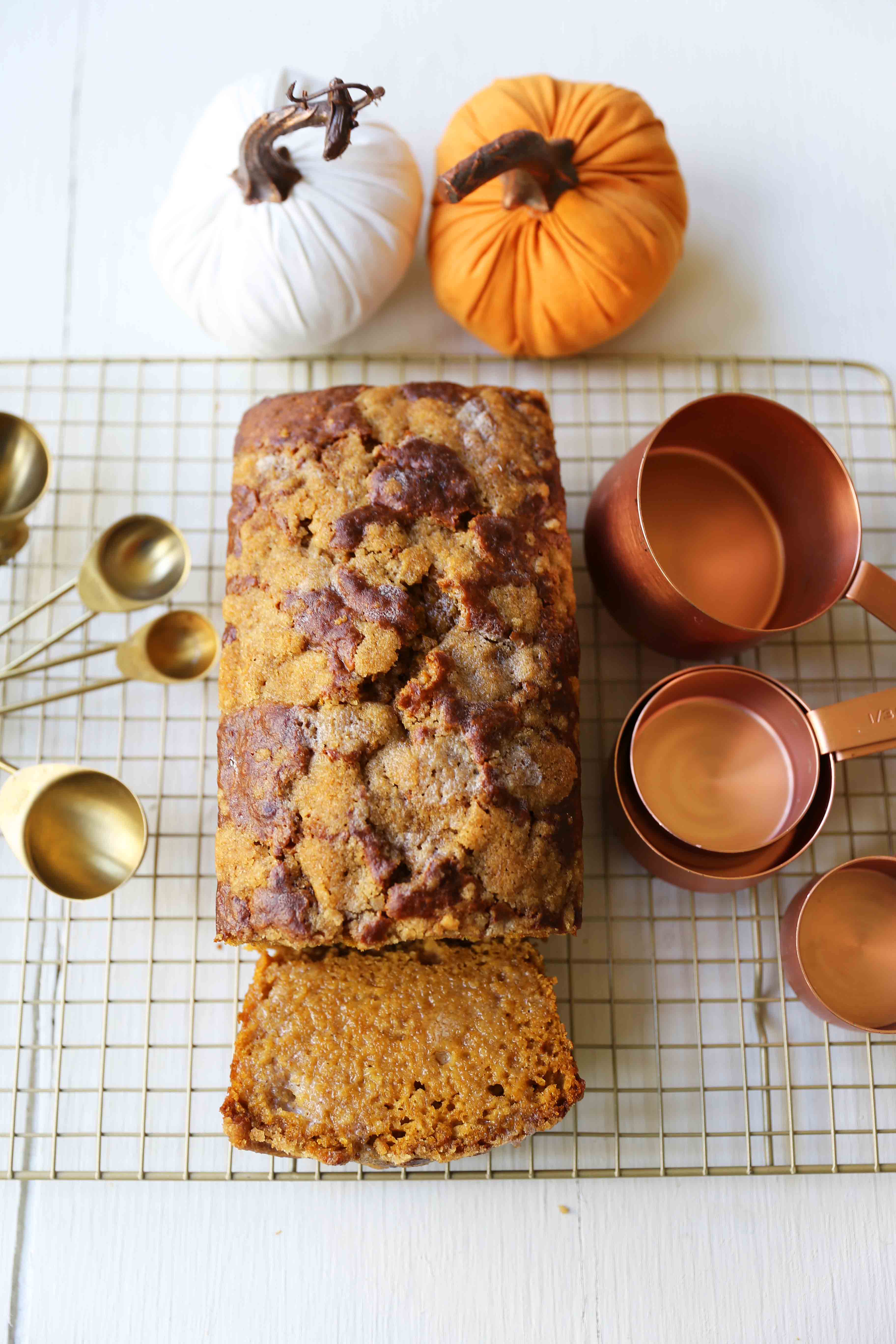 The spices used in this pumpkin bread are simple -- cinnamon and pumpkin spice. I wanted to simplify it so you don't have to buy six different spices at the grocery store.
This pumpkin streusel bread has a brown sugar topping that is made with simple ingredients -- butter, brown sugar, and flour. It creates a crunchy, sugary topping that makes this pumpkin bread so heavenly. If you love a lot of topping, feel free to double the ingredients to make twice as much topping.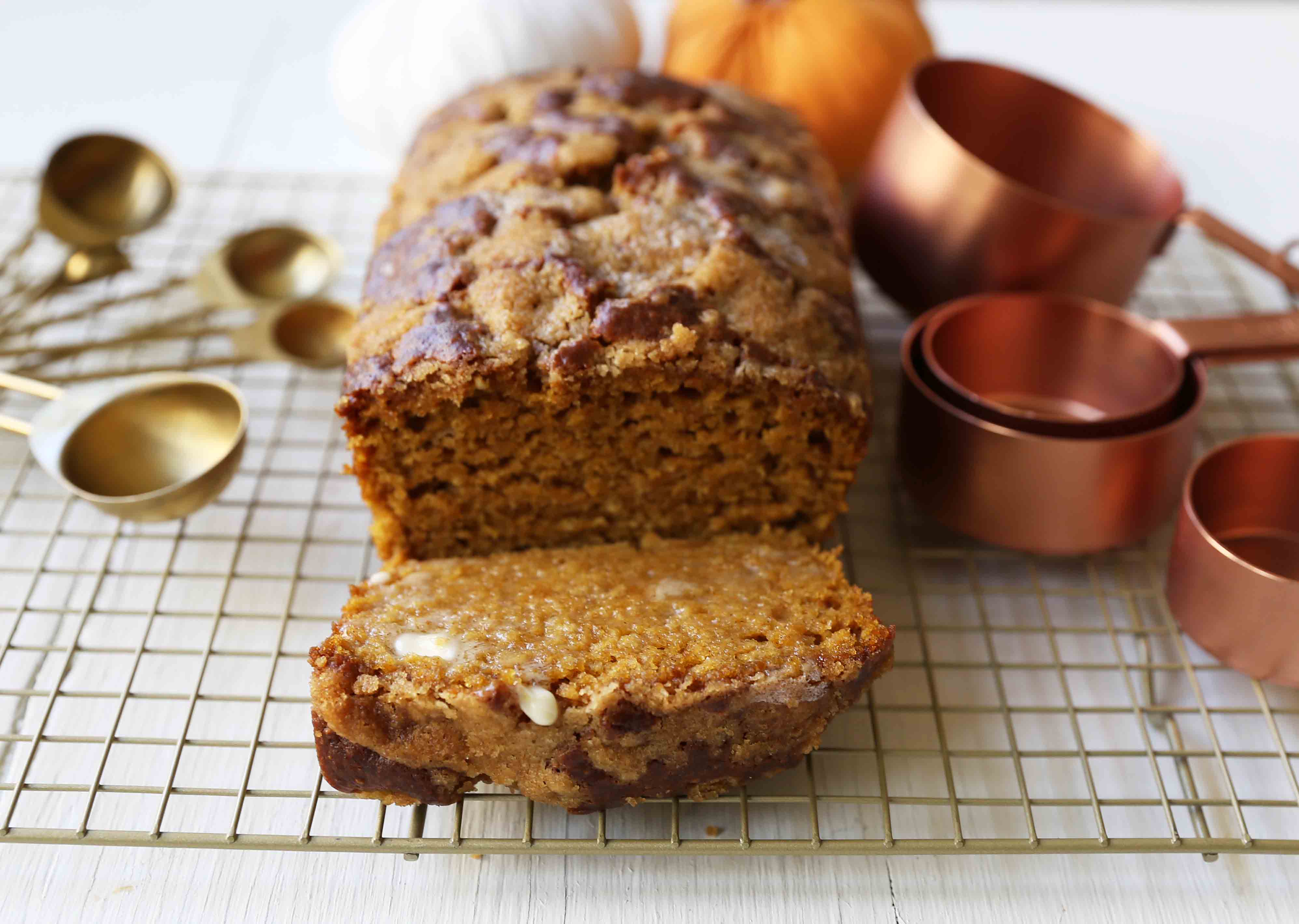 How to make the BEST PUMPKIN BREAD:
Start off by cooking pumpkin puree over medium heat. This helps to create a perfect pumpkin flavor since it is the star ingredient. Let it cook for about 6 minutes, stirring often.

Add a mixture of oil, cream cheese, and buttermilk to add moisture and create a tender texture

. This is the trifecta of ingredients that will make soft pumpkin bread.

Add cinnamon and pumpkin spice

to compliment the flavor of the pumpkin.
Pour into greased pans and

bake just until a toothpick comes out clean in the center

. If the sides of becoming overbaked, cover the bread with foil until the center completely bakes through.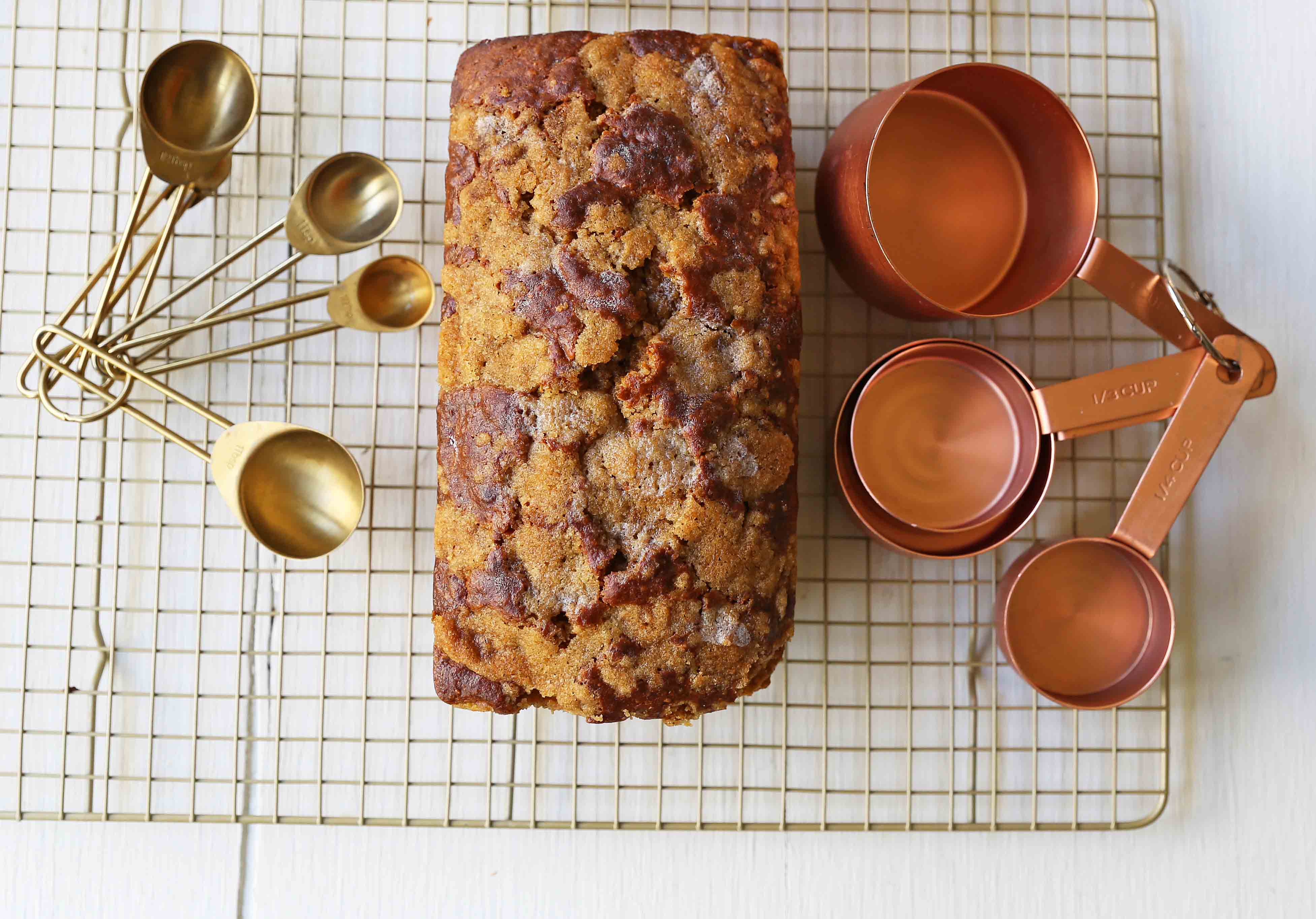 This recipe makes two loaves so it is perfect to keep one for yourself and give the other one away. This loaf of pumpkin bread is perfect to give away as teacher gifts, run to a neighbor, or give to a friend. It stays moist for days and can be eaten for breakfast, snack, dessert, or any time in between.
Can you freeze pumpkin bread?
This pumpkin bread can also be frozen in a freezer-safe resealable bag and it will stay good for weeks. It may take all of your willpower to not go to the freezer and eat it all up.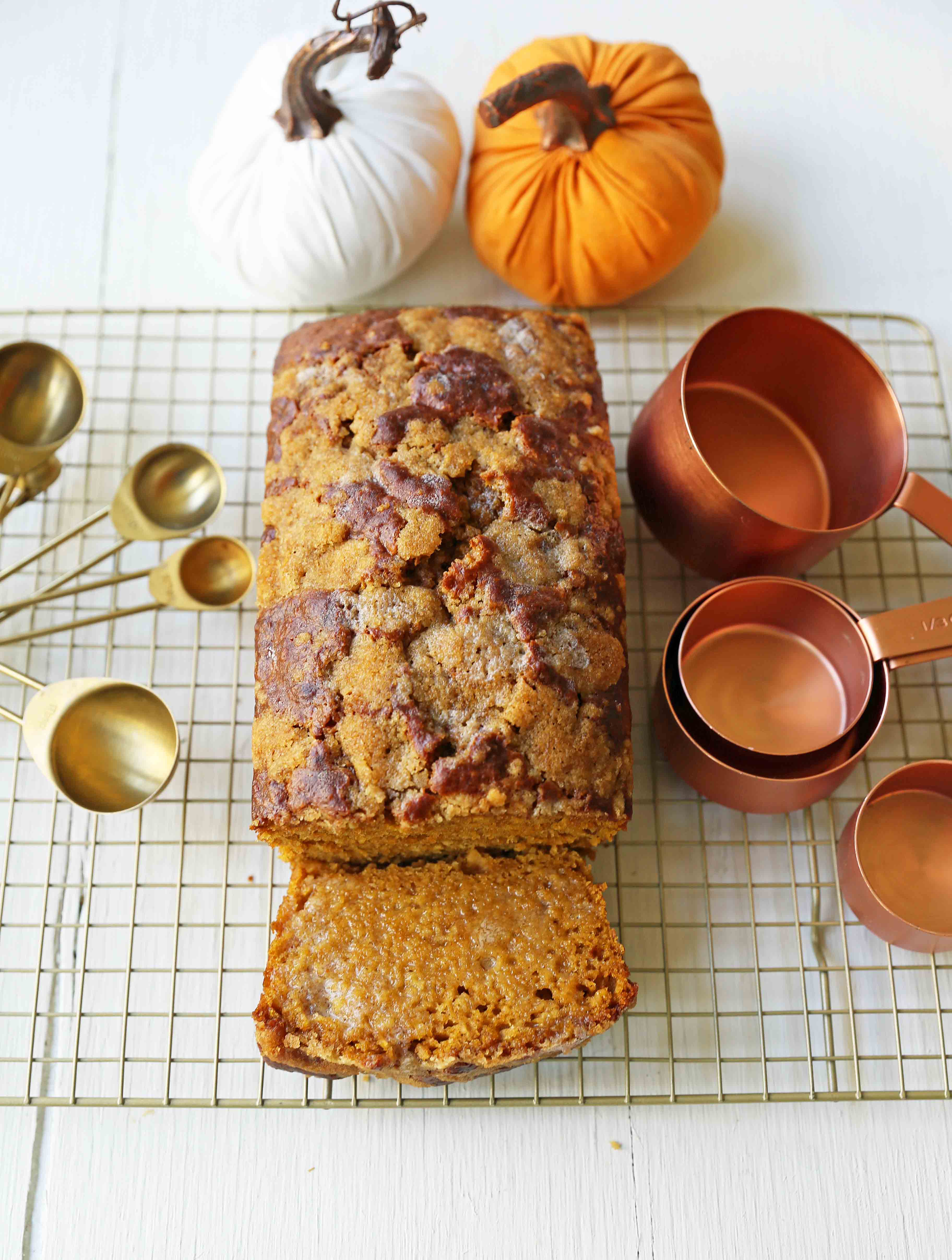 If you love pumpkin recipes, check out some of my most popular pumpkin recipes: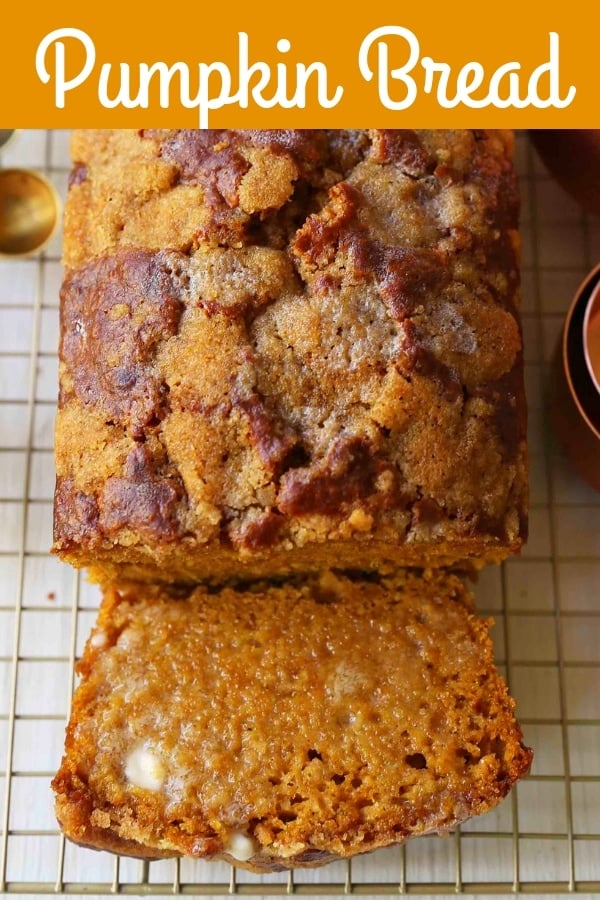 I love to hear from you! If you make this recipe, please be sure to leave a comment and give this recipe a rating. If you make any of my recipes, tag me on Instagram @modern_honey so I can see your creations. Also, be sure to tag your photo using the hashtag #modernhoney. It's one of my favorite things seeing you make these recipes in your own kitchen. Thank you for following along! I truly do have the greatest readers.
FOLLOW ME ON: INSTAGRAM --- FACEBOOK --- PINTEREST
Happy Baking!