Pumpkin Chocolate Chip Cookies
How to make the perfect chewy, melt-in-your-mouth pumpkin chocolate chip cookie. 
These pumpkin oatmeal chocolate chip cookies are made with browned butter, spiced pumpkin, oatmeal, and rich semi-sweet chocolate chips. This chocolate chip pumpkin cookie is the perfect Fall cookie. 
Happy First Day of Fall! We are giddy here in AZ because we are actually in the 80's so I am definitely bringing out the pumpkin. Truth be told…in the blogger world, we bring out the pumpkin in August to prepare for October posts.  I have been eating a heavy dose of pumpkin baked goods! I am beyond excited to share this Saucepan Pumpkin Chocolate Chip Cookie recipe with you!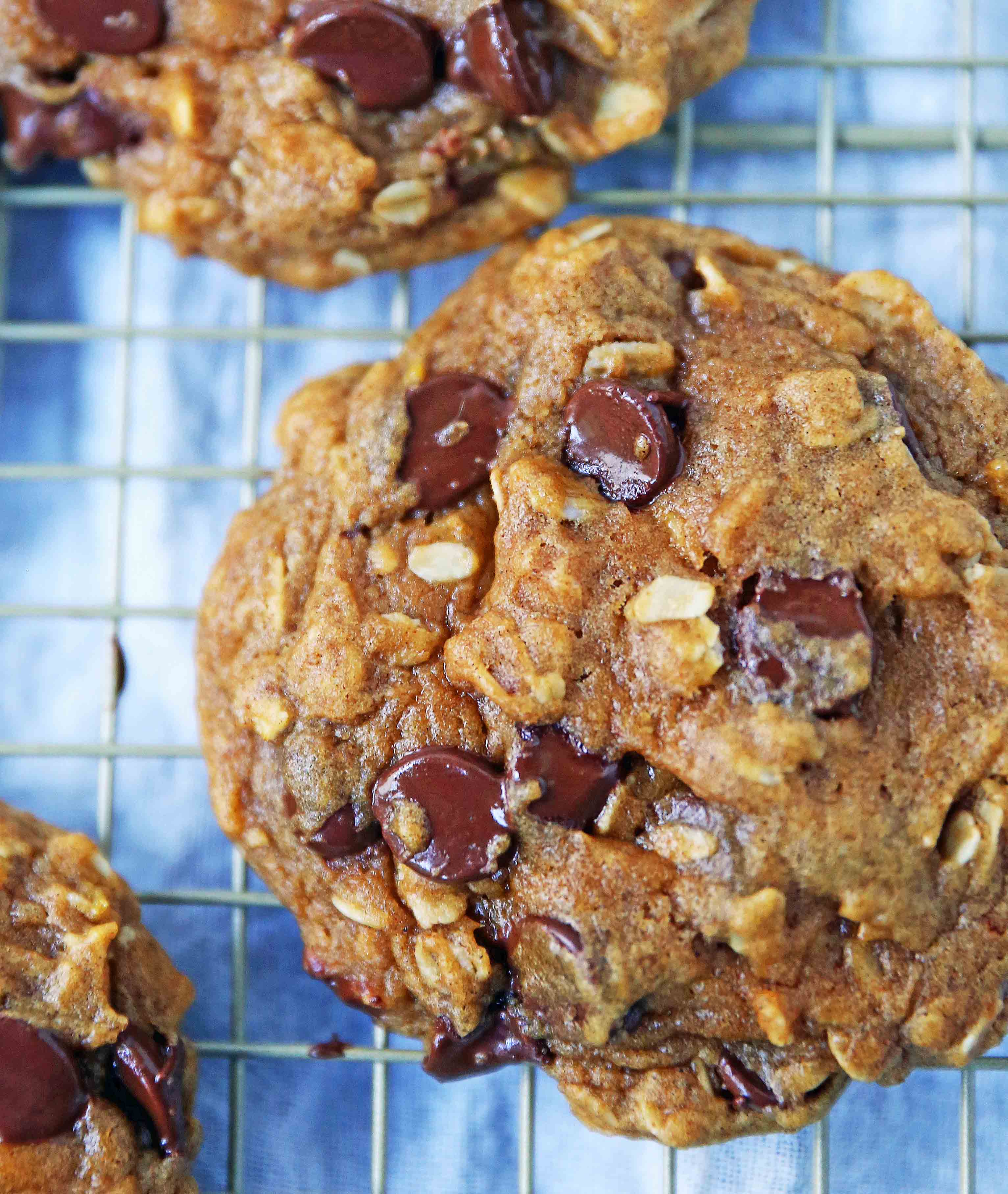 This will go down as my favorite pumpkin cookie recipe. A few tweaks to a tradition pumpkin cookie recipe makes it soft and chewy rather than thick and cakey. You will love this recipe!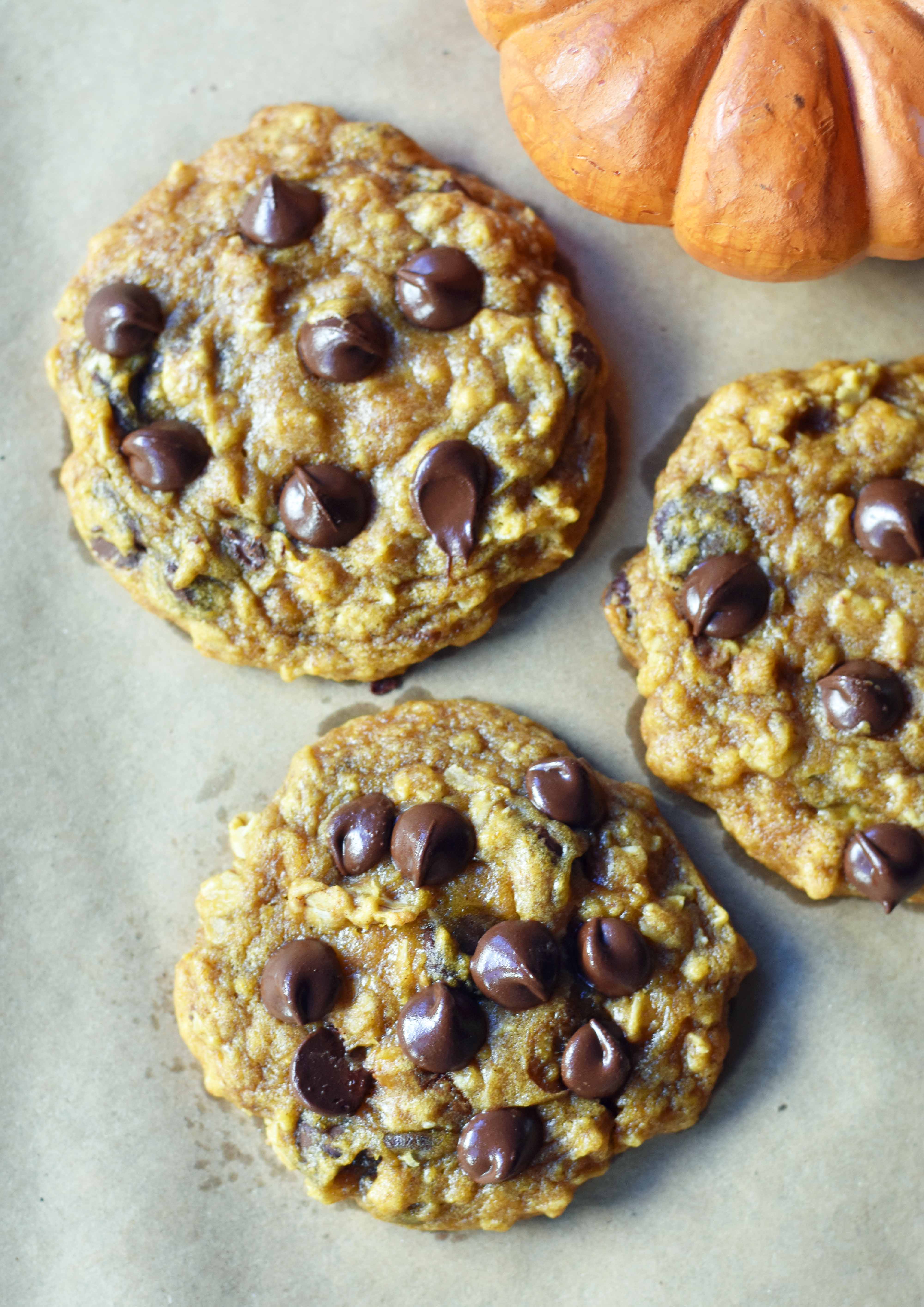 My daughter is a Senior and will be leaving to college sooner than I like to even imagine so I have been slowly but surely teaching her recipes that she can easily cook in her apartment.  A few nights ago, I was teaching her the art of saucepan chocolate chip cookies.
Here's the deal…they are the easiest cookies to make because you only need one saucepan. No Kitchenaid, Bosch, or hand mixer.  I love to teach kids this method because once you get it down, it is the most simple way to make chocolate chip cookies. Plus, it gives the most insane caramel toffee flavor.
I have been testing pumpkin cookies like crazy.  The interesting thing about pumpkin is that it has a tendency to make cakey cookies. No, no, no cakey cookies in my book. I prefer a chewy, melt-in-your-mouth cookie. If I want to eat a cakey cookie, I will order a scone. 🙂
I recently made some pumpkin snickerdoodles and even though they were good, I couldn't get 100% on board with them because they were just too darn cakey.
These Pumpkin Chocolate Chip Cookies are soft, chewy, and melt-in-your-mouth. It's all about the techniques and combinations of ingredients that make this pumpkin oatmeal chocolate chip cookie so special.
So….let's get back to saucepan cookies. The key is to melt the butter in a saucepan and stir in a hefty dose of brown sugar and sugar until it is silky smooth. This helps to create not only a flavorful pumpkin cookie but a chewy one as well.  These Saucepan Pumpkin Chocolate Chip Cookies are completely made by hand — using your muscles.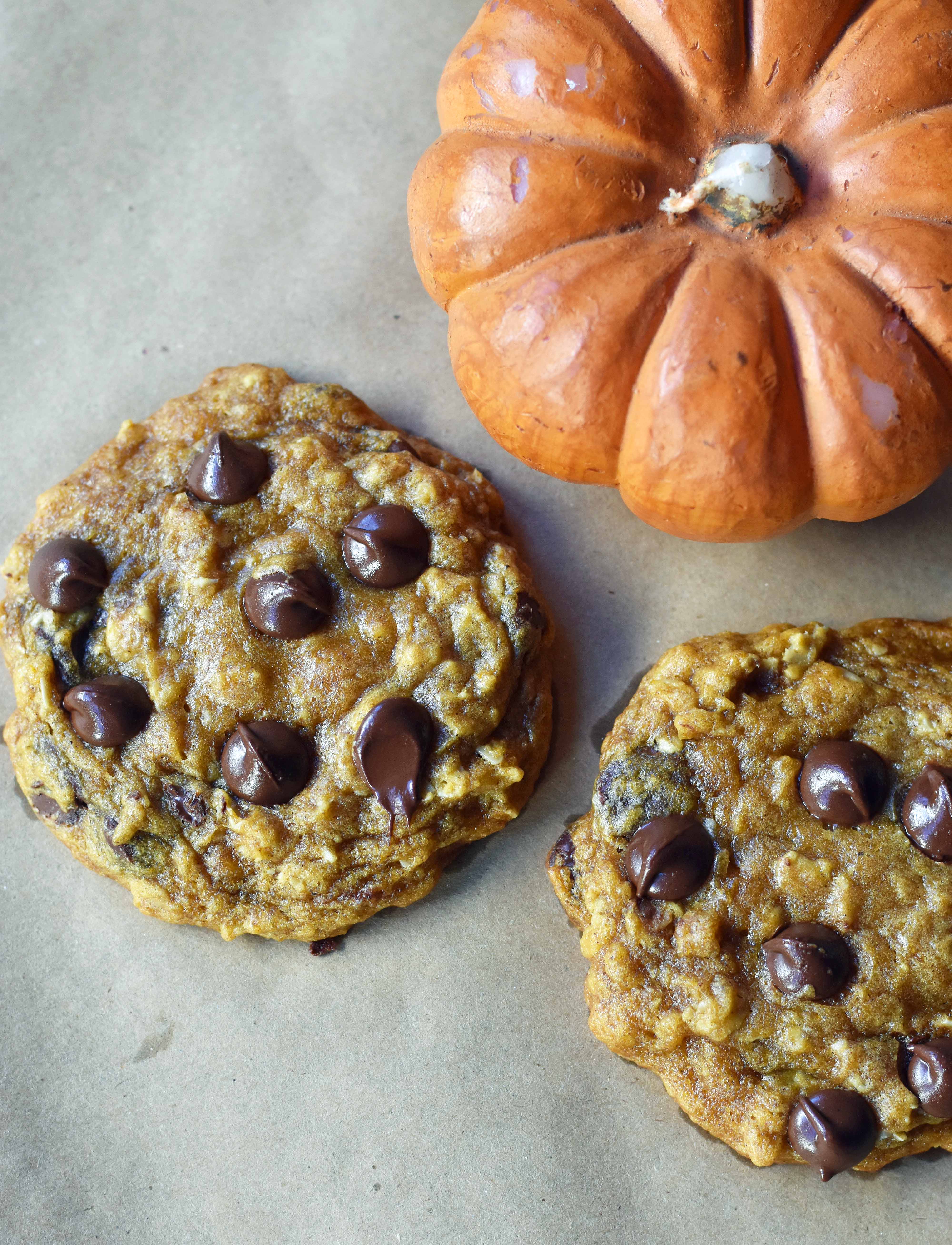 When I was creating a recipe for the Cooking Channel's Perfect 3 Show Contest, I took my traditional saucepan chocolate chip cookies and added some oats for a more hearty cookie.  I named them, "I Want to Marry You Cookies," submitted the recipe, and the rest is history.  Here is the recipe on Food Network as well. I love adding oats to saucepan cookies because it is the perfect accompaniment to the caramel notes in the pumpkin chocolate chip oatmeal cookie.
So when I was creating a pumpkin chocolate chip cookie, I wanted to experiment to see if I could make a chewy one. Since cookies made with melted butter create a chewy one, I thought I would give it a shot.  The results were AMAZING!
I was SO excited to finally make a perfectly chewy pumpkin oatmeal cookie. Of course, we add to add chocolate chips because chocolate just elevates these Saucepan Pumpkin Chocolate Chip Cookies.
How to make the BEST Pumpkin Chocolate Chip Cookies:
 Melt butter slowly in a saucepan.  We aren't making browned butter cookies so you are looking for the butter to melt and start to bubble. Remove from heat and add brown sugar and sugar.  Stir for about 2 minutes, or until the mixture is glossy smooth. We want to get rid of all graininess and make sure it is smooth as silk.  Let cool.
Let mixture cool for at least 5-10 minutes before adding egg yolk and vanilla. I added extra vanilla in this recipe because it helps to mellow out the pumpkin flavor.
Stir in the remaining ingredients, except for the chocolate chips. It may still be a tad too warm to add the chocolate. We don't want it melting into the pumpkin cookie dough.  Place the dough in the refrigerator to chill for about 15 minutes.
Stir in semi-sweet chocolate chips. I used Trader Joe's semi-sweet chocolate chips. They are a steal at only $1.99 every single day and are such high quality. I love how they glisten and shine in my cookies.
Bake until edges start to get barely golden brown.  Let the cookies set up on baking sheet for 5-10 minutes before removing cookies.
Pin on PINTEREST: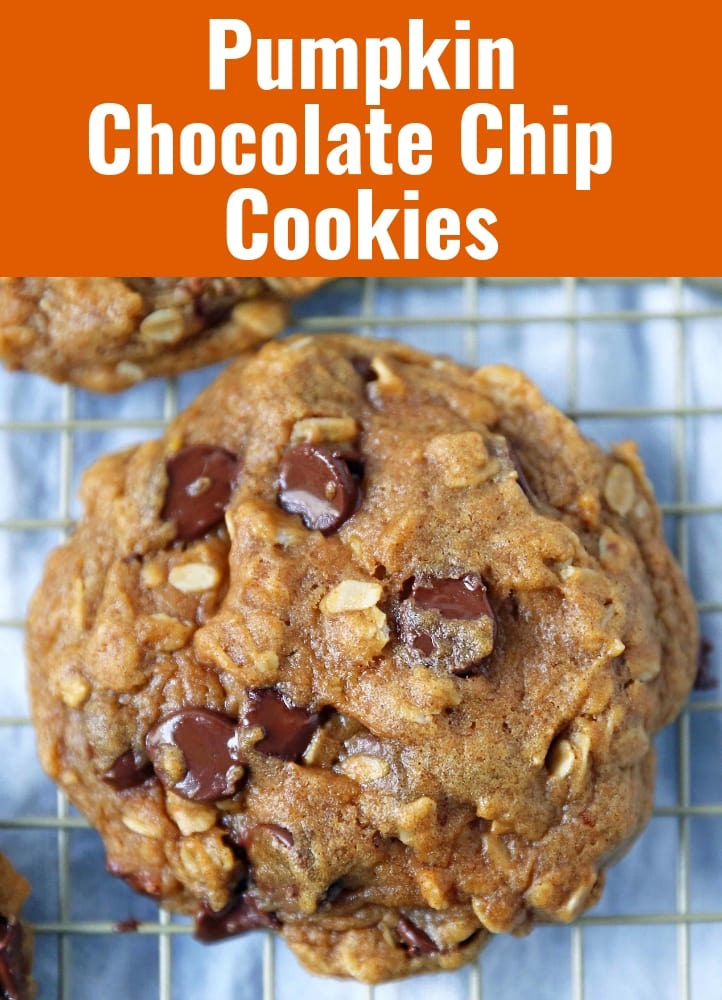 Pin this now to find it later
Pin It
Saucepan Pumpkin Chocolate Chip Cookies
How to make chewy, melt-in-your-mouth, perfect pumpkin chocolate chip cookies.
Ingredients
1

cup

Butter

(melted in saucepan)

1

cup

Brown Sugar

1/2

cup

Sugar

1

Tablespoon

Vanilla

1

Egg Yolk

2/3

cup

100% Pure Pumpkin Puree

(not pie filling)

2

cups

Flour

1 1/2

cups

Oats

1

teaspoon

Baking Soda

1/2

teaspoon

Salt

1

teaspoon

Cinnamon

1 1/2

teaspoon

Pumpkin Pie Spice

1 3/4

cup

Chocolate Chips
Instructions
In a medium saucepan, melt butter over medium-low heat. Remove from heat and stir in brown sugar and sugar. Stir for 2-3 minutes or until it becomes silky smooth and glossy.

Let cool for 5-10 minutes.

Stir in vanilla and egg yolk.

Stir in pumpkin.

Add flour, oats, baking soda, salt, cinnamon, and pumpkin pie spice.

Stir well to incorporate ingredients.

Let chill for 15 minutes. Preheat oven to 350 degrees.

Stir in chocolate chips.

Using a cookie scoop or two spoons, drop cookie dough on baking sheets.

Bake for 10-13 minutes or until lightly golden brown on edges.

Let set up for 5-10 minutes before removing from pan.
Nutrition information is automatically calculated, so should only be used as an approximation.
Happy Baking, my friends! If you want to see how I am decorating for FALL and a killer pumpkin cupcake with caramel frosting…check out this post.