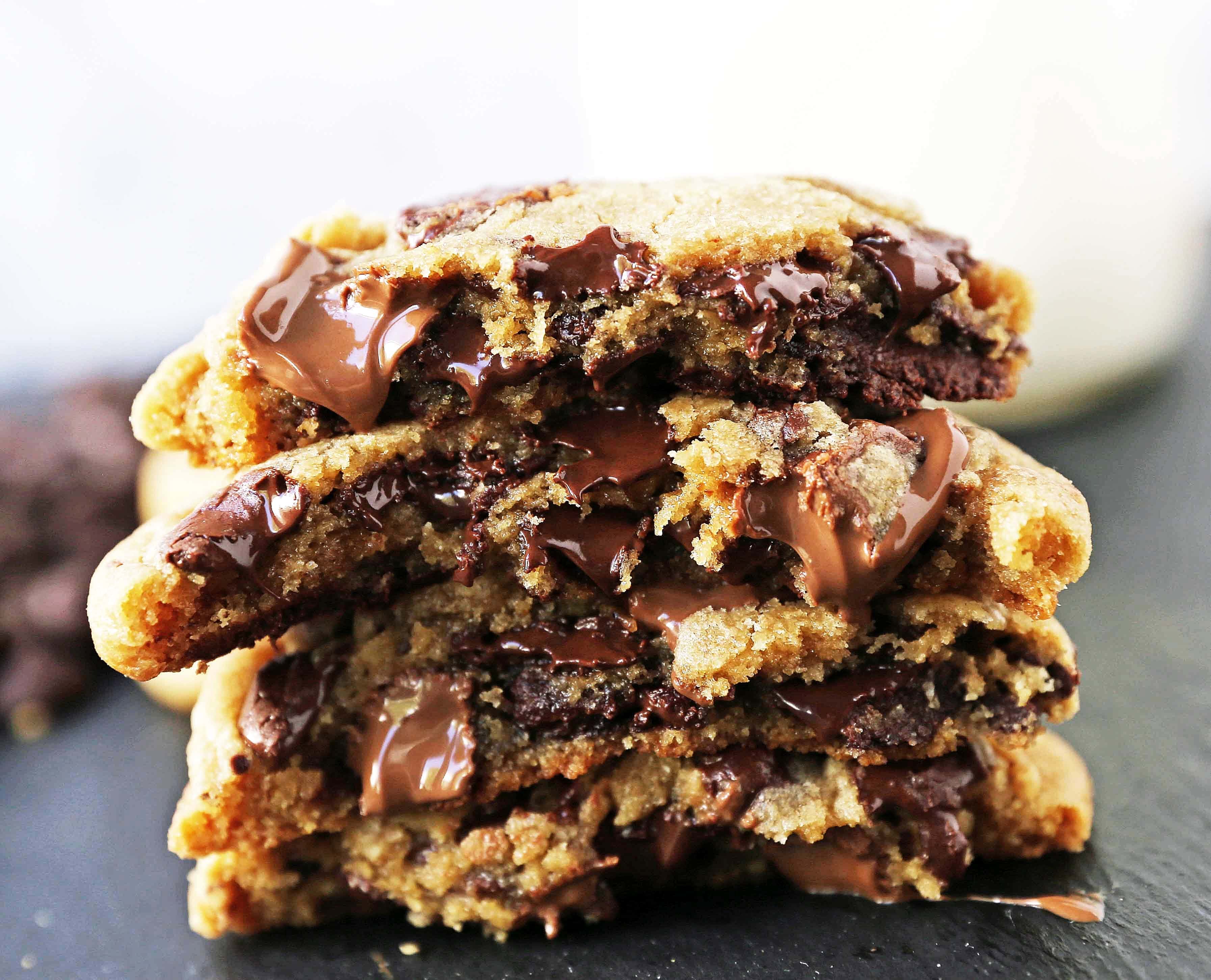 Brown Butter Chocolate Chip Cookies
I am obsessed with brown butter chocolate chip cookies. A simple step of melting and browning the butter on a stove will transform your chocolate chip cookies. It is a game-changing trick to create toffee-flavored, rich buttery cookies by just elevating one ingredient. It is truly remarkable! These are the best chocolate chip cookies!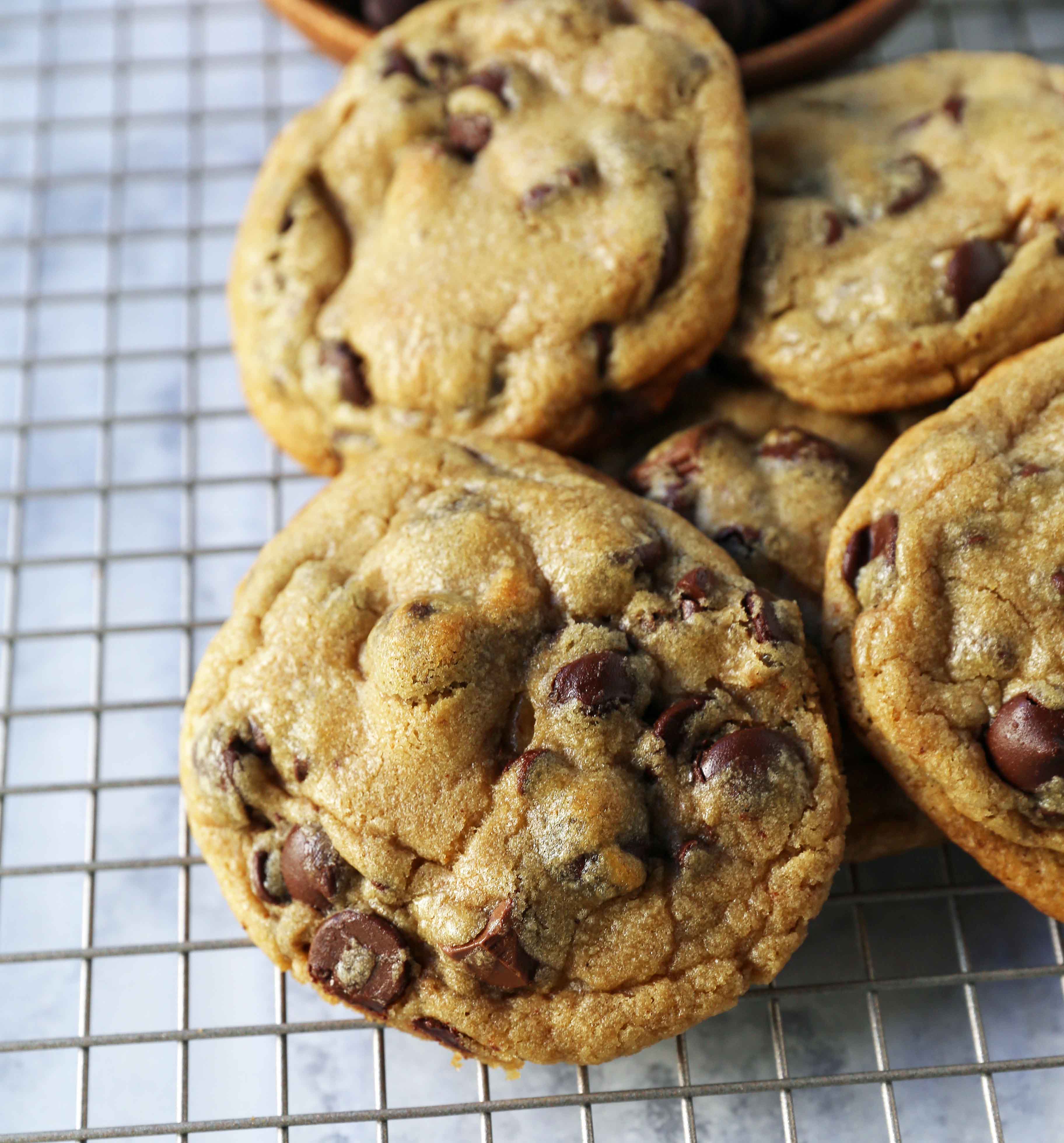 I have been making brown butter chocolate chip cookies for at least 15 years and they have become one of my signature cookies. I shared my MJ's Top Secret Chocolate Chip Cookies, all made in one saucepan, which is one of my go-to cookie recipes.
Since I am always playing in the kitchen with different ingredients and methods, I wanted to work on melting and browning the butter until it is a perfectly warm amber color and letting it chill in the refrigerator before creaming the butter and sugars in a mixer. Since some of the liquids can evaporate when browning the butter, I needed to compensate for that. I decided to add one egg yolk, which adds both liquid and fat.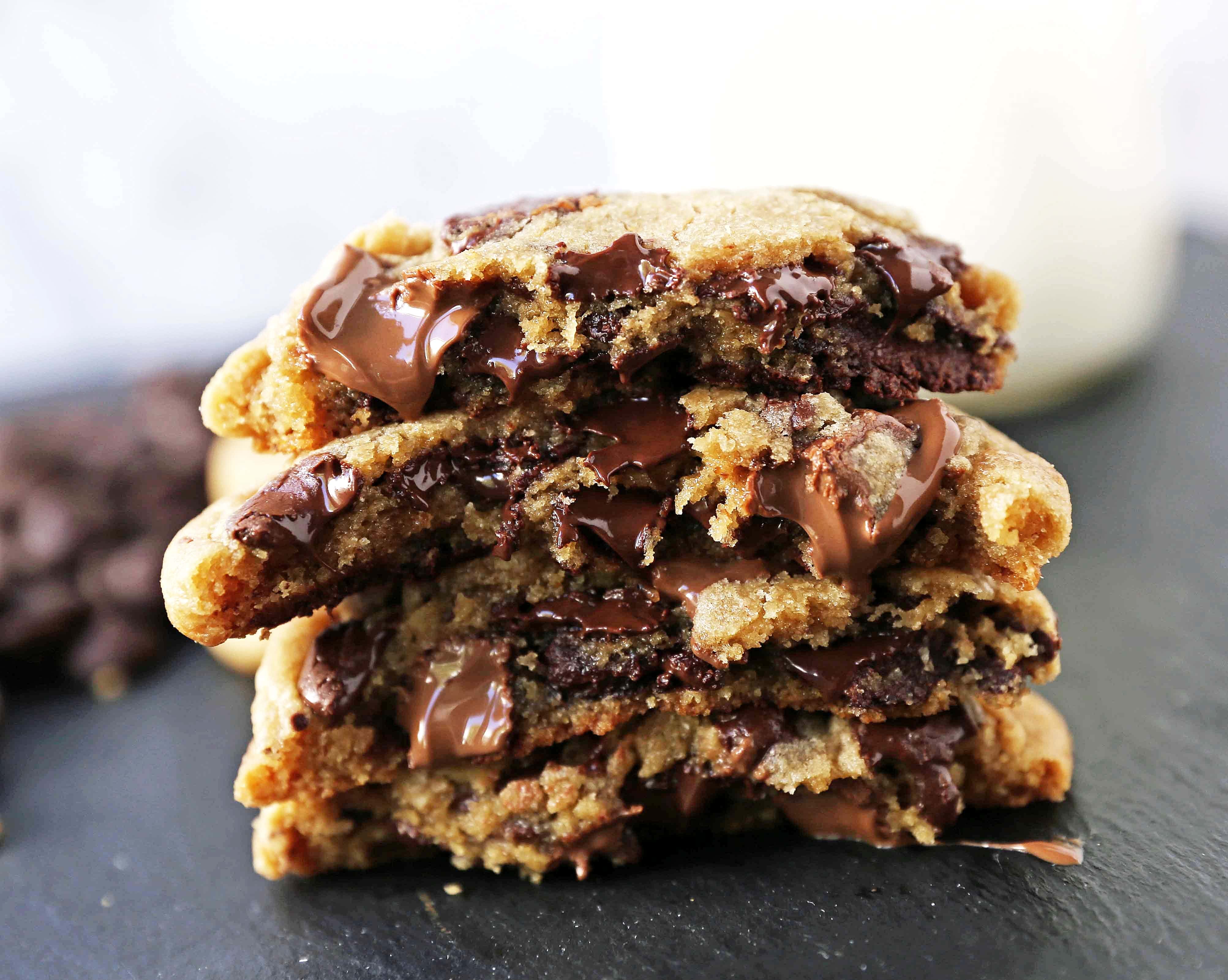 How to Brown Butter:
This is an important step. The butter will go through different phases. It will begin to melt and bubble. Take a wooden spoon or spatula and stir often and around the sides of the pan. Let the butter melt and watch for it to begin changing colors from a creamy yellow to a deep amber yellow.
The butter will begin to foam and this is why it is important to stir often so you can see what is going on below the foam. Small brown bits will begin to form and that will be a signal that the butter is officially browned. Butter can burn quickly so watch carefully. It is better to pull off of the heat a little early instead of browning too long and risk burning it.
Since you want the butter to chill quickly, pour it into a large bowl and place in the refrigerator. Use a spatula to get every bit of butter out of the pan. Every bit of butter matters! Let it chill in the refrigerator for at least 40 minutes.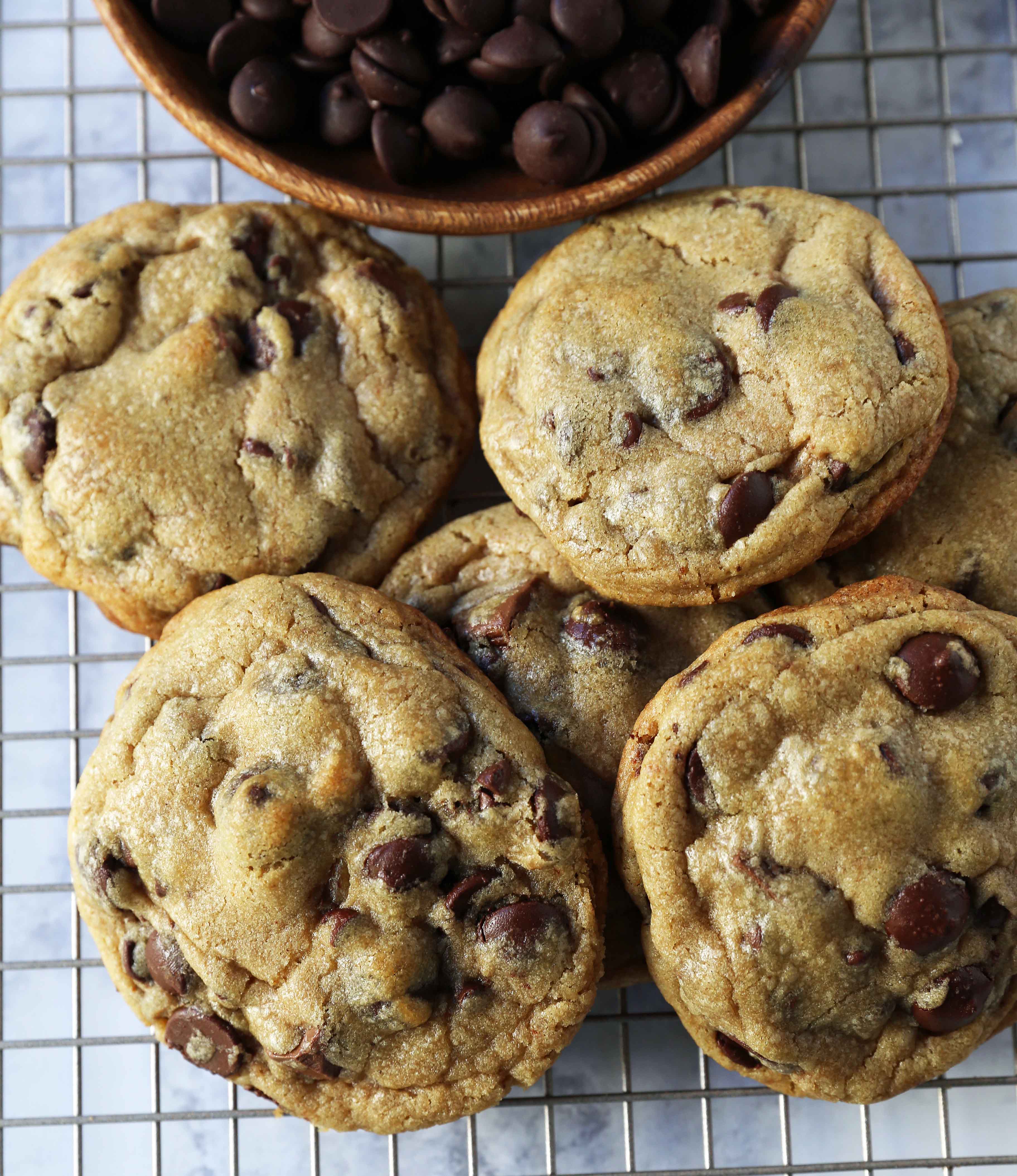 Creaming the Brown Butter and Sugars:
This is an integral step as it creates a smooth and creamy dough and gets rid of the graininess from the sugars. It needs to be creamed for at least 4-5 minutes, scraping the sides of the bowl often. The eggs and egg yolk can be added one at a time, mixing for 30 seconds after each addition.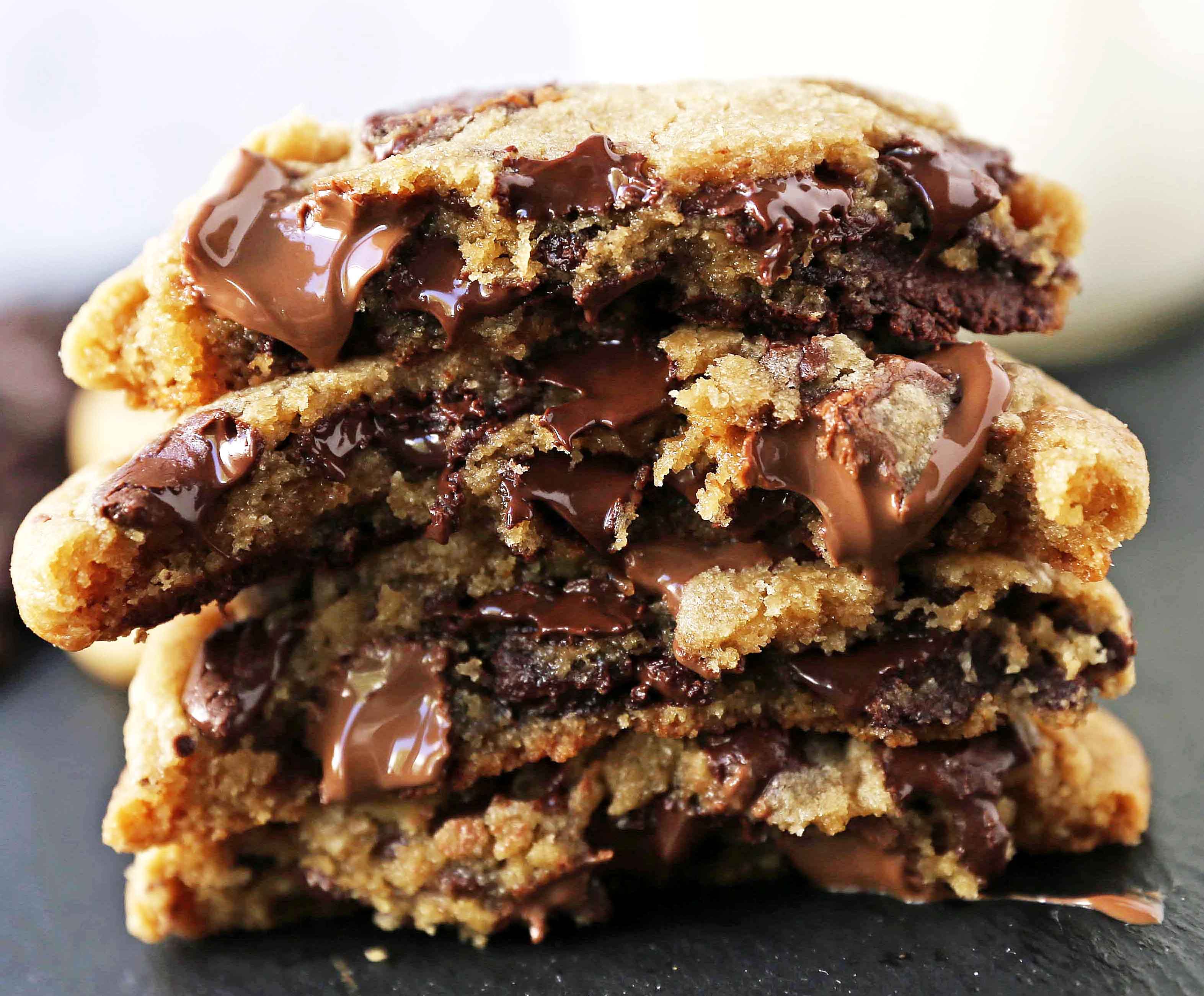 If time is on your side, an easy way to make chocolate chip cookies even BETTER is to chill the cookie dough. The chilling process is important because it helps the ingredients marry together and you end up with a richer chocolate chip cookie. Also, the dough doesn't spread as much in the oven so you end up with a chewier cookie with crisp edges. Trust me on this one, chilling the dough is worth the sacrifice!
Here are some of my favorite baking tools:
I love to hear from you! If you make this recipe, please be sure to leave a comment and give this recipe a rating. If you make any of my recipes, tag me on Instagram @modern_honey and use #modernhoney so I can see your creations. It's one of my favorite things seeing you make these recipes in your own kitchen. Sign up for my newsletter below so you never miss a recipe. Thank you for following along! I truly do have the greatest readers. FOLLOW ME ON: INSTAGRAM --- FACEBOOK --- PINTEREST
If you love chocolate chip cookies, check out these other popular recipes: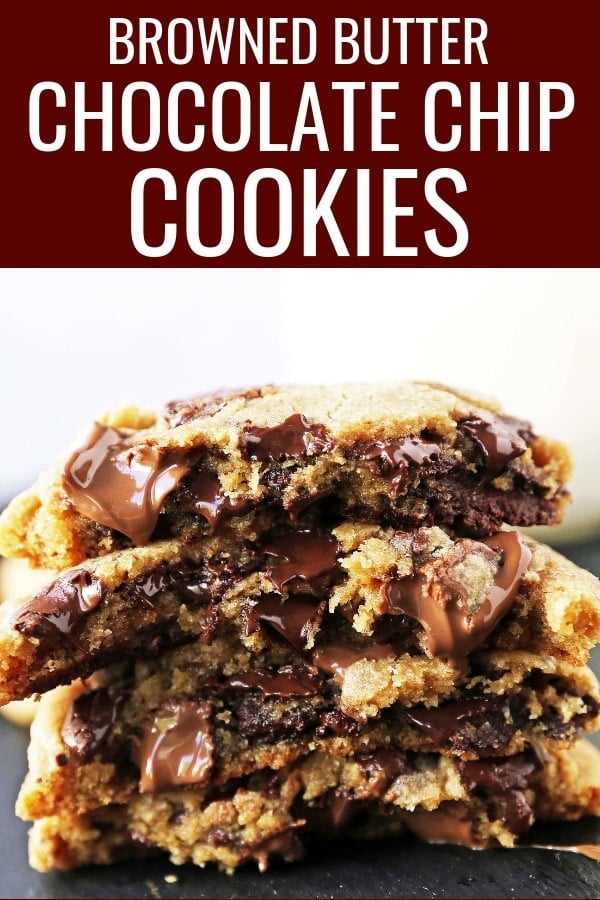 Happy Baking, my friends! Don't forget to sign up for my newsletter below. Thank you for following along!