These are the Best Browned Butter Toffee Chocolate Chip Cookies that are perfectly soft and chewy with crisp edges and ooey gooey centers filled with chocolate and toffee chunks.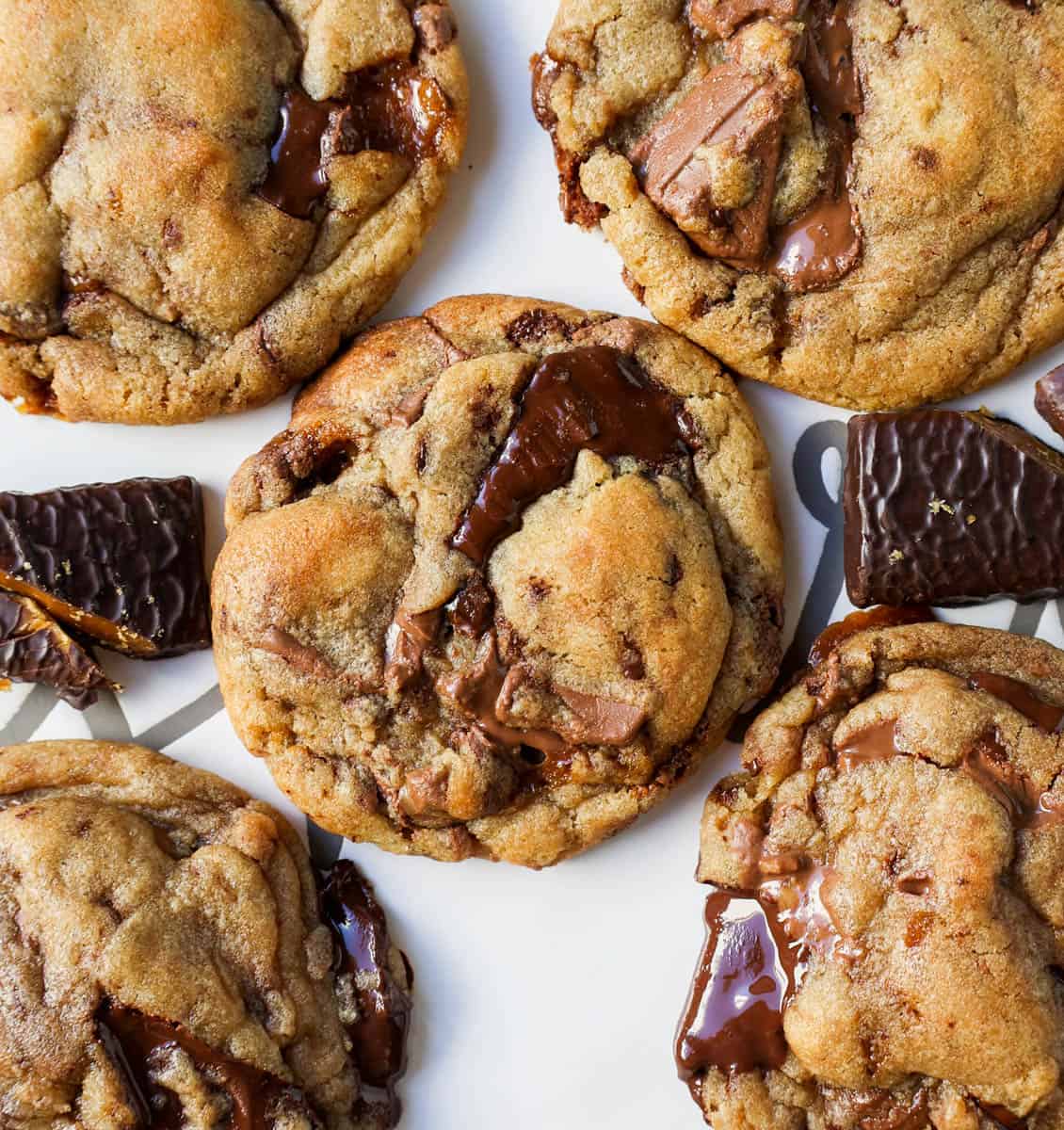 If you have been following Modern Honey for years, you know that my favorite food on the planet is chocolate chip cookies.
These Browned Butter Chocolate Chunk Cookies are my signature cookie (along with my Bakery-Style Chocolate Chip Cookie Recipe) because they are the most perfect browned butter toffee chocolate chunk cookie. The addition of the toffee chunks just puts this cookie over the top.
I am a sucker for browned butter. It literally transforms cookies! You are going to LOVE these Browned Butter Chocolate Toffee Cookies.
Jump to: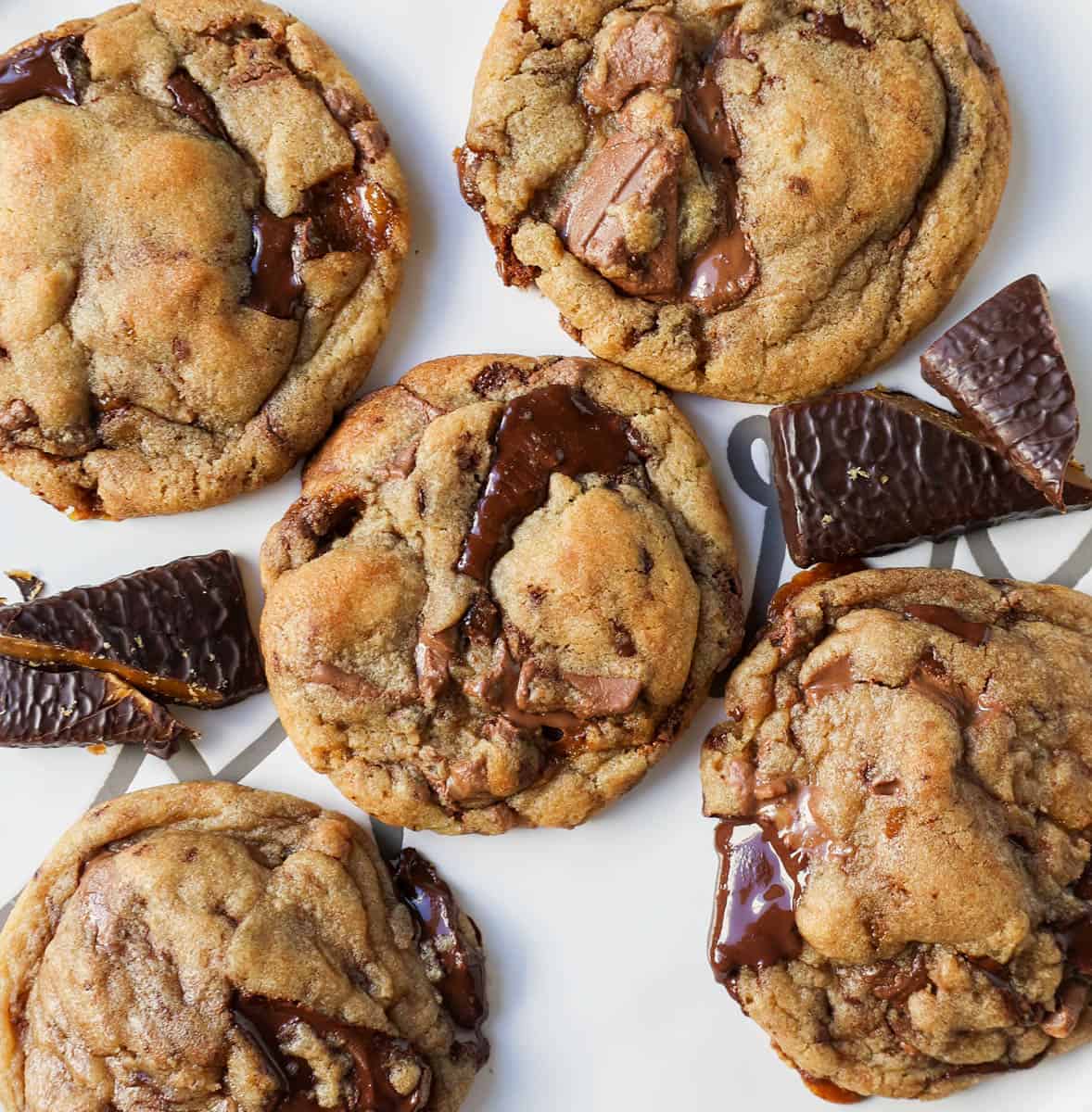 Why do I love these Toffee Chocolate Chunk Cookies?
The flavor! The browned butter gives the cookies the perfect toffee and caramel notes.
The texture of these cookies is out of this world. These cookies have ooey gooey centers with crisp buttery edges.
These taste better than a bakery! I will guarantee that you will wow your friends and family with these cookies.
The combination of chocolate chips or chunks and toffee is the winning combo. The chocolate-covered toffee just takes these up a notch and makes them extra special.
Ingredients
These Browned Butter Chocolate Toffee Cookies are super simple to make with 10 ingredients. The secret is browning the butter and chilling the dough to allow the flavors to develop.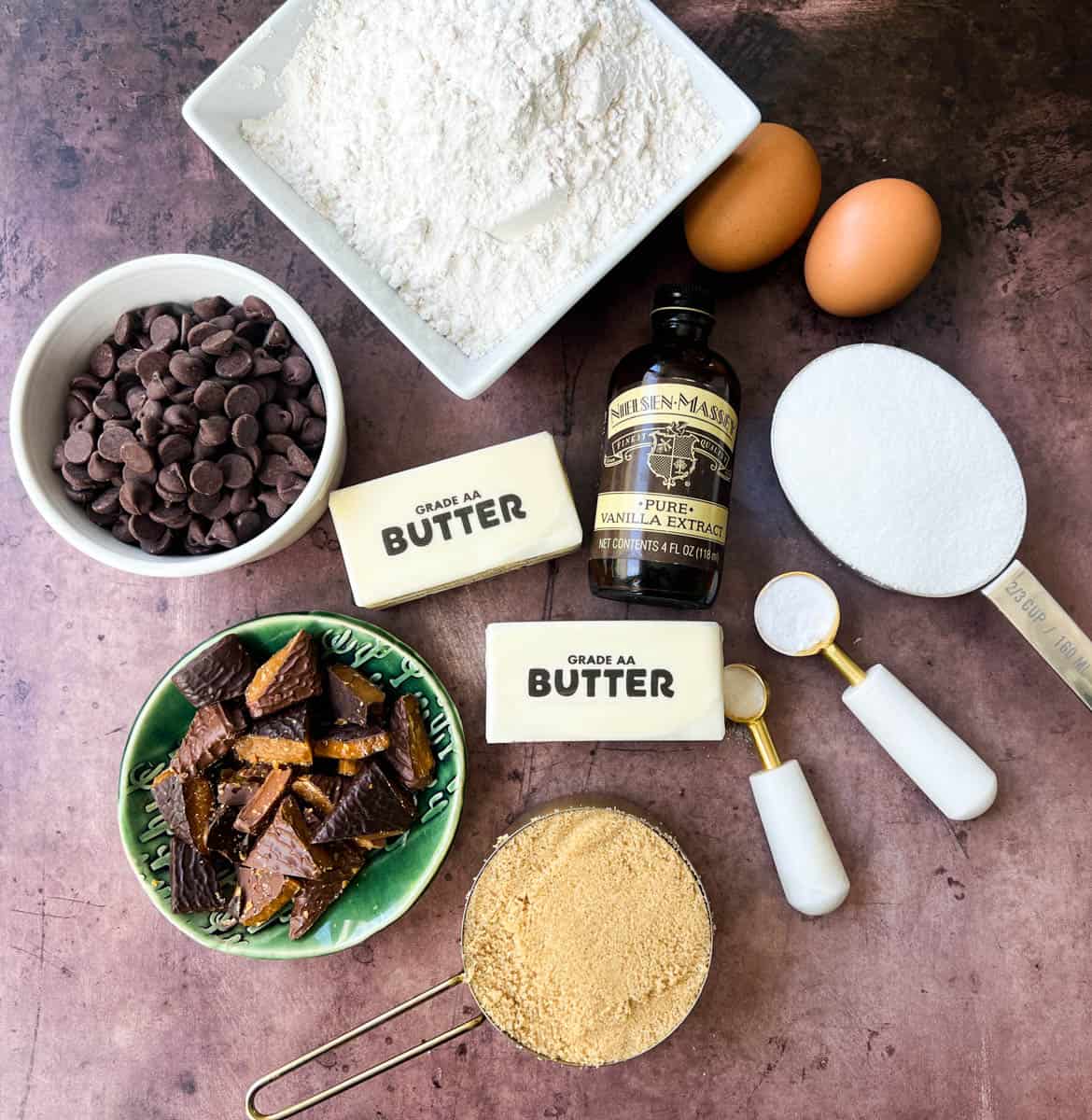 Butter -- use salted or unsalted butter in this recipe. If using salted butter, reduce the salt by ¼ teaspoon.
Brown Sugar -- for extra rich, chewy cookies, use dark brown sugar. You can use either light golden or dark brown sugar or even a mix of both.
Sugar -- use granulated sugar in these cookies.
Eggs -- always use large eggs.
Vanilla Extract -- I suggest using a pure vanilla extract like Nielsen-Massey or a 100% real Mexican vanilla.
Flour -- this recipe calls for all-purpose flour.
Baking Soda -- this is what allows the cookies to rise once they hit the oven.
Salt -- the flavor enhancer in cookies and a balancer for the sugars.
Chocolate Chips or Chunks -- I suggest using chocolate chips or chocolate chunks in this recipe. If you prefer a more melted chocolate, I suggest using a chocolate bar, cut into chunks.
Toffee Bits -- use chocolate-covered toffee chunks. See below for suggestions.
See the recipe card for quantities.
What type of toffee should I use in this recipe?
There are so many different types of toffee sold at the grocery store. I suggest using Heath Bars, cut into chunks or Heath Bar Bits. If you want larger chunks of toffee, I suggest chopping Heath Bars into bigger chunks.
You can also find chocolate-covered toffee chips at Trader Joe's.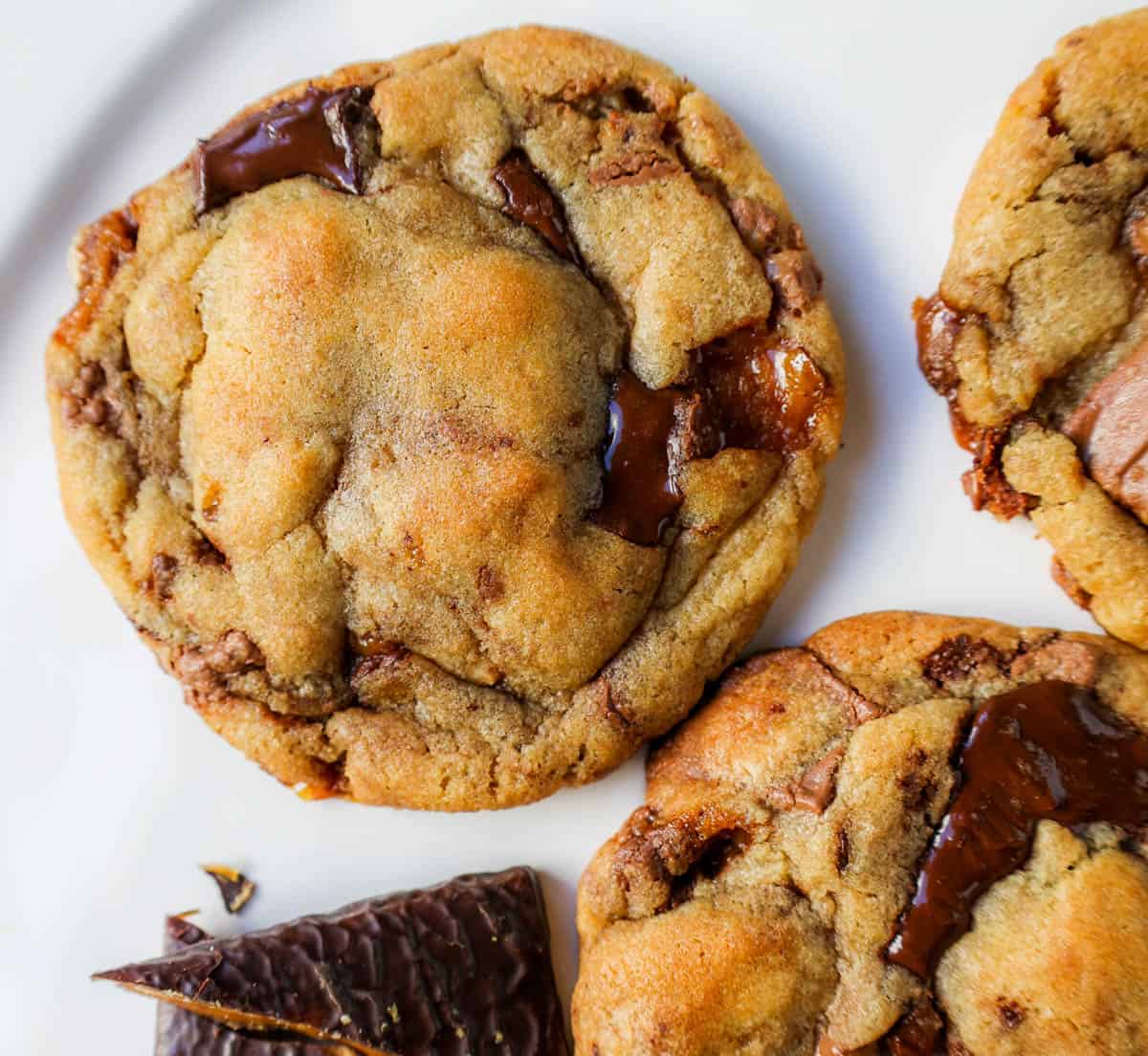 Instructions
This chocolate toffee cookie recipe all starts with browning the butter and then mixing the brown sugar and sugar together until smooth. This creates the base flavor of the cookie and is a very important step.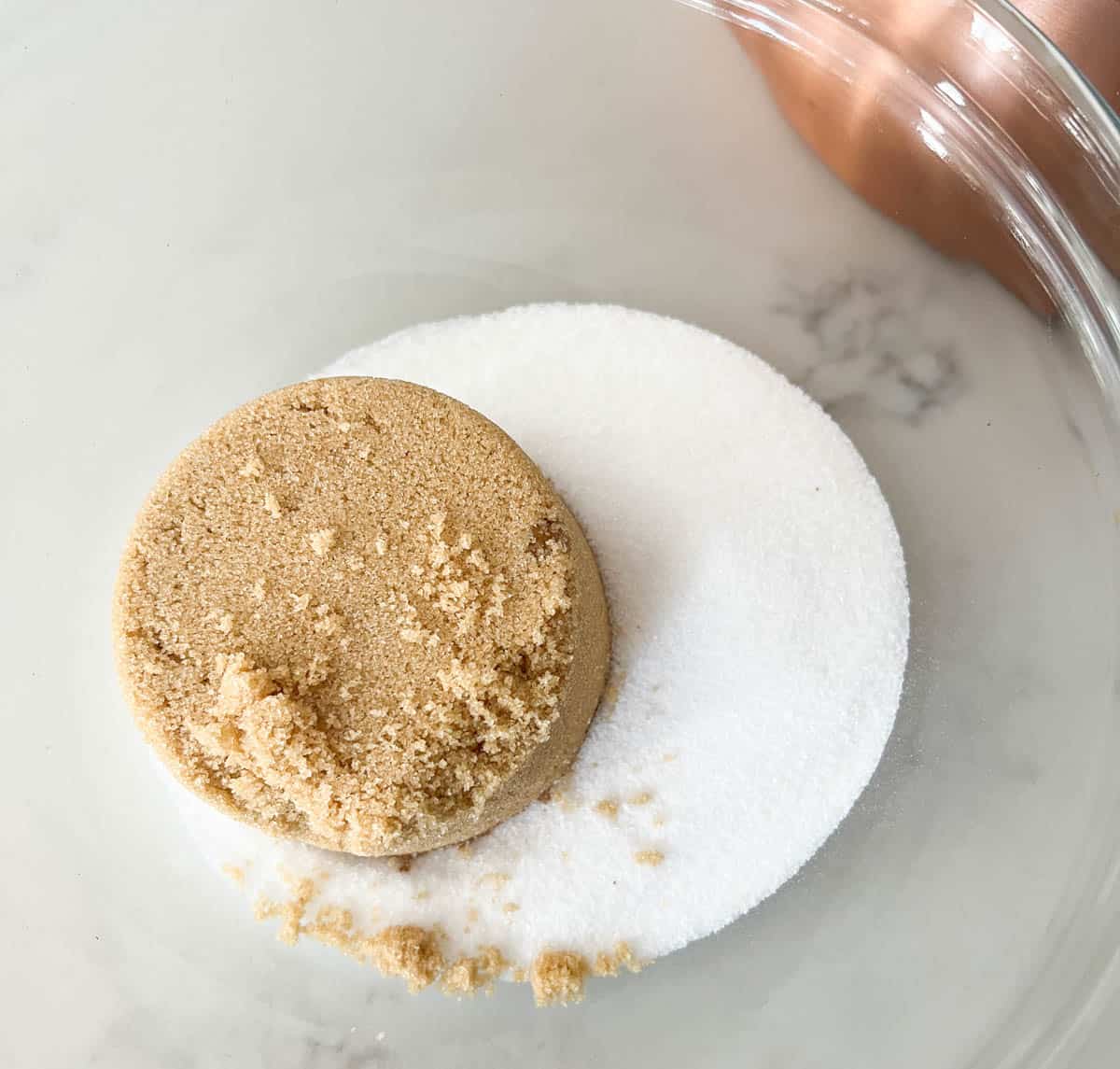 Brown the butter (see instructions below and in recipe card). Add the sugars to a bowl and then pour the browned butter over the sugars and whisk until smooth.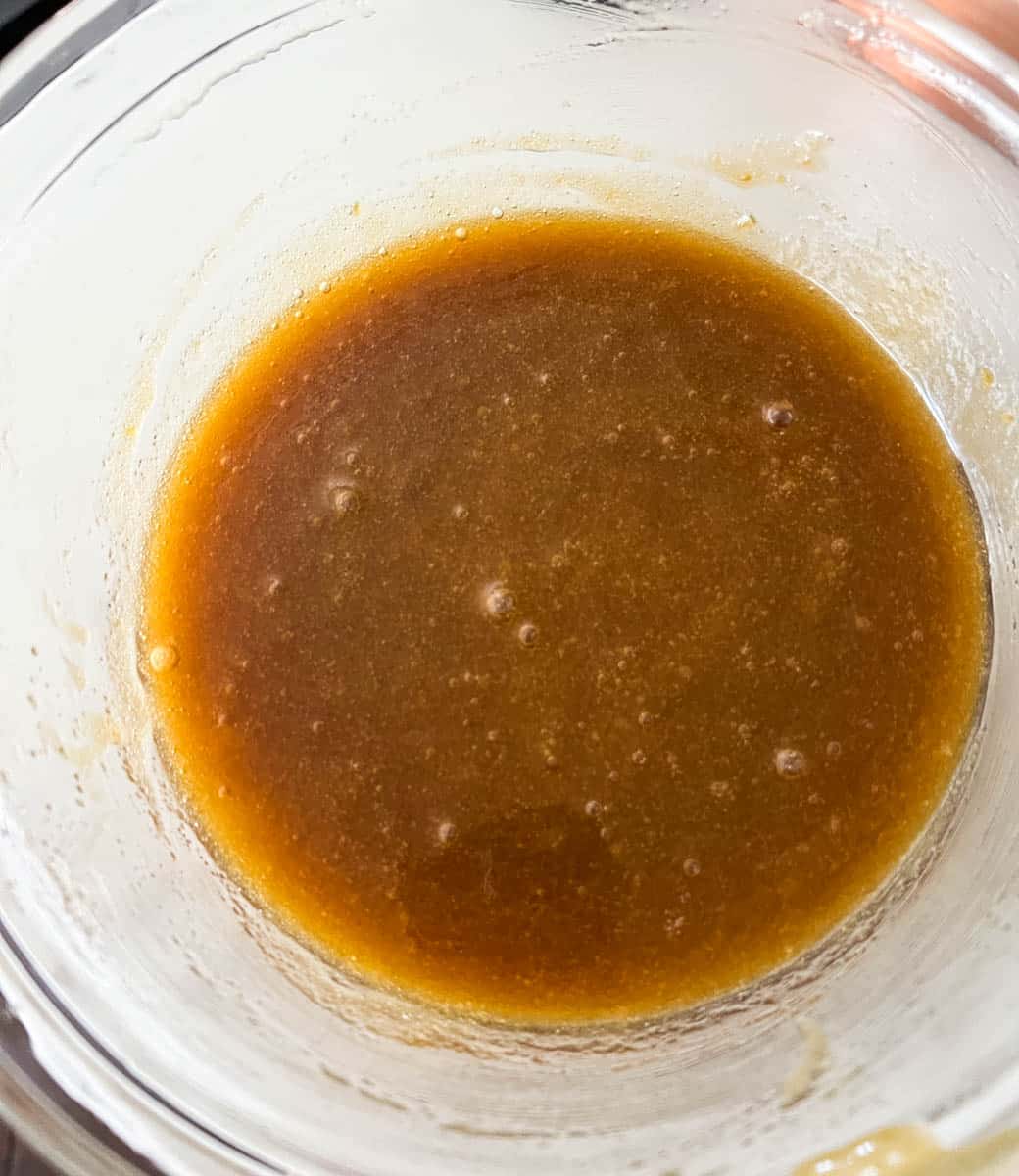 Keep whisking until the mixture is shiny and smooth and looks like deep caramel. Let sit for 10 minutes.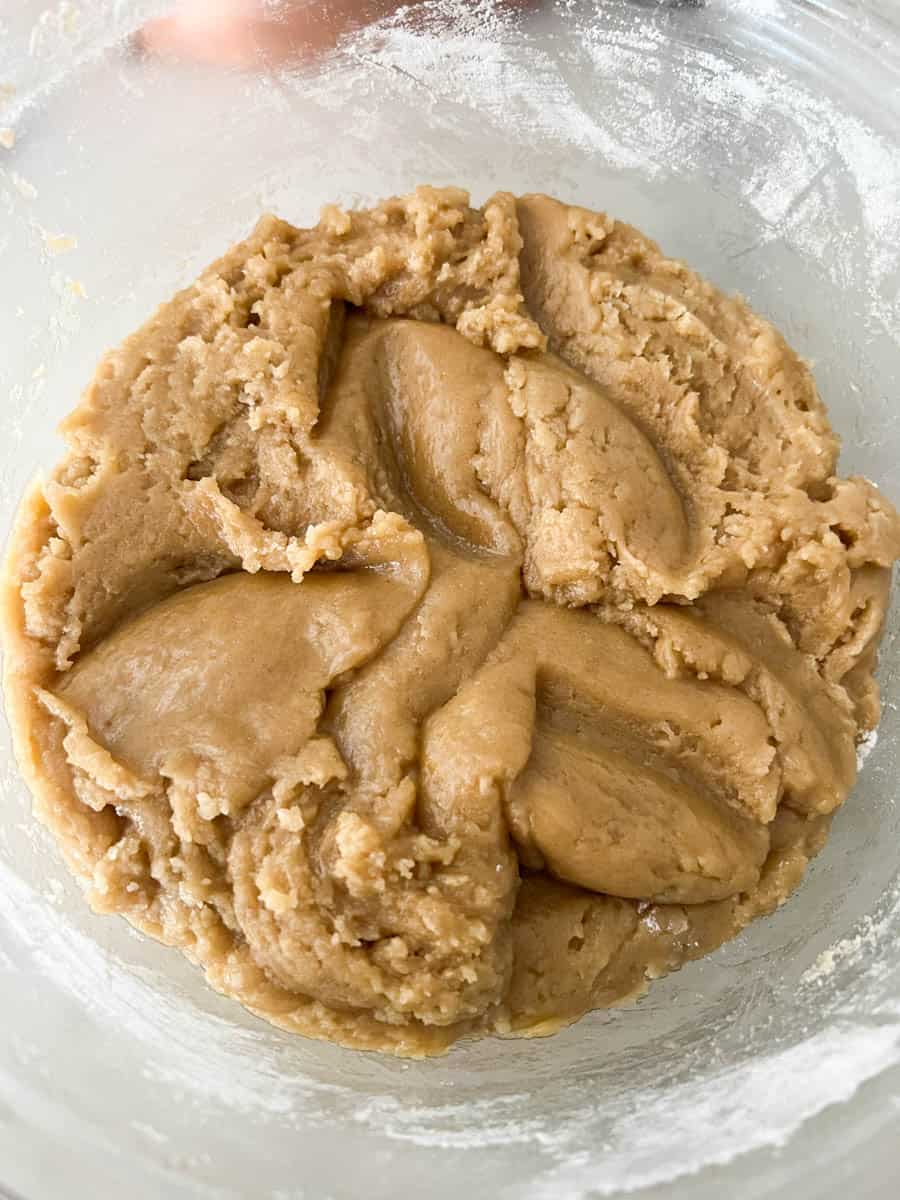 Fold in flour, baking soda, and salt until smooth. Make sure the cookie isn't too warm before adding the chocolate.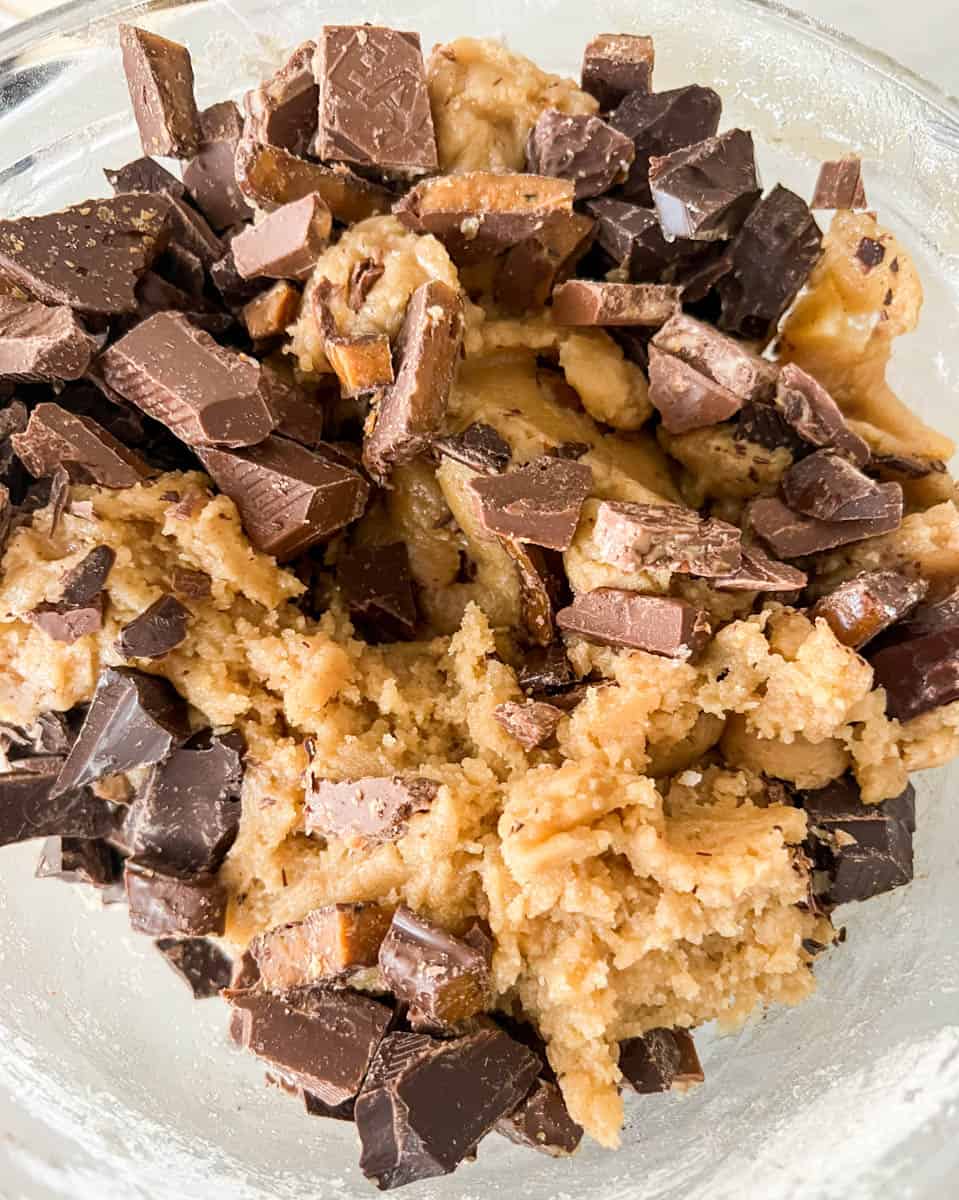 Fold in the chocolate chunks or chips and toffee bits into the cookie dough. Wrap the cookie dough in plastic wrap and wrap it tight. Chill for 24-48 hours.
HOW TO MAKE BROWNED BUTTER:
Here are the steps to browning butter for cookies --
Place butter in a large pot or deep skillet. Melt butter over medium-low heat.
The butter will begin to melt and bubble. Take a wooden spoon or spatula and stir often and around the sides of the pan. Let the butter melt and watch for it to begin changing colors from a creamy yellow to a deep amber yellow.
The butter will begin to foam and this is why it is important to stir often so you can see what is going on with the melted butter below the foam.
You will start to see small browned bits that will begin to form and it will be a signal that the butter is officially browned. Butter can burn quickly so WATCH CAREFULLY. It is better to pull off of the heat a little early instead of browning too long and risking burning it.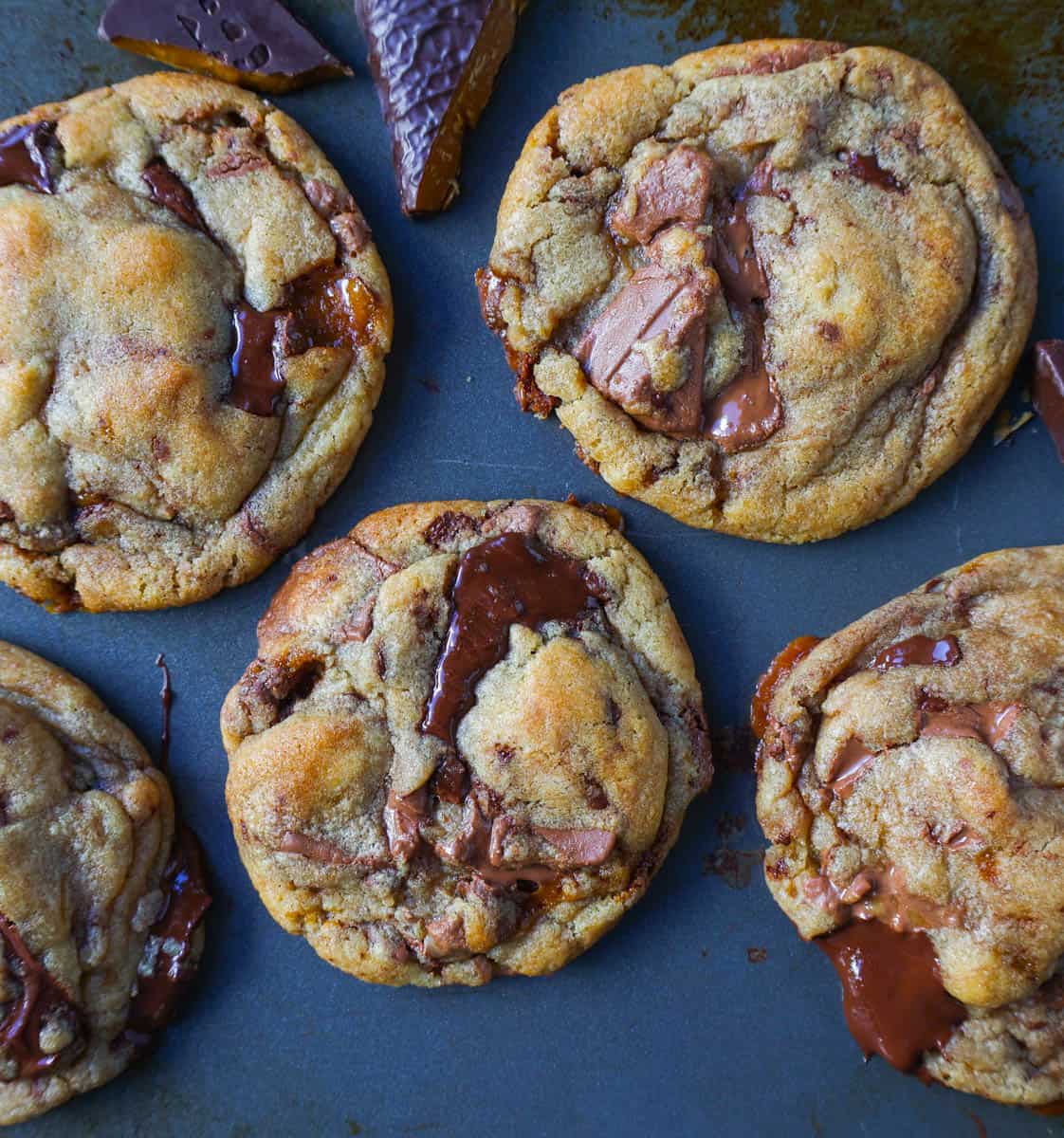 DON'T OVERBAKE COOKIES.
Overbaking cookies is one of the most common issues in baking. The rule of thumb in baking is that it is better to underbake and cookie rather than overbake a cookie. An ooey-gooey chocolate chip cookie is better than a burnt, hard cookie! The cookies will continue to bake on the cookie sheet once you remove them from the oven.
As soon as the cookies are firm enough to transfer, move them to a grid wire cooling rack. A cooling rack is important when baking cookies as it allows air to circulate and allows the cookies to keep a perfectly crisp exterior and chewy center.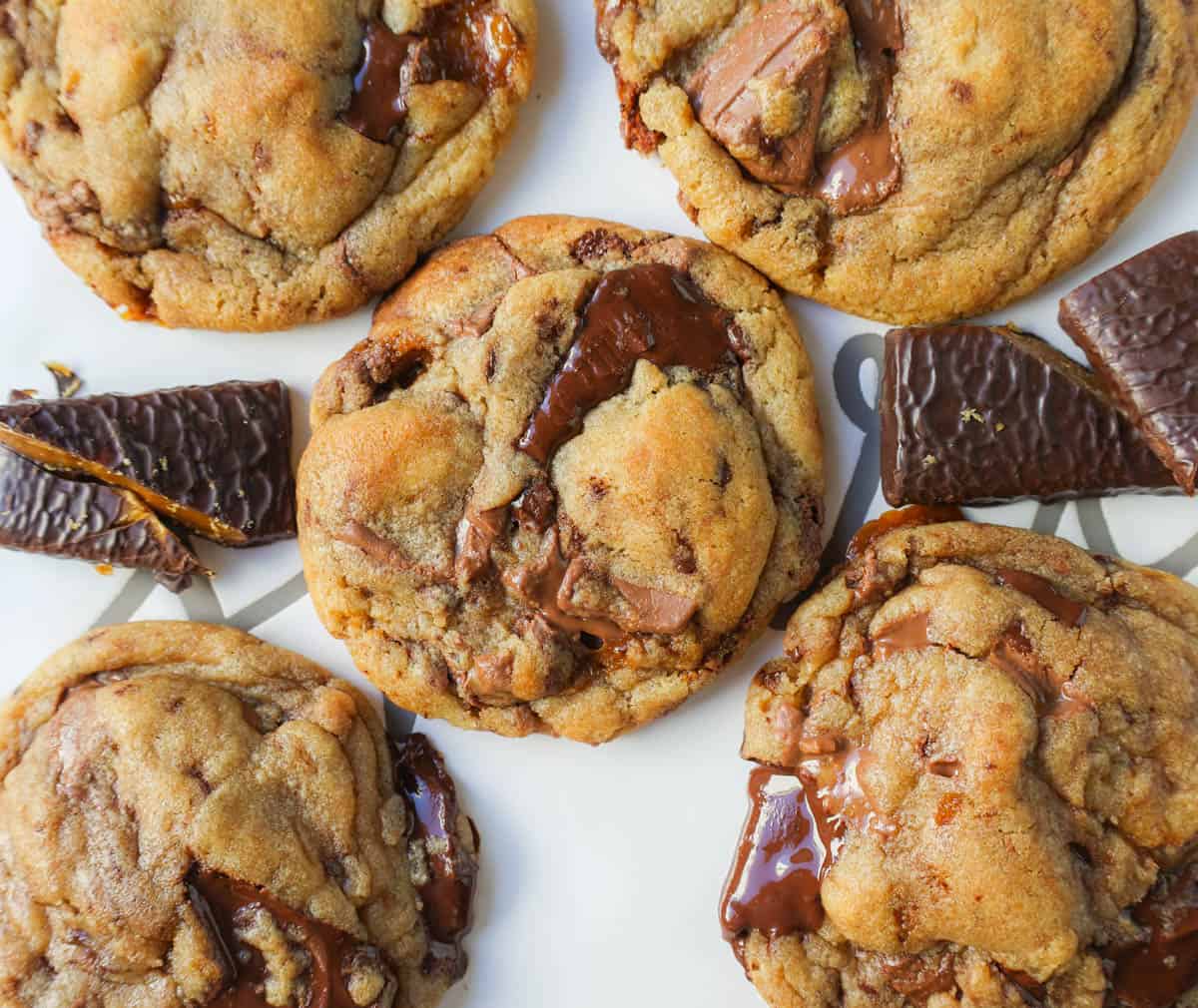 FAQ
Why is it important to chill cookie dough?

Chilling cookie dough is an important step to develop the flavors of the cookie. The flavors meld together, the dry ingredients absorb the butter and sugar, and the cookies become richer and more decadent. So if time is on your side, chill the dough for at least 24 hours!
Chilling the dough for 24-48 hours helps the ingredients to incorporate. The gluten which is developed by mixing the dough, is relaxed while the dough rests, which creates a more tender cookie.
The moisture in the dough is absorbed by the dry ingredients, which helps to dissolve the sugar, and causes extra caramelization. You end up with a chocolate chip cookie with rich toffee notes, a chewier texture in the center, and buttery, crispy edges.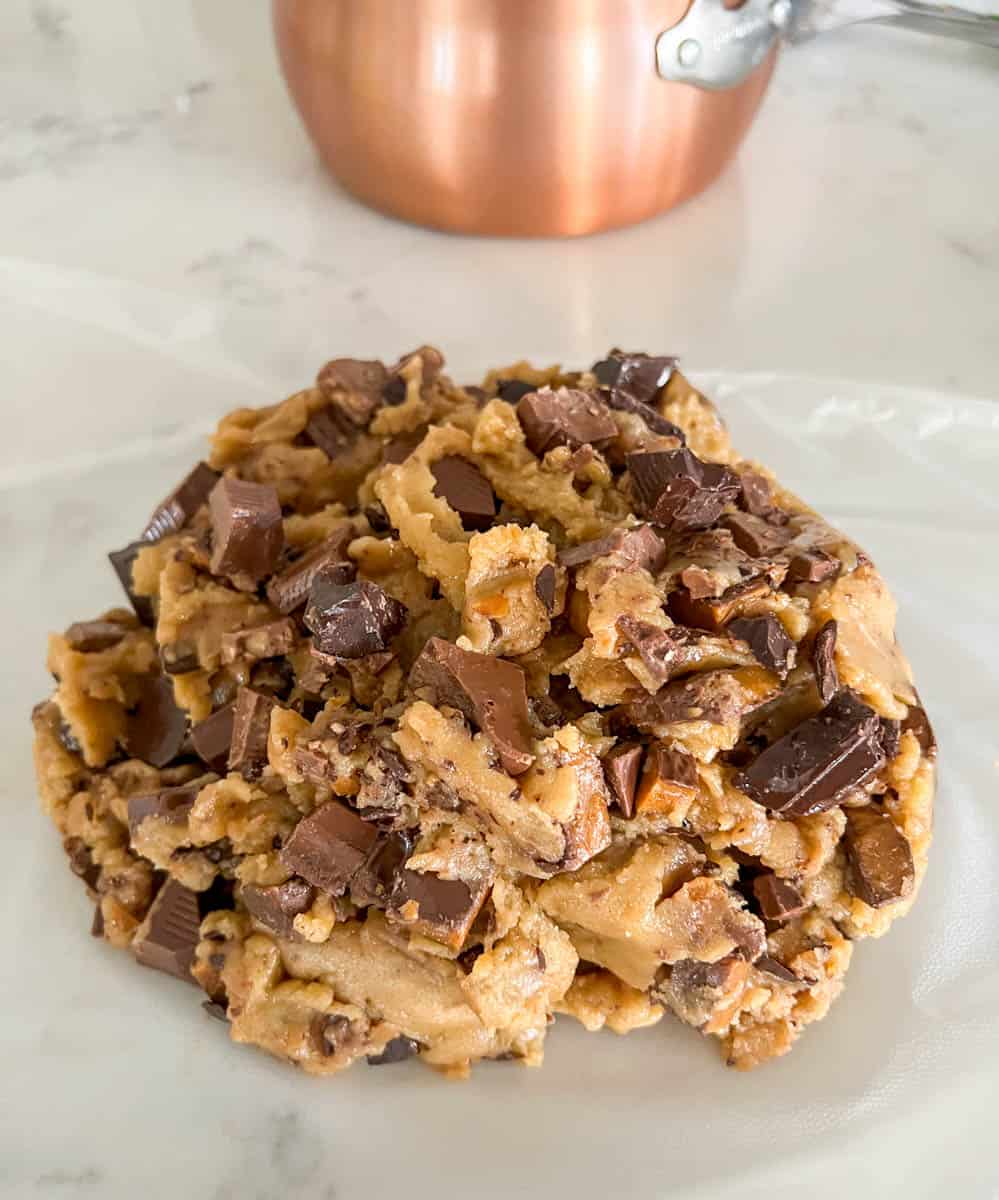 HOW DO I KNOW WHEN THE COOKIES ARE DONE BAKING?

Since oven temperatures can vary, the baking time listed in a recipe is only a guide. Check the cookies 2-3 minutes before the listed baking time, to check for doneness. 
A suggestion would be to look for the edges to start to turn a light golden color. The centers may be still slightly unset but the cookies will still firm up after removing from the oven.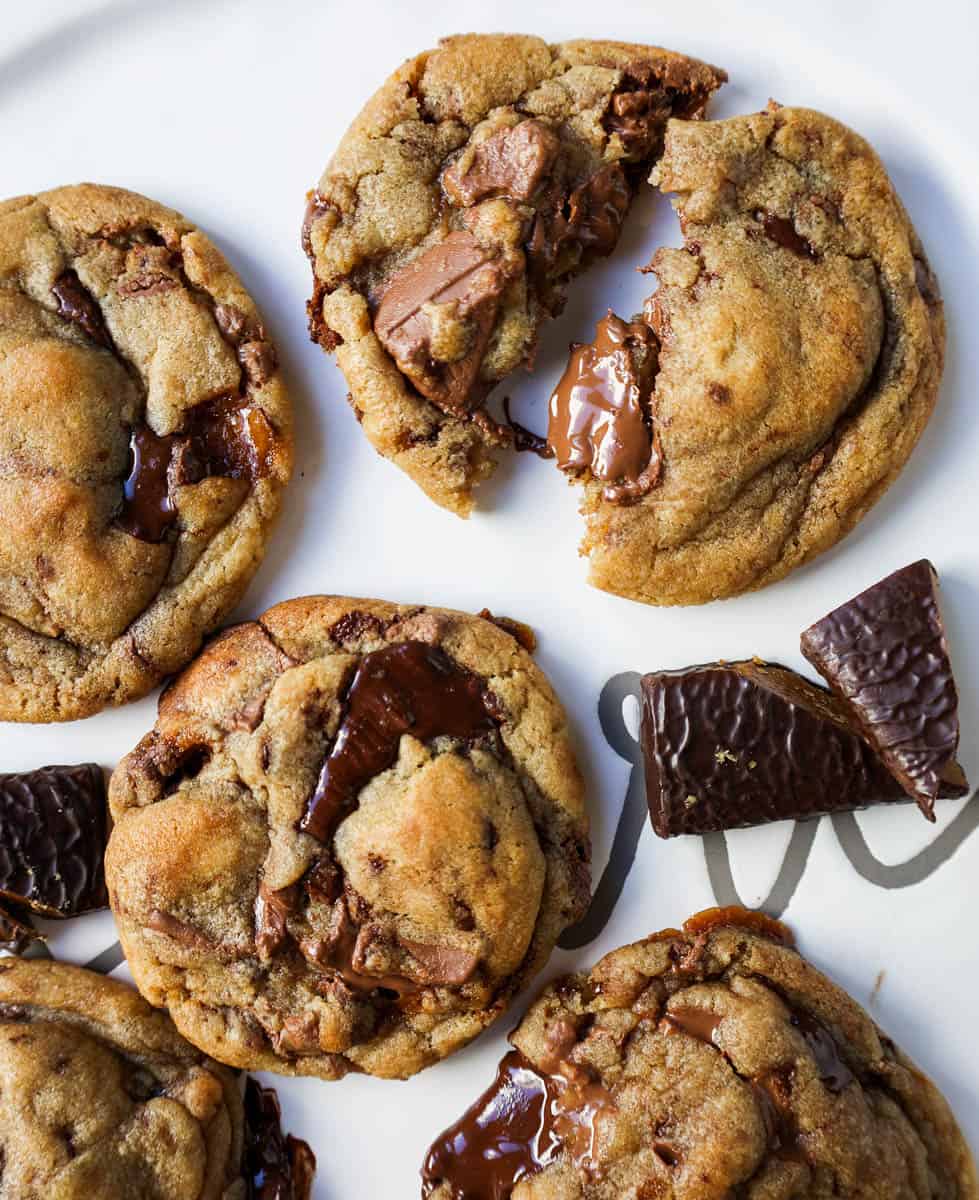 Substitutions
Chocolate: you can use chocolate chips or chocolate bars, cut into chunks. If you want the chocolate to melt, I would suggest using a high-quality chocolate bar.
Variations
You can use any type of chocolate in this recipe -- semi-sweet chocolate, milk chocolate, or white chocolate chips.
Equipment
My favorite baking tools are:
Storage
These browned butter cookies can be stored in an air-tight container for several days. For the freshest cookies, eat on the day of baking.
These cookies freeze well. Place the cookies in a freezer-safe Ziploc bag and place them in the freezer.
Top tip
Chill the cookie dough! Since this cookie recipe calls for browned butter, the cookie dough needs to be chilled before baking. The benefits are that the cookies develop a richer flavor and don't spread as much in the oven.
Popular Chocolate Chip Cookie Recipes:
Looking for other cookie recipes like this? Try these: