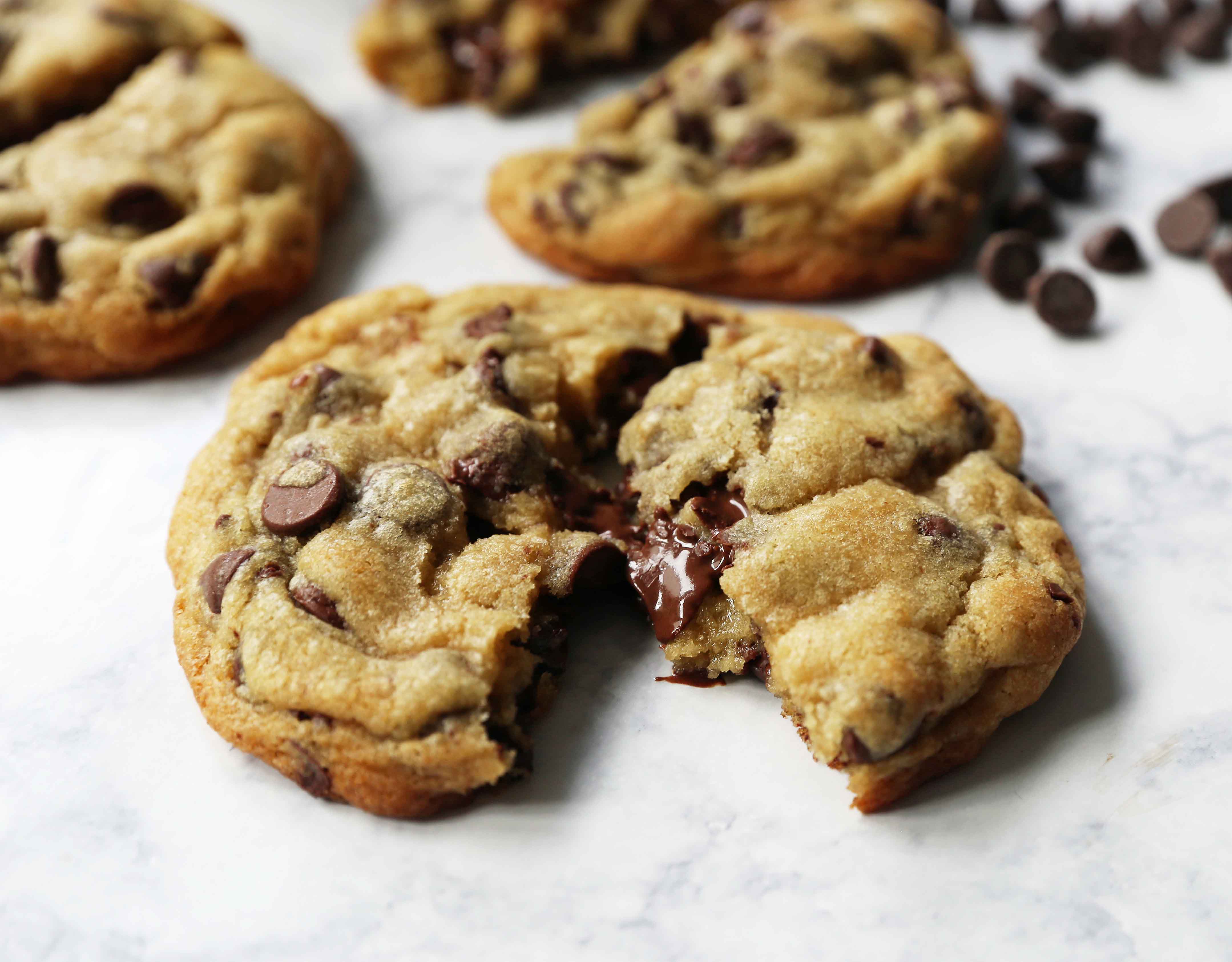 The BEST Chocolate Chip Cookie Recipe
How to make the best chocolate chip cookies in the world. These are hands down the most perfect chocolate chip cookies!
This has been a recipe I have been tweaking for months and months! You know how serious I take my cookie recipes.  The cookie recipes I post need to be absolute perfection! If you have been following Modern Honey, you know how much I LOVE chocolate chip cookies. It has been my favorite thing to whip up in the kitchen since about 1979.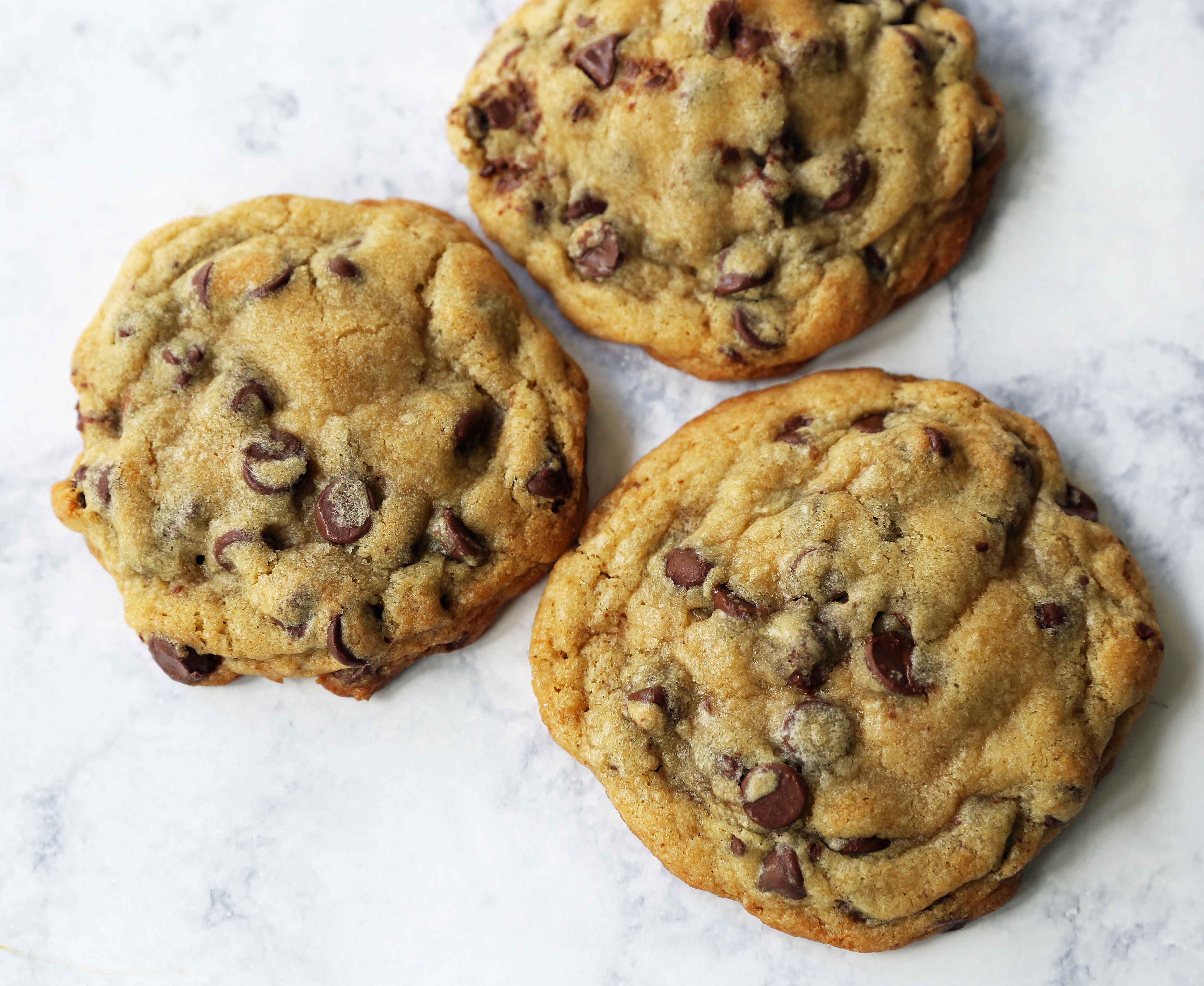 Since my Levain Bakery Chocolate Chip Cookies are the most popular cookie recipe on Modern Honey, I wanted to experiment with the recipe a little. Since Levain Bakery cookies are huge, I wanted to try making them smaller, reducing the baking temperature, adding vanilla, and a tad less flour. The result was the BEST Chocolate Chip Cookie Recipe EVER!
This chocolate chip cookie has a perfectly chewy center and crispy edges. You can make them in any size but I usually make them between 3-4 ounces.
I made the chocolate chip cookie dough and then experimented with different oven temperatures. I tried 385 degrees, 395 degrees, 400 degrees, 410 degrees, and even 425 degrees in a quest to find the ultimate baking temperature for these chocolate chip cookies. The winner was 400 degrees! It allowed the cookies to get those crispy edges while keeping the middle a perfect texture.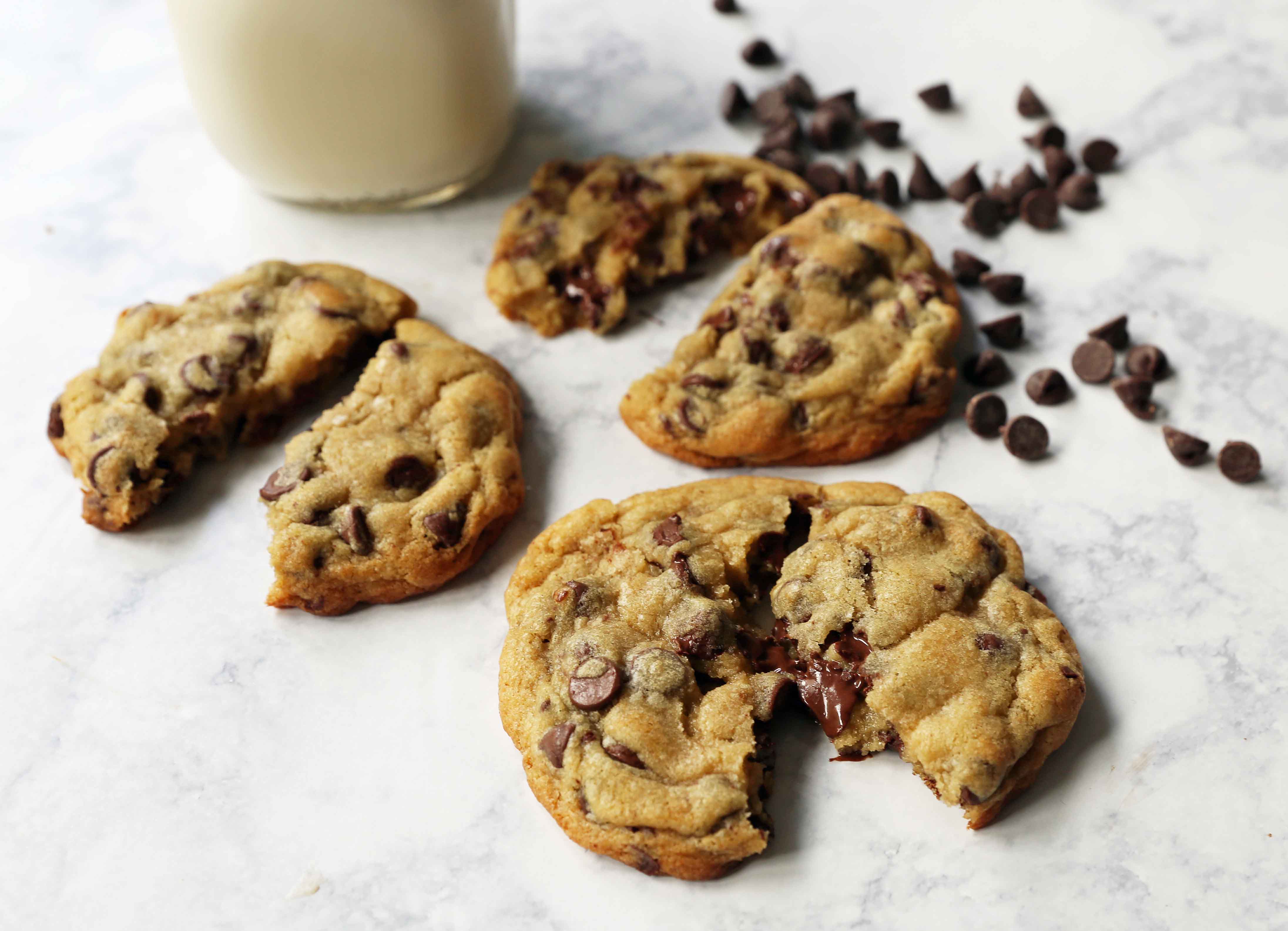 I also experimented with chilling the cookie dough. If you've read my posts about chilling cookie dough, you will find that I believe it is a pretty important step.  When you chill cookie dough, something pretty spectacular happens and it just gets better with time.  The flavors meld together, the dry ingredients absorb the butter and sugar, and the cookies become richer and more decadent. So if time is on your side, chill the dough for at least 24 hours!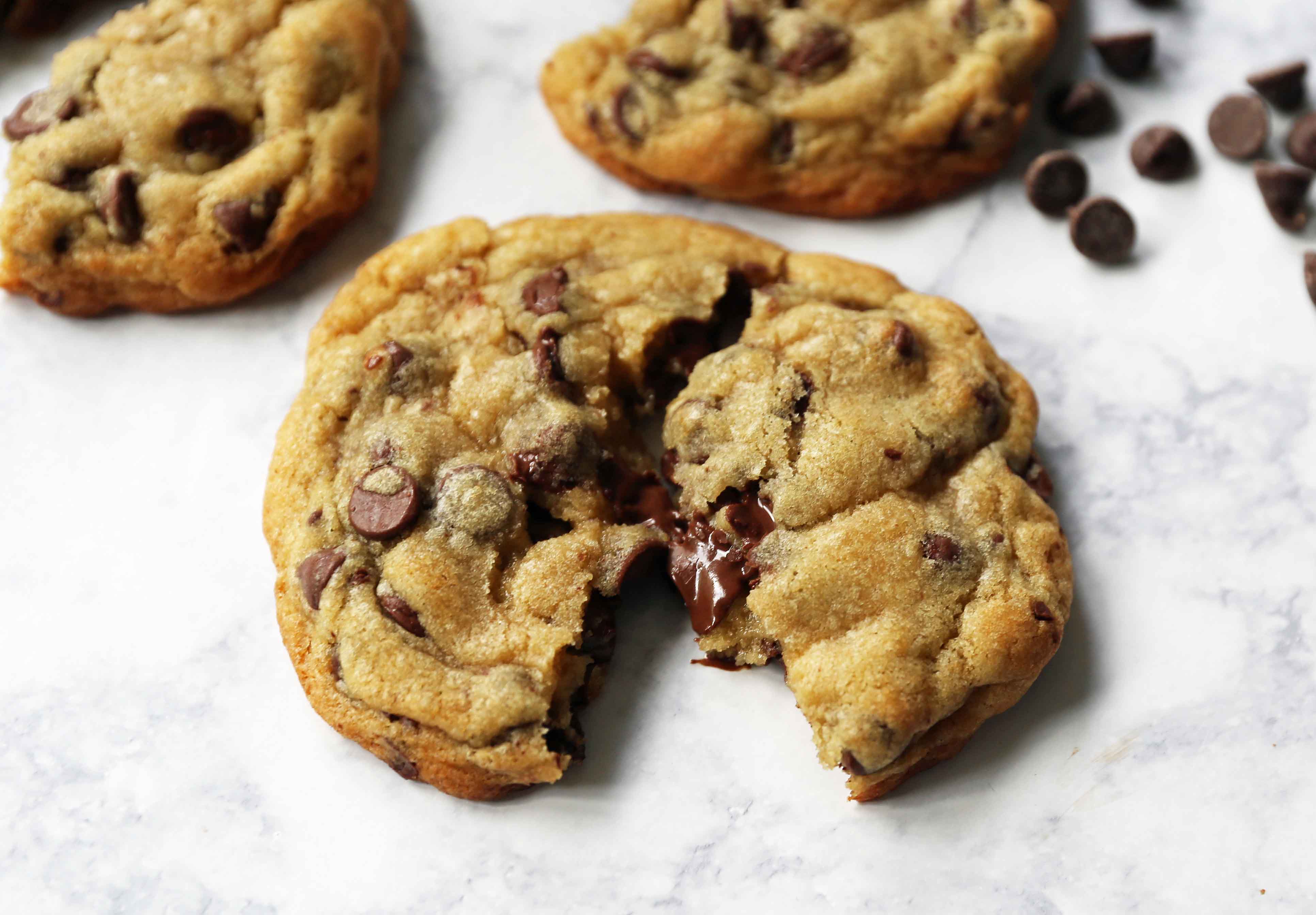 How to make the Best Chocolate Chip Cookies:
 Start with cold butter, cut into cubes. If you want thicker cookies and less spreading, use cold cubed butter. You can also take the butter out of the refrigerator, place it in a microwave-safe bowl and put it in the microwave for about 5-8 seconds. It needs to be firm enough to cut into cubes but just soft enough to mix well with the sugars.
Cream the butter, brown sugar, and sugar for 4 minutes until light and fluffy.  This helps to create a creamy texture and to wrap the butter around the sugar.  It also whips air into the cookie dough which gives the cookies some extra rise.
Add eggs and vanilla and beat until creamy.
A secret leavening ingredient is to use BOTH cornstarch and baking soda. The cornstarch gives the cookies such a tender, melt-in-your-mouth texture. It's one of my favorite ingredients to add to cookies!
Bring on the chocolate chips.  I love to make my cookies extra chocolatey so I add some extra chocolate chips. Use your favorite type of chocolate chips -- semi-sweet, milk chocolate, or a mix of both. I also love to chop up a high-quality chocolate bar since it melts so beautifully. My favorite chocolate chips brands are Guittard and Ghirardelli.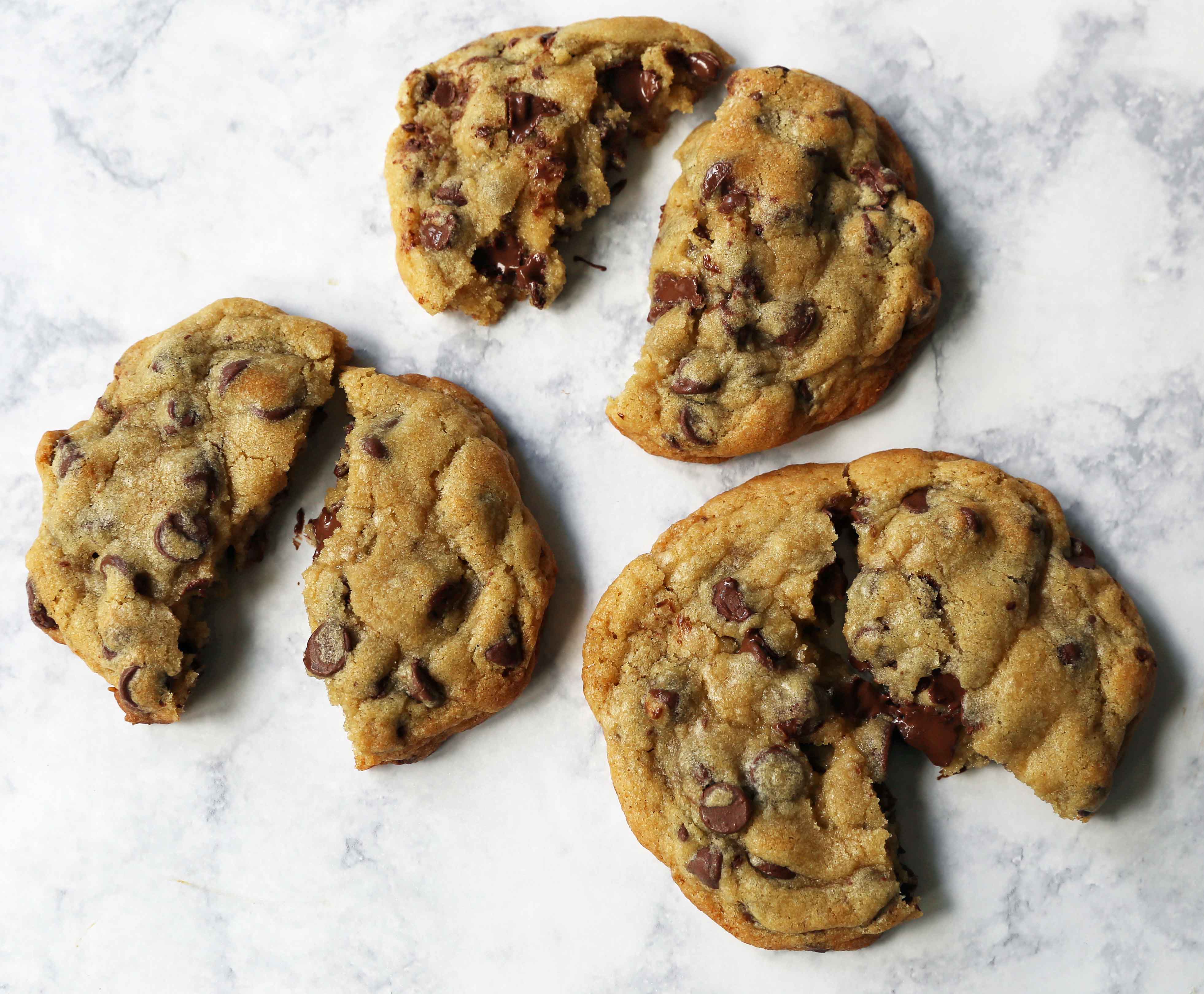 Here are my favorite baking tools that I can't live without:
Light-Colored Baking Sheets
Parchment Paper Liners
Silpat Silicone Baking Sheets
Cookie Scoop
KitchenAid Mixer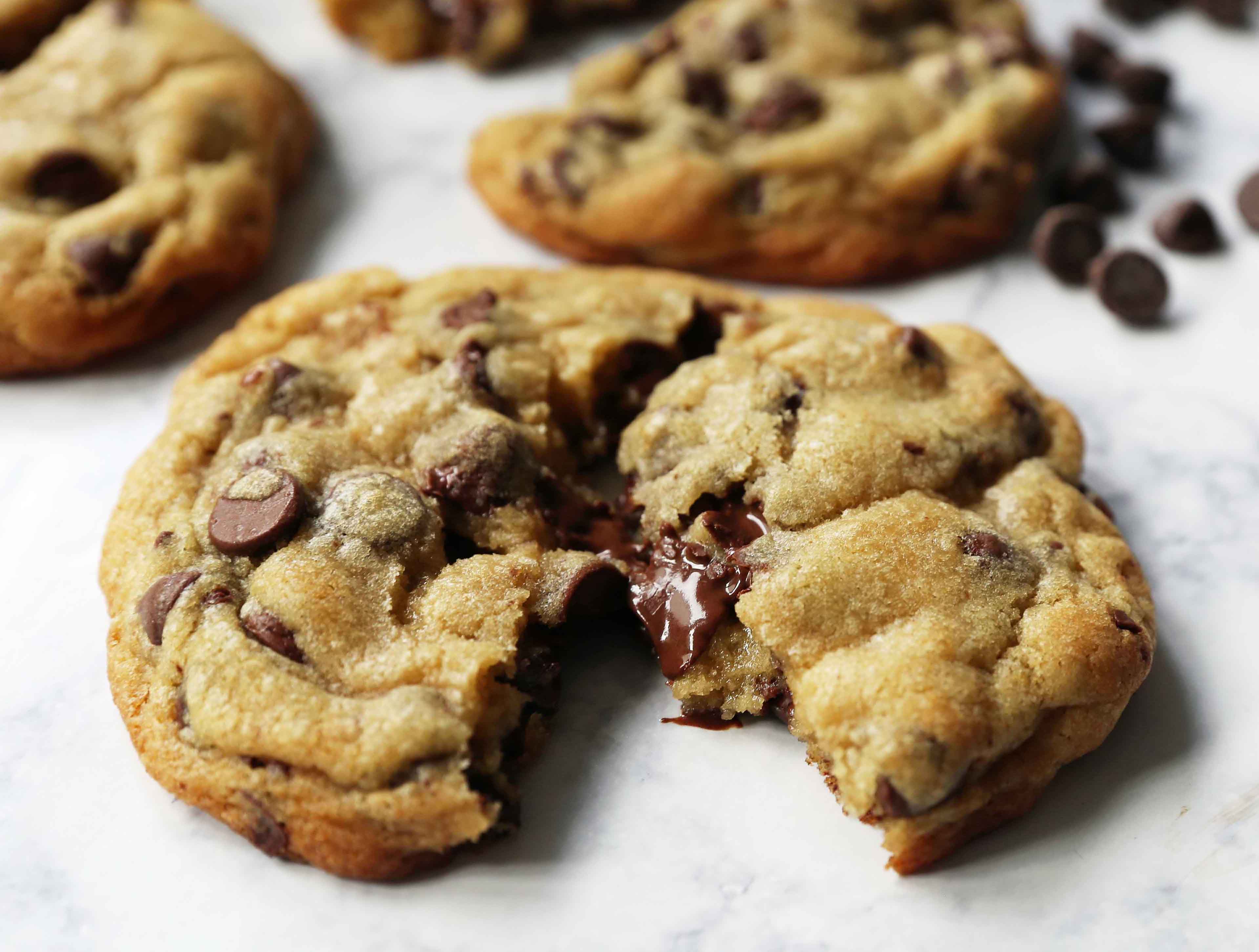 If you love chocolate chip cookies, here are some of the most popular recipes:
I love to hear from you! If you make this recipe, please be sure to leave a comment and give this recipe a rating. Sign up for my newsletter below so you never miss a recipe. Thank you for following along! I truly do have the greatest readers. FOLLOW ME ON:   INSTAGRAM --- FACEBOOK --- PINTEREST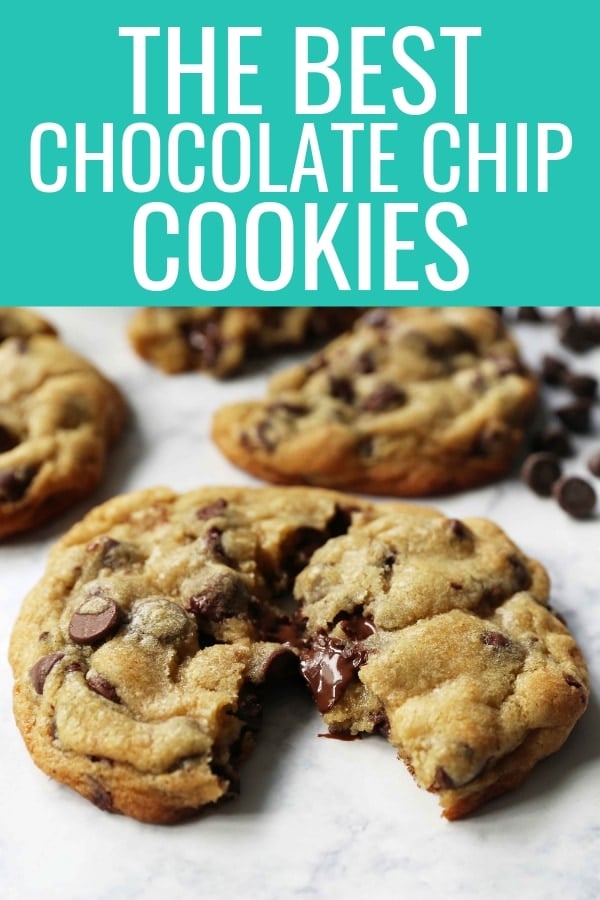 I hope you love these perfect chocolate chip cookies! Thank you for following along!