Chocolate Chip Cookie Cake
The ultimate chocolate chip cookie cake is a gigantic chocolate chip cookie baked into a cake a pan and decorated with frosting. This cookie cake is perfect for birthdays, celebrations, graduation, just saying "thank you," and parties.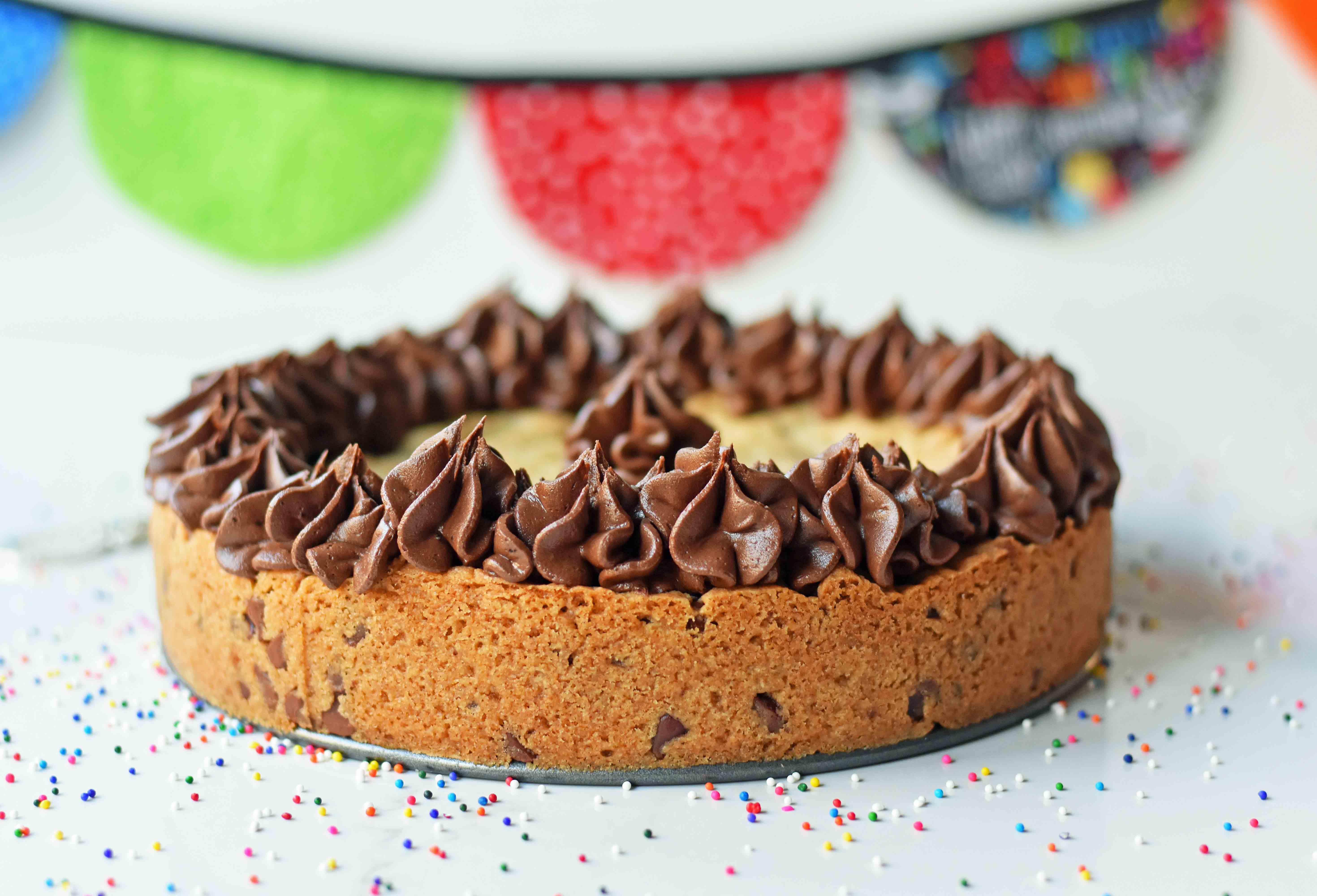 When I was a kid, I studied cookbooks like no other. You couldn't get me to study History, let's say, to save my life but if  I could read about chocolate chip cookies, I was all in. During high school, I had a job at the GAP. They put me at the front of the store to smile and greet everyone. What they didn't realize is that I would be terrible at it. I had the smiling and saying "hi" down to a science. However, I basically took greeting to the next level. I would end up talking to everyone and their dog and not really actually sell clothes.
So I decided that I may be suited better at GAP kids where most people who came in were 3-year old toddlers and their mothers. It was less distraction since my high school peers weren't coming in and I could turn off "Chatty Kathy."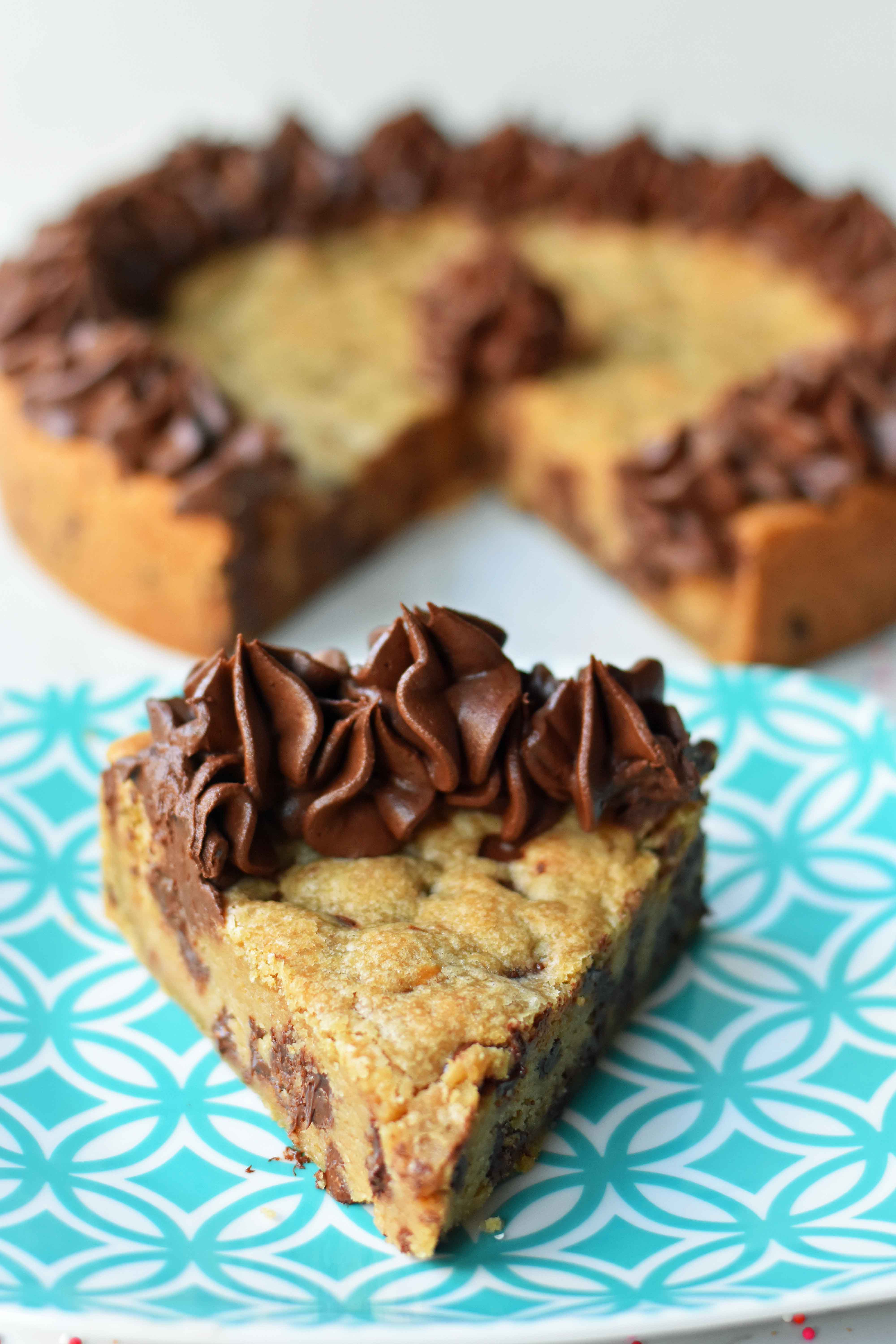 Since I spent years working in the mall, every time I would have a break, I would take the escalator straight up to the Food Court. I would beeline to the bakery and dream of the chocolate chip cookies. They had displays of their gigantic decorated chocolate chip cookie cakes for sale. Forget the traditional birthday cake, I wanted a huge cookie cake instead! I was determined to figure out how to make them at home because this is the best birthday cookie cake!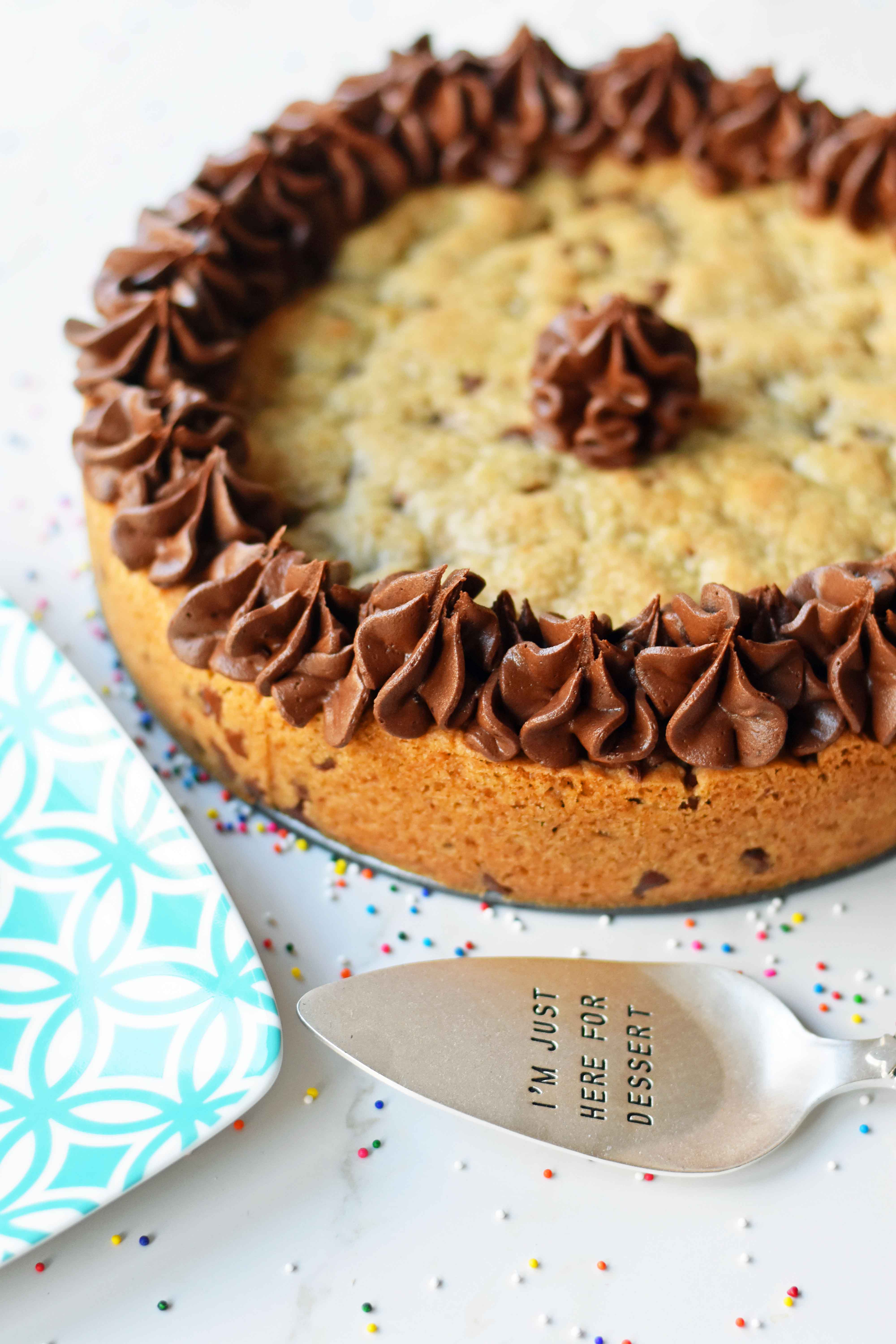 I begged my Mom to drive me down to the craft store to buy the largest cake pan I could find. It ended up being a pizza pan.  I made my first birthday cookie cake for my best friend's birthday. I made everything from scratch and I couldn't wait to give it to her! She loved it so it was then that I started making them for all of my friend's big days.
Making a homemade birthday cookie cake was much cheaper than buying the expensive ones at the local bakery. Plus they tasted a million times better. Homemade frosting wins out every single time. I found out it was much easier than I thought to make a homemade birthday cookie cake too! I will share all of my tips and tricks for making a perfect gigantic frosted cookie.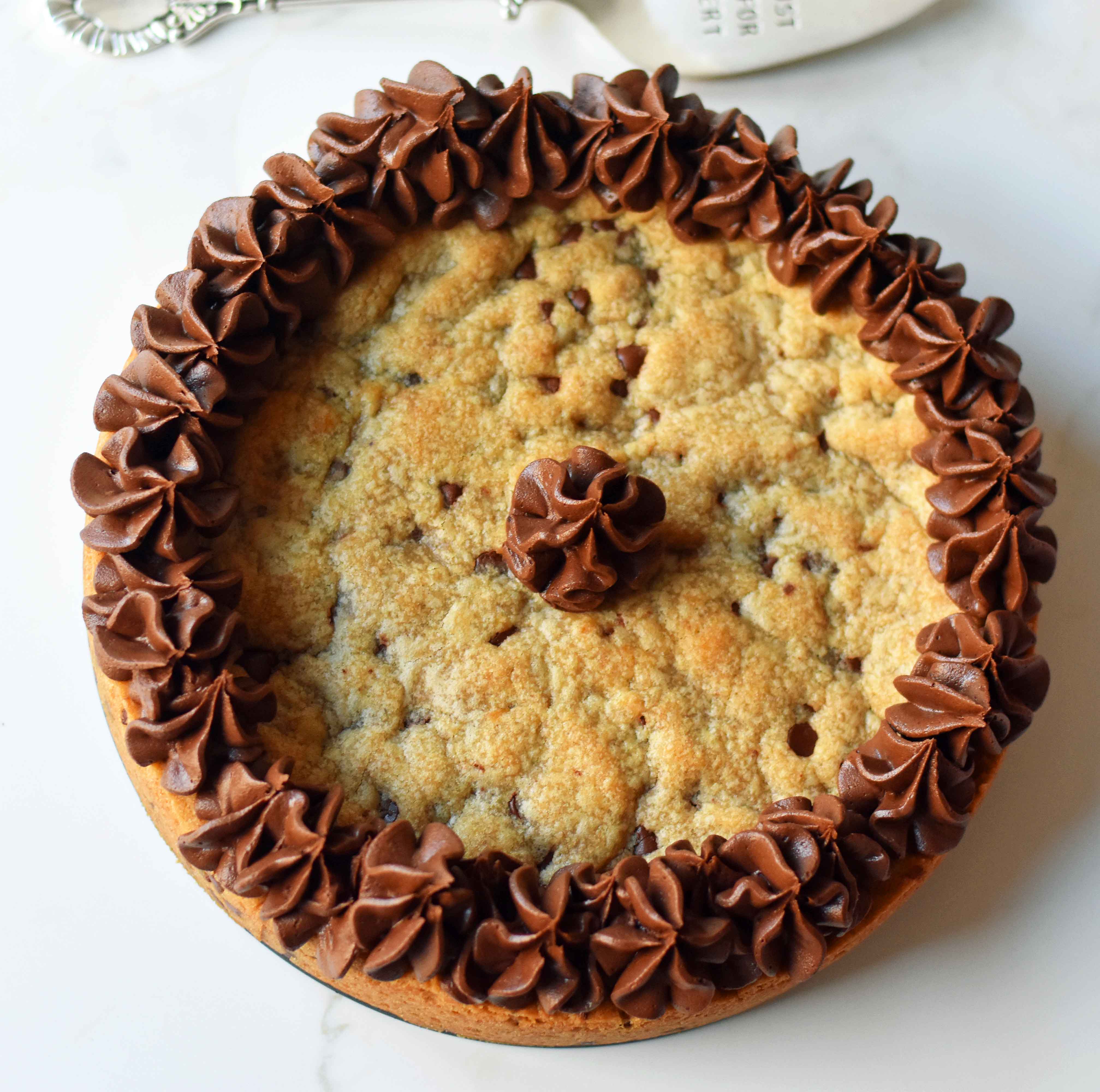 Today is my youngest daughter's birthday and my oldest daughter is graduating in 9 days from high school. This is the perfect dessert to serve on birthdays and to celebrate graduations. There are big changes happening in our home and I am not sure I am ready for it. It was like yesterday that I had them in a stroller at the zoo. I just love being a Mom!
Let's get back to cookies before I start tearing up over here.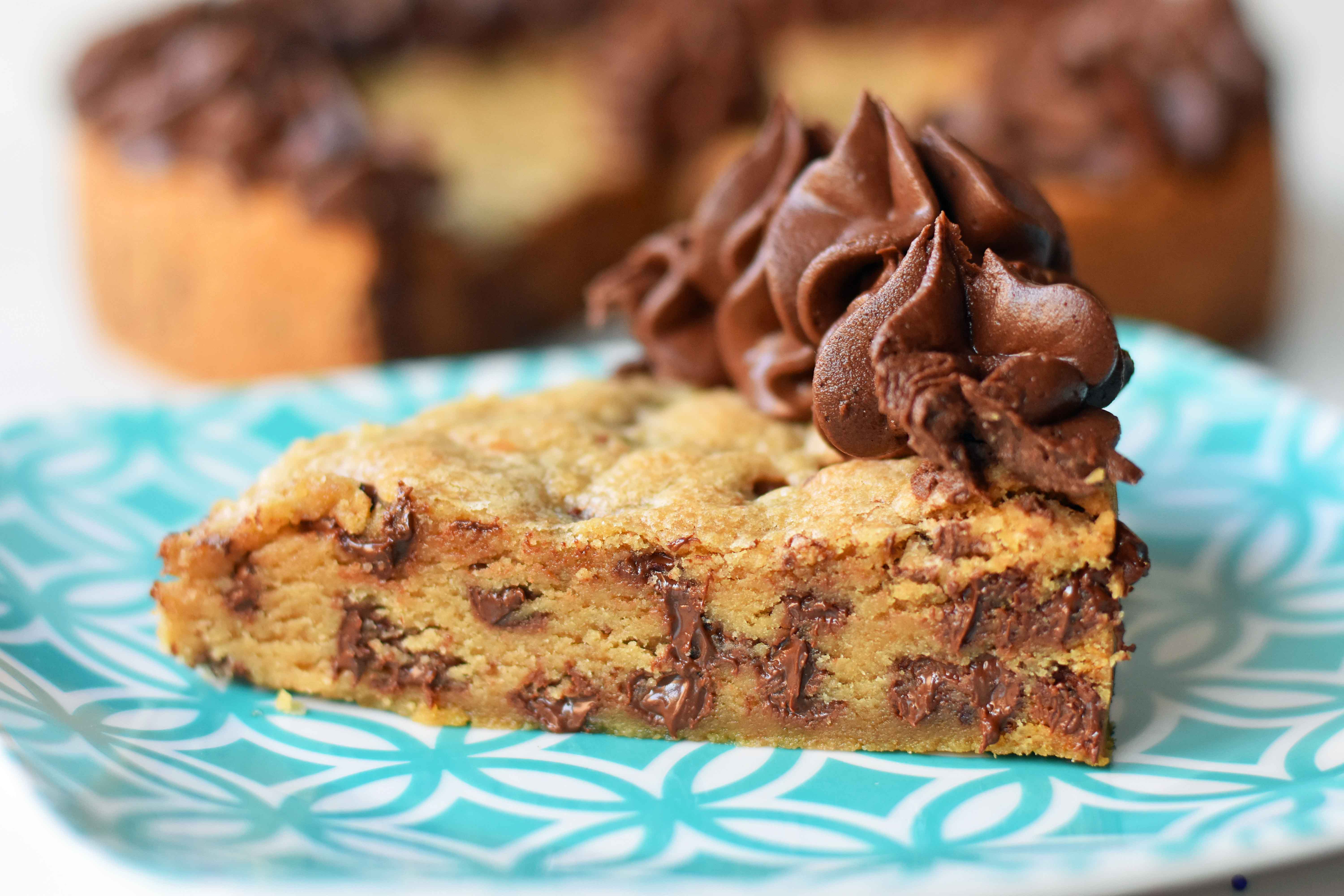 How to make the BEST Chocolate Chip Cookie Cake:
 Cream Butter and Sugars for 4 minutes, until light and fluffy. This is an important step as it allows the butter to wrap around the sugar to create a creamy texture. It also whips in air to the cookie dough.
Use a combination of leavening ingredients. To make a chocolate chip cookie cake, use both cornstarch and baking soda. This helps to give it not only rise but a tender texture.
Spread into 8 or 9-inch cake pan.  You can even use a springform pan to make it even easier. If you want to make a larger cookie cake, you can use a pizza pan. It will be much thinner and will bake much faster. Bake just until the center is cooked through. May want to cover with foil halfway through the baking time if the top is getting too brown. Don't overbake. Watch it carefully.
Let cool before removing from pan. Run a knife along the edges to release cookie from pan. Invert onto a plate and if necessary, use a heavy object to hit the bottom of the pan to aid in the release of the cookie. Make sure the serving plate or platter is large enough and flat so the cookie doesn't concave in the middle.
Frost with homemade frosting. May use decorative tips to create designs along the edges. If you are going to write something in the center, you can use the thin writing tip.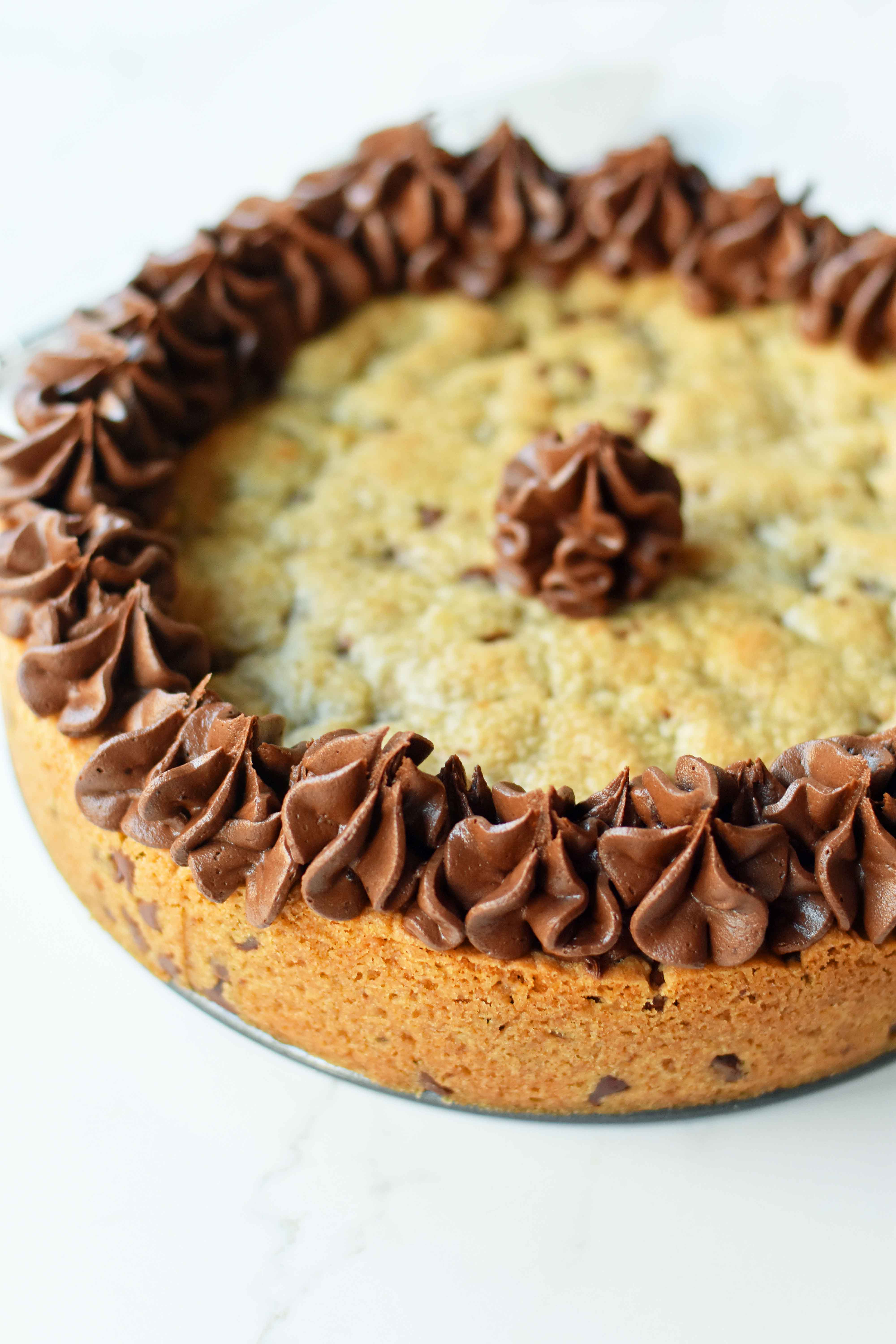 Pin on Pinterest: