The perfect saucepan brown butter chocolate chip cookie with oatmeal, chocolate chips, and white chocolate chips. The most popular recipe on the Cooking Channel in 2012!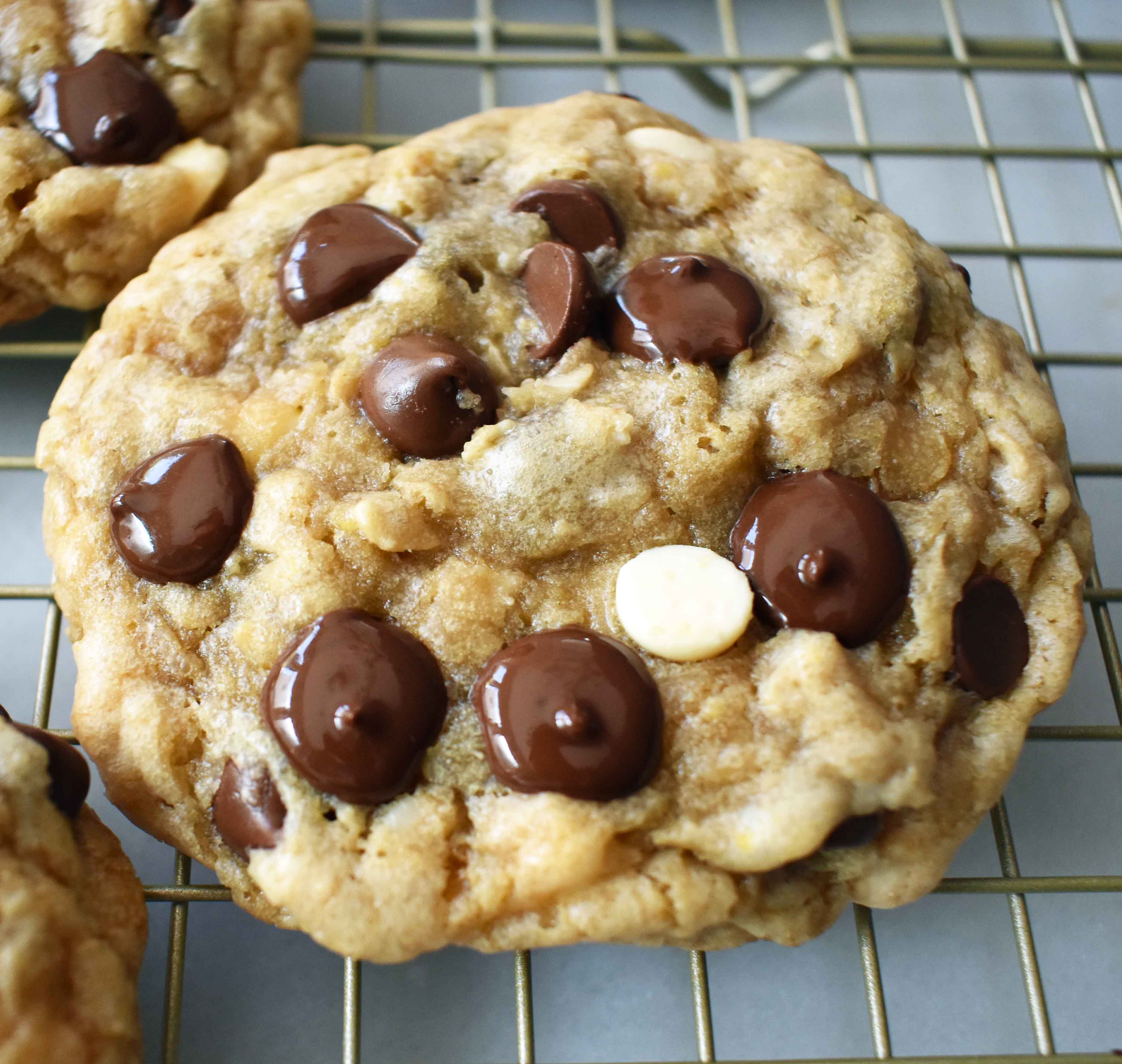 I Want to Marry You Cookies
Oh, these blessed cookies. Before I get to the story behind the name, "I Want to Marry You Cookies," my experience on the Cooking Channel (keep reading until the end), and how they eventually became the top recipe on the Cooking Channel in 2012 (which still shocks me to this day), let's talk about what is IN these insanely good cookies made in a saucepan!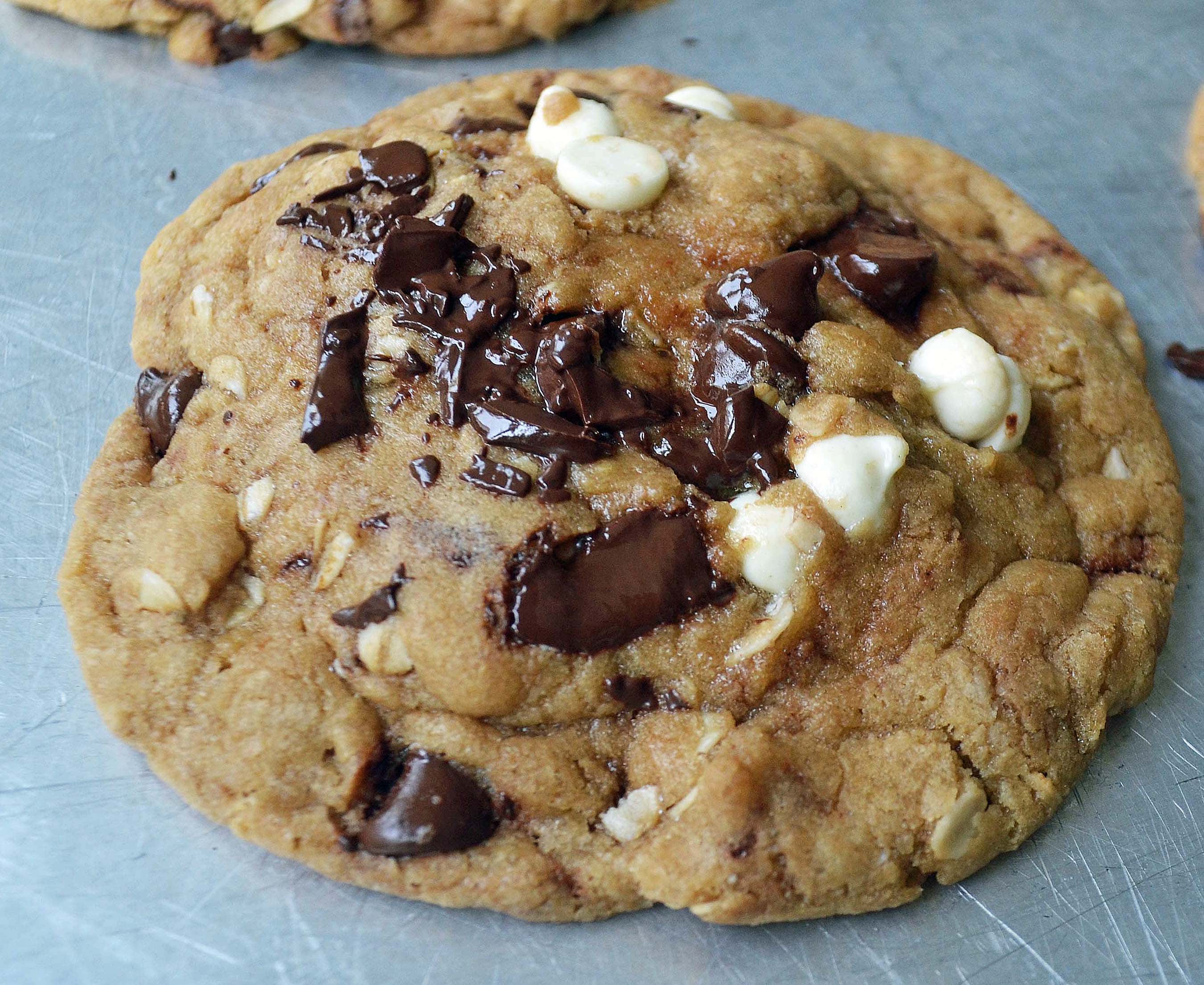 This brown butter chocolate chip cookie a rich toffee cookie with browned butter, 3 kinds of chocolate, and a touch of oats – plus everything is done in one saucepan. That's it! You don't need to pull out your mixer because you do everything by hand. Your arm is going to get a workout but it makes clean up so easy.
This is the perfect recipe for people who want a perfect chocolate chip cookie but don't have a big heavy-duty mixer. All you need is a saucepan and you are good to go! My daughter, who is heading up to college soon, will be making these in her apartment often because they are so easy!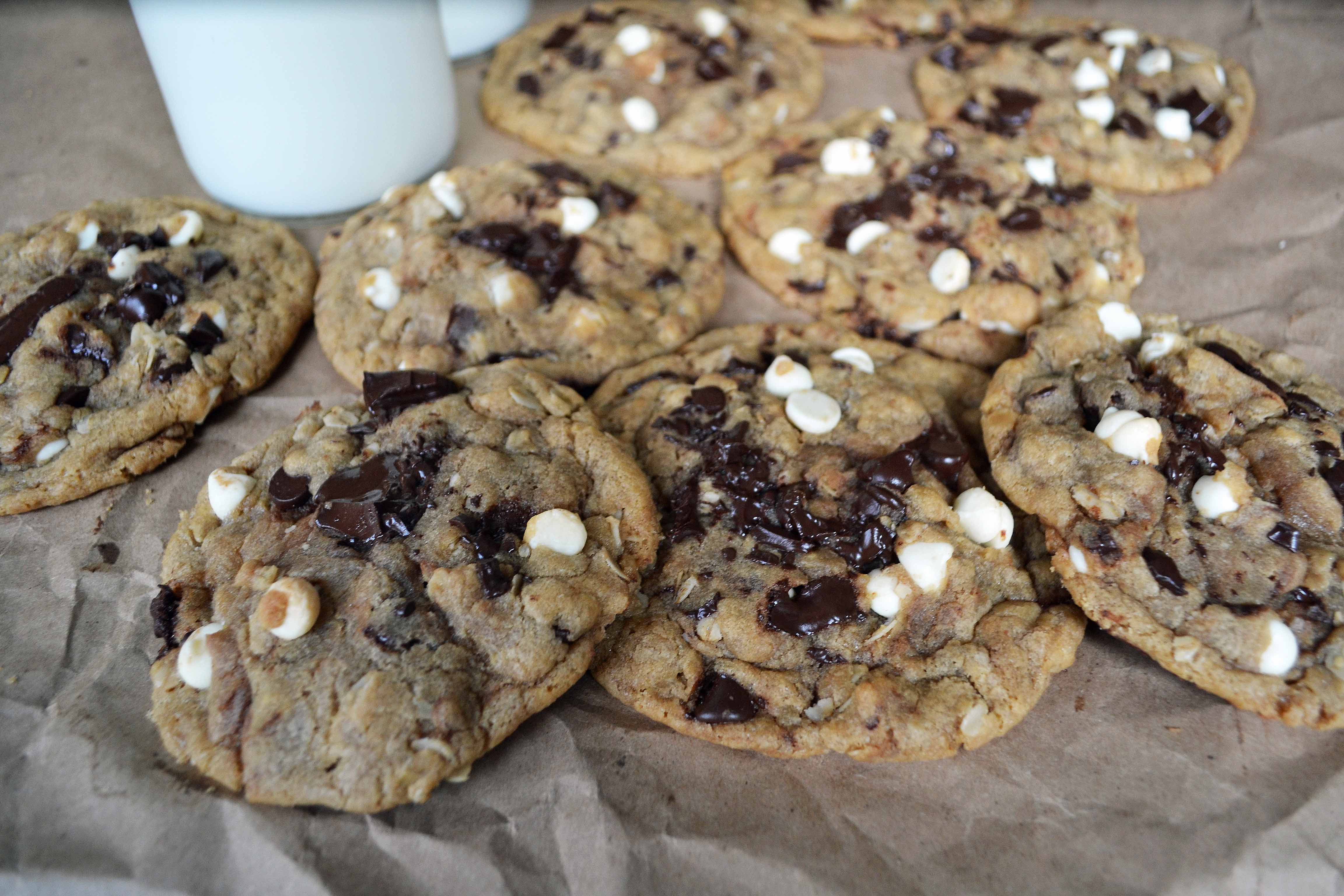 How to make Brown Butter "I Want to Marry You" Cookies:
You start by browning your butter  to a light golden color. Oh my heavenly goodness. It's what makes the biggest difference in these cookies. You are adding a toffee element to the cookies without even trying. The dough is like eating a See's Bordeaux Chocolate, I kid you not. Go ahead and eat that dough!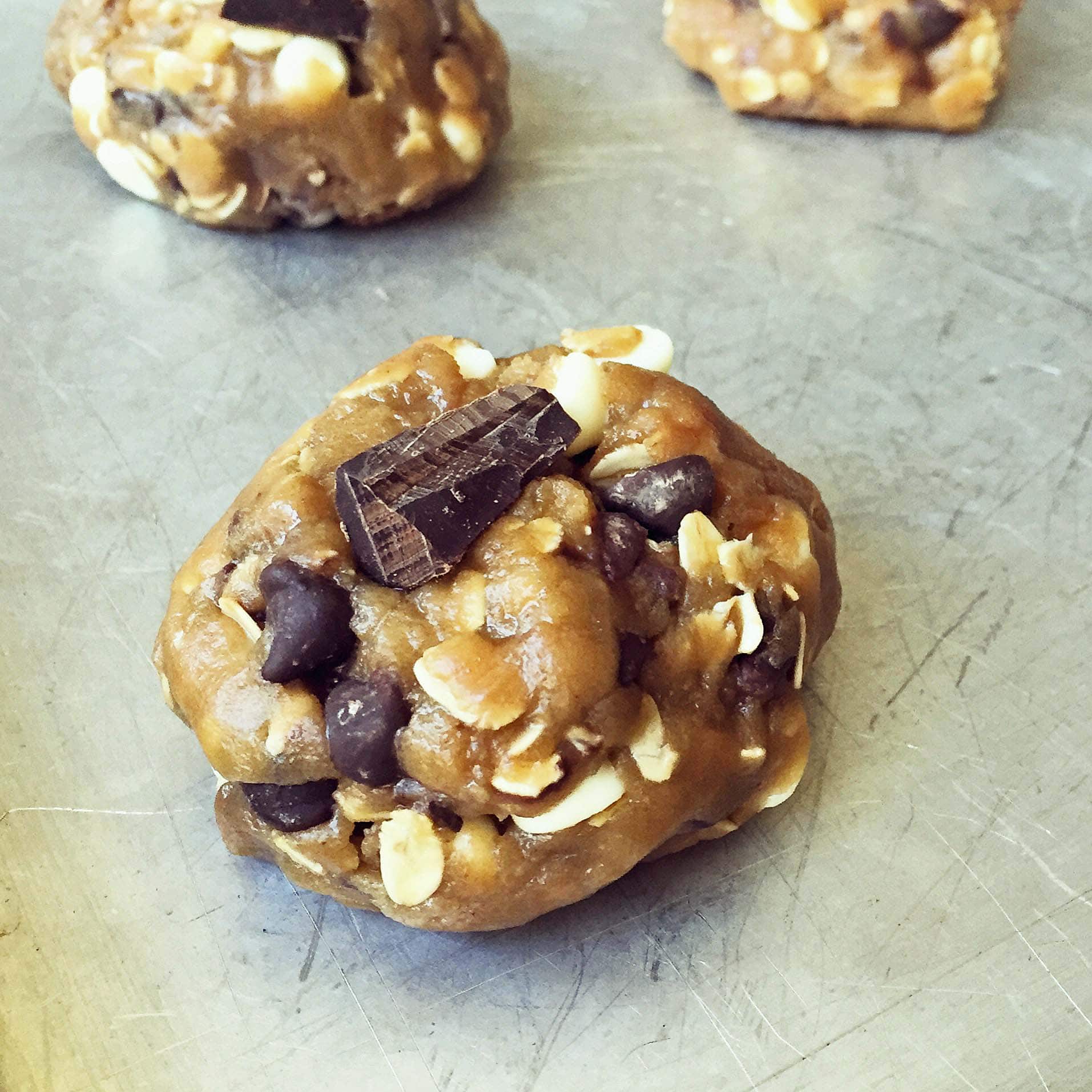 Adding dark brown sugar gives it the extra depth of rich flavor. This is where you need those muscles, stirring it until the browned butter and sugars become one (let's get em married). Then let it cool before adding the egg, egg yolk, and vanilla. You DO NOT want scrambled eggs!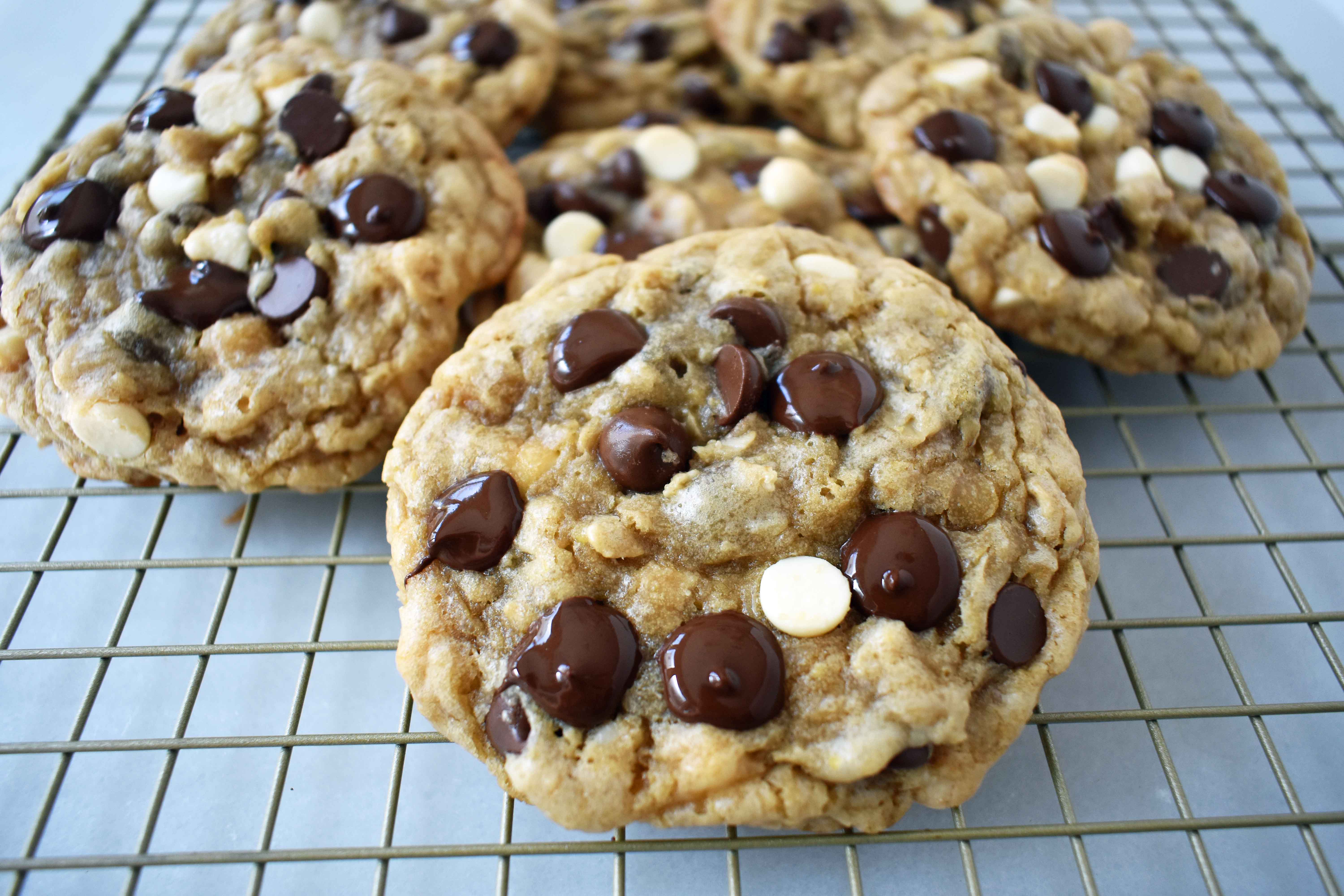 Stir them together and add the flour, oats, baking soda, and salt. This is the fun part. The sky is the limit on what you can add. The base of these cookies is so darn good that you can add whatever you please. Our favorite is milk chocolate chunks, semi-sweet chocolate, white chocolate and nuts. The nuts are a great addition to cut the richness. You can use M & M's, all different kinds of chocolate chips, chopped up chocolate bars, and nuts.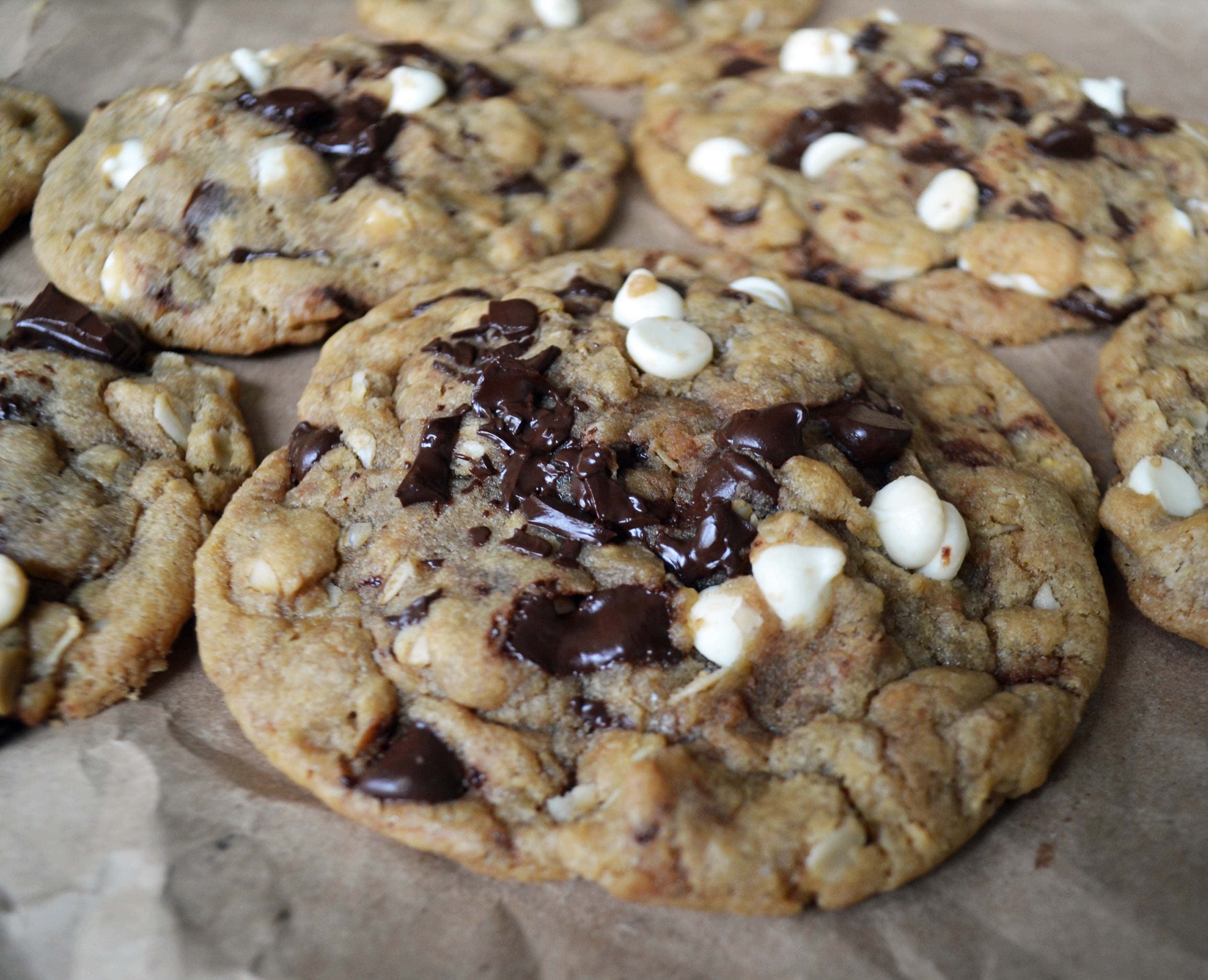 Pin this now to find it later
Pin It
I Want to Marry You Cookies
These insanely good rich, toffee flavored cookies are made in one saucepan and were the top recipe on the Cooking Channel in 2012. They may even lead to a proposal!
Ingredients
1

cup

Butter

1

cup

+ 2 Tablespoons Dark Brown Sugar

1/2

cup

Sugar

1

Egg

1

Egg Yolk

1

teaspoon

Pure Vanilla

2

cups

Flour

1

cup

Rolled Oats

3/4

teaspoon

Baking Soda

1/2

teaspoon

Salt

1/8

teaspoon

Cinnamon

1

cup

Chocolate Chips

combination milk, semi-sweet or dark

3/4

cup

White Chocolate Chips

Optional Nuts
Instructions
Preheat oven to 325 degrees.

In a medium saucepan, melt the butter over medium-low heat until melted and starts to turn a golden color (don't let butter become too brown or the liquids will evaporate and you will end up with dry, crumbly dough). Remove from the heat.

Immediately add the dark brown sugar and granulated sugar and stir until sugars are incorporated and smooth. You want to keep stirring until all of the grainy texture is gone. Chill the mixture for 10 minutes.

Remove from the refrigerator and stir in the egg, egg yolk, and vanilla.

Add the flour, oats, baking soda, salt, and cinnamon and mix together.

Stir in the white chocolate chips and chocolate chips.

Roll into balls or use a scoop, and place on a light-colored cookie sheet.

Chill for 30 minutes or wrap tightly in plastic wrap and refrigerate overnight. The dough gets better when it chills for 24-48 hours.

Preheat the oven to 325 degrees F. Remove the cookies from the refrigerator and bake for 12 to 16 minutes.
Nutrition information is automatically calculated, so should only be used as an approximation.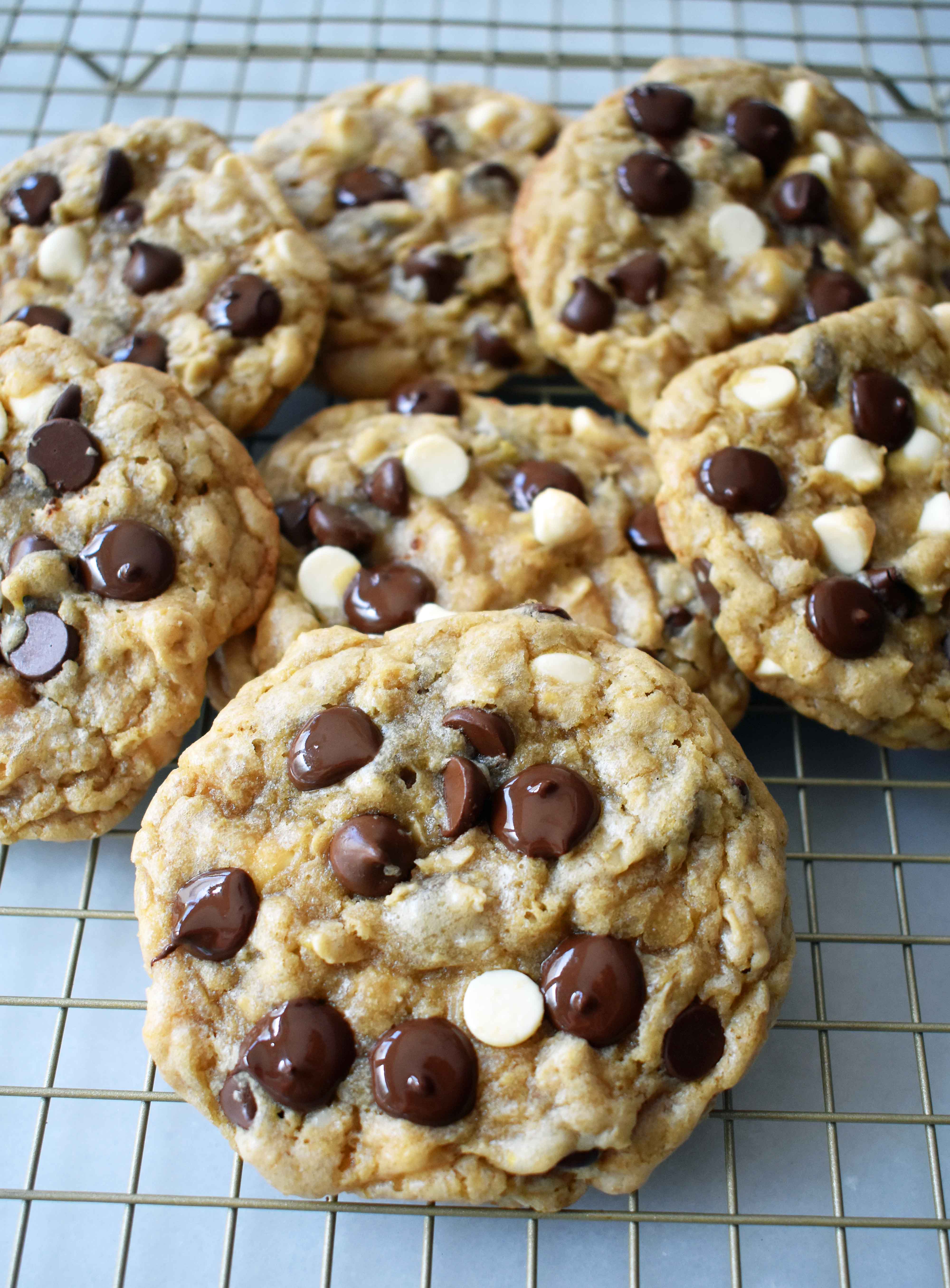 The story behind how "I Want to Marry You Cookies" came to be:
I've been watching Food Network for as long as I can remember! I would sit on the couch for hours, salivating at their food concoctions and dreaming of cooking in the Food Network Studio someday. I literally wrote it on my bucket list and tucked it away.
It was Spring of 2011, when I came across a new contest that Food Network was advertising for their new sister channel, The Cooking Channel. They were looking for the ultimate PERFECT dishes from around the globe in different categories and I knew I had to enter. The grand prize winner won a trip to NYC to film a segment in Food Network Studios for a show called, "The Perfect 3."
I couldn't submit this cookie fast enough!
It was a cookie – a browned butter cookie that I had been working on perfecting for years.  I wrote a little story about it, put a name to them, and sent it off hoping I would receive good news.  I had to write a little background on how the cookie came to be and this is what I sent to the Cooking Channel and crossed my little fingers:
"These cookies are the surefire way to get someone to fall in love with you…or at the very least gain a serious addiction to cookies. By giving these cookies away, you may need to be prepared for a marriage proposal on the spot. I have been baking since I was a little one. I was the only girl in a house full of brothers (5 to be exact), so I quickly found my spot in the kitchen. My love affair with baking started with cookies and it is how I won dates in high school by delivering them every Sunday night to my "friends." Love would usually ensue. Now I find joy in baking them for my own 4 little ones who are my ultimate taste testers in the quest for the perfect cookie. They say we got it years ago so it is about time to share it.

Everyone can make a chocolate chip cookie and it usually involves some type of creaming of the butter and sugars. This is what makes mine unique (and ridiculously sinful). Everything is done in one glorious pan – the saucepan. You melt the butter completely and then add the sugars. The aroma that comes from the sugars as they dissolve into the butter is heavenly. It adds a rich, toffee flavor to the cookies that you don't get from creaming and creates a smooth, melt-in-your-mouth texture."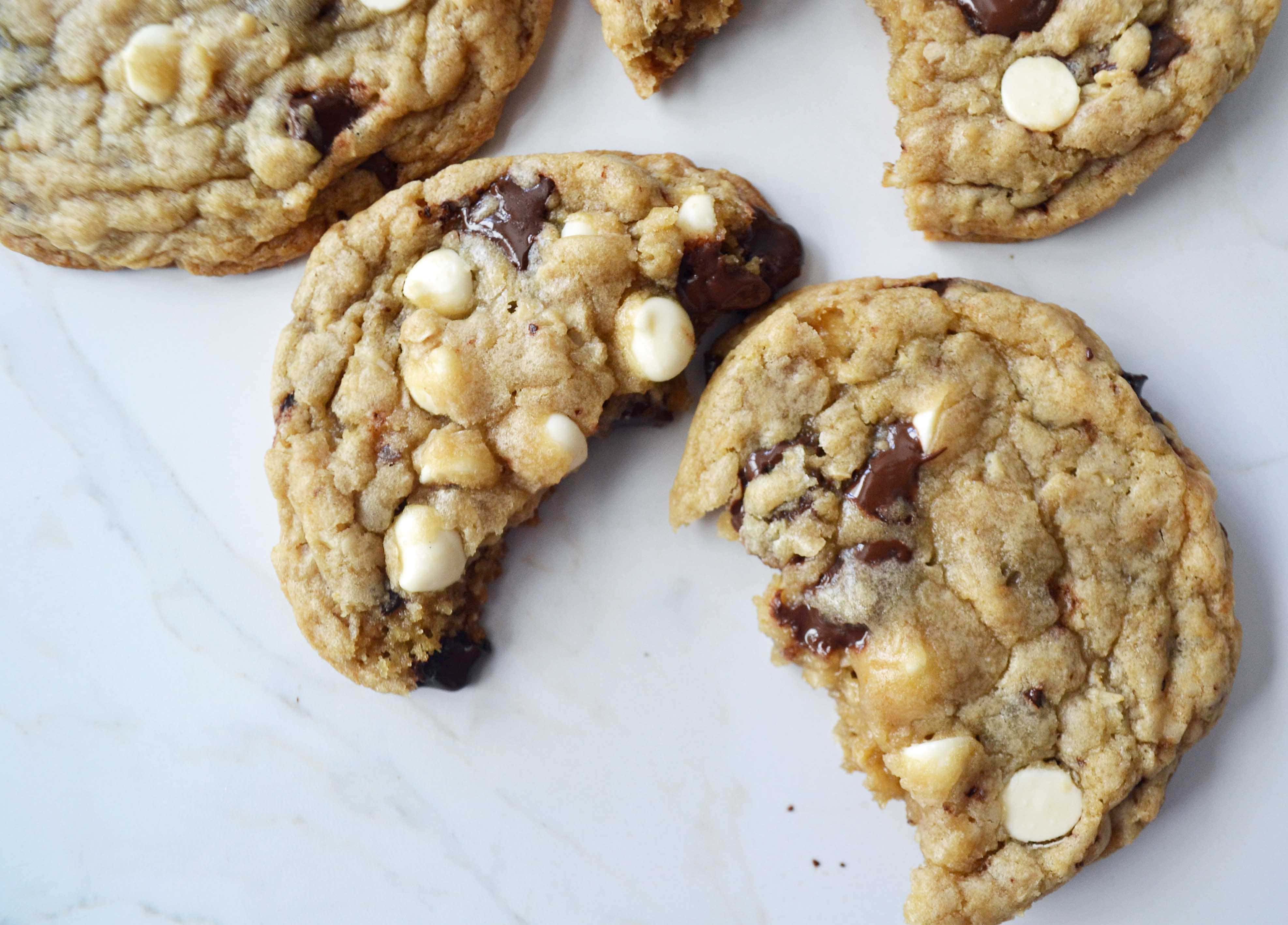 I will never forget where I was when the email came through telling me I was a top 3 finalist. I screamed and jumped around like a lunatic! I couldn't believe that it could really be happening.
I had to make a demo video of me making the cookies for the Cooking Channel. The pressure was on! But to quote the very insightful and wise (haha), Eminem…."You only get one shot, do not miss your chance, this opportunity comes once in a lifetime." I had his lyrics going through my head and I knew I had one shot to get to NYC.
The video was edited and turned in, the votes were tallied, and we waited. It seemed like forever but I finally received word… I was the winner of the Perfect 3 Cookie Contest! We were going to New York City to film on my actual birthday! It doesn't get any better than that in my book.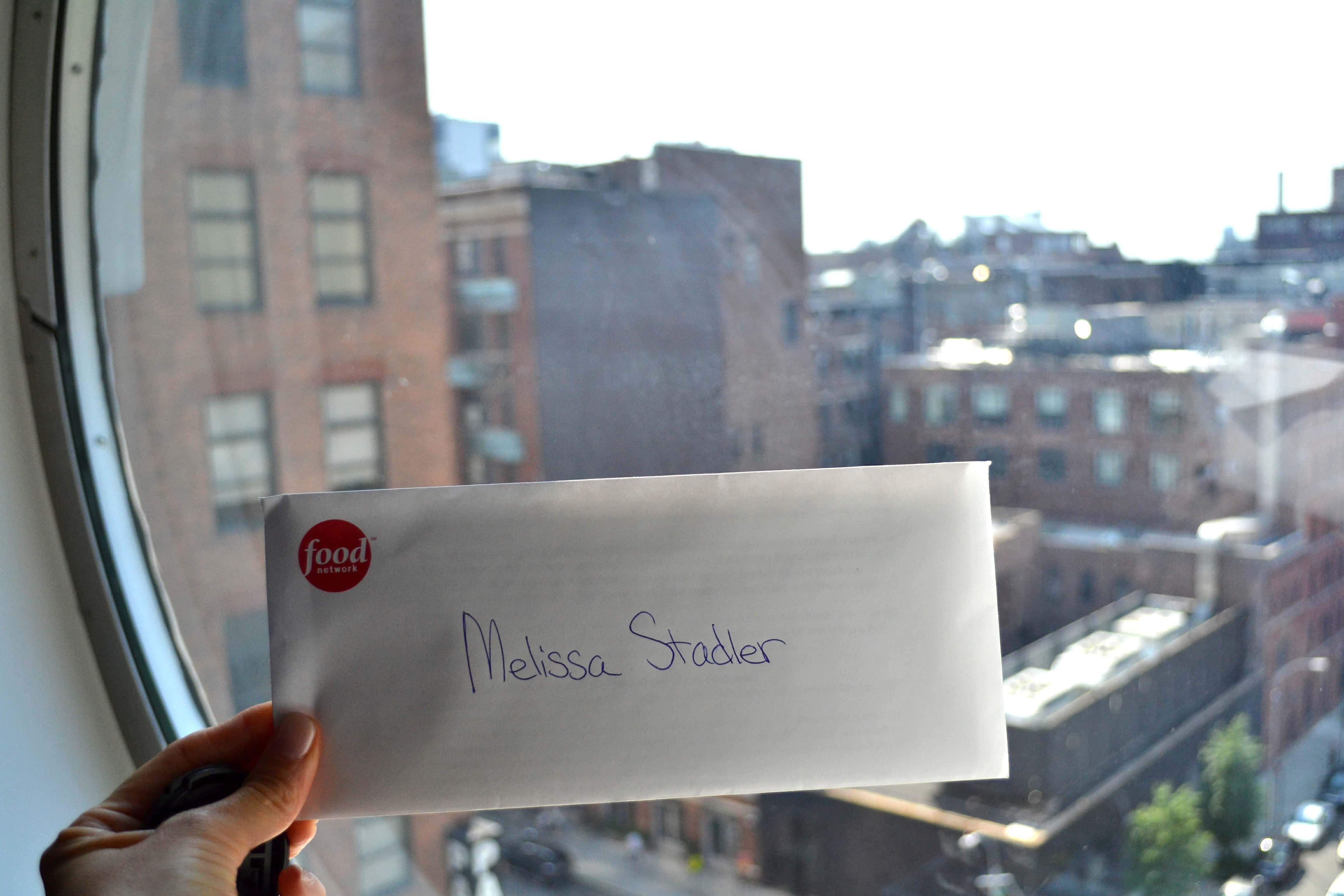 My husband and I landed in NYC and checked into our hotel. I will never forget walking into the room and seeing an envelope from the Food Network with my name on it. It all seemed surreal. The next day we were filming the show in the afternoon, so we had the morning to take a long bike ride through the city.
When we got back, I had no idea that production had been trying to get a hold of me. The day before we left, I made the mistake of putting my phone in my backpack with a water bottle – so my phone was now sitting in a bag of rice (anyone else feel my pain?). Because I had no phone and the producers resorted to calling me on the hotel phone and once I answered, they told me that they were ready for me earlier than expected. I was sitting there with wet hair and half of my makeup on.  I rushed like a mad woman to get ready and rushed to the studios.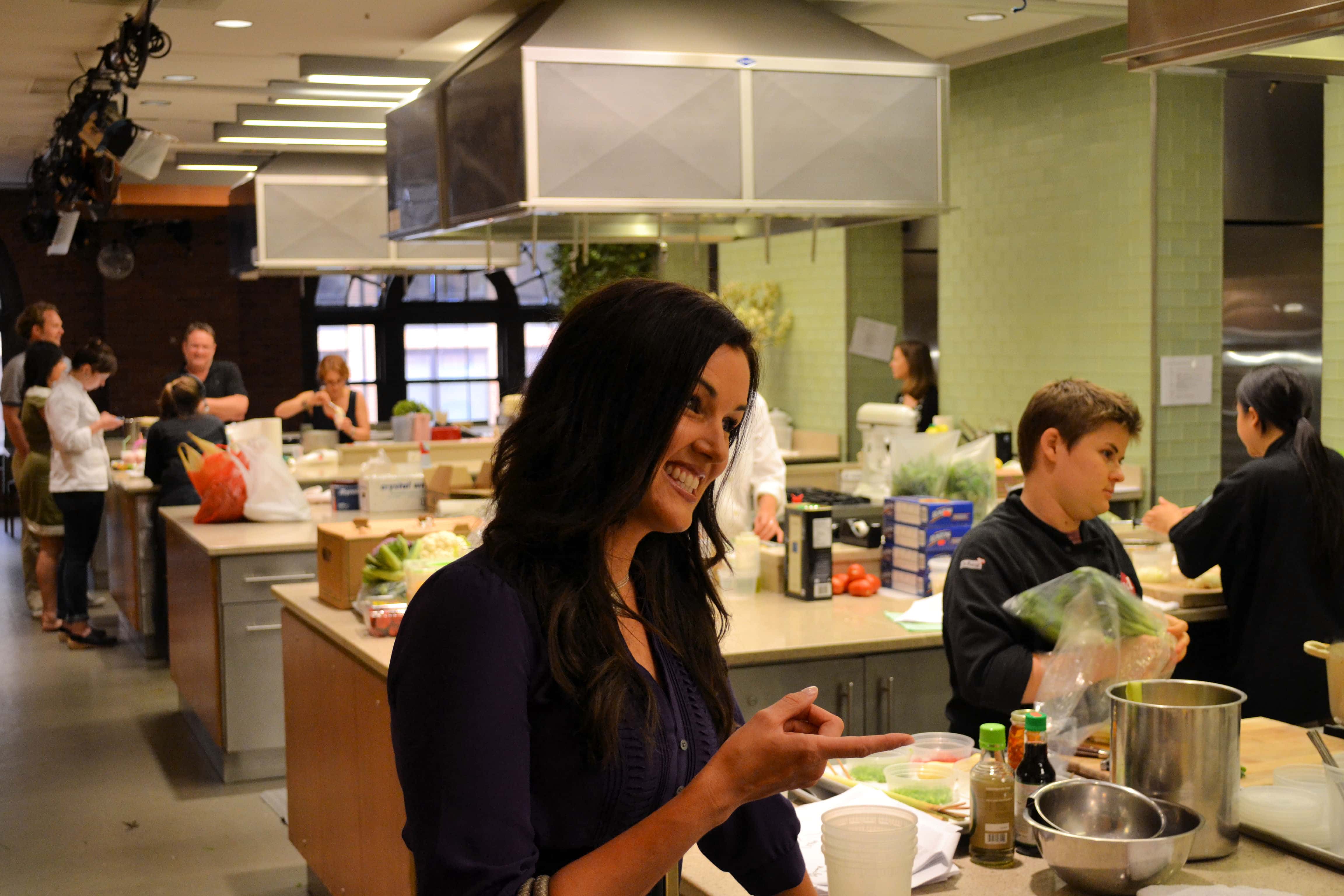 We were taken to a special elevator with access to the studios. We arrived, walked down a long hallway with all of the Food Network Stars photos and ended in the green room. We met the production team and Kelsey Nixon, who is charismatic, sweet, and beautiful all wrapped into one. We chatted about attending the same college, discovered how we knew so many of the same people and I felt immediately at ease and comfortable in her presence.
I quickly got my hair and makeup done and was whisked away to the studios. It was a whirlwind as the production crew gave me a huge list of directions. Just as we were getting ready to shoot, they asked me to take off my high heeled shoes so I was completely barefoot during the set. I had to walk to the freezer, reach down and pull out my cookie dough…all the time wondering how in the world they were going to edit out my bare feet. Happily, they did….it was TV magic!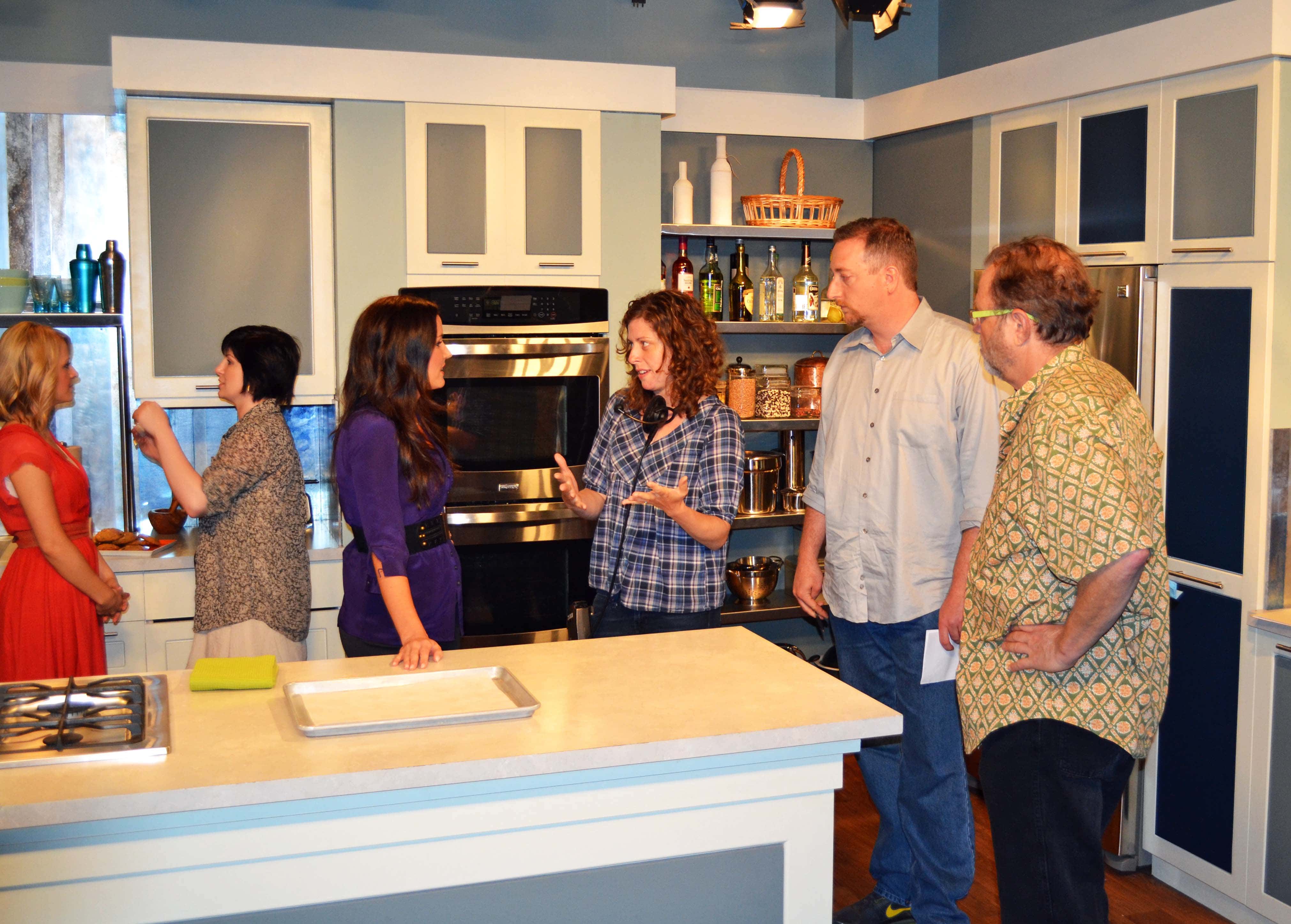 It was a one-take deal and then it was done. I cringe when I watch it because I would have liked 3 or 4 more takes to get it perfect but I wouldn't change a thing. It was truly a once-in-a-lifetime opportunity and I felt blessed every single second I was there.
I Want to Marry You Cookies ended up becoming the most popular recipe on Cooking Channel in 2012. http://blog.cookingchanneltv.com/2012/12/26/cooking-channel-top-recipes/ You can find the recipe online here as well – http://www.cookingchanneltv.com/recipes/i-want-to-marry-you-cookies.html. I was grateful to check that off my bucket list. It was one of the best days of my life!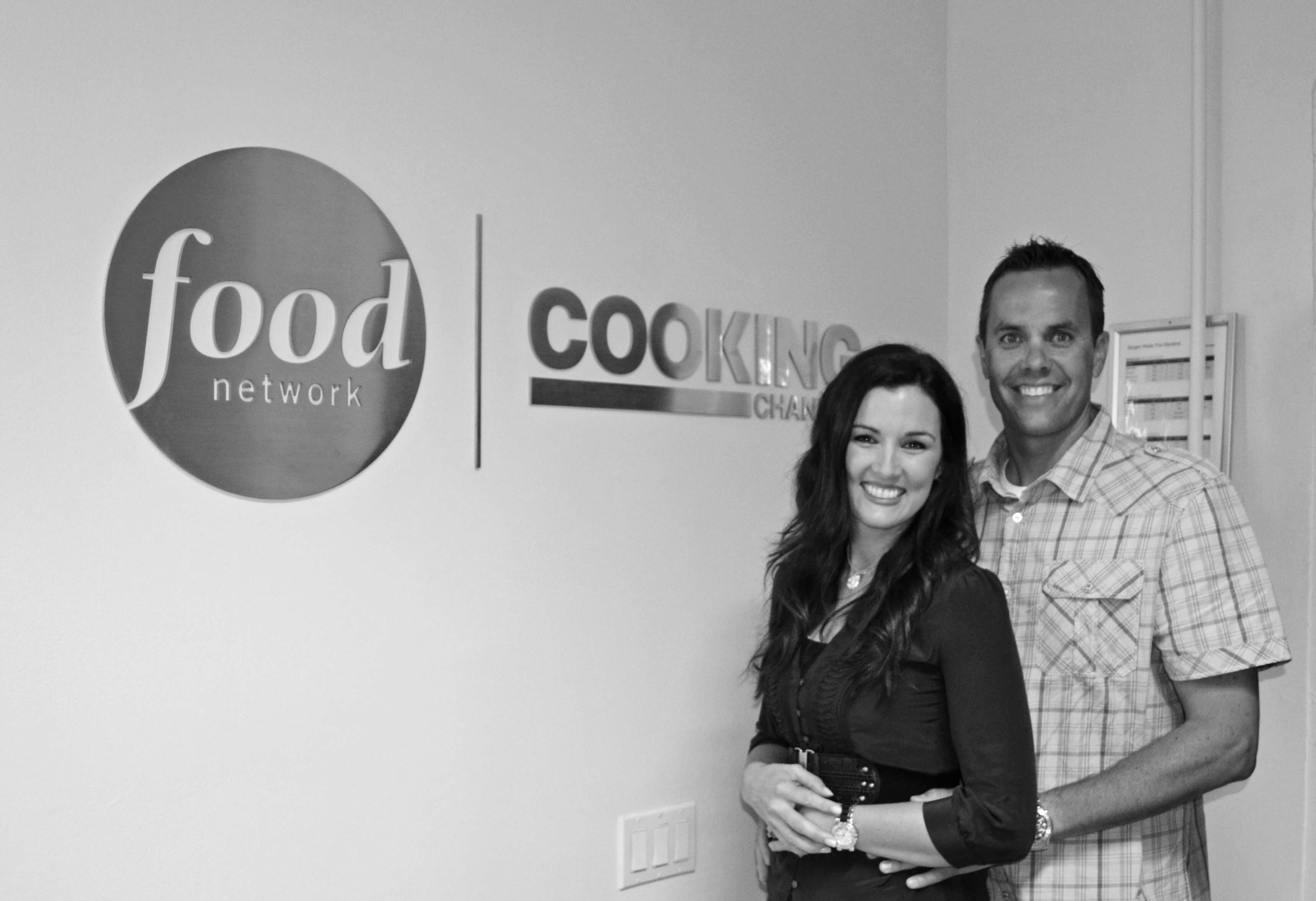 Give these "I Want to Marry You Cookies" to someone you really, really love and they are sure to love you 10 fold in return.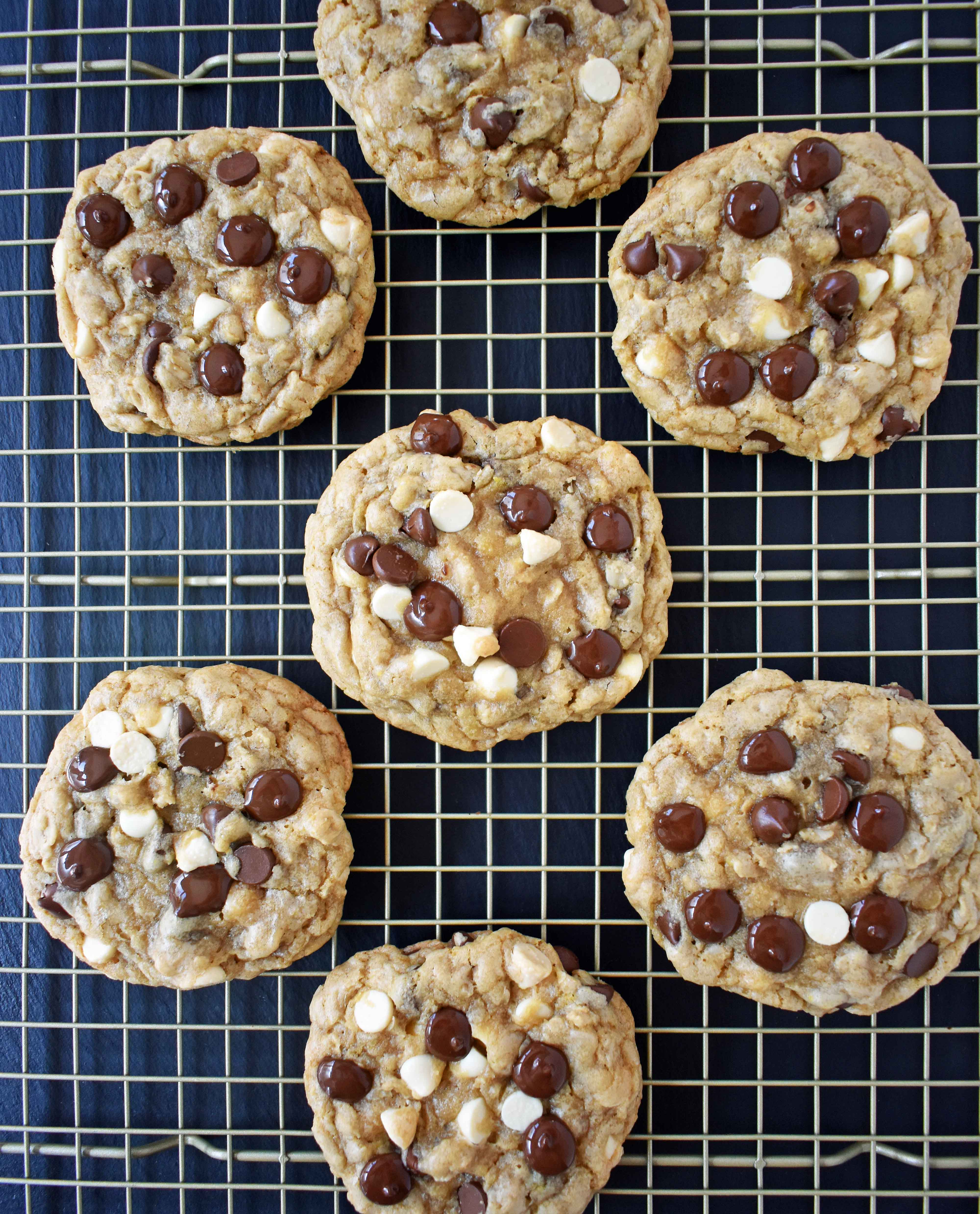 Happy Baking!