Oh, how I love sheet cakes! You don't get much easier than making a homemade sheet cake.  Since it is Fall, I am bringing you a luscious pumpkin sheet cake with cream cheese frosting. My sister-in-law will bring a pumpkin cake to a family party and it is gone within minutes. It is always a hit and oh so popular! The pumpkin cake is spiced with pumpkin pie spice made with cinnamon, ginger, nutmeg, allspice, and cloves.
Every October we head up to Park City, Utah to truly experience Fall. We love to visit the pumpkin patches, drink the apple cider when it is actually cold outside, and embrace wearing a sweater.  This Pumpkin Sheet Cake with Cream Cheese Frosting is what we love to serve when we visit the cousins since it feeds a lot of people and can be made in no time at all.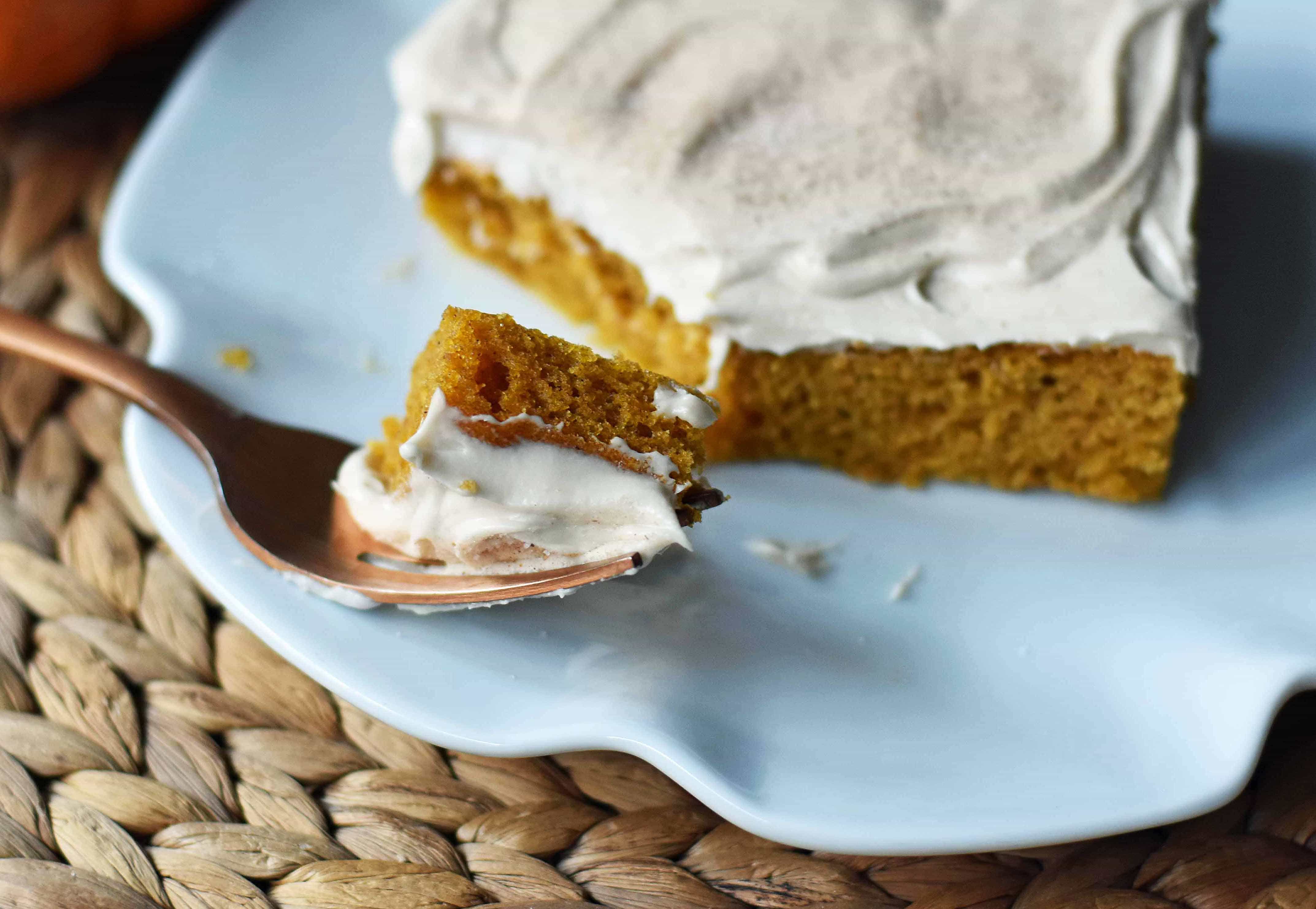 The pumpkin cake is extra moist because of the oil. You know how much I love butter but in this cake, adding oil makes such a tender texture.
The cream cheese frosting is made with softened butter, cream cheese, powdered sugar, a touch of milk or cream, and vanilla. It is light and creamy and pairs perfectly with the soft pumpkin cake.  Once the cake is baked, let it cool and then frost with homemade cream cheese frosting. This Pumpkin Cake with Cream Cheese Frosting can be served at a Fall party, a potluck, or after a Sunday family dinner.
Pumpkin Sheet Cake with Cream Cheese Frosting
Pumpkin Spiced Sheet Cake with Creamy Cream Cheese Frosting
Author:
Melissa Stadler, Modern Honey
Ingredients
1 cup Oil
2 cups Sugar
4 Eggs
1 - 15 ounce can Pure Pumpkin Puree
2 cups Flour
1 teaspoon Pumpkin Pie Spice or Cinnamon
1 teaspoon Baking Powder
½ teaspoon Baking Soda
1 teaspoon Salt
Cream Cheese Frosting:
½ cup (1 Stick) Butter, softened
1 - 8-ounce Cream Cheese, softened
4 cups Powdered Sugar
1 - 2 Tablespoons Whole Milk or Cream
1 teaspoon Vanilla
Instructions
Preheat oven to 350 degrees.
In a large mixing bowl, mix oil and sugar for several minutes.
Add eggs and pumpkin and mix well.
Stir in flour, pumpkin pie spice baking powder, baking soda, and salt. Fold ingredients.
Pour cake batter into cookie half sheet pan (approximately 18" x 13")
Bake for 20-24 minutes or until toothpick comes out clean. Let cool.
In mixing bowl, cream together butter and cream cheese. Cream for 4 minutes until light and fluffy.
Stir in powdered sugar. Begin to mix and add the amount of cream or milk needed for desired consistency, about 1 - 2 Tablespoons.
Stir in vanilla.
Spread over cooled pumpkin cake.
Cut into squares and serve.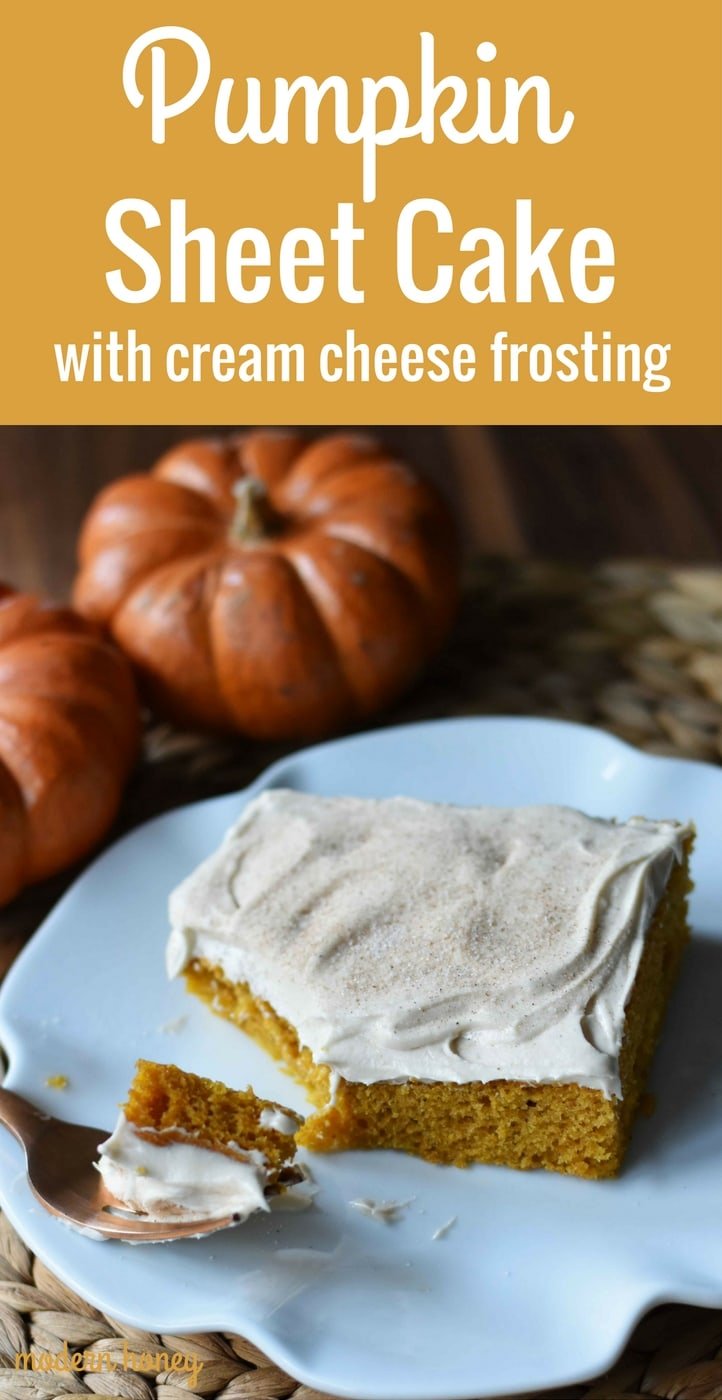 Happy Baking, my friends! xo