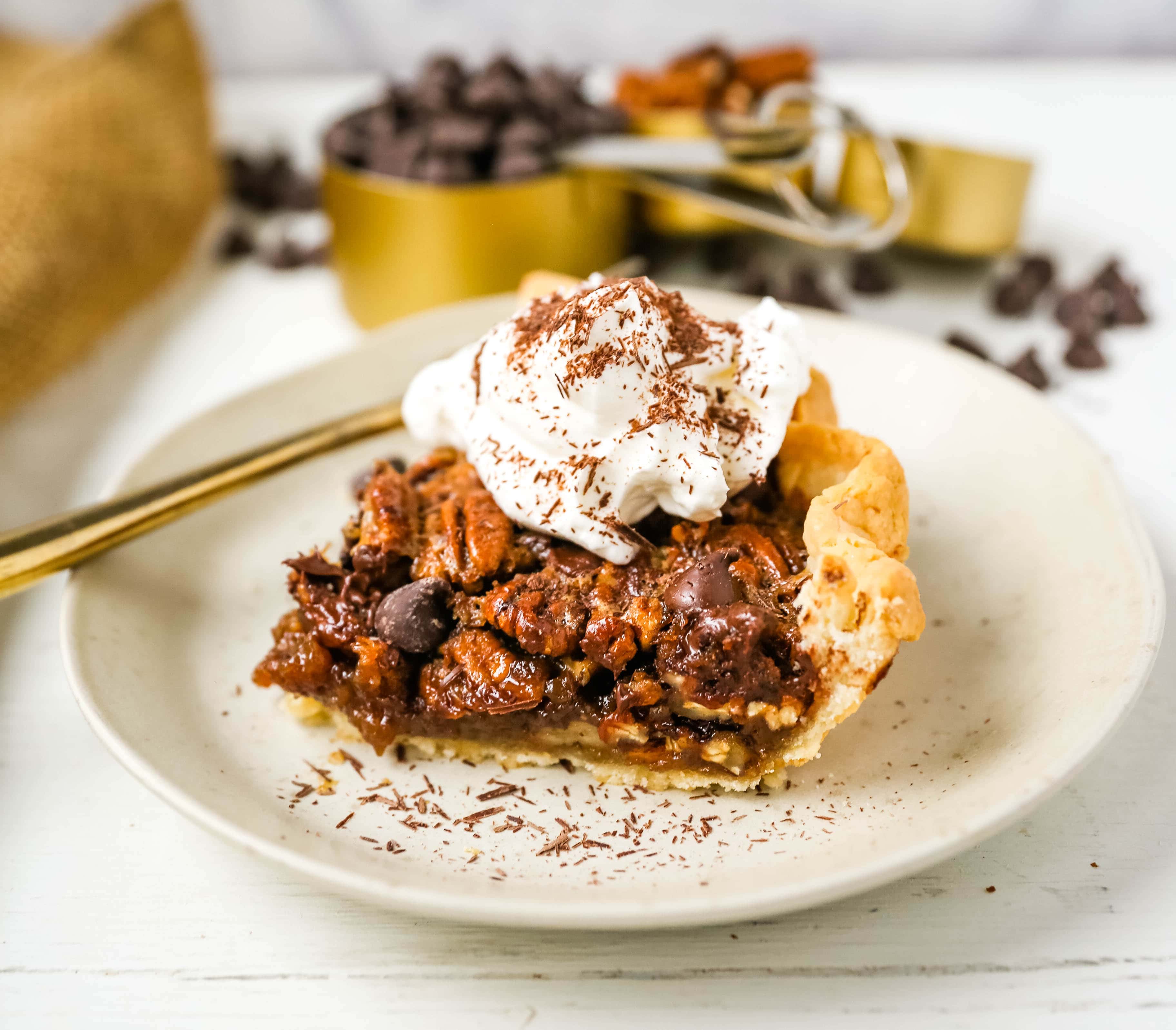 Chocolate Pecan Pie
Rich chocolate pecan pie made with a brown sugar filling, crunchy pecans, rich chocolate, all in a homemade buttery, flaky pie crust. 
We are talking all about pies. This is the pinnacle of pie season and let's embrace all things pie. When I think of Thanksgiving pies, three classic pies come to mind -- pumpkin, apple, and pecan. They are a must on our Thanksgiving table!
I have shared my classic old-fashioned pecan pie recipe already so it was time to elevate it just a little. This Chocolate Pecan Pie is a pecan pie made even better. Rich chocolate chips pair so perfectly with the crunchy pecans and sweet brown sugar filling all in a buttery, flay pie crust.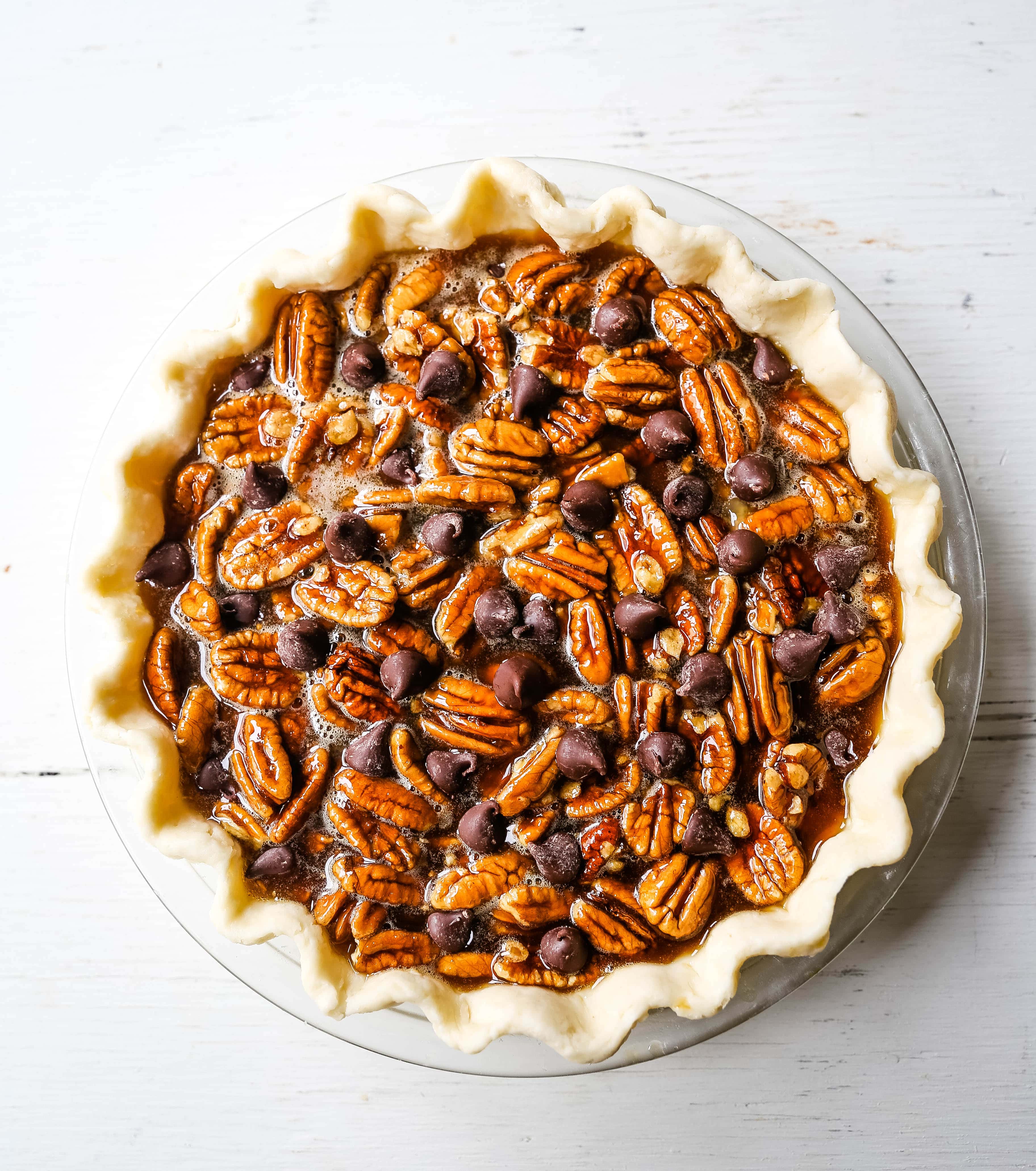 This is a Southern classic pecan pie studded with semi-sweet chocolate chips. It has all of the components of a perfect pecan pie -- butter, brown sugar, Karo syrup, eggs, vanilla, pecans, and chocolate in a homemade buttery crust. You are going to fall in love with this pie! This Chocolate Chip Pecan Pie is always a huge crowd pleaser!
To find ALL of MY THANKSGIVING RECIPES, CLICK HERE.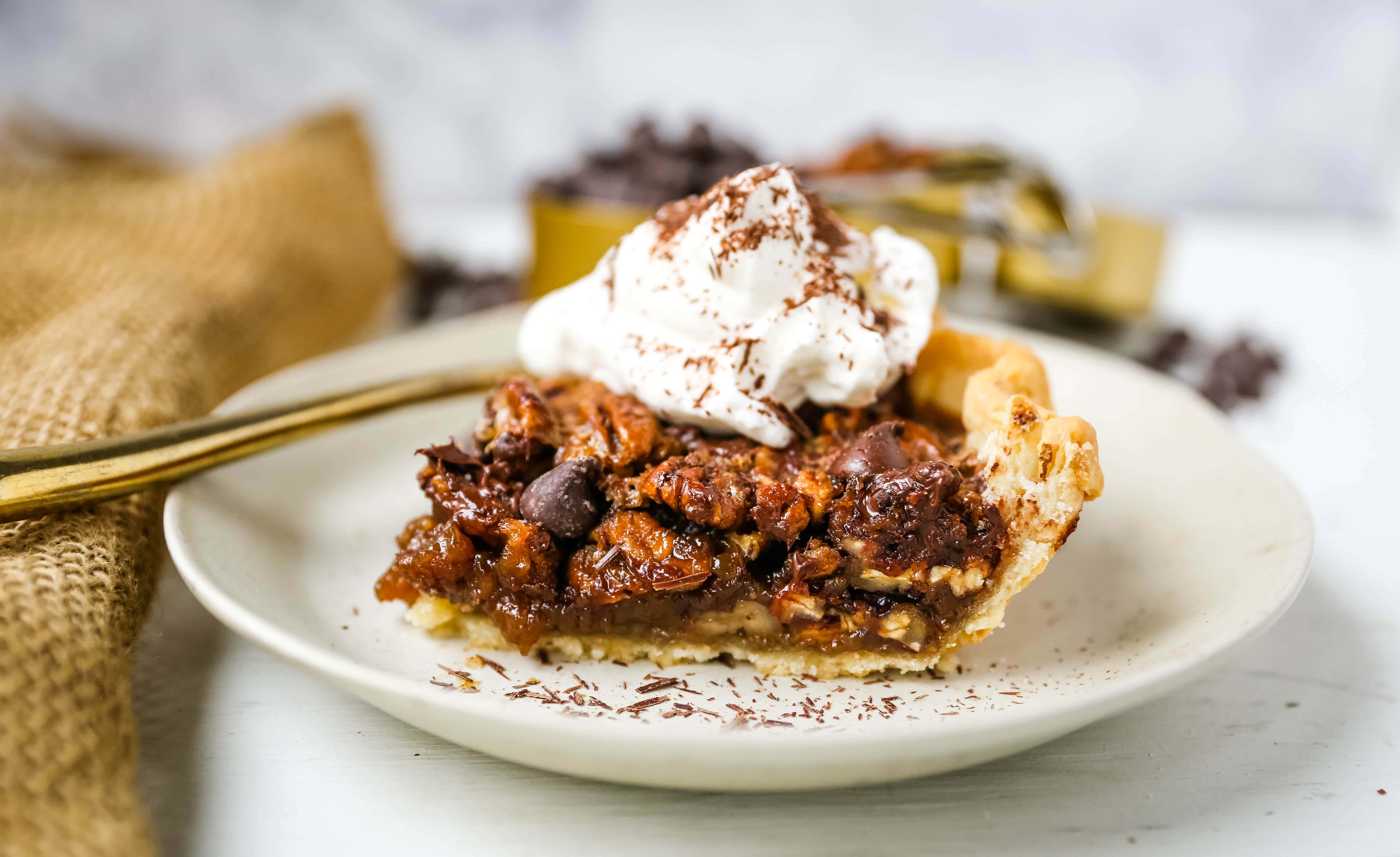 How to make the Best Chocolate Pecan Pie:
 Start by melting butter, brown sugar, and Karo syrup in a saucepan. You can use either light or dark Karo syrup, depending on the depth of flavor you desire. Dark Karo syrup has molasses in it so it has a stronger flavor. I call for light Karo syrup in this recipe but it is all a matter of preference.
Let the mixture cool to room temperature (about 15 minutes) and then add eggs and vanilla and whisk well. Add the pecan halves and fold into the brown sugar filling.
Make the homemade pie crust by mixing flour, salt, butter, and cold water/vinegar mixture.  This is such an easy butter pie crust recipe and is a huge difference maker in this chocolate chip pecan pie.
Sprinkle with semi-sweet chocolate chips or chocolate bar chunks. You can also use milk chocolate chips but I do like to use a little dark chocolate to offset the sweet brown sugar filling.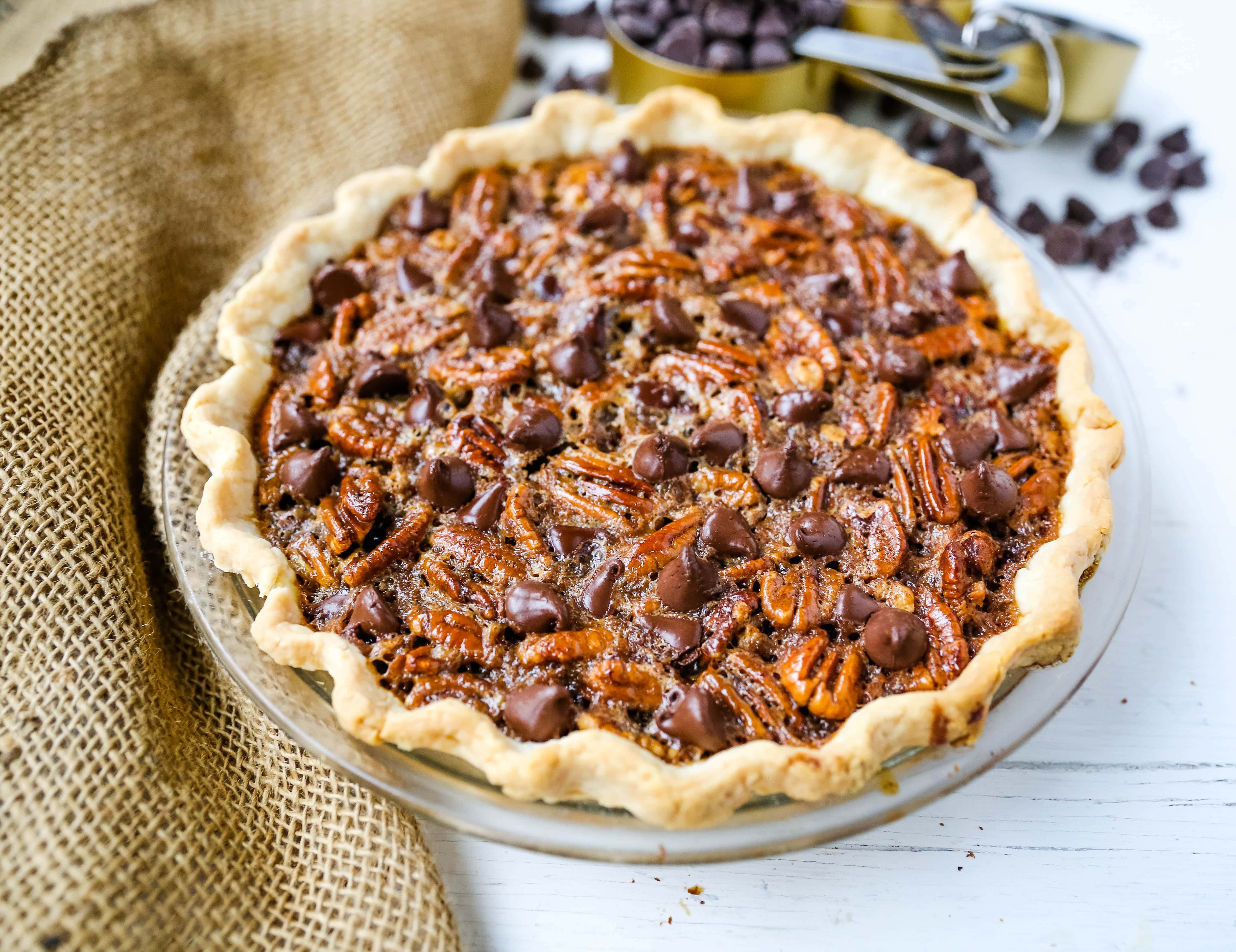 If you love pie, check out these other PIE RECIPES:
Creme Brûlée Pie 
Raspberry Almond Cream Cheese Pie
Key Lime Pie
Coconut Cream Pie 
Lemon Cream Pie 
Lemon Sour Cream Pie
Caramel Apple Pie
White Chocolate Macadamia Chocolate Ganache Pie
Double Chocolate Marble Pie
The BEST Pumpkin Pie -- AWARD WINNING!
Old-Fashioned Pecan Pie
Sweet Cherry Pie
Traditional Perfect Pumpkin Pie
Caramel Banana Cream Pie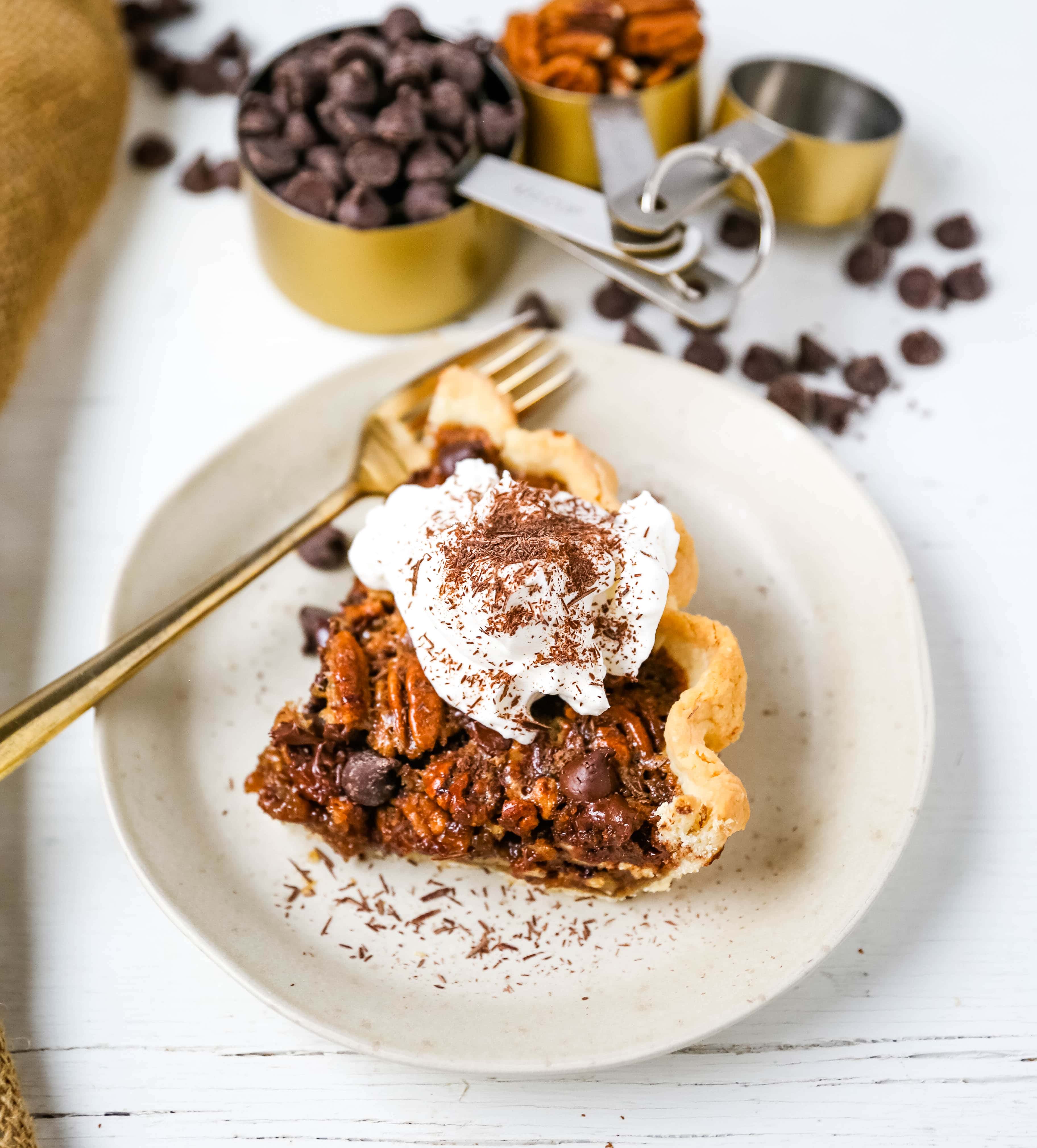 I hope you love this Chocolate Pecan Pie! I love to hear from you! If you make this recipe, please be sure to leave a comment and give this recipe a rating. Sign up for my newsletter below so you never miss a recipe. Thank you for following along! I truly do have the greatest readers. FOLLOW ME ON:   INSTAGRAM — FACEBOOK— PINTEREST