This homemade creamed corn with crispy bacon is the perfect easy side dish recipe. This is always the biggest hit at any dinner and the first vegetable side dish to be finished.
We are self-proclaimed creamed corn connoisseurs in our family. We eat it at every single Thanksgiving and Easter dinner and it has been a long-standing tradition in our family.
If I were to ask my kids, what is their favorite side dish ever, I am confident they will say homemade creamed corn.
I have shared my popular traditional creamed corn recipe and also a new twist with my Southwest Creamed Corn Recipe with jalapenos, red onion, and pepper jack cheese. Now I am introducing my Bacon Creamed Corn Recipe...because everything is better with bacon!
You can pair this with a simple grilled chicken or a juicy tri-tip steak or even smoked turkey breast. The options are limitless!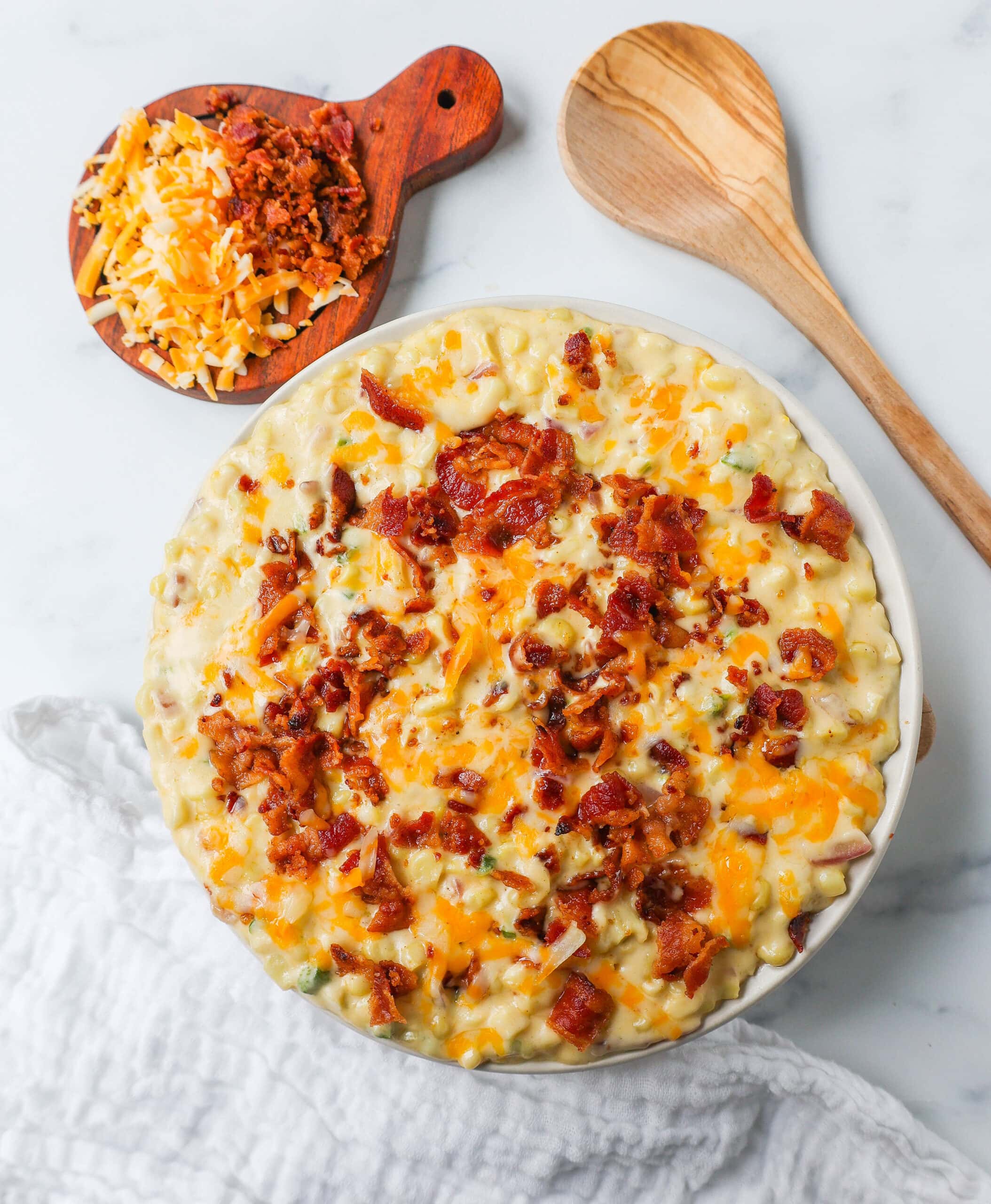 Ingredients
This is such an easy creamed corn recipe, using only simple ingredients. Since the star ingredient is corn, you can use freshly husked corn cut off the cob or frozen corn.
Corn -- I would suggest using fresh corn or frozen corn for this recipe. Since frozen corn is picked at peak freshness, it is a great alternative to fresh corn and can be found year-round. I prefer to use white corn but you can use any type.
Butter -- use salted butter for the most flavor.
Heavy Cream -- this is what gives it the rich creaminess.
Flour -- helps to thicken the creamed corn. If you want this to be gluten-free, you can use cornstarch instead.
Salt -- this is the flavor enhancer so add more as needed.
Sugar -- adds a touch of sweetness to the corn to balance out the saltiness from the bacon and cheese.
Red Onion -- this is optional but adds another depth of flavor.
Cheddar Cheese -- use your favorite type of cheddar cheese from mild to sharp or Colby Jack Cheese. You can use any type of cheese in this easy homemade creamed corn recipe.
Bacon -- everything is better with bacon! You can cook it in the oven or in a skillet until perfectly crispy. Add half of the bacon into the creamed corn and the rest for topping the cream corn.
See recipe card for quantities.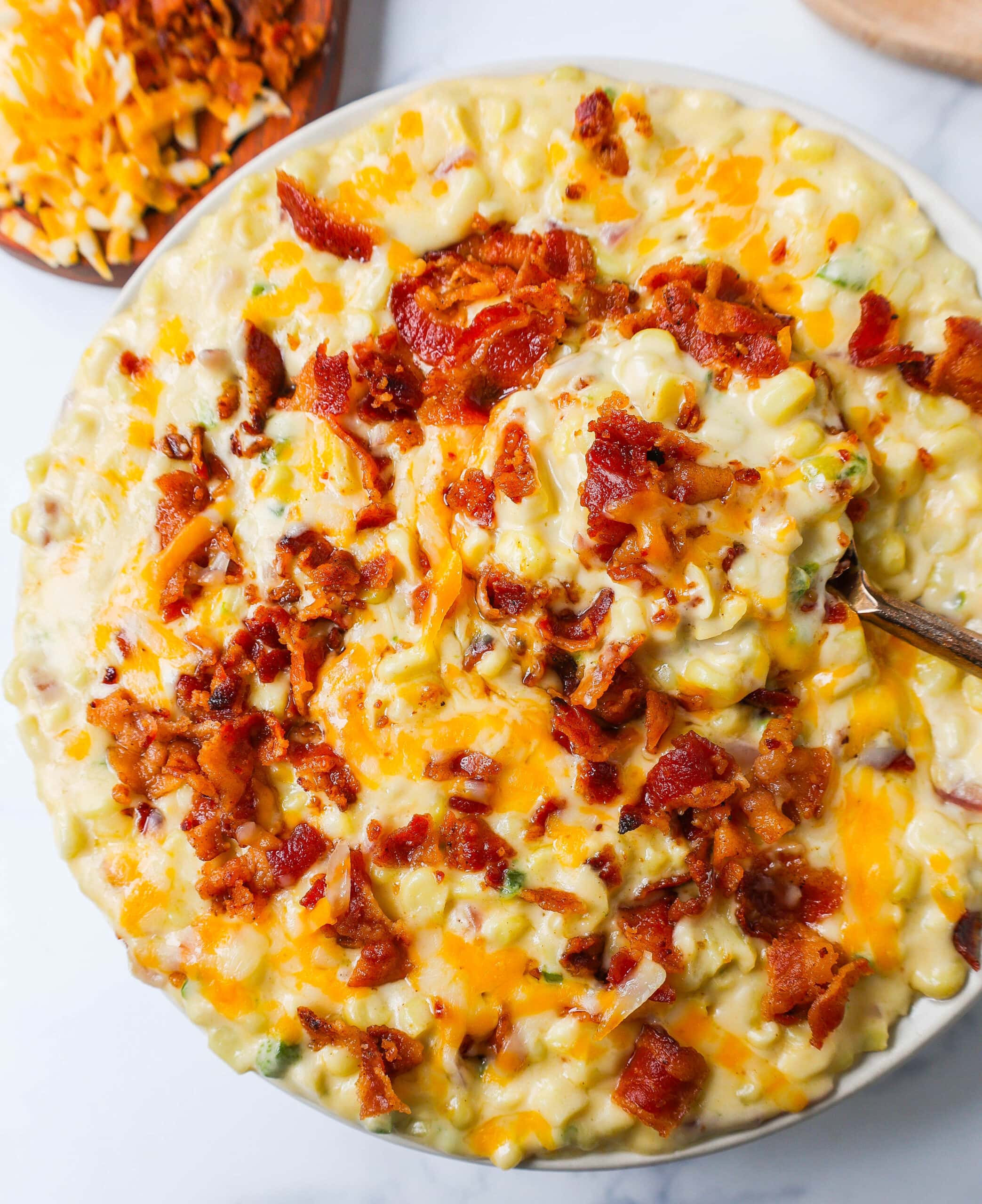 Instructions
This is a quick and easy creamed corn recipe and takes less than 30 minutes, start to finish.
Start by cooking the frozen corn, according to package instructions. If using fresh corn, cook the corn and then cut it off of the cob. Make sure to drain off any extra liquid.
While corn is cooking, cook bacon in a skillet or oven until perfectly crispy. If cooking in the oven, heat the oven to 400 degrees and cook for about 20 minutes. Set aside to drain on a paper towel-lined plate. Cut into small bite-size pieces.
In a large skillet, melt butter over medium-low heat. If using red onion, add it now and cook until tender, about 5-6 minutes.
Remove from heat and stir in flour to make a paste. You want to have your ingredients all ready so you can quickly add them in. Stir in the corn and stir together to coat the corn.
Add heavy cream, salt, and sugar. Place back on the medium-low heat and cook until it starts to thicken, about 10-14 minutes. May want to reduce to low heat. Stir often!
Add the cheese, a small amount at a time, before adding more cheese to allow it to melt. Taste for seasonings and add more salt as needed. Stir in half of the bacon, reserving the other half to sprinkle on the top of the creamed corn when ready to serve.
If you want to add a little more touch of sweetness, drizzle with some spicy hot honey.
Hint: if you are cooking the bacon in the oven, I suggest placing aluminum foil on the baking sheet to keep the bacon from sticking to the pan and for easy clean-up.
Substitutions
If you don't have fresh corn, you can use frozen corn. I use frozen corn almost every single time and it makes the perfect creamed corn.
Use your favorite type of cheese! You can use spicy pepper jack cheese, creamy colby jack, mozzarella, or even sharp cheddar cheese.
Variations
If you want a kid-friendly version, you can always remove the onions.
If you want spicy creamed corn, add 1 diced jalapeno in with the red onion to saute until tender.
Storage
This creamed corn with recipe stores very well and makes great leftovers. Store in an air-tight container in the refrigerator. When re-heating, you may want to add a splash of cream.
Top tip
Get the bacon nice and crispy so that is holds up to the creamed corn. Reserve half of the bacon to sprinkle on the top of the creamed corn when serving it so it is perfectly crispy.