Mexican Chocolate Cream Pie is made with a graham cracker and almond crust filled with Mexican chocolate cream filling and topped with fresh whipped cream. This Mexican Chocolate Pie recipe is from the famous Elote Cafe in Sedona Arizona.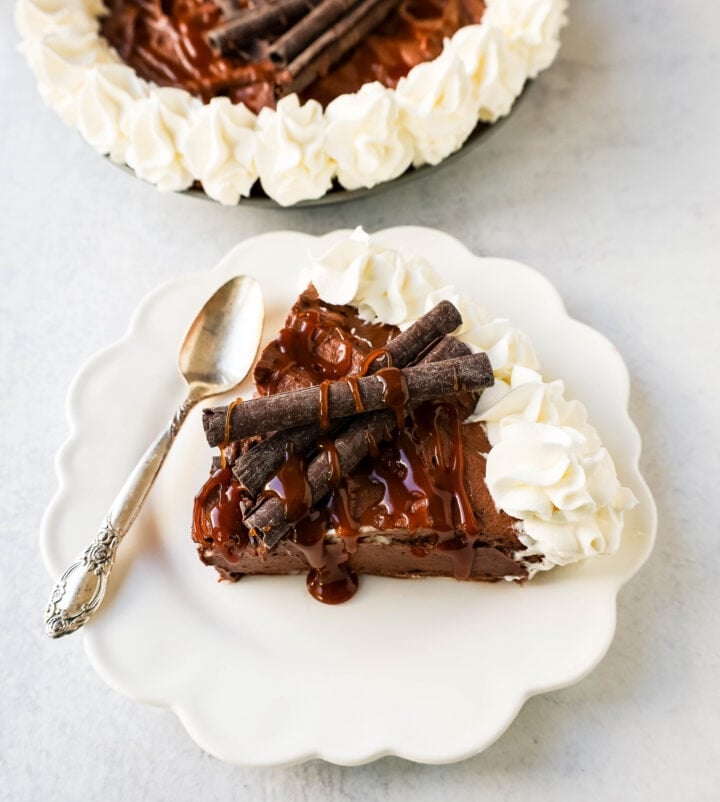 I have been so excited to share this recipe with you! My husband and I made a road trip to Sedona Arizona for a little getaway. There is a restaurant called Elote Cafe that is reservations only because it is always packed. They are known for their Mexican Chocolate Pie and of course, we had to try it! It was so decadent, rich, and creamy. I searched for the recipe, found it, made it, and now I am sharing it with you!
I made a few changes to the Elote Cafe Mexican Chocolate Pie by adding a little more sweetness. I still wanted it to take sinfully rich but add a touch more sugar to give it that perfect balance.
This Mexican Chocolate Cream Pie starts off with a homemade almond and graham cracker crust. The chocolate filling is made with melted chocolate, heavy cream, and a touch of cinnamon. The chocolate pie is topped with handcrafted whipped cream and drizzled with caramel or dulce de leche.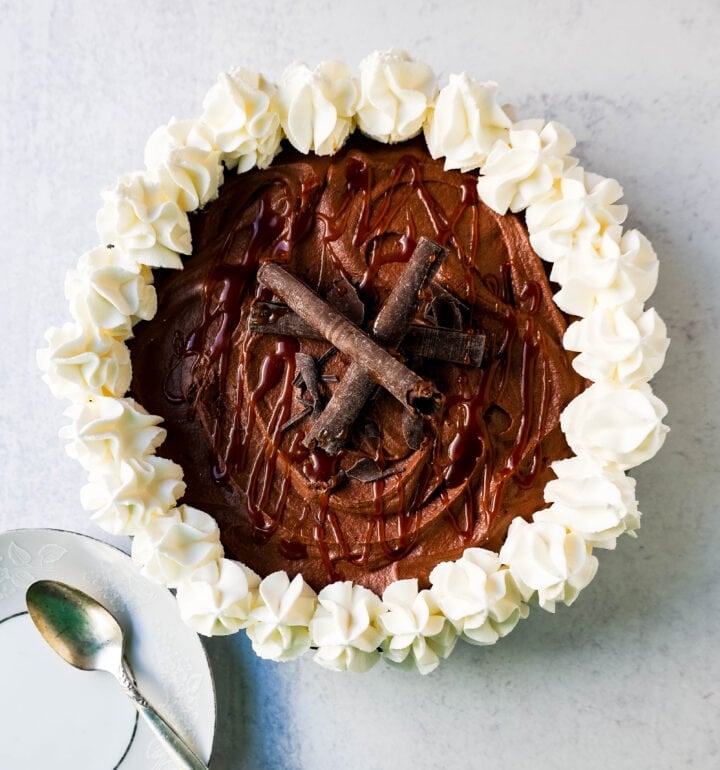 Mexican Chocolate Pie Ingredients:
Chocolate Filling Ingredients:
Mexican Chocolate (or Milk Chocolate)
Semi-Sweet Chocolate
Heavy Cream
Cinnamon
Fresh Whipped Cream (Heavy Cream + Powdered Sugar)
Graham Cracker Crust Ingredients:
Graham Crackers
Sliced Almonds
Butter
Topping:
Caramel or Dulce de Leche
What makes Mexican chocolate different? Mexican chocolate is made from cacao nibs, sugar, and cinnamon. It has a grainy texture compared to normal chocolate. Sometimes chilies are added for more spice but it definitely has more warmth because of the cinnamon.
What type of chocolate to use in this pie?
I would suggest using high-quality chocolate bars, if at all possible. I use the Trader Joe's Pound Plus Bar. You can also use semi-sweet chocolate chips.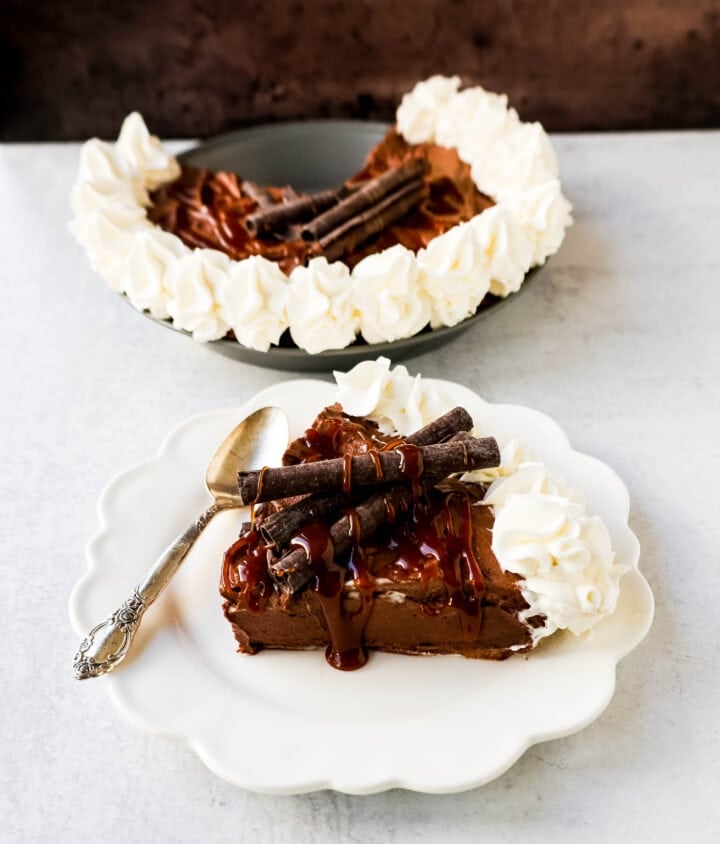 How to make Mexican Chocolate Cinnamon Cream Pie:
Start by heating heavy cream in a saucepan. Add the chocolate and let it melt. I suggest cutting the chocolate bars into chunks to make it melt easier. You will need two types of chocolate -- semi-sweet chocolate and Mexican chocolate. You can find Mexican chocolate is 3-ounce disks. If you can't find Mexican chocolate, you can substitute milk chocolate and add a touch of cinnamon. I have recipe tested with milk chocolate, semi-sweet chocolate, and cinnamon and it was delicious!
Make the crust by mixing graham crackers, almonds, and butter in a food processor. You can toast the almonds beforehand if you desire a nutty flavor to the crust. Press in a 9-inch pie plate. This is a classic pie plate. If you are using a larger, deep dish pie dish, you may want to 1 ½ times the recipe.
Whip the remaining heavy cream and powdered sugar until stiff peaks form. Set aside about ½ cup for the topping and fold the remaining into the room-temperature chocolate. Fold thoroughly until no more white streaks appear, then mound the chocolate on top of the pie crust.
Refrigerate for at least 2-4 hours, preferably overnight. Pipe whipped cream around the edges.
Drizzle caramel or dulce de leche on the chilled pie.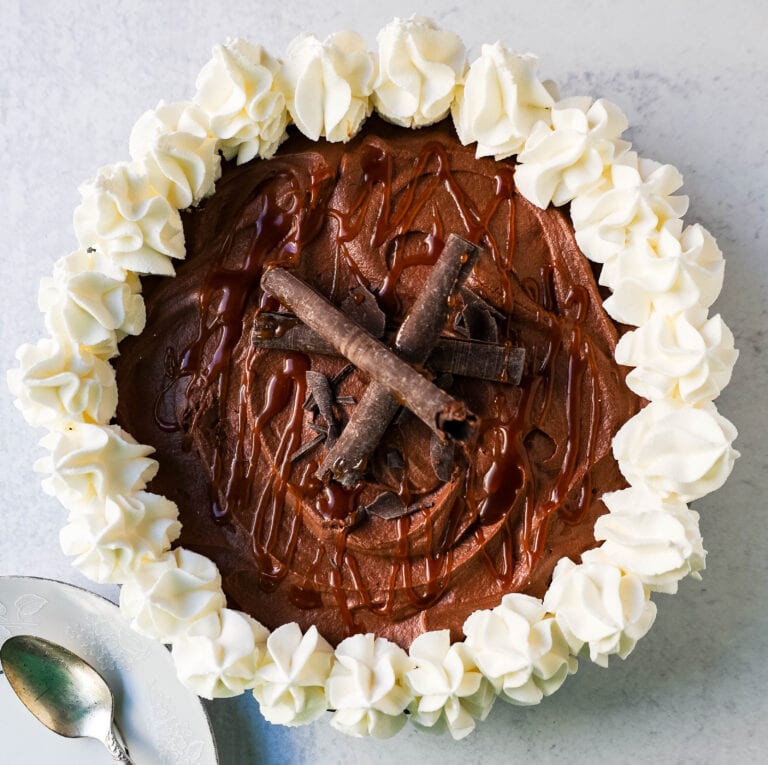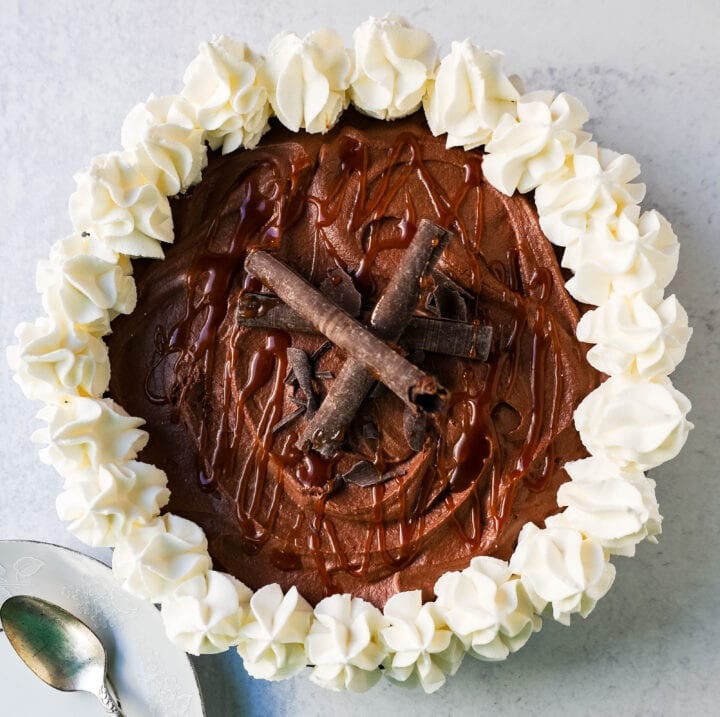 I have made many chocolate pies in my days from the Classic Chocolate Cream Pie to the German Chocolate Pie with a Coconut Pecan Topping to a Chocolate French Silk Pie. This is a unique take on a chocolate cream pie because of the addition of warm cinnamon and the focus on the star ingredient -- chocolate.
I love to hear from you! If you make this recipe, please be sure to leave a comment and give this recipe a rating. If you make any of my recipes, tag me on Instagram @modern_honey so I can see your creations. It's one of my favorite things seeing you make these recipes in your own kitchen. Sign up for my newsletter below so you never miss a recipe. Thank you for following along! I truly do have the greatest readers. FOLLOW ME ON: INSTAGRAM --- FACEBOOK --- PINTEREST