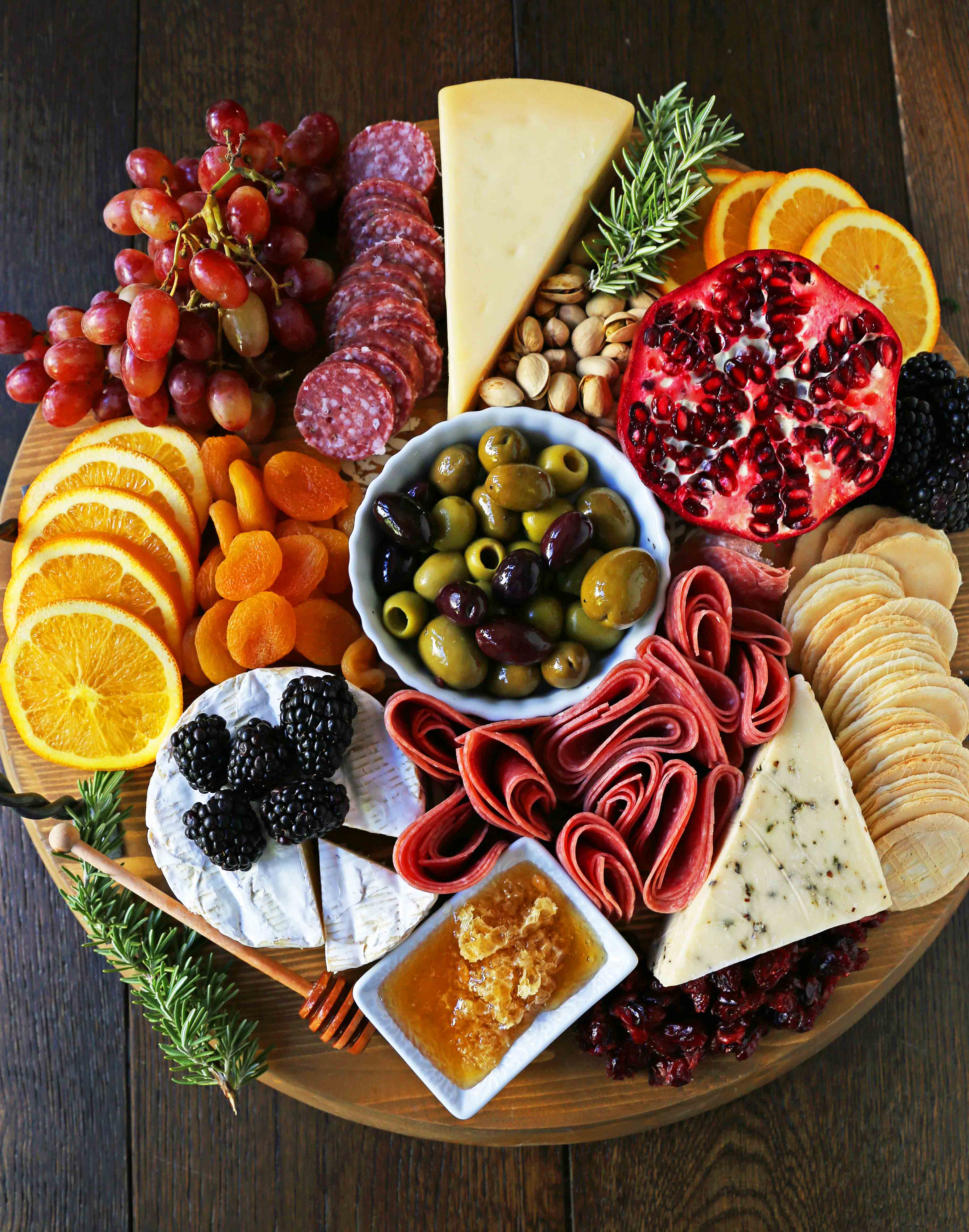 How to make an EPIC Charcuterie Board (AKA Meat and Cheese Platter)
It's holiday time which means entertaining, parties, and lots of eating. When I am having people over, I love to put out a beautiful meat and cheese board when they arrive.  It makes the most stunning appetizer and everyone loves it!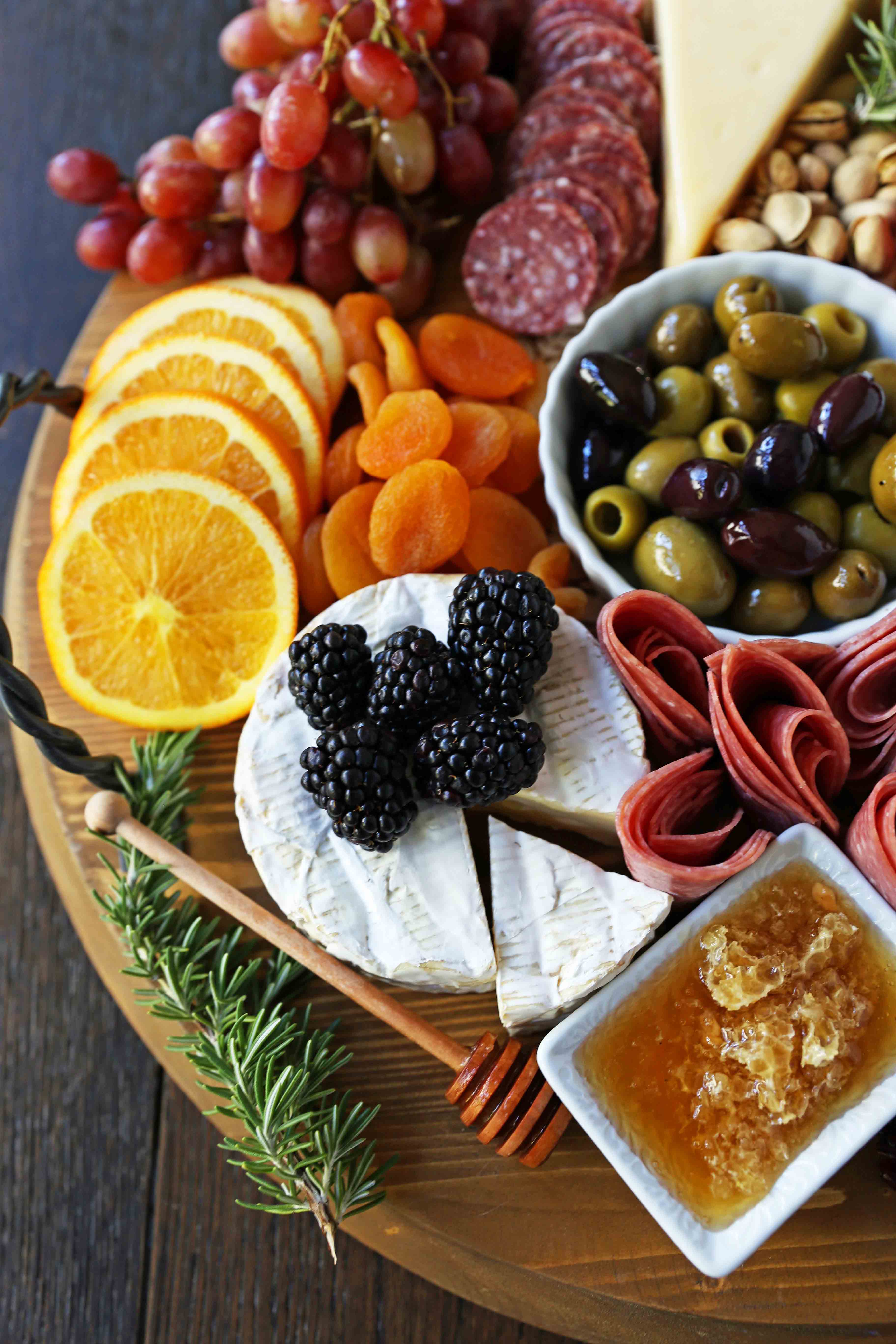 When my family came into town for Thanksgiving, I had the entire crew at our home for dinner. My family is extremely passionate about good food so the pressure was on.  When the arrived, I placed the charcuterie board on the island and they literally devoured it in no time at all. It is the perfect thing to casually serve to your guests as they socialize.
I have shared a post about making the ULTIMATE FRUIT and CHEESE BOARD but wanted to share more ideas for making a WINTER FRUIT and CHEESE BOARD which highlights what is available in stores this time of year.
POPULAR WINTER FRUITS for MEAT and CHEESE BOARD:
 NAVEL ORANGES. This adds a bright vibrant orange color to the fruit board and pairs well with the meat and cheeses.

POMEGRANATES

. When you open up a pomegranate, it is such a stunning display.  I use it more as a beautiful showpiece rather than eating it.  If you prefer, after the guests come, you can remove the arils from the pomegranate and serve them in a bowl.
FIGS. These not only taste amazing and pair so well with cheese, but they also make a stunning presentation. Look for fresh figs at your local grocery store.

BLOOD ORANGES. 

This isn't your typical orange. It has a deep purplish color and is beautiful when sliced.

RED ANJOU or BOSC PEAR.

Known to pair wonderfully with cheese.

DATES 

— These are called "nature's candy" for good reason. They are naturally sweet and a perfect accompaniment to meat and cheese.

APPLES — Honeycrisp, Granny Smith, Fuji or Gala. Apples pair with cheese perfectly so use an assortment of apples. The green granny smith is tart and crisp and pairs nicely with white cheddar cheese and a drizzle of honey. A sprinkle of Fruit Fresh or lemon juice helps to keep the apples from turning brown.
BERRIES — Berries always pair well with cheese. I suggest raspberries, strawberries, and blackberries.

GRAPES

 

— 

Grapes give a nice natural sweetness and crunch to pair with the creaminess of the cheese. 

DRIED APRICOTS

— Known for their sweetness. Buy them fresh to ensure softness as they can get hard and dry out quickly.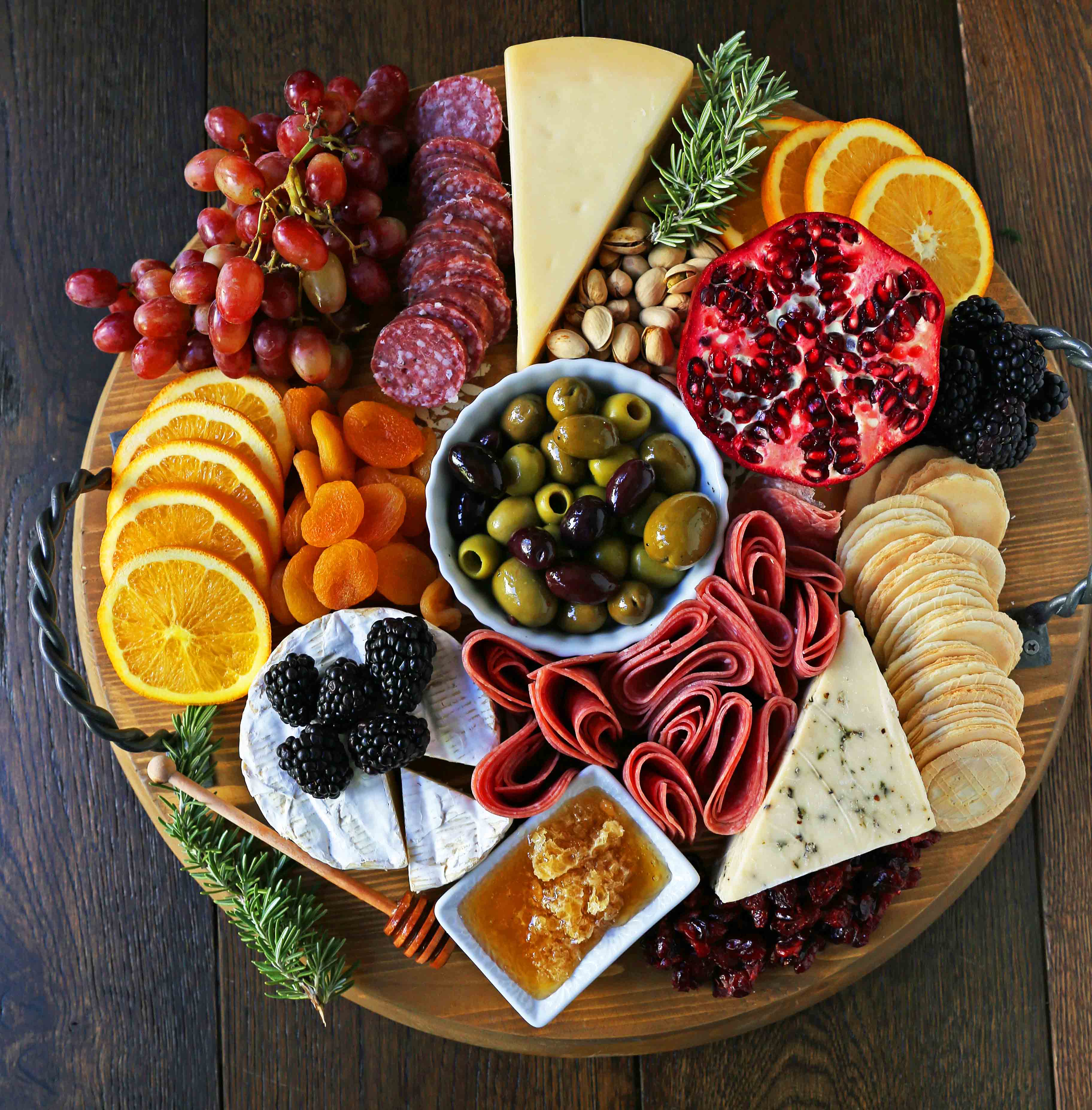 Popular Cheeses for a Meat and Cheese Tray:
 BRIE or CAMEMBERT. Brie always makes a beautiful statement as the centerpiece of a cheese board. I always like to cut a wedge out of it and top it with fresh blackberries and a rosemary stem. You can also warm the brie so it is nice and melted which brings out the flavor. Brie pairs well with apples, French bread, cherries, dates, figs, pistachios, and strawberries.

BURRATA or FRESH MOZZARELLA.

Soft, creamy cheese which has a mild in flavor is always a popular choice. Mozzarella Cheese pairs well with olive oil, prosciutto, tomatoes, Italian cured meats, and olives.
PARMIGIANO-REGGIANO.  The famous Italian cheese is known for its sharp, nutty flavor. Cut it into wedges and pair it with figs, pears, dates, prosciutto, balsamic vinegar, walnuts, stone fruits, grapes, and honey.

WHITE SHARP CHEDDAR. 

Creamy white cheddar pairs beautifully with apples, nuts, dates, honey, grapes, French bread, nuts, pears, and walnuts. 

PEPPER JACK CHEESE.

This is all about flavor. The peppers added to a creamy

Monterey jack cheese adds a nice amount of spice.  This pairs well with crackers, apples, honey, and pears.

HERBED or BERRY GOAT CHEESE. 

A soft cheese full of flavor. Goat cheese pairs well with French Bread, crackers, almonds, apricots, green apples, cherries, pears, figs, honey, grapes, dates, dried cranberries, olives, oranges, strawberries, walnuts. 

MILD CHEDDAR. 

A universally appealing cheese as it pairs nicely with green apples, walnuts, pecans, pears, nuts, honey, grapes, and dates. 

GRUYERE CHEESE. 

It is traditional semi-soft cheese. It pairs well with dark chocolate, apples, cherries, hazelnuts, and walnuts.

GORGONZOLA.

A creamy Italian Blue Cheese. People either love or despise bleu cheese so it may be the most polarizing cheese on the cheese board. Gorgonzola Blue Cheese pairs well with apples, honey, pears, almonds, figs, hazelnuts, and candied walnuts.

GOUDA CHEESE.

Famous in the Netherlands, it is a semi-hard cheese celebrated for its rich, unique flavor and smooth texture. Gouda pairs nicely with apples, apricots, cherries, peaches, and pears. 

ENGLISH FARMHOUSE or IRISH CHEDDAR.

A semi-firm, fresh cheese with rich flavor. Pairs nicely with honey, apricots, dates, apples, grapes, and candied nuts. 

MANCHEGO CHEESE.

A firm, buttery cheese from Spain. Manchego pairs well with figs, crusty bread, fig spread, almonds, green olives, and prosciutto.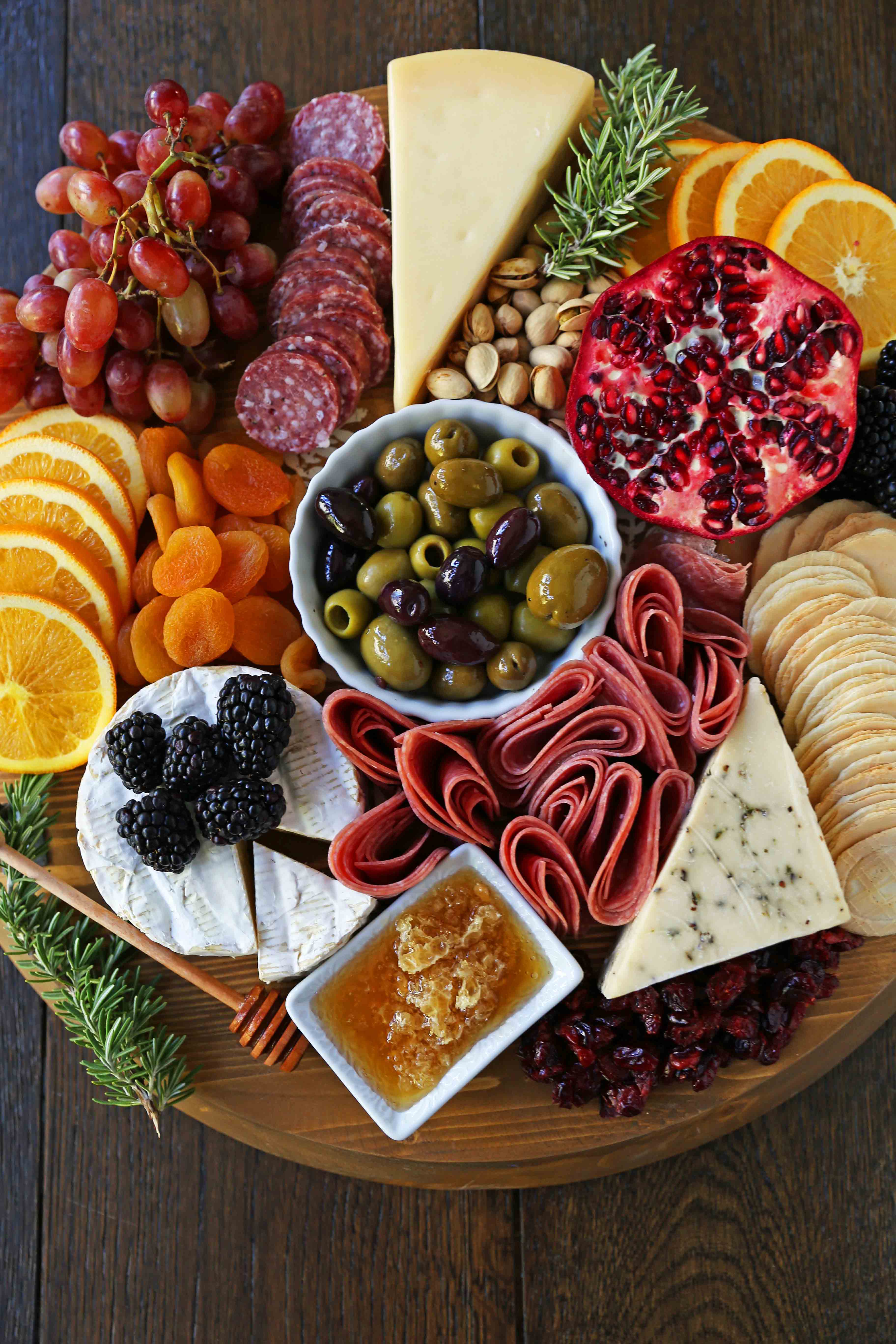 What to put on an EPIC Charcuterie Board:
CURED MEATS. 

Meats will be one of the biggest stars on the meat and cheese board. Use an assortment of Italian meats such as salami, prosciutto, and other Italian meats. I like to use different kinds of salami on my meat platters. 

OLIVES.

I love to buy the marinated castelvetrano and kalamata olives from the deli department. You can usually buy them by the pound which helps so you only have to buy what you need.

HONEY.

This a must. A drizzle of honey adds that perfect sweetness to balance out the sharpness of the cheese. Place it in a small jar or bowl. If you want to really impress your guests, place honeycomb on your platter. Our favorite is the honeycomb from Savannah Bee Company. You can order it online HERE.

DARK CHOCOLATE. 

A little bit of dark chocolate goes a long way. Chocolate pairs beautifully with the berries, apricots, and cheese. 

CRACKERS and BREAD. 

Set out an array of crackers and bread  — crostinis, flatbread crackers, and thinly sliced crackers. Try to choose plain crackers as strongly flavored crackers can take over the flavor of the cheese.

FIG JAM/SPREAD. 

This adds a nice amount of sweetness and pairs beautifully with fruit, bread, and cheese. 

PISTACHIOS, ALMONDS or WALNUTS.

Nuts add another salty crunchy element that your guests can snack on.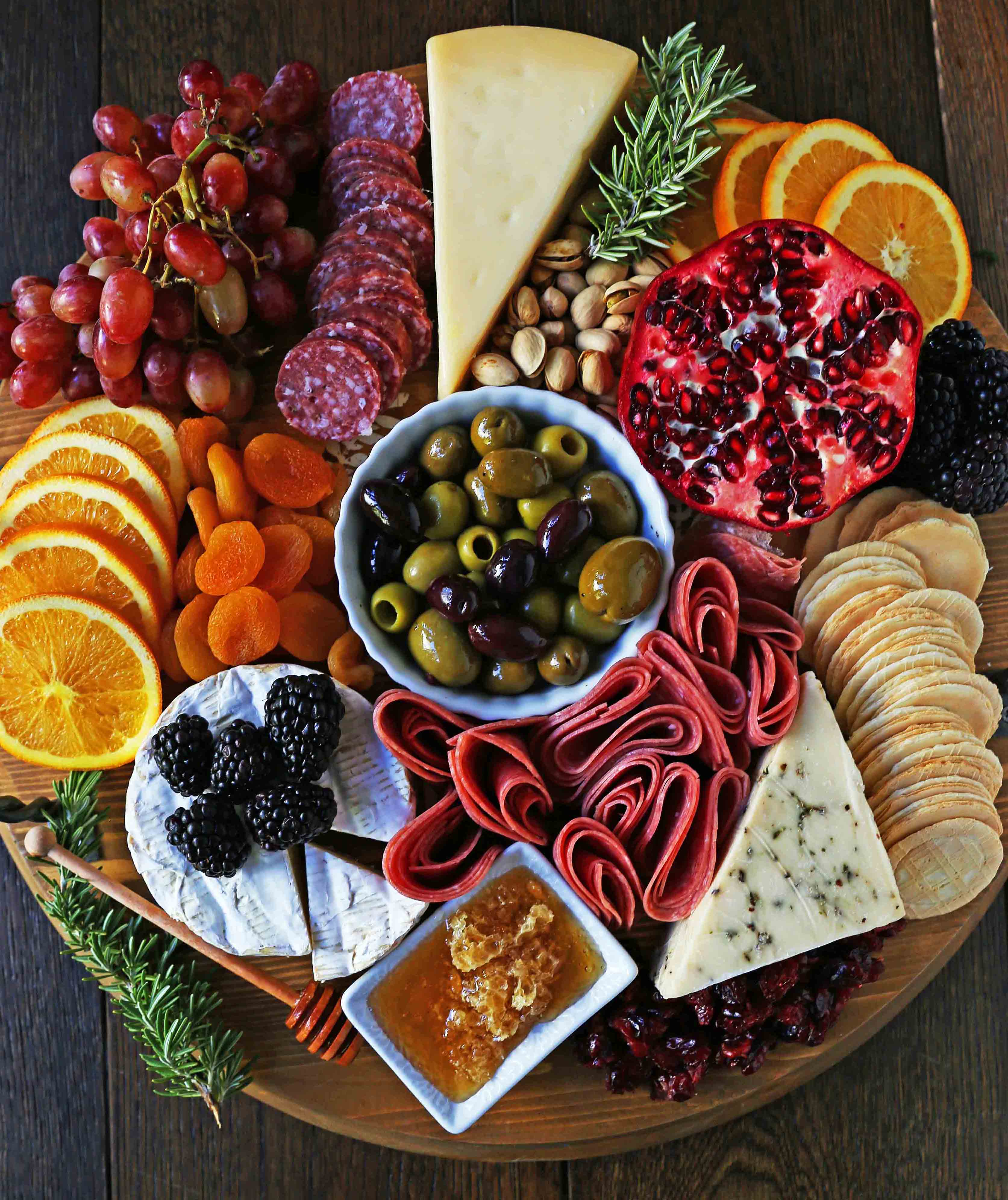 Tips for Serving Fruit and Cheese Platter:
 For optimal cheese flavor, bring to room temperature. The flavors are much more pronounced when cheese is a room temperature.
 Determine what board to use. I find all of my cheese boards at stores like Home Goods, TJ Maxx, and Marshall's. They have large ones (20″) and are around $20 – $25, which is a steal!
Serve with small cheese knives and spoons. This makes it easy for your guests to spread creamy cheeses on their crackers or bread.
Allow for at least 3 ounces of cheese per person, depending on how hungry your guests are! Serve an assortment of shapes, sizes, and types of cheese to give variety.
I love to hear from you! If you make this recipe, please be sure to leave a comment and give this recipe a rating. If you make any of my recipes, tag me on Instagram @modern_honey and use #modernhoney so I can see your creations. It's one of my favorite things seeing you make these recipes in your own kitchen. Sign up for my newsletter below so you never miss a recipe. Thank you for following along! I truly do have the greatest readers. FOLLOW ME ON:   INSTAGRAM — FACEBOOK — PINTEREST