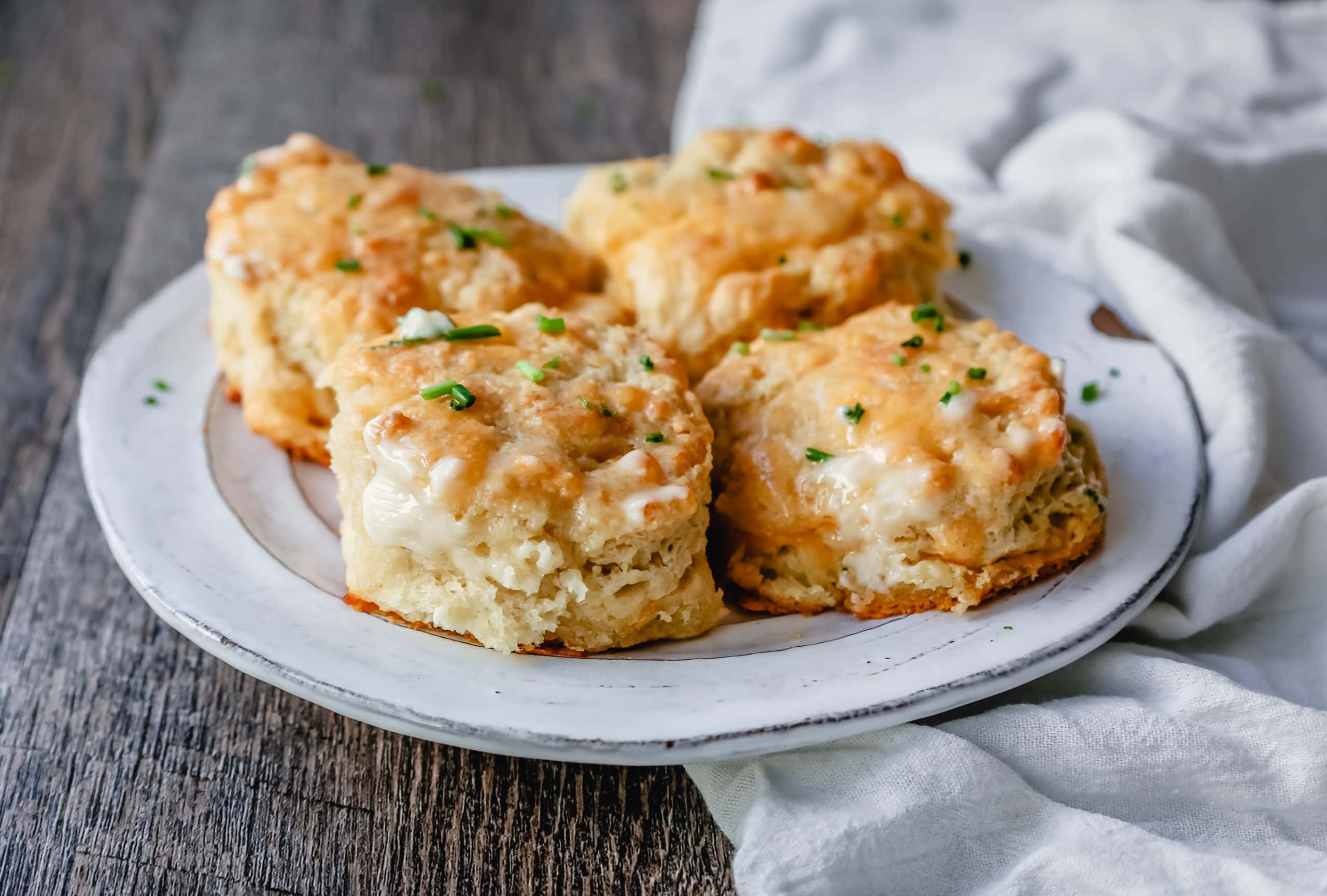 Homemade Cheesy Garlic Biscuits
Light, fluffy, buttery homemade biscuits with cheddar cheese and garlic. These are the perfect homemade biscuit!
Years ago, I was picked up by my friend and she told me she was taking me to dinner at one of her favorite restaurants. Now I am a huge foodie and get so excited to learn about new places and try new things. Recently, one of my friends took me to a Cambodian food restaurant and I was giddy trying out all of the unique dishes.
So I was anticipating where we could be going. She pulled into the parking lot and I looked up and it was The Red Lobster. Now if you can believe it, I had never even been to a Red Lobster. So this was a first. She told me that her favorite thing were their garlic cheddar biscuits. All she had to say was biscuits and I was in. If there were carbs being served as an appetizer, I am a happy customer. Free chips and salsa? Bring it all day long.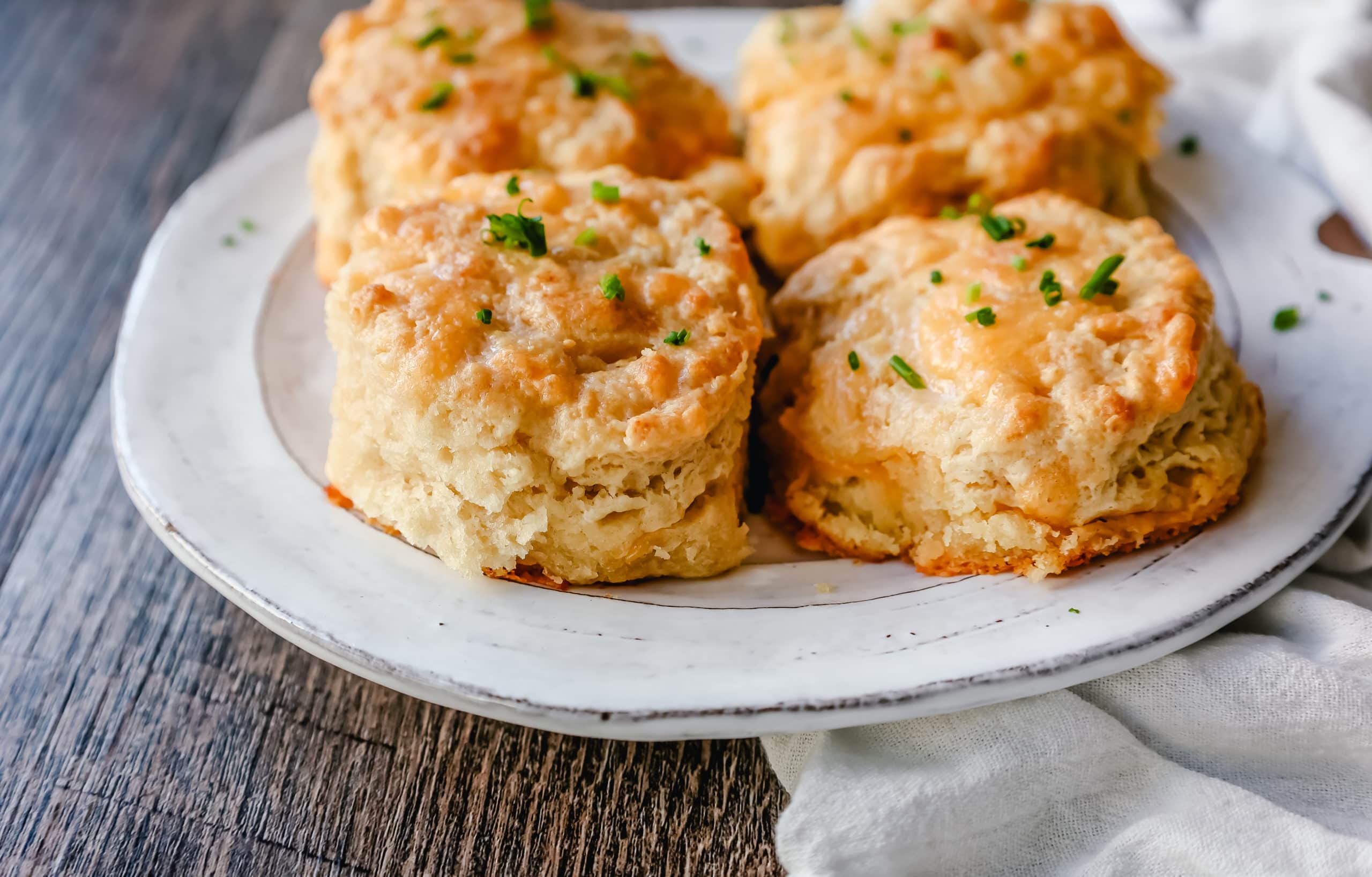 We ate more cheesy biscuits than I would like to admit but they were real good. I went home and did what I normally do and try to recreate a homemade version. They were light, fluffy, and buttery with the perfect amount of cheesiness and I was hooked. Now I get to share the goodness with all of you!
It all starts with a buttery biscuit. The biscuit has to have flavor and it all begins with butter. I have tried biscuits with shortening and I just miss the flavor of butter. I have a few tips on how to incorporate the butter so look for them below.
Another key is to use fresh buttermilk. It just creates that tender texture that is beyond perfection. Buttermilk is such a game changer when baking.
I love to use freshly grated cheddar cheese from a block because it just melts so much better. If you want to really taste the cheddar cheese, I suggest using a sharp cheddar. You will thank me later.
Tomorrow I am going to share my biscuits and gravy so get ready! It is easier than you think and gets rave reviews! For a traditional drop biscuit recipe, check out my Easy Buttermilk Drop Biscuits Recipe.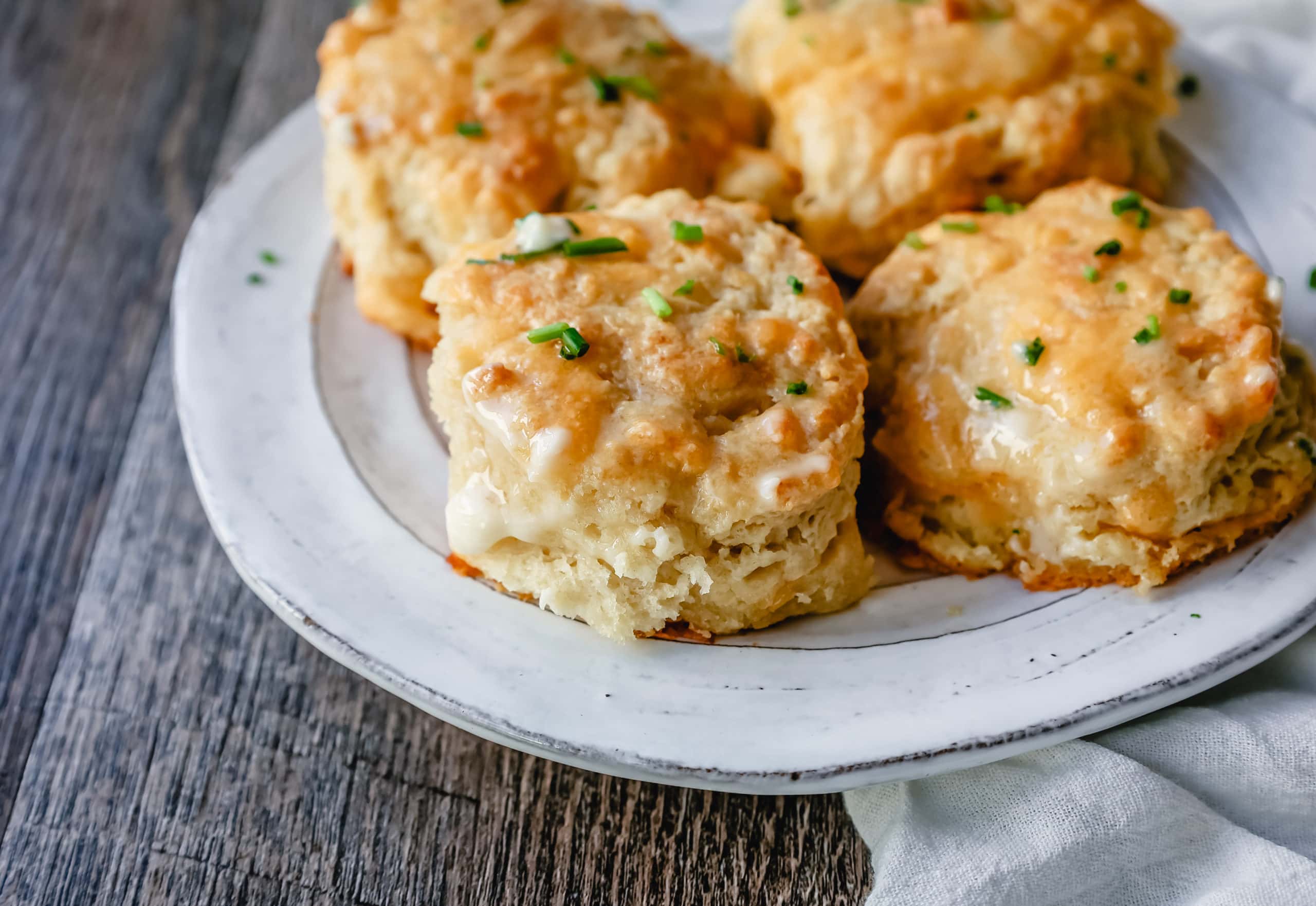 How to make the Best Garlic Cheddar Biscuits:
Start with cold butter. I like to use frozen butter or at the very least, cold butter straight from the refrigerator. This will make the biscuits extra flaky. If the butter is frozen, I suggest using a grater to grate the frozen butter. This creates butter shreds throughout the biscuit which makes them even better.
Add all-purpose flour, baking powder, baking soda, salt and sugar and stir together in a bowl. Fold in buttermilk.
Shred the cheddar cheese and place in the bowl. Sprinkle with garlic powder.
Stir together until it becomes a ball. I love to use my clean hands to really incorporate the ingredients. It will look a little shaggy but don't worry, it will come together!
Roll into a ½ inch circle and using a round cutter, cut into rounds.
Place in a pan close together so that they rise up and not out. Bake at 450 degrees for about 11-13 minutes or until a light golden brown color. Brush with a generous amount of melted butter.