How to make a beautiful Crudite Platter with vegetables and dips. I am sharing my favorite veggie dip recipes, what vegetables to put on a veggie tray, and how to arrange one. It is so easy to make a stunning vegetable platter!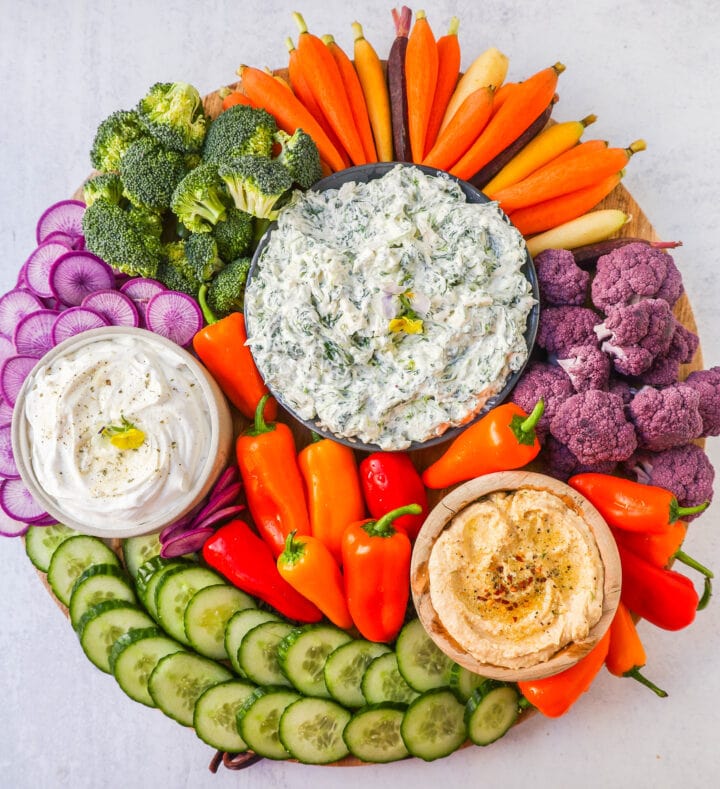 Many years ago, I was over at my Mom and Dad's house and there was a knock on their door. One of their dear friends was standing there holding the most beautiful vegetable platter with dips I have ever seen in my life.
We quickly placed it on the kitchen island and began devouring the crunchy vegetables and creamy dips. It not only was a gorgeous crudite tray but it tastes delicious as well.
To this day, I love creating a gorgeous vegetable tray with homemade dips. How many parties do you go to with a veggie platter? It is almost guaranteed! A little more effort and everyone will be oohing and aahing at your creation.
I will share all of my tips and tricks for making a beautiful vegetable tray with the yummiest veggie dip recipes to go with it.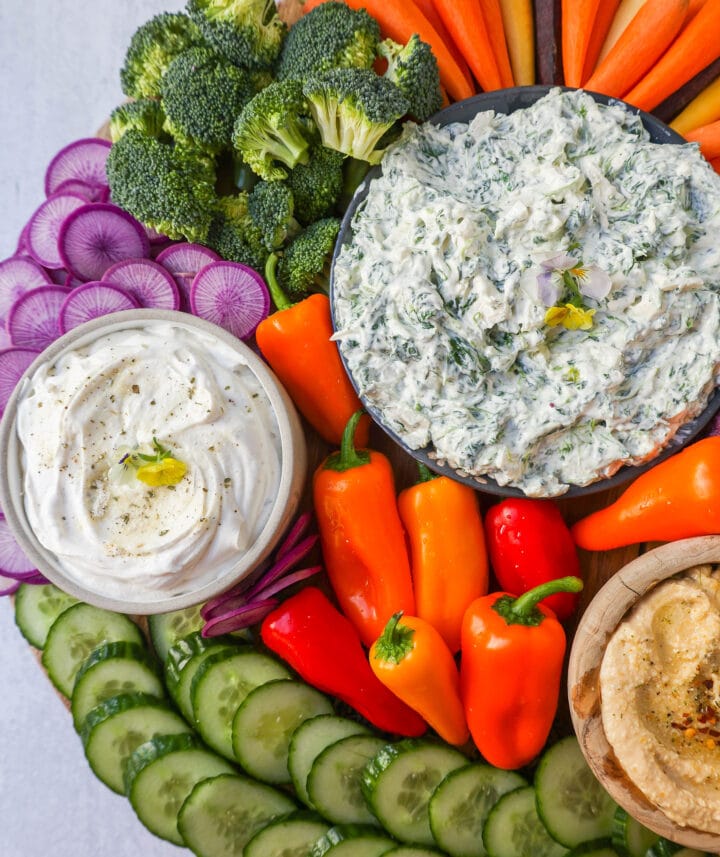 What is Crudite?
Also known as crudites. Crudite (pronounced kroo-duh-tay) is a French appetizer consisting of beautifully displayed raw vegetables with dipping sauces. I just think it is the most gorgeous vegetable tray you can imagine!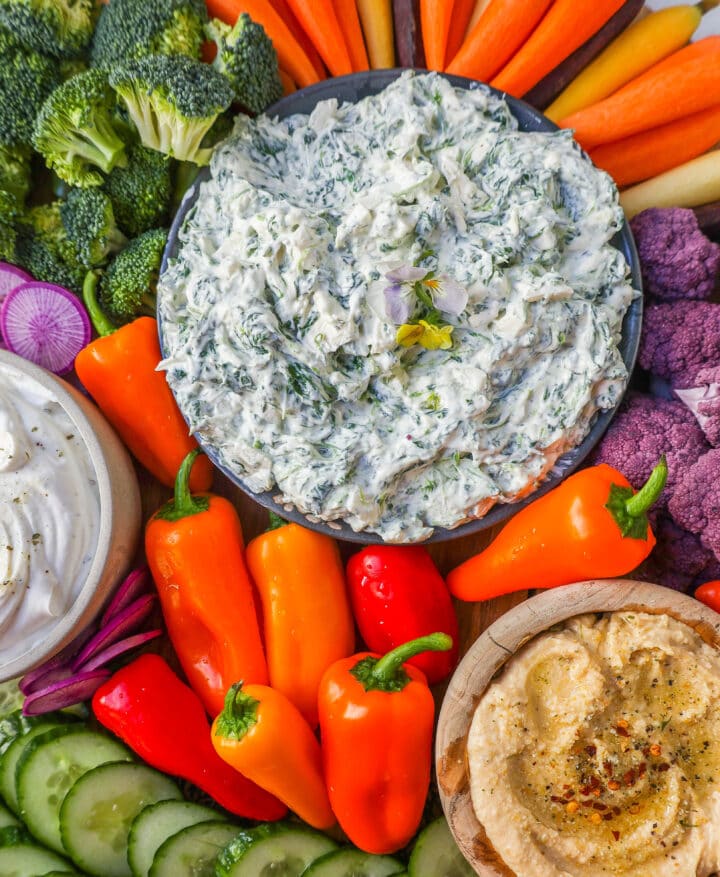 What vegetables to put on a Vegetable Tray?
If you are wondering what the best and most popular vegetables to put on a veggie tray, I have the answers for you! You can put any type of vegetable on a vegetable crudites platter but here are some of my favorite vegetables...
Carrots -- may use carrots sliced into sticks, heirloom carrots, or even baby carrots.
Broccoli -- I suggest cutting these small and using mainly the broccoli crowns.
Cucumbers -- I suggest using Hot House cucumbers or English cucumbers. You can leave the peel on or peel it off.
Cauliflower -- there are several different colors of cauliflower so I love to add purple and peach-colored cauliflower to my veggie tray.
Peppers -- use a variety of colors on your crudite tray. You can use red, yellow, and orange peppers for a beautiful array of colors.
Rainbow Radishes -- slice thin with a mandolin or sharp knife for the perfect crispy, peppery vegetable.
Snap Peas -- these long, fresh peas have an edible pod with peas inside. Sugar snap peas pair perfectly with ranch dip.
Grape Tomatoes -- bite-size tomatoes that you can easily dip and eat.
Celery -- cut into long sticks and they make perfect little dippers.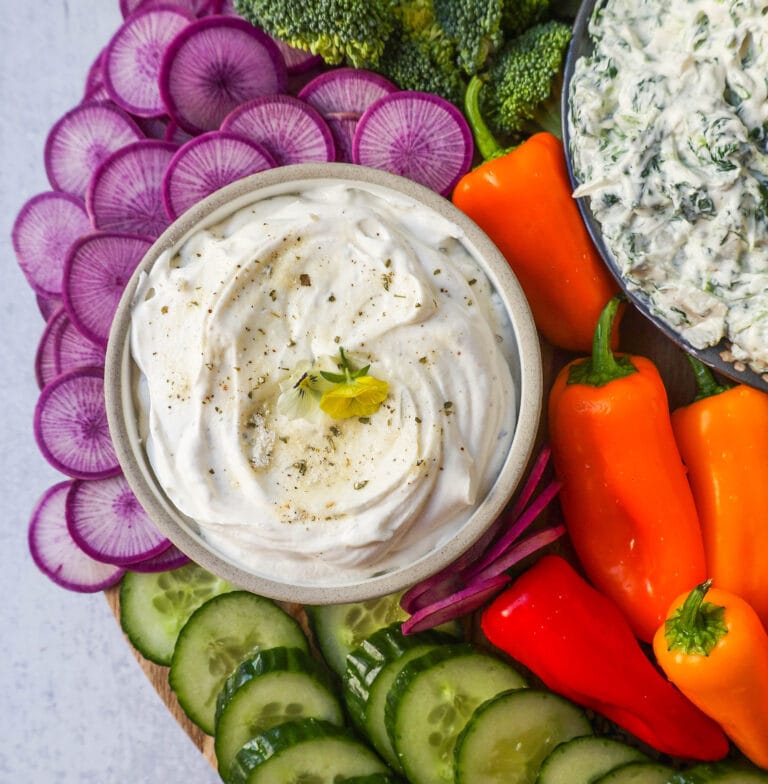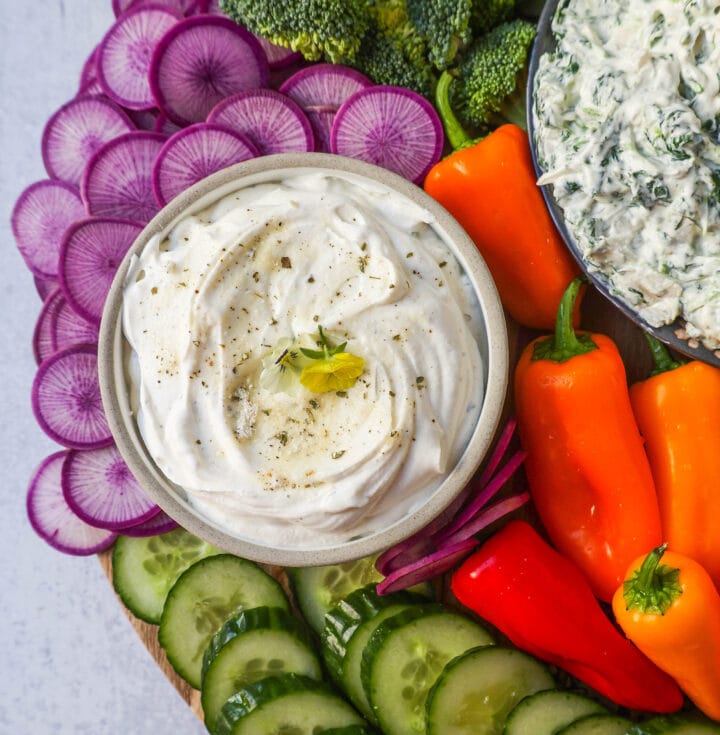 What dips go well with veggies?
What kind of dressing do you put on a vegetable platter? I have easy and delicious vegetable dip recipes for you!
I would suggest a homemade Ranch dip, classic Mediterranean hummus, and a popular cold spinach dip. If you want to make the most beautiful vegetable charcuterie board, I suggest using several different types of dips.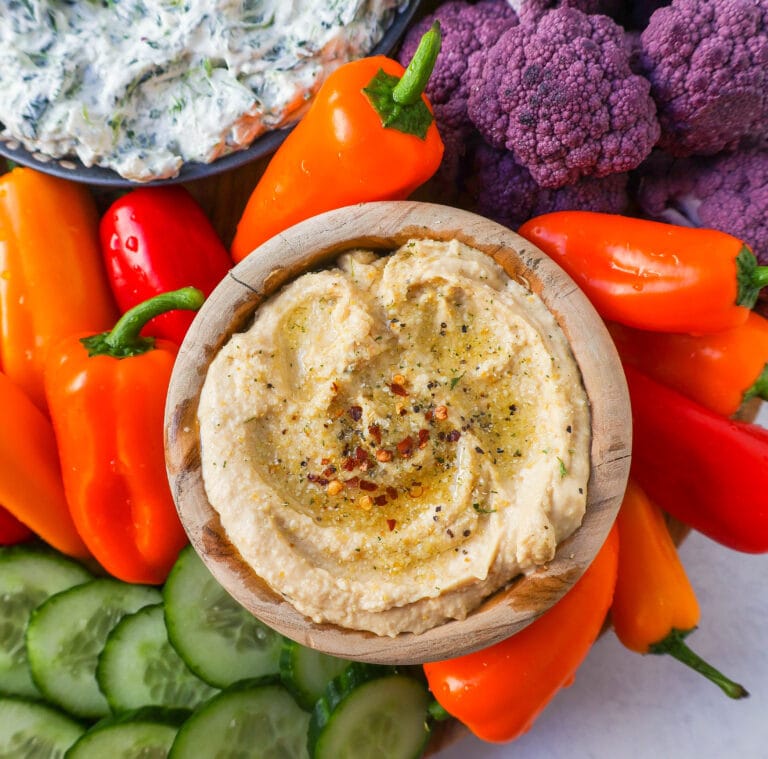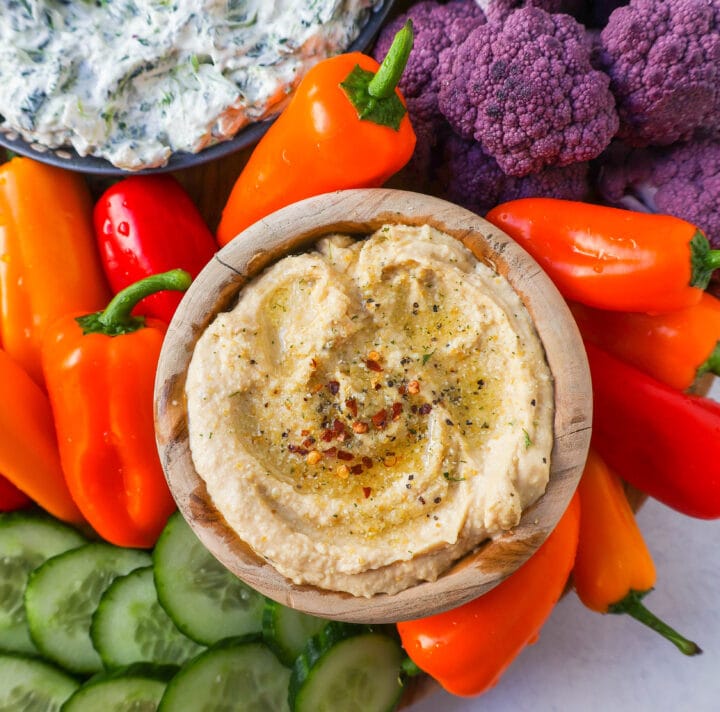 How to make a beautiful Vegetable Platter:
Start by choosing your tray. Do you want to use a large wood board? A glass tray? You can use a round, a square, a rectangular, or any type of tray you want. You will want to know the size of your tray so you know how many vegetables to buy.
Buy your vegetables. Focus on a variety of colors and textures. I look to use as many colors in the rainbow as possible.
Make your dips. I love to use all different types of dips that pair perfectly with vegetables. A ranch dip is thicker than ranch dressing and is usually made with sour cream and ranch dressing powder. This pairs wonderfully with all vegetables. One of my favorite dips to put on my crudite platter is my popular spinach dip recipe. I get asked for this recipe all of the time! You can also add a traditional hummus with pairs well with carrots, peppers, and cucumbers.
First, put your veggie dips into bowls and place them on the tray. Arrange your vegetables around the dips and try to space out the different colors of vegetables.
Cover and chill until you are ready to serve.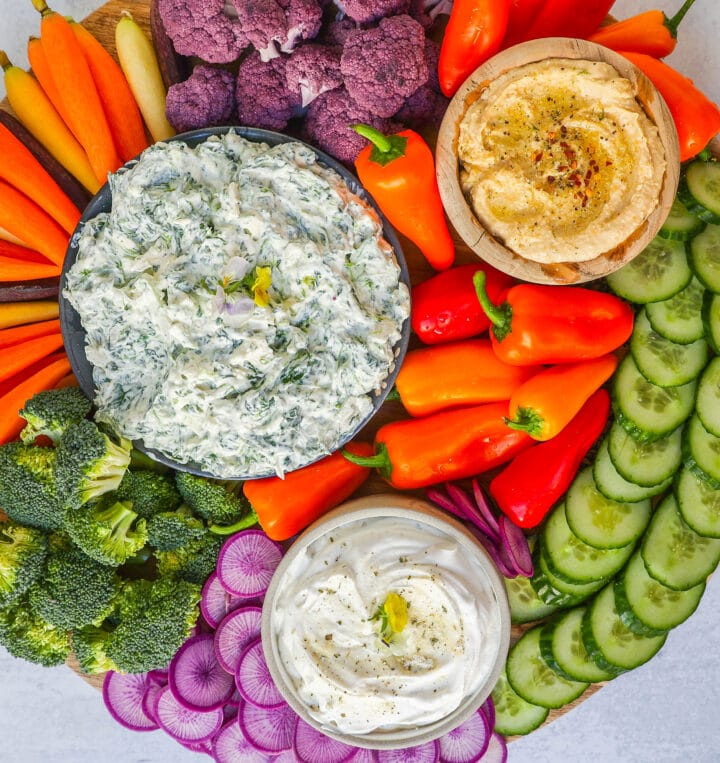 Vegetable Dip Recipes:
Ranch Dip -- made with full-fat sour cream and ranch dressing powder.
I love to make beautiful boards and you can find my Spring Charcuterie Board Ideas here.