A beautiful Spring Charcuterie Board with fresh ripe fruits, creamy cheeses, crisp vegetables, cured meats, crackers, French baguette slices, honeycomb, macarons, and edible flowers. This is a perfect Spring entertaining board.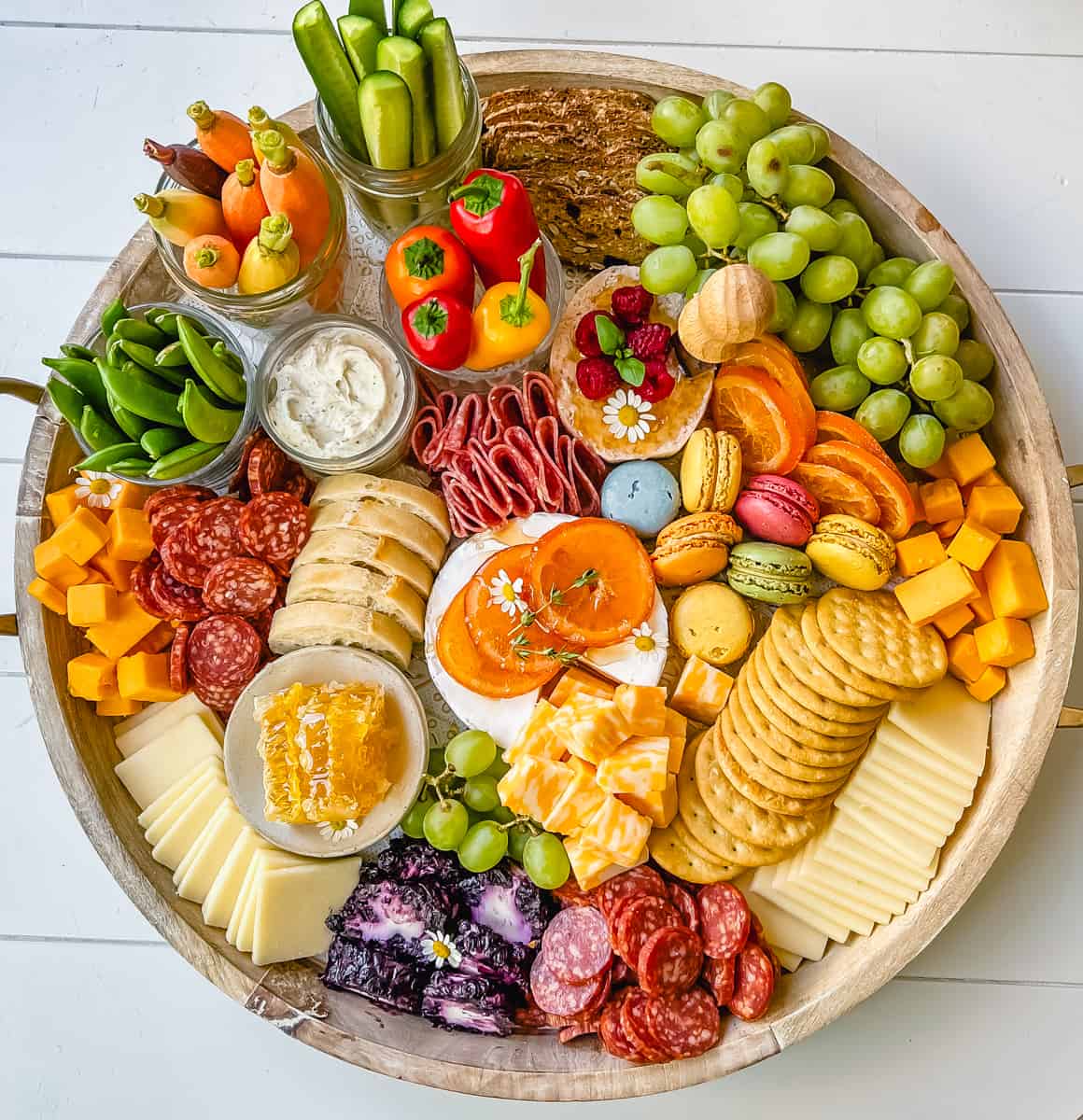 I love making pretty things. What I love more than making pretty things is that I love making pretty and delicious things with an emphasis on the "delicious" part. One of my favorite things to do is to create and design charcuterie boards for each season.
I have been so inspired by the bright yellow, oranges, pinks, and greens that you see pop up in the Spring after a dark and moody winter. There are such bright and beautiful foods and I wanted to create a charcuterie board, perfect for Spring, Easter, and Summer to highlight those vibrant foods. This is a light and bright Easter charcuterie board.
One of the things I love most about these charcuterie boards is that you are literally elevating snack foods and making them look gourmet. It is so much fun creating beautiful boards.
A few years back I received a cookbook request from a publisher asking if I would be interested in creating a cookbook full of different charcuterie boards ideas for each season. As soon as I received that email, my mind was racing with all of the seasonal charcuterie boards I would create for a cookbook. I had to turn the offer down because life was just way too busy at that time. Someday I will write a full Modern Honey cookbook!
What ingredients to put on a Spring Charcuterie Board:
CHEESES:
Colby Jack Cheddar Cheese
Mild Cheddar Cheese
White Sharp Cheddar Cheese
Brie Cheese topped with honey
Goat Cheese Log with Blueberries
MEATS:
Cut Salami
Proscuitto
Thinly Sliced Salami
FRUITS:
Fresh Oranges
Candied Orange Slices
Green Grapes
Strawberries
Raspberries
Dried Apricots
Green Apples
VEGETABLES:
Cucumber Slices
Heirloom Carrots
Red, Yellow, Orange Peppers
Snap peas
Served with homemade Ranch Dip
CRACKERS and BREADS:
French Baguette Slices
Apricot and Pistachio Artisan Crisps
Butter Crackers
Wafer Crackers
CHARCUTERIE BOARD ACCOMPANIMENTS:
French Macarons
Honeycomb or Whipped Creamed Honey
Pistachios, Cashews, Almonds
White Chocolate
Edible Flowers
You can find a more detailed list of cheeses with descriptions on this CHARCUTERIE BOARD post.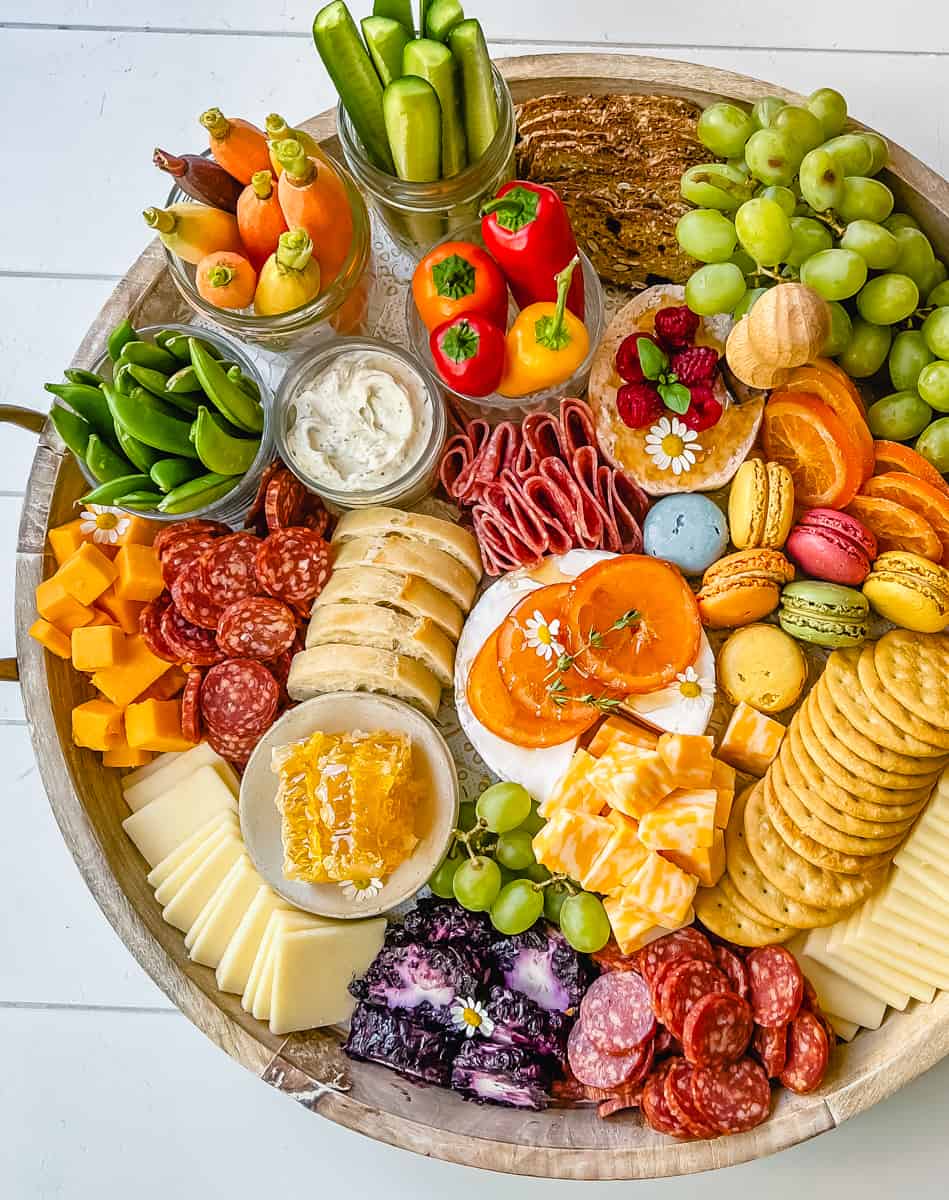 TIPS for MAKING THE PERFECT EASTER CHARCUTERIE BOARD:
For optimal cheese flavor, bring to room temperature. The flavors are highlighted when cheese is a room temperature.
Choose your favorite wood charcuterie board. I find all of my cheese boards at stores like Home Goods, TJ Maxx, and Marshall's. They have large ones (20") and are around $20 - $25, which is a steal! Here's a large marble and wood charcuterie board I love from Amazon.
Serve with small cheese knives and spoons. This makes it easy for your guests to spread creamy cheeses on their crackers or bread. I love this gold cheese knife set from Amazon for less than $15.
Allow for at least 3 ounces of cheese per person, depending on how hungry your guests are! Serve an assortment of shapes, sizes, and types of cheese to give variety.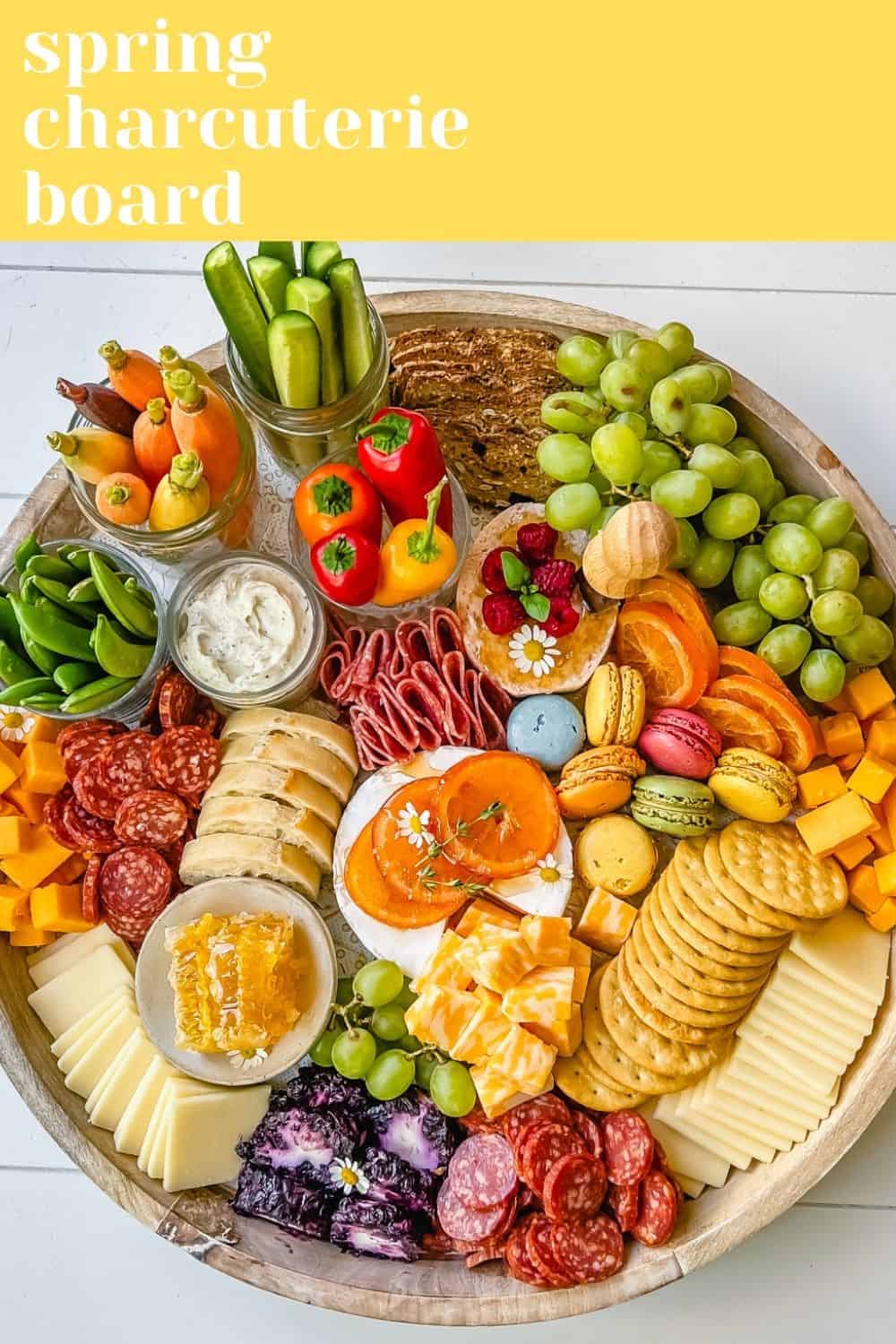 I love to hear from you! If you make this recipe, please be sure to leave a comment and give this recipe a rating. If you make any of my recipes, tag me on Instagram @modern_honey so I can see your creations. It's one of my favorite things seeing you make these recipes in your own kitchen. Sign up for my newsletter below so you never miss a recipe. Thank you for following along! I truly do have the greatest readers. FOLLOW ME ON: INSTAGRAM --- FACEBOOK --- PINTEREST