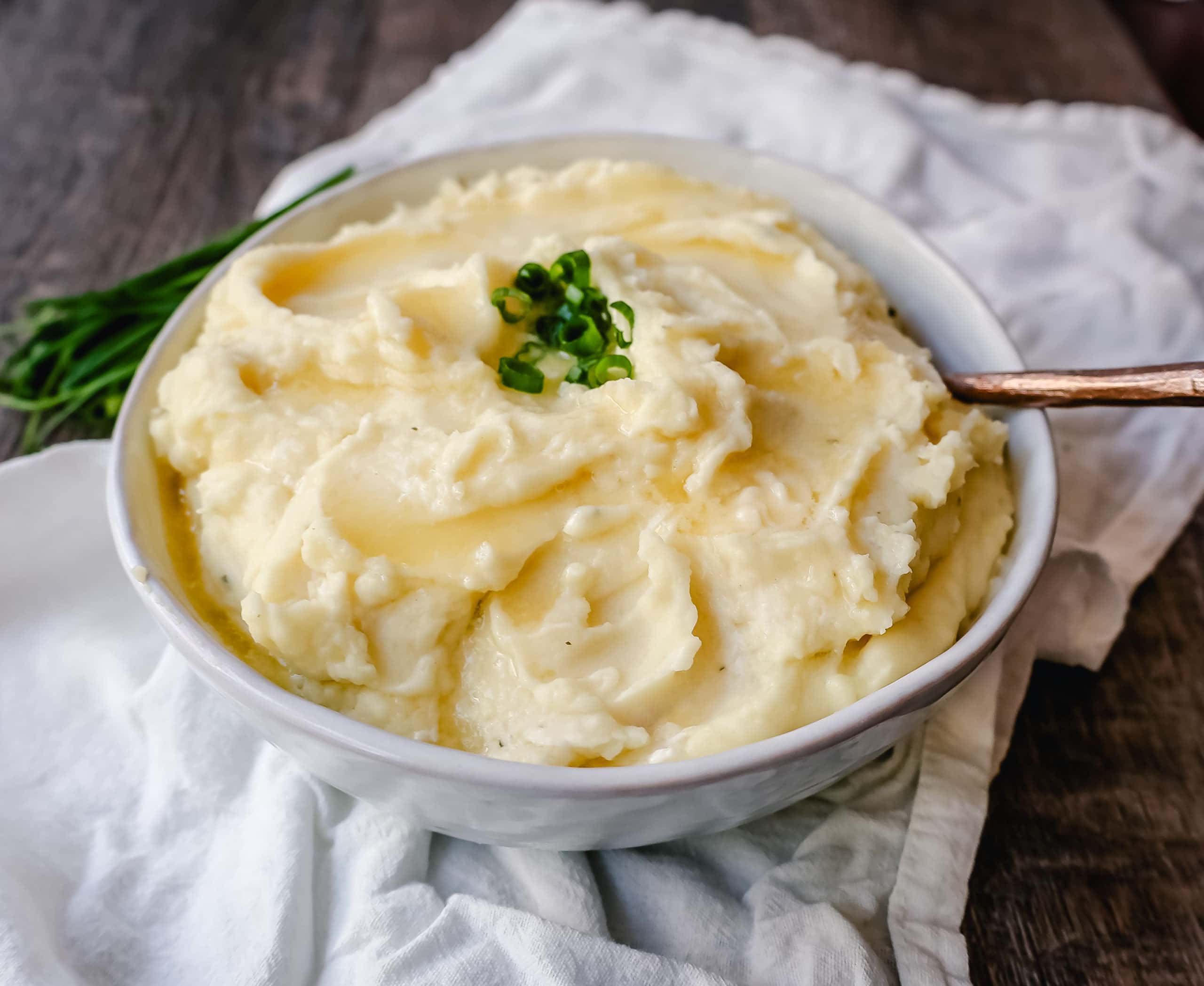 Boursin Cheese Creamy Mashed Potatoes
Buttery, creamy homemade mashed potatoes with garlic and herb Boursin cheese. So flavorful, you don't even need the gravy!
We are 6 days away from Thanksgiving and I wanted to sneak in one more side dish because these mashed potatoes are unreal! Last year I was super inspired by my friend, Jordan's Thanksgiving menu (if you want to know the story about how we came to know Jordan and why he is so special to our family, read the story at the end).
As soon as I saw that he was serving Boursin Cheese Mashed Potatoes, I knew that I had to try them stat. I drove right to Costco, picked up a 3-pack of Boursin cheese, and came home and made these Creamy Boursin Cheese Mashed Potatoes and am officially hooked.
I am a sucker for Boursin Cheese on its own but you add it to potatoes, butter, and cream and we are in business! You don't even need gravy with these mashed potatoes because they are THAT good.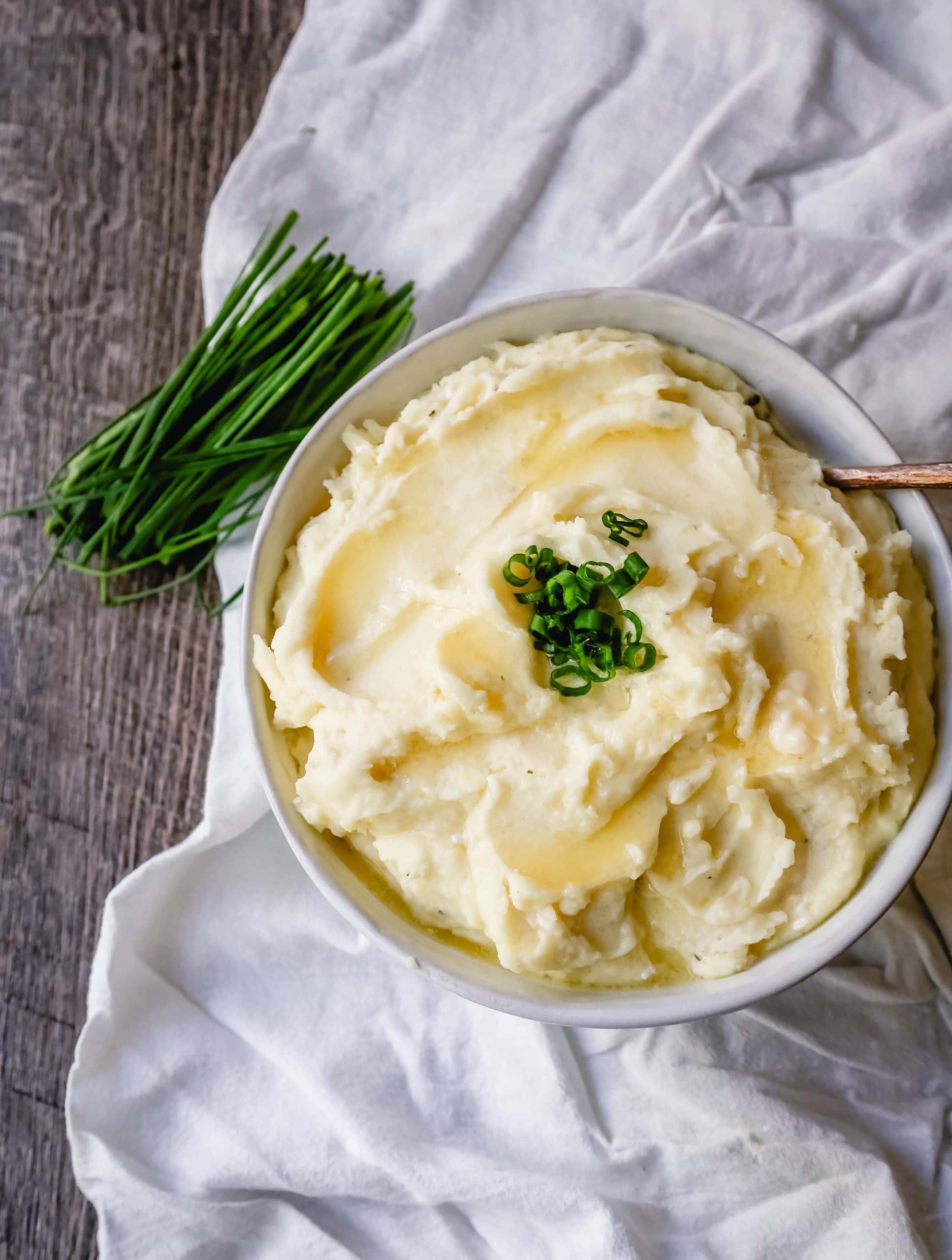 These Mashed Potatoes with Boursin Cheese are made with Yukon Gold potatoes, salted butter, milk or cream, salt, and herb and garlic Boursin Cheese. That's it! When I am making mashed potatoes, I always reach for Yukon Gold potatoes because its texture is much creamier than a russet potato. If you want creamier, richer mashed potatoes, I suggest using heavy cream or half-n-half but you can also use whole milk.
You can use any flavor of Boursin cheese in this recipe. If you want an extra pop of flavor, use two Boursin cheese rounds. The mashed potatoes will just be extra creamy!
I have shared my Traditional Creamy Mashed Potatoes Recipe on Modern Honey so if you are looking for classic mashed potatoes, click HERE.
One of the keys to ensure your mashed potatoes are creamy is to heat the butter and half-n-half together before adding to the potatoes. If you add the cold ingredients, the potatoes may end up with a gummy texture. By adding warm butter and milk to the warm cooked potatoes, it keeps them at an optimal temperature for creaming. This is an extra step but makes a huge difference.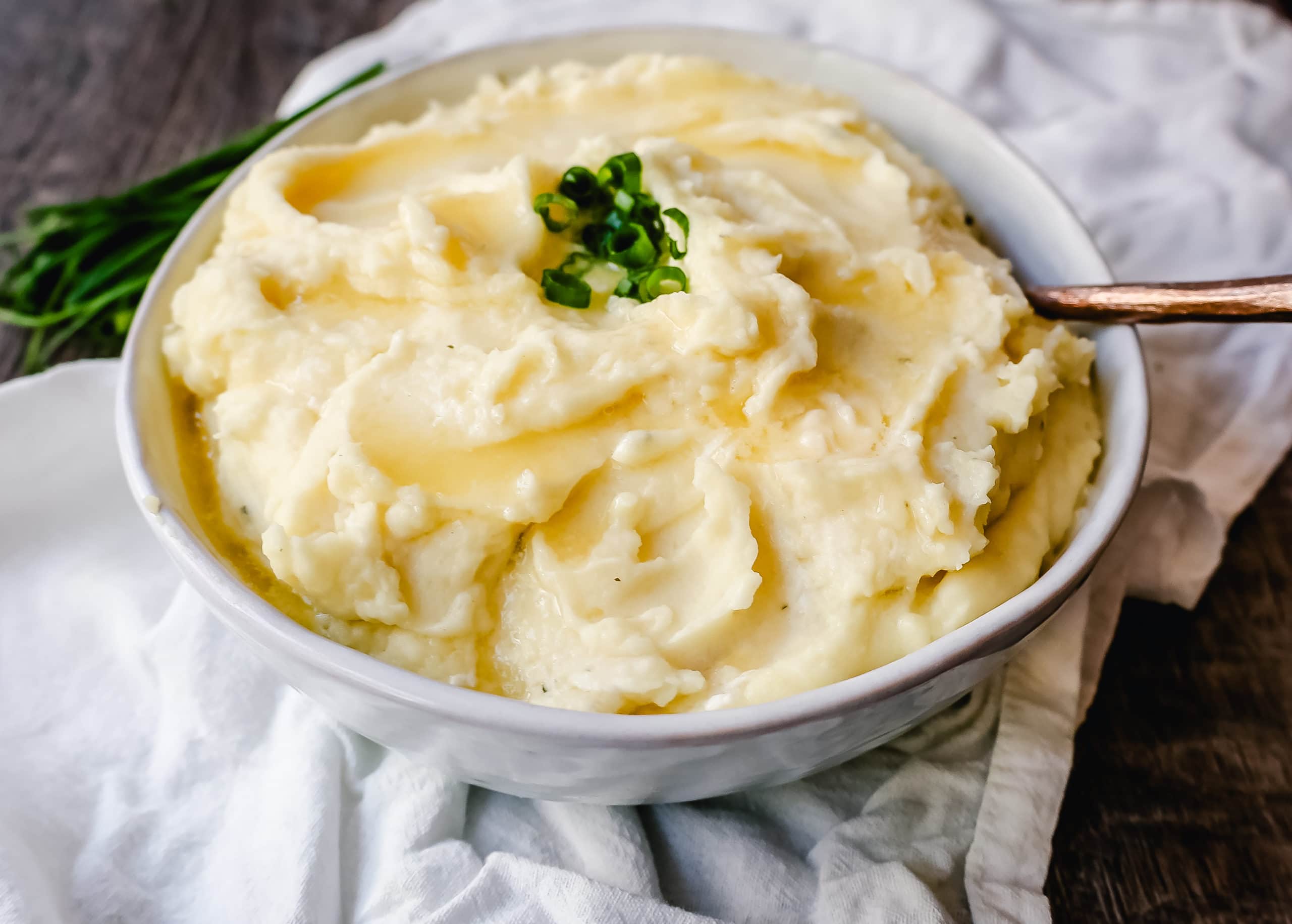 Traditional Creamy Mashed Potatoes
I love to hear from you! If you make this recipe, please be sure to leave a comment and give this recipe a rating. Also, tag me on Instagram @modern_honey so I can see your creations. Be sure to tag your photo using the hashtag #modernhoney. It's one of my favorite things seeing you make these recipes in your own kitchen. Thank you for following along! I truly do have the greatest readers. FOLLOW ME ON: INSTAGRAM — FACEBOOK— PINTEREST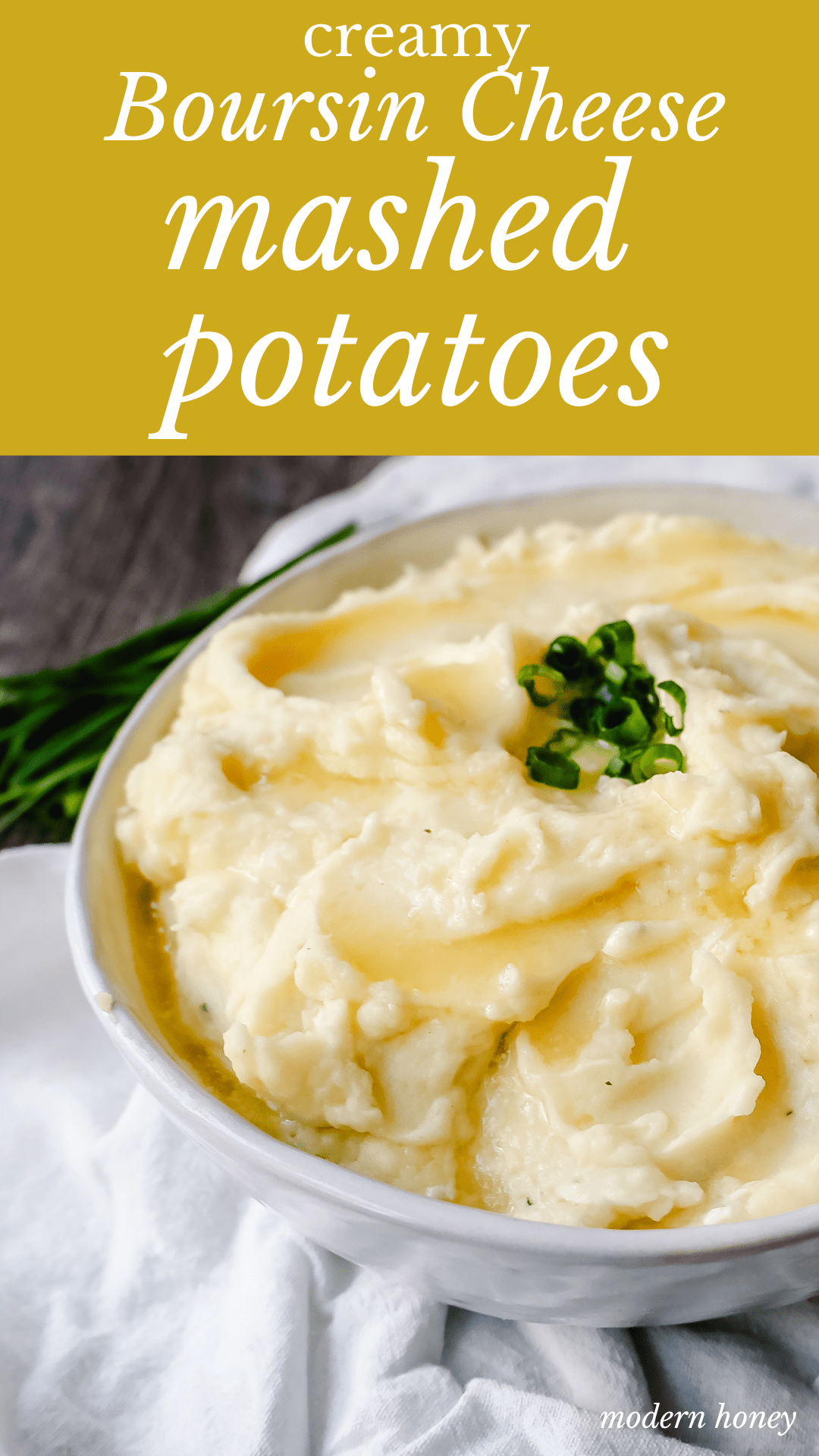 Pin this now to find it later
Pin It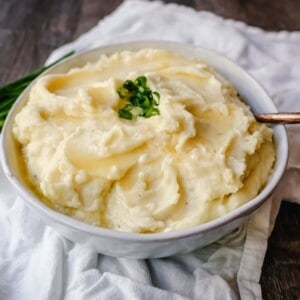 Boursin Cheese Creamy Mashed Potatoes
Buttery, creamy homemade mashed potatoes with garlic and herb Boursin cheese. So flavorful, you don't even need the gravy!
Ingredients
3

lbs.

Yukon Gold Potatoes

1/2

cup

Salted Butter

1 to 1 1/2

cups

Half-n-Half, Whole Milk, or Heavy Cream

(1)

5.2 oz pkg.

Boursin Cheese *

2

teaspoons

Salt

(or more to taste)
Instructions
Peel potatoes and cut into large pieces. Place in a large pot and cover with water and sprinkle with 1 Tablespoon of Salt. Bring to a boil. Once the potatoes reach a boil, lower the heat to low and cover. Cook for 25-35 minutes or until the potatoes are fork tender. Drain.

Put potatoes into the bowl of an electric mixer fitted with a paddle attachment, and mix them for 30 seconds to break up the potatoes or use a potato masher.

In a small saucepan, heat the butter and 1 cup of half-n-half until butter is melted and warm, about 5 minutes. This can also be done in the microwave in a microwave-safe bowl. If using a microwave, heat for 1 minute or until the butter is melted. 

Slowly add butter and cream mixture, mixing at the lowest speed. Fold in the Boursin Cheese, and salt. Taste and season more if necessary. If you want more creaminess, add up to 1/2 cup more half-n-half. If you want extra flavor, add a second package of Boursin cheese. If using a second package, reduce the salt amount.

Serve warm with a pat of butter on the top of the mashed potatoes.
Notes
may use 2 packages of Boursin Cheese for extra flavor
may add 2 cloves of fresh garlic or 1/4 teaspoon of garlic powder
Nutrition information is automatically calculated, so should only be used as an approximation.
**This is just a personal story that I thought I would share on here to give a little more insight in my life. I grew up with 5 brothers and I am the only girl. All of my brothers served church missions at the age of 19. This means that they went and served for two years in a place that they were just called to. My brothers served in Virginia, Mexico, Spain, Denmark, and Argentina. They all loved their missions and the opportunities to serve others.
My youngest brother, Eric, was serving in Argentina. He was out for about 10 months when one morning he and his companion were traveling in a taxi to a nearby town. They were on a highway and a semi-truck crossed the center line and hit the taxi head-on. Eric was in the front seat.
He sustained massive head injuries and was in a coma…thousands of miles away. When we heard the news, we were beyond devastated. The next few days we spent praying, fasting, crying, and holding on to every ounce of hope. Those days are etched in my mind forever. My parents began booking tickets right away to fly to Argentina to be with him.
In the meantime, another missionary went to visit him in the hospital to pray for him and give him a blessing. This was Jordan Councill. Since we couldn't be there, we were so grateful that someone was watching over him. He called to tell us his experiences with him. He stayed with him, talked to him (even though Eric couldn't talk), played music and uplifting messages.
My parents didn't make it to Argentina. We didn't receive the news we were hoping for. The swelling was too great on his brain and we lost him. Eric passed away a few days after his accident.
It was the hardest and most painful, gut-wrenching, heartbreaking thing we had to go through. You never expect those calls. But we are grateful for angels like Jordan Councill, who were there with him when we couldn't get there fast enough.
I hope each of you had people in your life who have acted like angels for you and have lifted you up when you have struggled or mourned. There are so many who helped us through this trial and we are forever grateful for them. I learned a lot from losing my brother and will never be the same. Of course, we know that trials can make you better or bitter. I watched in absolute awe at my parents and how they handled such a heartache of losing their son while serving a mission. Instead of being angry, bitter, and demanding why this could happen, they decided to focus on his life and our memories with him. They became grateful for the time…the wonderful 19 years with him.
Life can be full of adversity, struggles, beauty, joy, happiness, sorrow, and so many things. I will always be grateful and cherish my years growing up with my little bro, Eric. I miss him.